Vanilla Bean Magic Cake with Blueberry Lemon Sauce Recipe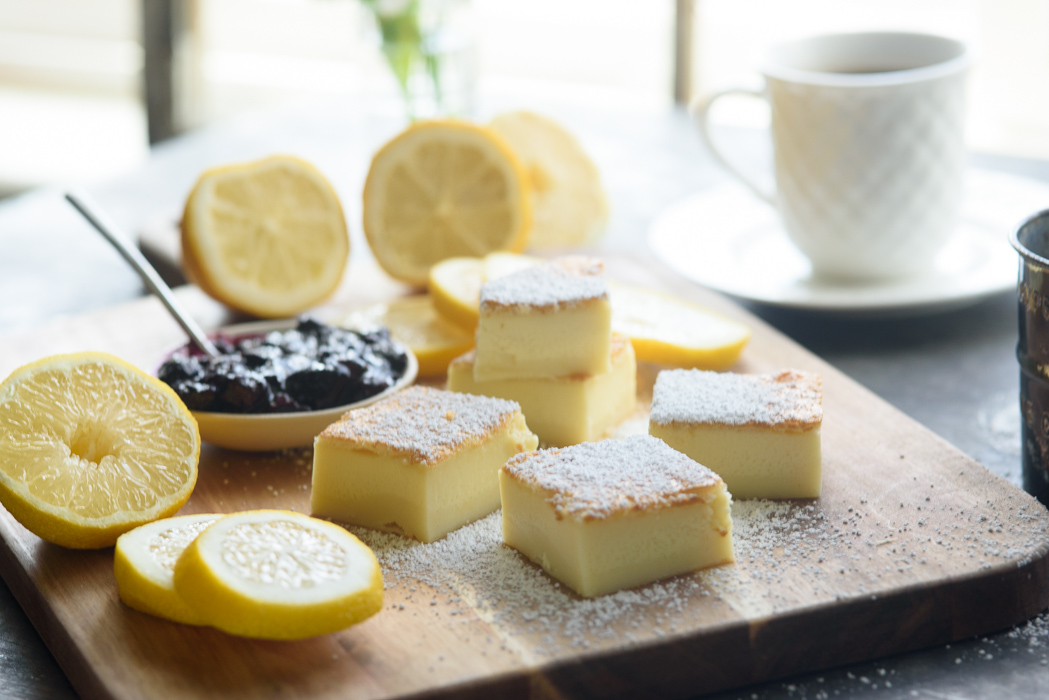 Magic cake is an amazing cake that is made with a single cake that magically separates out into three distinctive layers as it cooks. It's made with a super simple batter that uses pantry staples so it's a great recipe to have in your baking arsenal.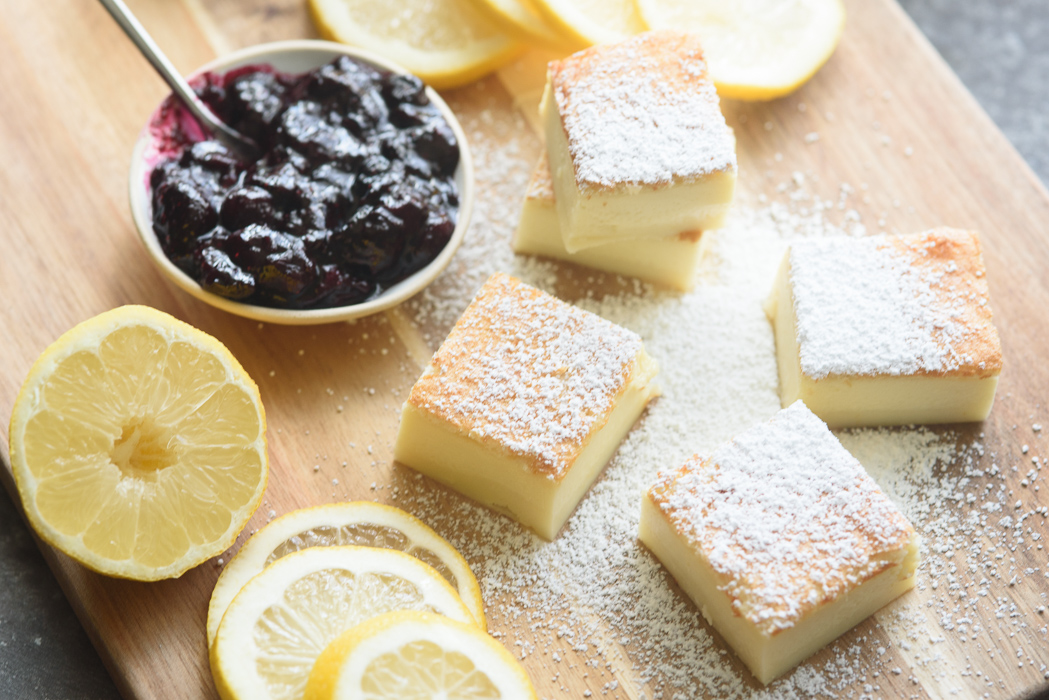 Today we are using the base recipe that most of the magic cakes on the internet are using from Jo Cooks. I'm not entirely sure who invented the magic cake but Jo's version has definitely inspired an entire generation of magic cakes on the internet. We bumped it another level with one of my addictions… vanilla bean paste and a delicious blueberry lemon sauce. Heaven.
Let's jump in! You'll need sugar, flour, eggs, milk, vanilla bean paste and melted butter.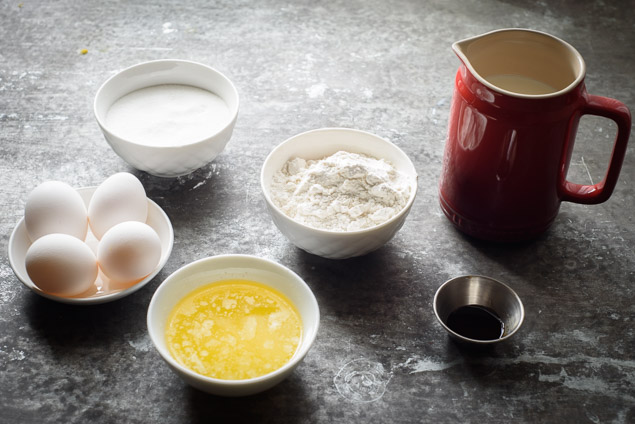 Start with adding your egg whites to a stand mixer with the whisk attachment.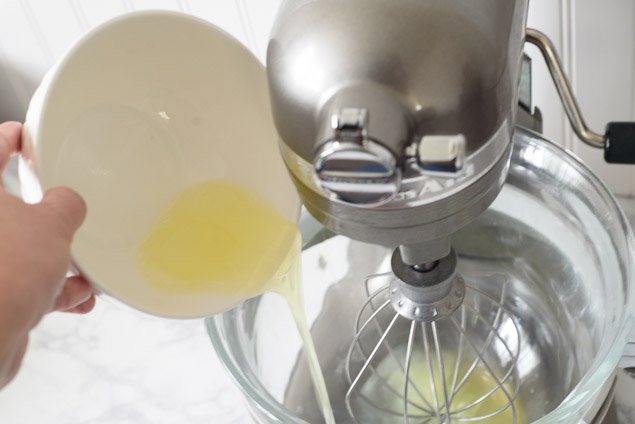 Whisk on high until you reach stiff peaks.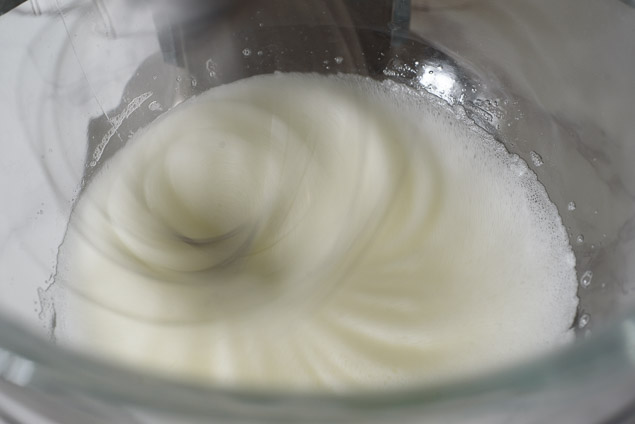 When the peaks stand fully erect and do not topple over at the peak then they are ready.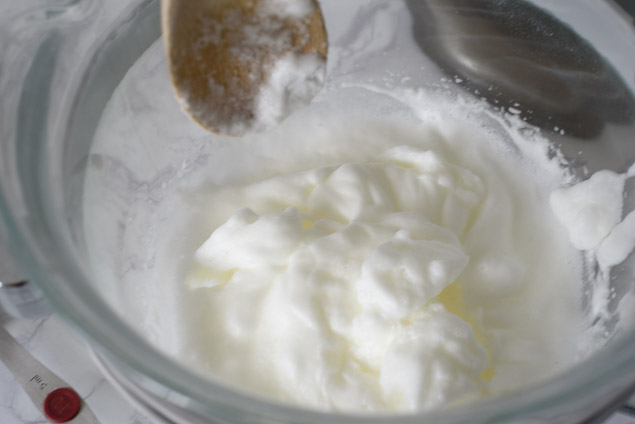 Remove the whites from the mixer bowl and add the egg yolks, and sugar. Mix for several minutes until the eggs are nice and fluffy and lightened in color. Then add the milk slowly.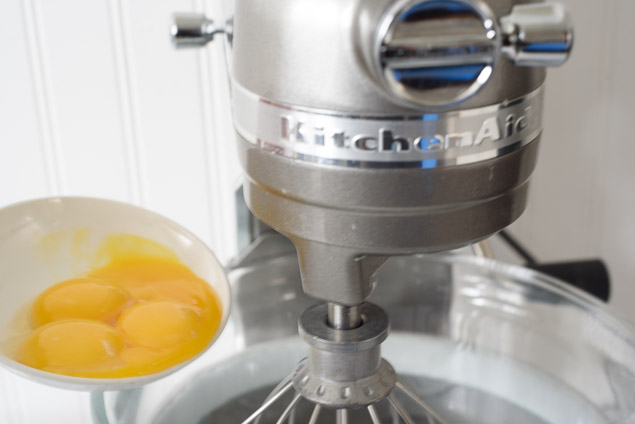 Vanilla bean paste is one of my all time favorite ingredients. I like to use the Nielsen Massey Madagascar Bourbon Vanilla Bean Paste but there are lots of good ones on the market.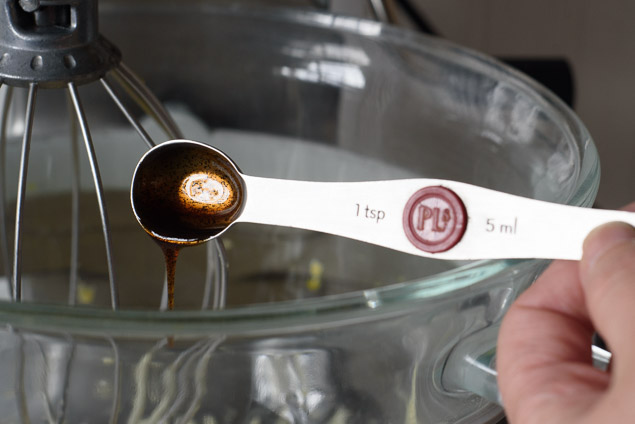 Add the flour in slowly and mix until combined.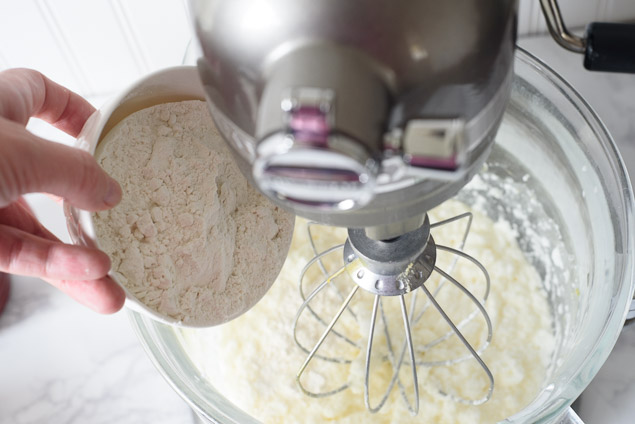 The mixture should be light and fluffy.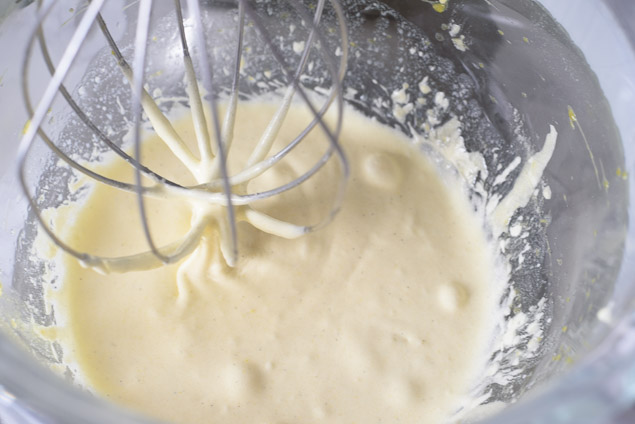 Then gently fold or whisk in the egg whites into the batter. They will not fully combine, the batter will be lumpy this is necessary to form the layers.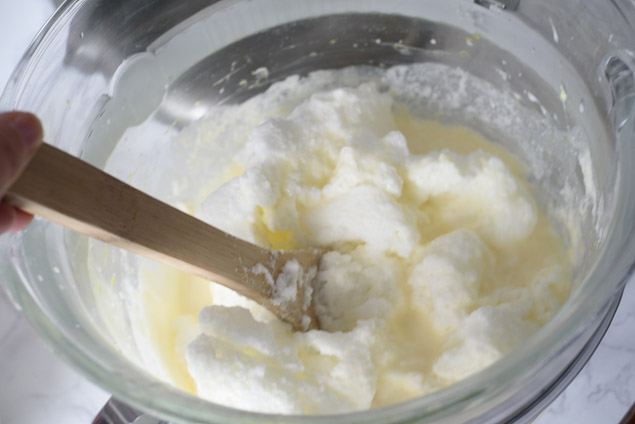 Pour into your greased 8×8 pan. We very much prefer a metal pan over a glass one. The layers seem to form better, I assume this is because the metal pans heat up faster than the glass.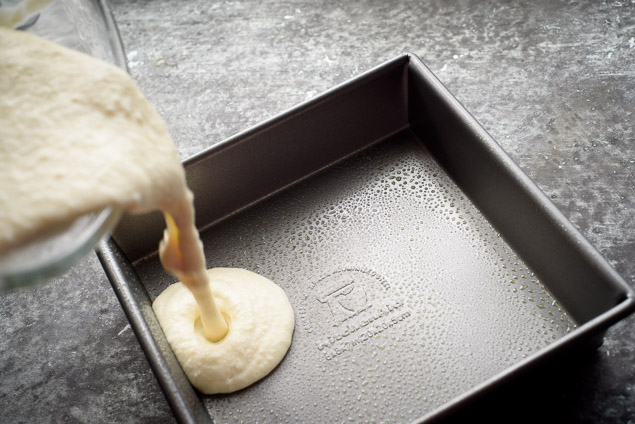 Once it is full it's into the oven!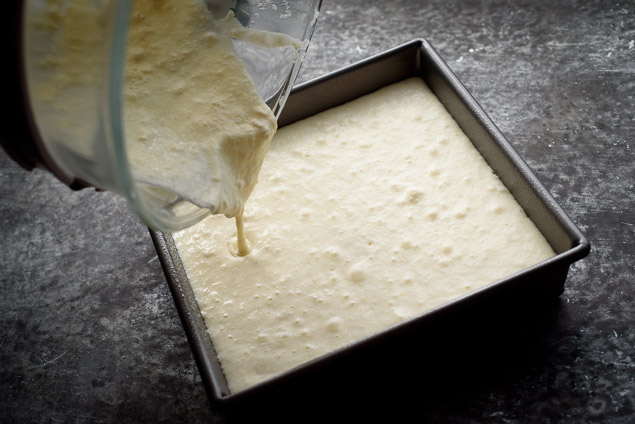 Bake for 50-70 minutes and cool completely. Serve with the blueberry lemon sauce and dust with powdered sugar.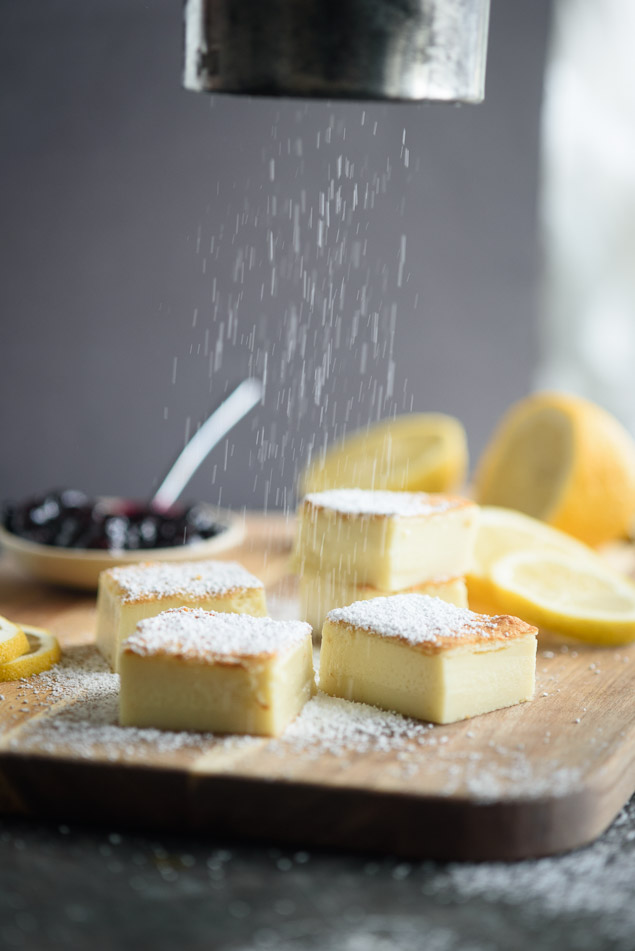 Enjoy!
Vanilla Bean Magic Cake with Blueberry Lemon Sauce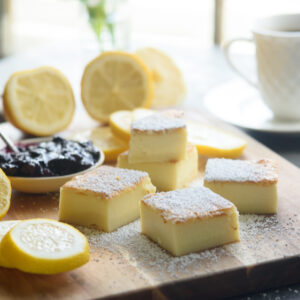 INGREDIENTS
For the Magic Cake:
¾ cup sugar
¾ cup all purpose flour
4 eggs room temperature
2 cups lukewarm milk
1 teaspoon vanilla bean paste
1 stick of melted butter
For the Blueberry Lemon Sauce:

½ cup blueberries (fresh or frozen)
1 teaspoon lemon juice
1 tablespoon sugar
INSTRUCTIONS
For the Magic Cake:

Preheat oven to 325 degrees F.
Grease an 8x8 baking dish (we prefer metal as it heats faster and creates more distinct layers in our testing).
Beat egg whites in a mixer with whisk attachment to stiff peaks (when lifted whisk out of egg whites the peak formed should stay straight up and not collapse at top). Remove from mixer and set aside.
Beat yolks with sugar until visibly lightened and fluffy about 4 minutes. Add melted butter, vanilla bean paste, and flour slowly.
Add warmed milk and beat until combined.
Add egg whites to batter and fold or whisk them in. Batter will NOT be smooth and should be lumpy still.
Pour into greased baking dish. Bake for 50-70 minutes.
Ovens greatly vary so check at 50 minutes and gently shake the rack. If the center is unset and very wobbly it needs more time. The top may over brown before the middle is fully cooked so tent with foil on top if this occurs.
We have much better results with metal pans over glass and recommend them. The size is also crucial for layer formation so do not substitute with a larger or smaller pan. Cool completely. Sprinkle with powdered sugar and serve in small slices.
For the Blueberry Sauce:
Bring blueberries, lemon juice and sugar to a boil. Reduce heat and simmer, stirring frequently until thickened to desired consistency.
*Base recipe credit to Jo Cooks