Celebrate 4th of July with This Patriotic Table Setting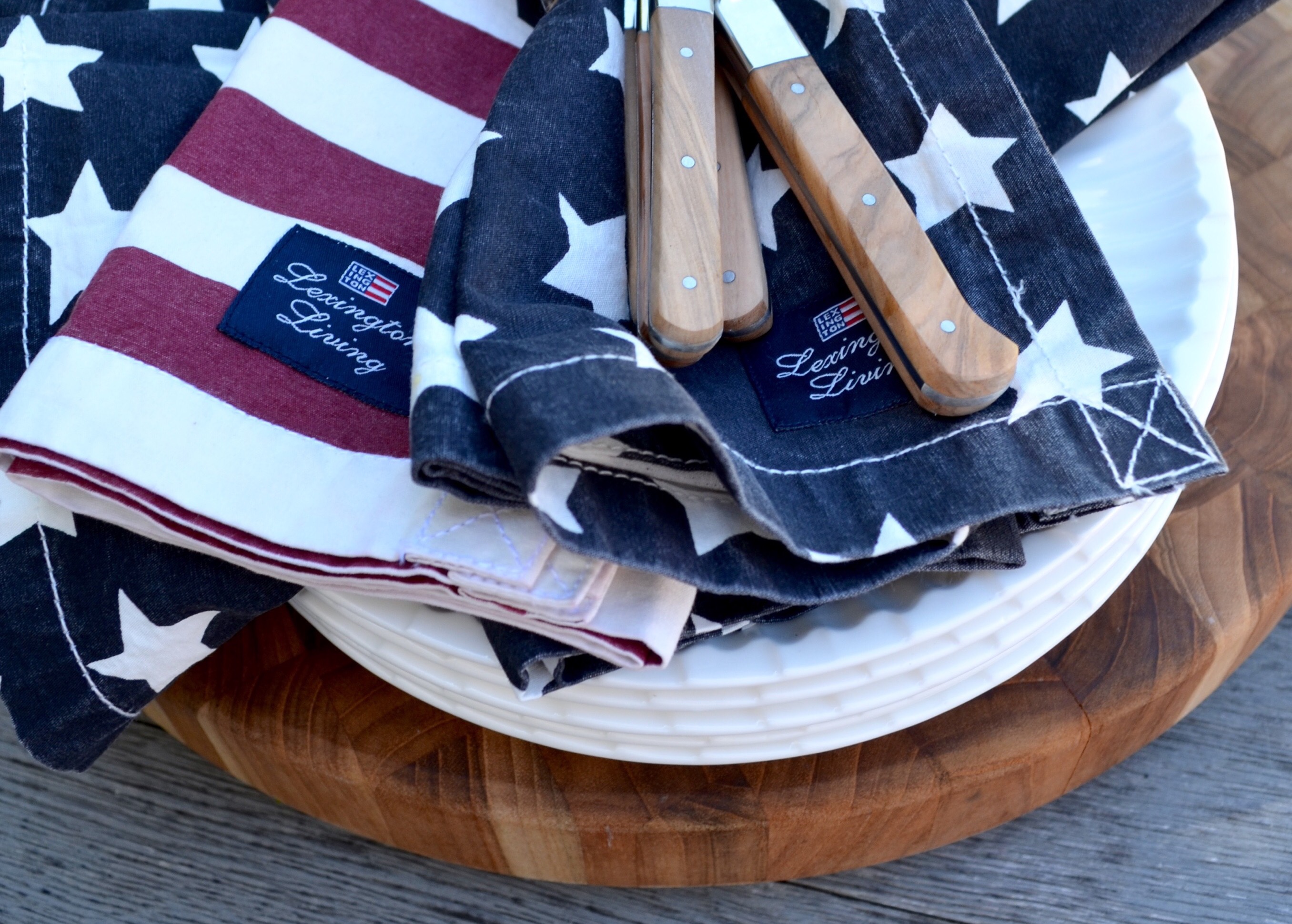 Give me all the red, white and blue! Between the fireworks, parades, BBQs, breaking out our best all-American outfits, and hanging out with friends & family… the 4th of July might possibly be my favorite holiday of the year.
Actually, I like everything about it. I like to plan it, I like to host it, cook for it, and set the table for it. It's also when we truly ring in summer, so what's not to love?
I definitely have a thing for stars and stripes. They're just so, well, GO USA and American. If you do too, or you're just looking for some ideas on setting the scene (and table) for the 4th, read on to get inspired!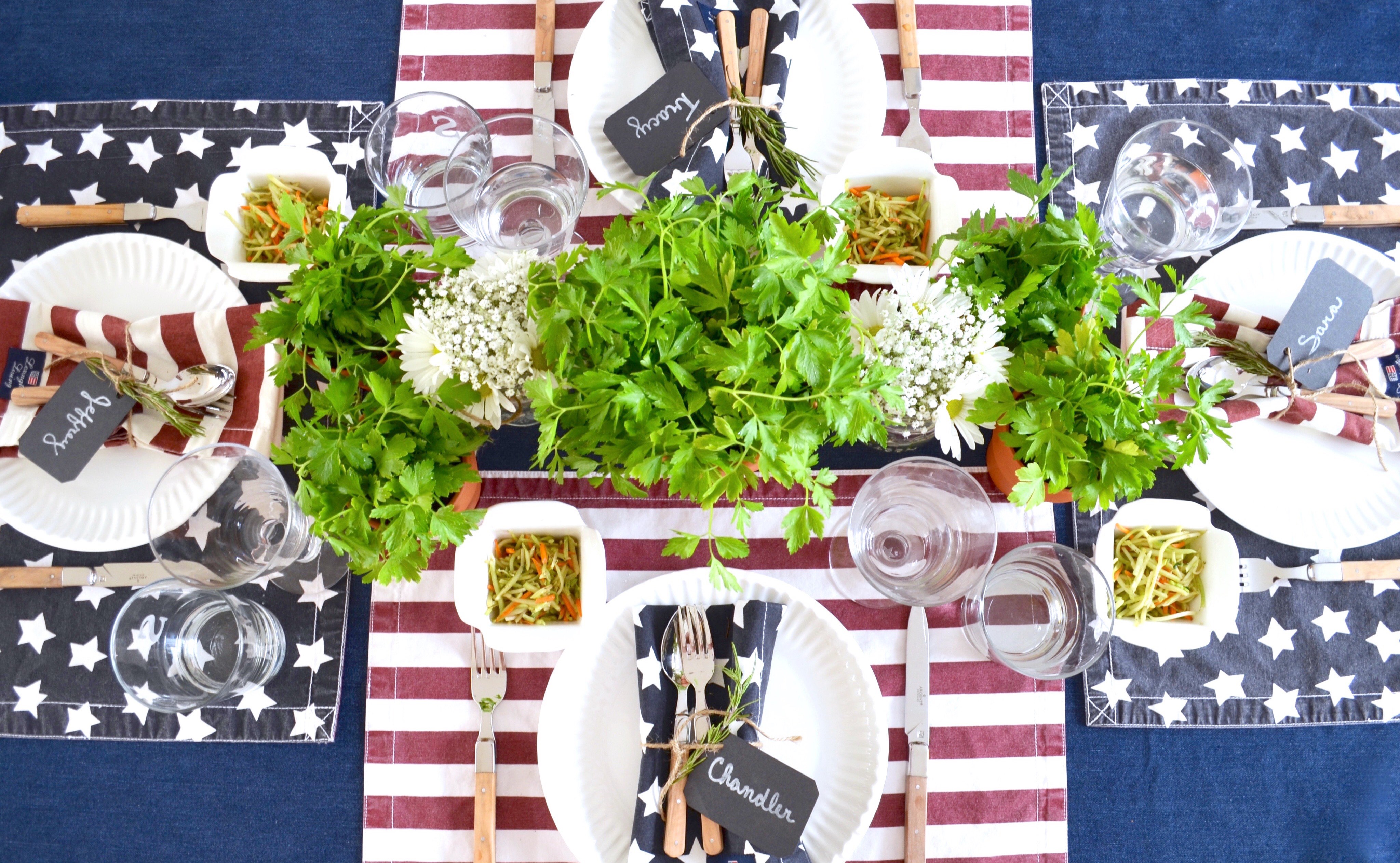 Since the 4th of July usually includes a backyard, potluck BBQ, I think it calls for a casual tablesetting — meaning, just about anything red, white and blue works on the table.
This year, I'm taking things up a notch from my typical floral centerpiece or runner by using fresh herbs in clay pots and white daisies with baby's breath in mason jars. Both are super easy to assemble, and there's nothing like the smell of fresh parsley, cilantro, rosemary, mint or anything that's growing in your garden right now. I love the look and I'm pretty sure Ina Garten would approve.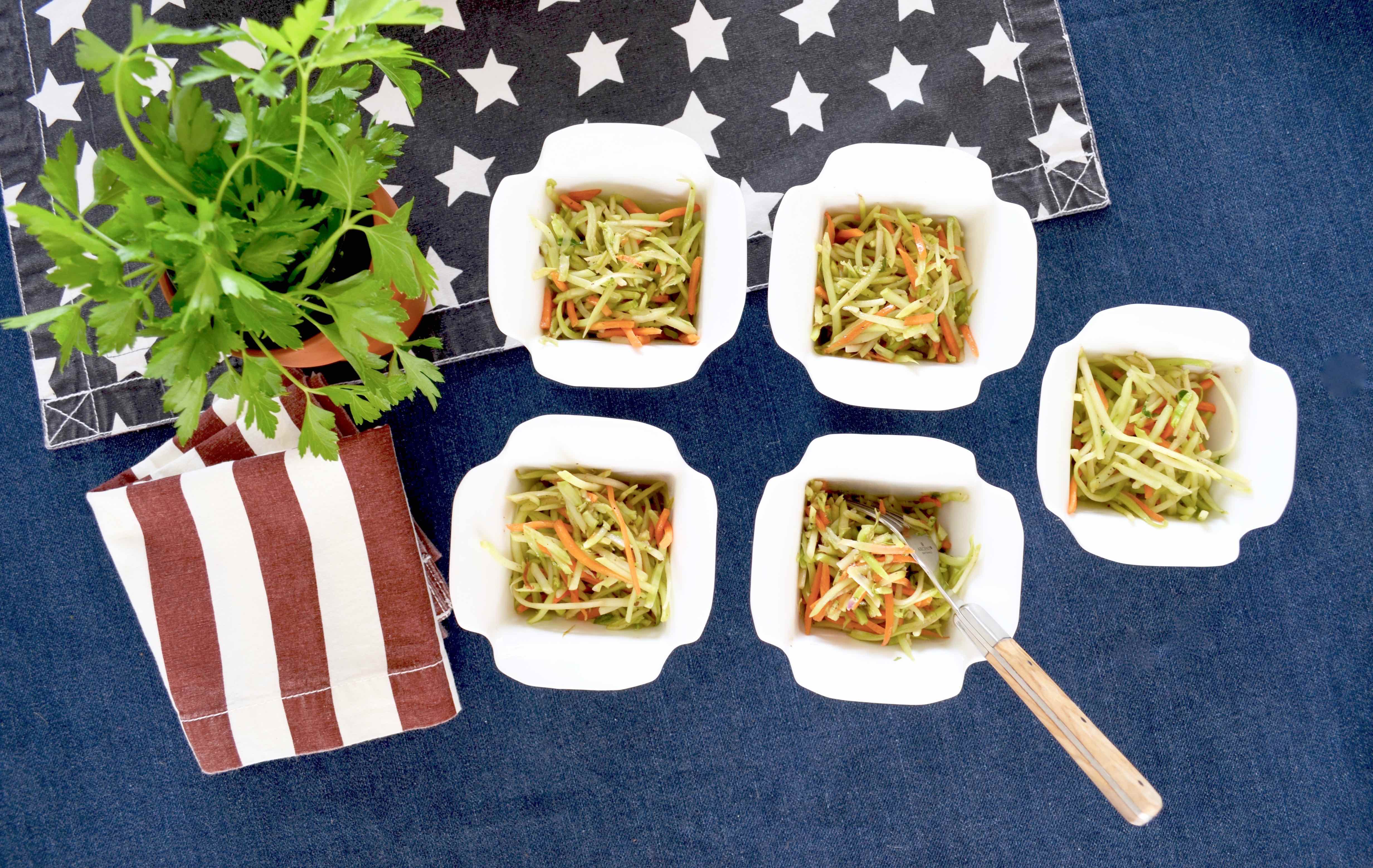 I like to set tables indoors and out for any BBQ or summer party. It makes it easy for serving, entertaining guests and creating an atmosphere for great conversation. For this setting, I used a denim tablecloth as a backdrop, diner kitsch china dinnerware and serveware (can you believe it's china?!) and wood-handled flatware. I alternated (reversible) stars and stripes placemats and napkins, and set out glasses for water, cocktails, wine and beer. For any barbecue or potluck, I stack plates and flatware on tables to make it easy for everyone to grab a plate when they feel like a little somethin', somethin'.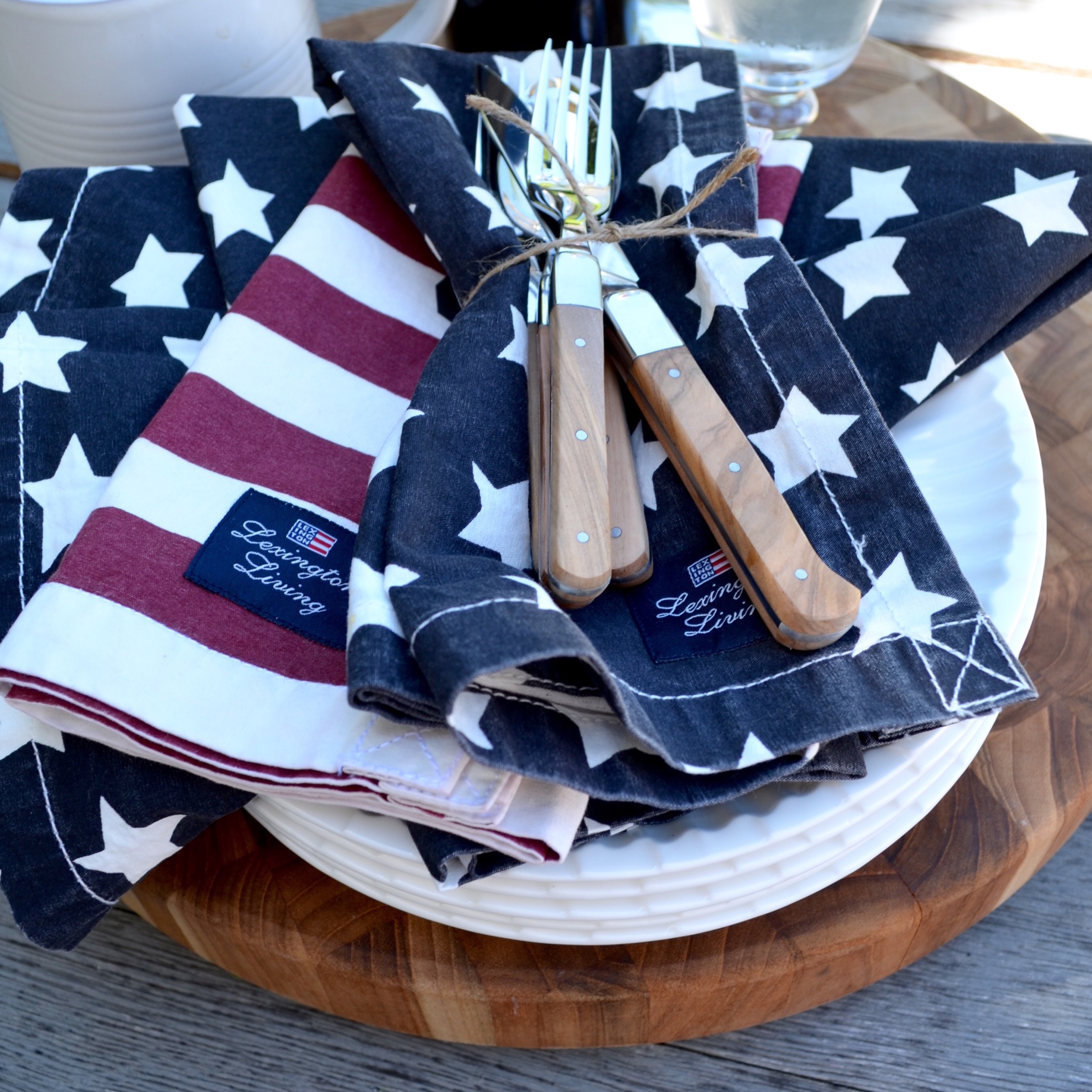 On the menu:
For us, the 4th is always a potluck so there's no pressure on anyone. We throw either brisket or ribs on the grill with chicken, hot dogs and Italian hamburgers and I make some of my family 'famous' sides. Homemade potato salad, macaroni salad, fresh slaw and, of course, deviled eggs because they're always in great demand. After that, whatever else comes along adds to the menu and is much appreciated.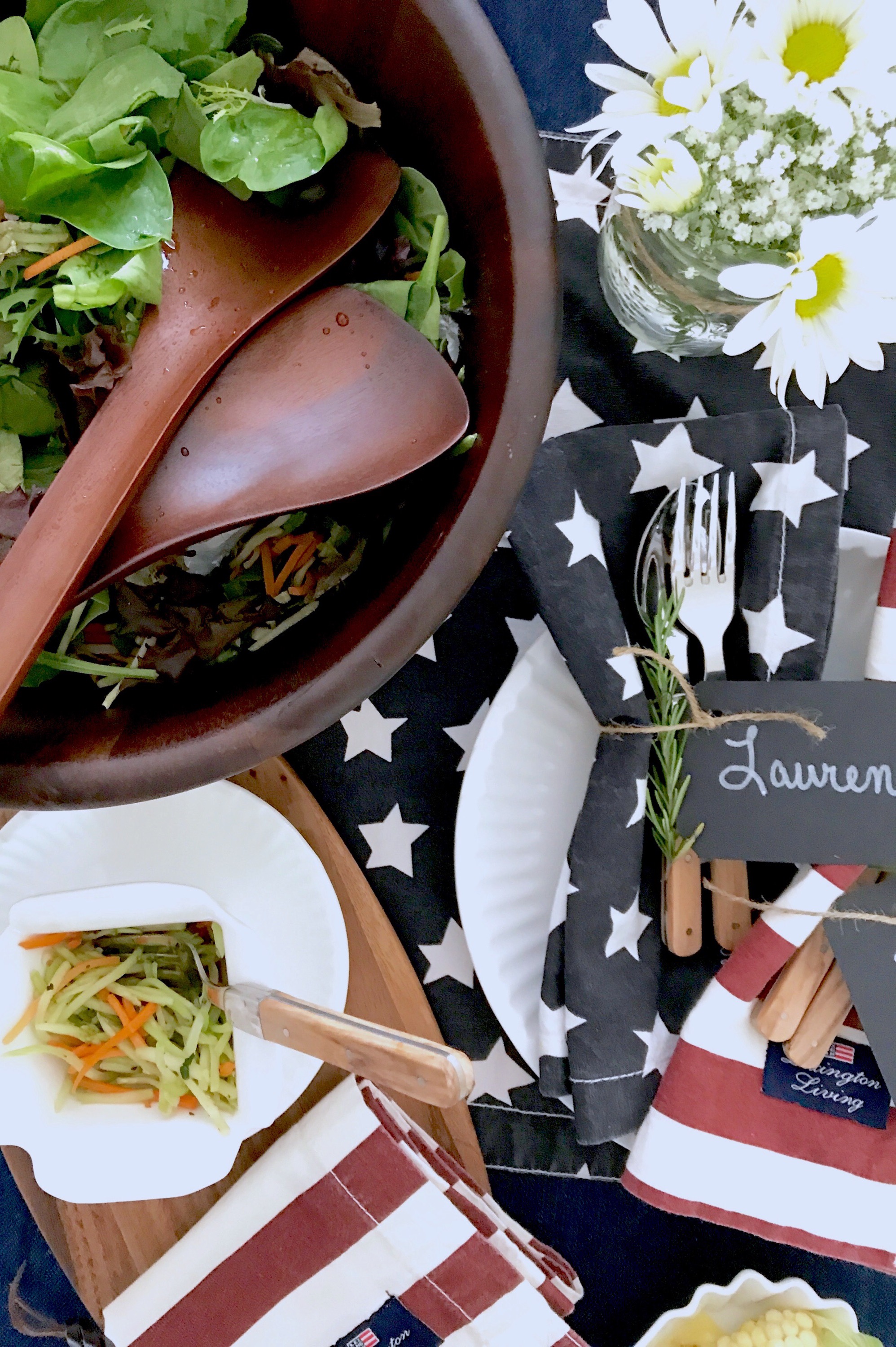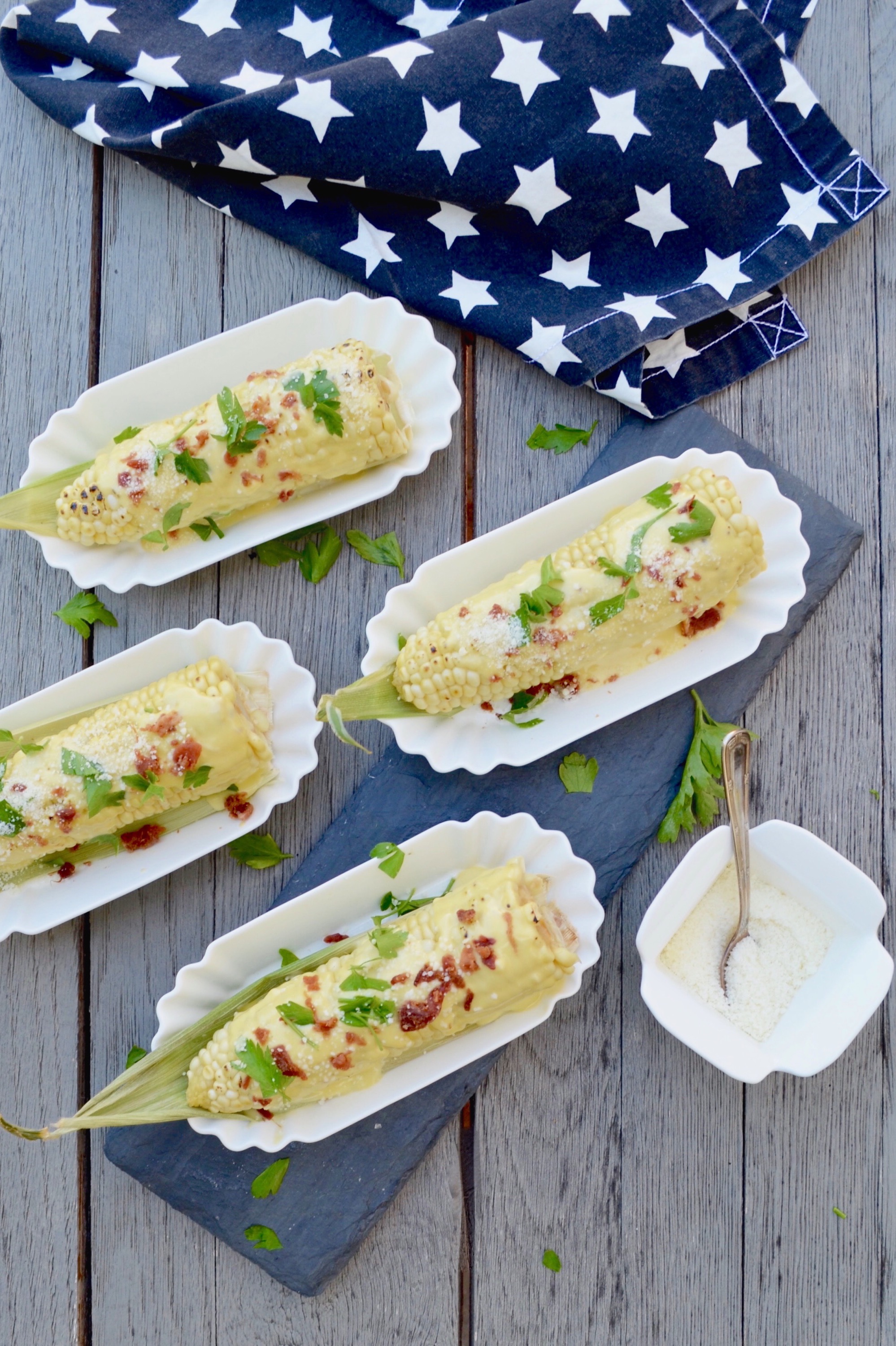 This year, I'm making one of my new favorite summer sides, Italian Corn on the Cob – which is basically a relative of Mexican street corn, I'm sure. Sound good? The recipe is below. I'm serving the corn in hot dog plates, a super easy broccoli salad in small take out containers, and a green summer salad, to name a few.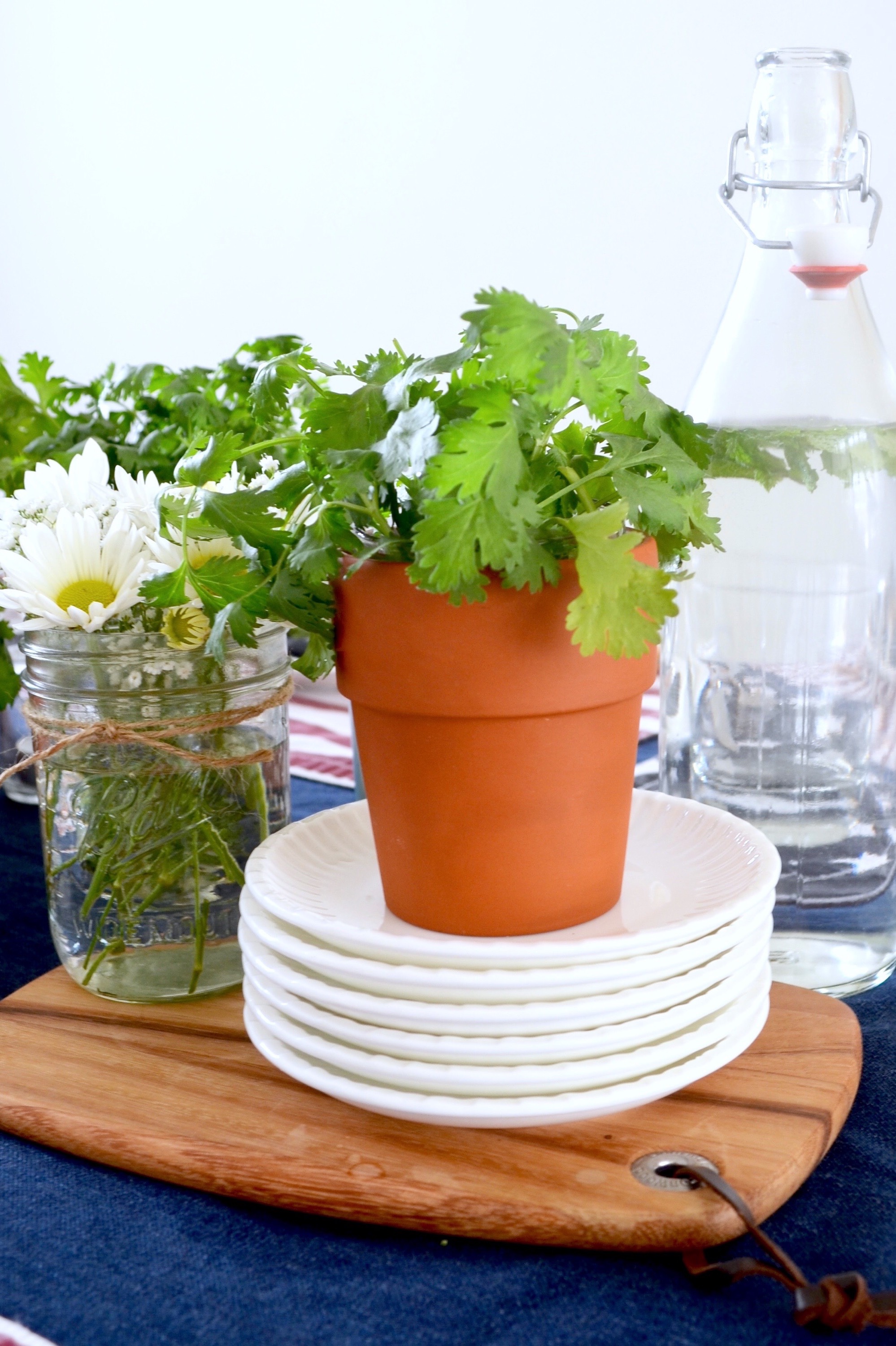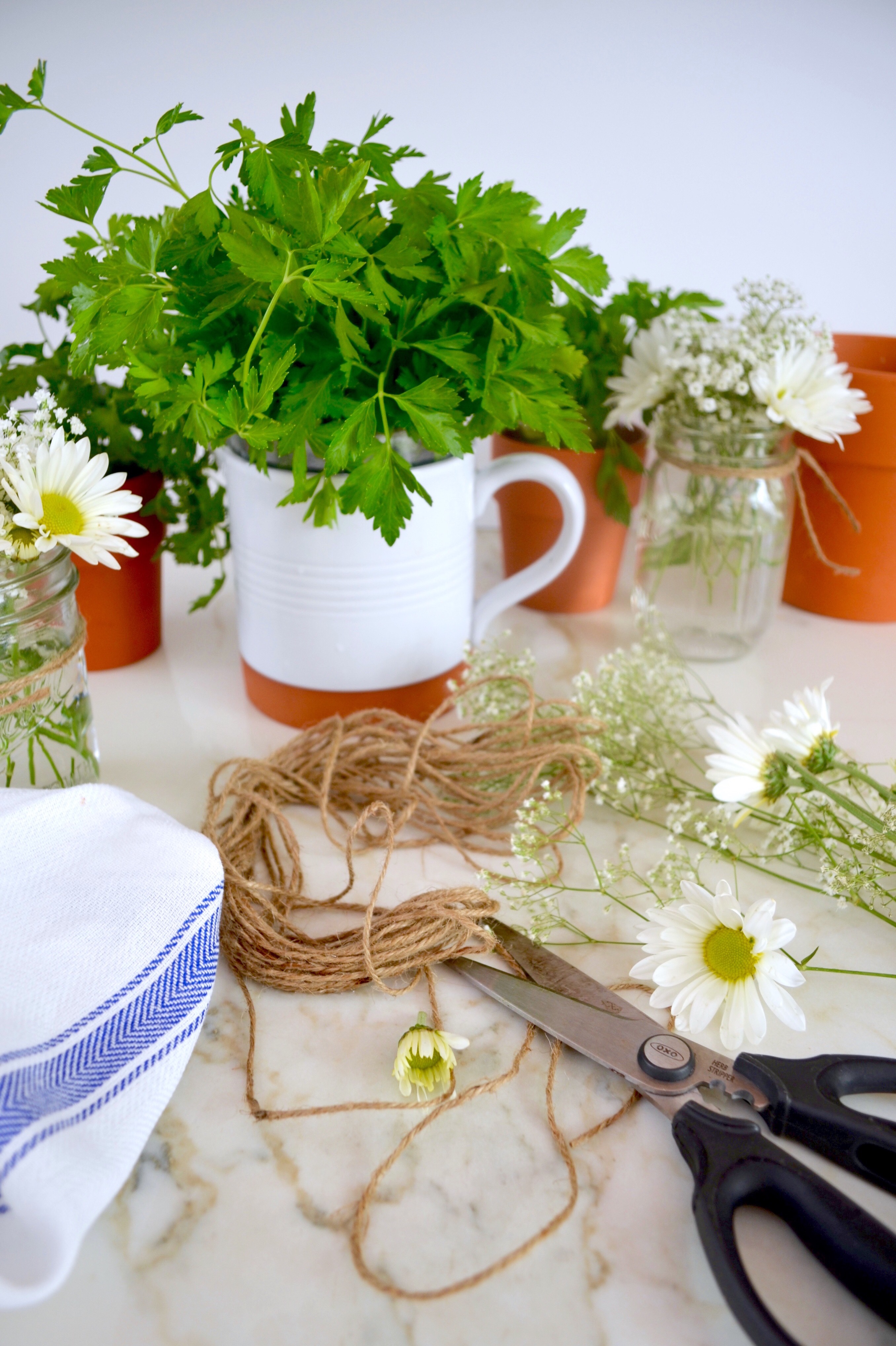 Herb pots:
Using clay pots and either a small juice glass or glass votive holder filled with water to line the pots, cut the herbs to desired height add to clay pots, spray with water to keep them fresh, and you're done. I keep the white flowers simple, with daisies, baby's breath or something white from my garden. Since you're already cutting herbs, add a handful to your water bottles or pitchers for some fresh flavored water. The best!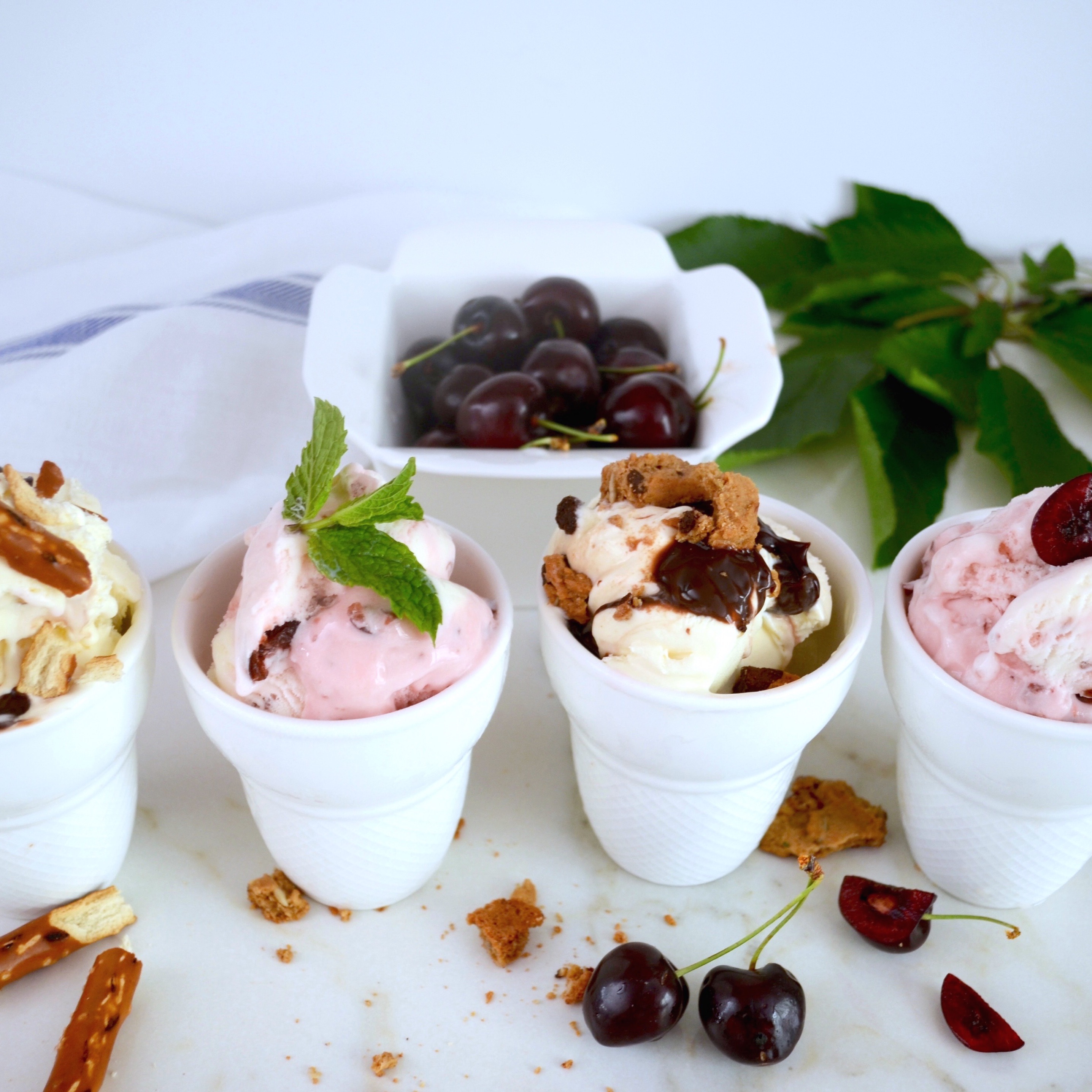 And finally, dessert! My friend and culinary queen, Lauren, is taking charge of the annual blueberry galette, which leaves me on ice cream. I'm obsessed with these waffle cups, so I kind of went a little crazy with whipping up some new combinations, but french vanilla with hot fudge, caramel and pretzels, strawberry ice cream with chopped mint, cherry ice cream with fresh cherries folded in and 'everything cookies', chocolate sauce and cream? I can't, but I will.
The finale and my favorite part of the day? Fireworks! And, since we're back in the Bay area, we'll be watching over the San Francisco Bay. So excited!
Happy 4th y'all. Let freedom ring!
xx, Deborah
Italian Grilled Corn on the Cob Recipe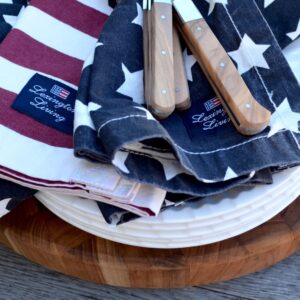 INGREDIENTS
For the Corn:
Large ears of corn, cleaned and shucked
2 tbsp Olive Oil
½ cup olive oil mayonnaise (recipe below)
Fresh ground pepper, to taste
Sea salt, to taste
1 ½ cups Parmesan cheese, grated
2 tbsp Italian flat leaf parsley, chopped
For the Olive Oil Mayonnaise:
1 large egg yolk
1 ½ tsp. fresh lemon juice
¼ tsp. Dijon mustard
½ tsp. kosher salt (to taste)
¾ cup Extra Virgin Olive Oil
INSTRUCTIONS
For the Corn:

Preheat grill. Bring a pot of water to a rapid boil. Salt water to taste, par blanch the corn until half cooked -about 3-5minutes. Remove from water and pat dry.
Brush generously with olive oil. Place on preheated grill, and grill on all sides about 2-3 minutes or until desired char is on the corn.
Straight from the grill and while still hot, brush each ear generously with olive oil mayonnaise.
Season with cracked pepper and sea salt. Sprinkle generously with cheese and fresh herbs.
For the Olive Oil Mayonnaise:
Combine egg yolk, lemon juice, mustard, and ½ a teaspoon of salt in medium bowl. Whisk until blended and bright yellow.
Slowly drizzle in olive oil as you whisk.