Surf & Turf Date Night Dinner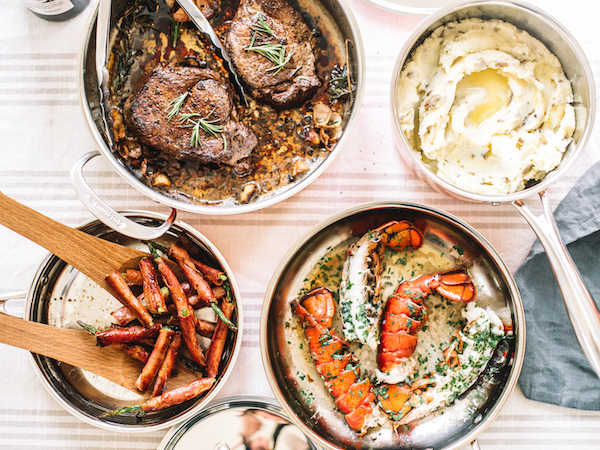 I swear this time of the year I get more girlfriends texting me asking how to cook steak and lobster than the WHOLE YEAR combined. I hear you, you want to put an apron on for the night and cook your person up a nice filet mignon for Valentine's Day. Hats off to you sister. I love a girl that goes all out! I'm here to help you get through it and cook one of the most delicious meals you'll make all year.
This type of meal is a perfect 'occasion' meal. It doesn't have to be for Valentine's Day necessarily (but also perfect for it!). Think celebration meal, anniversary meal, or just an 'I love you' and you deserve a nice surf and turf kind of meal! One of my favorite Ina Garten recipes is her endearing 'engagement chicken'. The concept of steak and lobster at home gives me all the same feels.
One of the times that I truly knew I loved my boyfriend Jared was the night he made me a filet mignon for Valentine's Day. It was the first meal he had ever really cooked for me and while it tasted delicious, we also finished off the evening in CVS buying burn wound cream because the poor guy got into a huge oil spat. Cooking for your loved one really is one of the nicest ways to show how much you care.
I hope I haven't scared you off, because I know that without a doubt you can rock a steak and lobster dinner at home! The menu is broken down into (3) easy parts!
3-cheese mashed potatoes
Prosciutto wrapped asparagus
Herb butter steak and lobster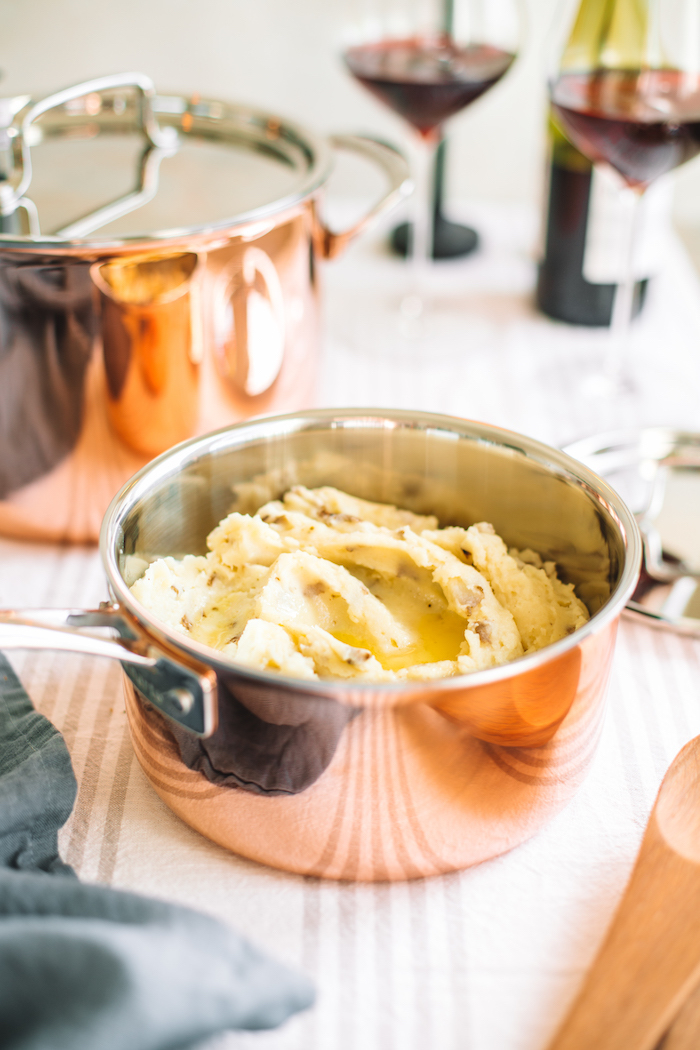 I could literally eat all three of these dishes right out of my cookware! They are that good. Start out by getting your mashed potatoes and prosciutto wrapped asparagus prepared and ready to go! All my friends say they have such a hard time cooking dinners other than casseroles or one pot wonders because there are so many moving parts. I hear you!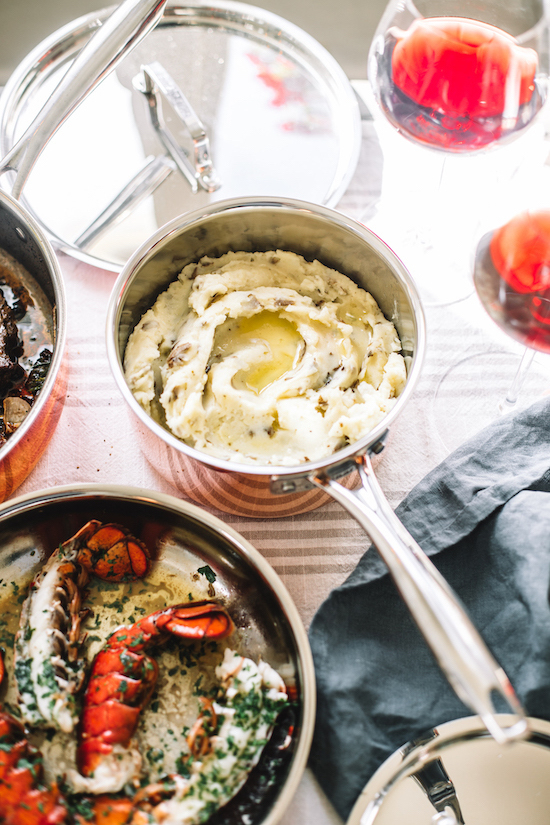 I still get a little overwhelmed when I'm trying to make something with 3-4 parts. The trick is planning your schedule out ahead of time. This factors in all those 'oops' moments and gives you a chance to take your time and not rush. Take the first hour and totally prep your mashed potatoes and prosciutto wrapped asparagus and keep them warm. My Cuisinart Tri-Ply Copper Cookware is perfect for this because the pans retain so much heat and keep all of my dishes warm from the center outwards. Just pop your finished mashed potatoes and asparagus on low and keep the lid on to stay warm.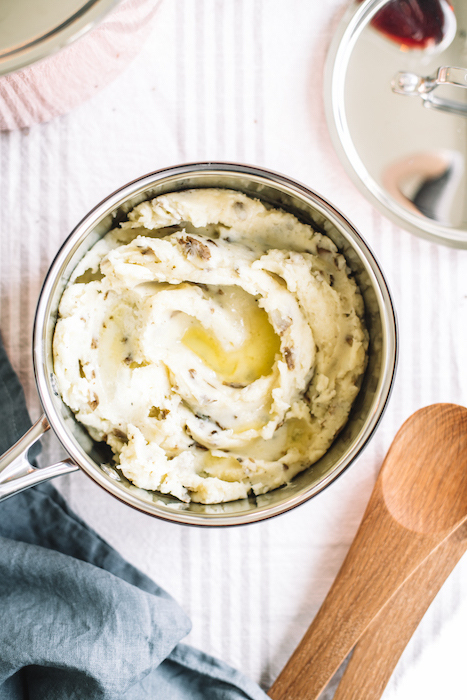 After you've gotten your asparagus and mashed potatoes hammered out, you're on to the main event! Steak and lobster! Which I know probably sounds a little intimidating (and you may have never even bought a lobster tail from the seafood department) but I promise it's not scary at all!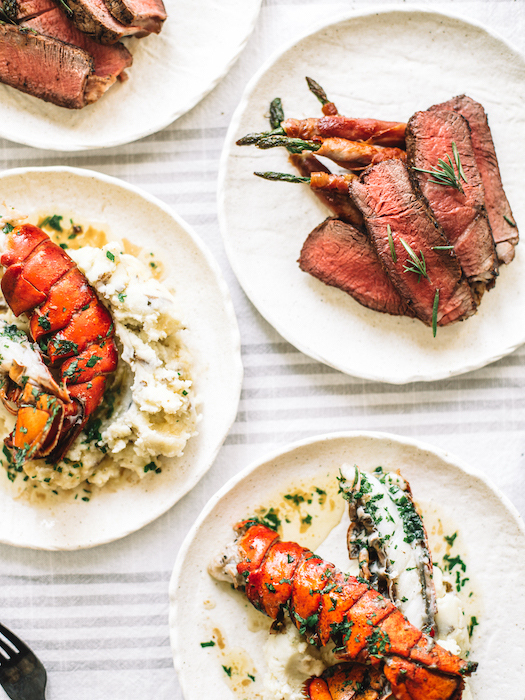 My trick to making simple steak and lobster is salt, pepper and flavorful herb compound butter! I love taking soften unsalted butter and mixing in flavorful herbs like rosemary, Italian parsley and minced garlic. This simple fix will give your steak and lobster so much flavor!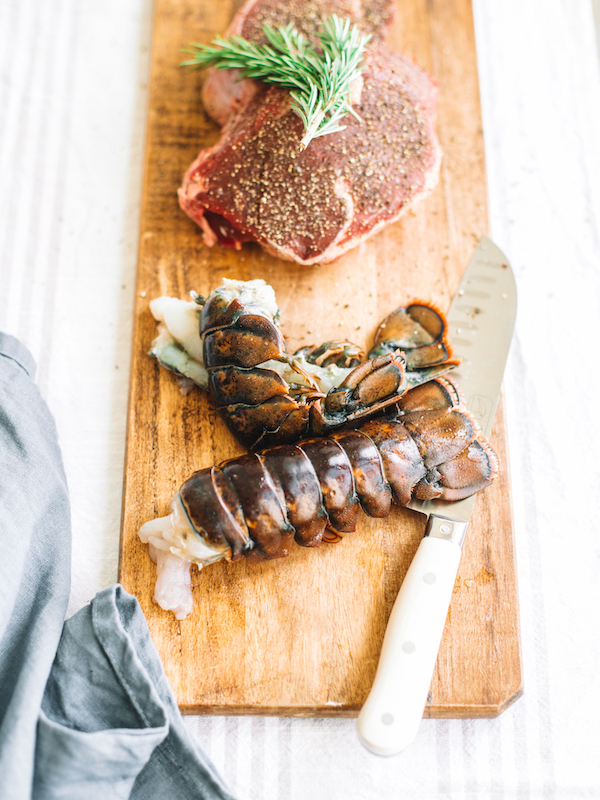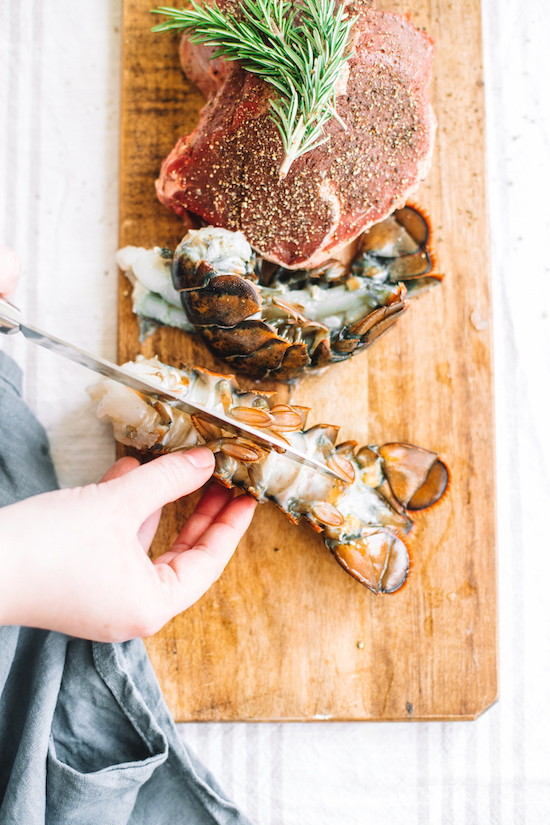 I like to cut my lobster in half (my Jean Dubost French Farm Chef Knife is perfect for this!) sear the steak on both sides and let it steam in that luscious compound herb butter. The whole cooking time for your lobster should take less than five mins! So simple!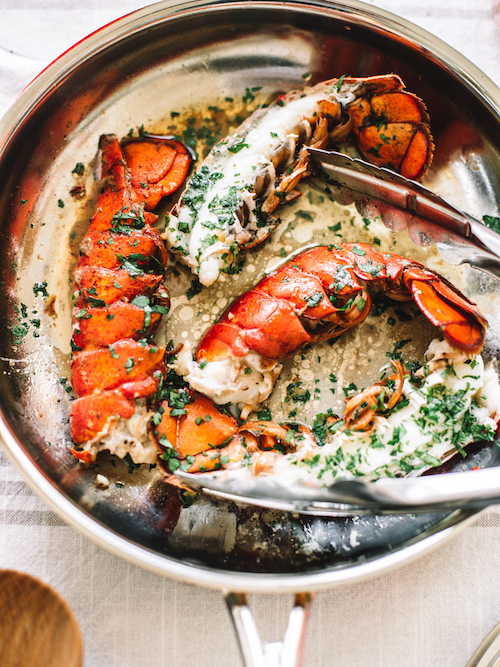 Last but not least, the steak! The trick to getting steak perfectly pink inside is watching your cooking time like a hawk. It doesn't take steak more than 2-3 minutes on each side to cook to a medium temp. If your steak still feels pretty soft in the center it will need to cook a little longer, if it has a little spring back after pressing the center than its over cooked.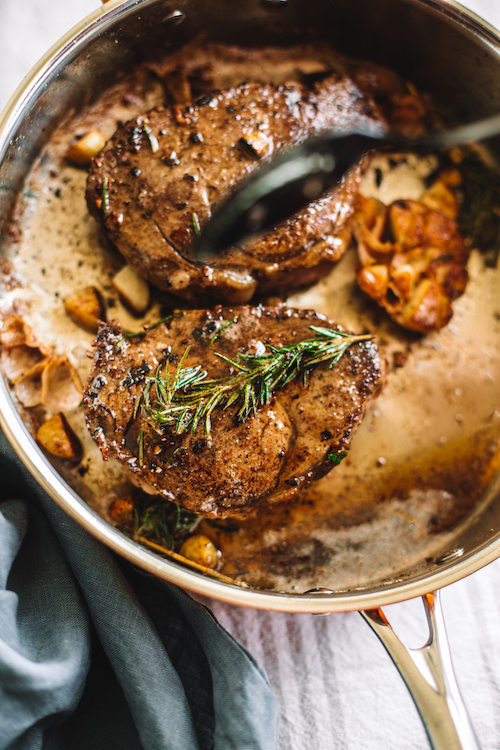 The most important part of cooking steak is actually what happens after. Let your steak rest, covered with foil for at least ten minutes before cutting the piece open. If you follow these simple tips I promise you will have juicy, occasion dinner worthy lobster and steak!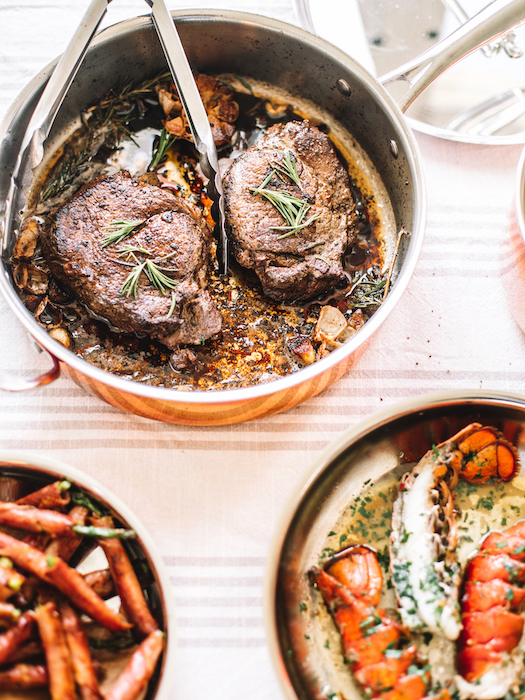 These creamy, dreamy, cheesy mashed potatoes are the perfect side dish for a steak and lobster date night dinner.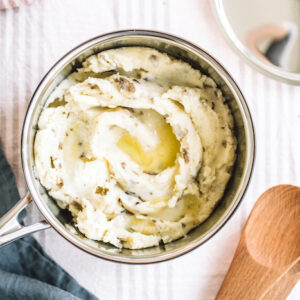 Ingredients
1.5

lb

russet potatoes, quartered & unpeeled

.75

cups

half & half

2

tbsp

unsalted butter

.5

cups

goat cheese

.5

cups

shredded Parmesan cheese

.5

cups

shredded aged cheddar cheese

2

tsp

garlic powder

salt & pepper to season
Instructions
Bring a large pot of salted water to a boil and add quartered potatoes.

Boil for 10-15 minutes or until potatoes are fork tender.

Drain and beat potatoes with an electric mixer or a masher with garlic powder, half & half, butter, and cheeses.

Whip until creamy but still lumpy.

Season mashed potatoes with salt and pepper to taste.
Nutrition
Serving:
1
g
Calories:
676
kcal
Carbohydrates:
42
g
Protein:
34.2
g
Fat:
42.6
g
Saturated Fat:
27.8
g
Cholesterol:
129
mg
Sodium:
688
mg
Fiber:
5.6
g
Sugar:
4.1
g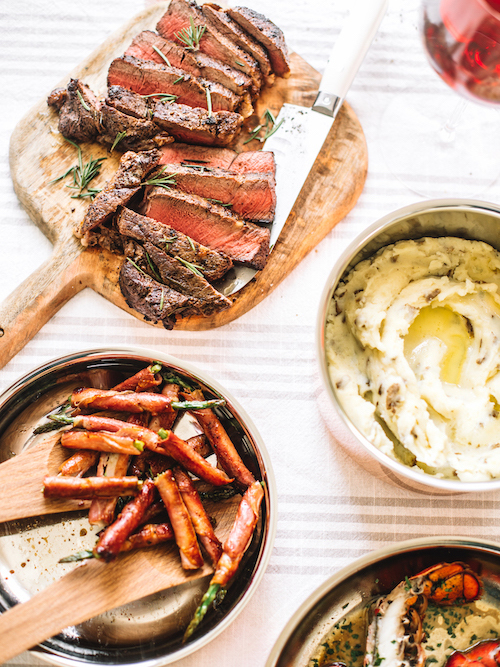 Prosciutto Wrapped Asparagus
Elevate your side of asparagus in 15 minutes by wrapping it in prosciutto and pan-frying!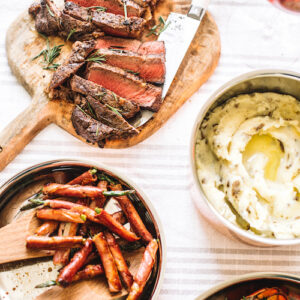 Ingredients
1

bunch of asparagus

.25

lb

prosciutto

olive oil

freshly cracked black pepper
Instructions
Trim asparagus ends and cut in halves.

Wrap a thin piece of prosciutto around the center of the asparagus.

Drizzle a shallow medium sized pan with olive oil.

Pan fry for 10-12 minutes on medium heat or until asparagus spears are fork tender and prosciutto is golden.
Nutrition
Serving:
6
g
Calories:
71
kcal
Carbohydrates:
3.1
g
Protein:
6.3
g
Fat:
4.1
g
Saturated Fat:
0.8
g
Cholesterol:
12
mg
Sodium:
274
mg
Fiber:
1.5
g
Sugar:
1.4
g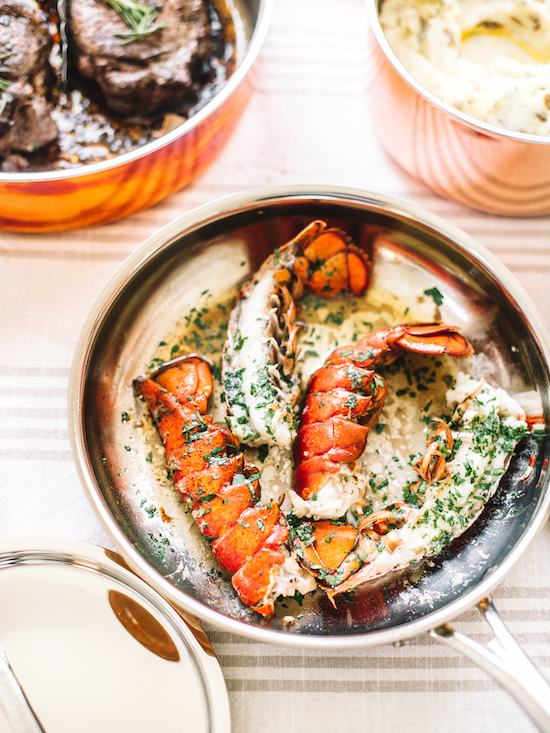 Herb Butter Steak and Lobster
Is there anything more romantic than a steak and lobster dinner? This delicious meal is actually easy than it looks. Serve up alongside 3-cheese mashed potatoes and prosciutto-wrapped asparagus, and prepare to impress your loved one.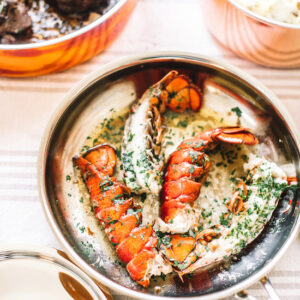 Ingredients
1

stick (or ½ cup) unsalted butter, softened

2

tbsp

rosemary, minced

2

tbsp

Italian parsley, minced

3

garlic cloves, minced

0.5

tsp

black pepper

rosemary sprigs

garlic cloves, whole

2

lobster tails, halved

2

filet mignon or NY strip steaks, at room temp
Instructions
In a medium-sized bowl mix together softened butter, herbs, garlic, and black pepper until smooth and well incorporated.

In a shallow, medium-sized pan add two tablespoons of compound butter on medium heat until melted.

Sear lobster halves on each side for 1 minute. Add in another tablespoon of compound butter, turn lobster shells tail hard shell side down and place a lid over the pan.

Steam on medium low heat for 3-5 minutes or until shells have turned bright red. Serve with fresh lemon if desired.

While lobster is cooking, heat a separate medium sized pan with 3 tablespoons of compound butter on medium heat. Add in a couple of peeled garlic cloves and rosemary sprigs to melted butter.

Season your steaks generously with salt and pepper. Sear steaks on each side for 2-3 minutes. Go a bit longer if you prefer your steak well done.

Cover steak with foil after cooking and let rest for 5 minutes before cutting into strips.

Serve each item up as a small tasting plate between you and your partner!
Nutrition
Serving:
1
g
Calories:
1917
kcal
Carbohydrates:
4
g
Protein:
217
g
Fat:
110
g
Saturated Fat:
53
g
Cholesterol:
767
mg
Sodium:
1142
mg
Fiber:
2
g