Summer Peach Panzanella Salad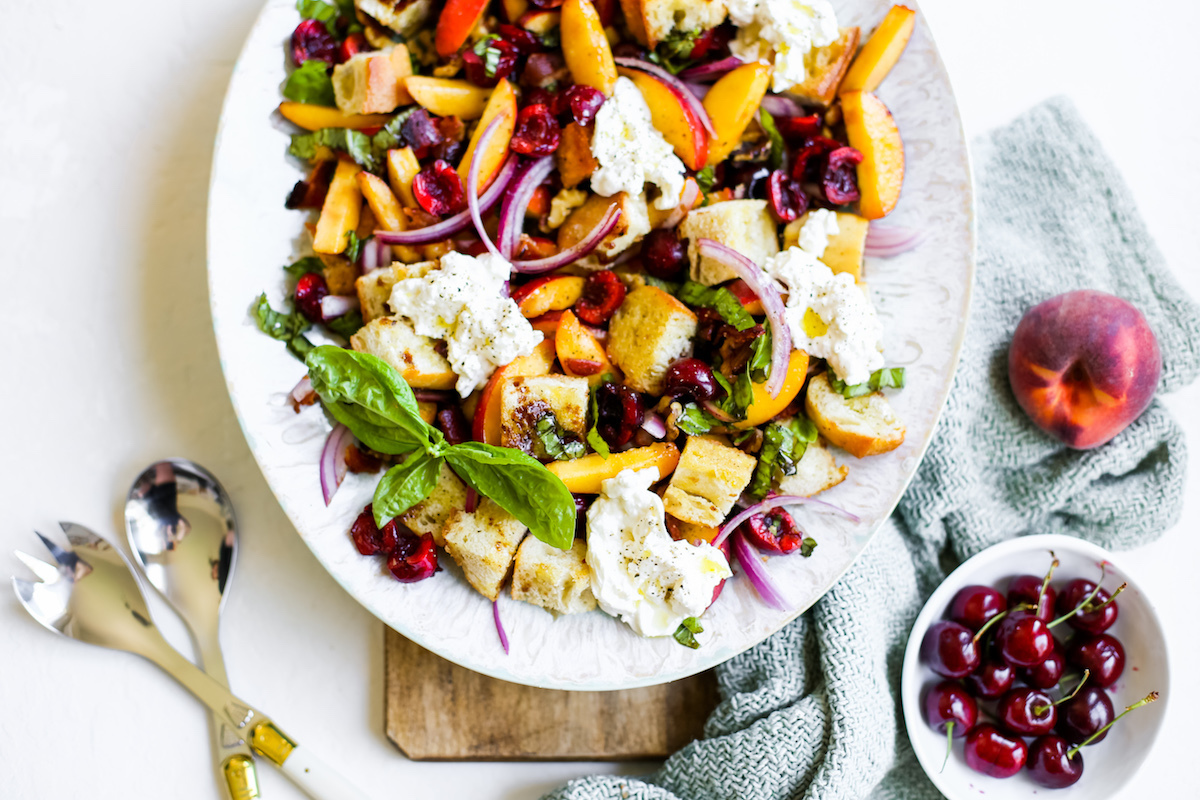 Panzanella has been the salad of the SUMMER for me! I recently had a Greek dinner party and Sierra, my Italian friend, came over for dinner! As I was bringing out a jumbo bowl of greek style panzanella (you can literally make any kind) she said, "Ooooh I love poor man's salad!" I was like whaaaa?! Apparently in Italy, they refer to panzanella salads as poor man's salads and I suppose I can see why now! It really is just simple ingredients like cubed ciabatta, fresh produce and easy vinaigrette!
The best part about panzanella salad is that it is almost impossible to mess up! Just stick with the same ratio of toasted bread, fruits, vegetables and cheese. Traditional panzanella is usually made up of toasted ciabatta bread, fresh summer tomatoes, red onion slices, cucumbers, mozzarella, herbs and a light dressing made with olive oil or balsamic. I did a little digging about the "poor man's" side of things and apparently it was originally created with stale bread and rehydrated with the dressing and flavors. Who would have thought?!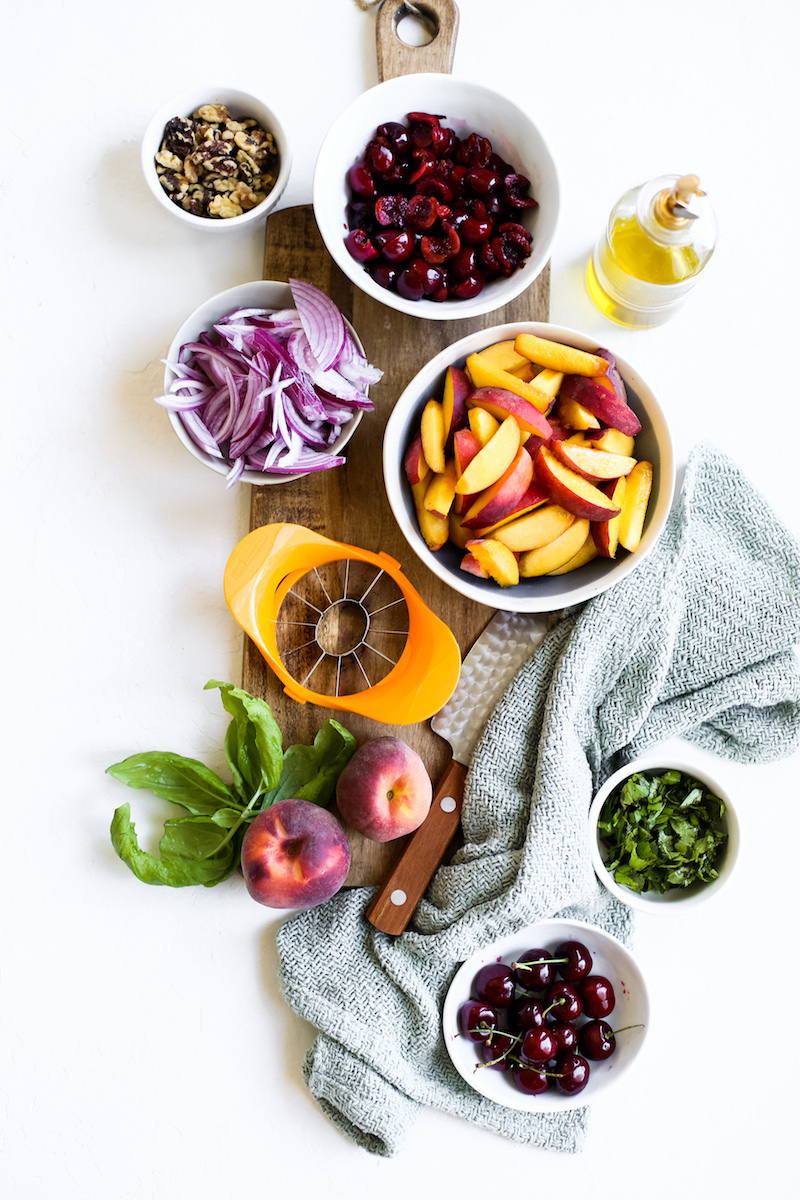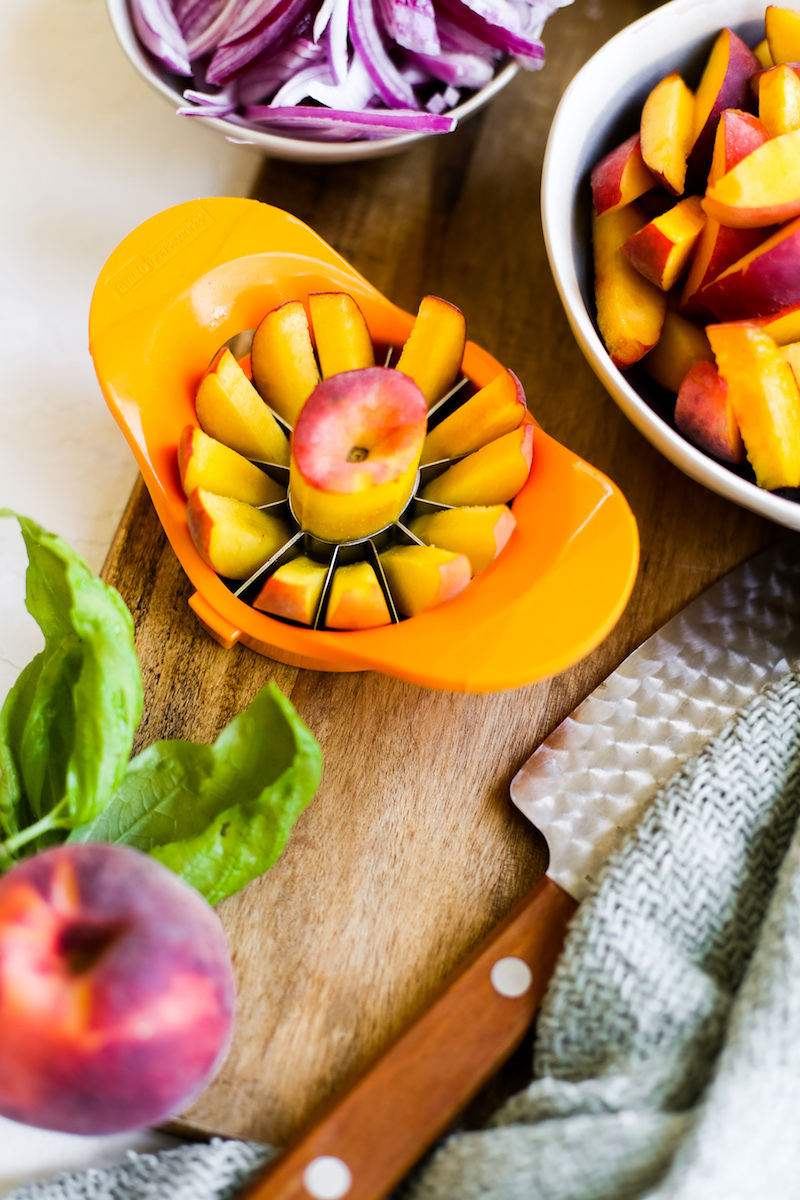 Reason 4575345 why this salad is so easy?! This side dish can also be made ahead! If I'm breaking out panzanella salad for parties (which happens all the time) I put all of the ingredients into a large bowl and reserve the dressing until about 30 minutes before serving. When it comes to feeding a crowd I always try to stick with easy, big batch side dishes.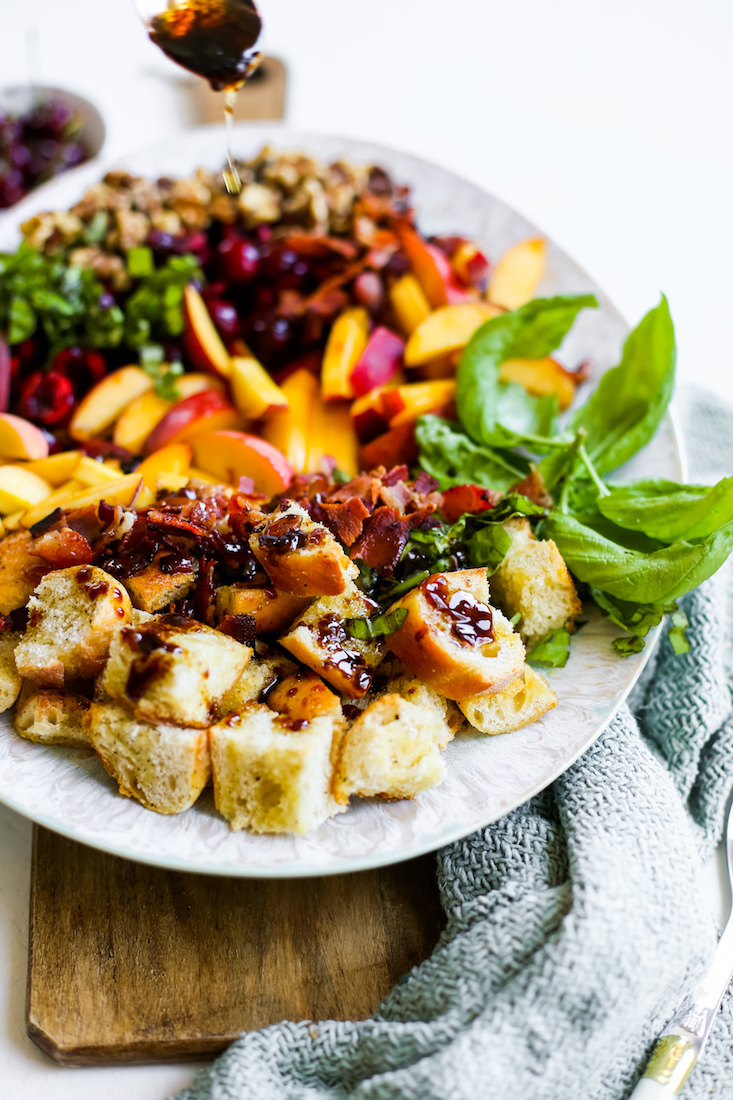 You can certainly stick to the classic version but I love jazzing mine up with a summer flare! I've swapped out traditional tomatoes for big peach slices and mozzarella for big burrata balls. The best addition though: the bacon! I love a salty component in dishes and this really turned traditional panzanella up a flavor notch! Scroll down below to grab this easy recipe!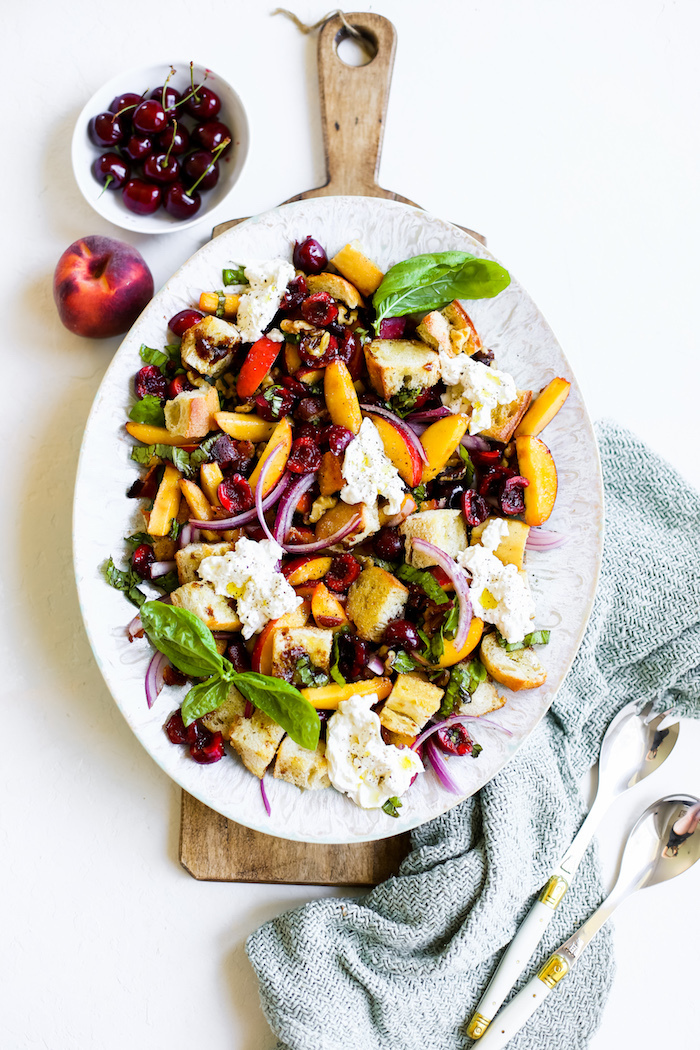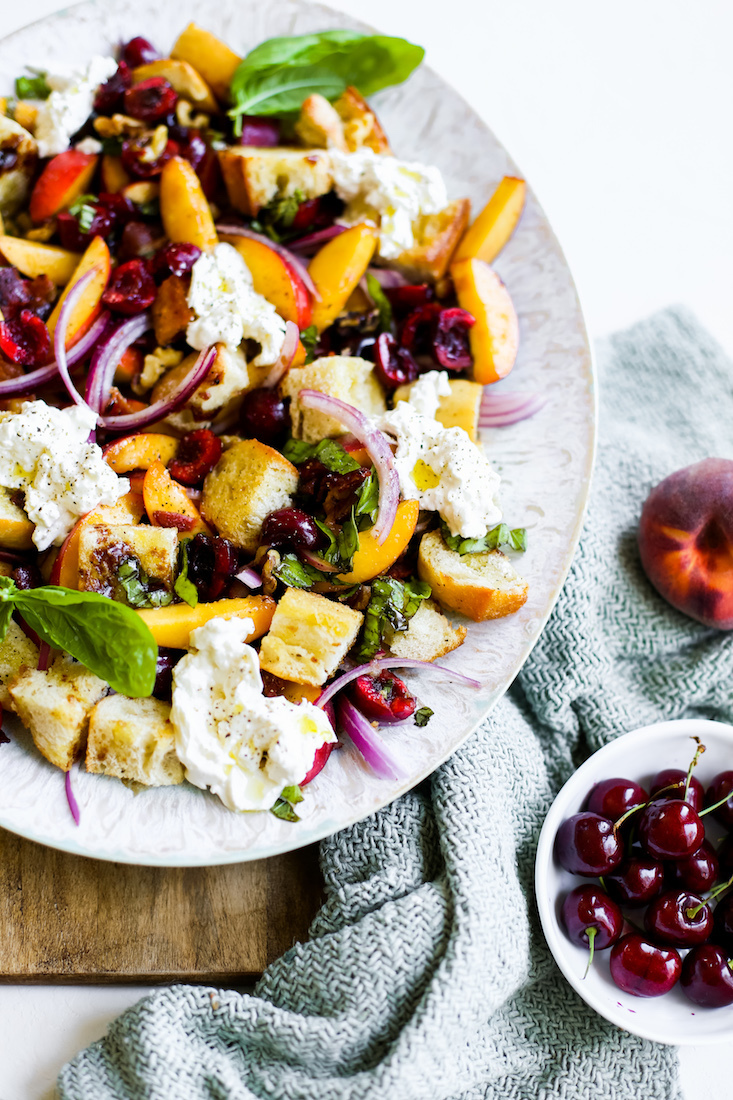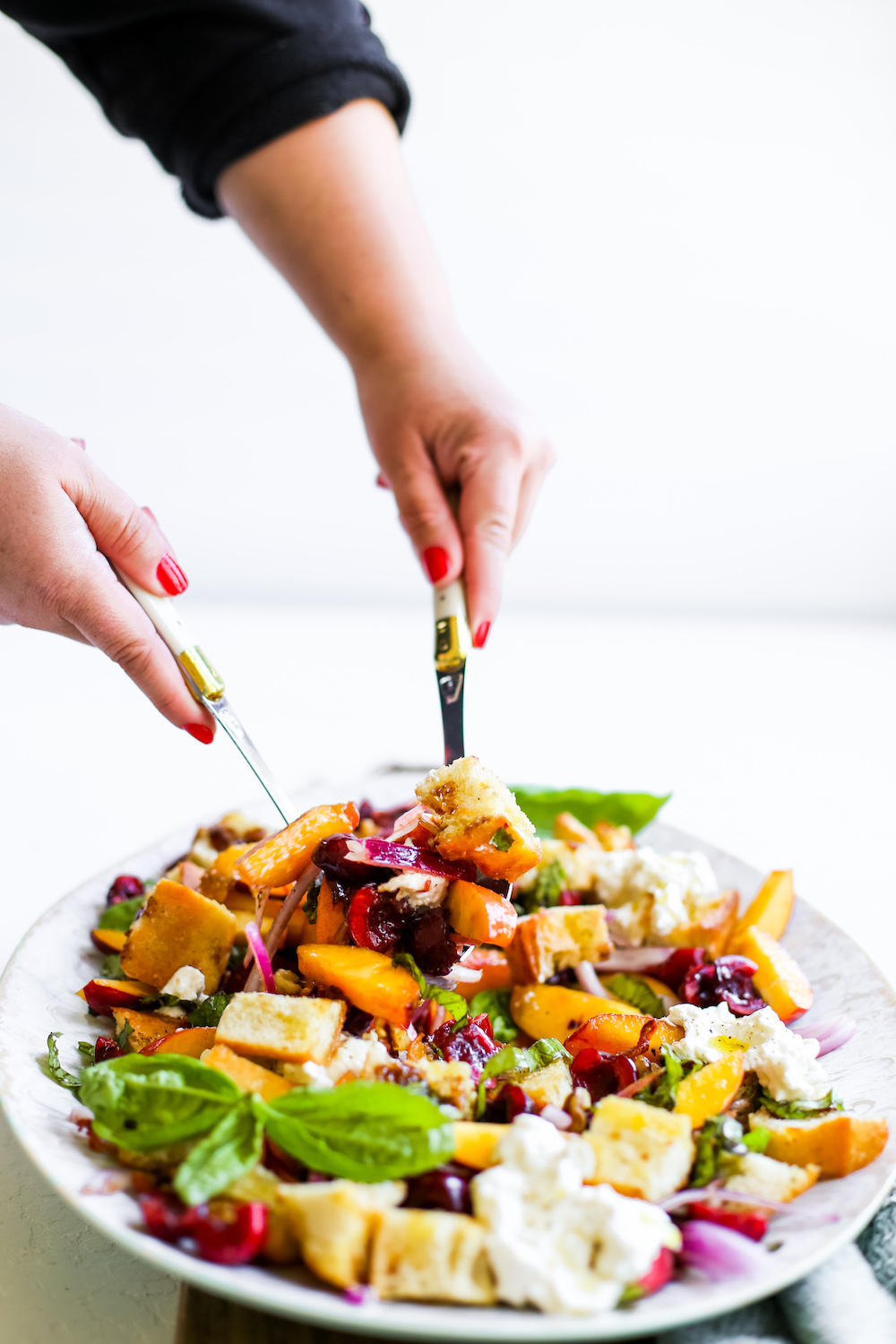 Summer Peach and Cherry Panzanella Salad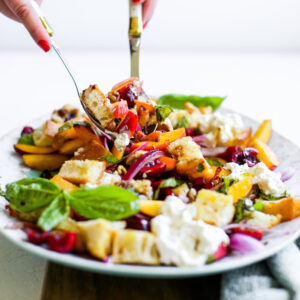 INGREDIENTS
4 cups of ciabatta bread cubes
Olive oil
Salt + pepper
5 peaches, sliced
2 cups of cherries, pitted & halved
½ cup of walnuts
5-6 bacon strips, cooked and crumpled
½ red onion, thinly sliced
5 basil leaves, thinly sliced
2 balls of burrata cheese
For the dressing:
¼ cup of balsamic vinegar
¾ cup of olive oil
1 tablespoon of brown sugar
3 garlic cloves, minced
½ teaspoon of kosher salt
¼ teaspoon of black pepper
INSTRUCTIONS
Preheat oven to 425 degrees Fahrenheit.
On a sheet pan, toss together bread cubes with a light drizzle of olive oil and a few pinches of salt and black pepper. Bake for 6-8 minutes or until golden brown. Remove from baking sheet and set aside.
Place all of the dressing ingredients in a seal tight jar or mason jar and shake until dressing is emulsified, about 30 seconds. Place into the refrigerator until salad is ready to serve.
In a large bowl or platter, toss together bread cubes, peaches, cherries, walnuts, bacon, red onion and basil leaves. Tear apart the burrata balls and evenly disperse on top of panzanella. Dress salad with vinaigrette 20 minutes before serving.