Grilled Tempeh Bites with Harissa Dipping Sauce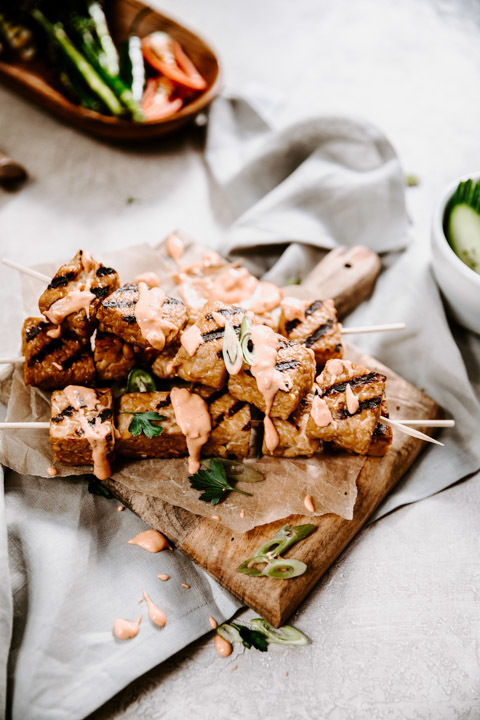 I love this recipe for so many reasons. It's gluten-free, vegetarian, and can be made vegan with one simple substitution. Tempeh (pronounced "temp-ay") is my favorite vegetarian protein because I love how the fermentation gives it such a wonderful umami profile. It's nutty and chewy and has that staying power to help you feel really satisfied. Additionally, grilling tempeh (and vegetables!) produces such a wonderful smoky flavor that is just delicious for a vegetarian or vegan meal.
Don't fret, I know many of us have packed our grills away until spring, just use a cast iron grill pan if you can! If you've never bought tempeh before, it's available at almost every major grocery store in the refrigerated soy products section. I typically like to buy the original soy or the flax versions. Harissa has been a bit of a trendy flavor lately, but if you've never had it before just know it is spicy!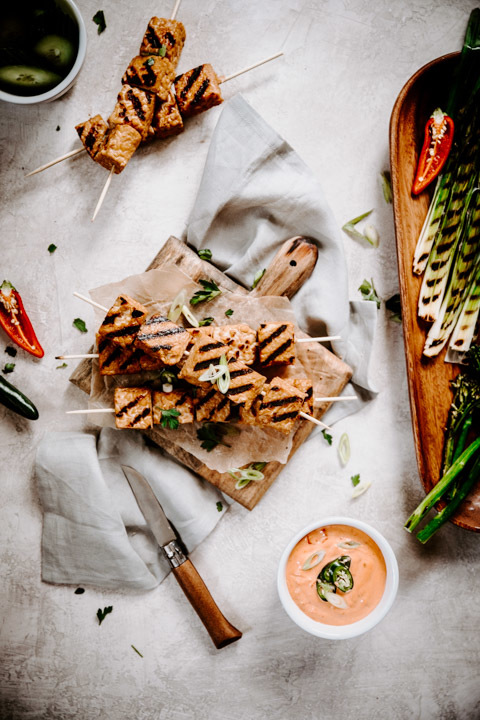 Recipe Notes
Tempeh can dry out pretty quickly on the grill. Make sure to marinate the tempeh as long as you can and pat it dry to get the best grill marks.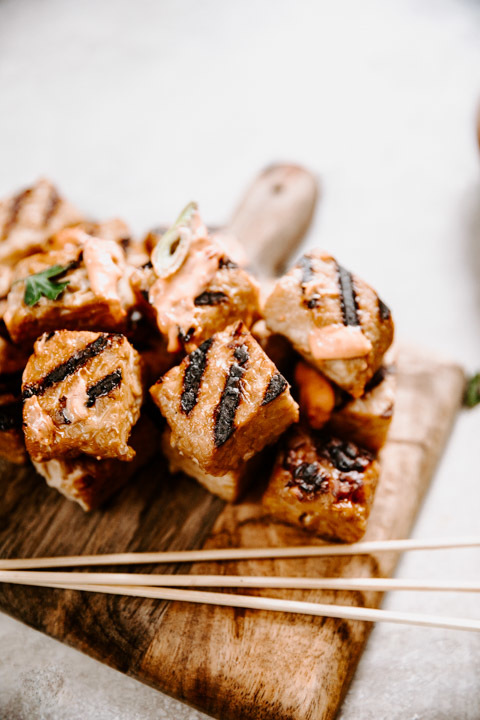 I grilled leeks and broccolini for some vegetables, but a yummy addition could be onions or green onion, zucchini, or even tomatoes! Just make sure to give them a light coating of oil, and sprinkle with flaky salt to grill.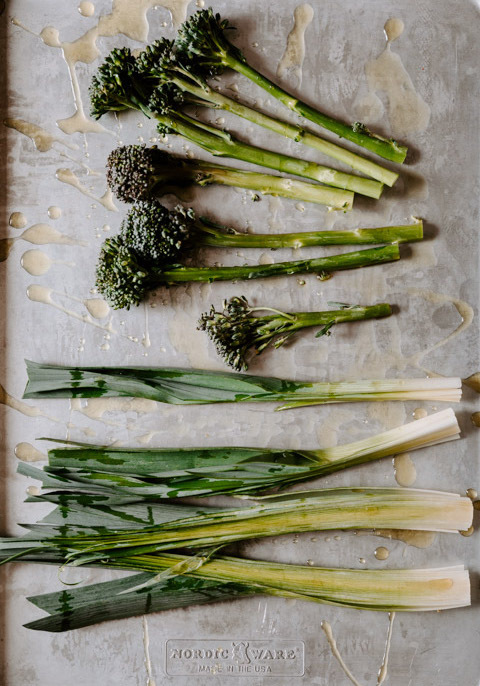 I love to dip cool crunchy cucumbers in the harissa dipping sauce, but any raw vegetable like bell peppers or carrots could be equally delicious!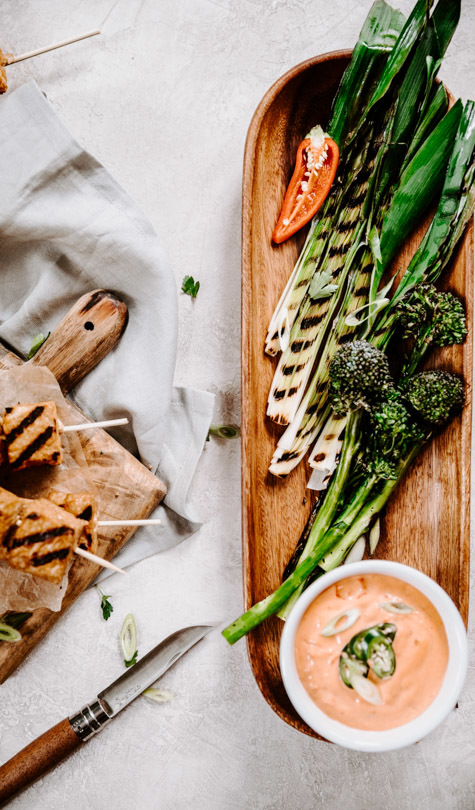 Speaking of Harissa, I love the harissa paste from Trader Joe's and recommend using that one. If you don't have a Trader Joe's near you, I've seen it for sale on Amazon.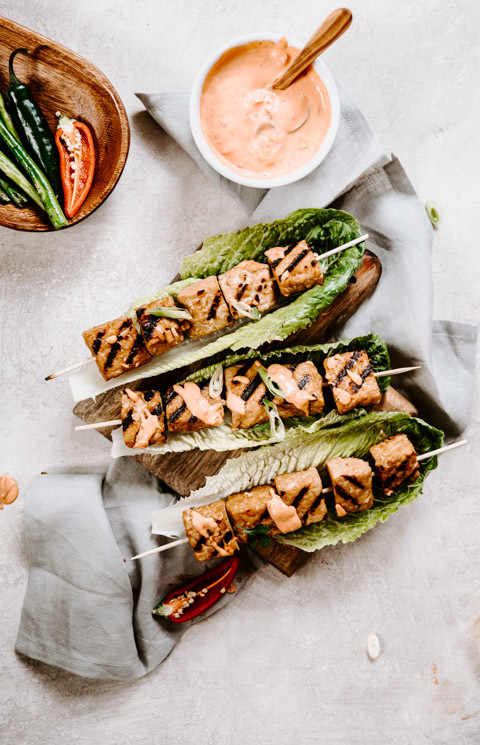 Grilled Tempeh Bites with Harissa Dipping Sauce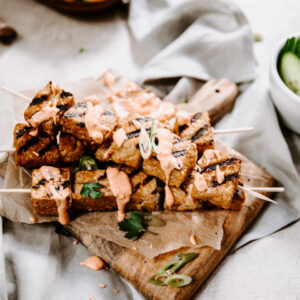 INGREDIENTS
For the Marinade:

2 8-oz packages tempeh, chopped into 1" cubes
2 cups veggie broth
¼ cup toasted sesame oil
¼ cup tamari (or soy sauce)
2 tablespoons coconut nectar (or maple syrup, molasses, rice syrup)
½ small head ginger, sliced
3 large cloves garlic, smashed
For the Dipping Sauce:
¼ cup mayo
2 tablespoons harissa paste
1 teaspoon sesame oil
INSTRUCTIONS
Mix together all of the ingredients for the marinade. Boil on the stovetop for at least 20 minutes until all of the flavors are fragrant and infused. If you have time to prep, store airtight in the refrigerator to marinate overnight instead.
Mix together all of the ingredients for the dipping sauce and set aside.
Drain the tempeh from the marinade and pat dry. Place each cube individually on the grill pan or line up 5 to a skewer if using a large grill. Place down on a diagonal to get the best grill marks.
Cook for about 5 minutes or until the tempeh releases itself from the grill without too much force. Flip and cook for an additional 5 minutes.
Serve with grilled vegetables and raw vegetables to dip or on top of a salad. Enjoy!