Spicy Pineapple Cilantro Margaritas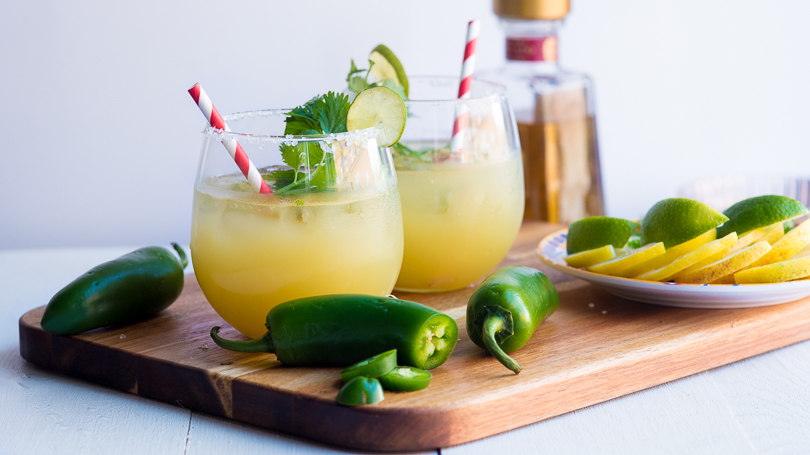 Nothing says Cinco de Mayo quite like a margarita! This Spicy Pineapple Cilantro Margarita is the perfect signature drink for your party!
I love a good margarita made from scratch. My favorite thing to do when I am out on the town is to get my girls together for tacos and lots of margaritas. One of our favorite restaurants makes a fabulous spicy margarita and I knew I had to try to recreate it.
This drink is made completely from scratch…none of that fake neon colored margarita mix here! We've put all the flavors of a more American sweet margarita without making simple syrup or using agave nectar by using pineapple juice.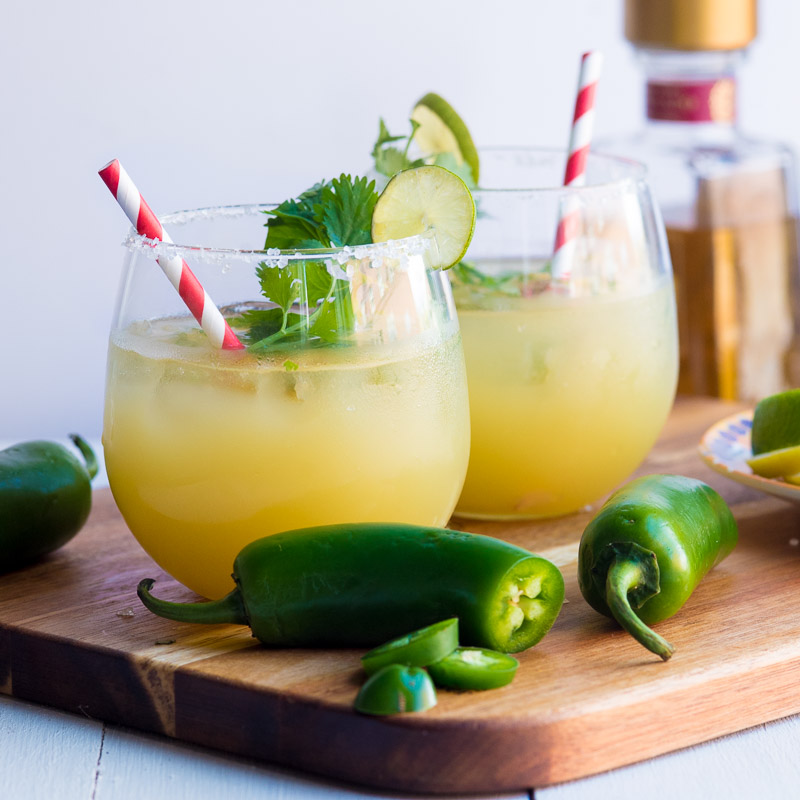 The jalapeños add just the perfect amount of kick. I like to add around 3-4 but many of my coworkers swear by just one so start there and work your way up. The cilantro in the drink is one of my all time favorite herbs and it is perfect in this drink. But if you are a cilantro hater feel free to omit it 🙂
Happy Cinco de Mayo!
Spicy Pineapple Cilantro Margarita Recipe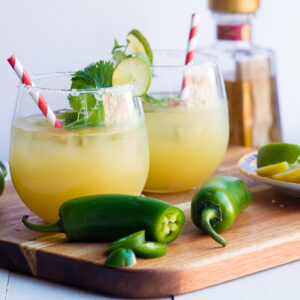 INGREDIENTS
4-5 ice cubes (plus additional to serve over if desired)
1-4 jalapeño slices
2 ounces freshly squeezed lime juice
2 ounces freshly squeezed lemon juice
6 ounces pineapple juice
2-4 ounces tequila (to desired level)
4 sprigs cilantro
Garnishes: salt, limes, cilantro, jalapeno slices
INSTRUCTIONS
Cut a slice into the side of a full lime and rim glasses with lime juice. Dip in salt.
In cocktail shaker muddle 1-2 slices of jalapeno.
Add 4-5 Ice cubes
Add lime juice, lemon juice, pineapple juice, tequila and cilantro.
Shake. Serve on the rocks with garnishes.