This Spiced Carrot Punch Is Just Extra Enough for Easter Brunch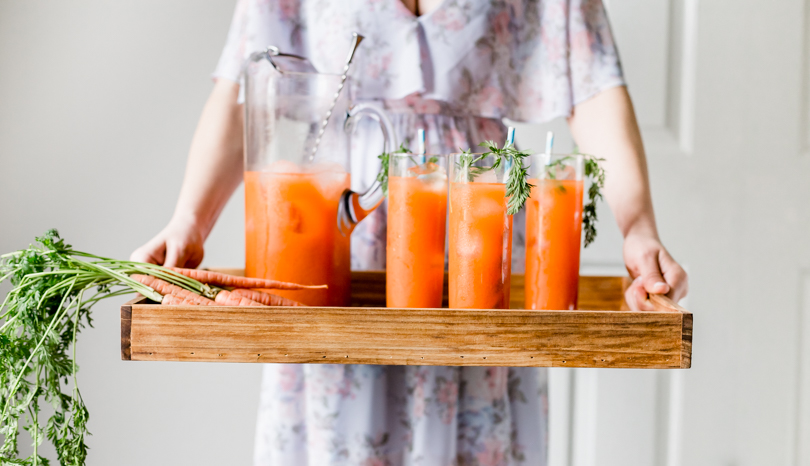 Hosting Easter Brunch this year? Or in charge of bringing something awesome? This large format Easter cocktail, bursting with fresh carrot flavor and color, makes a statement and serves a crowd.
Here's the thing — Easter is a holiday. And not like Arbor Day, or International Puppy Day, or Bring Your Sister's Cousin's Niece to Work Day, all of which are lovely but pretty unofficial. Easter is a capital H Holiday, the kind that has you planning in advance and generally ready to go a little "extra."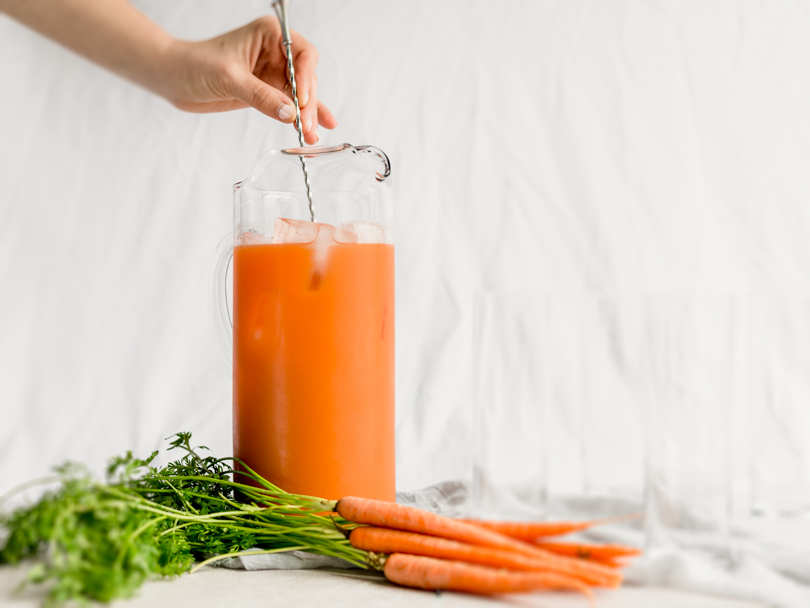 And let's just unpack that concept for a second, okay? I think it's really easy to get overwhelmed, not just around the holidays, but any old day, by the idea of "extra." In a very confusing and increasingly digital world, it's easy to conflate the simple idea of "going above and beyond" with "making things IG worthy," or trying too hard to impress. The former is a way to show guests love by giving a little extra time, everybody's most valuable resource, to make a gathering special for the people who are actually there. The latter is a mentally damaging cycle of unattainable perfectionism, which has more to do with how your gathering will look on Facebook afterwards than how enjoyable it was in real time.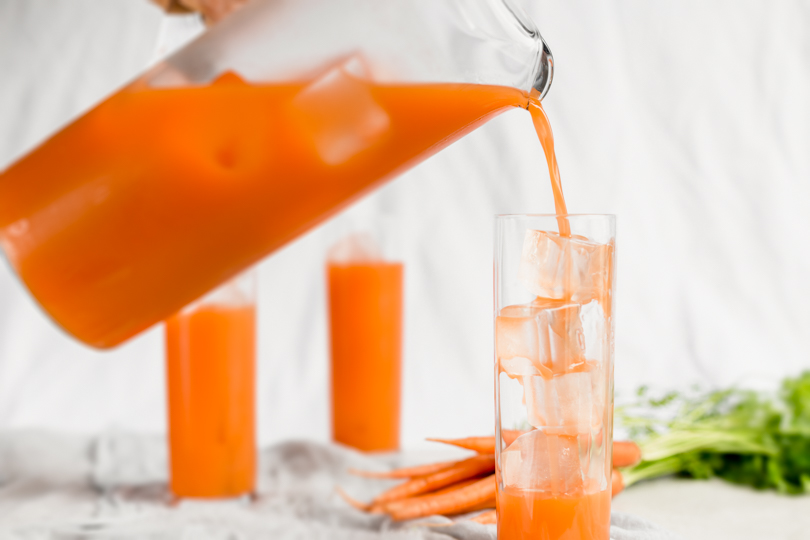 Guys, these two concepts are not the same, but only you can tell where your own line is drawn. It's okay to go above and beyond. I find it really relaxing to spend time on a dish, and fulfilling to watch my guests enjoy it. My line is the sand is always making sure the dishes I prepare won't keep me in the kitchen during the party, but everyone has their own list of things that do or don't stress them out. I don't think the answer to digital perfectionism is to make everything carefree — "effortless" can be an unattainable standard, too. Effort is okay. Extra is okay. It's just going to look a little different on everyone, and that's okay too.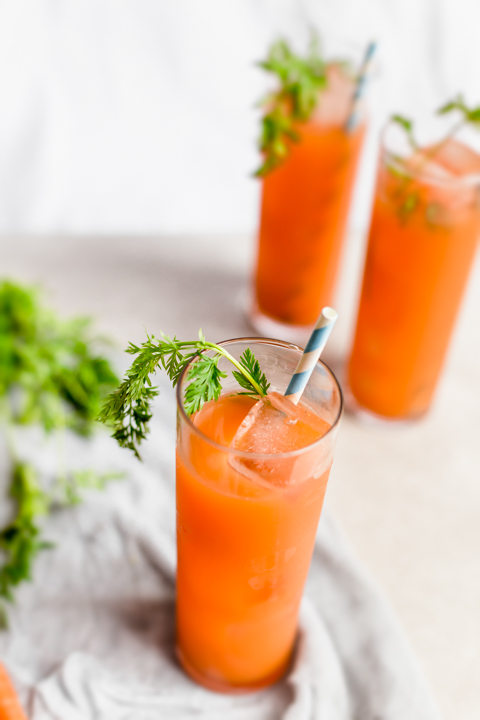 So here's an Easter recipe that's a favorite of mine, because it sits (for me) very much in that sweet spot of worthwhile extra effort — you make a homemade syrup, and you squeeze fresh citrus. Neither of those things is particularly hard, but guests feel the love and attention that goes into presenting something beyond a standard mimosa. It's as bright and zippy (thanks, fresh ginger) as Spring itself. You can go really extra and add carrot greens to garnish — I love how strongly the drink evokes fresh carrots when presented this way — or you can throw in a pastel straw and call it a day. Your guests are going to love it either way, and that's what really counts.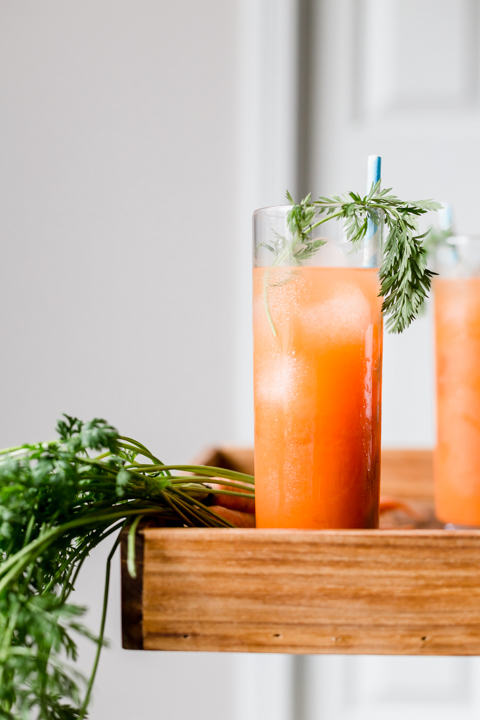 This large cocktail, bursting with fresh carrot flavor and color, makes a statement and serves a crowd.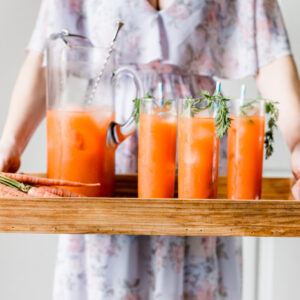 INGREDIENTS
For the Punch:
1 cup clean white rum (like Flor de Cana)
1 cup fino sherry (I use the inexpensive Pastora brand you can find at Trader Joe's)
2 cups cold pressed (or fresh juiced) carrot juice
1 cup ginger cinnamon syrup (recipe below)
3/4 cup fresh squeezed/strained lemon juice
8 dashes angostura syrup
For the Cinnamon Syrup:
.5 oz cinnamon sticks (half a jar), smashed (I bang with a mallet in a cloth bag or on a cutting board)
1 large handle of ginger root (at least 6 inches long, or about 8 oz), peeled and thinly sliced
1 cup sugar
1 cup water
INSTRUCTIONS
For the Punch:
(1) Combine all in a pitcher filled with large ice cubes. Stir just until chilled, then pour over ice. Optional: Garnish with carrot greens.
For the Cinnamon Syrup:
(1) Combine everything in a saucepan and bring to a boil over medium high heat, stirring occasionally.
(2) Cover and reduce to a simmer. Let simmer for 4 minutes, then remove from heat.
(3) Let sit, covered, overnight. Strain out solids and store in the fridge.