Salt Plank Grilled Salmon with a Simple Lemon Caper Compound Butter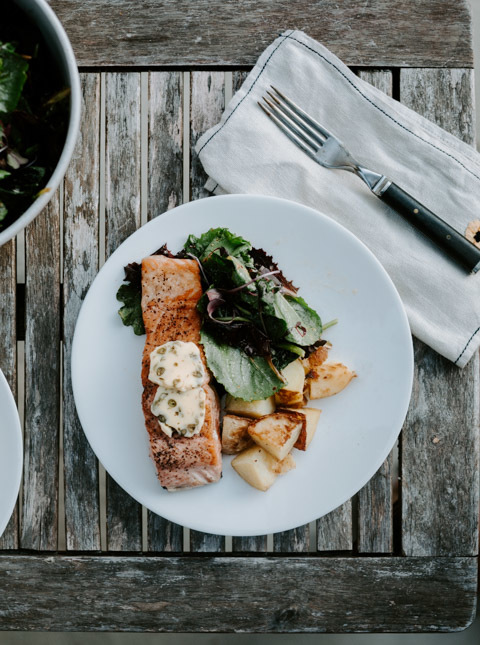 Just because summer has come to an end doesn't mean it's time to put away the grill. In fact, September and October are two of my favorite months to cook outside because of the cool, crisp air paired with the cozy warmth of the grill.
This fall we'll be using our Himalayan Salt Plank every time we fire up because it adds a wonderful umami (well rounded) flavor and infuses the food with over 80 health-promoting minerals. I like to think of the Himalayan block as I do the cast iron pan – it can withstand high heat and distribute it evenly (which is a must for cooking fish over the grill!), it's naturally nonstick, the seasoning only gets better with time, and it adds flavor to the food. The only thing that makes salt planks better than cast iron is that it can be used as much more than a cooking surface. Cook, chill, serve, and cure – salt planks are definitely a kitchen equipment must-have.
In our home, we try to cook salmon once a week. Not only is it a wonderful health-promoting fish (hello protein and omega-3 fatty acid!), it's simple to prepare and tastes great. One of my favorite flavors to pair is lemon caper compound butter. It complements the fish nicely and has a way of pulling everything together on the plate.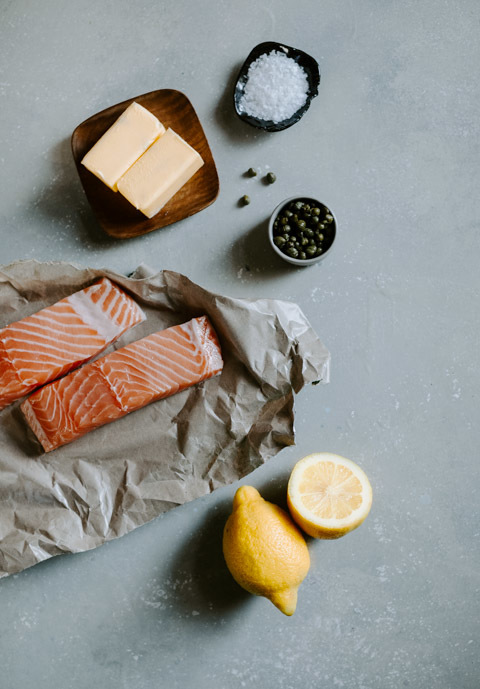 My simple compound butter will elevate any dish, but it definitely makes an easy grilled salmon that much more special, without complication. This recipe takes only four ingredients and requires nothing other than a bowl, a spoon (or, if you're like me, your hand!), and a piece of parchment paper. I like to use a cultured butter for a better flavor and the healthy gut-promoting bacteria it contains. Don't worry, cultured butter can be found at any grocery store!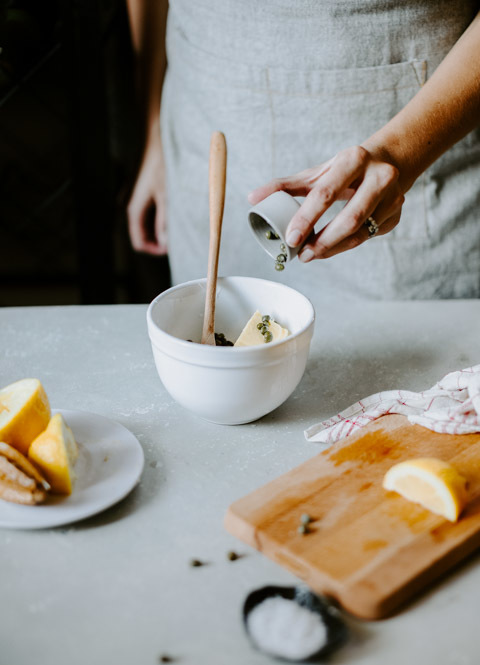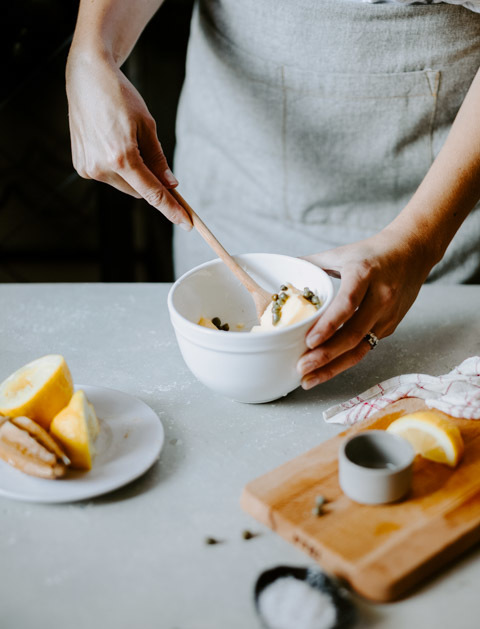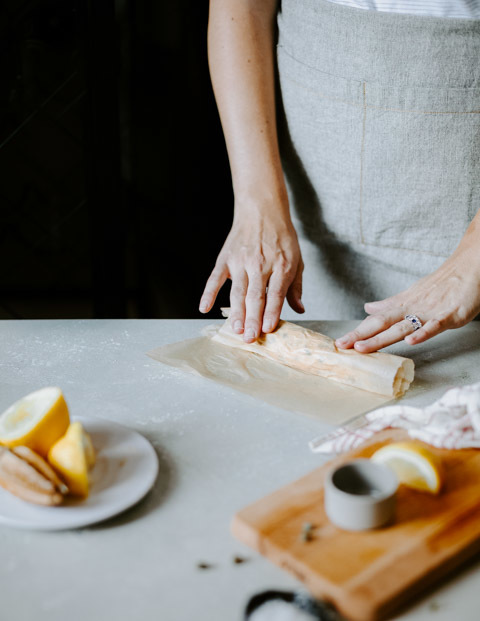 A Few Notes on Cooking with a Salt Plank
Note there's no salt used to season the salmon directly. The Himalayan salt plank will add salt while cooking, and the lemon caper compound butter has many complex and salty flavors.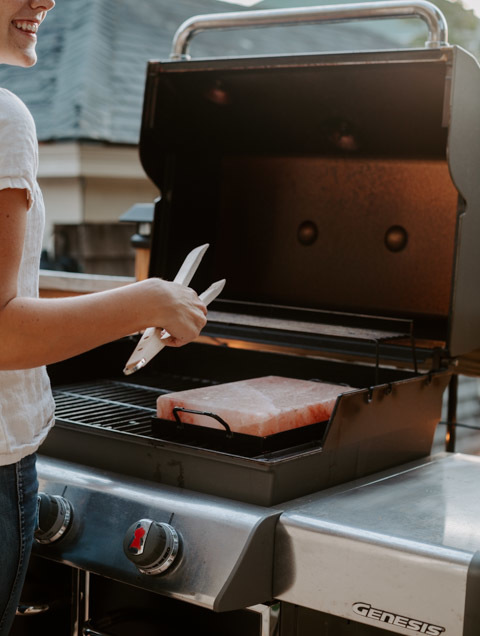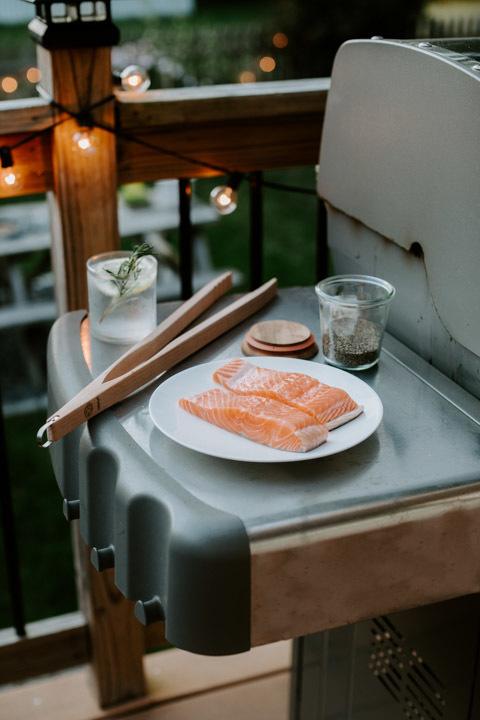 Himalayan Salt Planks are very easy to use; however, they do take a few extra minutes to prep. It's important to bring the block up to heat slowly to avoid breaking, without direct heat exposure. Once the grill's thermometer reads 400 degrees with the hood closed, let the plank continue to heat for 10-15 more minutes. There should be a searing noise with each piece of salmon as it gets set on the plank. If it does not sear, the plank has not yet reached temperature.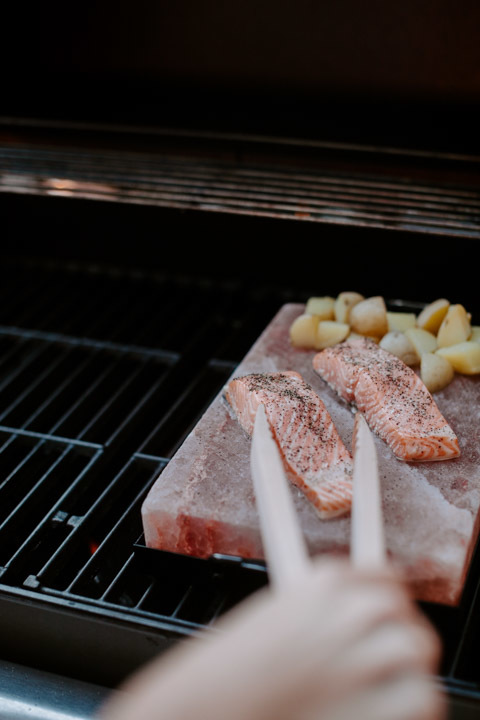 When cleaning your plank, think of it as a cast iron. Best to scrub off large debris, and avoid water as much as possible. If your plank does get wet, make sure to wipe it down and dry fully before putting it away.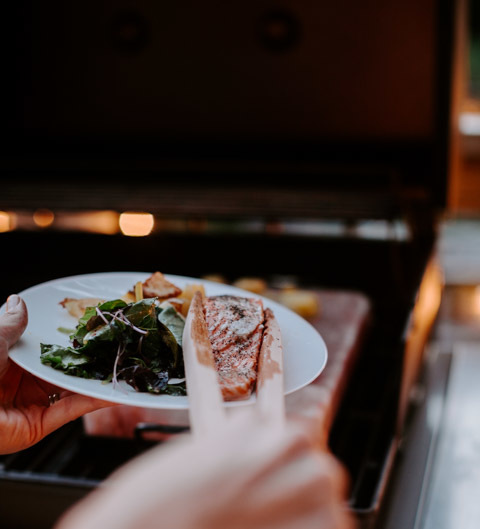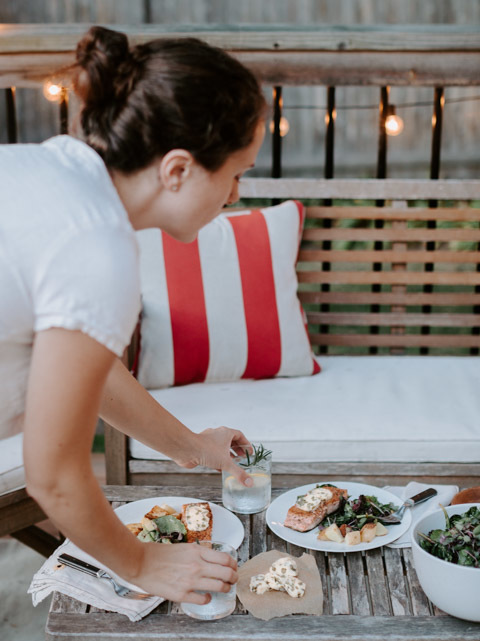 Serve this easy meal with a lightly dressed leafy green salad, your favorite side, and a gin and tonic with a sprig of thyme and a slice of lemon!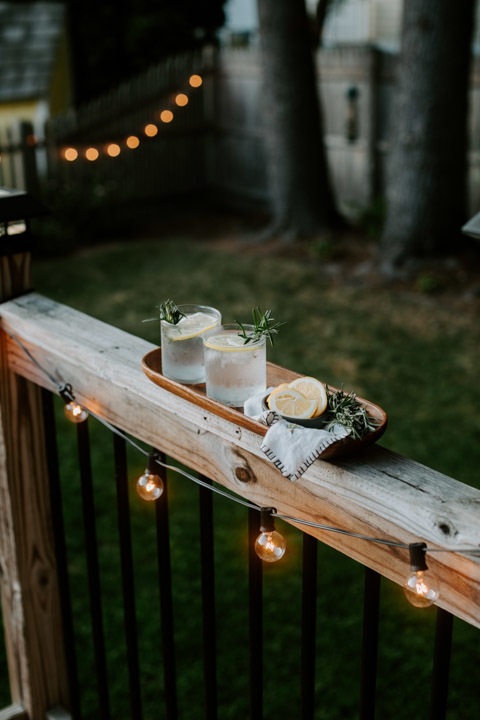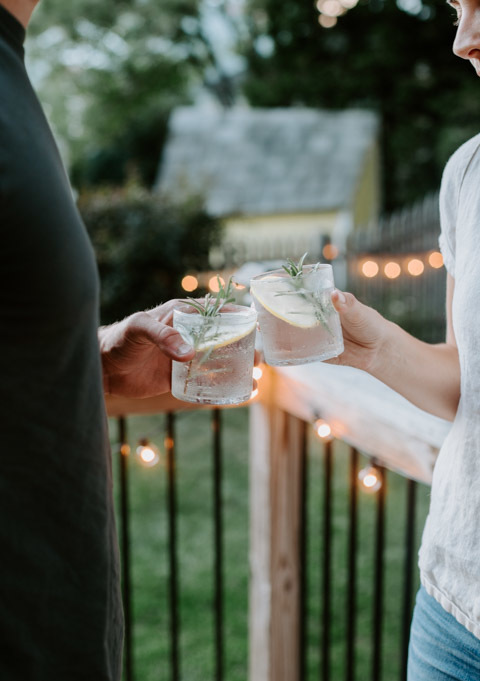 Salt Plank Grilled Salmon with a Simple Lemon Caper Compound Butter
Just because summer has come to an end doesn't mean it's time to put away the grill. Serve this easy salt plank grilled salmon with a lightly dressed leafy green salad, your favorite side, and a gin and tonic!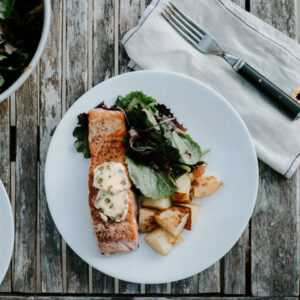 Ingredients
4

6-oz. pieces of salmon (center cut)

Freshly ground black pepper

1

stick cultured butter, room temperature

.5

lemon, juiced

2

tbsp

capers

.25

tsp

flaked sea salt
Instructions
Place the Himalayan salt plank on one side of the grill. Heat the opposite side on low, slowly increasing the heat until the grill's thermometer reads 400 degrees. If using a gas grill, this means heating only 2 burners. If using a charcoal grill, place charcoals to one side. Once the grill is at temperature, let the salt plank catch up in temperature for another 10-15 minutes

While the grill is coming to temperature, prepare the compound butter. In a small bowl mix butter, lemon juice, capers, and flaked salt. Using a clean hand or a spoon, mix until well incorporated. Let sit for about 5 minutes in the extra lemon juice. Give it another mix, and drain any remaining juice. Place butter mixture on a piece of parchment paper and roll into a log shape. Place it in the freezer until ready to use. To make ahead, chill in the refrigerator overnight or until ready to use.

While the compound butter sets, rinse the salmon filets and pat dry. Season with a sprinkle of freshly ground black pepper and set aside outside of the fridge until the grill and plank have come up to temperature.

When ready to grill, place salmon skin-side down on the plank with an inch of space between pieces. Close the grill and let cook for about 10-12 minutes until the salmon is opaque in color 2/3 of the way up.

Once the salmon is cooked over half way, flip it and continue to cook for about 5 more minutes. When the salmon is done it should be firm but still a bit "bouncy". Make sure to test by gently squeezing the sides, rather than poking the top or bottom.

Remove the compound butter from the freezer and cut into ¼" slices. Garnish the grilled salmon with 2 slices each, and enjoy!
Nutrition
Serving:
6
g
Calories:
437
kcal
Carbohydrates:
0.8
g
Protein:
33.4
g
Fat:
33.8
g
Saturated Fat:
16.3
g
Cholesterol:
135
mg
Sodium:
437
mg
Fiber:
0.2
g
Sugar:
0.1
g