Late Summer Watermelon Tomato Mozzarella Salad from Chef Ben Vaughn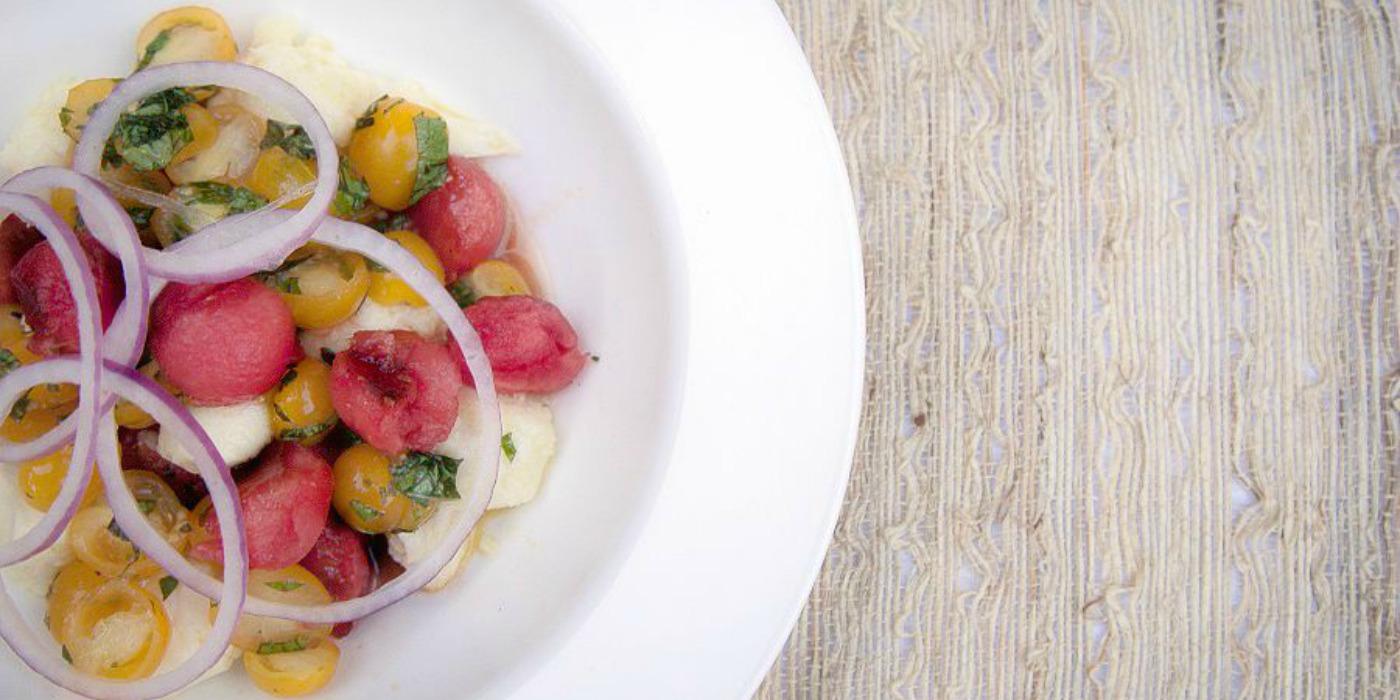 As summer comes to a close, it is important to make sure we savor all of the fresh flavors the warm weather has to offer. The flavors of the summer season mirror the atmosphere and this recipe for Watermelon Tomato Mozzarella Salad is one of my favorites.
Bright and full of flavor, juicy fruits and vegetables are peaking and ready to be devoured. There's a list of pot-luck plates that clearly identify summer. In the south, chilled pickled vegetables are iconic, and southern fried chicken — hot or cold — always makes a special appearance at every summer gathering.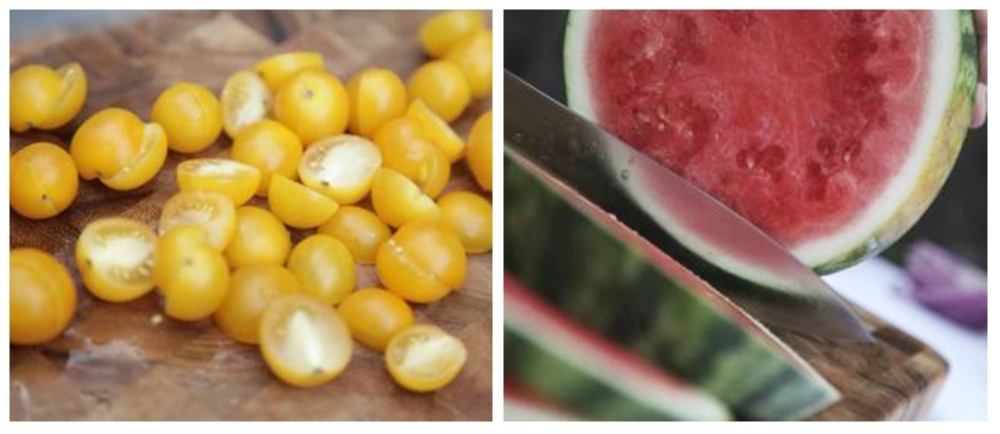 As I noodle through the endless list of potential summer recipes I'd enjoy sharing, I keep coming back to watermelon. Seems cliché, right? Summertime and watermelon. I can picture it now… all of the little ones running through the sprinklers in the backyard eating chilled wedges of watermelon as big as their head. It's a perfect and familiar ingredient with untapped versatility that is the inspiration for this seasonal summer salad recipe.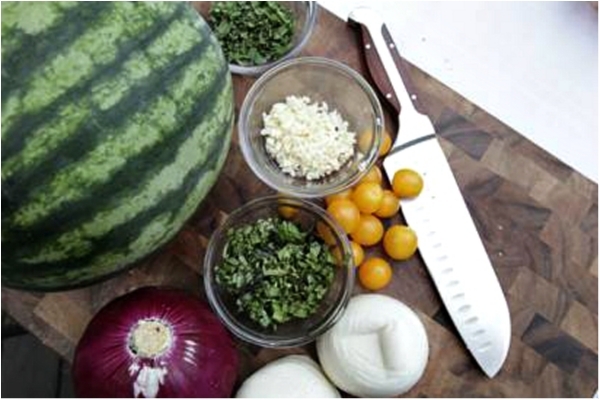 A salad isn't complete without depth of flavor and contrast in texture. It needs oomph. Watermelon is tasty all alone, however, I want the big blue ribbon for this recipe: high-fives and maybe even a tear or two after each mouthwatering bite. So developing flavor with my watermelon is critical. I think there is no better marriage than watermelon and tomatoes. It's a combination of flavor more intense and often overlooked than any other pair of ingredients . It's more perfect than an empty house, kettle-corn, a glass of wine and Gilmore Girls on repeat. Okay, the cat's out of the bag, I love kettle corn.
Tomatoes are a savory fruit, not at all a vegetable, and for this pairing I'm choosing the little beauties I wish I were able to carry around in my pocket: Sun Gold tomatoes. These little golden tomato drops are sweet, acidic and packed with flavor. As good as this salad would be with just tomatoes and watermelon, I think I have a trick with a few other simple ingredients to perfect this late summer salad.
I particularly enjoy the smaller mozzarella balls, "bocconcini," because they offer no more or less flavor, but they are perfectly sized for a bite and elegantly created for a uniform look. When serving large groups, especially outside, family style is the way to go, but you don't have to be less refined in the presentation.
So my recipe is pretty much complete. I'm going family style with a watermelon, tomato and mozzarella salad. I will add shaved red onion, apple-cider vinegar, mint and basil with a generous helping of a fine pressed olive oil to round out the umami. And for fun, creativity and sweetness, I'm going to brûlée my watermelon with sugar on the grill. Yes, you can toss up the high-five… now.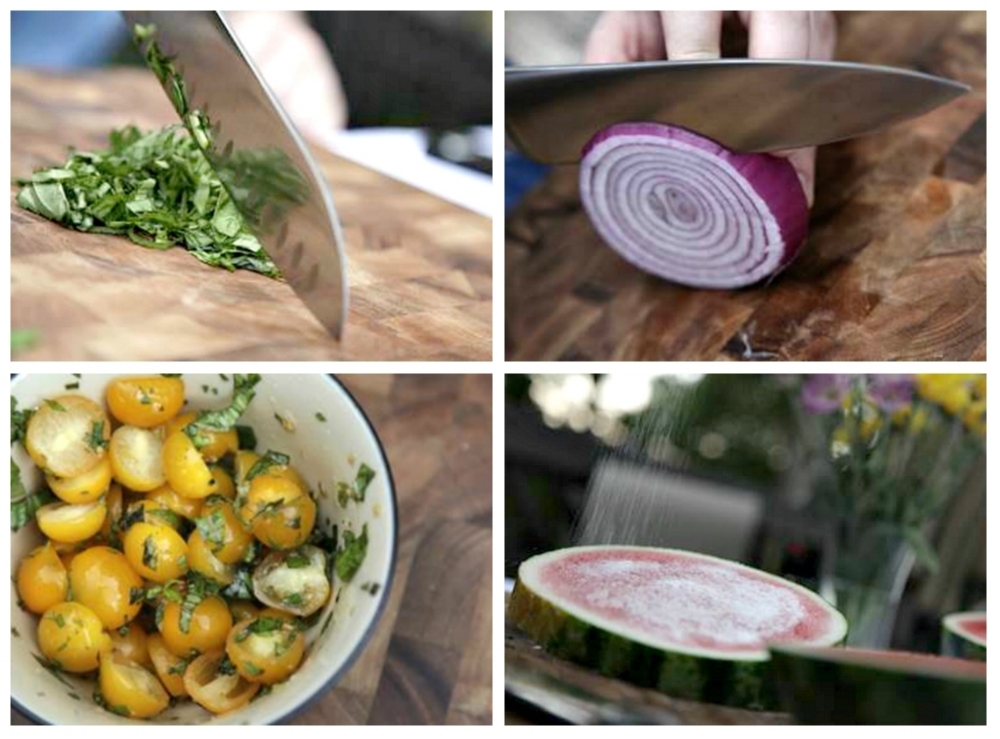 Late Summer Watermelon Salad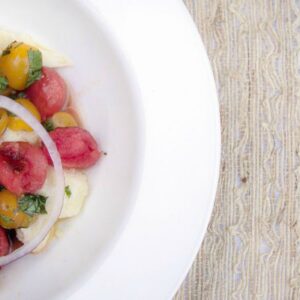 INGREDIENTS
One small seedless watermelon
7 oz. fresh mozzarella "mini balls"
1 pint yellow baby grape tomatoes (gold)
1 1/2 cup mint
1 1/2 cup basil
1/2 cup sugar
1/2 large red onion
3 tablespoon cider vinegar
1 minced garlic clove
Good olive oil as needed
Salt to taste
INSTRUCTIONS
Slice the watermelon 1 inch thick across with rind remaining.
In a small bowl -- add garlic, oil and salt and allow the cheese balls to marinate, use enough salt to bloom the flavor of the cheese.
Pre-heat the grill to 400 degrees.
In a separate bowl, shave the onion (half-moon) micro thin and mix together with the shaved mint and basil. Cut the tomatoes in ½ and season with salt -- keep separate.
Evenly add the sugar to the watermelon and grill all flesh sides to brûlée the sugar onto the melon with the grates of the hot grill.
Remove the watermelon and using a KitchenAid melon baller scoop -- the scoops should be approximately the same size as the cheese balls.
Once all the melon is scooped and chilled, add to a large bowl with the tomatoes, herbs and onions, and cheese with garlic and oil, and taste -- add a splash of the cider vinegar and a little more olive oil, taste again to correct seasoning with salt, refrigerate for 15 minutes.
Serve chilled and enjoy the party!