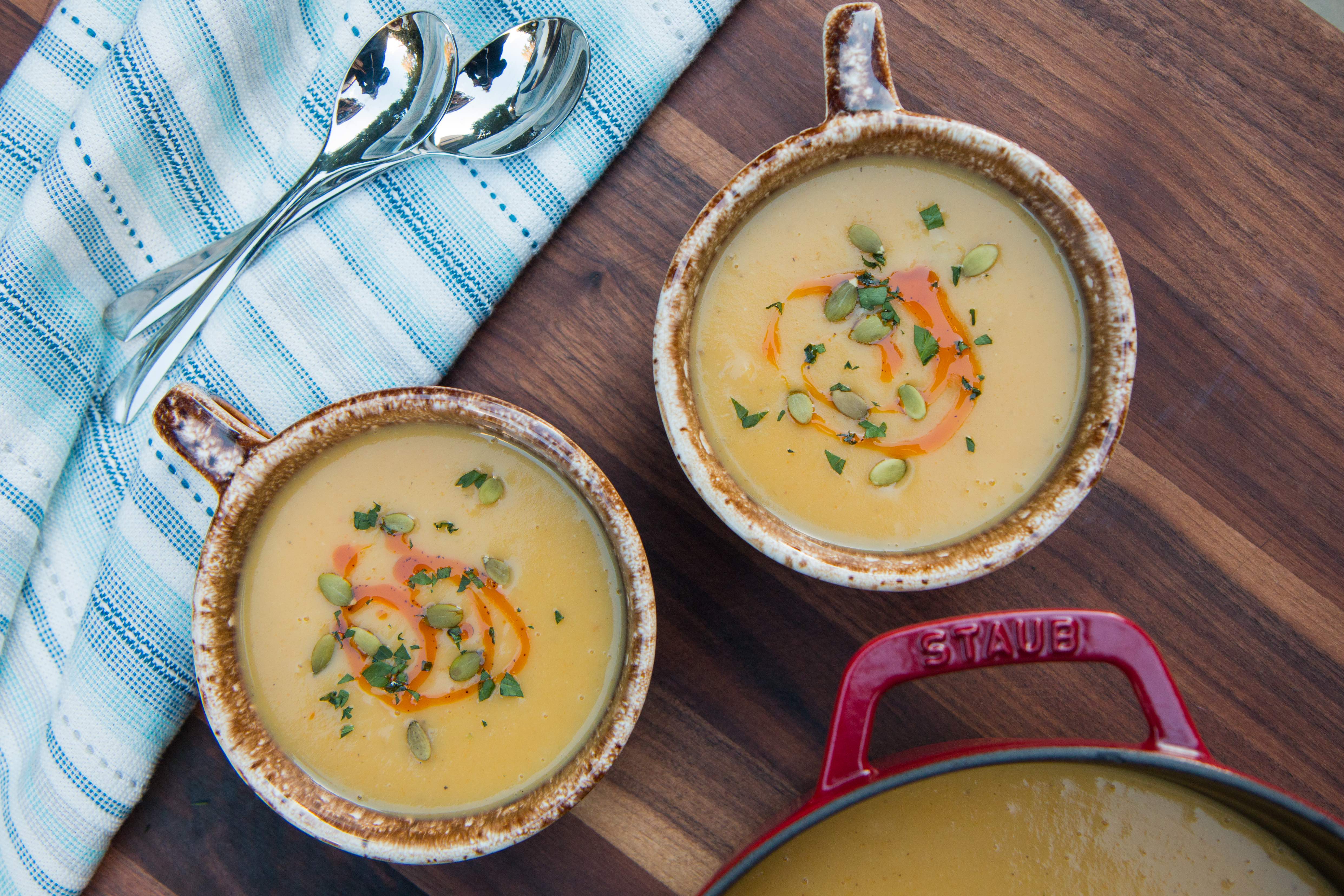 Fall is by far my most favorite time of the year. I get to wear fuzzy sweaters, watch the leaves turn fantastic colors, and start making delicious pots of comfort food. Potato and leek soup is such an easy one pot wonder, plus my recipe is completely vegan and dairy free, but you would never know that by how rich and creamy the soup is.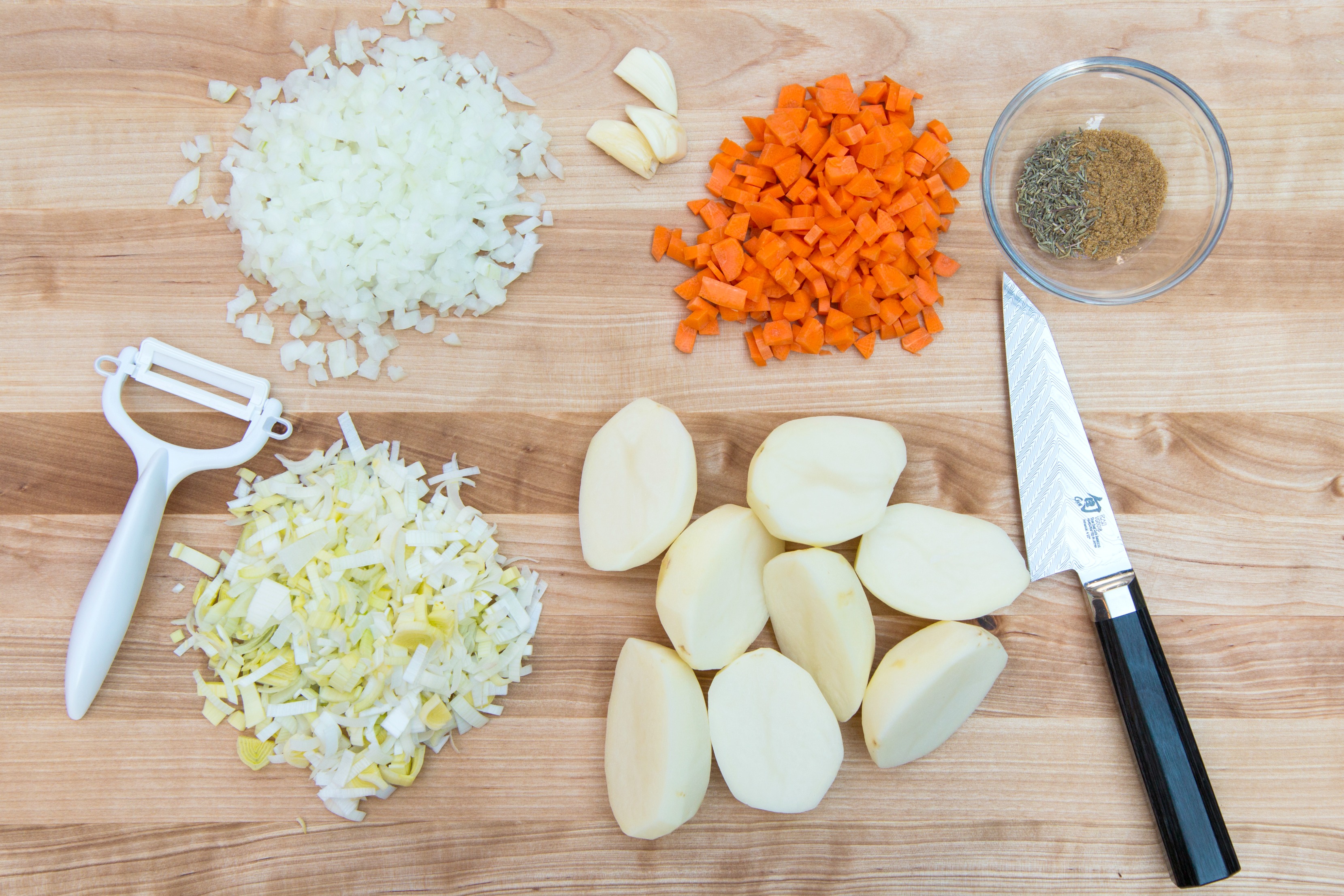 Start by prepping all of your ingredients ahead of time, it will make this recipe go by even quicker. I always sucker my family members into helping peel potatoes, because that's the one job I just can't stand! The cumin and dried thyme add such a depth of flavor and this soup recipe is really all about the old saying "less is more".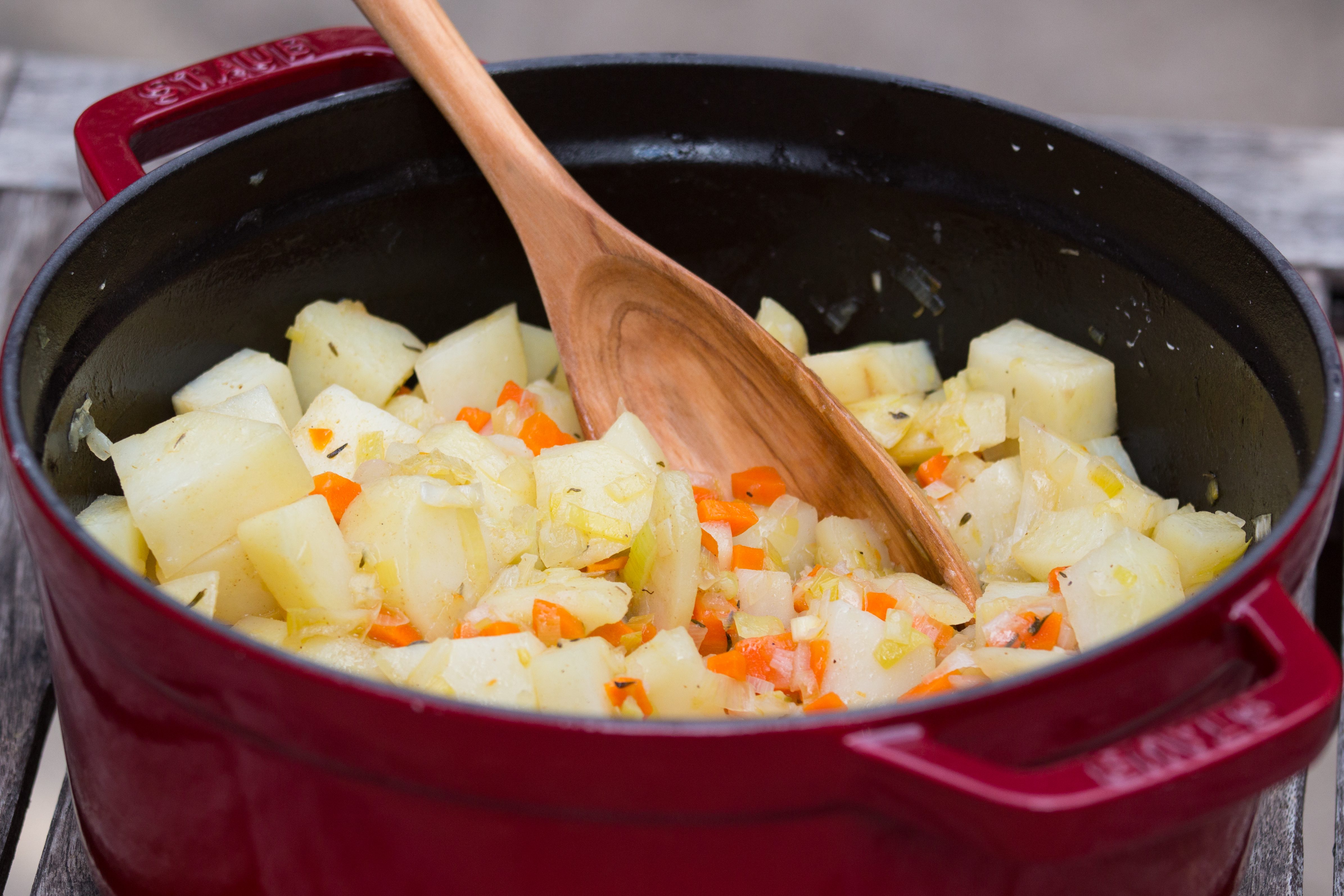 I like to break out my best soup pot for this job, one that has a sturdy cast iron body because it evenly distributes the heat. Go ahead and sweat all of the veggies along with the spices. By cooking down everything before adding the liquid, you impart more flavor in the soup.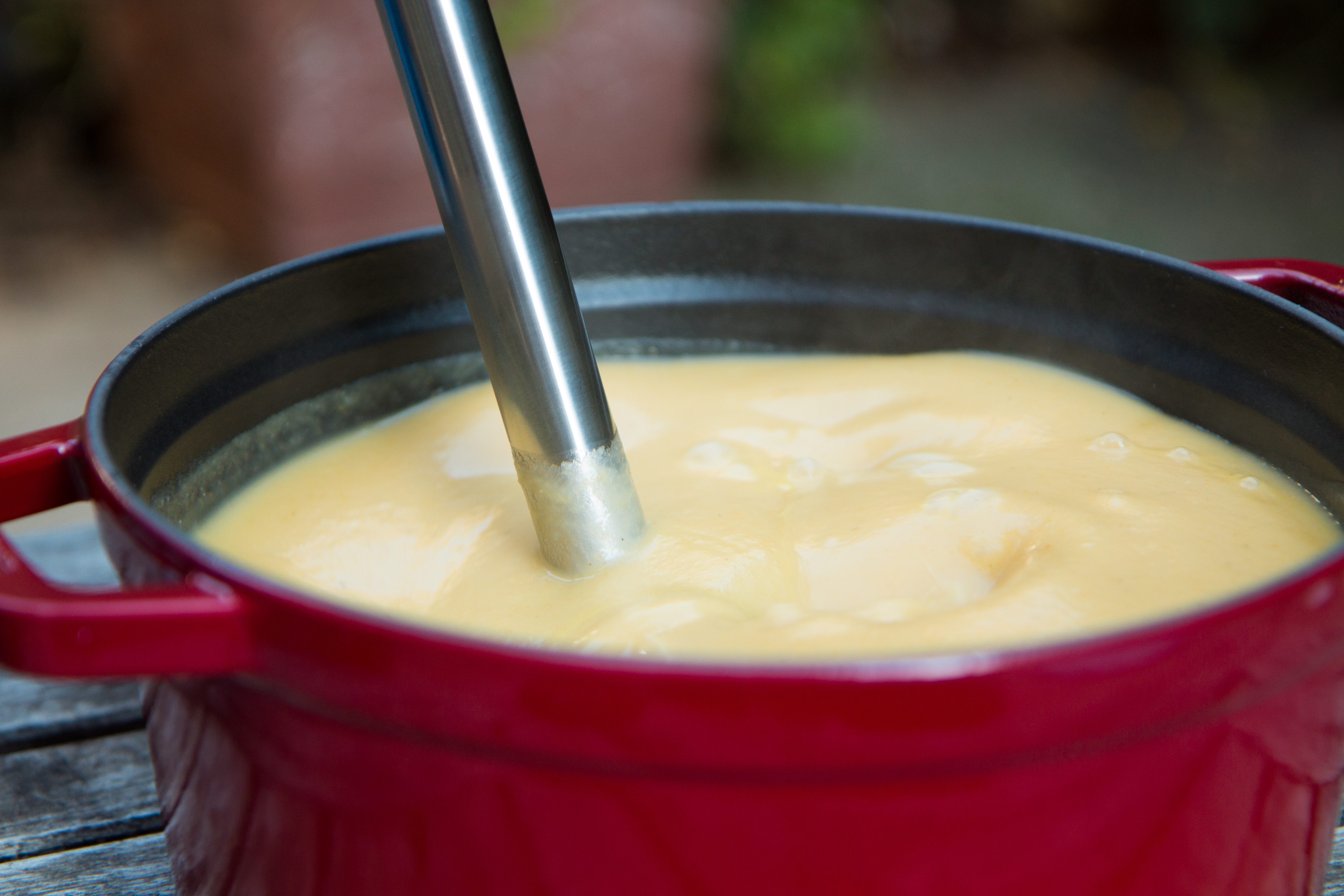 Add some low sodium veggie stock and simmer away for 40 minutes. The key is to check for seasoning half way, the odds are you are going to need more salt than you think. Blend the soup using a hand blender until it's creamy and dreamy. I like using the hand blender because it saves me the hassle of transferring the hot soup to a blender and probably making a mess and ending up with soup on the ceiling, don't laugh, it's happened before!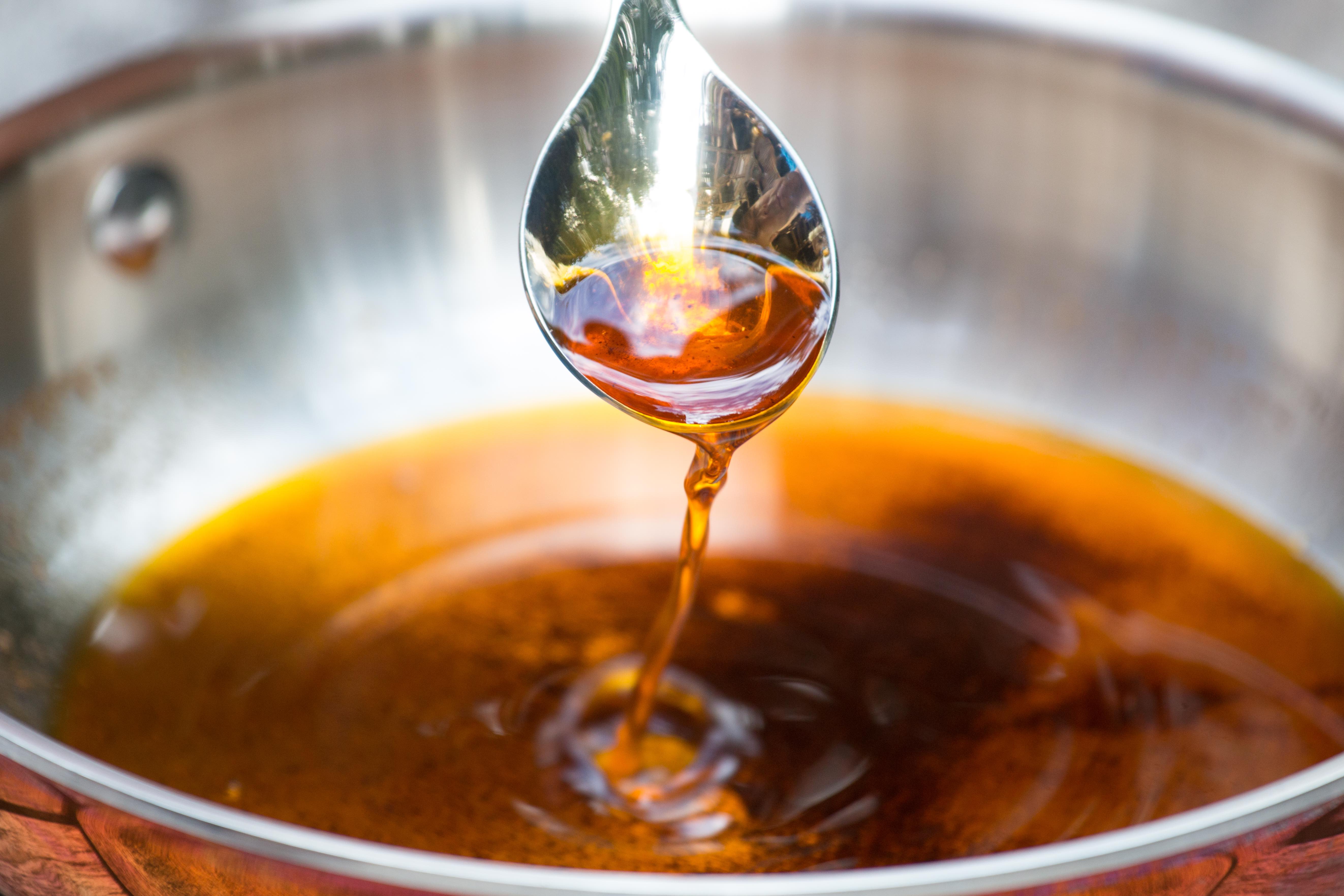 I am all about making my food look sexy, so to finish the soup I make a quick smoked paprika oil by infusing some olive oil with smoked paprika in a steel pan over medium-low heat. A little drizzle of this really add flavor to the soup and some pepitas add a nice crunch.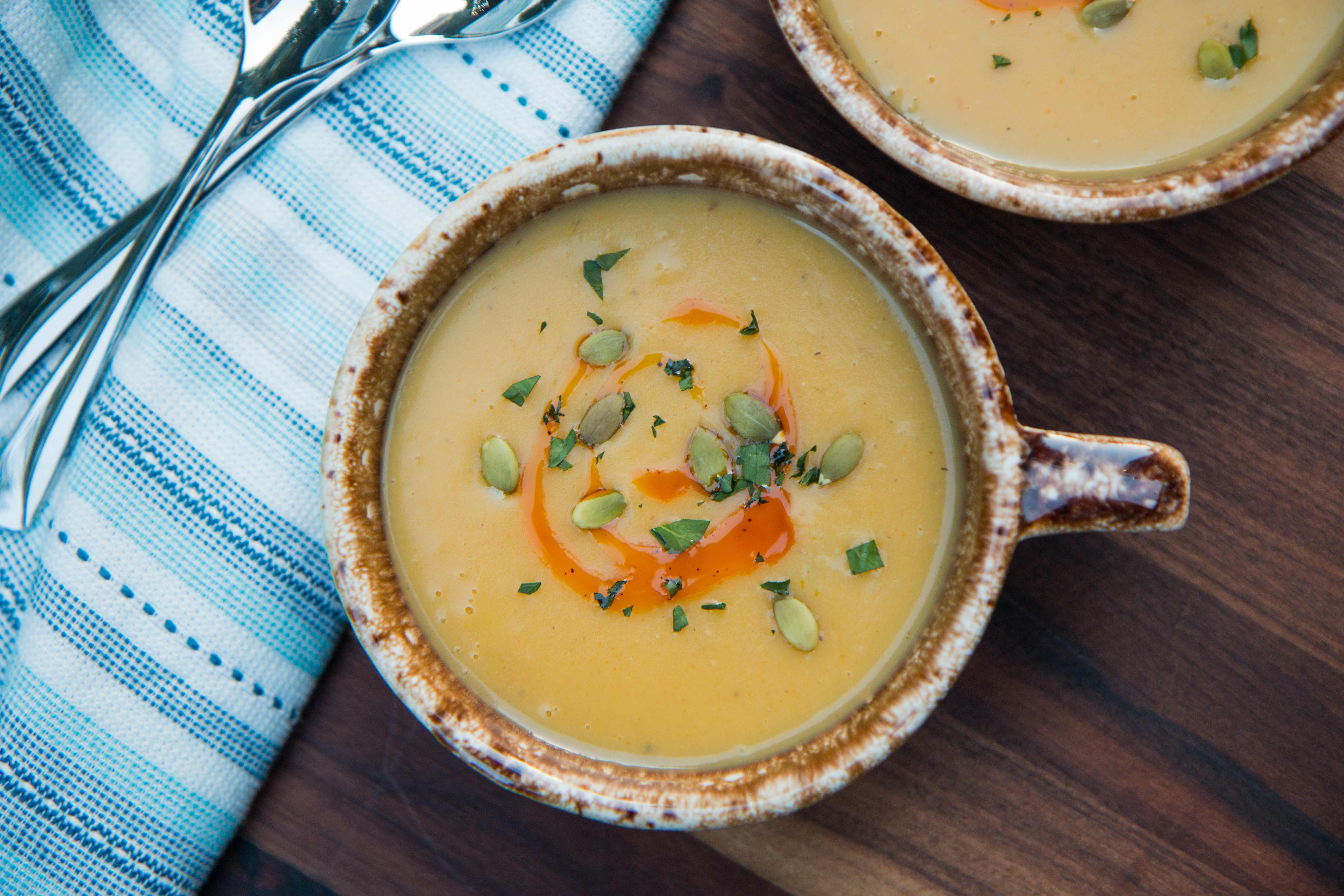 Potato and Leek Soup Recipe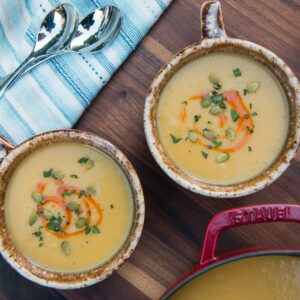 INGREDIENTS
2.5 pounds yukon gold potatoes, peeled & cubed
2 leeks, cleaned and chopped
1 medium size onion, diced
2 cloves garlic, minced
2 carrots, peeled & chopped
1 teaspoon ground cumin
½ teaspoon dried thyme
2 quarts low sodium veggie stock/broth
Olive oil
Kosher salt
Freshly cracked pepper
Pepitas (pumpkin seeds), fresh or roasted
Smoked paprika
INSTRUCTIONS
Pre-heat a heavy bottom soup pot over medium heat with 3 tablespoons of olive oil. Add the potatoes, next 4 ingredients, 1.5 teaspoons salt, and a couple cracks of pepper. Cook for 10 minutes then add the cumin and thyme. Cook for another 3-5 minutes until the veggies have softened little bit. Add the veggie stock, bring to a boil, and reduce to a simmer for 40 minutes. Check for seasoning after 20 minutes, you going to need 1-2 teaspoons more of salt. I was surprised how much I had to season this soup to really bring out the flavor.
While the soup is cooking, add 1 teaspoon of smoked paprika and 2 tablespoons of olive oil to a small pan and cook over medium-low heat for 5-7 minutes until the red color really infuses into the oil. Take off heat and set aside.
Puree the soup using a stick blender or regular blender until its creamy and dreamy. Check for seasoning, there is a good chance you will need more salt, seriously!
To serve, fill a bowl with the soup and garnish with some pepitas and use a spoon to drizzle in some paprika oil.