Plant-Based Probiotics: Improve Gut Health At Every Meal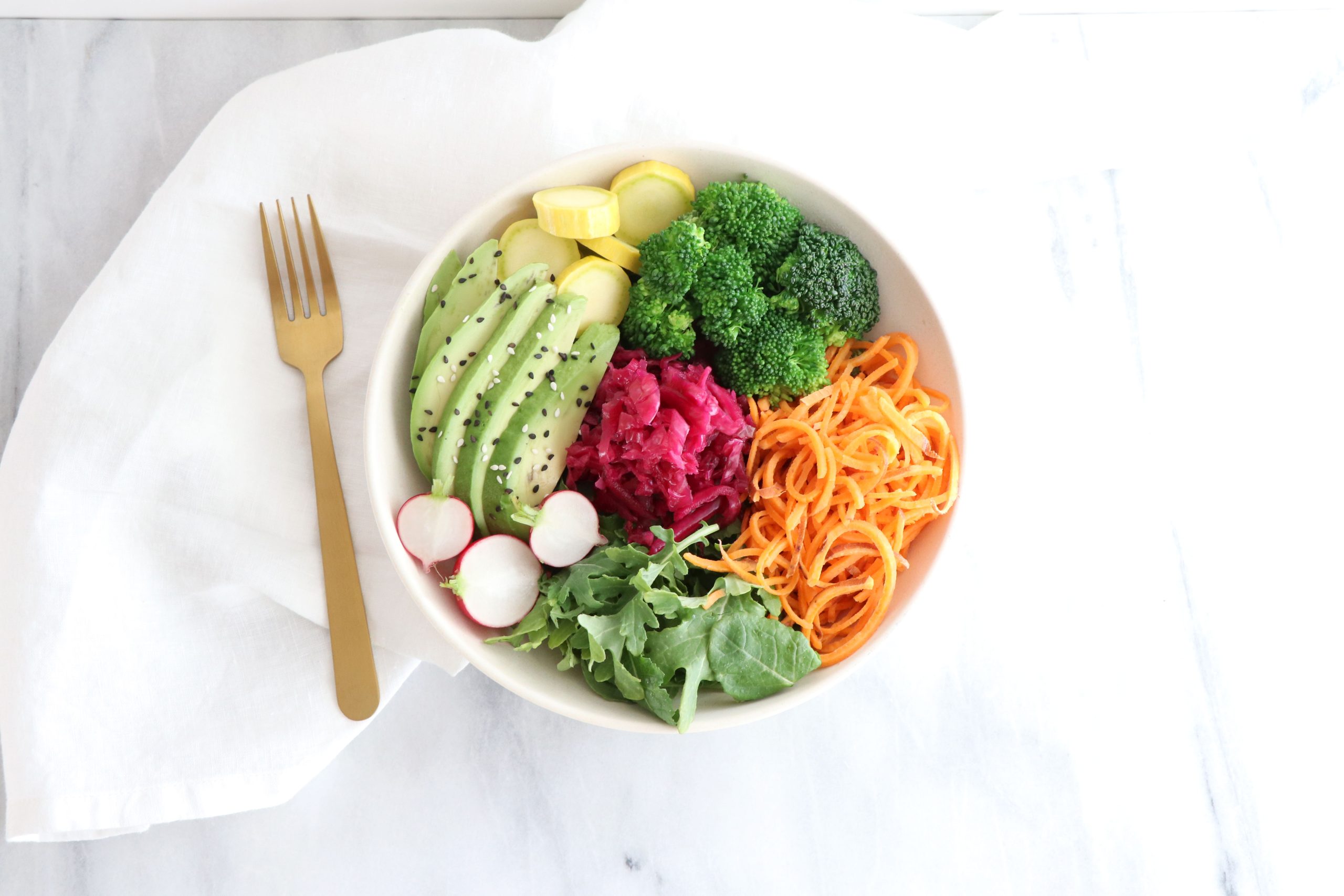 You may have noticed that probiotics have become more popular and are now being added to a variety of foods, snacks, beverages and supplements. While buying probiotics in a supplement form is a great way to get your daily dose, did you know that there are foods that naturally contain probiotics as well?
The Importance of Gut Health
Your gut contains over 1 trillion bacteria, which equals about 3 pounds! This is a big reason why gut health is so important. Our bodies are full of both good and bad bacteria. Throughout our life as we eat a processed western diet and possibly take antibiotics, our gut can become naturally depleted of good gut bacteria. We need good gut bacteria because it helps the body fight yeast and fungi and create enzymes to destroy harmful bacteria. Strong gut health also contributes to our immune health, in fact 70% of your immunity is located in your gut! Healthy gut flora can help eliminate bad bacteria and regulate inflammation.
How can you know if you are suffering from poor gut health? Some signs and symptoms include: bloating, gas, diarrhea, food allergies, leaky gut, irregular bowel movements, suppressed immunity, an autoimmune disease, bad breath, skin problems and chronic sugar cravings.
What Are Probiotics?
Probiotics are the good bacteria naturally living inside our colon and help us achieve healthy gut flora. As mentioned above, restoring the balance of your gut bacteria is key in restoring overall digestive health. Probiotics can be taken orally through a supplement or found in specific foods!
Plant-Based Probiotic Rich Foods:
Kimchi – Kimchi is a traditional Korean vegetable side dish that contains salted and fermented vegetables such as napa cabbage and radish. The fermentation of these vegetables produces large amounts of the lactic acid bacteria strains that have been shown to support gut lining as well as potentially reducing the risk of eczema.
Pickles – Sour pickles are also a source of probiotics and commonly found in many diets! Look for pickles that are naturally fermented in sea salt and water to receive the full benefits.
Kvass – Kvass was traditionally seen in Europe as fermented rye and barley, but now is commonly found as fermented beets and other root vegetables. Kvass contains the bacteria lactobacilli, which may support the liver and kidneys natural detoxification process.
Sauerkraut – Sauerkraut is simply fermented cabbage. Fermented cabbage can contain up to 3 billion CFU's in 1 cup! CFU's stands for Colony Forming Units and is the amount of viable bacteria cells in that product. Sauerkraut also contains enzymes that can help break down food for easier digestion.
Miso – Miso is a paste created from fermented soybeans. The probiotics found in miso may reduce inflammation of the gut lining and is beneficial for people with leaky gut syndrome. The fermentation of miso also helps the body absorb the nutrients found in miso more easily.
Olives – Just like pickles, olives are naturally fermented in their briny liquid. They are rich in the probiotic strain, lactobacilli. Look for an organic jar of olives and enjoy as a snack or on top of salads, sandwiches and pizzas!
One of the simplest and most delicious ways to add natural probiotics to a meal is by using either Sauerkraut or Kimchi in a colorful buddha bowl. As artisan sauerkrauts and kimchis have gained popularity in the last few years there are a great many unique and tasty options available at most grocery stores. One of my favorite combos is beet and red cabbage sauerkraut, available from multiple artisan companies.
This probiotic infused buddha bowl is so satisfying and will leave you speechless – and full!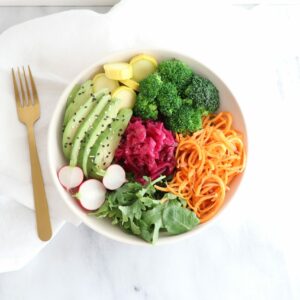 Ingredients
2

cups

baby kale

1

sweet potato

1

cups

broccoli florets

1

yellow summer squash

1

avocado

5

radishes

1

tsp

sesame seeds

1

tbsp

olive oil

Pinch sea salt

.5

cups

beet & red cabbage sauerkraut (or your favorite flavor)
Instructions
Wash and chop your vegetables, I love to use a spiralizer and cut the sweet potato into noodles!

Boil water under a steamer basket and steam the broccoli florets and sweet potato noodles for 5 to 10 minutes.

Seed, peel and slice the avocado.

Build the buddha bowls starting with a bed of baby kale and then add all of the prepared vegetables.

Top with sesame seeds over the avocado and a drizzle of olive oil and a pinch of sea salt over the whole dish.

Lastly add the sauerkraut or kimchi right in the center and enjoy!
Nutrition
Serving:
1
g
Calories:
443
kcal
Carbohydrates:
44.5
g
Protein:
10
g
Fat:
28.3
g
Saturated Fat:
5.3
g
Sodium:
1328
mg
Fiber:
16.3
g
Sugar:
10.8
g