Fourth of July Cobbler Recipes That Scream America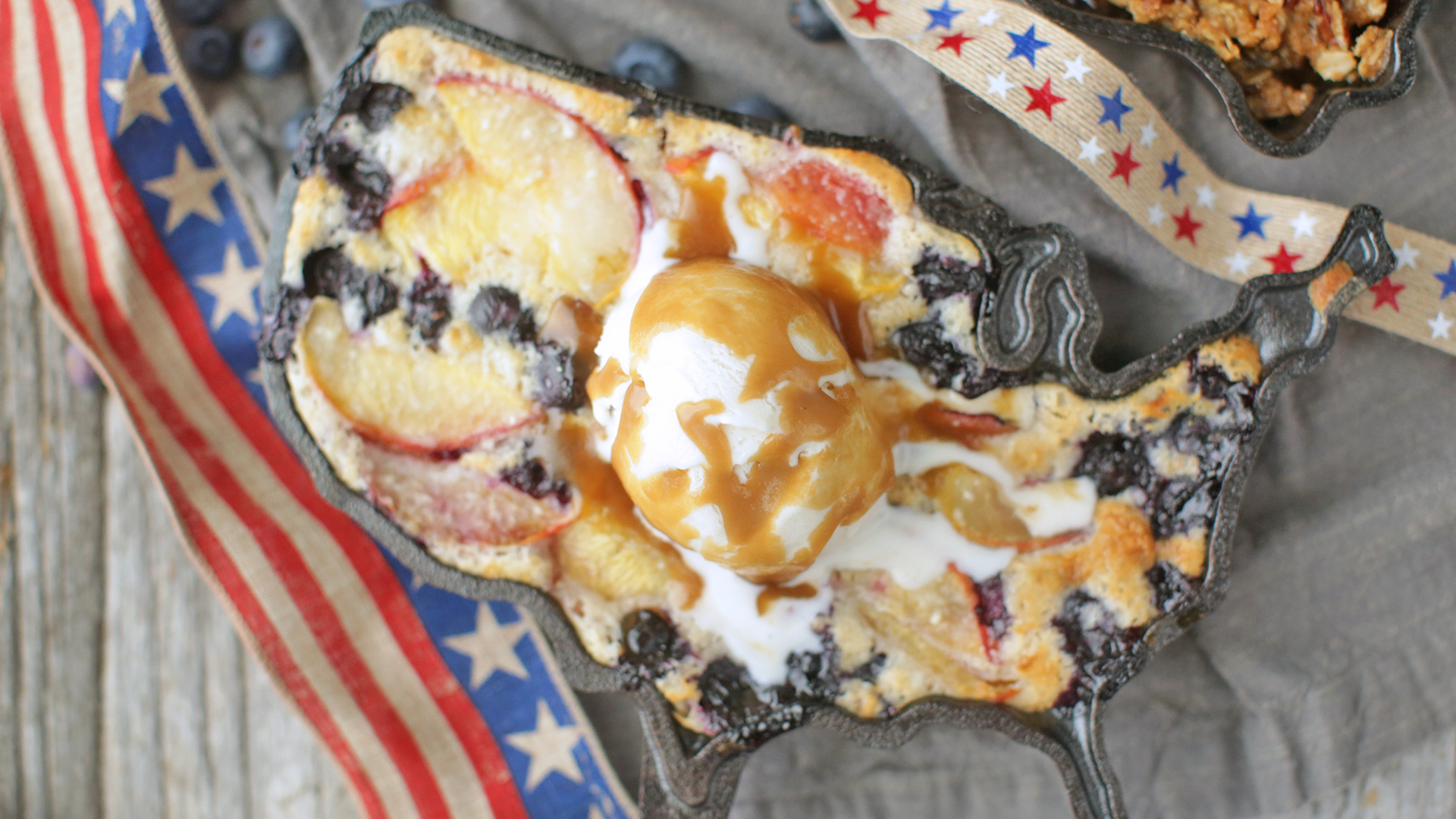 When I was younger I never liked cobblers much. If I had to guess I think they were prepared incorrectly… Fast forward 20 years and I could literally eat cobbler every day of my life.
The sweet dough or the crisp oatmeal topping, what's not to love? The most amazing part about making cobblers is all of the different fruit you can use to make one. You can use pears or apples during the winter months and then fresh berries throughout the summer. Regardless of when you make this, it's almost always guaranteed to be delicious with these foolproof recipes.
I've been working in kitchens for a long­­ time, so I've seen the same thing cooked a million different ways, so naturally I've taken bits and pieces from each thing that I've learned to create my own.
I worked with a gentleman down south who taught me how to make the simplest cobbler of all time. He said this recipe has been in his family roots down in Mississippi for like 100 years, so you know it's good. It's literally equal parts self-rising flour, milk and sugar. That's it, no gimmicks.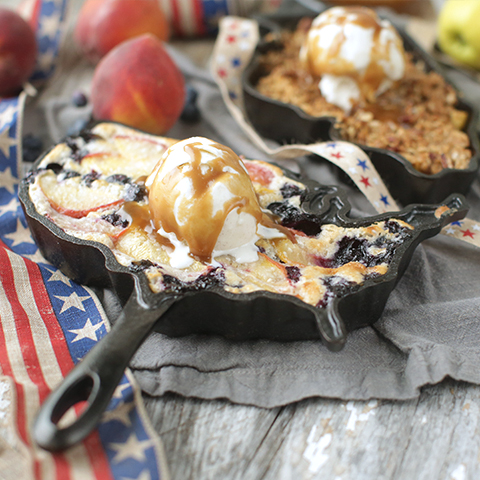 You whisk that together, toss it in a bowl and then add your fruit over top and bake it. It could seriously not be any easier and the delicious sweet doughy bread will be like heaven to you. I decided to do this style recipe for the United States shaped cast iron skillet from American Skillet Co. I added in peaches and blueberries to make this sort of an all-American themed cobbler!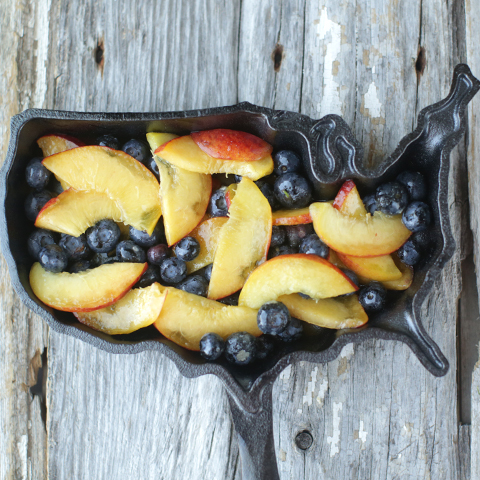 The other way I make cobblers is by tossing some fruit in a bit of lemon juice and sugar and adding it to the bottom of the bowl and topping it off with a delicious streusel. It's kind of like a cobbler and a crisp wrapped up in one, and it's always ridiculously tasty.
The topping I almost always use is a combination of flour, brown sugar, butter and oatmeal. From there I like to see what kind of fruit I'm using and then see if there is some sort of nut that would go great in there as well. For this apple cobbler crisp recipe I thought it would be great to use some pecans in the streusel. Since my other skillet is in the shape of Illinois, where I live, I figured apples would be great since golden apples are grown here.
Once you top off the apples with the streusel you simply bake it!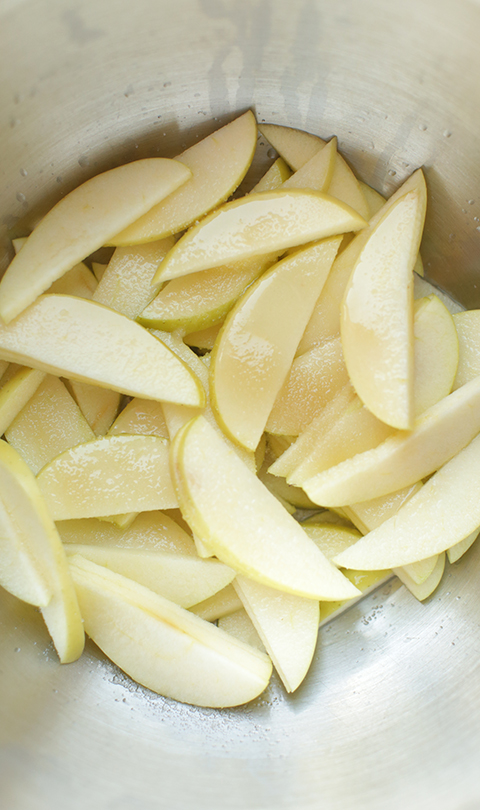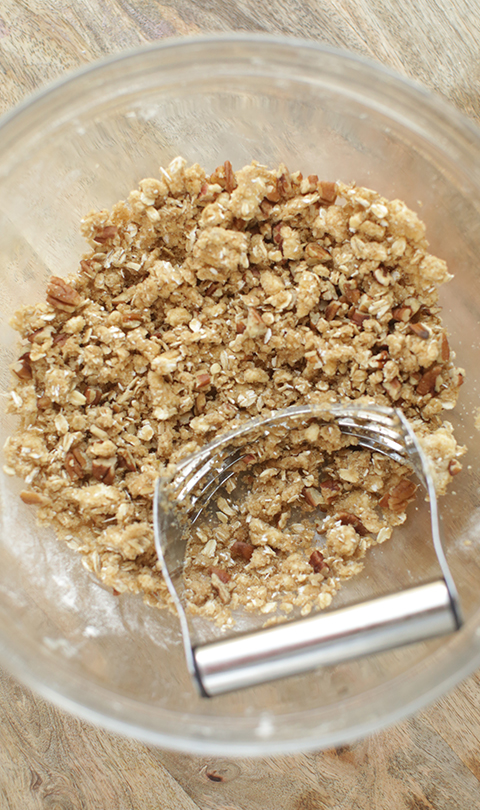 I always like to top off cobbler with a bit of ice cream and caramel, but if you don't have any don't worry because they're absolutely delicious when eaten by themselves. Happy baking and Happy Birthday America.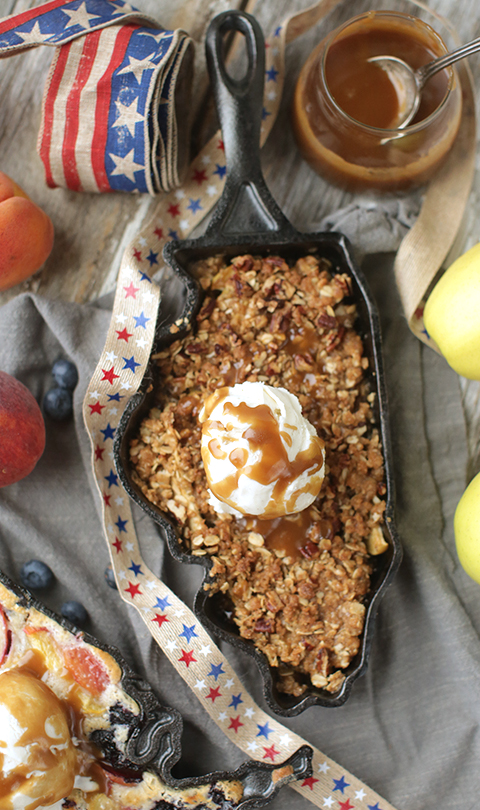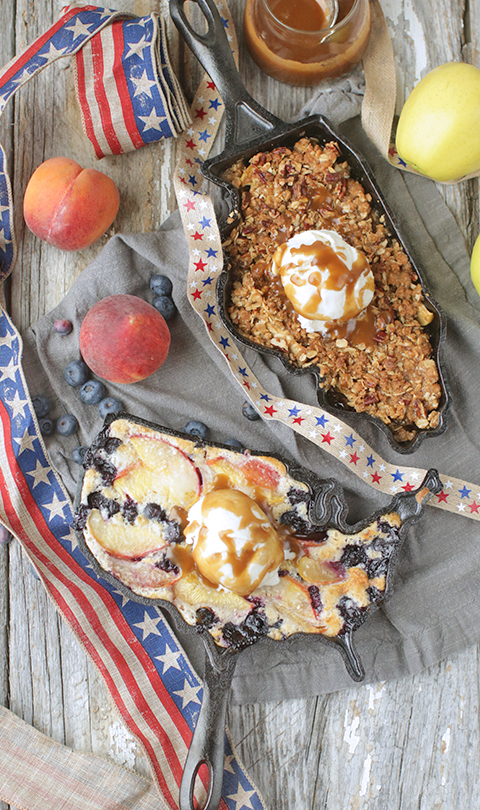 Have a Happy 4th of July everyone!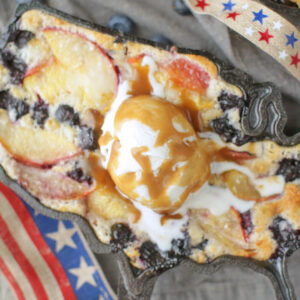 INGREDIENTS
1 cup of self rising flour
1 cup of whole milk
1 cup of sugar + 3 tablespoons
1 cored and sliced tallow peach
½ cup of blueberries
Juice of ½ lemon
Serve with ice cream and caramel
INSTRUCTIONS
Preheat the oven to 350°.
In a medium size bowl whisk together the flour, milk and 1 cup of sugar until combined and pour it into a small cast iron skillet.
In a separate small bowl mix together the sliced peaches, blueberries, 3 tablespoons of sugar and blue berries.
Evenly spread the fruit over top of the batter in the skillet and bake at 350° for 35 to 40 minutes or until the dough is cooked.
Serve immediately with ice cream and caramel.
Apple Cobbler Crisp Recipe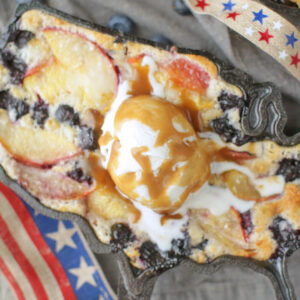 INGREDIENTS
1 cored and sliced golden delicious apple
Juice of ½ lemon
3 tablespoons of sugar
½ stick of unsalted butter
½ cup of flour
2/3 cup brown sugar
1 cup of rolled oats
¼ cup of chopped pecans
Serve with ice cream and caramel
INSTRUCTIONS
Preheat the oven to 350°.
Coat the apples in lemon juice and sugar and evenly spread out to the bottom of a small cast iron skillet.
In a medium bowl cut together the butter, flour, brown sugar, oats and pecans using a pastry knife until the butter is the size of rice.
Top off the apples with the oat mixture until completely covered and bake in the oven at 350° for 35 to 40 minutes or until the top is browned and crispy.
Serve immediately with ice cream and caramel.