Non-Traditional Flower Arrangements for When You Can't Find a Vase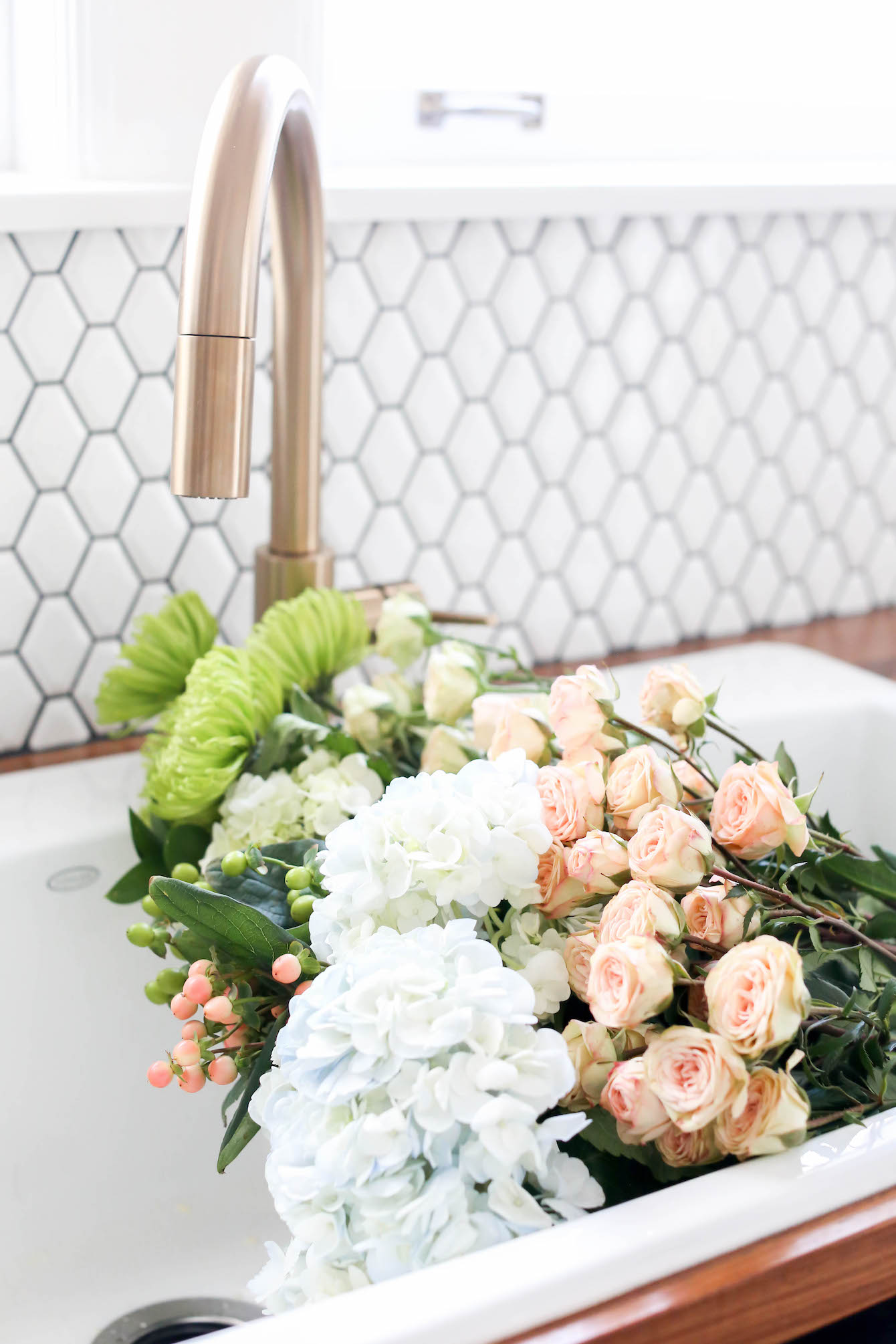 For the longest time, arranging your own flowers seemed like quite the task. I would always be amazed when friends put together beautiful centerpiece for dinners (hostess goals, right?), but whenever I attempted my own DIY floral arrangement with flowers from the grocery store, they usually looked haphazardly put together and promptly died within days. Rather than giving up completely (and believe me, it was tempting…) I decided to take a flower arranging class a few months ago to make my not-so-pretty grocery store bouquets look somewhat professional. And honestly, it was totally worth the investment, and probably the best $60 I've ever spent.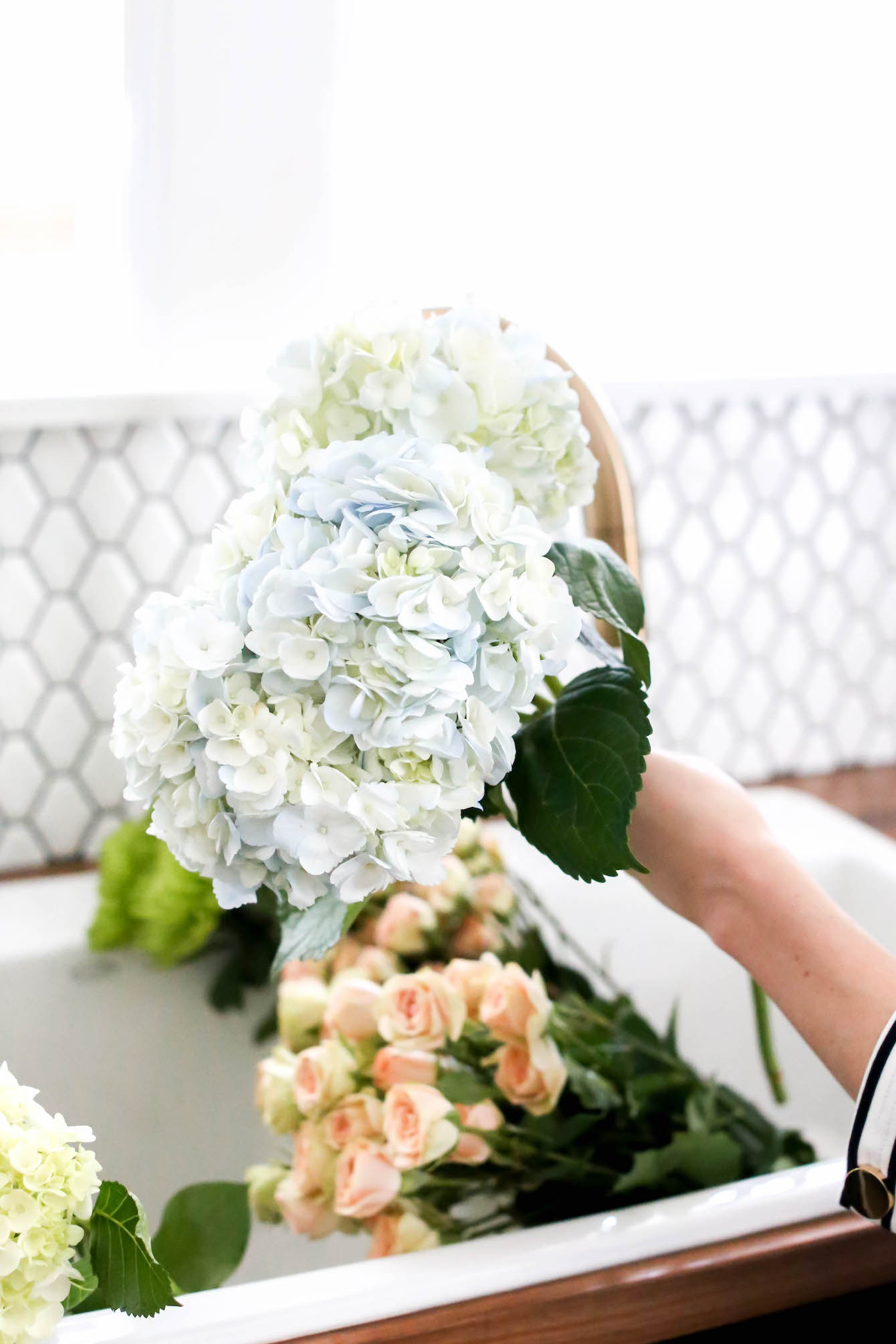 Since then, I've been buying loads of $5 flowers at the grocery store and putting them together in gorgeous centerpieces, bouquets, and other arrangements for friends, family, and dinner parties whenever I attempt to throw them. And now that I'm beginning to master the DIY flower arrangement, I've decided it's time to challenge myself again by trading in traditional vases for some new exciting ones. I've always been a collector of jars, jugs, pitchers and mason jars, so I've been experimenting with different pieces I've already had at home and turning them into unexpected vases for my new floral arranging hobby. Here are a few of my favorite flower arranging tips I've learned along the way so far!
Try a Ginger Jar: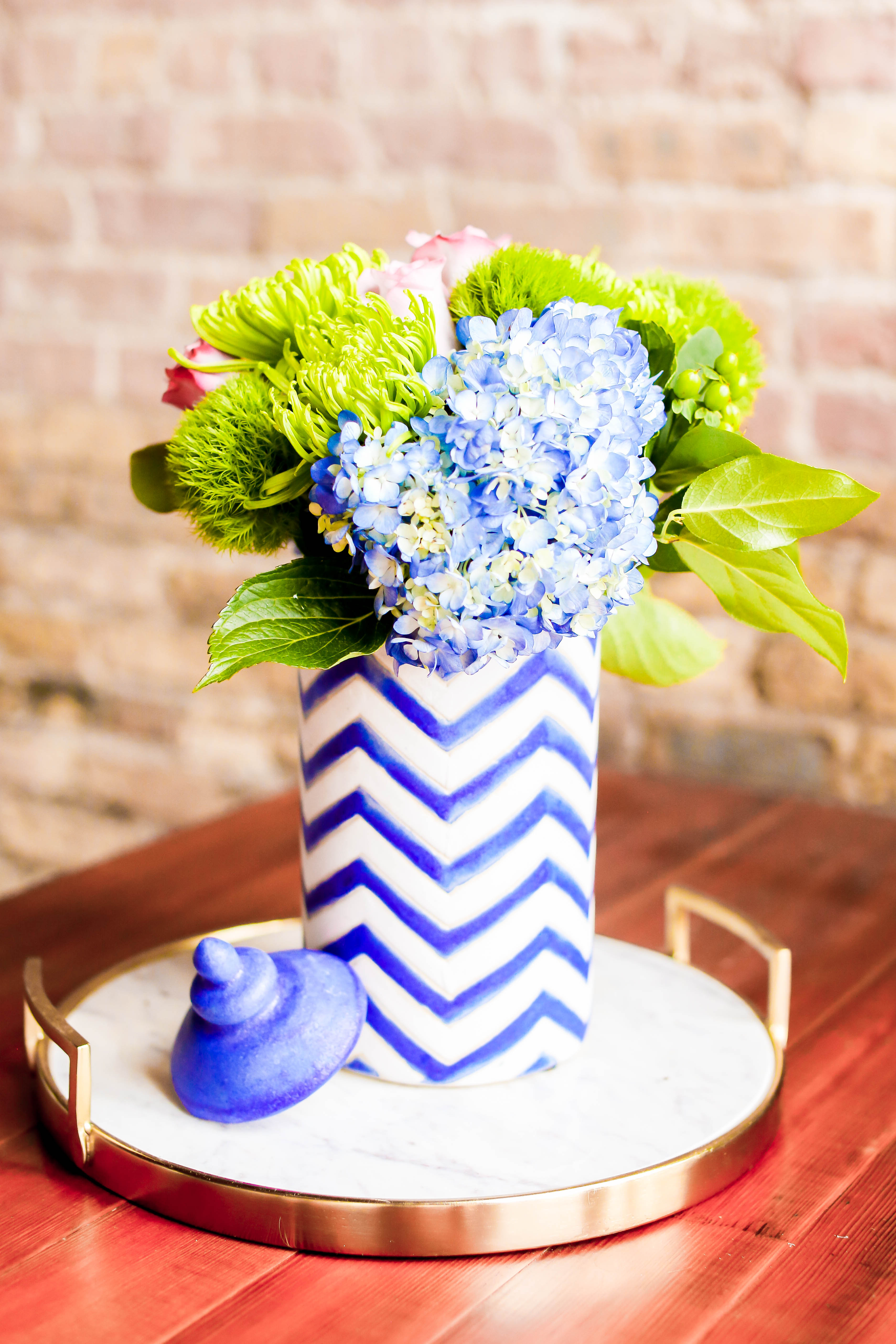 Ginger jars have been making a comeback over the past few years, and I've found myself gravitating toward them at flea markets and stores around town. What started with a single ginger jar has quickly spiraled into my own collection with varying sizes and patterns (but always with the characteristic white and blue palette). I recently picked up this large ginger jar and realized it would be the perfect size for a flower arrangement on my dining room table. And while I'm still a novice, it was one of my favorite arrangements to date.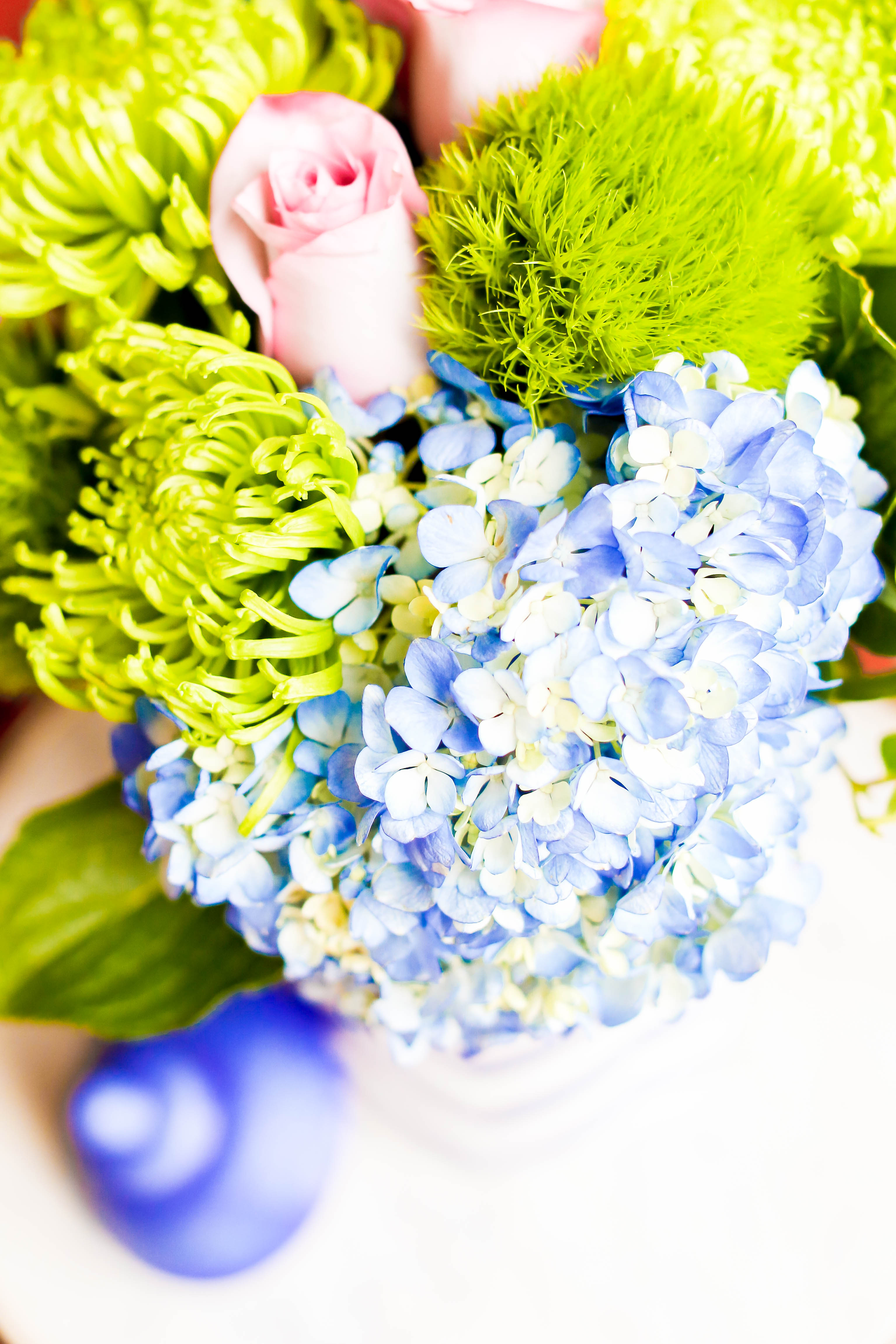 I picked flowers that would correspond nicely with the deep cobalt blue color (light greens and pinks) as well as some pretty blue hydrangeas to tie the arrangement together. One important flower arranging tip I learned from my class is that hydrangeas last longer if you cut a one inch slit down the stem (towards the flower), and when you place them in room temperature water. No wonder my hydrangeas used to die in a span of 12 hours after I brought them home!
Try a Pitcher: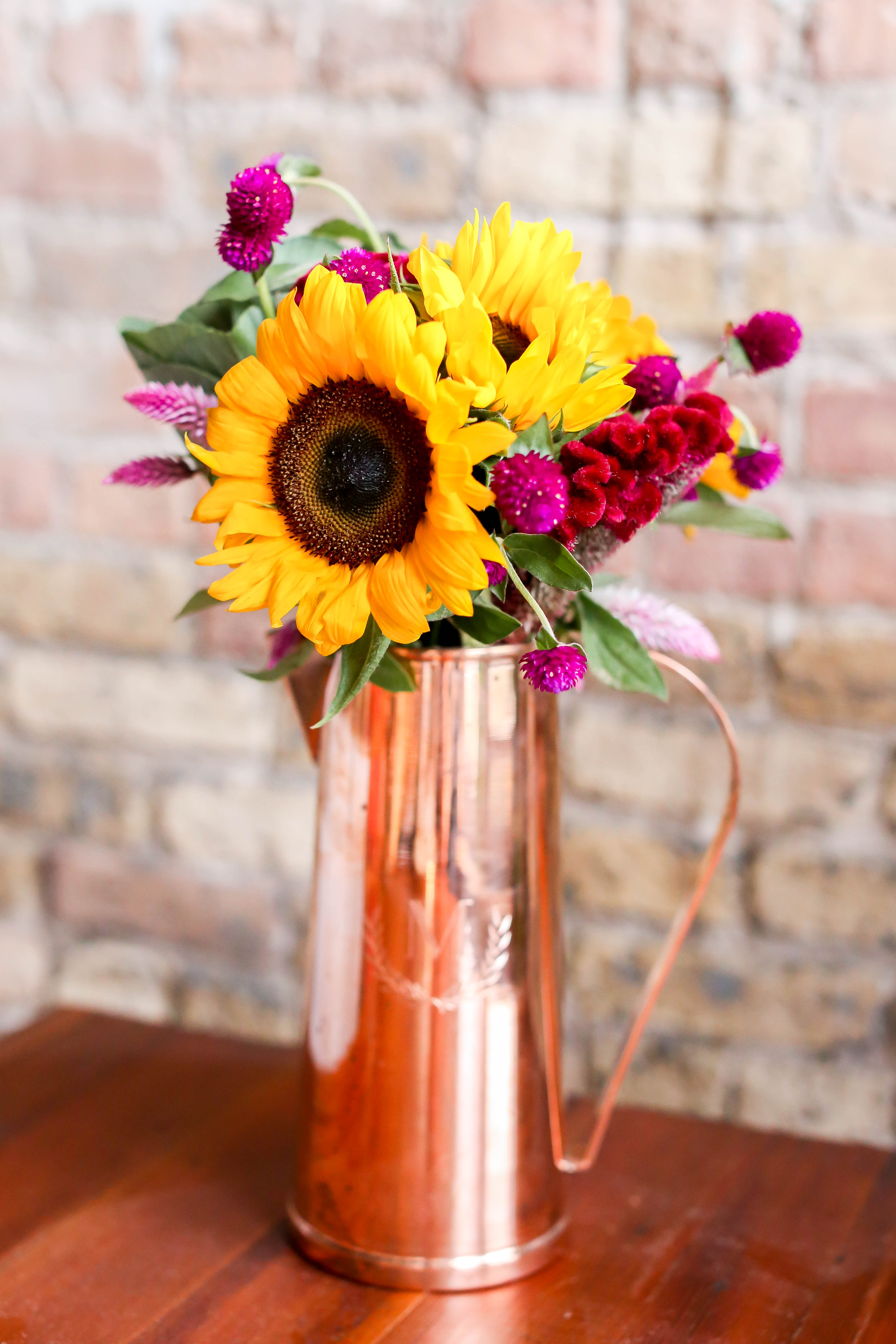 Pitchers get all the glory for being utilitarian, but they also make pretty makeshift vases for freshly picked flowers. From ceramic to copper versions, they're the perfect size and shape for a stunning centerpieces filled to the brim with farmer's market flowers or your own blooms from the garden. Whenever putting together your own arrangement (and especially with pitchers that sometimes have limited room), make sure to put in the largest flowers first and then fill in the rest of the arrangement with accent flowers – like clover, greens, and berries.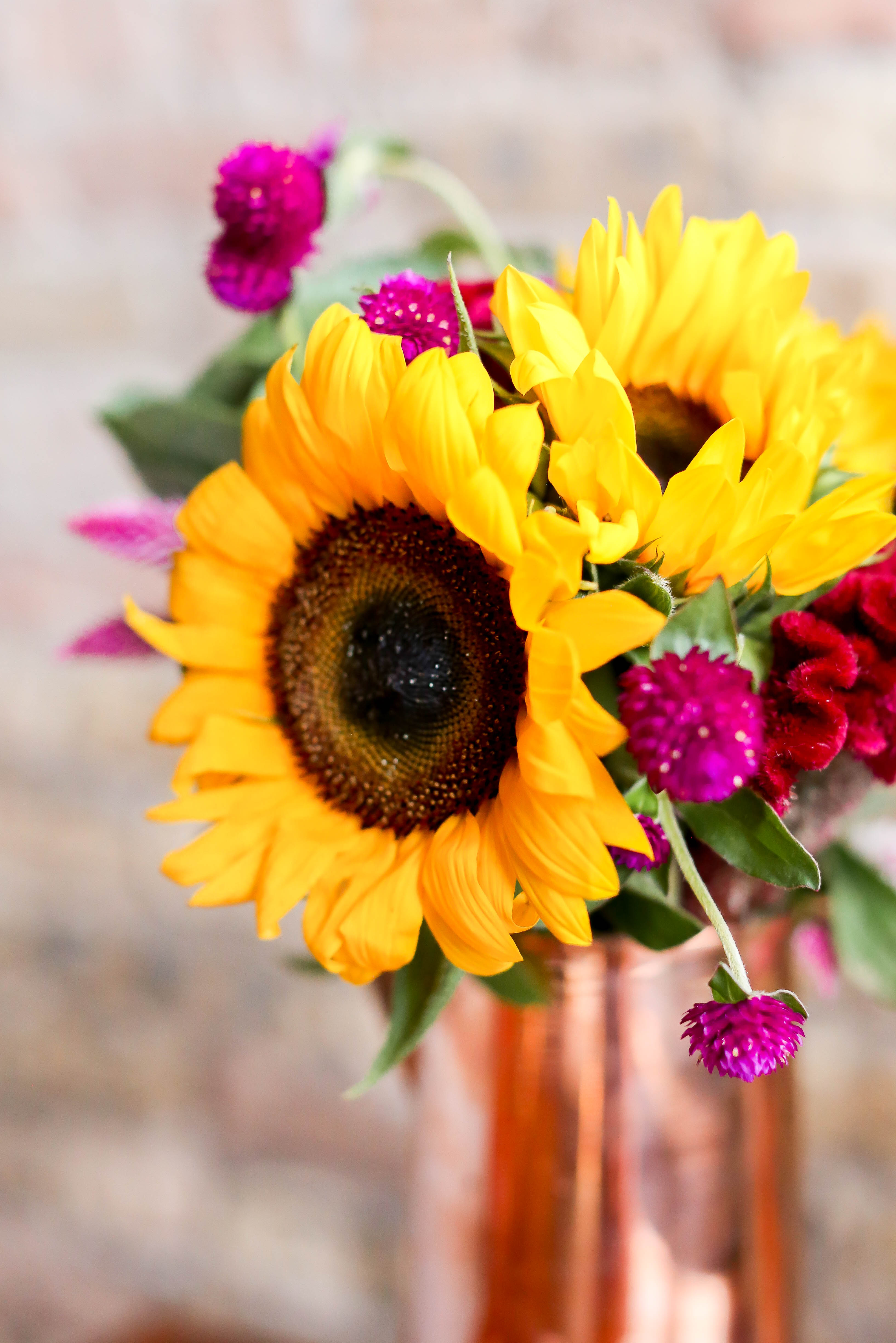 Try an Unexpected Shape: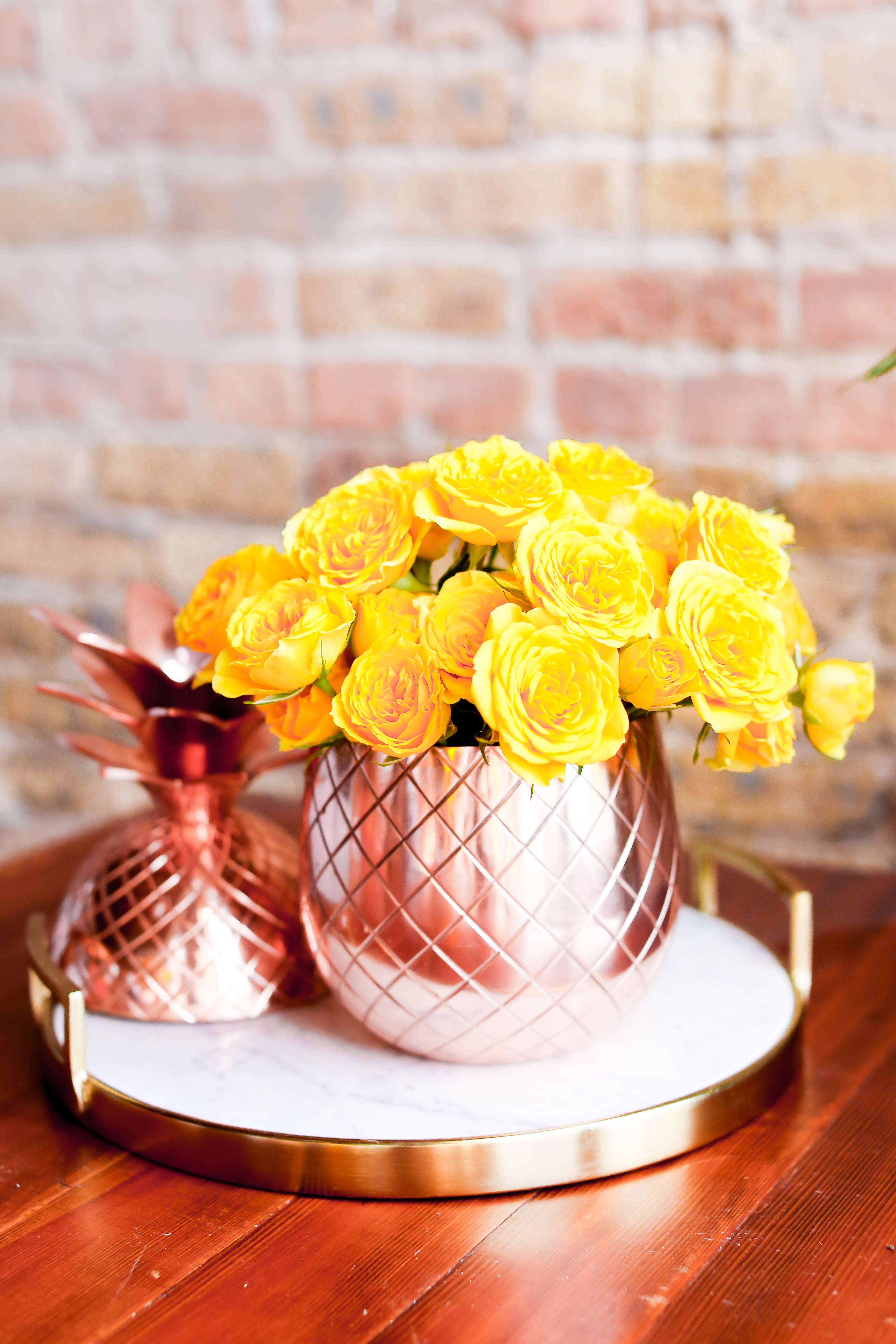 When you want to get a little creative, try some unexpected shapes to give your flower arrangement a little more character! I had this pineapple container I bought for punches a few months ago, and it doubled as the perfect vase for a bunch of spray roses I picked up at the grocery store. I love the monochromatic look of yellow flowers with the pineapple shape, and it's quickly become a revolving arrangement on my living room table (especially since spray roses are always such a steal!) When arranging roses, make them last longer by cutting their stems with a slight diagonal cut and to peel off most of the leaves before placing them in the vase. It will make the roses live longer and also help to avoid too many leaves rotting in the vase in the coming days.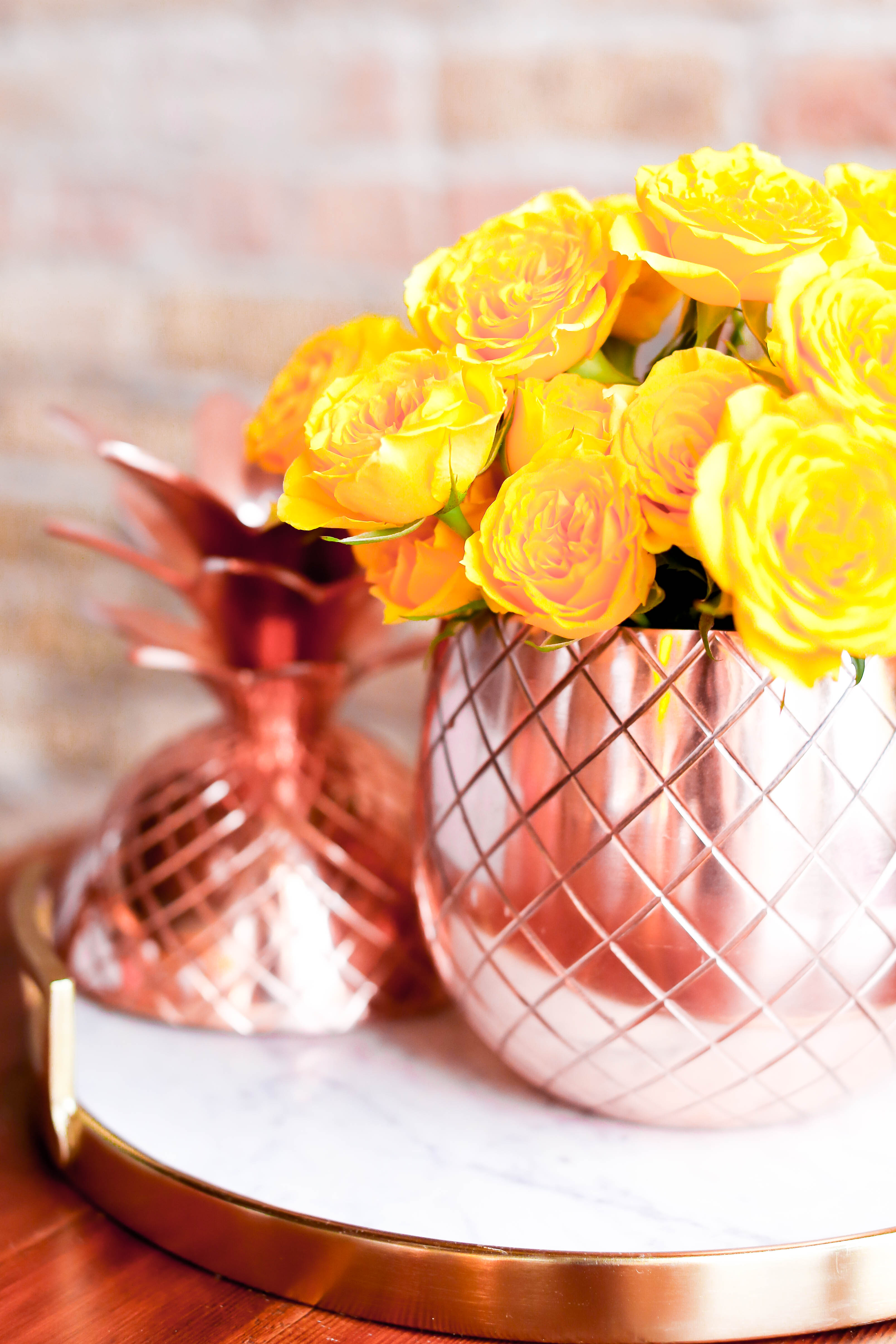 I'm planning to keep experimenting with non-traditional vases in the coming months, but in the meantime I'd love to know your tips and tricks too. Are there any non-traditional vases you've put your favorite bouquets in? I'm always looking for a new trend to try!