Molly Yeh's Falafel Fattoush Salad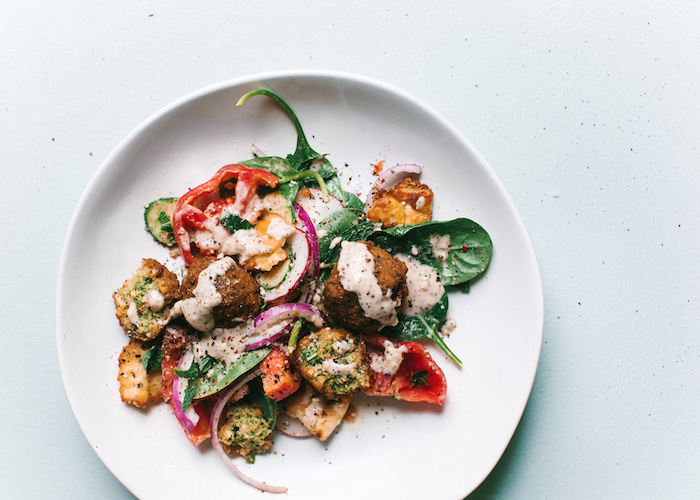 In her sunny, south-facing kitchen, Molly Yeh appears to be powered by a million-watt smile. And sprinkles. Perhaps bagels too. Throw in some marzipan, memories of Lunchables, delightful recipes from her mother-in-law's old church cookbooks and the promise of stumbling upon someone's grandmother's ancient cast iron at a yard sale. This is Molly.
If you don't know who Molly Yeh is, you've probably eaten
something Yeh-inspired (Yeh is pronounced "Yay!"). If you've
had a dessert with tahini in it, that's Molly. If you've heard of
hotdish and you don't hail from a very specific part of the Midwest, also Molly. If it's ever occurred to you to dress up a cake
with bits of custom-colored marzipan, you've probably entered
Molly's orbit.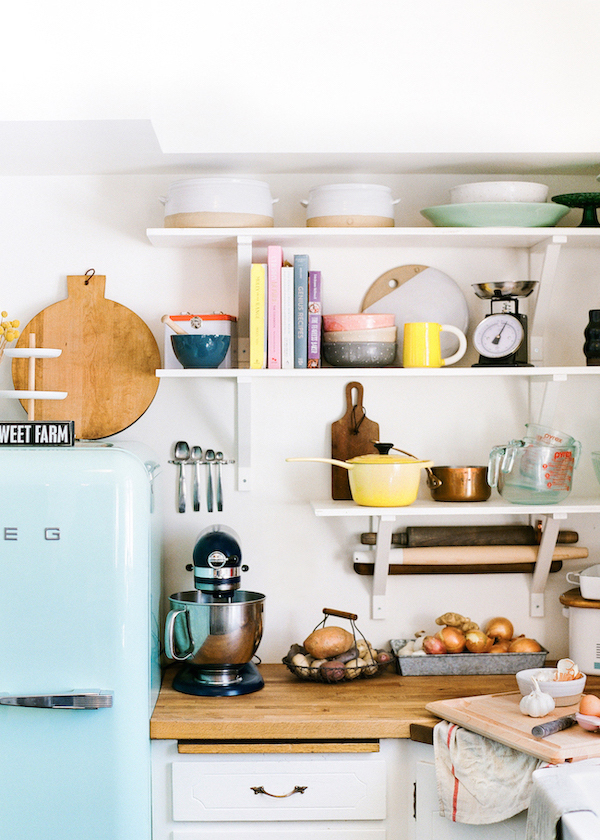 And that's no surprise considering how prolific Molly's influence is in the ever colliding worlds of cooking and entertainment. She's written two cookbooks, stars in Girl Meets Farm on
the Food Network, posts almost daily for a devoted social media
following, and continues to write a successful, long-running
blog.
50's Retro Style Aesthetic Refrigerator

By Smeg

Shop Now
Six years ago, Molly and her husband Nick moved from
Brooklyn to his family's generations-old sugar beet farm
in Grand Forks, Minnesota. In fact, they live in Nick's grandmother's former home, the house where his dad grew up.
She's traveled the world for food, for music (she studied percussion at Juilliard and is a lover of classical music), and for the 2017
Pyeongchang Olympics (she's a figure skating superfan).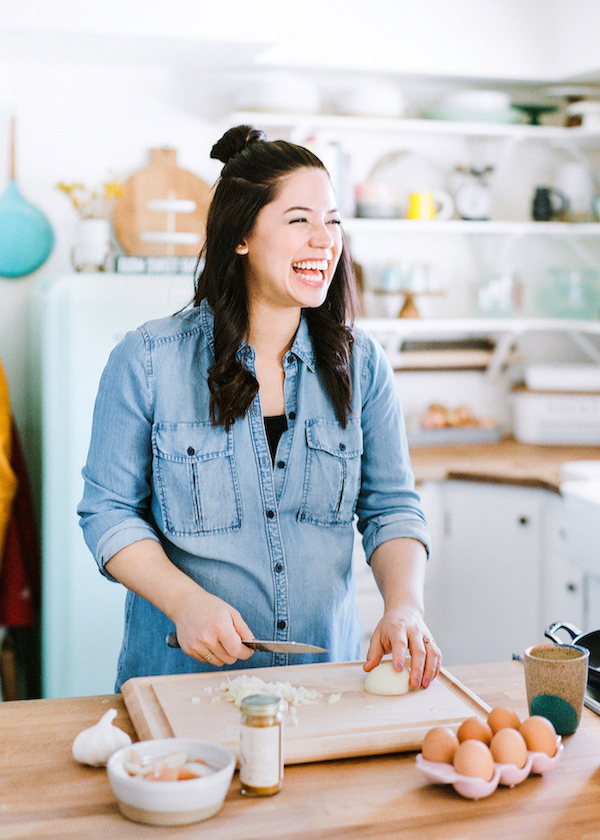 While she was at school, the percussionists often observed
story Waffle Shirt Wednesday, Food Stand Friday, and
happy hour every day at Harry's Burritos with
Travis the chillest bartender in Manhattan. The percussionists
were creatures of habit, which sometimes frustrated Molly when she'd want to try new cool restaurants downtown and all they'd want
to do was go to Chipotle; but it also comforted her when she knew
that she could "go to Harry's any day at 4 p.m. and find Hammer and
Kyle chain-smoking and drinking pre—studio class margaritas."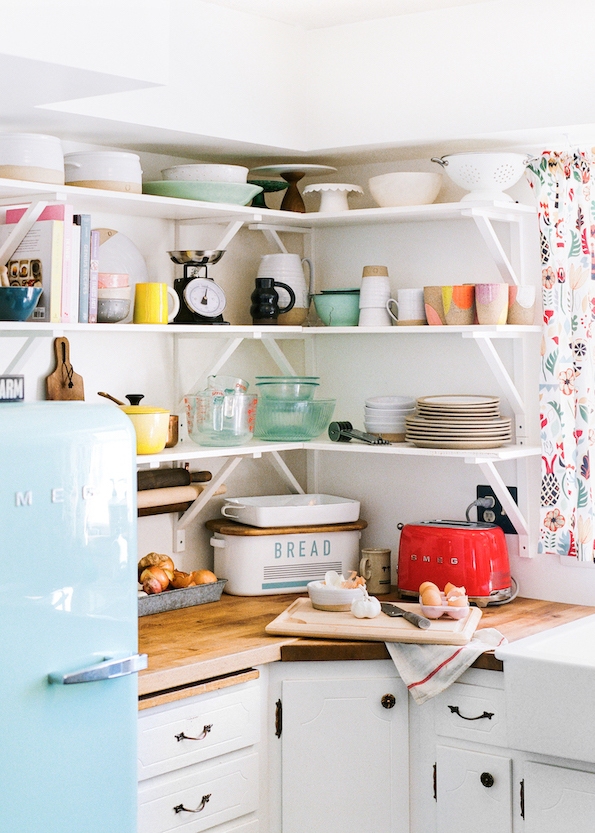 Food Stand Friday came about because of the really tasty lunch cart that parked on the corner right outside of Juilliard. The guys would usually get a pile of meat on rice while Molly would go for the very coriander-y falafel with white sauce and a little tiny bit of hot sauce.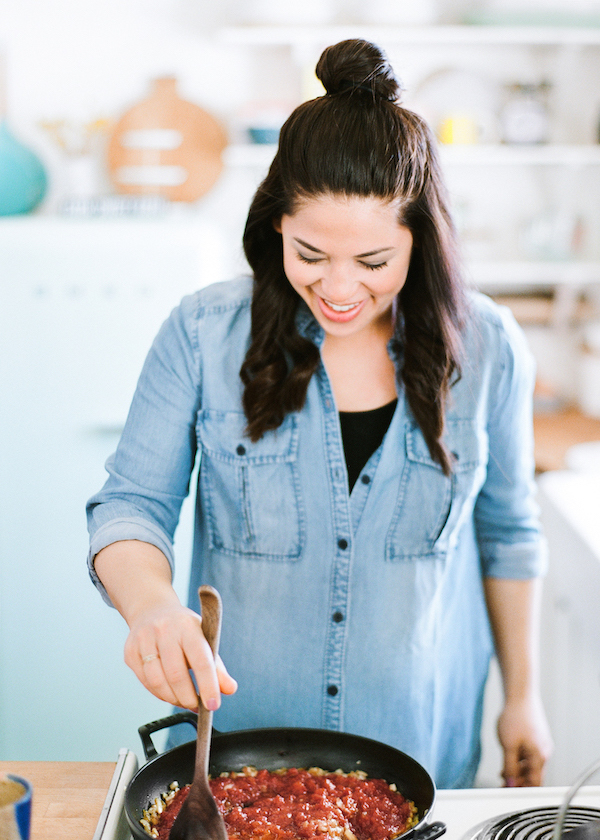 An extra-crispy crust and the heavy hand on the coriander separated this falafel from the refined dainty herby balls that I later discovered downtown, but it's probably a draw for which falafel in the world is my favorite. As long as it's salty and crispy and not at all soggy, it pretty much has my vote.
Saucepan with Skillet Lid

By Le Creuset

Shop Now
Here, instead of stuffing falafel in a pita or serving over rice, I've counteracted the fried-ness with a bed of fresh vegetables, lemony sumac dressing, and squishy pita croutons. It's not a traditional fattoush, but it's a good one.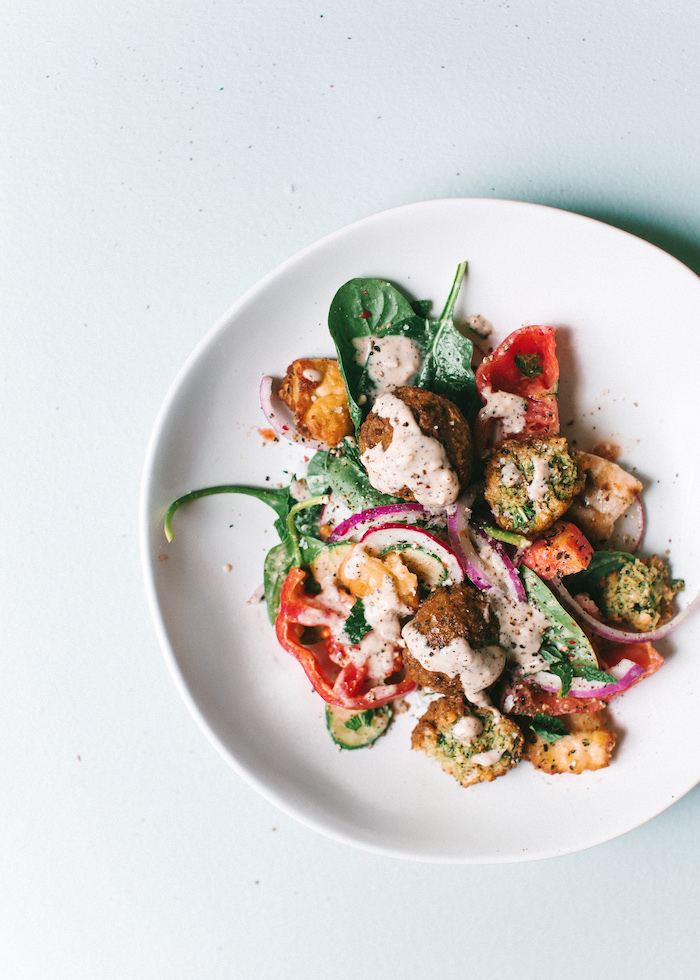 Molly Yeh's Falafel Fattoush Salad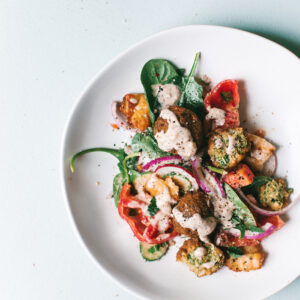 INGREDIENTS
For the Falafel:
1 tablespoon coriander seeds
2 teaspoons cumin seeds
1 cup dried chickpeas, soaked for 10 hours or overnight and drained
1 small onion, coarsely chopped
4 cloves garlic, minced
¼ cup lightly packed cilantro leaves with stems, roughly chopped
¼ cup lightly packed flat-leaf parsley leaves with stems, roughly chopped
2 tablespoons flour
1 ½ tablespoons lemon juice
Olive oil or flavorless oil, for frying
1 teaspoon kosher salt
½ teaspoon ground cinnamon
¼ teaspoon baking soda
Black pepper
Pinch of crushed red pepper
For the Salad:
Olive oil or flavorless oil, for frying
3 day-old pitas, chopped or ripped into 1- to 2-inch pieces
Kosher salt
6 cups spinach, lightly packed
½ English cucumber or 3 Persian cucumbers
2 medium tomatoes, sliced into pieces ¾-inch thick
½ small red onion, thinly sliced
2 radishes, thinly sliced
½ cup fresh mint leaves, chopped
Black pepper to taste

For the Dressing:
¼ cup tahini
¼ cup water
1 tablespoon lemon juice
2 cloves garlic, minced
¾ teaspoon sumac
¼ teaspoon kosher salt
INSTRUCTIONS
For the Falafel:

Toast the coriander seeds and cumin seeds in a skillet over medium heat until lightly browned and fragrant, then coarsely grind in a spice grinder.
In a food processor, combine the cumin, coriander, soaked chickpeas, onion, garlic, cilantro, parsley, flour, lemon juice, salt, cinnamon, baking soda, crushed red pepper, and a few turns of black pepper, and pulse quickly, 80 to 100 times, until the mixture is combined, but still slightly grainy.
In a large skillet, heat ¼-inch oil over medium-high heat until shimmering but not smoking. Fry a 1-tablespoon test patty until golden. Adjust the seasonings in the mixture as desired. Form balls of falafel mixture, 3 tablespoons each, packing them firmly and then flattening them slightly. Fry on all sides until golden brown. Transfer to a paper towel.

For the Salad:
To make the salad: In a skillet, heat ¼-inch of oil over medium-high heat until shimmering. Fry the pita pieces until lightly browned, 30 to 60 seconds on each side. Transfer to a paper towel and immediately sprinkle lightly with salt.
In a large bowl, combine the pita chips with the spinach, cucumber, tomatoes, onion, radishes, and mint leaves. Season with a few turns of black pepper and salt to taste.
To make the dressing: In a bowl, whisk together the tahini, water, lemon juice, garlic, sumac, and salt, stirring until thickened.
Drizzle half of the dressing over the salad, toss, top with the falafel, and serve with the remaining dressing.