Homemade Pretzel Bites with Beer Cheese Dipping Sauce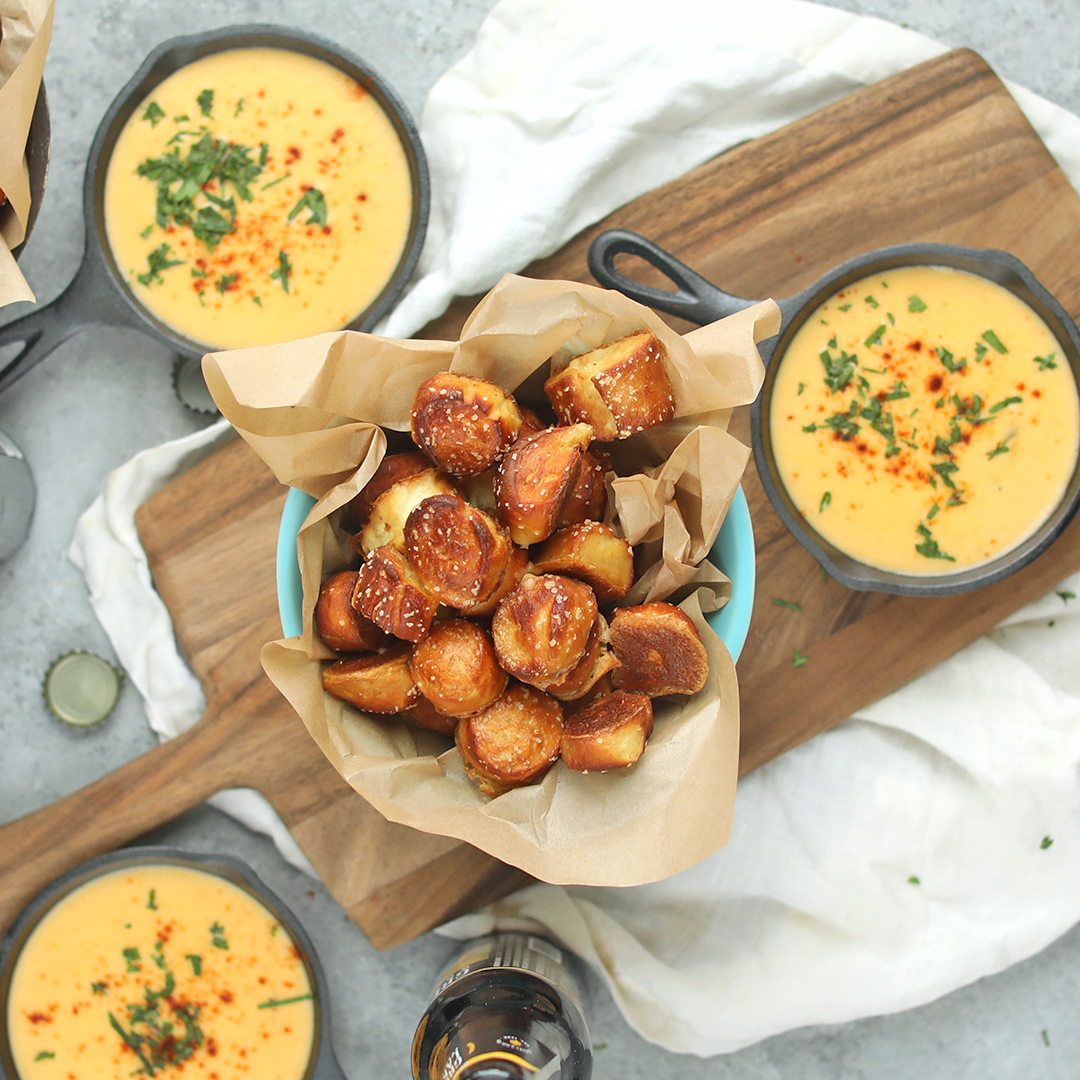 October is around the corner so in light of Oktoberfest I whipped up these homemade pretzel bites with a beer cheese dipping sauce. In addition, tailgating season is in full effect so these pretzel bites make for the perfect grazing appetizer.
The beer cheese dip isn't so bad while tailgating either, a little beer for me, a little sauce, you see how it goes. If you've never attempted to make homemade pretzels, they are actually easier to make than you may have thought. After all, it's just a plain dough recipe.
Just like any rising dough recipe, you need to foam up some yeast in some warm water with a little bit of sugar. In case you weren't paying attention in Home Ec. Class, the yeast is activated in warm water, 110° to 115°, and eats the sugar producing carbon dioxide in return which allows the bread to rise. Once you make your pretzel dough you need to allow it to rest for about an hour before forming it into long ropes!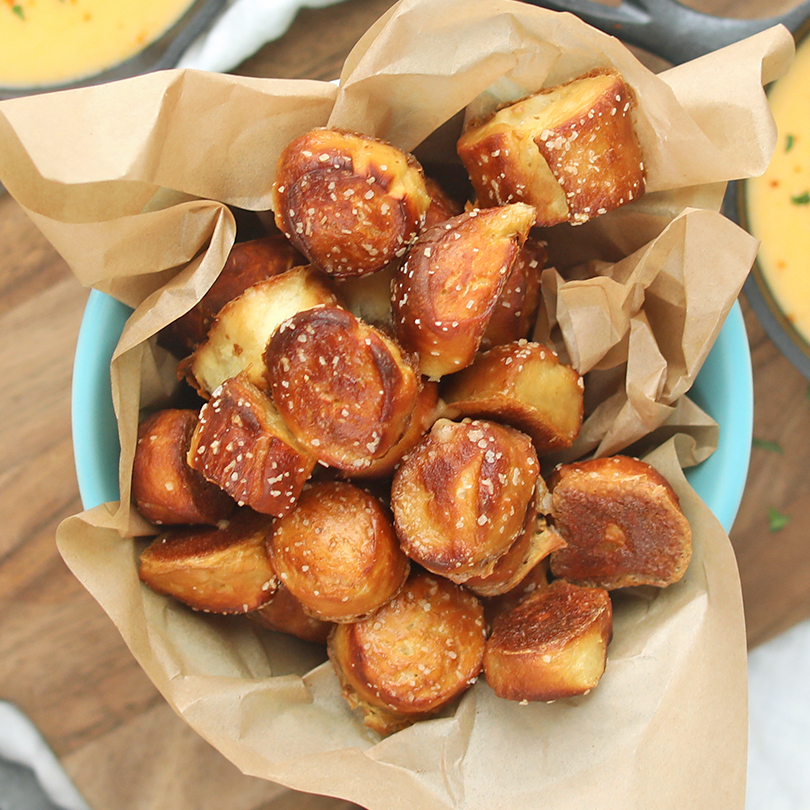 Feel free to cut the ropes however small or big you want. Rule of thumb for me is that it shouldn't be so big that you can't pop it right into your mouth, but you can absolutely feel free to change up the size from bites to rods – your prerogative! Once the small pretzel pieces are made, it's then time to dip them in a baking soda solution.
This part is certainly odd and what it does is gelatinizes the dough giving it that perfect brown color and texture when baked. It's kinda scary that you have to do that when you think about so don't think about it! Next, place them on a Silpat. It cannot be parchment paper. I REPEAT, it cannot be parchment paper as they will stick and you will be eating paper with your pretzels! Brush them with an egg yolk solution and sprinkle on salt and bake. Super simple and oh my gosh, are homemade fresh hot pretzels so insanely delicious!
Last but not least, I made a very simple beer cheese dipping sauce. I spiced it up a bit with smoked cheddar to give it a really nice flavor. Add in the beer and milk and whisk away until it becomes thick and that's it!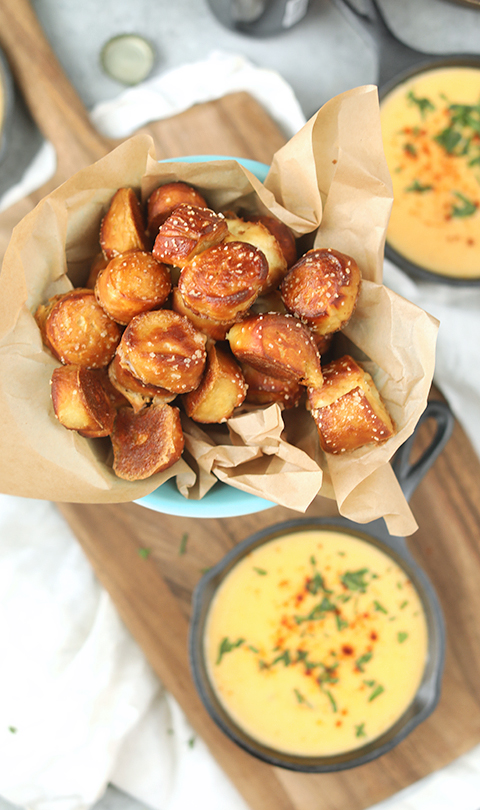 Happy Pretzel & Beer Cheese Dip making everyone!
Homemade Pretzel Bites with Beer Cheese Dipping Sauce Recipe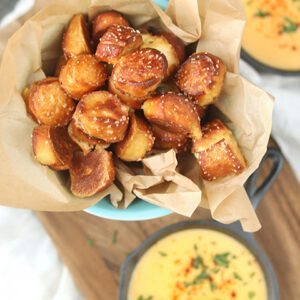 INGREDIENTS
For the Pretzels:
2 cups of warm water
1 tablespoon of granulated sugar
1 ½ tablespoons of dry active yeast
½ cup of melted unsalted butter
1 tablespoon of Kosher salt + more for pretzel tops
6 cups of all-purpose flour
1 cup of baking soda and 1 gallon of water
1 tablespoon of vegetable oil
1 egg yolk whisked with 1 tablespoon of water
For the Beer Cheese Dip:
1 ounce of unsalted butter
1 ounce of all-purpose flour
2 cups of whole milk
½ cup of dark German beer
2 cups of shredded cheddar
1 cup of shredded smoked cheddar
Kosher salt and paprika to taste
INSTRUCTIONS
For the Pretzels:
Pre-heat the oven to 450°.
In a standing mixer bowl, add in the water, sugar, and sprinkle on the yeast and let it sit for 5 minutes or until it begins to foam.
Add the hook attachment and pour in the butter, salt and flour and knead the dough on high for 5 minutes.
Add vegetable oil into a large bowl and place in the dough. Cover with a towel and keep and rest until it doubles in size, about an hour
Before it is time to form the dough, bring 1 cup of baking soda and 1 gallon of water to a boil in a large pot.
To form the dough, take a small piece and roll it out until it is an 18" to 24" long rope. Cut into bite size pieces and set aside.
Turn down the boiling water to a simmer and cook each pretzel dough 1 at a time for :30 each and then place back on the Silpat.
Once all of the pretzels have been cooked in the baking soda solution, brush the tops with the egg wash and season heavily with Kosher salt.
Bake in the oven for 10 to 12 minutes or until golden brown.
For the Beer Cheese Dipping Sauce:

In a medium size sauce pot on medium heat melt together the butter and flour to form a roux.
Next, add in the milk and beer and whisk until it becomes very thick. Whisk in the cheeses until it is smooth and season with salt and paprika. Keep warm.