Meatballs with Pomegranate Glaze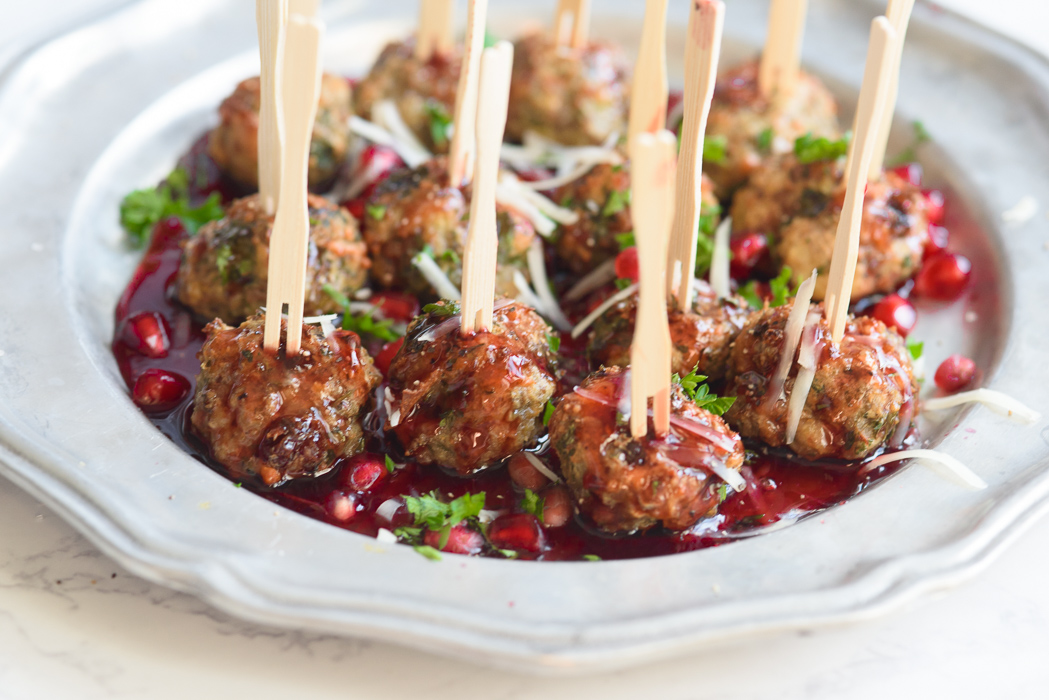 Oh my! These are the most scrumptious meatballs I have ever tasted! They just seem to melt in your mouth. Your guests are going to feel extremely spoiled when you serve these!
Meatballs are definitely a classic appetizer recipe. So we took our favorite recipe (a variation on Lidia Bastianich's meatball recipe) and added a pomegranate maple glaze to punch up that holiday flavor. It's sweet and tangy and just the right amount of sticky. Then you top them with pomegranate seeds, fresh parmesan cheese and parsley and they look magical. It's frankly hard to make enough of these meatballs because everyone loves them so much!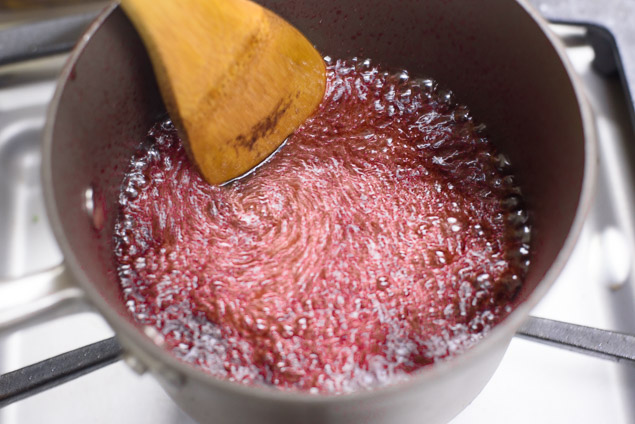 We start by chopping up our onion and parsley. Add the ground meat, parmesan cheese, salt, pepper and mixed it all together. Then set it all aside for the moment.
The real secret to Lidia's meatballs is that she uses sliced Italian bread sliced in thin slices and soaked in milk for 5 minutes (not longer or it will turn to complete mush!). This adds incredible moisture and depth to the meatballs so they are tender on the inside but have a delicious crispy exterior.
Roll out some roughly one inch diameter balls and place them in a cast iron skillet on medium heat or put them on a cooling rack over a Silpat lined baking sheet.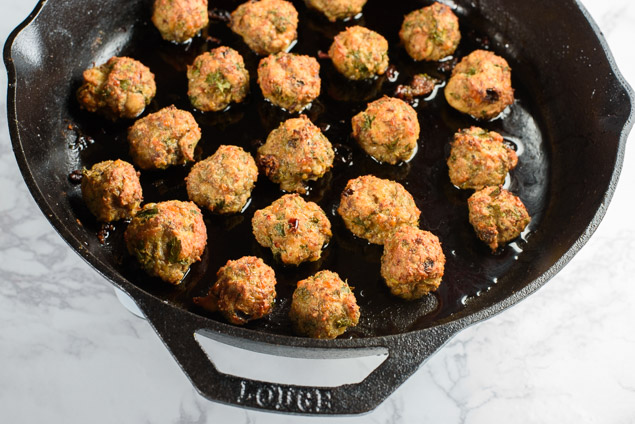 Cooking them on the rack in the oven is a great choice if you have a ton of these to make but my favorite way to do them is to cook the meatballs entirely in a cast iron skillet. Be careful not to overcrowd them in the skillet or they will steam instead of crisp.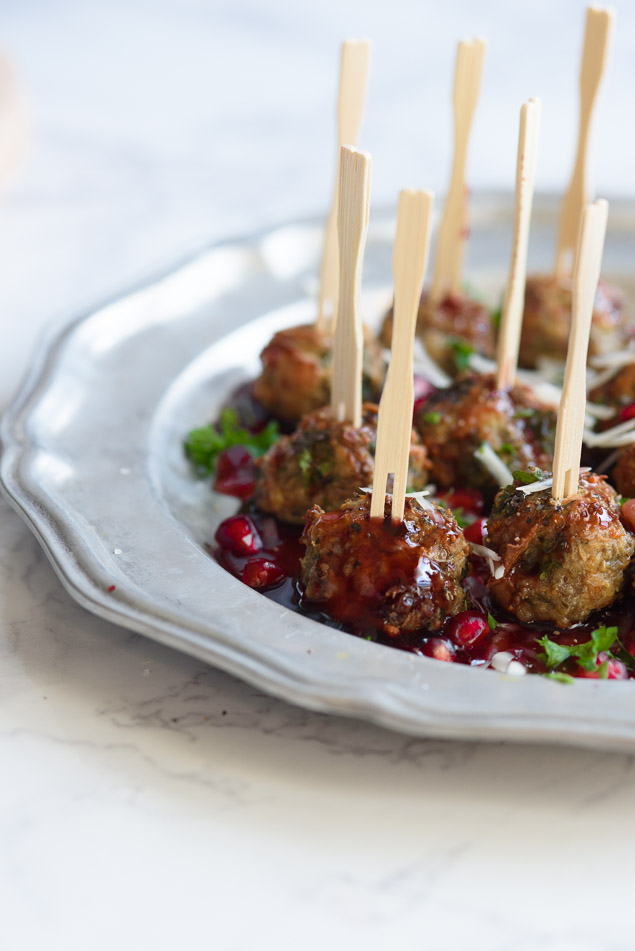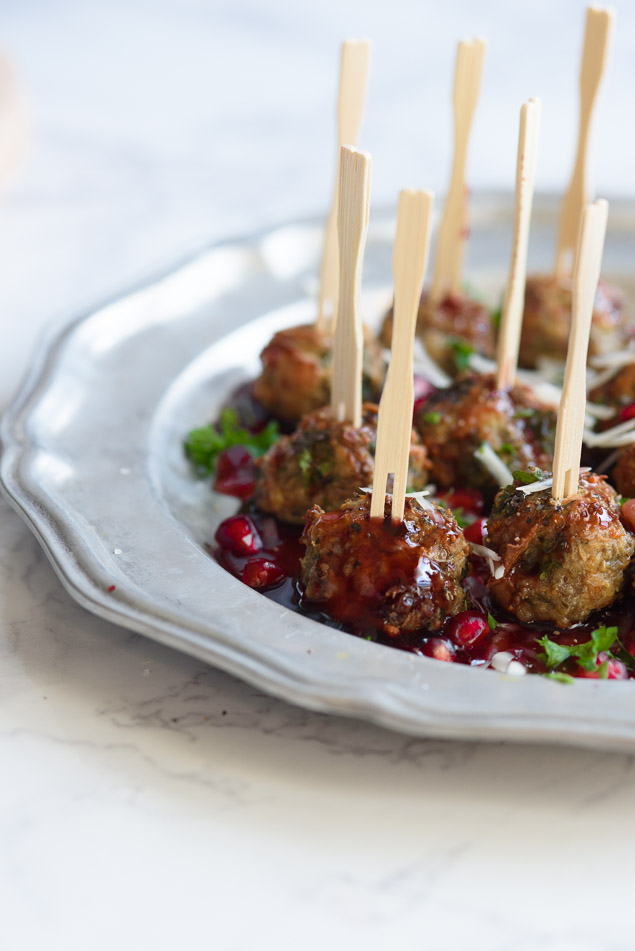 Making the glaze starts with pouring maple syrup and pomegranate juice into a sauce pan. Whisk in some cornstarch and place the pan over a medium heat until you get a rolling boil. Reduce to a low heat and stir until you get to a gravy like consistency before setting it aside to cool.
As soon as your sauce is done, add the pomegranate seeds and pour over the meatballs. Top with freshly shredded parmesan cheese, a tiny pinch of salt and pepper and a nice dusting of chopped parsley.
Happy holidays!
Meatballs with Pomegranate Glaze Recipe
For this meatball appetizer we took our favorite meatball recipe and added a pomegranate maple glaze to punch up the flavor.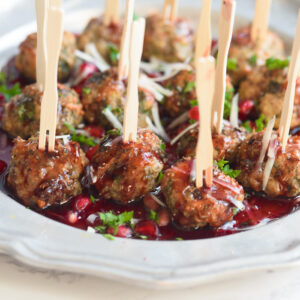 Ingredients
1

Small onion, chopped finely

1

cups

Freshly grated Parmesan (plus extra for serving)

1

Bunch Italian Flat Leaf Parsley, chopped (reserve ¼ cup for garnish)

2

tbsp

Salt

1

tsp

Fresh ground pepper

1

lb

Ground beef

1

lb

Ground pork

8

Eggs, whisked

1

Loaf of french bread, sliced thinly

1

cups

Milk

3

cups

Italian bread crumbs

1

cups

Raisins

1

cups

Hot water

1

cups

Pomegranate juice

.5

cups

Maple syrup

1

tbsp

Cornstarch

.25

cups

Pomegranate seeds
Instructions
For the Meatballs: Preheat the oven to 350 if baking in the oven.

Mix the onion, parmesan cheese, parsley, salt, pepper, meat and eggs together.

In another bowl add bread to milk and let it soak for 5 minutes.

Soak the raisins in the cup of hot water for 5 minutes to plump up.

After 5 minutes of soaking the bread, squeeze as much milk out of the bread as you can lightly.

Add bread to meat mixture, by breaking the bread into small pieces while mixing in.

Add bread crumbs and drained raisins and mix well with your hands.

Roll into roughly one inch diameter balls.

These can be made in the oven or in a cast iron skillet. I prefer the skillet but if you have a lot to make and don't have time to wait use a Silpat lined baking sheet with a cooling rack.

Oven: Place onto a rack over a cookie sheet. We added a silpat baking mat underneath, to help with cleanup. Bake for 30 minutes.

Making the Glaze: Add juice and maple syrup into a small saucepan. Whisk in cornstarch while cold until smooth.

Bring to a boil and then reduce heat to medium low until mixture has thickened.

Once reduced add pomegranate seeds and pour on top of meatballs.

Top with glaze, parmesan cheese, parsley and a pinch of salt and pepper. Serve hot.