Maple Bourbon Hot Toddies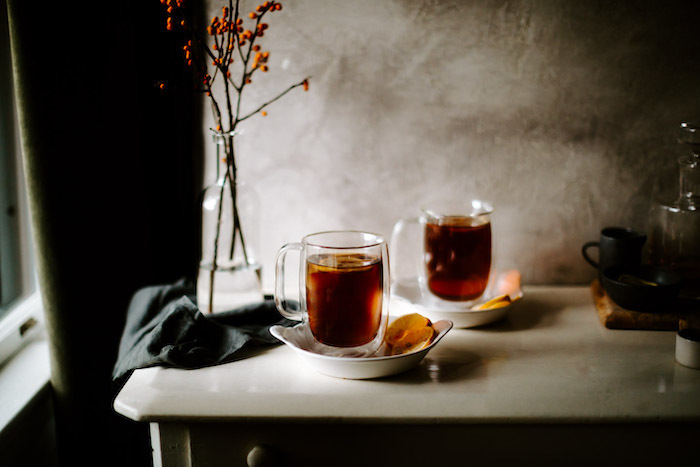 I must admit it took me far too long into my adult life to try a Hot Toddy. It wasn't until a few years back, when I went out to share a meal with a friend, that I finally had the chance. It was a classic Maine winter's night and we cozied up at a ramen restaurant's service bar with the bustle of line cooks in front of us. The windows to the front were completely fogged up as the night was almost too cold for snow, and a symphony of sniffles could be heard across the restaurant.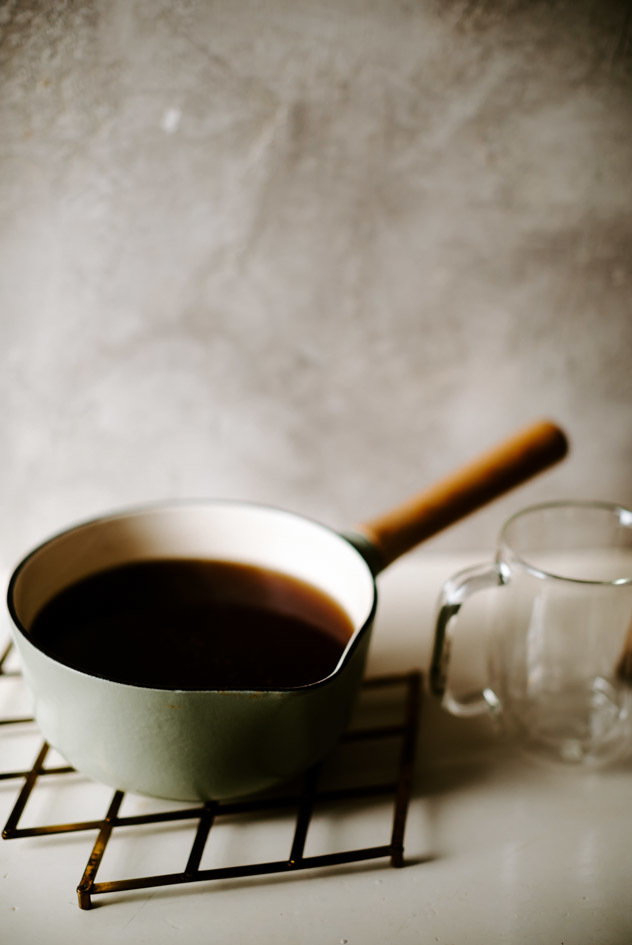 Modern Cast Iron Saucepan with Wood Handle

By BergHOFF

Shop Now
I don't remember if we were actually feeling under-the-weather, but my friend insisted on hot toddies to cure the winter freeze. I will admit I was taken aback by the astringent, punch-you-right-in-the-nose strength of the sake in this particular hot toddy, and yet I still completely appreciated the drink. The flavors were deep and complex, and the drink was healing in the way that a warmed soul heals the whole body. Although I've switched to bourbon as my liquor of choice, that experience inspires me every time I make a toddy.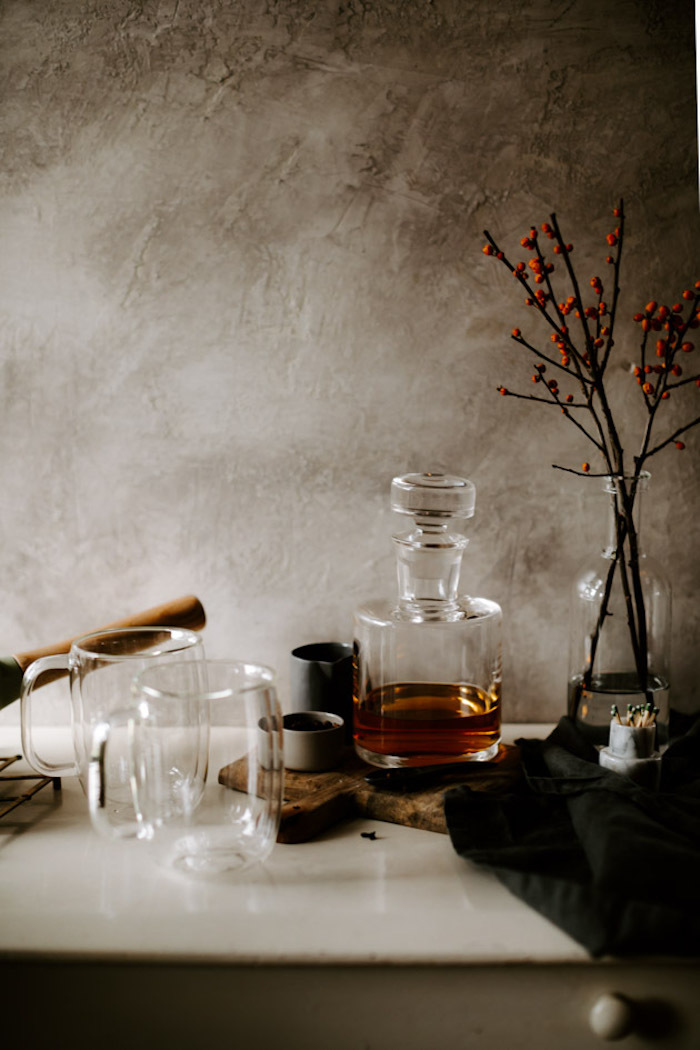 VinoLife Malt Whisky Decanter

By Cuisivin

Shop Now
My Maple Bourbon Hot Toddy is a perfect nightcap for a cool fall or winter evening. Its flavor is built off of steeped black tea and a hint of mulling spices with juniper berries. The tiny burst of orange helps bring the maple and bourbon down smooth. This drink is a bit darker in color than a traditional toddy, as the black tea infuses the whole.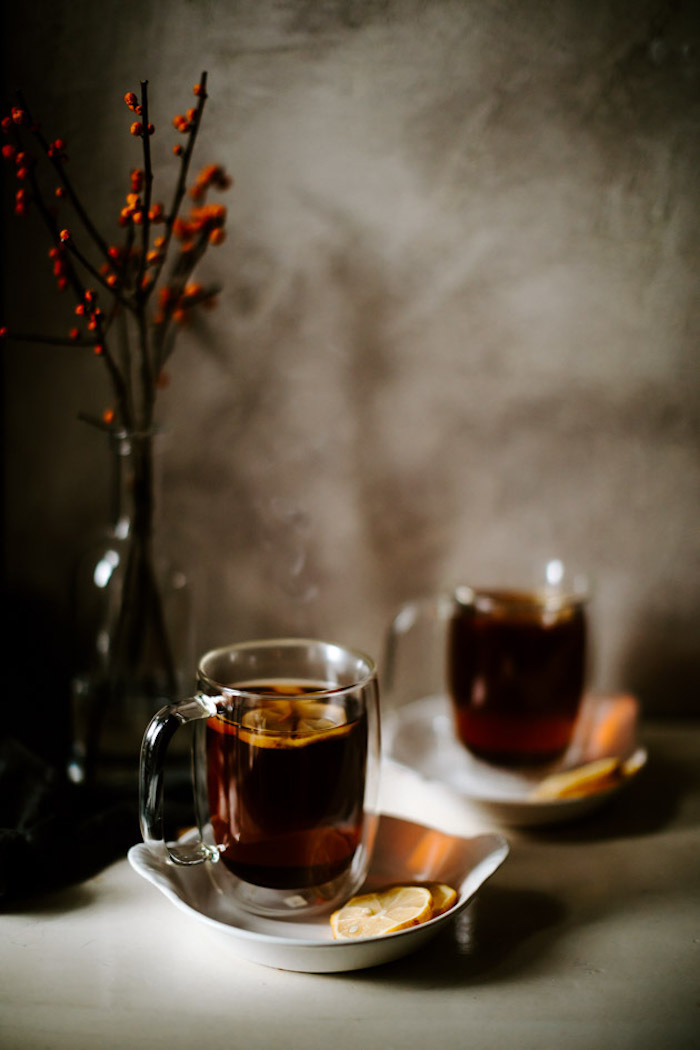 Sorrento Double Wall Latte Glass

By Zwilling J.A. Henckels

Shop Now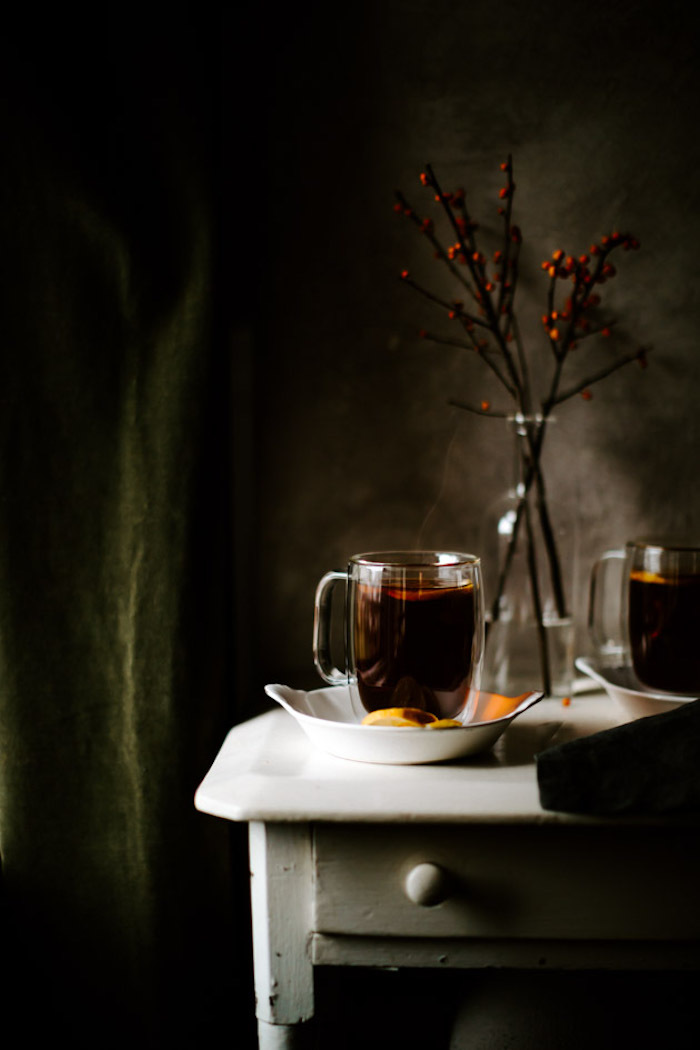 Substitutions
When it comes to cocktails, substitutions can be a bit tricky. The more things get changed, the further from the intricate recipe one gets, and not after long it's a completely different drink. Unfortunately, I do not recommend any substitutions in this recipe, however, feel free to adjust sweetness and citrus to suit your unique tastes.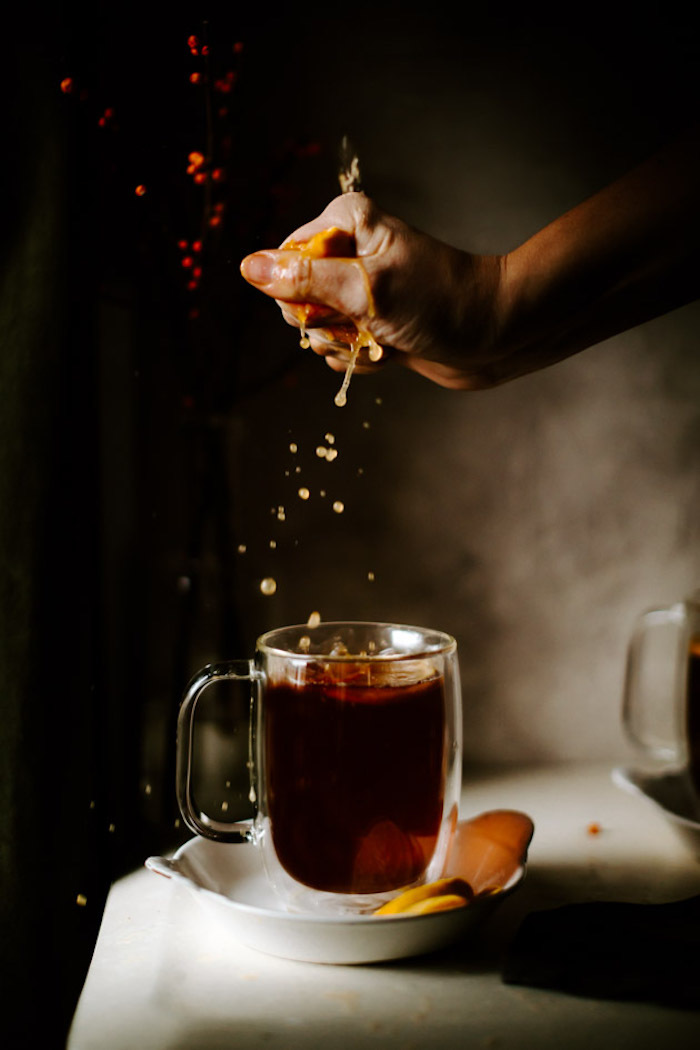 Maple Bourbon Hot Toddies
Makes these maple bourbon hot toddies for the perfect night cap on a cool fall or winter evening. The flavor is built of steeped black tea, a burst of orange, maple, and bourbon!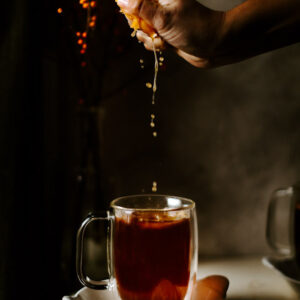 Ingredients
4

cups

water

0.25

cups

maple syrup

1

tbsp

brown sugar

2

black tea bags (such as 365 Brand or Red Rose)

4

juniper berries

12

whole cloves

1

cinnamon stick

8

oz

bourbon whiskey (2 oz. per drink)

2

tsp

lemon juice (0.5 tsp. per drink)

1

orange, sliced to squeeze for garnish

4

slices of lemon, for garnish

4

orange peels, for garnish
Instructions
In a medium saucepan, bring water, maple syrup, brown sugar, juniper berries, cloves, and cinnamon stick to an almost-boil (about 208 degrees).

Turn off the heat and add the tea bags. Steep for 5-8 minutes. Immediately strain then discard seasonings and tea bags.

In a double-walled glass or mug, measure 2 oz bourbon and ¼ teaspoon lemon juice. Fill mug with hot maple tea infusion (about 1 cup).

Garnish with a squeeze of orange, slice of lemon, and an orange peel.
Nutrition
Calories:
217
kcal
Carbohydrates:
22
g
Protein:
0.5
g
Fat:
0.2
g
Saturated Fat:
0.1
g
Sodium:
15
mg
Fiber:
1.5
g
Sugar:
18
g
There are so many different ways you can make a Hot Toddy. Check out some other variations to this warm winter drink:
Check out 26 Hot Drinks for when you have a cold.
Feeling Sniffly? Check out this Classic Hot Toddy to help keep those sniffles at bay.