Loaded Chicken Cobb Salad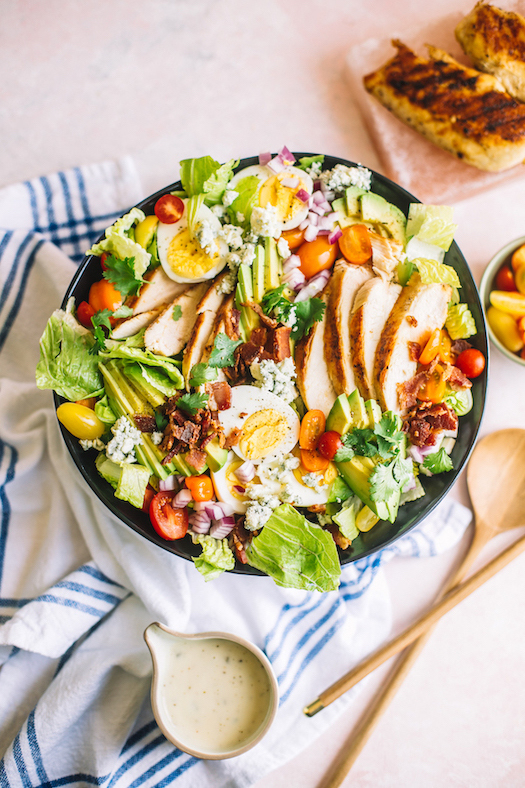 I have to admit, I am having a real moment with Cobb salad these days. Which probably sounds silly but I can't get enough. I think the Cobb is one of THE most underrated salads and I am here to advocate for the classic. Maybe it's because I'm from California… maybe it's because I'm a bacon lover… whatever it is the Cobb-love is real.
What's in a Cobb salad?
A traditional Cobb salad usually always has a base of chopped greens, bacon, hard boiled eggs, avocado, and some kind of cheese! If you've got these ingredients you're on your way to a "traditional" cobb salad. Around The College Housewife headquarters, we love switching up a classic so of course we added a few more ingredients for some pizzazz.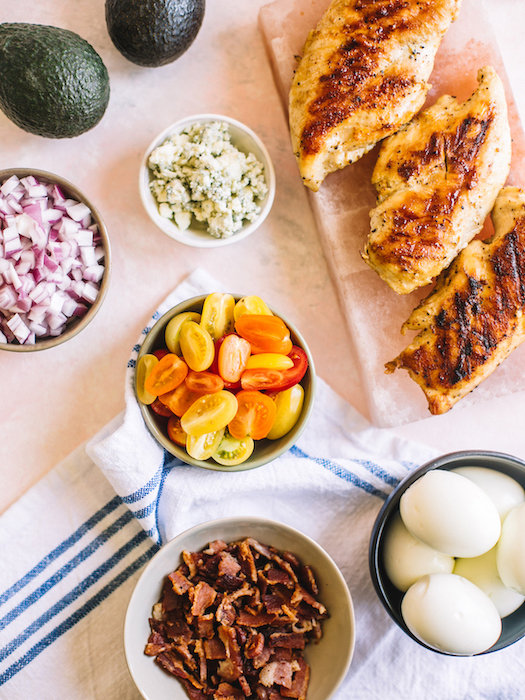 Winner winner! Chicken Cobb dinner!
You can honestly use whatever protein base you prefer (grilled salmon is one of my favs!) but the house favorite always seems to be some kind of grilled chicken. Whether you're making this on the grill (or using a grill pan during the winter) just be sure to get a nice golden brown on the outside of your chicken breast.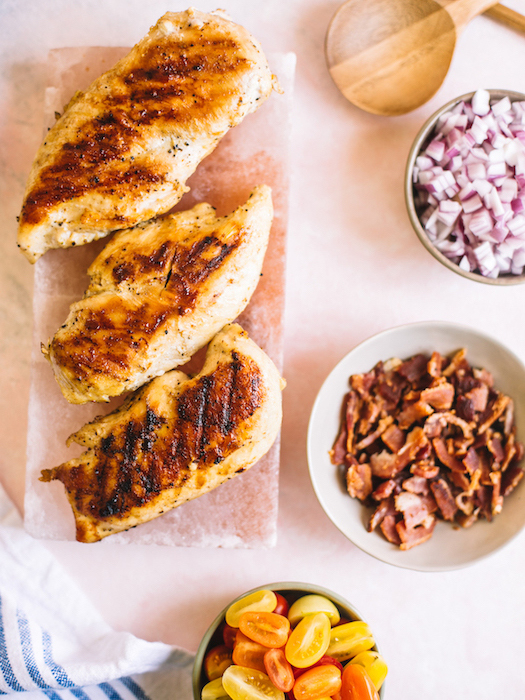 For extra flavor, I love serving up the chicken on a salt block. It adds a bit of extra flavor and makes you look like a salad maven in the kitchen.
Have some flavor fun!
We've covered the foundation of the Cobb salad but you can totally put your own flavor spin on the classic!
Greens: Most people use crisp romaine but you could do iceberg, spinach, field greens or even a blend of all of them. Whenever I use a blend of greens I love breaking out my salad spinner. It's an extremely fun gadget (talk about getting your adult kicks) and incorporates everything together.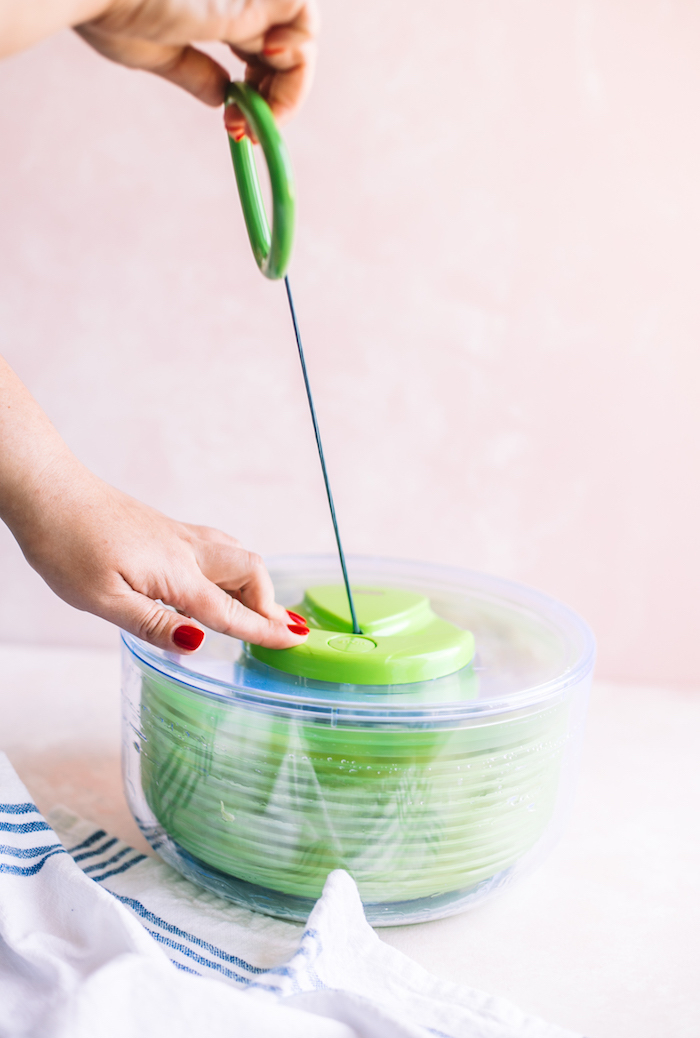 Easy Spin Salad Spinner

By Zyliss

Shop Now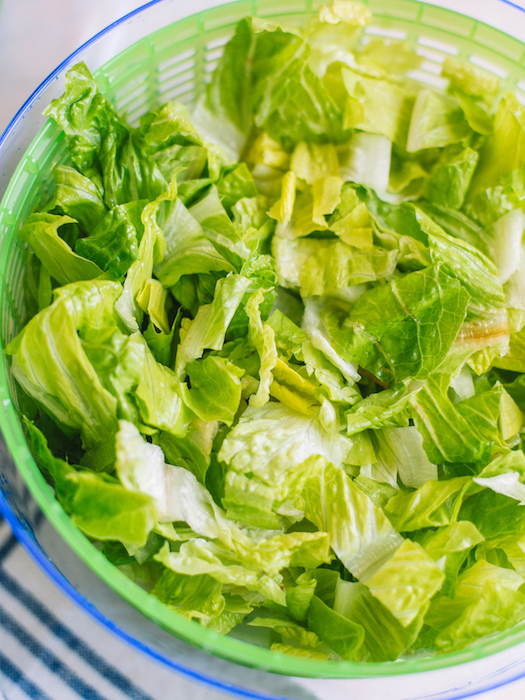 Cheese: My go to is ALWAYS blue cheese but feel free to try some cheddar for a classic flavor, or smoked gouda if you love to pack in the flavor!
Matte Wave Stoneware Mixing Bowl

By 10 Strawberry Street

Shop Now
Dressing: This is totally up to your preference! I think a creamy blue cheese or ranch is the perfect accompaniment for a Cobb but balsamic or Italian are great options for something a bit tangier!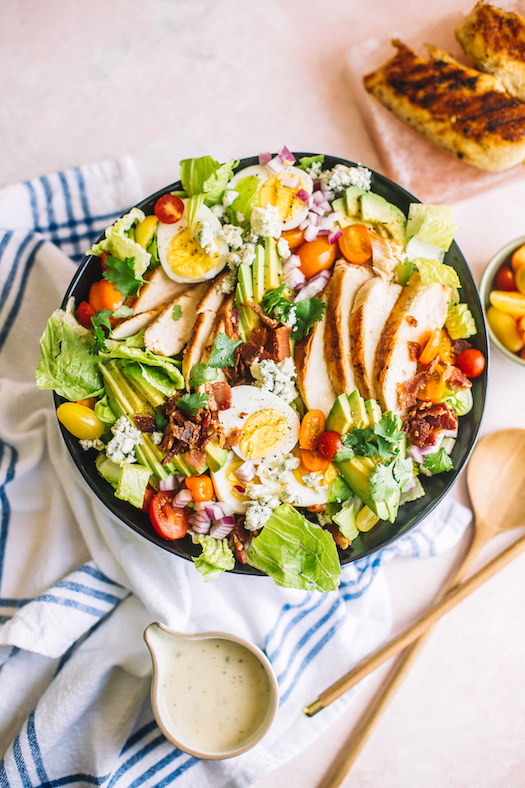 Veggie-Friendly: If you're a vegetarian or cutting down on meat there are a couple alternatives for the Cobb salad. Crispy roasted chickpeas or sundried tomatoes are great bacon replacements, and grilled tofu or a veggie pattie work well to replace the chicken.
Pinnacle Salad Servers

By Now Designs

Shop Now
Your perfect meal prep!
If you are big on meal prepping you can certainly gather all the ingredients for this Loaded Chicken Cobb Salad at the beginning of the week and prep a salad the night before. I do a few easy things for optimum freshness…
If you're bringing your salad on the go, save your avocado and cut it right before you eat. No one wants brown avocado slices!
Throw your hard boiled egg in whole and cut it right before eating. This will prevent your tupperware and salad from having that weird "hard boiled egg smell"
Skip the dressing. Don't ever dress your salad the night before. Bring a small container full and dress right before eating to avoid a soggy mess.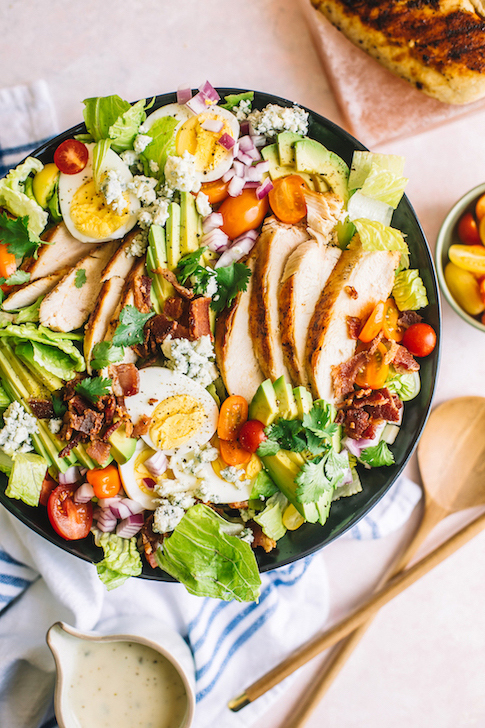 Loaded Chicken Cobb Salad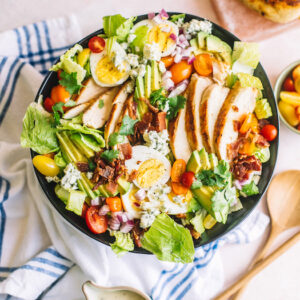 INGREDIENTS
2 tablespoons of olive oil + more for pan
1 teaspoon of kosher salt
½ teaspoon of black pepper
½ teaspoon of granulated garlic
½ teaspoon of smoked paprika
2 boneless, skinless chicken breasts
5-6 cups of greens (I used romaine)
1 cup of cherry tomatoes, halved
½ cup of red onion, finely diced
1 cup of crumbled bacon
½ cup of blue cheese crumbles (or your preference!)
1 avocado, thinly sliced
2 hard boiled eggs
INSTRUCTIONS
In a small bowl, whisk together olive oil, salt, pepper, granulated garlic, and smoked paprika. Brush mixture onto each side of chicken breasts evenly.
Heat a grill pan or your grill on medium high heat. If using a grill pan, brush grill with oil.
Cook chicken breasts for 4-5 minutes on each side depending on thickness. Remove from pan and let rest for 5 minutes.
In a salad spinner or a large bowl, toss together lettuce/greens, cherry tomatoes, and red onion.
Serve into a large bowl (or tupperware if meal prepping) and top off with bacon, blue cheese crumbles, avocado, and hard boiled eggs. Thinly slice chicken breasts and top salad.
Serve up with your favorite creamy dressing.