Lemon Ricotta Pancakes with Whipped Mascarpone & Roasted Rhubarb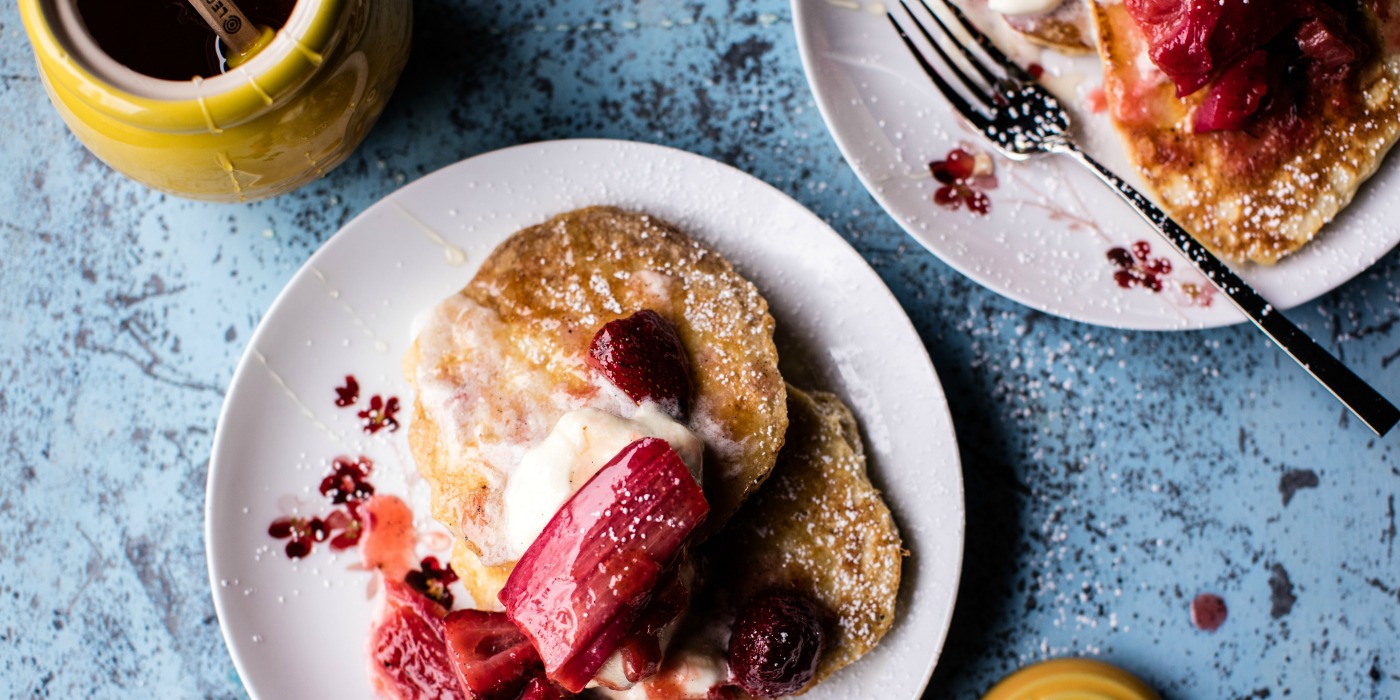 You guys, there's nothing I love more than a really sweet brunch recipe. Pancakes, waffles, crepes, doughnuts, or the like… sweet breakfast/brunch recipes are where it's at! They are also some of my favorite recipes to create.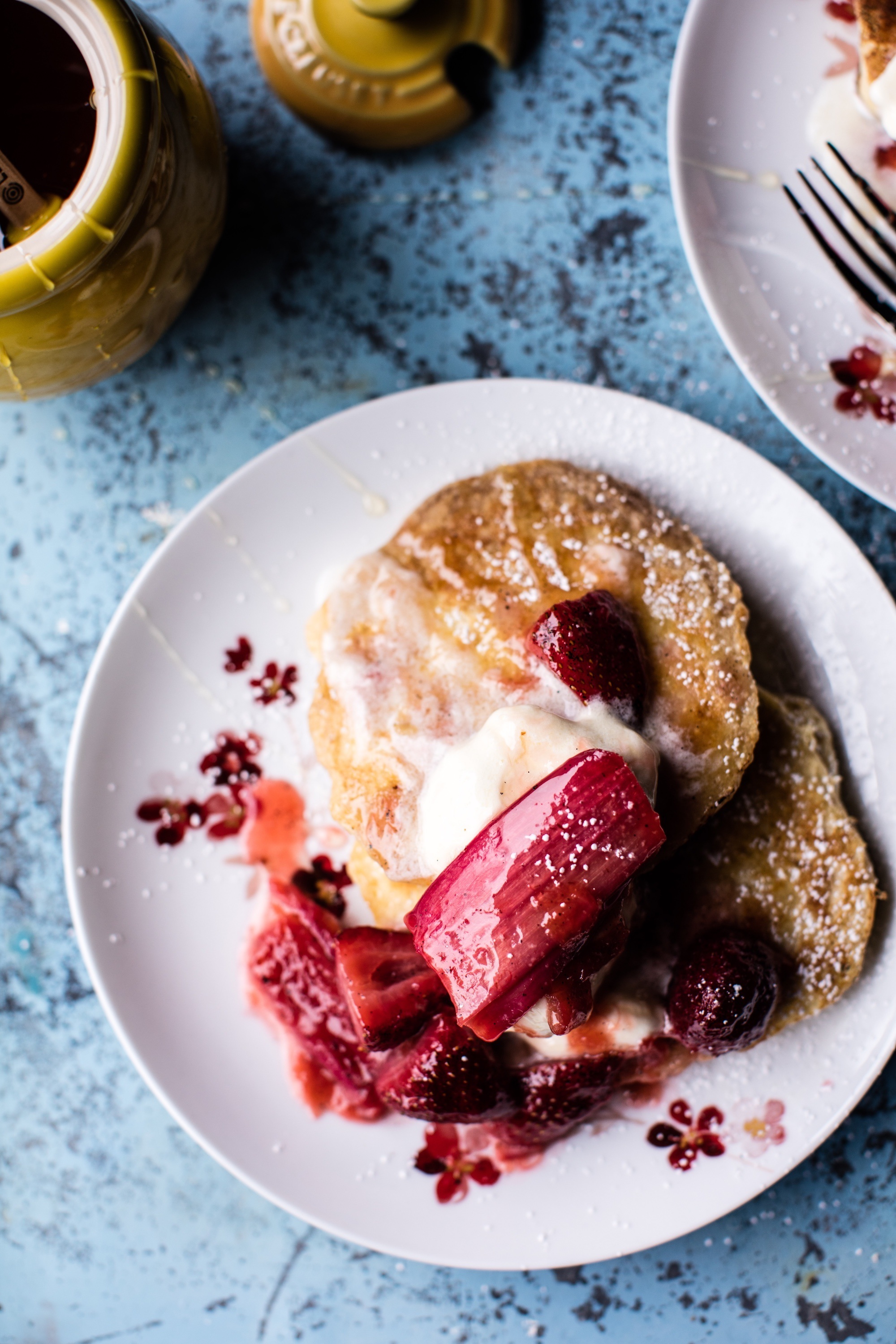 I'm pretty sure my enthusiasm for brunch foods comes all from my mom, whose favorite meal of the day is without a doubt breakfast. I'm most certainly positive it's her love for the delicious combination of carbs and sweets, paired with her daily hot chocolate. She's been this way for as long as I've known her!
Yup, she's a smart woman!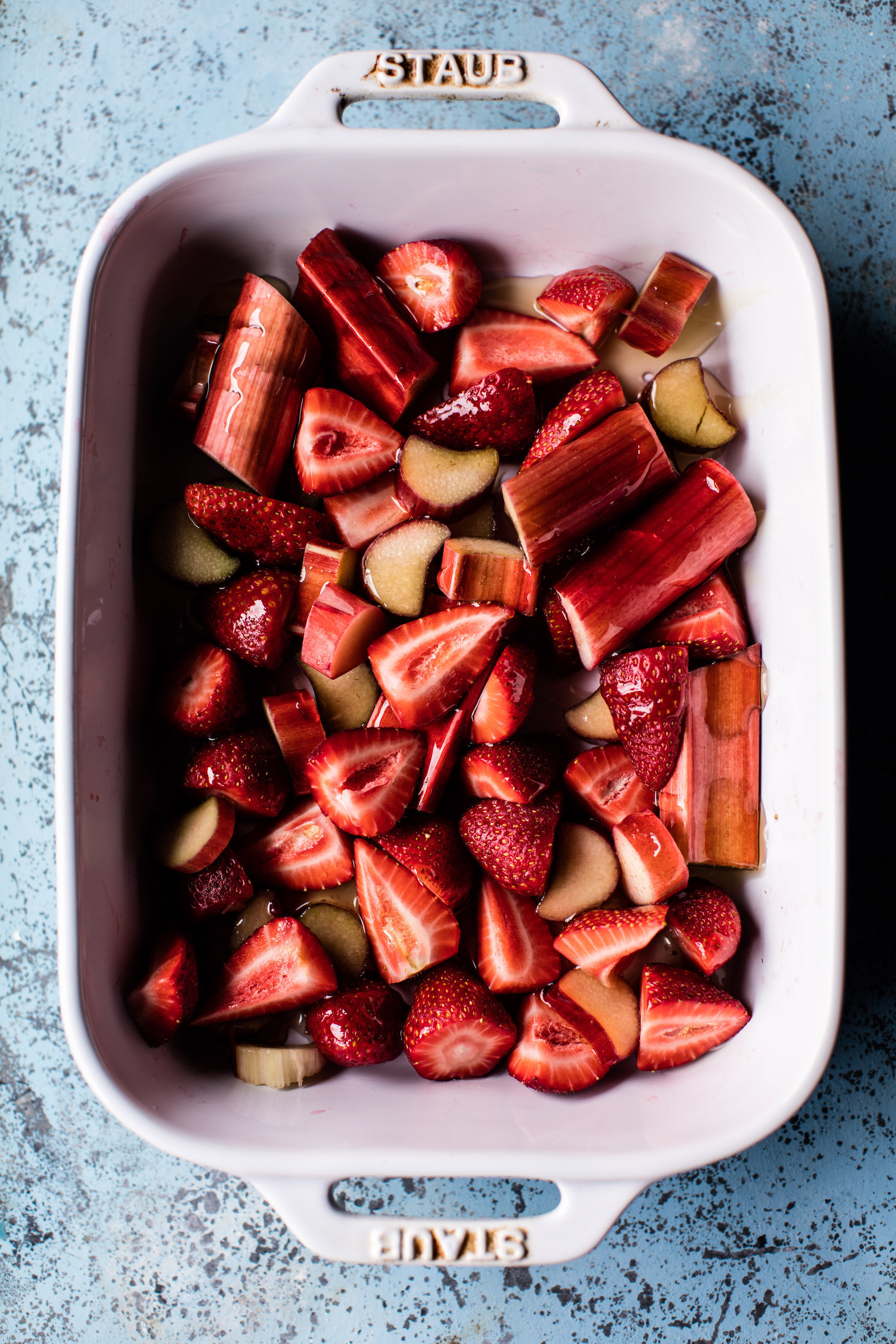 These pancakes are the ultimate spring/summer breakfast!
They're light and fluffy thanks to all the ricotta and whipped egg whites, and
the roasted rhubarb plus extra drizzle of honey makes them perfectly sweet! The
whipped mascarpone is such a delicious change-up from regular ole whipped cream,
and it pairs really nicely with the roasted fruit!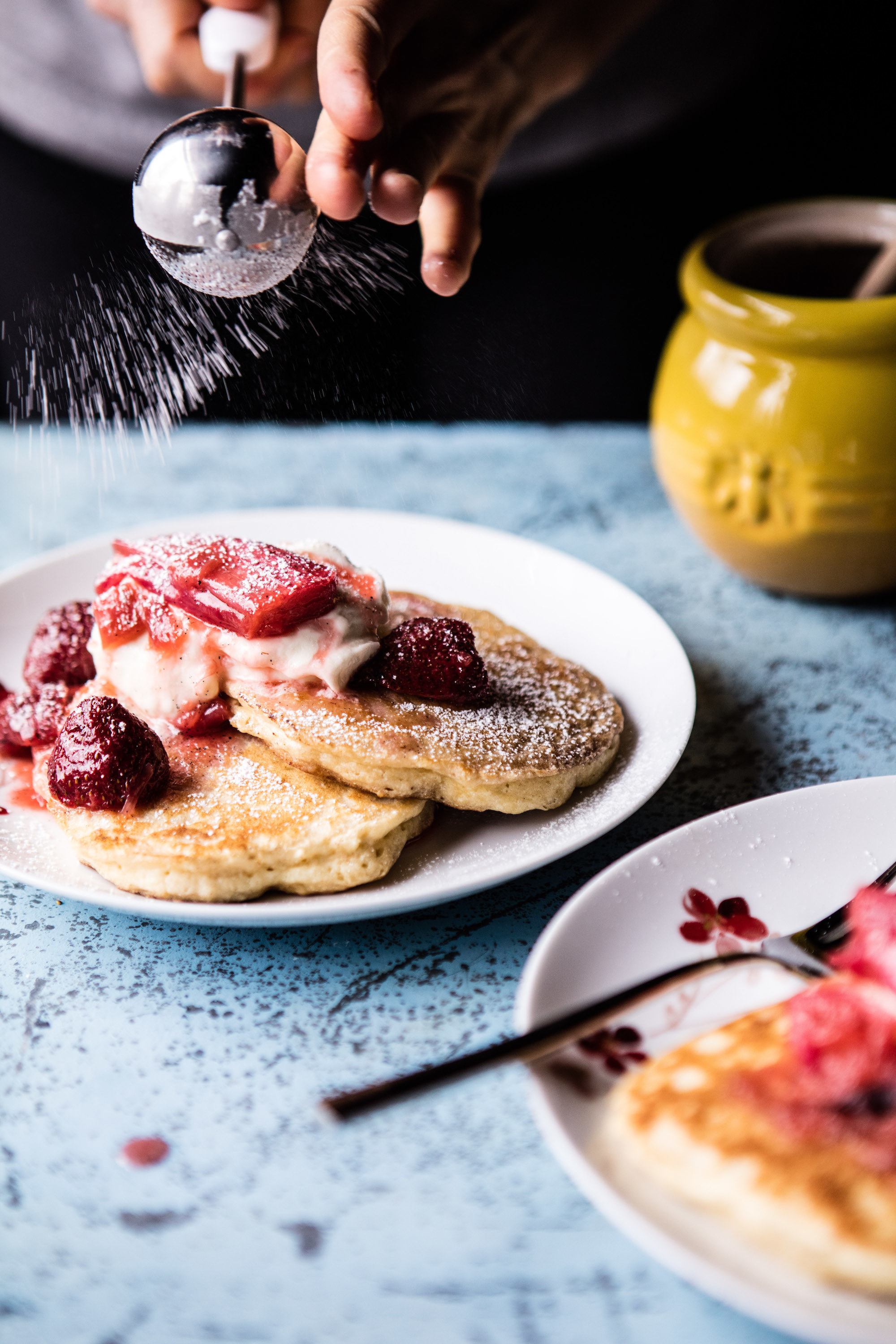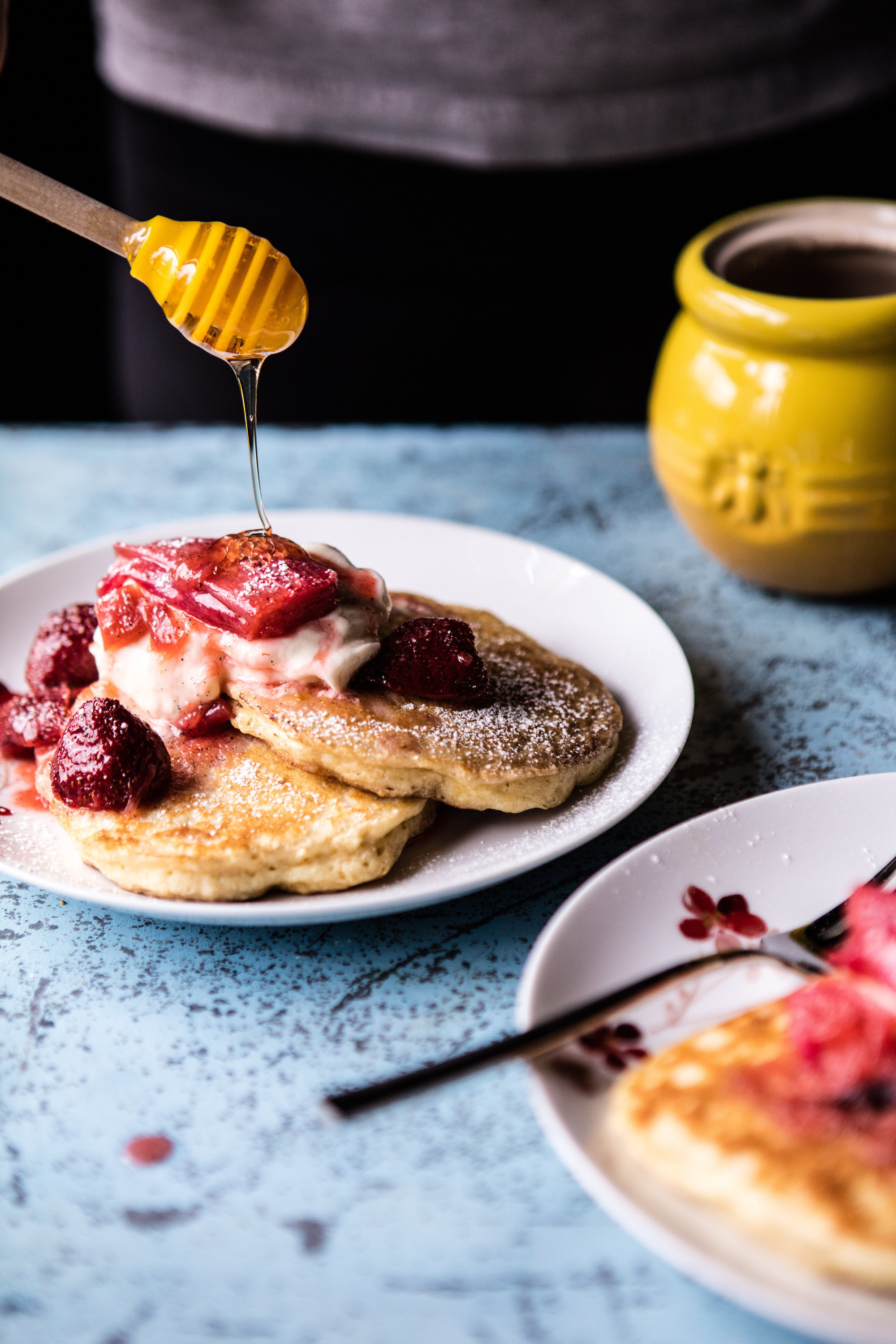 Bonus, these pancakes are pretty too!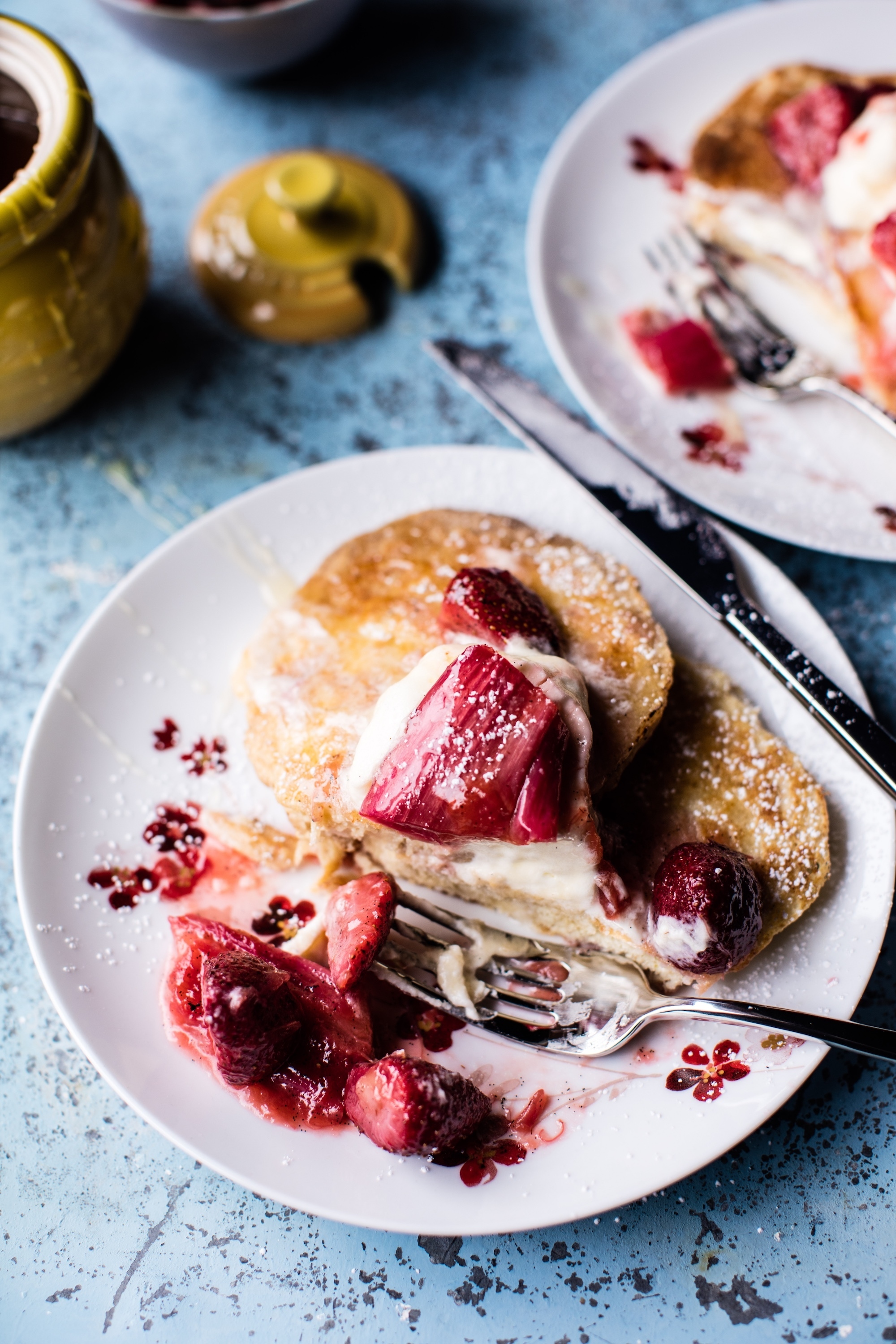 Lemon Ricotta Pancakes with Whipped Mascarpone & Roasted Rhubarb Recipe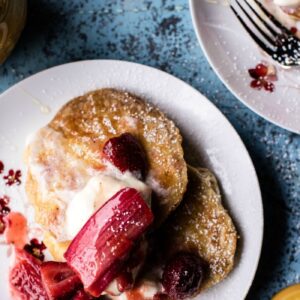 Ingredients
2

Stalks rhubarb

1

cups

Fresh strawberries, halved

2

tbsp

Honey

1

Vanilla bean, seeds removed

6

oz

Mascarpone cheese

1

cups

Heavy whipping cream

2

tbsp

Honey

1

tsp

Vanilla

3

Eggs, whites separated from yolks

1

tbsp

Sugar

.75

cups

Whole milk ricotta cheese

1

cups

Buttermilk

4

tbsp

Butter, melted

Zest from 1 lemon

1

tbsp

Vanilla extract

1.5

cups

All-purpose flour

1

tsp

Baking soda

.25

tsp

Salt
Instructions
In a stand mixer fitted with the whisk attachment (or use a hand held mixer), beat egg whites until they start to bubble. Sprinkle in 1 tablespoon of the sugar; continue beating until soft peaks form. Set aside.

In a separate larger mixing bowl, combine the ricotta, buttermilk, 3 egg yolks, melted butter, vanilla and lemon zest. Next add the flour, baking soda and salt, stirring gently until just combined.

Stir a small scoop of the egg whites into the ricotta pancake batter to lighten the batter, then fold in the remaining whites with a spatula.

Heat a skillet on medium heat. Grease with butter or cooking spray. Pour 1/3 cup pancake batter on the center of the hot pan. Sprinkle each pancake with chocolate chips. Cook until bubbles appear on the surface. Using a spatula, gently flip the pancake over and cook the other side for a minute, or until golden. Repeat with the remaining batter.

To serve, top each pancake with a little whipped mascarpone and a large spoonful of the warm roasted rhubarb. Finish with a drizzle of honey. EAT!