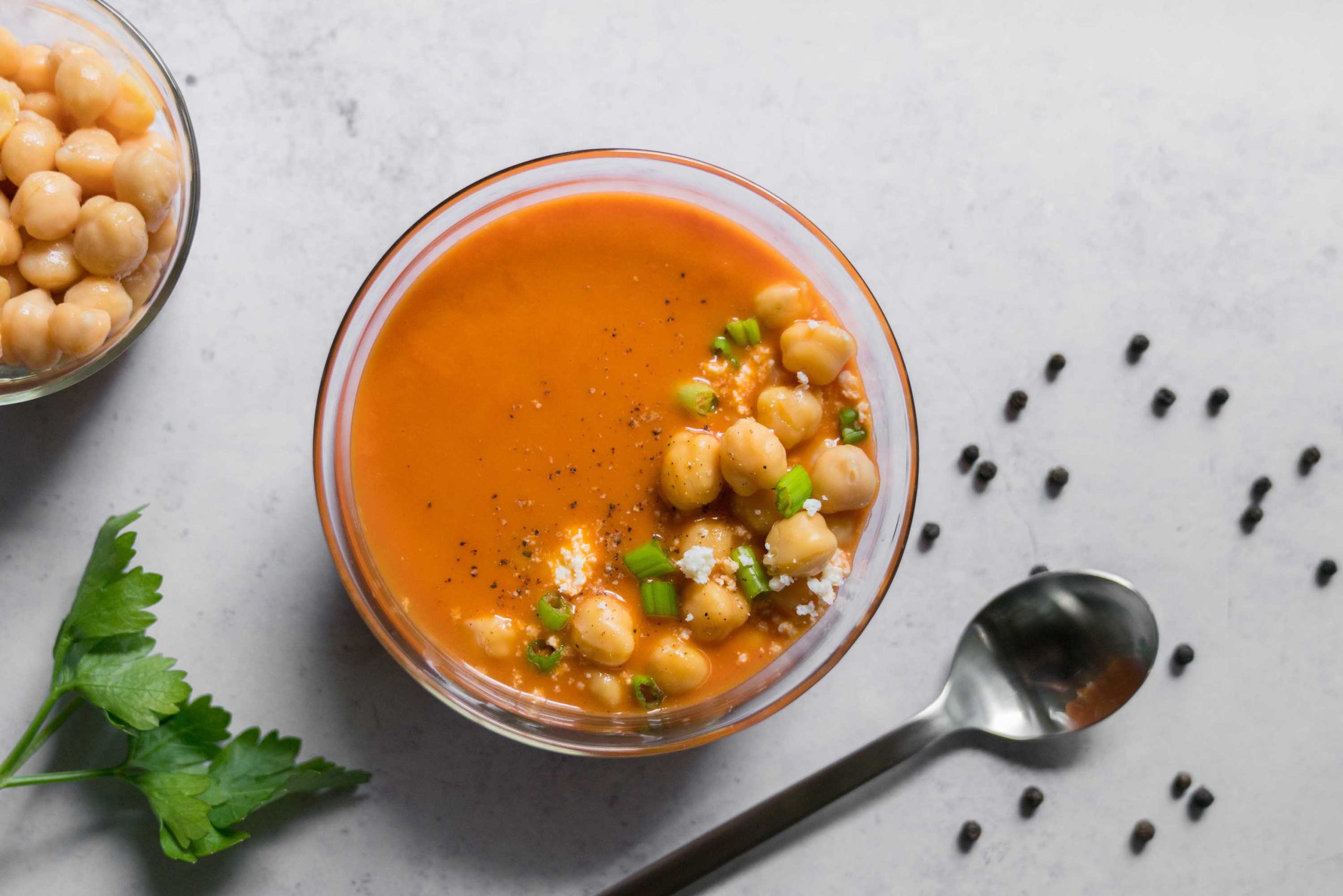 Identical meals in boxes don't make you a good person. There, I said it. Social media might have you believe that to be your best, healthy self you need to spend your entire Sunday roasting vegetables on a sheet pan, grilling chicken and most likely doing something with an Instant Pot. You don't.
For some people that works, and that's great! But for me, it doesn't. I like variety and I enjoy the process of cooking to wind down. For others, you might be lazy (hey if you're self-aware, you're not backing down from a label), or just incredibly short on time, or hate taking an entire day to cook. Like I said, it doesn't work for everyone… so drop the guilt. If I'm especially busy one week, here are some of the hacks I use to make healthy, homemade meals a reality with less work. As a hint, it involves a head start with ingredients.
There's a general misconception that prepared foods or convenience foods are 'bad' or 'unhealthy'. It's a blanket statement that's simply not true. Over the past five or so years, the market has opened up to have boutique brands and well known companies alike, that are more ingredient and flavor conscious while being time savers. You'll see everything from salad kits to gorgeous refrigerated pastas, frozen grain salads to perfect pantry soups and beyond. Having a few meal starters like the ones below for when I'm feeling busy, uninspired or sick is such a relief.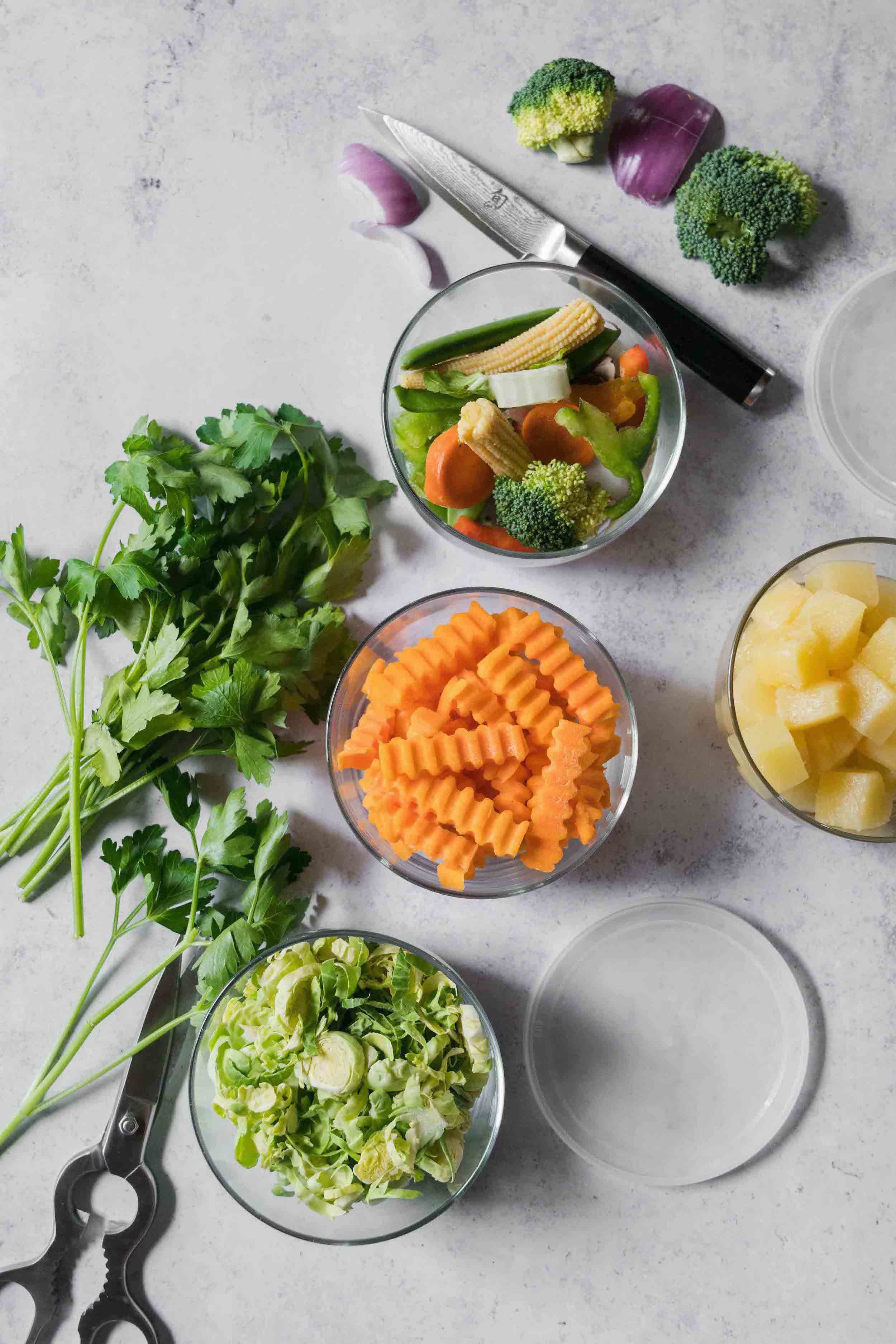 All hail the rotisserie chicken.
While I tend to keep some proteins in the freezer, if I forget to defrost them all bets are off. A rotisserie chicken is ideal for one or two people especially where it can serve as several meals. It's a great add in for salads, wraps and sandwiches but also soups and grain or veggie mixes. The best part? Use the carcass and make leftovers when you're finished to make soup or add into sauces. Freeze in an ice cube tray for perfect little portions instead of a big block of stock.
Canned beans.
I cannot begin to tell you how often I end up adding a can of chickpeas to some kind of sauced veggies (curry for example) or with salad or soup for extra fiber and protein. Yes, I know you can cook them dry but to be totally honest, I tend to just buy the canned version. One of our dinners in constant rotation is our Sweet and Sour chickpea recipe method using various sauces.
Another option is to take one can of beans and divide into multiple re-sealable containers (like the Lenox ones pictured) and add different sauces. I like a balsamic dressing with chickpeas to add to salad but you could throw in some olive oil, feta, olives and parsley to top your quinoa salad.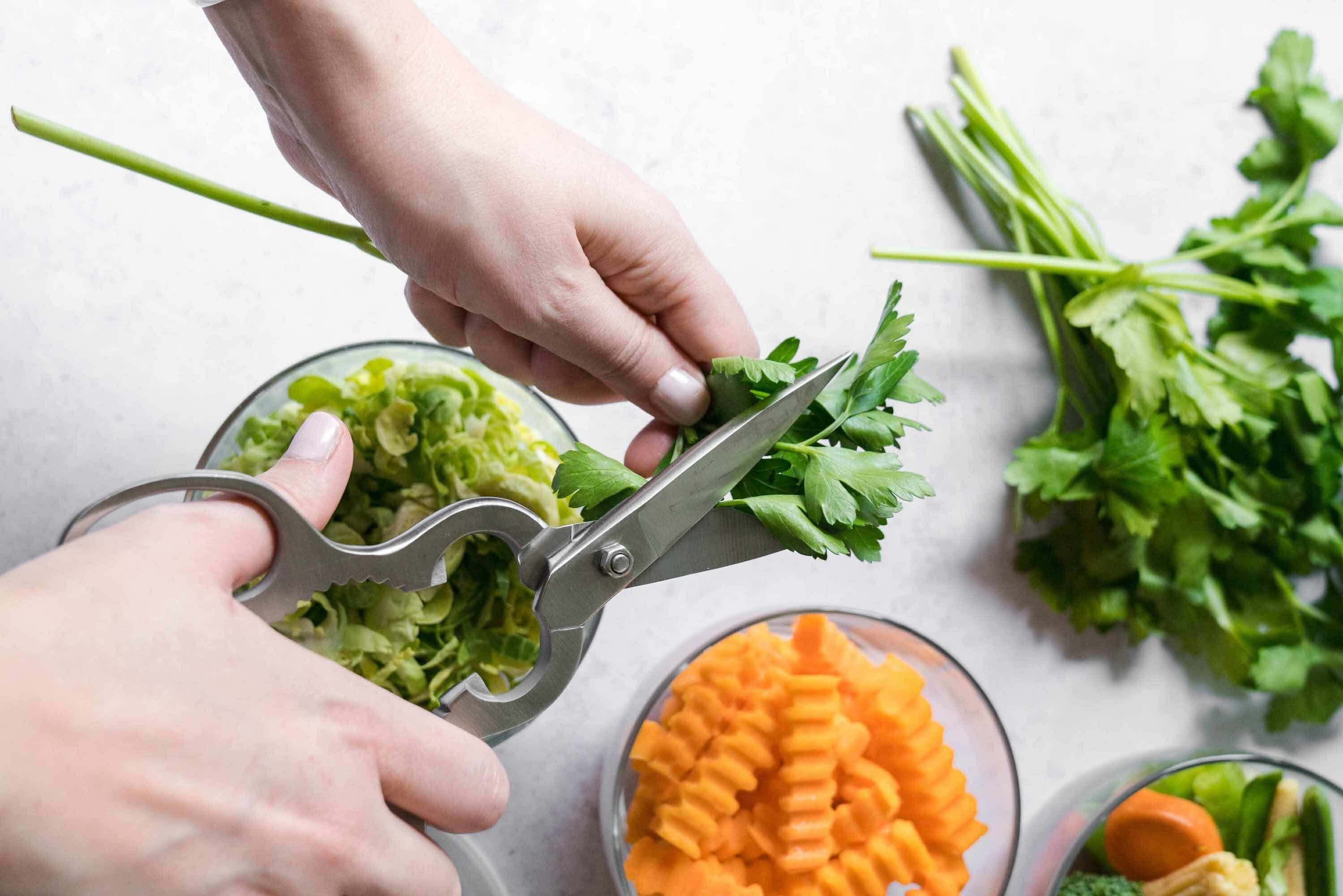 Stock up on frozen and refrigerated starters.
Shops like Trader Joe's, Costco, Whole Foods, etc. have a good selection of partially prepared foods. Think of them as meal starters. I like to have a handful for when I'm too tired to do a full meal or am just uninspired for what to make. Usually I can use this and build off of it it to add produce on hand. Refrigerated pasta can be a great starting point with some pre-chopped broccoli and butternut squash with a sauce you have on had. Trader Joe's has solid curry chicken salad in the fridge and don't even get me started on their bountiful freezer aisle. As a reminder, if you're an Amazon Prime member, you can get extra discounts at Whole Foods (and order online in some locations for delivery) which is a great way to make sure you have them on hand at a great price.
Pre-made soups.
There are so many canned and boxed soups available I can't keep track! One of our hacks is to take something like a red pepper tomato soup and add a bold cheese like feta or cotija along with a protein and fresh herbs. You don't have to serve something straight up as packaged.
Pre-cut produce (and blends).
Is it less expensive to buy every item as is and break it down? Definitely. But if you're look to save time and work, many grocers are selling prepared veggies. Cauliflower rice, shredded Brussels sprouts, cubed pineapple and even blends like 'Asian stir-fry' or 'mirepoix' are available in fresh or frozen form. If that's you, you'll need a simple paring knife as your go-to tool for making quick cuts for tasks like making broccoli florets smaller. You could also use a set of kitchen shears if you're looking for something to chop herbs, break down that rotisserie chicken from earlier, or even just open a package (make sure you can take them apart for the dishwasher).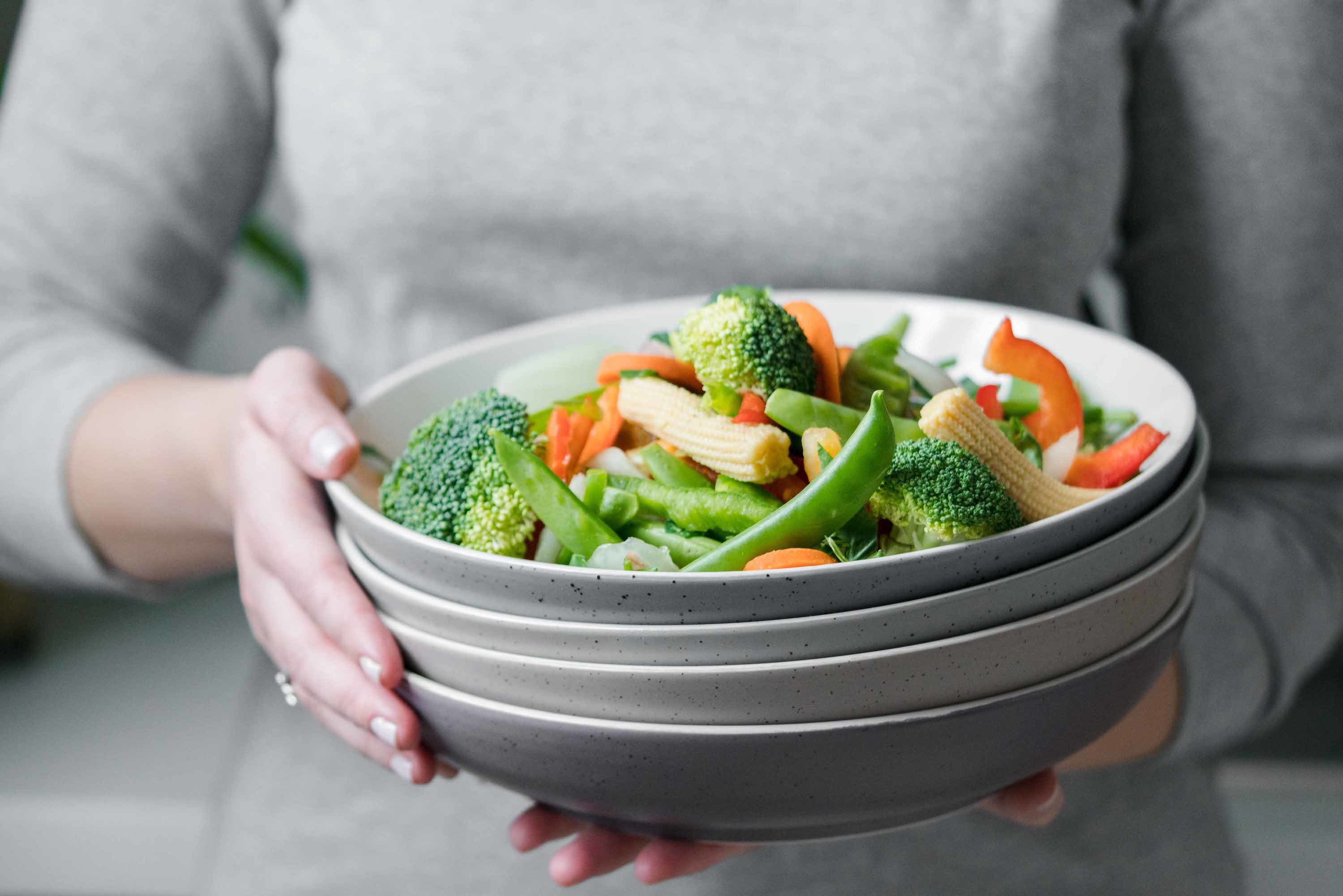 Plan a day of leftovers.
If you're meal planning, leave a day open for finishing leftovers or think about using them at lunch. It doesn't get better than using something you already made for a time saver (and food waste saver).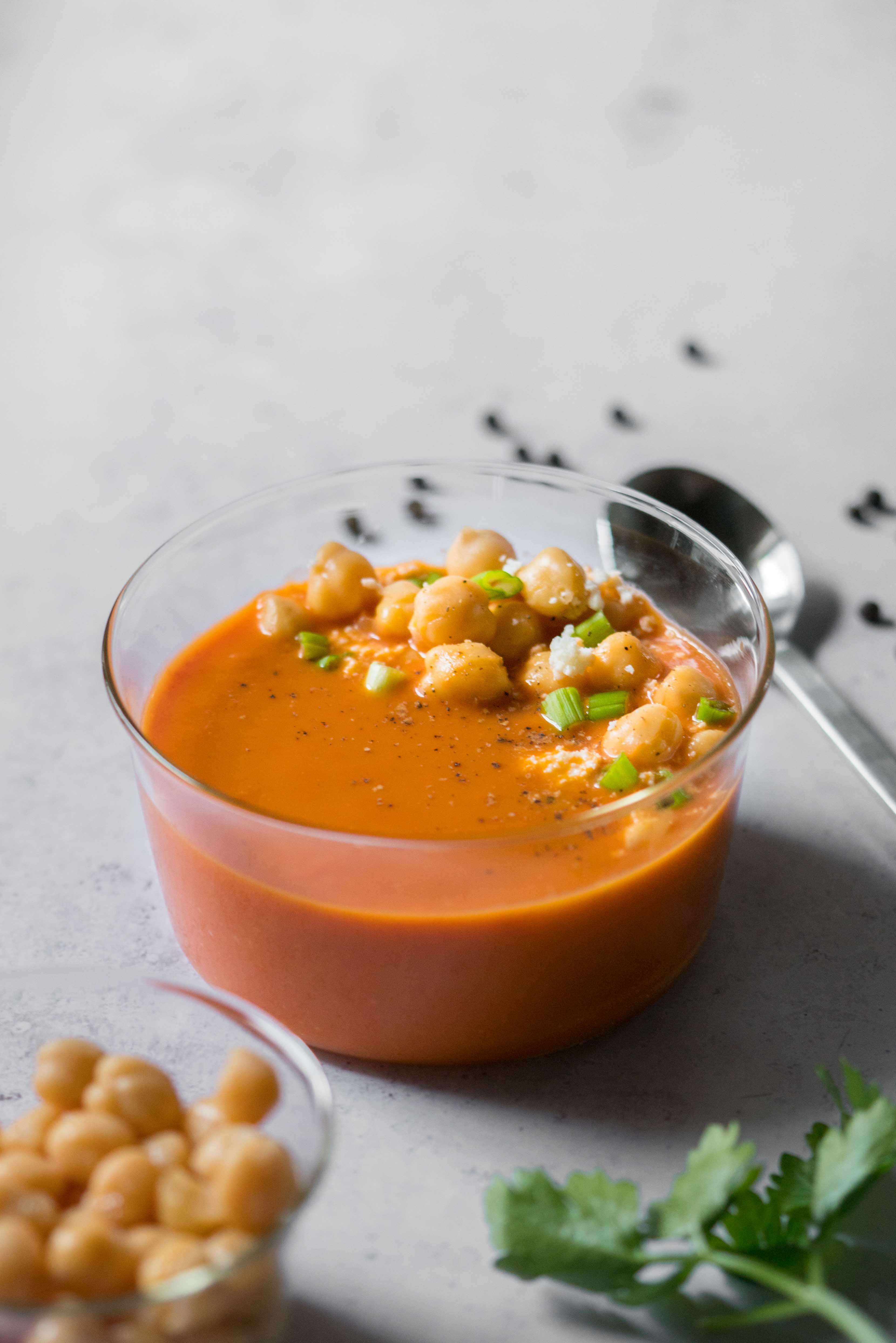 There should be no guilt over how you choose to use your time in the kitchen. Have a smart time saver hack? Let everyone know!