3 Homemade Sauces to Refresh Your Cooking Routine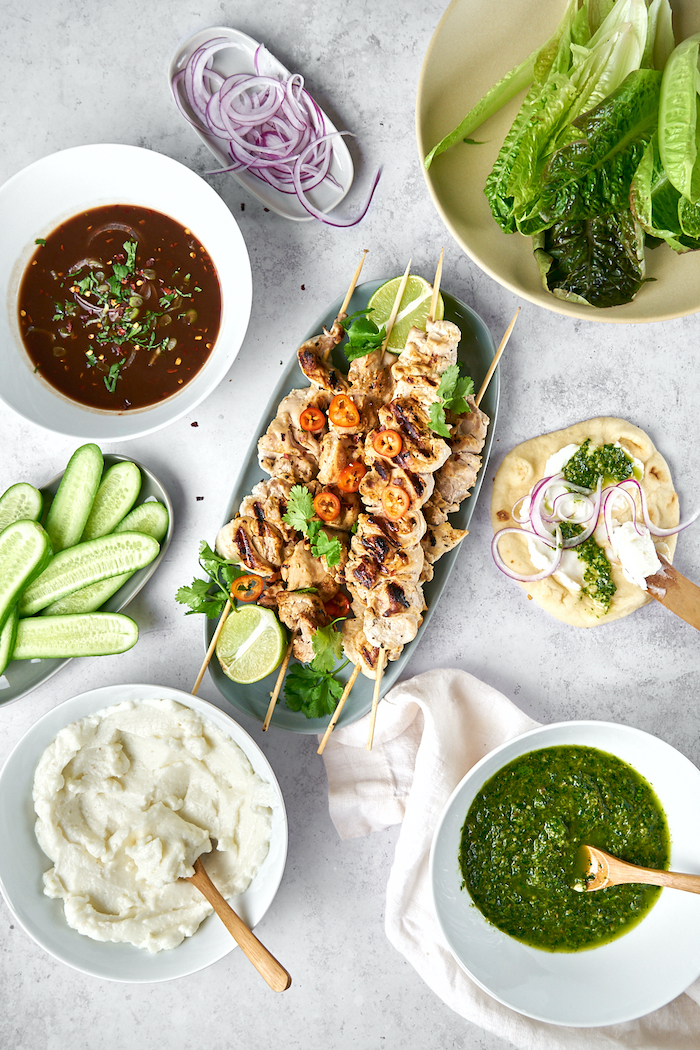 A good sauce is the easiest way to make a standby meal feel totally new. Do you have any idea how many ways you can change up a chicken skewer with a different sauce? Or eggs? Or roasted vegetables? Sauces are the hard part of cooking. You've probably mastered likable ways to serve your family's favorite proteins and grains. But if everyone's getting a little bored, try a new sauce!
Here are 3 sauces to refresh your cooking routine.
Tamarind Sauce
A tart but sweet Asian inspired sauce with a bit of funk that's great in lettuce wraps, with rice noodles, fish, and of course, chicken or beef skewers.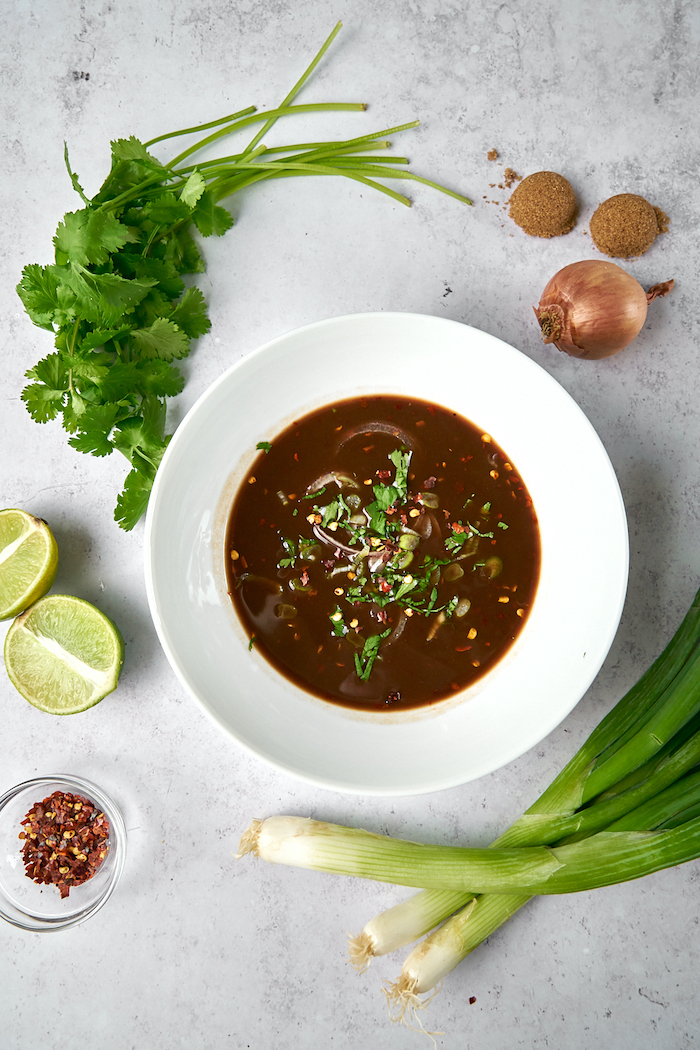 Spice up your dinner with this amazing tamarind sauce!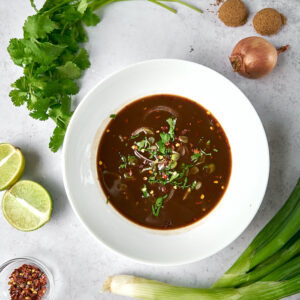 Ingredients
3

tbsp

tamarind concentrate (note: find it in the international foods section)

.25

cups

water

.125

cups

fish sauce (Red Boat brand recommended)

1

tbsp

dark brown sugar

1

tsp

toasted red chili flakes

1

tbsp

fresh chopped cilantro

1

tbsp

thinly sliced shallot

1

green onion, minced

juice of 1 lime
Instructions
Stir liquid ingredients together in a bowl. Whisk in dark brown sugar and stir in remaining ingredients. Serve or store in the fridge up to 5 days.
Nutrition
Serving:
8
g
Calories:
6
kcal
Carbohydrates:
1.3
g
Protein:
0.2
g
Sodium:
348
mg
Sugar:
1.3
g
Zhoug
A bright green, spicy herb, vinegar sauce from Yemen that's glorious with eggs, a dipping bread, falafel, sandwiches, and wraps. You may have seen people talk about how much they love the version popularized by Trader Joe's.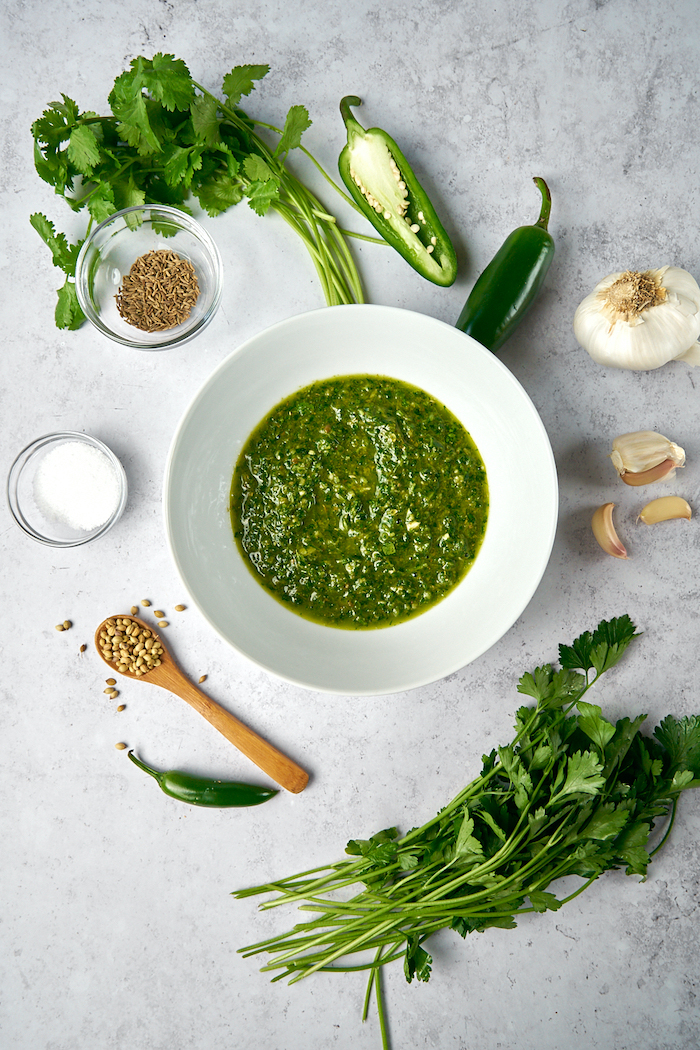 Make this bright green, spicy herb, vinegar sauce from Yemen that's glorious with eggs, a dipping bread, falafel, sandwiches and wraps.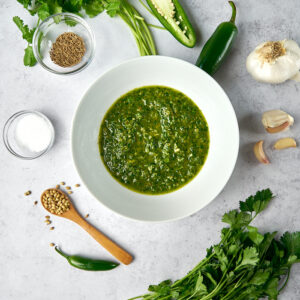 Ingredients
.5

cups

cilantro

.5

cups

parsley

4

tsp

garlic

2

deseeded serranos

.75

tsp

coriander

1

tsp

ground cumin

2

tsp

sherry vinegar

.5

cups

extra virgin olive oil
Instructions
Combine in blender until smooth. Store in fridge and use within 4 days.
Nutrition
Serving:
30
g
Calories:
167
kcal
Carbohydrates:
1.4
g
Protein:
0.4
g
Fat:
18.2
g
Saturated Fat:
2.5
g
Unsaturated Fat:
15.2
g
Sodium:
5
mg
Fiber:
0.4
g
Sugar:
0.2
g
Toum
A garlic mayo-ish sauce that's perfect for adding into soups, pasta, chicken… basically, anything if you're a garlic lover!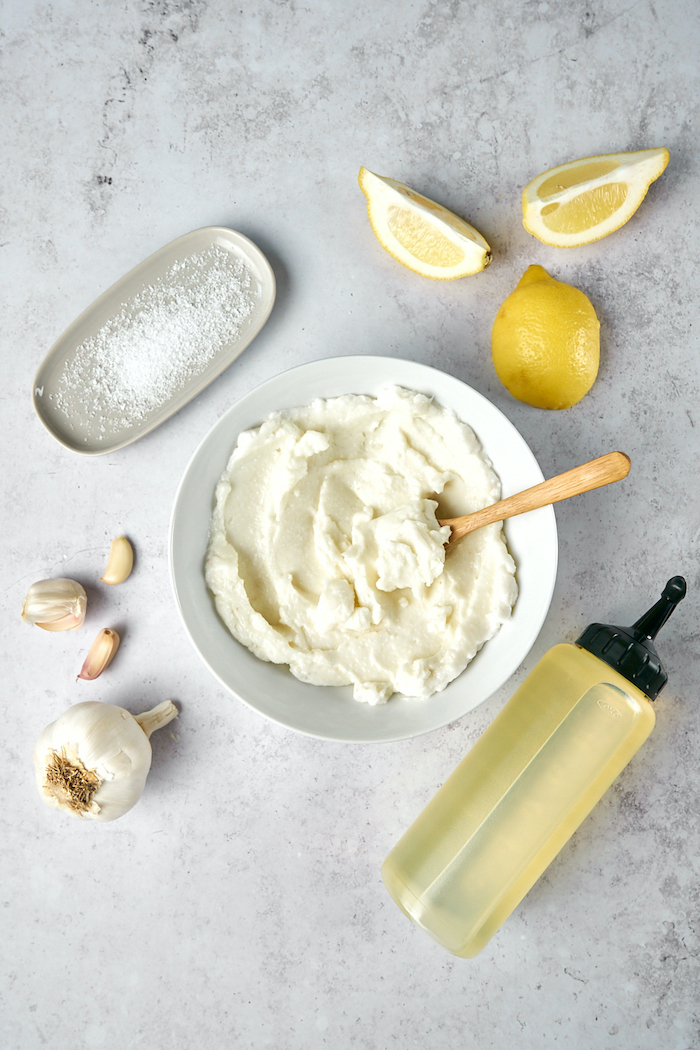 Make this garlic mayo-ish sauce that's perfect for adding into soups, pastas, chicken….basically anything if you're a garlic lover!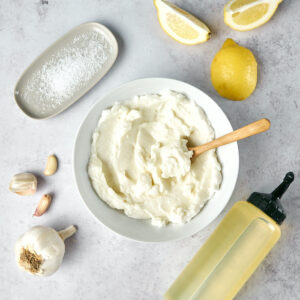 Ingredients
15

cloves peeled garlic

Juice of 1 lemon

1.5

cups

canola oil

1

tbsp

cold water

1

tsp

kosher salt

1 large egg white if necessary (see note)
Instructions
In a small food processor, pulse garlic and salt together, pausing every few pulses to scrape down the sides of the bowl. Continue to pulse for several minutes until a rough paste is formed. Add lemon juice and pulse again to combine. Continue to scrape down sides. Garlic should be smooth at this point.

With the food processor running, very slowly add in the oil in a thin steady stream- about 1/4 cup of oil at a time. Do not rush or the mixture will break, or turn very runny. You're looking for a thickened white sauce. After 1/2 cup is added, pour in the cold water while the food processor is on, and continue slowly adding the oil. This can take up to 10 minutes (seriously), so be patient.

If your mixture is thin (mine was the first time I tried it!), you can still save it using an egg white method that technically makes it not a traditional toum, but still delicious. To fix it, in an immersion blender or another small food processor, whip 1 large egg white and slowly pour in 1/4 cup of the broken sauce. Continue to run the food processor until the sauce is thick and white. Then, slowly pour in the remaining broken sauce with the food processor running until the entire batch is thick, fluffy and white.
Nutrition
Serving:
45
g
Calories:
297
kcal
Carbohydrates:
2
g
Protein:
0.4
g
Fat:
32.7
g
Saturated Fat:
2.4
g
Unsaturated Fat:
29.9
g
Trans Fat:
0.1
g
Sodium:
103.4
mg
Fiber:
0.3
g
Sugar:
0.2
g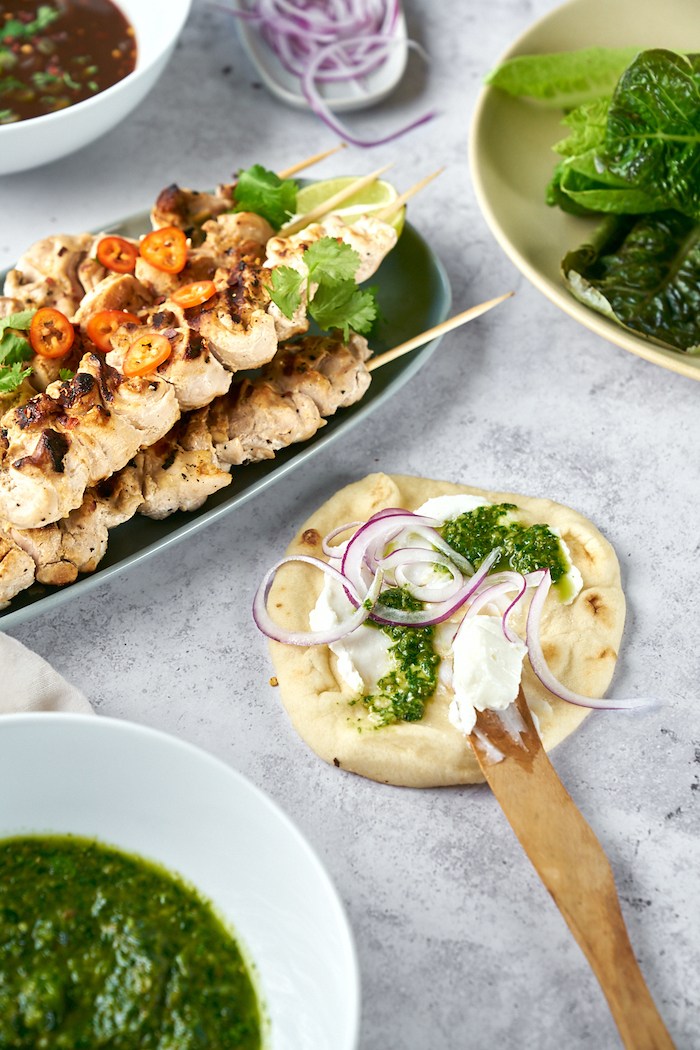 Notes
Mise en place.
When making sauces, the best way to set yourself up for success is to have all of your ingredients and tools ready. For sauces like Toum, which might use a new method for you, it may take a read or two through the directions before getting started. Having everything pre-measured or 'mise-en-place' ensures nothing gets left out.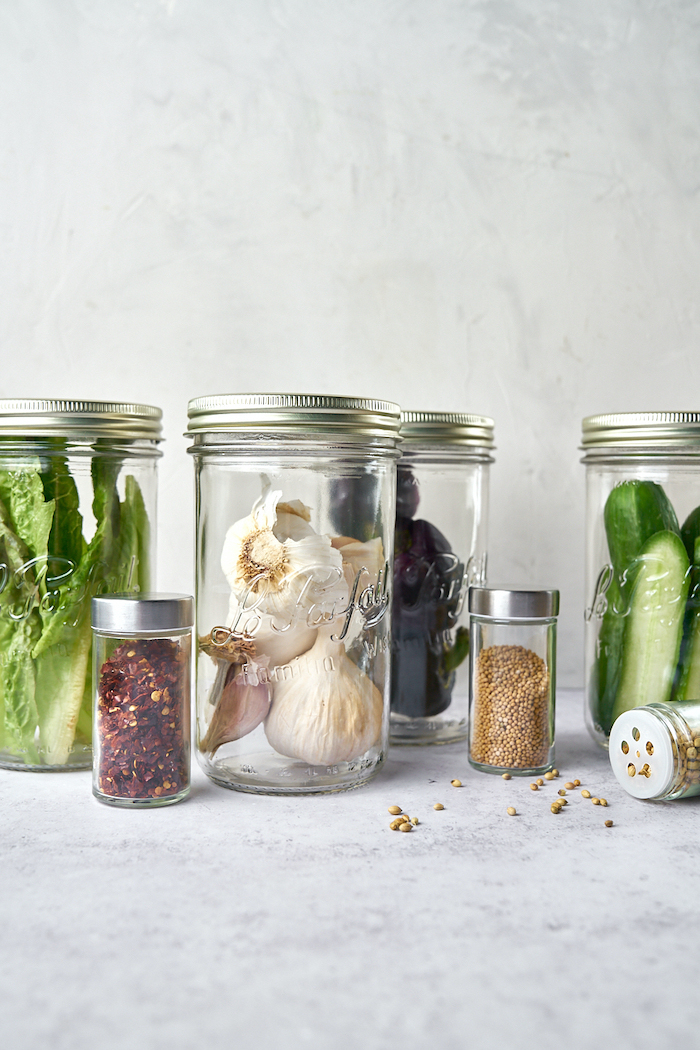 Duralex makes a set of nesting bowls that not only includes large mixing bowls perfect for stirring together sauces, but also baby bowls that everyone loves for measuring small amounts of spices. As a side note, we love Duralex products in general (bistro glasses!) And this set of nesting bowls is an essential addition to a kitchen that actually gets used.
Invest in squeeze bottles.
Any sauce that requires emulsification has directions for a very slow, steady addition of oil in a whisked or food processed stream. To ensure you're not rushing your sauce and cause it to break, use a squeeze bottle like the chef's set from OXO to add oil slowly and in a controlled way.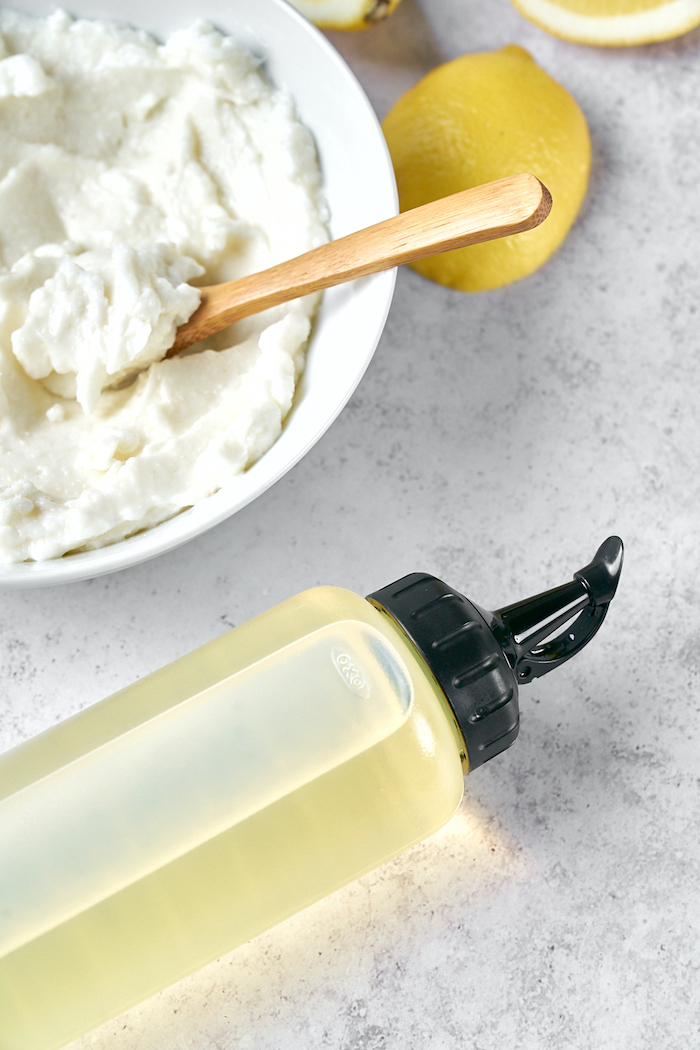 We typically have two or four squeeze bottles running around our kitchen at any given time for everything from simple syrup for coffee and cocktails to sauces more in the style of what's used when you go to fast-casual places and they add dressing drizzles on your salads or wraps. OXO's have interchangeable heads so you can use a tip that's better for oil, or better for sauces on either size container.
Consider purchasing an herb saver.
For sauces like Zhoug, which uses two types of leafy herbs, consider an herb saver. When it's not garden weather here in Virginia and I can't go pick only what I need, I typically end up having herbs go bad in my fridge.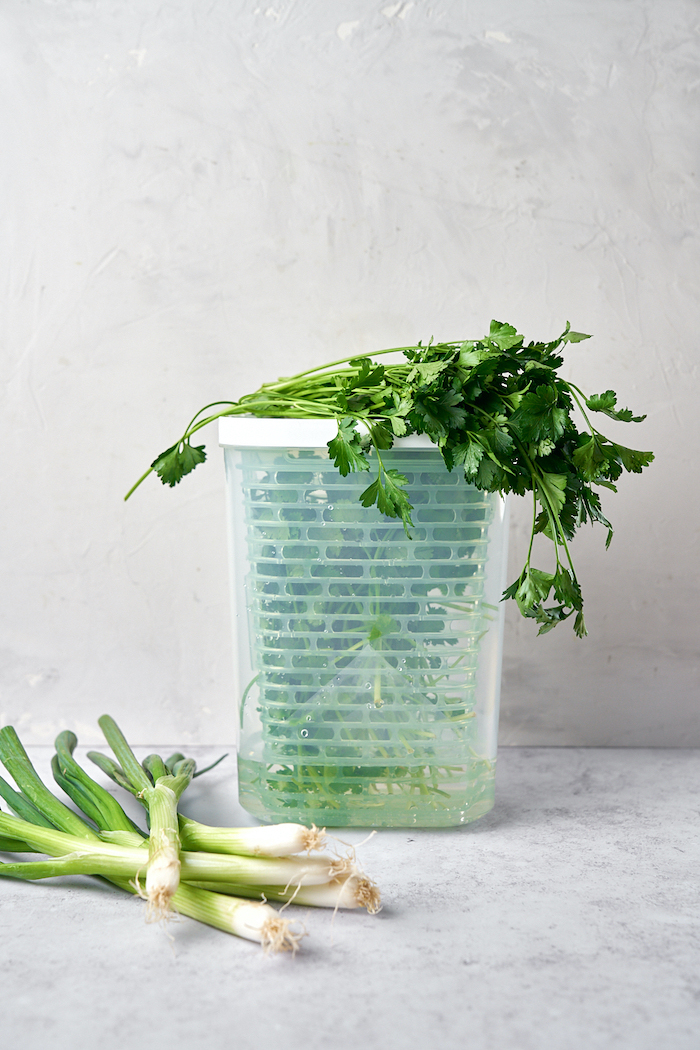 An herb saver like this one from OXO ensures proper airflow and hydration at the same time (the basket keeps herbs away from the sides and bottom of the container with easy handles for pick up). If you're like me, an herb saver is a smart waste-conscious purchase.
Make in batches.
If you're into batch making meals for the week, add one or two of these sauces into your routine! You'll love this small tweak that makes standby cooking methods you're using feel new!