Homemade Edible Gifts for Teachers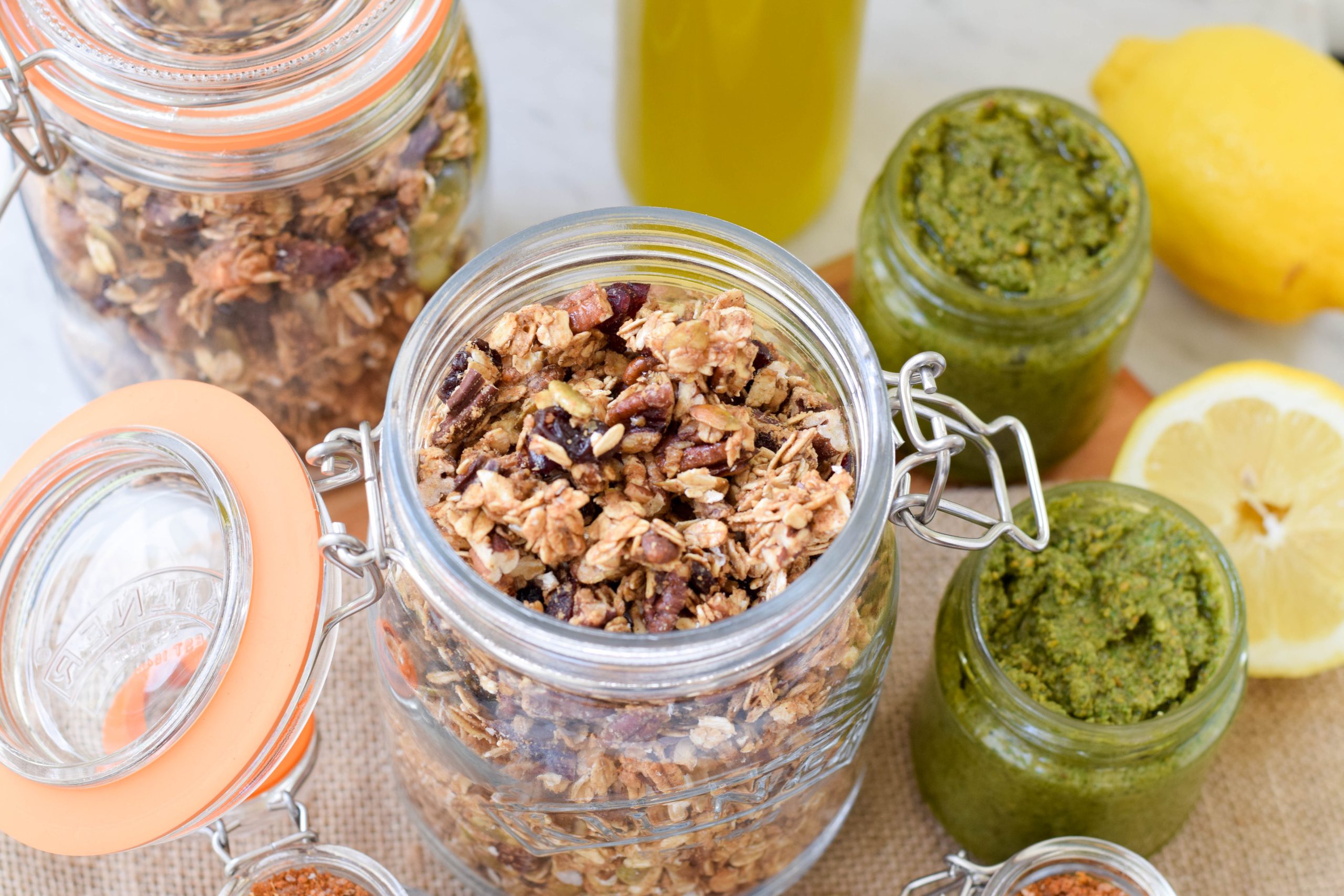 The end of school is almost here and summer beckons.
But there is one more task to complete before walking out of the schoolhouse doors: thanking the teachers. What better way to show your appreciation than a homemade, edible gift. Here are four ideas for savory edible gifts that will keep teachers cooking and eating all summer long.
Did your children have teachers that challenged their minds and fostered a love of learning this year? I bet that they did. The teachers at my children's schools are always going above and beyond for their students. My daughter came to her math teacher for extra help at lunch several times a week. And my son's teacher incorporated his love of ancient Rome into weekly lessons by teaching him the Latin roots of his spelling words.
If you, like me, will forever be grateful to these dedicated professionals for their hard work and patience, why not show your appreciation with some delicious, homemade edible gifts for the teachers in your children's lives? These easy-to-make treats range from the luxurious — lemon-infused olive oil and arugula pistachio pesto — to the practical — maple pecan granola and barbecue spice rub. Any one of them will make a teacher's summer that much more delicious!
Infused olive oils are one of my favorite edible gifts to make because they are exactly the kind of expensive, luxury pantry item that no one buys for themselves. Yet it is so easy to infuse olive oil with herbs and other favorite flavors. This lemon-infused olive oil is perfect for making salad dressings or drizzling over fish – my kind of summer food!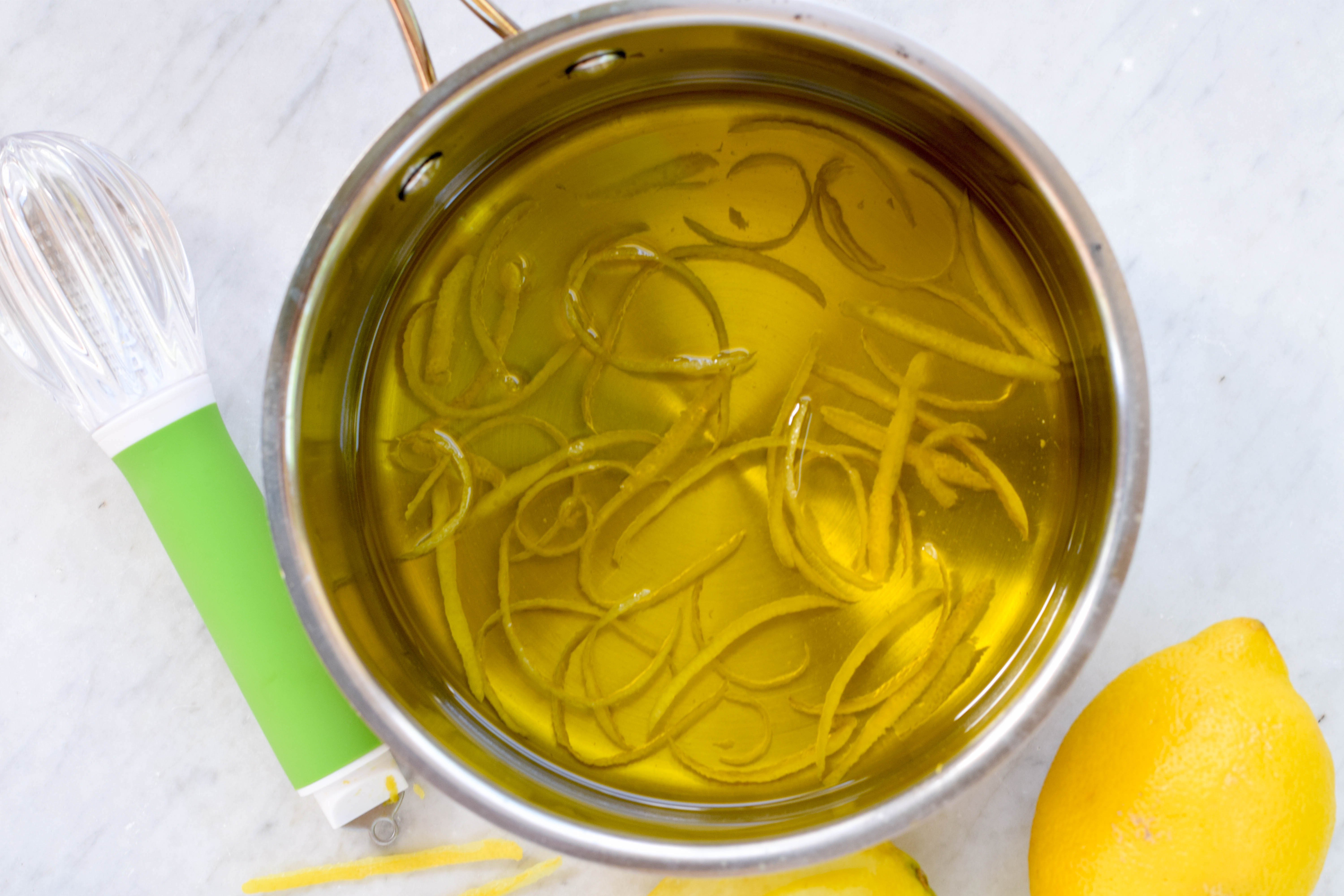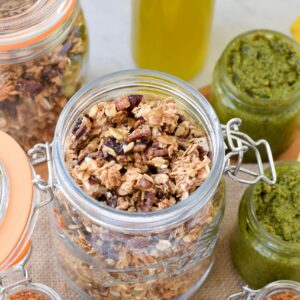 INGREDIENTS
Two lemons
2 cups extra virgin olive oil
INSTRUCTIONS
Peel the zest from the lemons in long strips.
Combine olive oil and lemon zest in a small saucepan. Slowly bring to a simmer over low heat.
As soon as the oil begins to simmer, remove saucepan from heat. Allow lemon to infuse oil for ten minutes.
Remove zest and discard.
Transfer oil to a glass bottle. Store in a cool, dark place when not in use.
With all kind of spring greens and fresh herbs hitting the farmers markets at this time of year, I love to experiment with making different kinds of pesto. Don't feel limited to the classic basil-pint nut combination! One of my favorite pestos uses seasonal baby arugula and pistachios. With its bright green color and peppery bite, this arugula-pistachio pesto is delicious on pasta, grilled chicken or use as a spread for bread. This recipe comes together in a matter of minutes with a food processor.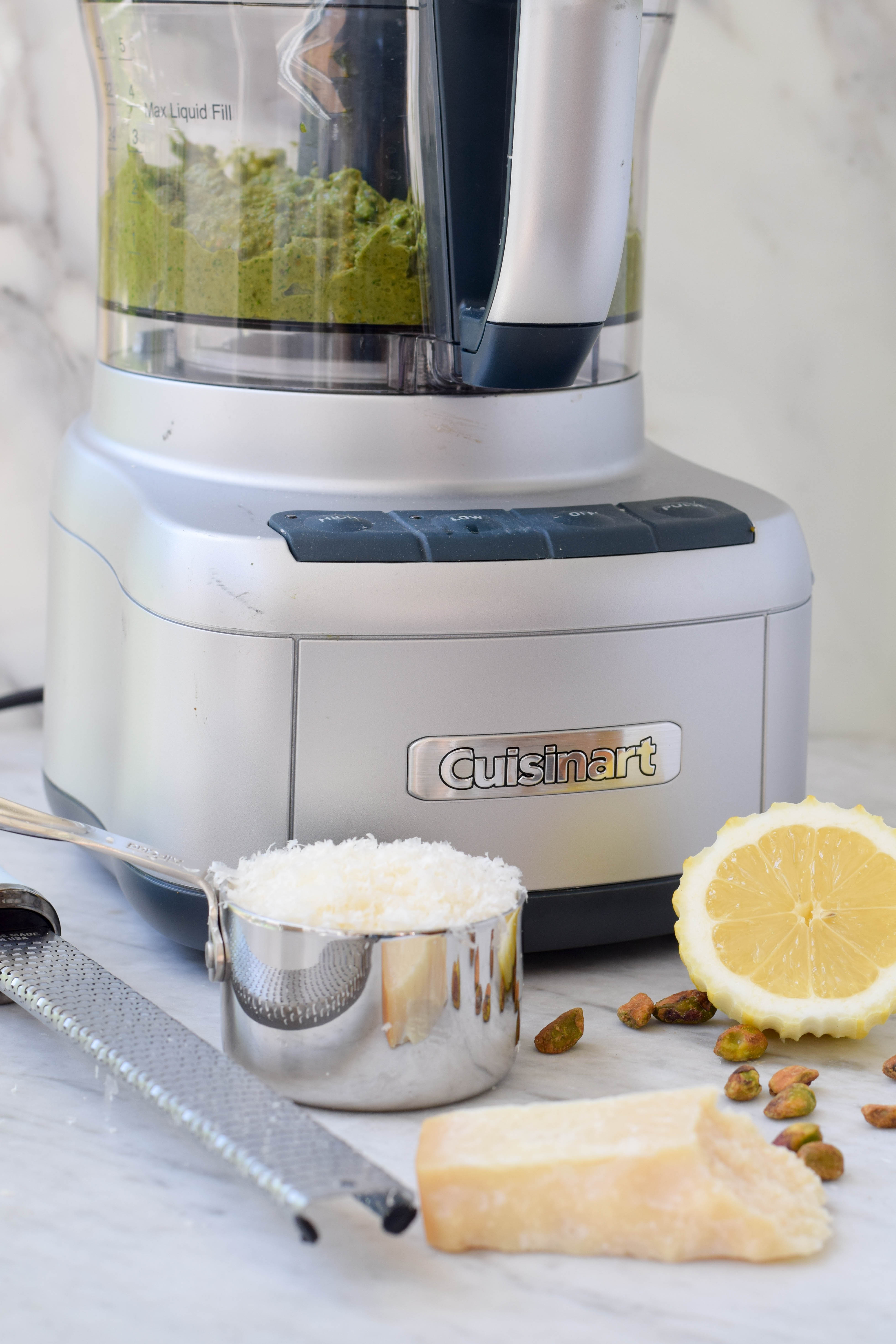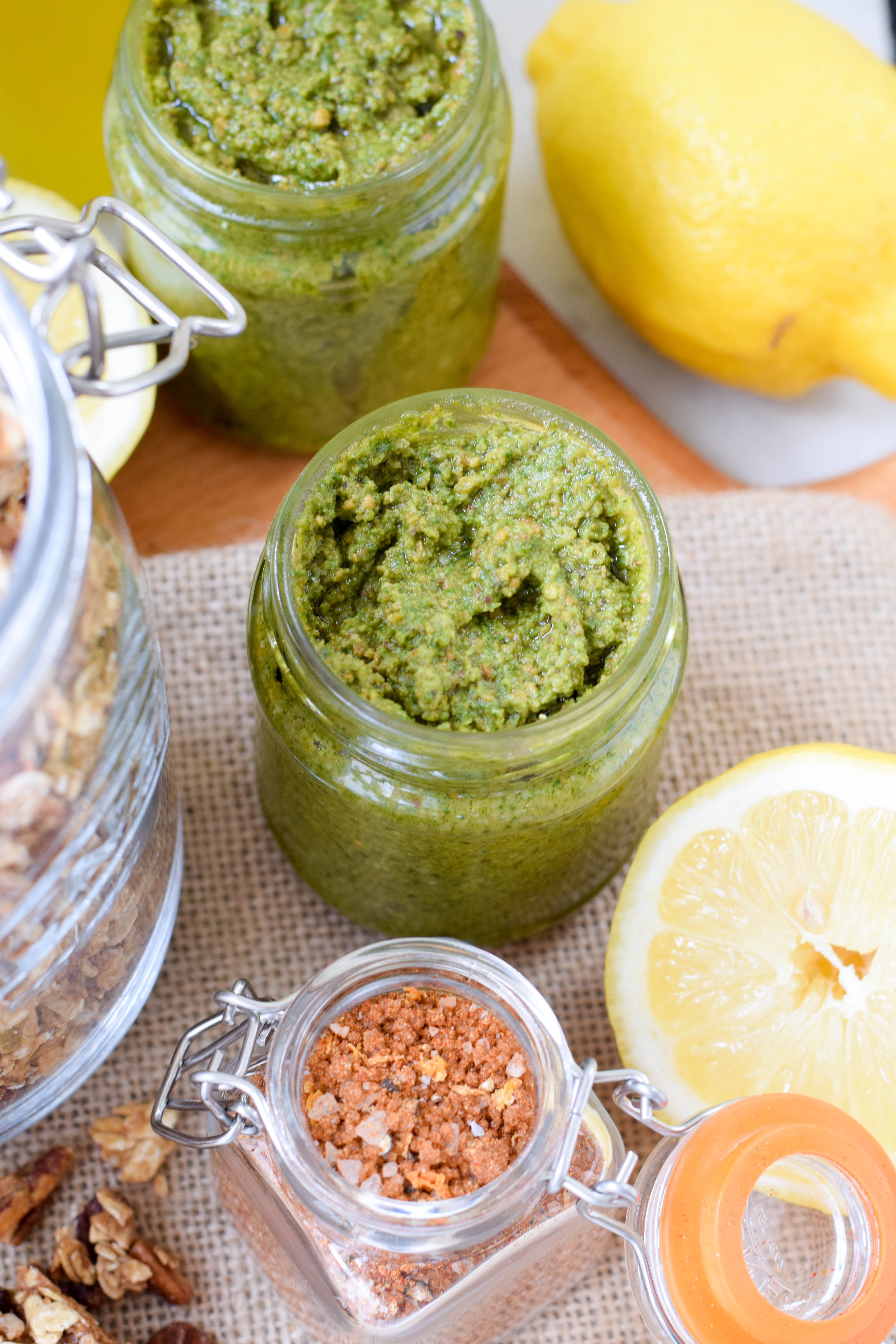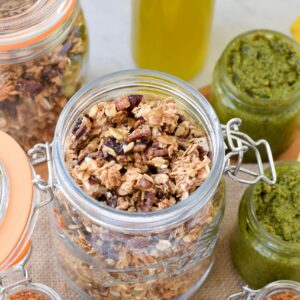 INGREDIENTS
4 cups baby arugula
½ cup roasted pistachios
3 cloves garlic
1 TB lemon juice
½ cup extra virgin olive oil
¼ cup grated parmesan
Salt and pepper to taste
INSTRUCTIONS
Combine arugula, pistachios, garlic and lemon juice in a food processor. Pulse a few times to combine, scraping down the sides as necessary.
With the motor running, add the olive oil in a steady stream until mixture forms a smooth paste.
Transfer pesto to a large mixing bowl and stir in the parmesan. Season with salt and pepper to taste.
Transfer to a pint-sized glass jar and refrigerate until needed.
I imagine that teachers especially enjoy not having to rush to work during summer vacation. With this flavorful yet healthy Berry Pecan Granola, your child's teacher can make the most of a leisurely morning. Granola is an easy DIY project and by making it yourself you can control the amount of sweetener and use only wholesome ingredients like rolled oats, nuts, and dried fruit. My secret is tossing the ingredients with egg whites to create irresistible crunchy clusters perfect for spooning into yogurt or eating out of hand.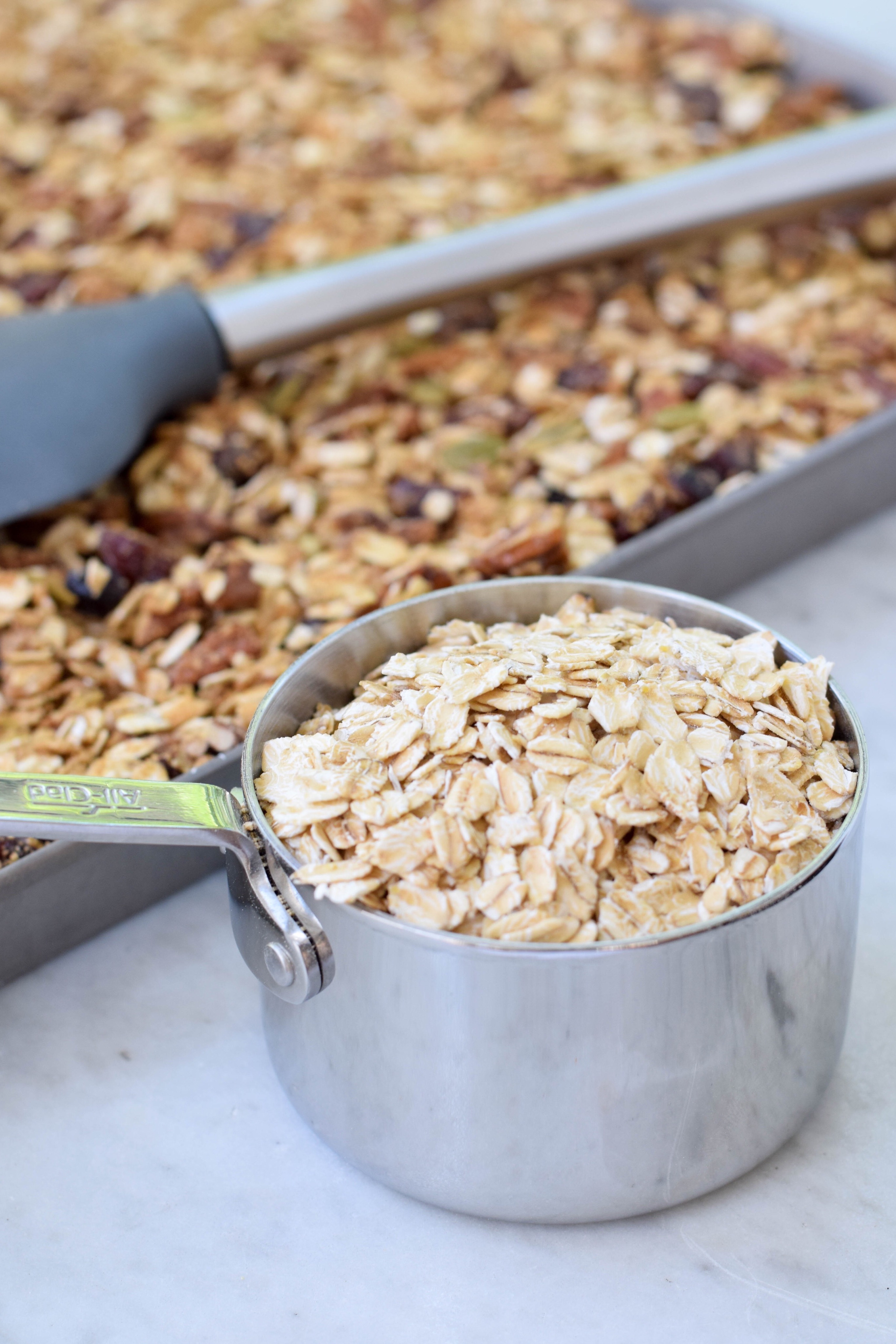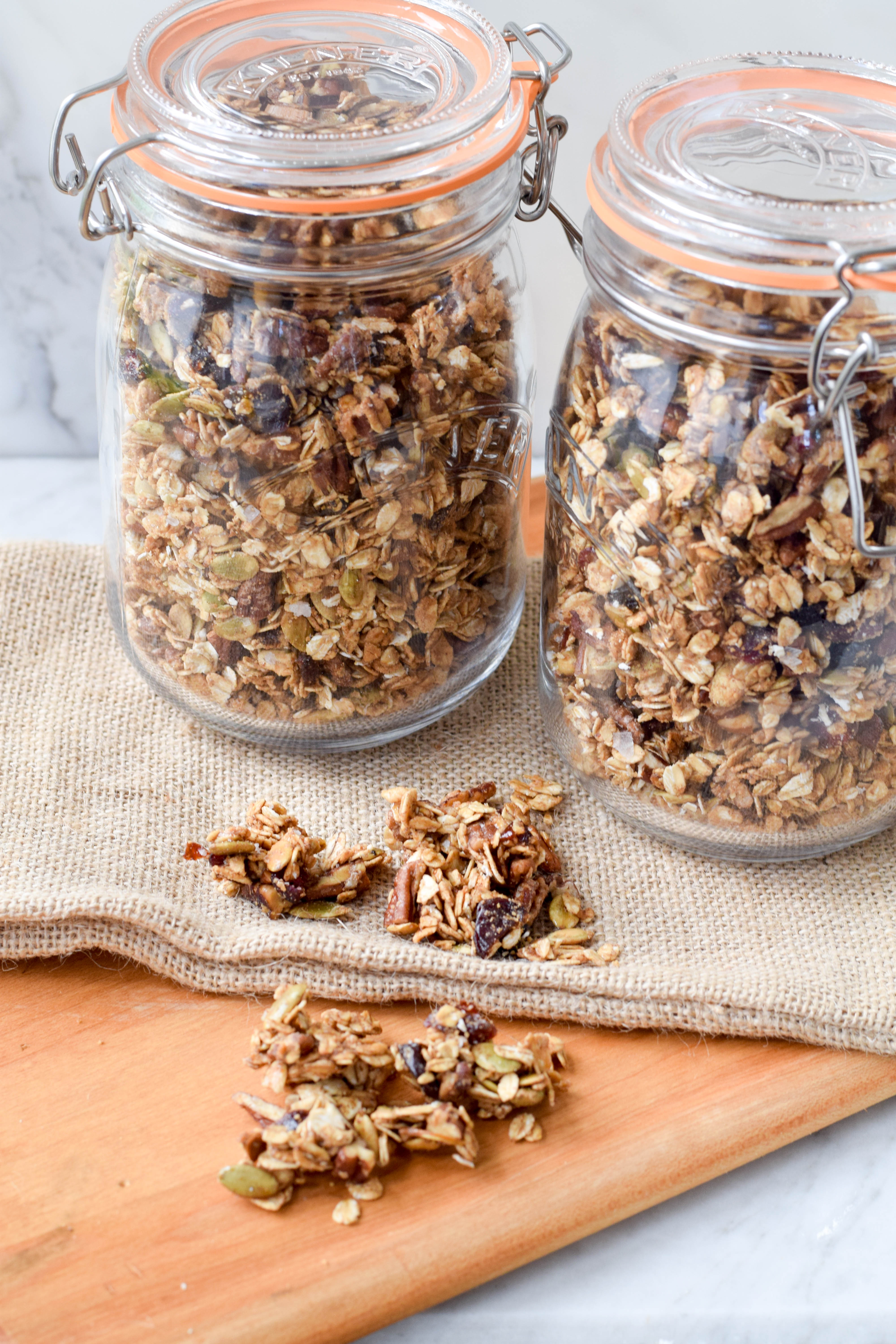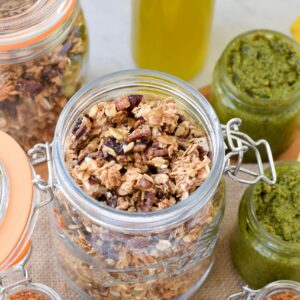 INGREDIENTS
1 ½ cups chopped pecans
3 cups rolled oats
1 cup roasted pepitas (pumpkin seeds)
1 cup mixed dried berries and cherries
½ cup brown sugar
1 tsp cinnamon
1 tsp dried ginger
Pinch salt
2 egg whites
INSTRUCTIONS
Preheat oven to 325. Line a baking sheet with foil or parchment paper.
Toast the pecans in a dry skillet set over medium heat until slightly browned and fragrant, 3-5 minutes. (Watch carefully so they don't burn!)
Combine toasted pecans, rolled oats, pepitas, dried fruit, brown sugar, spices and salt in a large bowl.
Add the egg whites and toss to combine.
Spread the granola in an even layer on the prepared baking sheet.
Bake for 25-30 minutes, tossing every 10 minutes until browned and fragrant.
Allow granola to cool completely. Break into clusters and store in a large glass jar.
Grilling is a favorite summer pastime for everyone. The shelves of the grocery stores are lined with different spice rubs and marinades to give your grilled meat and chicken extra zing. But why bother with store-bought spice rubs when it is so easy to make your own? By creating your own signature spice rub, you can customize the mix of sweet, hot and salty ingredients and you will know with 100% certainty that the spices are fresh and at their most flavorful. Use this recipe as a guide but feel free to get creative with your favorite dried herbs, spices, and sweeteners.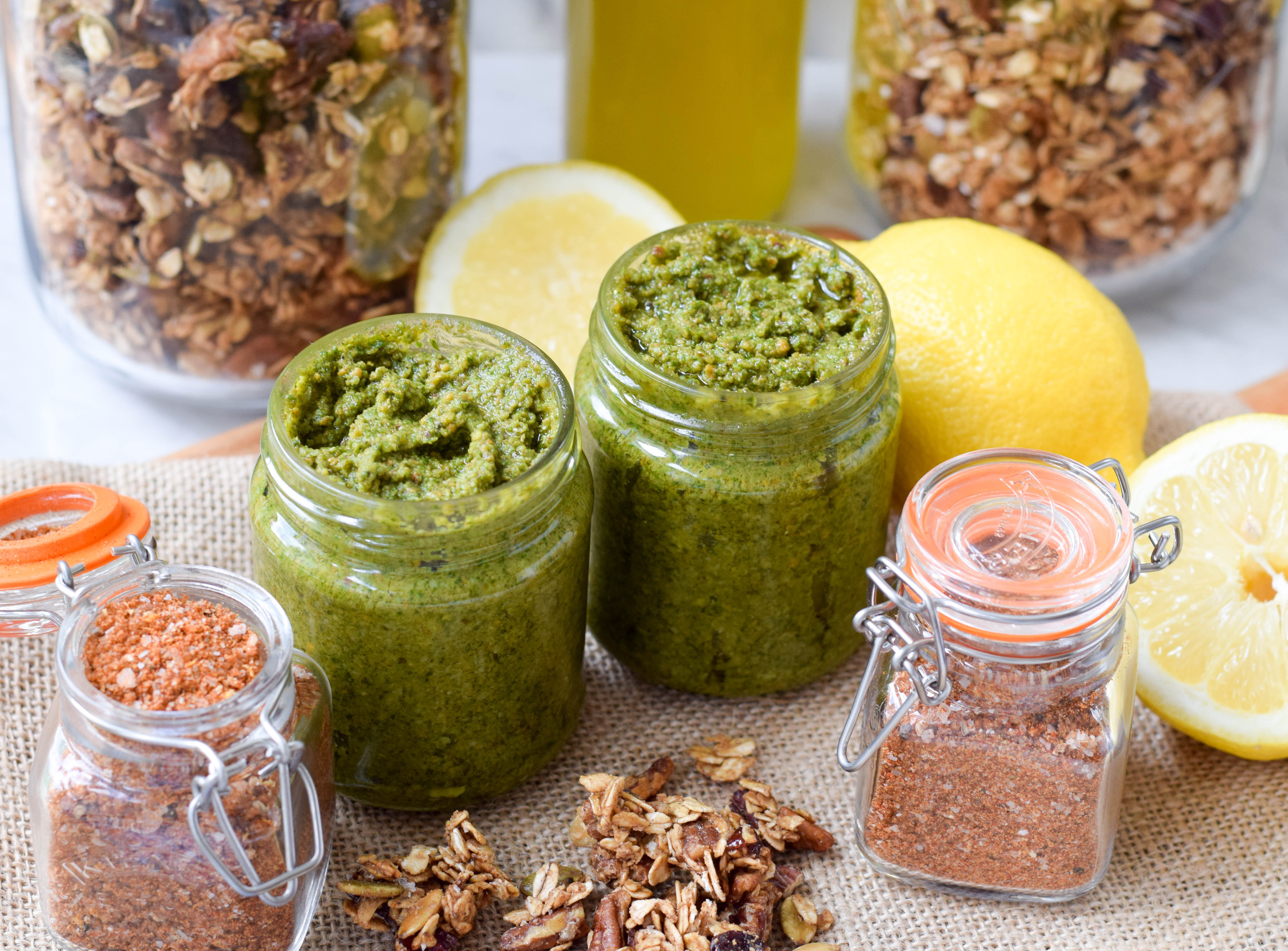 Sweet & Smokey Spice Rub for Grilling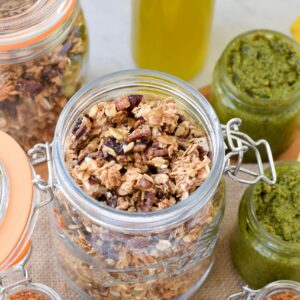 INGREDIENTS
½ cup brown sugar
¼ cup kosher salt
2 TB smoky paprika
2 TB dry mustard
2 tsp cumin
1 tsp cinnamon
1 tsp freshly ground black pepper 1 tsp dried lemon zest*
INSTRUCTIONS
Whisk ingredient together in a medium-sized bowl.
*To make dried lemon zest, zest one lemon and preheat oven to 200. Spread zest on a parchment-lined baking sheet. Bake 30-45 minutes until dry and crisp.
As with all edible gifts, the packaging is almost as important as what is inside. Choose pretty glass bottles and jars to package your homemade edible gifts and the recipient will sense the time and care you put into making them. I love the wide variety of shapes and the classic look of glass jars from the iconic British brand Kilner, which are now easier than ever to find here in the United States.
A special thank you to all the teachers for their hard work this school year!