Grilled Mascarpone Pound Cake with Grilled Peaches, Vanilla Bean Whipped Cream and Caramel Sauce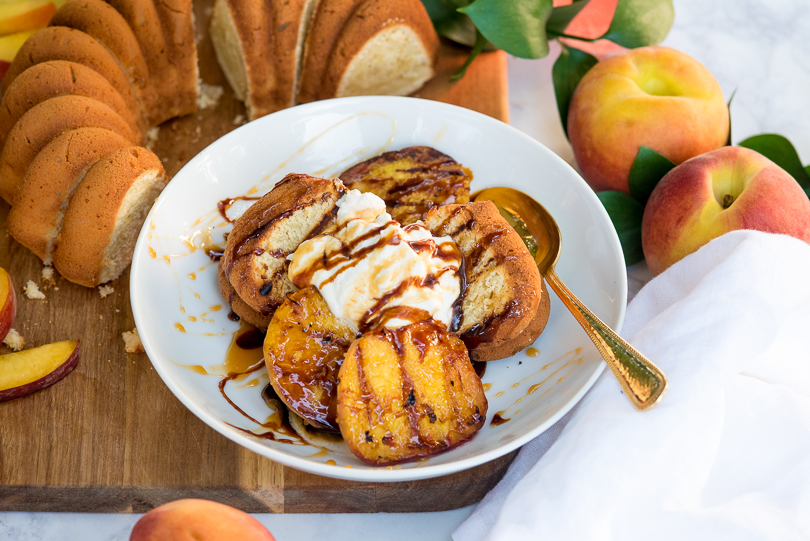 Summer is fleeting. But before it ends, it's time to turn on the music, break out the grill and linger over glasses of wine and cake with friends. There's no better way to do that then with grilled peaches. There are a hundred ways to fix this dish and an infinite amount of ways to spruce it up. Case in point, these recipes for BLT Grilled Peach Pizza with Jalapeño Honey & Gorgonzola or Grilled Peaches with Brie and Prosciutto. But when you're looking for something a little sweeter, this Grilled Mascarpone Pound Cake with Grilled Peaches, Vanilla Bean Whipped Cream and Caramel Sauce is a must-try.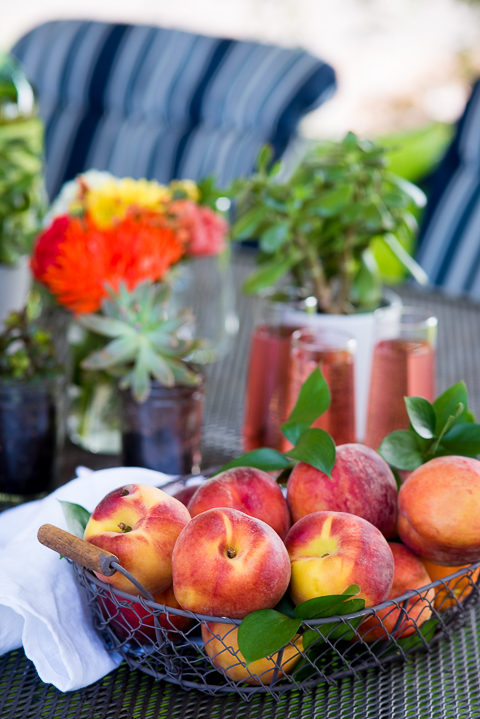 Making your pound cake from scratch is the easiest way to take this from amazing, to out of this world delicious. All the ingredients mix together quickly to make a light, buttery cake. The secret by far is to add in some mascarpone to your pound cake. It gives it the perfect crumb texture and keeps it nice and light.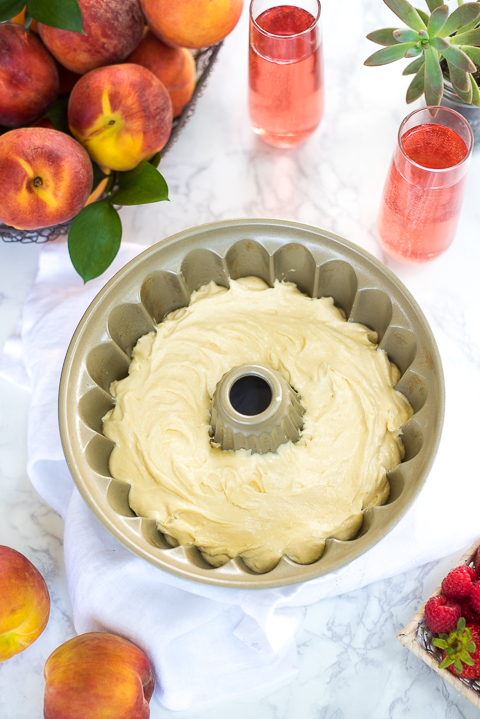 Bake until it is golden, dreamy and making everyone in the house swoon. I'm loving serving this in my Nordic Ware bundt pan but you could also make it in a loaf pan and it's a perfect portion for that.
Slicing the peaches and cake are next up. Big thick slices are a must, it's summer here friends. And it helps them stand up to the heat of the grill.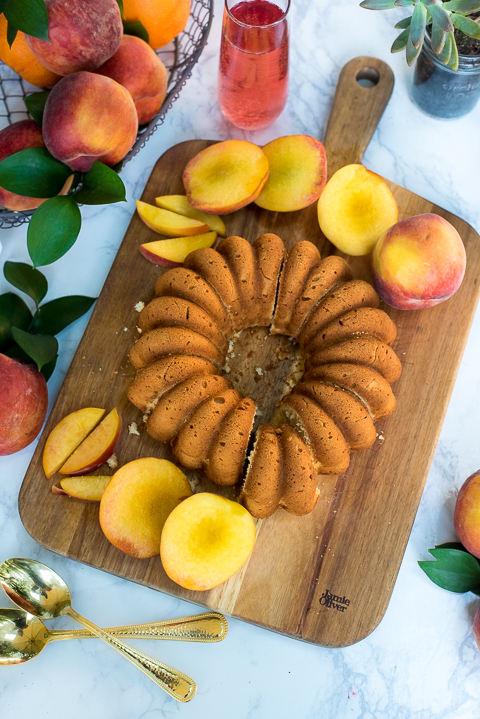 The peaches will take a few minutes longer so start with them. Brush the peaches with butter or oil and onto the grill they go! If you like you can flip them over and top them with sugar and/or cinnamon. Like I said, this recipe is yours to make your own. After a couple minutes the cake goes on just as it is, and will take just a few minutes on each side. Keep an eye on them they can burn and that is a tragedy.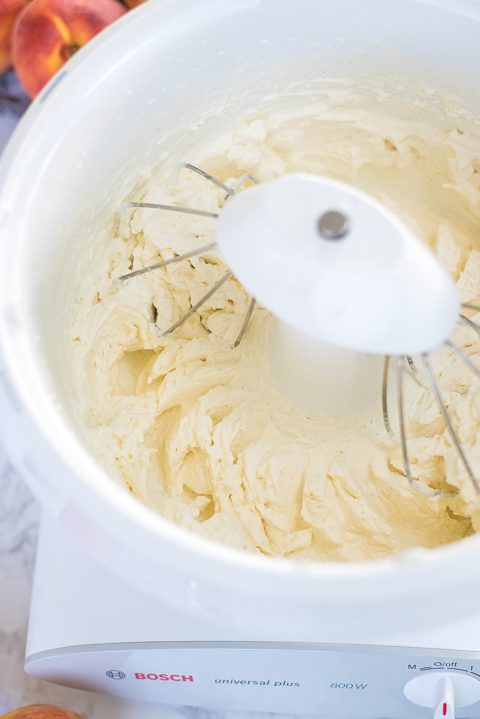 You can also serve this with ice cream of course. Or both. There is really no judgement here. Caramel sauce and/or chocolate sauce for a pretty little drizzle makes a gorgeous addition. I've also been known to crumble some pecans or toasted almond slivers over the top of this.
And then of course serve to your oh so willing guests with a glass of bubbly rose champagne or an easy drinking white wine.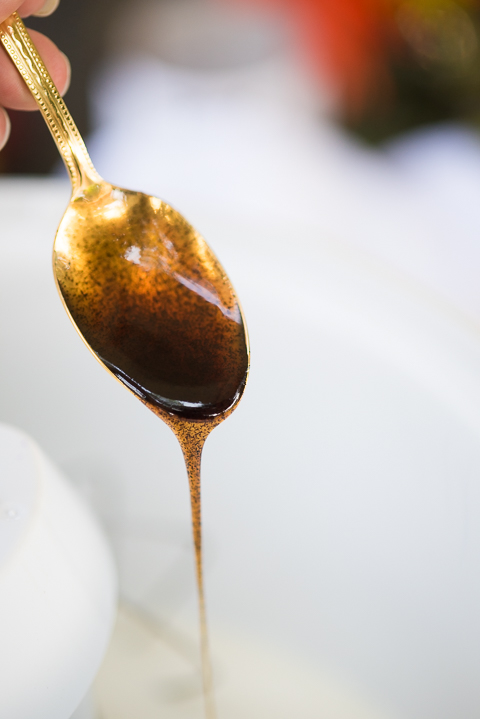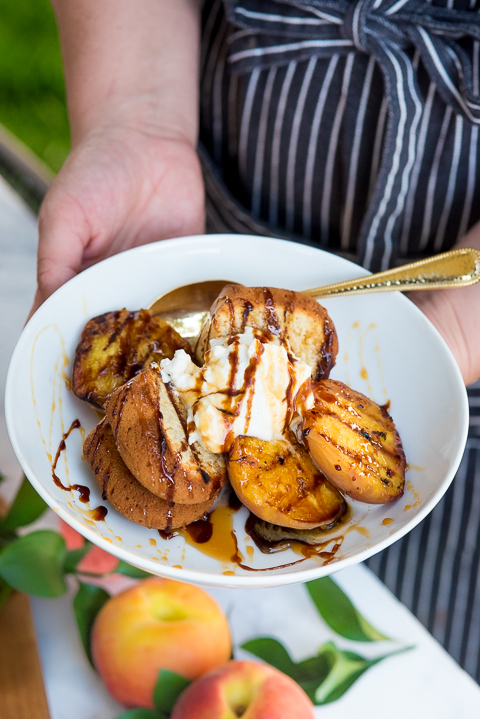 Soak up the last days of summer my friends!
Mascarpone Pound Cake with Grilled Peaches and Vanilla Bean Whipped Cream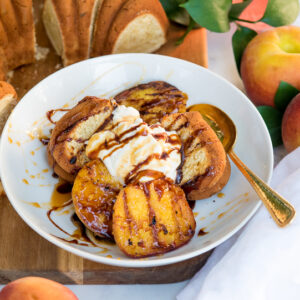 INGREDIENTS
For the Cake:

1 ½ cups flour
½ tsp baking powder
Pinch of salt
3 large eggs, room temp
1 2/3 cup powdered sugar
1 stick of butter, fully softened
5 ounces mascarpone cheese
½ teaspoon vanilla bean paste
Juice and zest of one lemon
For the Whipped Cream:

1 pint heavy whipping cream
1 tablespoon vanilla bean paste
Sugar to taste (optional, I don't sweeten my whipped cream but if you like it go for it)
Peaches
INSTRUCTIONS
For the Cake:

Preheat oven to 350 degrees.
Grease and sugar a bundt pan or loaf pan.
Mix eggs and powdered sugar together on high for 5 minutes.
On low speed add softened butter, mascarpone, lemon zest and juice and vanilla bean paste.
Add baking powder and salt. Slowly add flour until combined.
Mix for 3 minutes on low.
Pour into pan and bake for 55 minutes or until knife comes out clean.
Cool and cut into slices. Grill for 2-3 minutes each side until toasty.
Notes: makes a small bundt (perfect size for grilling slices). If a full bundt is desired recipe will need to be scaled up by 1.5 times or more depending on size of your pan.
For the Whipped Cream:
Combine and whip on high to medium stiff peaks.
Refrigerate or serve immediately.
For the Peaches:
Slices peaches in half. Brush with butter and grill on high until softened (about 5 minutes).
Optional: flip and top with brown sugar if desired.