Fresh Apple Cider Cocktails for a Crowd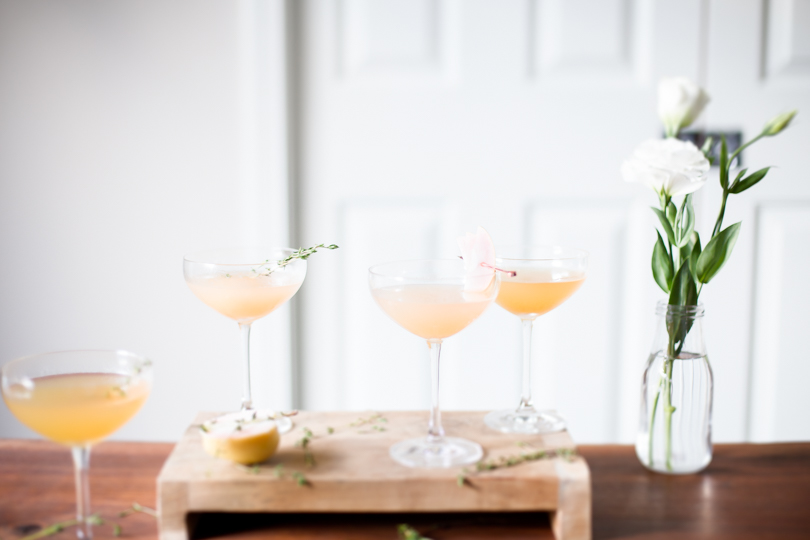 Pumpkin spice gets all the love when the leaves start to turn, but to me there's no better indication that fall is truly here than to see fresh apple cider start to hit the shelves. It makes a surprisingly versatile cocktail ingredient, hot or cold, and apple cider cocktails are one of my favorite things to serve this time of year.
I've been asked before just what exactly apple cider is, and here's the short answer: unfiltered, unsweetened apple juice. The particles in suspension make it cloudier than your typical juice-box-apple-juice, and it has a far more robust and tangy flavor. It can also be called 'sweet cider' to differentiate it from 'hard cider,' since the US and Canada are the only countries that call nonalcoholic apple juice 'cider.' So international friends beware — this recipe does NOT call for hard cider. Seek out some unfiltered apple juice instead!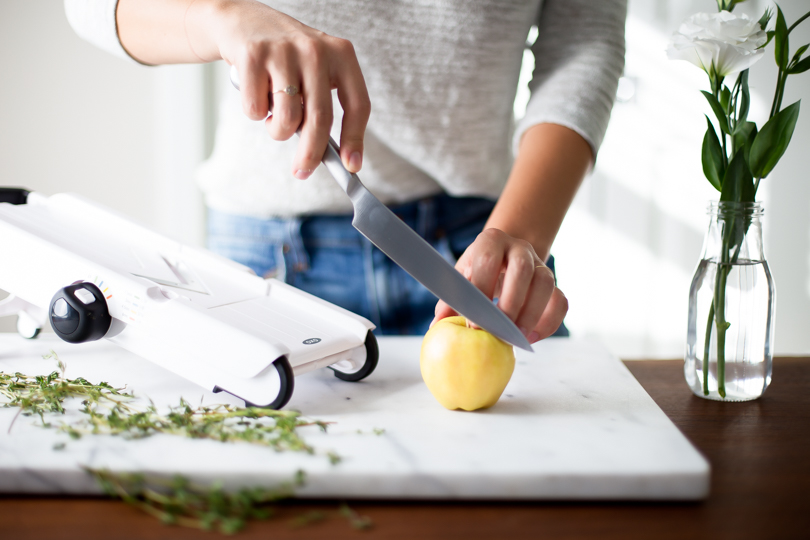 Here in the US, apple cider seems to appear in grocery stores and farmers markets en masse around late September and early October, and any pumpkin patch worth its salt will serve it warm from their concession stand. If you're really lucky, they'll be hawking spiced donuts for dunking, too.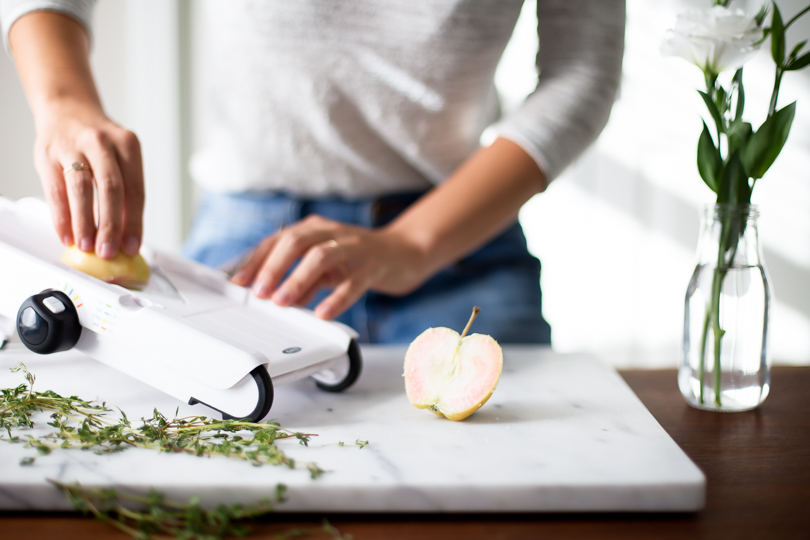 This apple cider cocktail recipe will work with the grocery store variety, but if you have access to unpasteurized or cold pasteurized apple cider in your area, it is highly worth seeking out. To put it simply, heat damages the delicate flavors of fresh apples, and you need a whole lotta heat to pasteurize something. Call around to some local apple orchards or specialty stores, hit up your farm market, and keep your eyes open for the good unpasteurized stuff. When you see it, bring home as much as you can! Your friends and fam will thank you.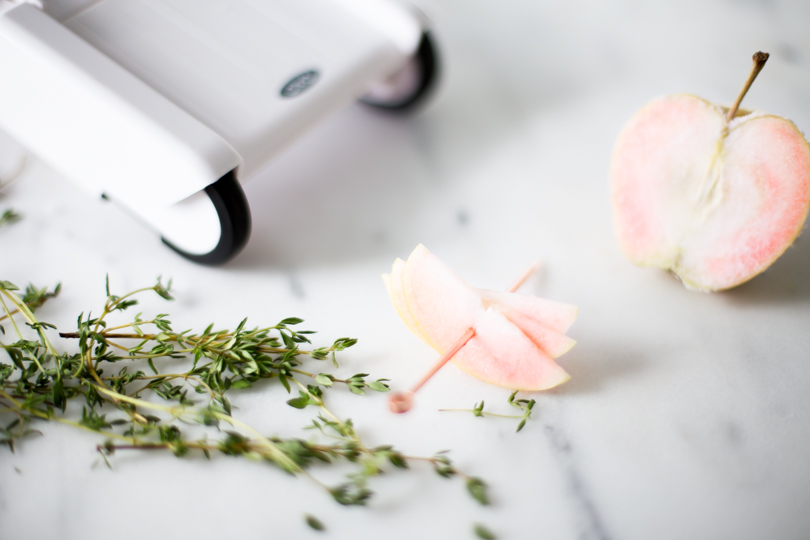 Apple cider is too diluted to work in a drink shaken with ice, so we're making this recipe as a bottled cocktail instead, which means you can actually make it ahead of time! Make ahead drinks are a legitimate life saver for entertaining, and I tend to rely on them any time I'm having more than two people over, especially if I plan on serving more than one drink per person. You can make more than one serving in a big bottle, or individual servings in small bottles or jam jars, which you can then let each guest pour herself.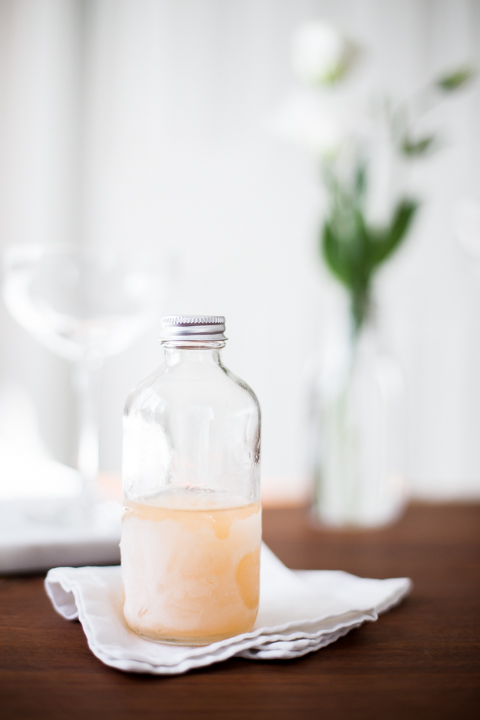 But why bottle in the first place? What does that have to do with dilution? Well, you can freeze the whole cocktail, so you don't end up with the water that gets added to your drink when you shake or stir with ice. Instead, I freeze each drink ahead of time, then pull them out about 10 minutes before serving. They'll start to thaw, and you'll see some liquid in there. Give is a good shake — it won't take much — until the whole thing has a liquid or slightly slushy consistency, then pour. Couldn't be easier.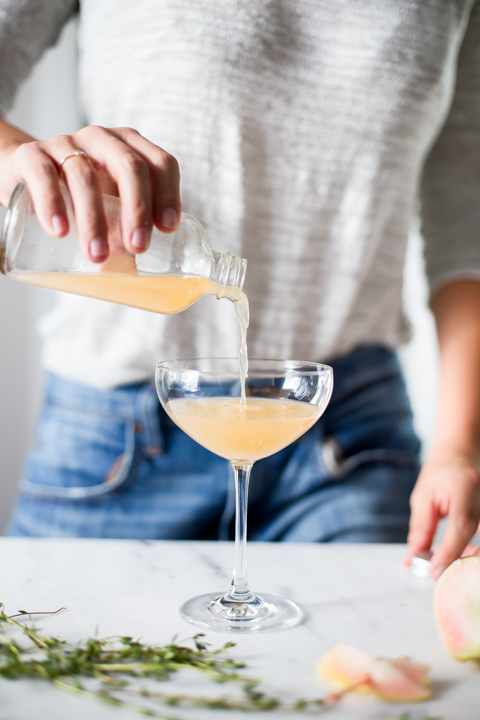 If you caught my post on Strawberry Rhubarb Pitcher Drinks or Applejack Cocktails, you know I'm obsessed with using my OXO mandoline to make garnishes. For this recipe, I use the mandoline to slice apples into thin, crisp slices, then spear them on a copper cocktail pick (this set from Viski is perfect for fall, amirite?!) and separate them slightly to make a pretty apple fan that you can munch on as you drink — win win.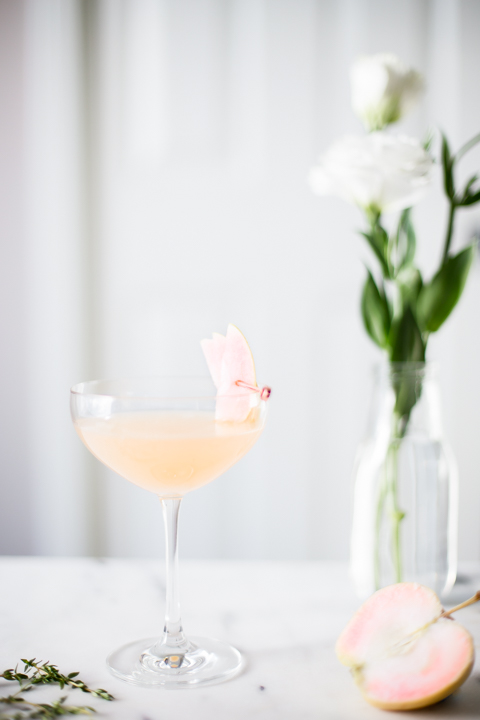 For this batch of apple cider cocktails, I garnished each drink with Pink Pearl apples, which you can tell are yellow on the outside but the most gorgeous shades of pale, creamy pink to magenta on the inside. Every apple is different. Also: delicious. I dust mine with a little ascorbic acid to keep them from browning, but don't go overboard — they will be too acidic to consume. Lemon juice works too, just use it sparingly.
Apple Cider Cocktails For a Crowd
These fresh apple cider cocktails are a crowd-pleasing fall favorite, make a batch ahead of time for easy entertaining!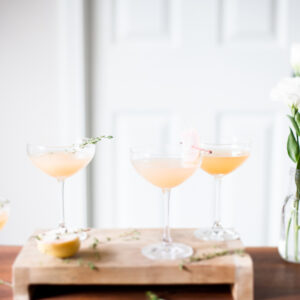 Ingredients
2

oz

Vodka

2

oz

Apple cider

.75

oz

Filtered water

.25

oz

Cointreau

1

tsp

Real maple syrup

1

Hearty squeeze of fresh lemon

1

Pinch of salt
Instructions
1) Add everything to a bottle or jam jar. Seal and shake.

(2) Freeze completely. Add your coupes to the freezer as well so they're chilled when you're ready to serve.

(3) Remove the bottled cocktail from the freezer 10 minutes before serving. When ready to serve, shake until just thawed (this will happen quickly) and remove coupes from freezer.

(4) Pour into chilled coupes and garnish with an edible apple fan.