Strawberry Rhubarb Pitcher Cocktails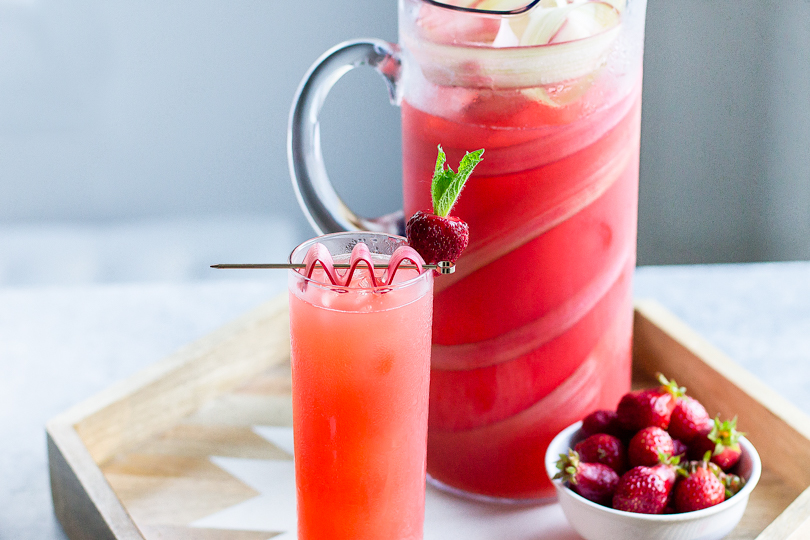 Is there any better harbinger of summer than the sudden bounty at your local farmers market?
Stands that were low on variety through sleepy spring are suddenly bursting with new color, scent, and flavor. If you're anything like me, you'll pick up more produce than you know what to do with, then go home with a firm resolution to try something new in the kitchen.
Since your haul is highly likely to include some juicy, just-ripe strawberries and fragrant rhubarb this time of year (both are at their peak in my neck of the woods right now), I've got a recipe that will introduce you to two of my favorite tricks for turning seasonal produce into eye-catching, farm fresh cocktails: the blender muddle and the mandoline garnish.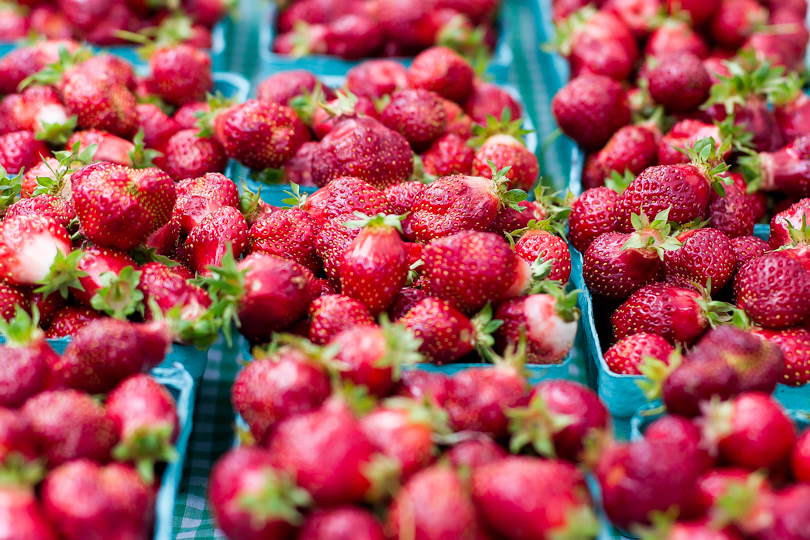 First up is the truly game-changing blender muddle. Ever since I read about this technique in Dave Arnold's Liquid Intelligence, I've muddled almost all my fresh produce with a blender, not a blunt stick, and never looked back. Why? Well, the point of muddling is to extract fresh flavors directly into your drink, but the harsh tearing and pounding of your muddler also releases enzymes that frankly just taste really bad.
When you muddle with a blender instead, the herbs are pureed into the alcohol so fast that the alcohol destroys these icky enzymes before they get a chance to escape into your drink. You get brighter color and fresher flavor, without all that elbow grease. Win + win + win.
Oh, and did I mention that it's WAY easier to blender muddle if you're mixing for a crowd? Can you imagine hand muddling each cocktail even for a group of, say… six? Ouch. When you want more than a couple of drinks (which I almost always do, sorry-not-sorry), blender muddling is really the only way to go. Your poor wrists will thank you.
My second trick, the mandoline garnish, is another game changer. For so long, I was trying to get paper thin slices of fruit and veg with a plain old peeler or paring knife. HA! Unless you have some seriously impressive knife skills (teach me your ways), you'll never get consistently perfect results. Also: easy! A mandoline is one of those kitchen tools that makes you wonder how you ever lived without one. My sad, mandoline-less days are very much in the past, and you can bet that every gorgeous, perfectly sliced garnish I serve spent some time on the sharp edge of my favorite cutting tool.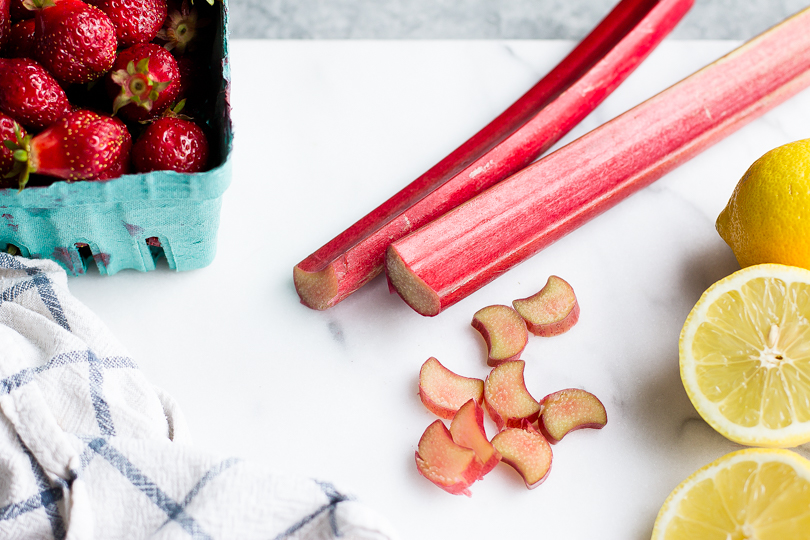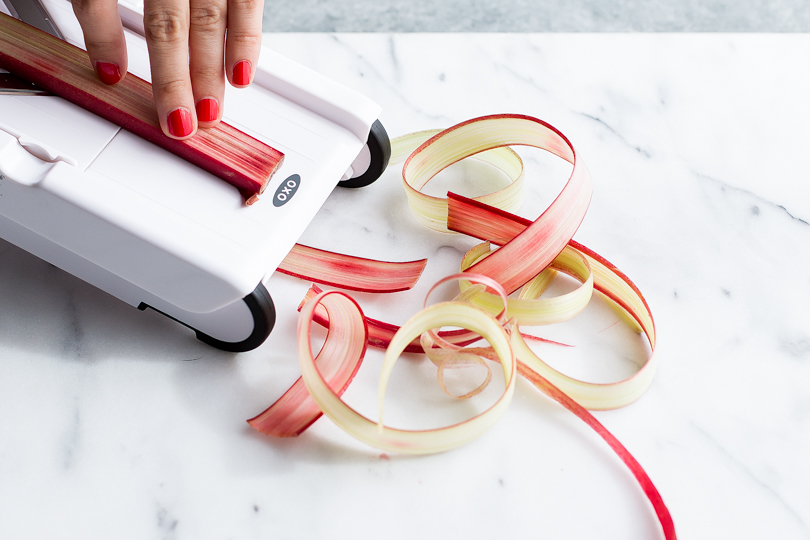 For this recipe, I use a mandoline to slice rhubarb into candy-like ribbons that add wonderful aroma to your drinks, but you can also use a mandoline to get a thin, glass hugging slice of almost anything. I even use it on citrus for perfect wheels and peels.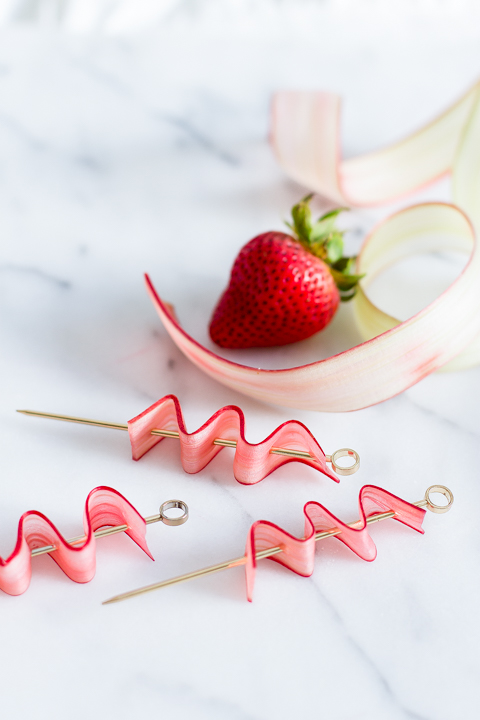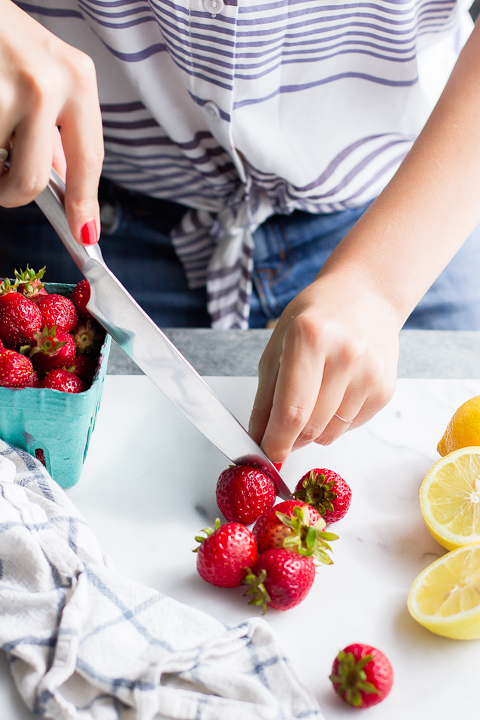 So with just a couple of common kitchen tools, you can turn your farm market haul into a pitcher full of juicy, summery goodness. I promise this one will have you out on the porch with your feet up in no time flat!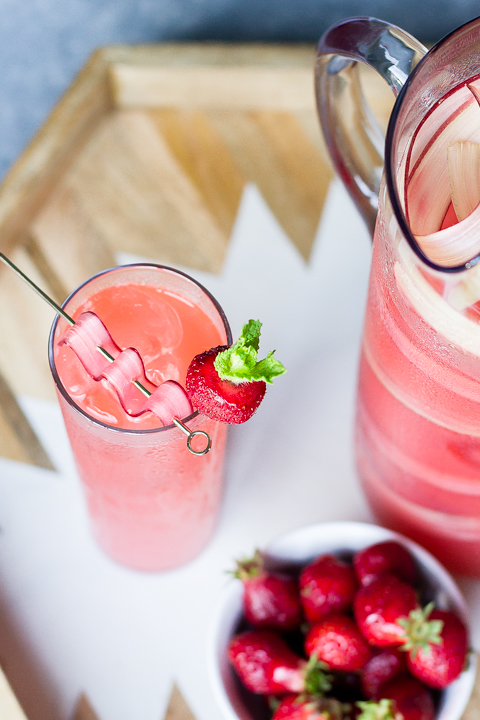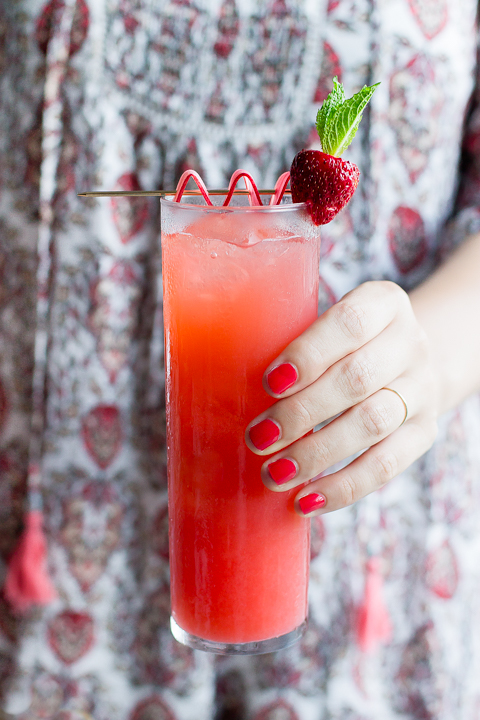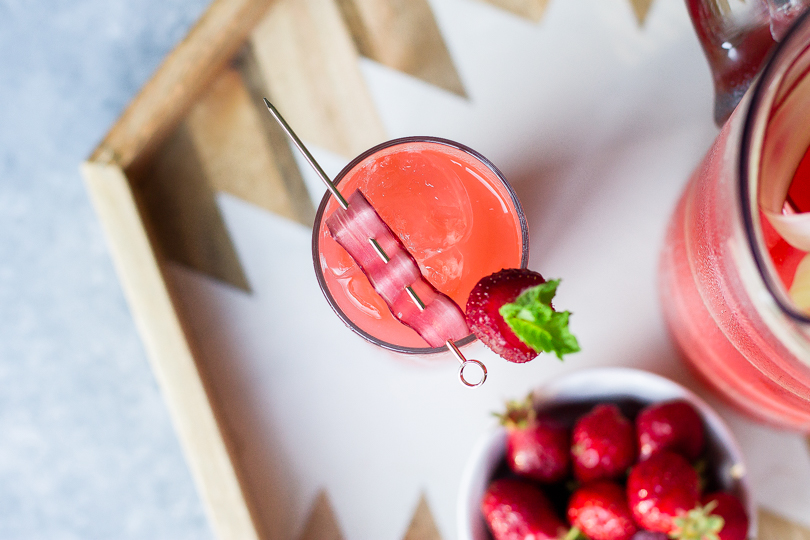 Strawberry Rhubarb Pitcher Cocktail
With just a couple common kitchen tools, you can turn your farmers market haul into a pitcher full of juicy, summery Strawberry Rhubarb Pitcher Cocktails.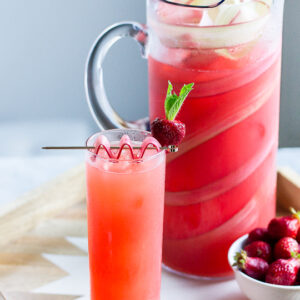 Ingredients
1

pint strawberries, hulled and quartered

2

stalks (about 150 grams) rhubarb, roughly chopped

6

oz

gin

6

oz

elderflower liqueur

6

oz

unoaked chardonnay

3

oz

fresh squeezed and strained lemon juice

8

oz

simple syrup to taste - use 4-8 oz

Additional rhubarb, strawberries, and mint for garnish
Instructions
Prepare your garnishes:

In a blender, combine strawberries, rhubarb, gin, and elderflower liqueur. Blend on high speed just until combined, about 6 seconds.

Strain mixture through a fine mesh sieve into a pitcher filled with ice (stirring while straining considerably speeds up the process).

Add Chardonnay, lemon juice, and 4 oz of the simple syrup to pitcher and stir just until well chilled. If the mixture is too tart (market produce has an unpredictable sugar content), add simple syrup two ounces at a time to adjust sweetness.

Swirl ribbons of rhubarb into the finished cocktail pitcher; a chopstick or skewer helps if you want to arrange the ribbons visibly against the glass.

Pour the cocktail into ice-filled, pre-garnished glasses and serve with a straw.

Ribbon rhubarb by slicing it on your mandoline thinnest setting. Save several large ribbons to swirl around the pitcher.

Chop remaining ribbons into shorter slices to skewer on cocktail picks as pictured.

Optional but encouraged: slice the tops off additional strawberries and insert a small sprig of mint. Make a small slice on the strawberry's bottom and affix to glass as pictured.