​Foods to Boost Your Mood & Cinnamon Walnut Spread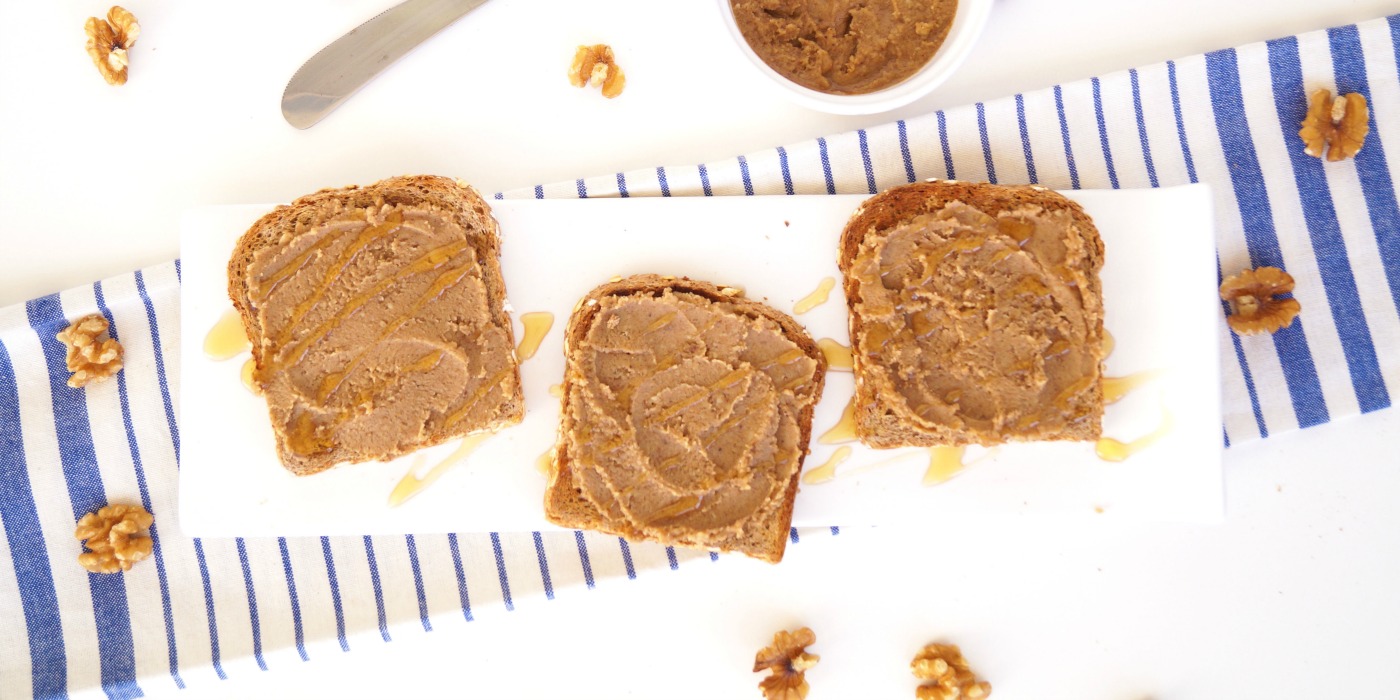 During winter, there are a number of individuals who are affected by S.A.D. also known as Seasonal Affective Disorder. S.A.D affects more than 3 million people a year, brought on mainly by a lack of sunshine and symptoms can include fatigue, depression, hopelessness, and social withdrawal. S.A.D is mild for many people but can be serious for others. In either case, there are many ways to fight back!
One natural way to boost mood is with the foods we eat. Food has a powerful influence on our mood because what we eat affects the cells of our body, our hormones, metabolism and many of the chemicals produced by our brain.
Nuts + Seeds
Nuts are full of good fat and protein, providing consistent long-term energy, crucial in keeping your mood and energy level stable. Walnuts, flaxseeds and chia seeds contain Omega-3 fatty acids known as Alpha-linolenic acid (ALA), which researchers have found boosts mood!
Dark Chocolate
Dark chocolate is packed full of antioxidants which are known to reduce stress… love that!
Whole-Grain Carbohydrates
Carbohydrates promote the production of serotonin, a feel-good neurotransmitter. Avoid processed carbohydrates such as white breads, flours and crackers, which can cause energy spikes and energy dips. Instead load up on whole-grains such as brown rice, oatmeal, and whole-wheat breads or flours.
Honey
Another excellent source of carbohydrates is 100% raw natural honey. Honey is also anti-bacterial which is great for supporting a healthy immune system. Be sure to look for honey local to your area for the best quality.
Cinnamon
Cinnamon is packed full of antioxidants and considered to be a great immune booster as well. Studies also show that cinnamon can help manage blood sugar levels, which, in turn, helps to manage energy levels.
Coconut Oil
Coconut oil is rich in Medium Chain Triglycerides also known as MCTs, a type of fat that is burned quickly by the body as an energy source and can also promote the production of serotonin. Use coconut oil in place of butter or shortening when baking an in place of vegetable oils for cooking, grilling or roasting.
Cinnamon Walnut Spread on Whole Grain Toast with a Local Honey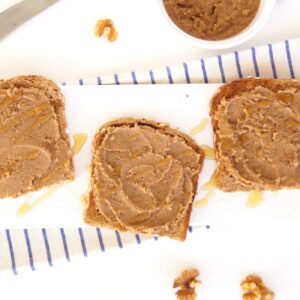 INGREDIENTS
2 cups raw walnuts
1 teaspoon cinnamon
2 teaspoon unrefined coconut oil
½ teaspoon salt
Local honey
Whole-wheat sprouted toast
*Choose organic ingredients when possible
INSTRUCTIONS
Add all the ingredients, except the honey and toast into the jar of a high-speed blender and blend on high until nut butter is smooth and creamy.
Toast bread and spread 2-3 ounces of the cinnamon walnut butter per slice and drizzle with ½ a tablespoon of local honey.
Enjoy!
Cover and store nut butter in the refrigerator.