Tomatoes Provençale & Israeli Couscous Salad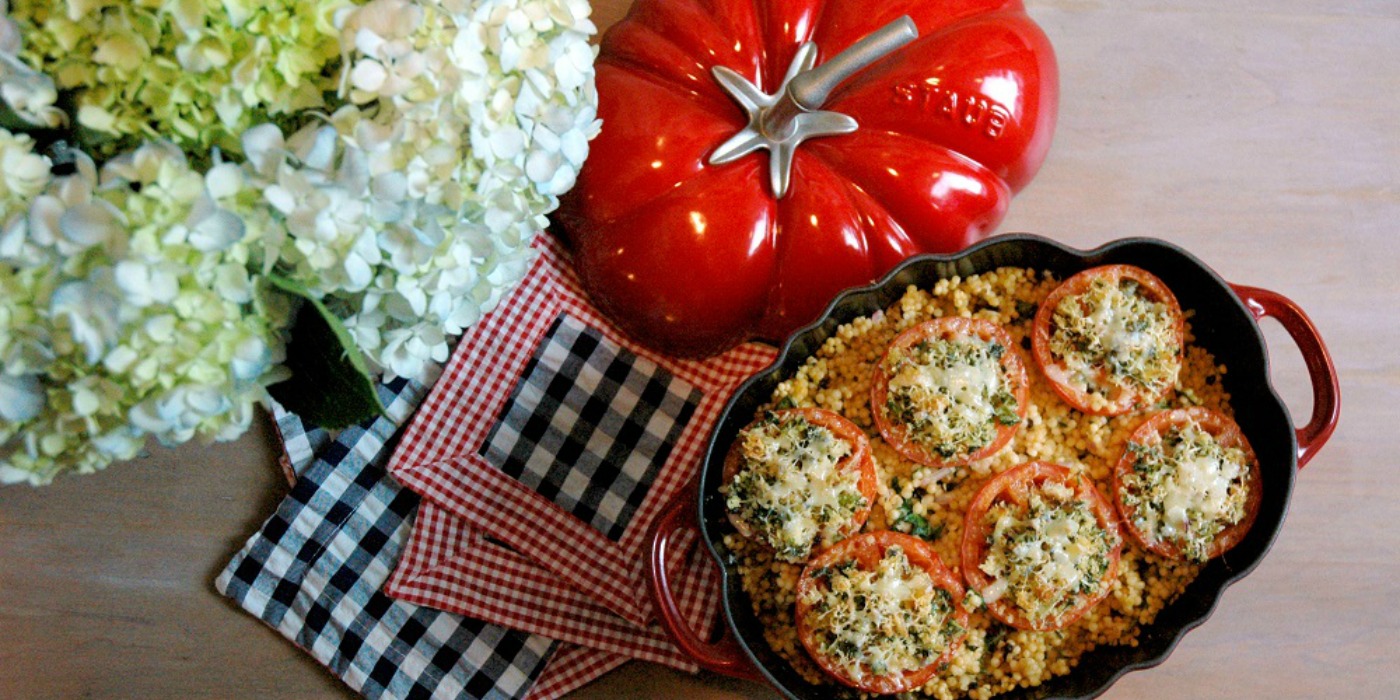 Ripe summer produce just begs to be used in fresh, seasonal dishes like these! Our Tomatoes Provençale and Lemon Zest + Baby Spinach Israeli Couscous recipes are vegetarian & oh so delicious, try them today!
Time to raid the garden, or local market, for seasonal summer produce just off the vine and bunches of the freshest herbs available. Time to create a menu inspired by farmers market finds that not only wows your guests, but also minimizes time in the kitchen and maximizes time spent with friends around the table.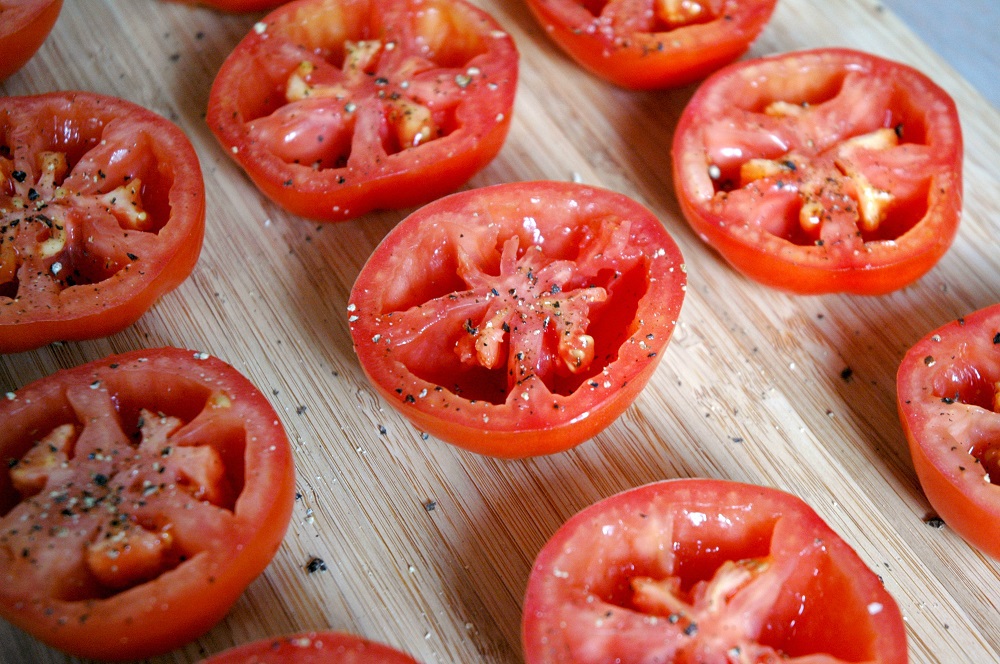 No summertime menu is complete without tomatoes. Tomatoes are a must have. Even with the smallest of gardens, you can grow at least one heirloom variety — if you are not blessed with a green thumb, not to worry, your local market most likely will carry more than enough to keep you stocked for the season. And to bring out the best in these gems of the garden — fresh herbs aplenty!
One of my top three entertaining tips is to plant an herb garden that provides you with at least a few of your favorites — either to use last minute to brighten a recipe or to inspire you to create a new combination of flavors on a Wednesday night when a friend suddenly stops over for a quick drink. Herbs such as basil, oregano, thyme and parsley that are relatively easy to grow, even in limited spaces, bring amazing freshness to classic recipes like Tomatoes Provençale — and make you look like a superstar lifestyle maven!
My other top entertaining tips? Use recipes that save you time and set a pretty table! If you have my book — An Appealing Plan — or follow any of my social media accounts, you know I am all about outdoor entertaining, easy recipes and setting a gorgeous table, so I was floored when I recently came across the Tomato Cocotte from Staub which allowed me to have all three in one chic vessel! It's the perfect container to cook and serve your farmers market inspired recipes. In fact, I was easily able to cook my Lemon + Baby Spinach Israeli Couscous and Tomatoes Provençale at one time, bring it from the oven to the table while keeping the food warm and also add that special piece to engage my guests in conversation while I was finishing up the remainder of the meal preparation.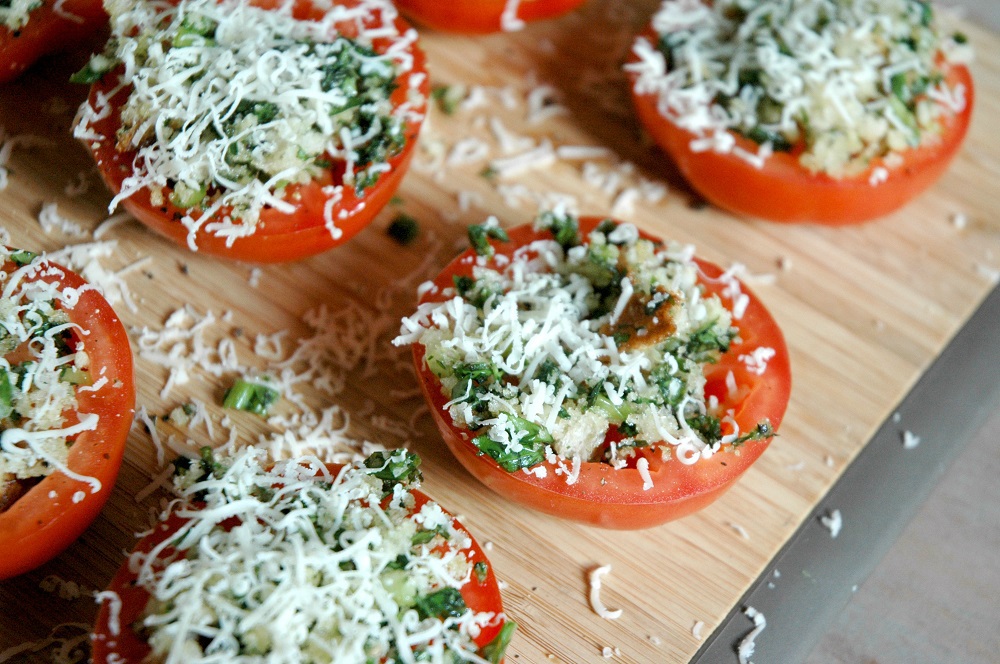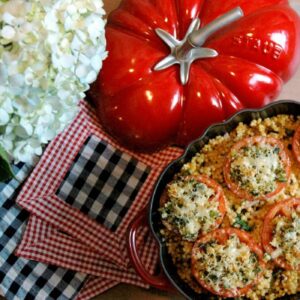 INGREDIENTS
6 ripe tomatoes (2 - 3 inches in diameter)
1 1/2 cups fresh bread crumbs (crusts removed)
1/3 cup minced scallions, white and green parts (2-3 scallions)
1/4 cup minced fresh basil leaves
1/4 cup minced fresh flat-leaf parsley
2 cloves minced garlic
1/2 teaspoon fresh thyme leaves
1/4 cup olive oil
1 teaspoon Kosher salt, plus additional
1 teaspoon freshly ground black pepper, plus additional
1/2 cup grated Gruyere cheese, use a large to medium size grate
INSTRUCTIONS
Preheat the oven to 400 degrees F.
Remove cores from the tomatoes, removing as little of the red flesh as possible. Cut tomatoes in half crosswise. Over a small bowl, to reserve the liquid, gently squeeze to remove juice, use your fingers to remove seeds. Reserved tomato water is to be used in couscous recipe; if you are not making them together, use in a salad dressing or other recipe.
Place tomato halves face up on cutting board, generously salt and pepper.
In a bowl, combine the bread crumbs, scallions, basil, parsley, garlic, thyme, half the olive oil and 1 teaspoon salt. Fill the cavities and cover the tops of the tomatoes with the bread crumb mixture. Bake the tomatoes for 15 minutes, or until they are tender to the touch on the skin side.
Sprinkle each with cheese, and a drizzle of olive oil, and bake for 30 seconds more to melt cheese. Serve hot or at room temperature.
*Inspired by Julia Child, Mastering the Art of French Cooking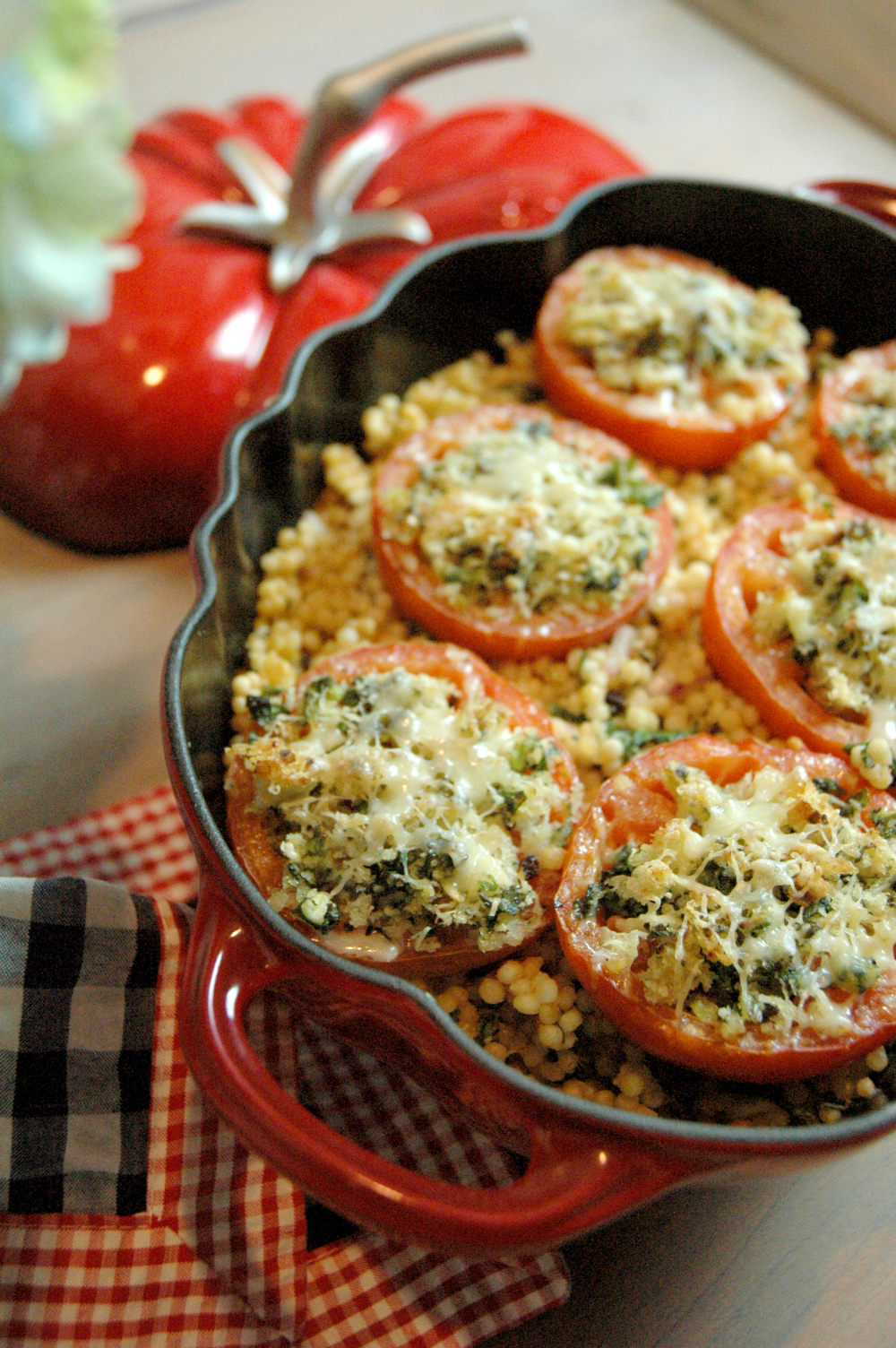 Lemon Zest + Baby Spinach Israeli Couscous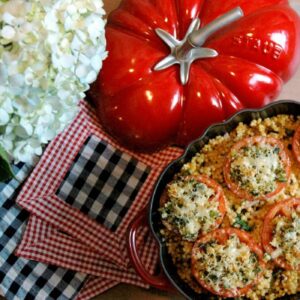 INGREDIENTS
3 cups uncooked Israeli couscous
3 cups stock or broth (vegetarian, chicken or beef)
2 tablespoons olive oil
3/4 cup of reserved tomato water (if not cooking with Tomatoes Provencal additional broth should be used)
1 tablespoon lemon juice
1/2 cup dried currants
1 small red onion, diced
4 cups washed, chopped, and uncooked baby spinach
1 teaspoon minced fresh oregano
1 teaspoon fresh lemon zest
1/4 teaspoon kosher salt
1/4 teaspoon freshly ground black pepper
INSTRUCTIONS
In a medium sauce pan bring stock to a simmer, add Israeli couscous in a large bowl - add stock, stirring to coat, let stand, then stir again. Cook covered on low until water is fully absorbed.
Add all remaining ingredients to the couscous and stir well to fully combine. Adjust seasoning as needed. Serve warm or at room temperature.
NOTE: To cook recipes together, place couscous mixture at the bottom of the cocotte, top with tomatoes and follow cooking instructions for Tomatoes Provençale.