Create An At-Home Café to Make Your Morning a Little Brighter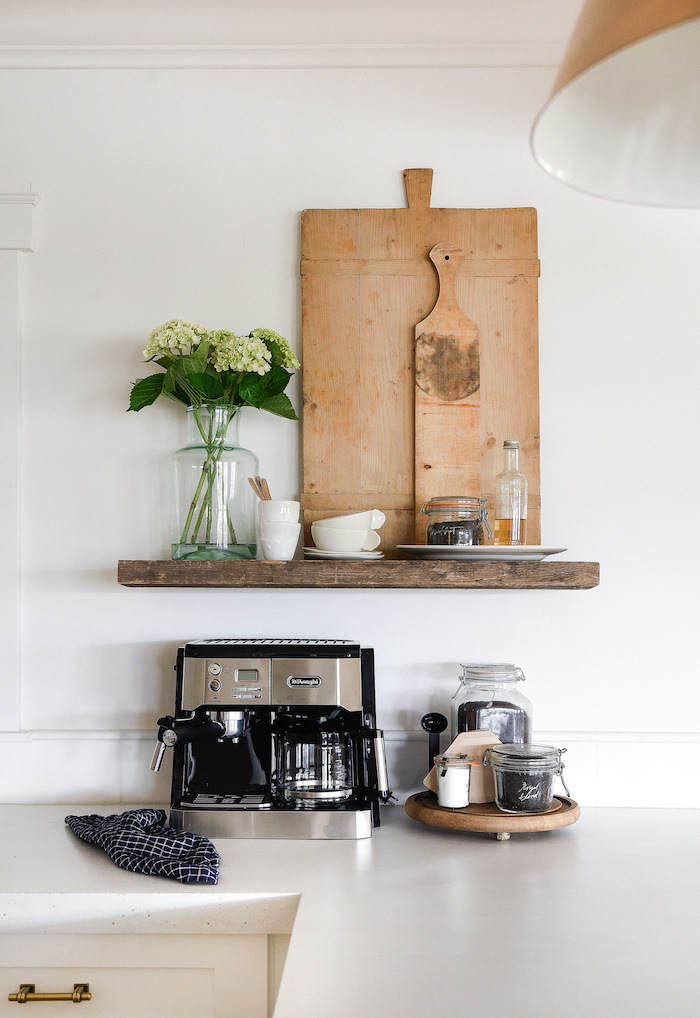 Creating your own café at home will save you money, make your mornings a little brighter, and help you control exactly what's in your coffee!
Since moving to the ranch, I've created my own little at home café because we do not have a coffee shop close by! Learning how to make my coffee shop favorites has been so fun! Especially since I work from home — good coffee is a must!
My husband likes a traditional cup of coffee, while I enjoy espresso. So instead of needing two machines, we love the De'Longhi all-in-one machine! Finding a machine that makes coffee, espresso, and has a milk steamer has been a key ingredient in creating my own at-home café!
I love that I am in total control of my morning coffee. I consider it to be one of life's little indulgences, and I love getting to experiment with different recipes. Try adding turmeric, lavender syrup, or your favorite unsweetened nut milk to add a little extra flavor.
Here are some necessities for an at home café:
Espresso & Coffee Maker
Purchasing a high-quality machine will truly make a difference in the taste of your coffee! I love that our all-in-one machine offers espresso, coffee, and the ability to steam milk! It saves space rather than having separate machines!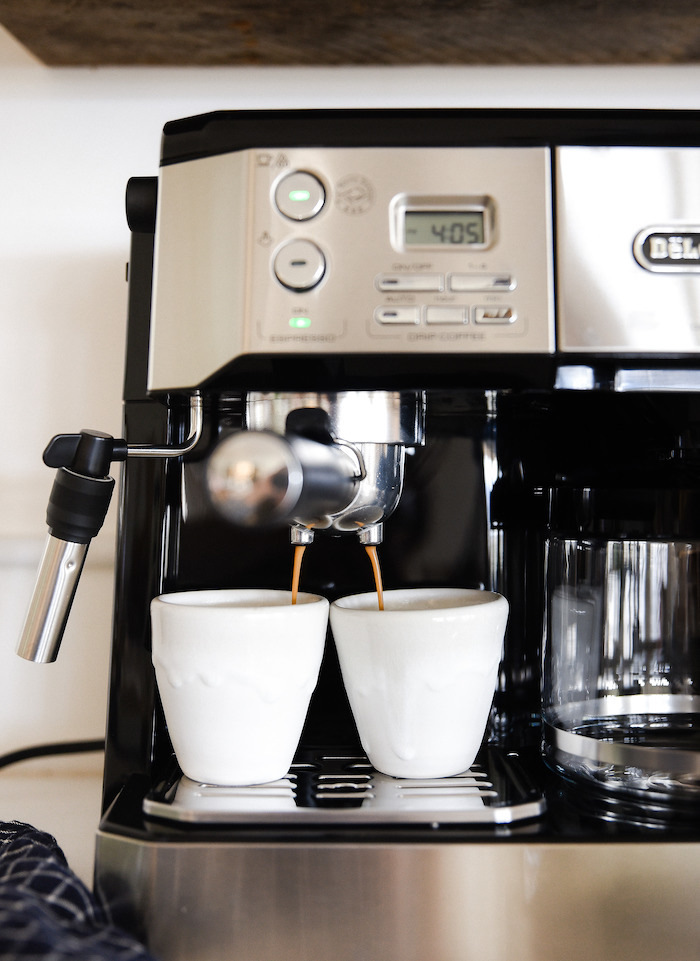 Quality Coffee & Espresso
Trying out new coffee and espresso blends is like wine tasting! I love finding high quality and sustainable coffee and espressos to start my morning off right. Having different varieties to choose from allows you to create something specific to what you are craving that day, which I love! Some of my favorites are lavender infused syrup, a dash of local honey, or cinnamon!
Coffee Accessories
I like to keep all of our coffee accessories organized in trays or containers! If You Care coffee filters are wonderful sustainable coffee filters. I also like to keep small spoons, the espresso tamper, and milk-frothing jug ready to use too!
Beautiful Drinkware
Enjoying coffee out of a beautifully made mug, like these from Jars Ceramics, makes a huge difference in your morning ritual! Plus, stacking mugs and espresso cups looks beautiful too! If you like to mix and match mugs and cups, pick a single color palette for a collected look.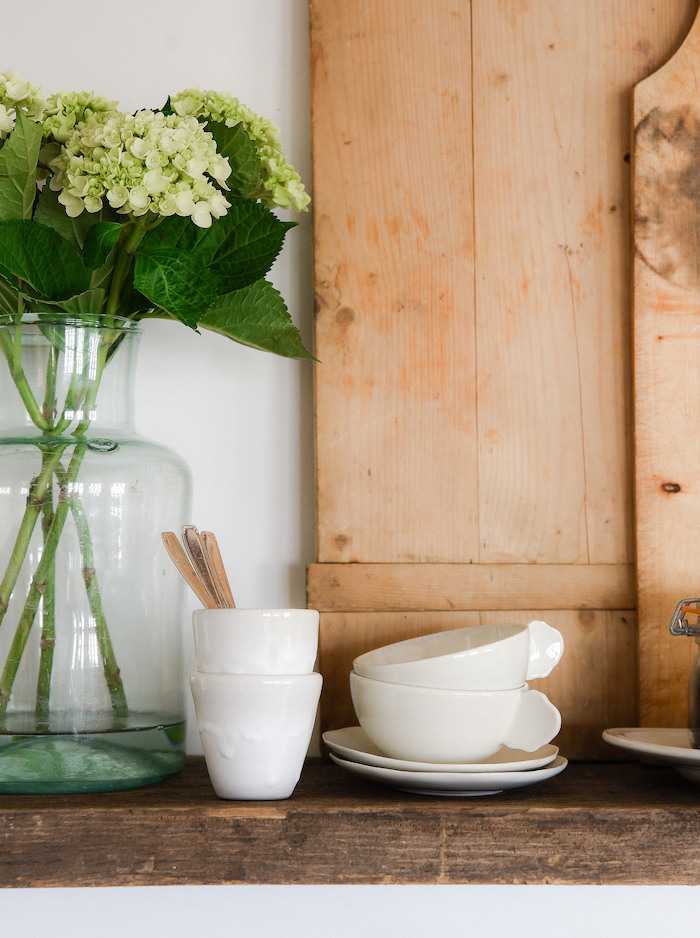 Milk
I enjoy a delicious whole-milk latte, but I've recently switched things up to unsweetened almond milk! I love that one cup of unsweetened almond milk has only 40 calories and zero sugar!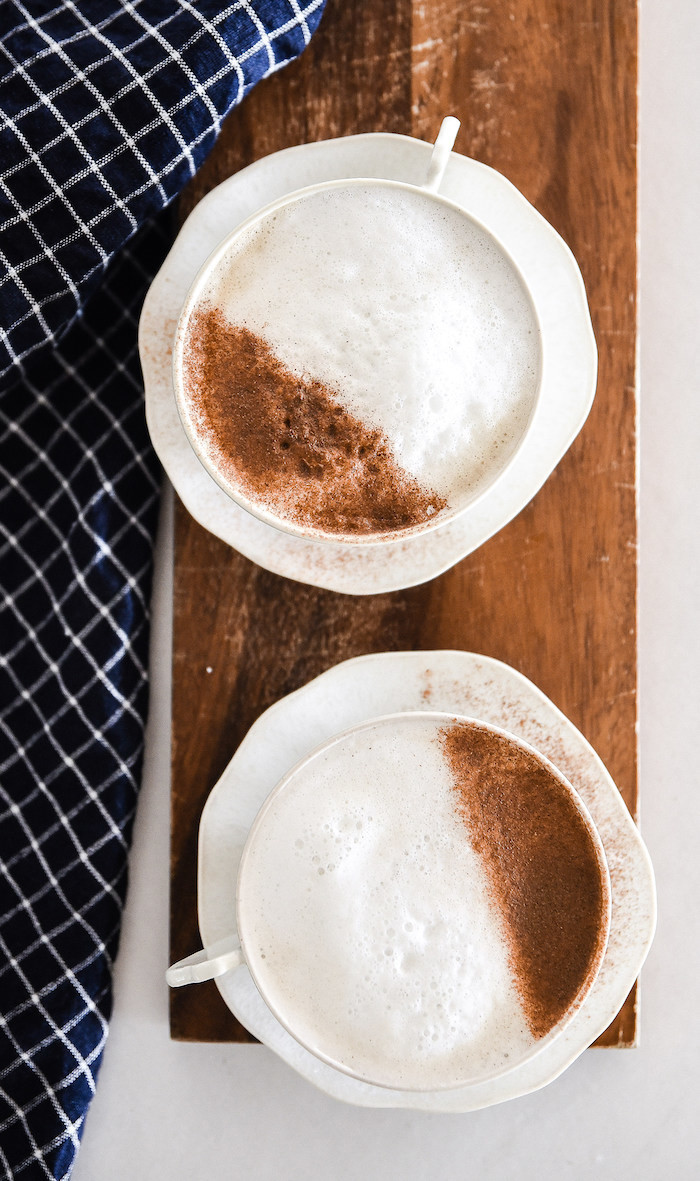 Lovely Additions
To really take your at-home coffee to the next level, finish things off with a little something extra. Cinnamon, turmeric, rose water, lavender, or infused syrups are the perfect cherry on top of your morning ritual! They help add a little extra flavor and can complement the coffee or espressos you choose beautifully!