Camping Recipes: Cheesy Onion Dip & Oatmeal Bread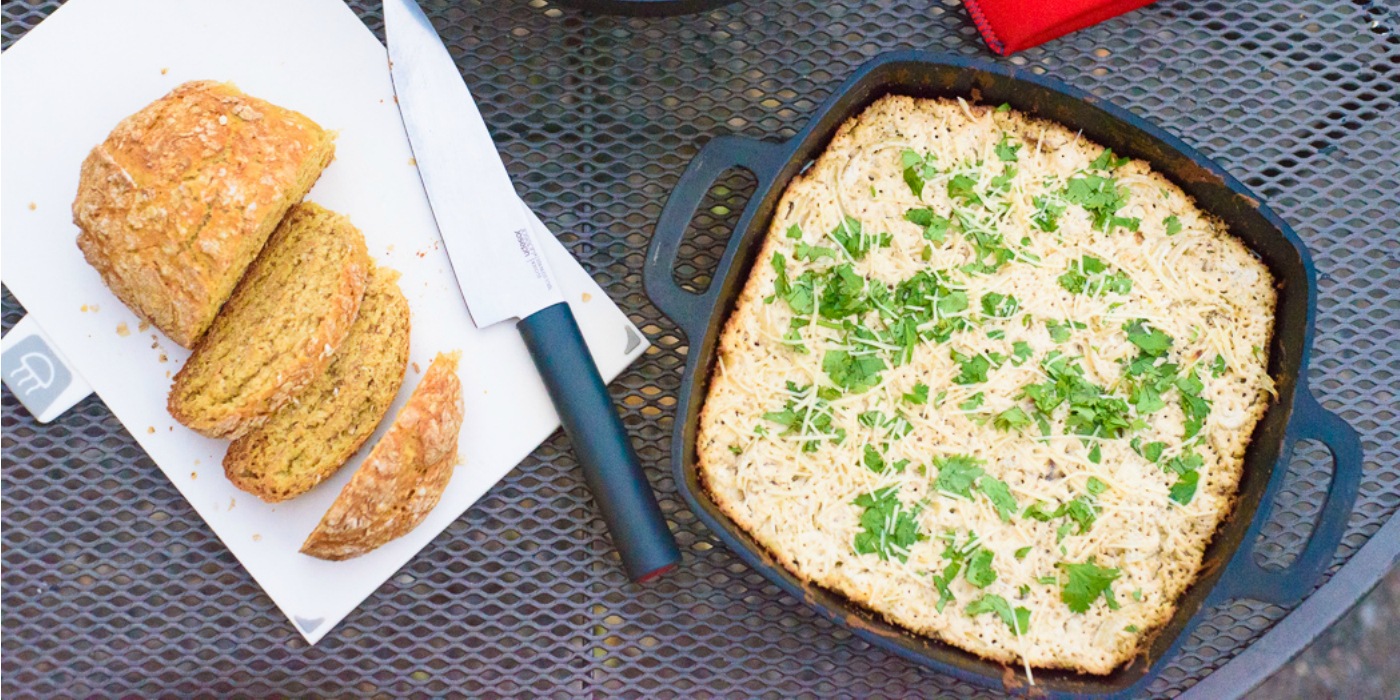 This cheesy sweet onion dip is perfect to make at home in the oven or on the go. Serve it with chips or whip up an easy yeast free bread to serve with it! The Oatmeal Bread is another favorite camping recipe, but delicious at home, too!
I have a soft spot for gooey, cheesy dips. And I also have an obsession with onion dip, so this seemed like the perfect combination! I riffed off my standard spinach artichoke dip base and got fancy with it. Adding gobs of sweet onion, bacon and green onions to our base of cream cheese, mayo and yogurt. You can use all mayo if you don't have yogurt but I like it best lightened up a bit this way (not that this is a health food AT ALL!).
But the real beauty of this dip is that you can play with it. Add jalapenos to it, toss in some roasted corn, top it with gobs of cilantro. It's flexible and works well with whatever you have on hand to spruce it up.
We decided to try it out in the fire too while we were camping and it worked great! This is definitely a car or trailer camping kind of recipe since you need quite a few ingredients but with two kids under 5…that's the kind of camping we tend to do haha.
Cook the bacon in your pan and drain all the grease off.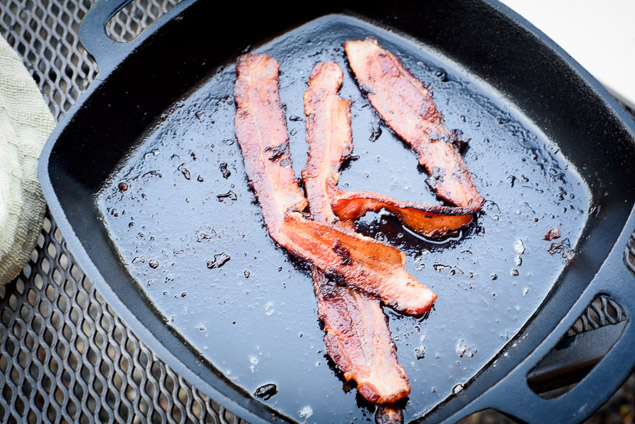 Chop the onions.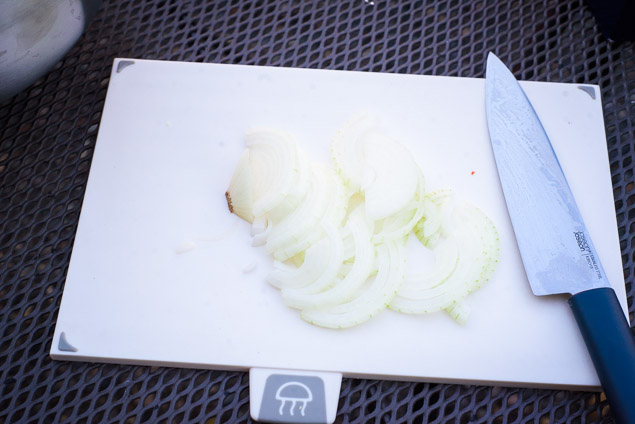 Add all the dip ingredients.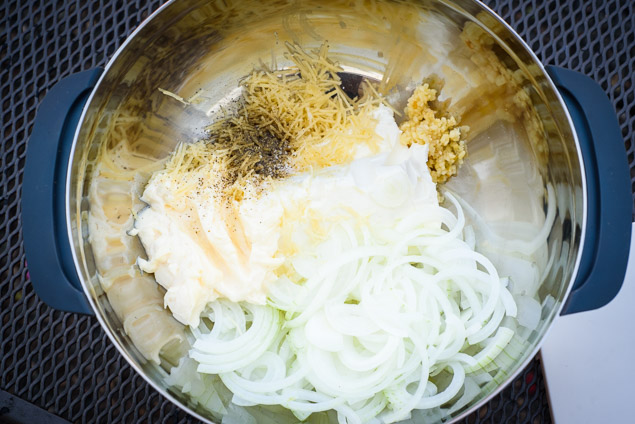 Add the BACON!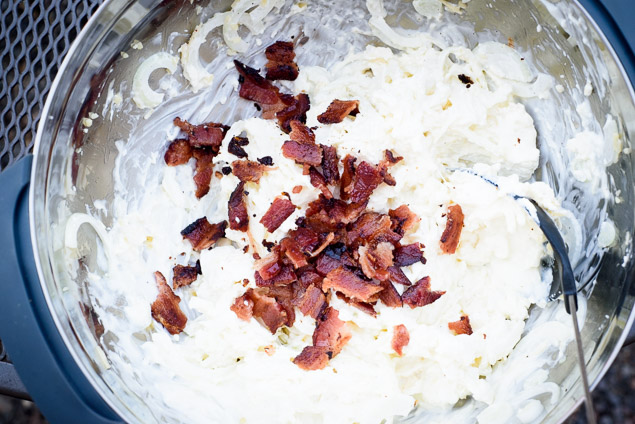 Chop some green onions.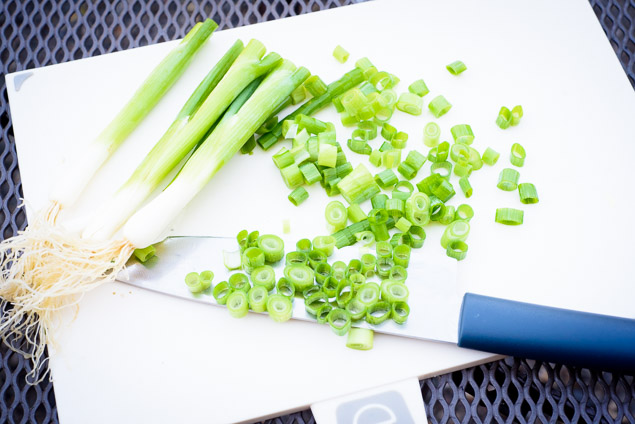 Give those a good stir.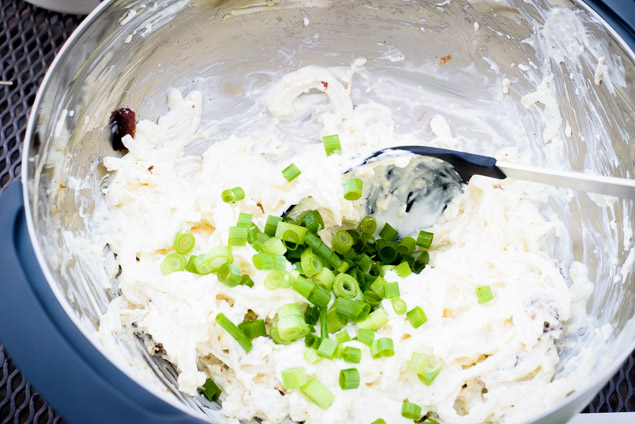 And pour the whole shebang into that cast iron pan. The bacon grease does all the non-stick coating that you need, but if you were omitting the bacon for some reason make sure you lightly oil the pan.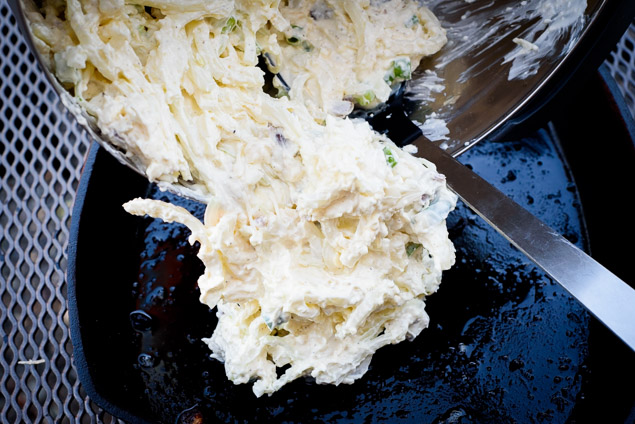 Top with more cheese, because you are camping and calories don't count here.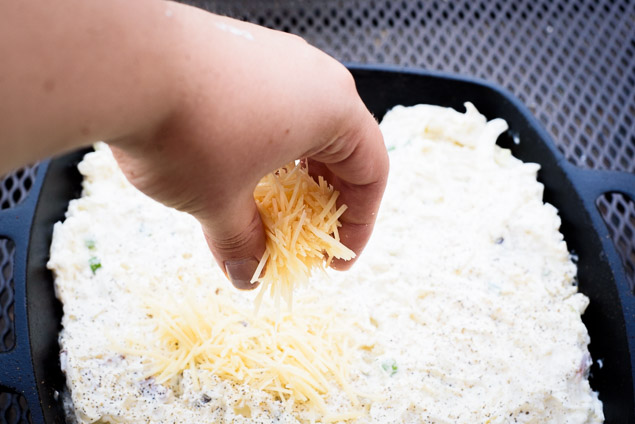 And that's it! Ready to go.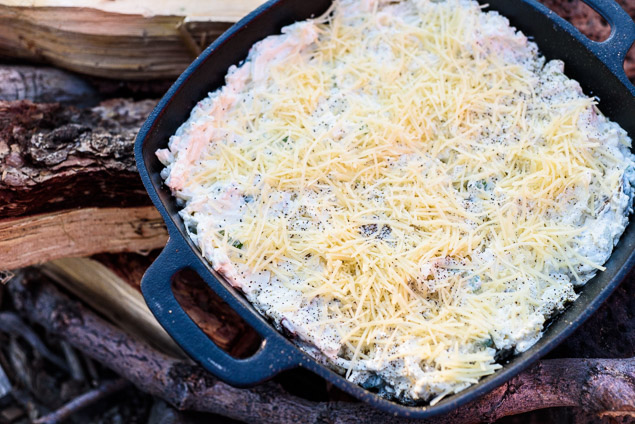 Wrap it tightly in foil and set over burned down coals or (more ideally) a cooking grate over the fire. Our particular fire didn't have a grate at this location so we had to make do and cook it over the coals. Not a big deal but we didn't pay super close attention and it got a wee bit crispy on one side.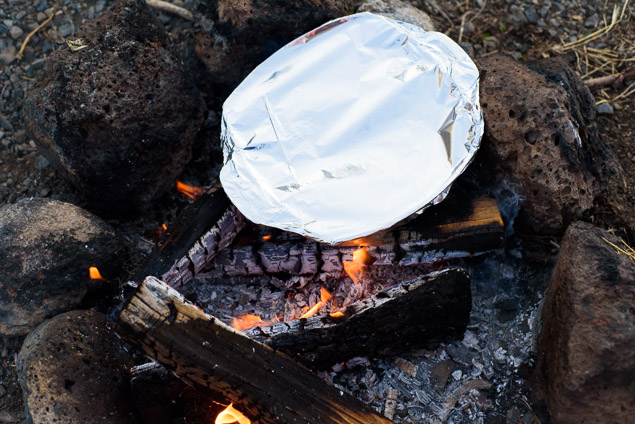 But with marshmallows and some bananas with chocolate roasting on the fire a little crispy dip was no problem to us.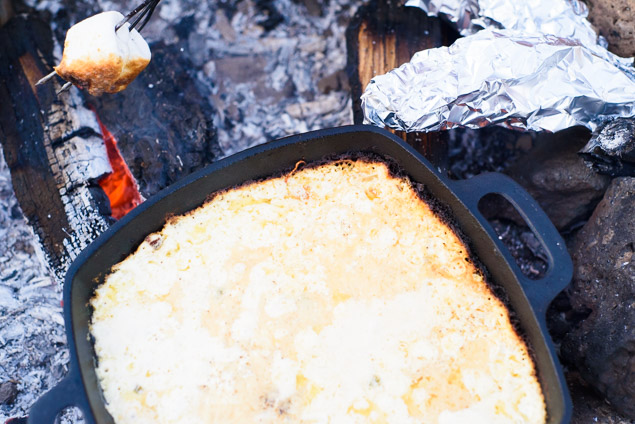 Helloooo cheese.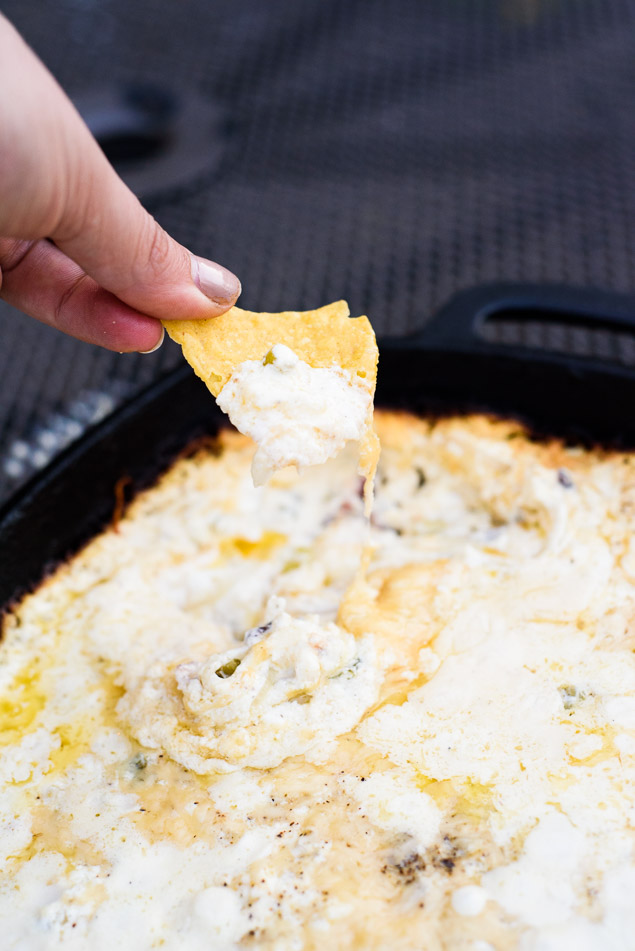 I like to break out the chips when I'm feeling a bit camping lazy. But I have to also tell you, serving this with bread is extra indulgent.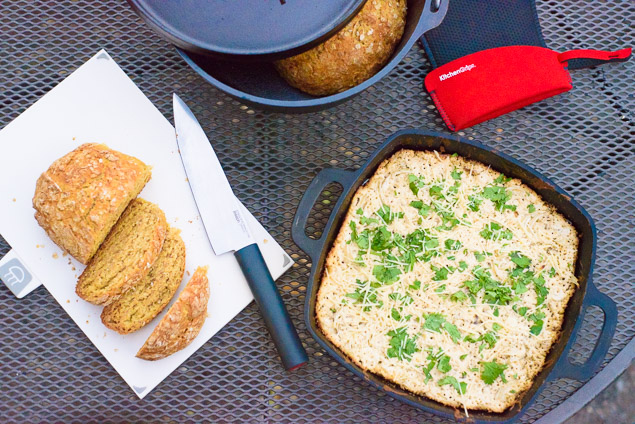 This Oatmeal Bread is a recipe that I have tweaked on from an old Women's Day magazine (2009 to be exact haha!) for Irish Brown Bread. It's lightened up a bit more than theirs and I often don't have buttermilk on hand so this is a super quick bread that doesn't take any proofing.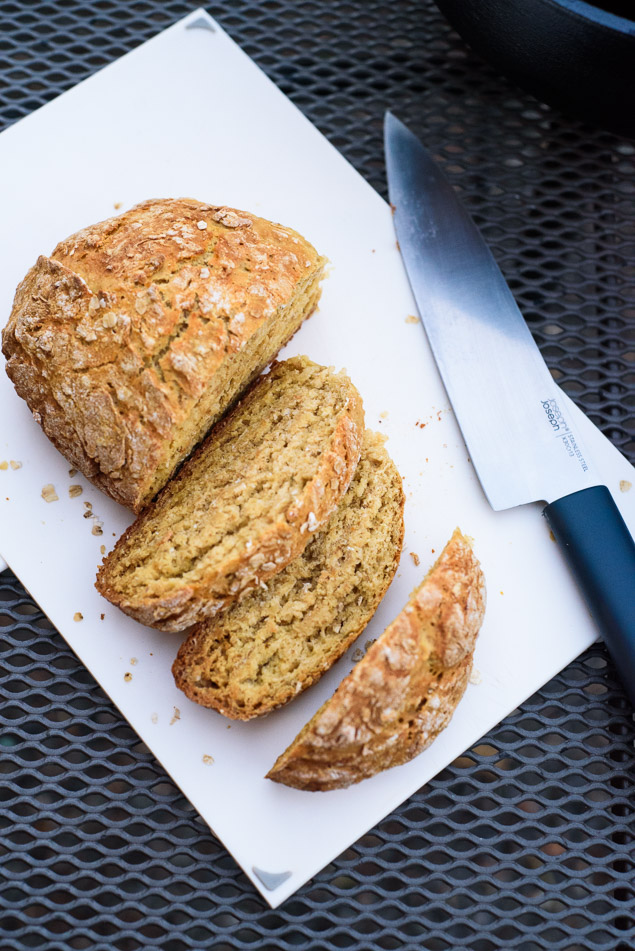 It's a super simple 7 ingredients and mixes up in one bowl. I love making it in a cast iron dutch oven so it seemed like the perfect camping bread!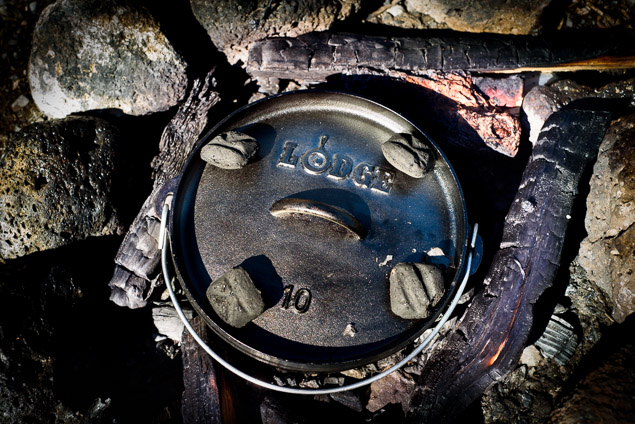 Take a peek inside. When it's golden brown it's perfect!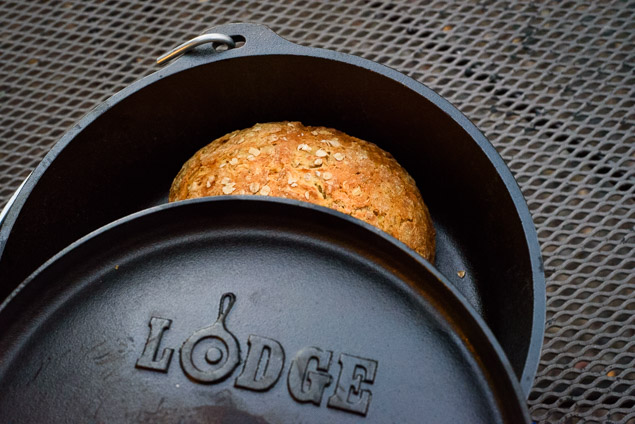 Using the dutch oven at home in the oven is also a really great trick for getting fantastic crust on your bread. It simulates a bread oven fabulously and gives you a great cook.
Let the bread cool for a few minutes and then dig in. Yum!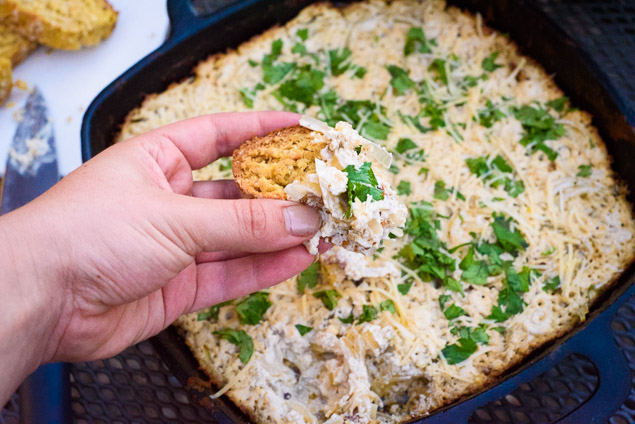 Cheesy Onion Camping Dip Recipe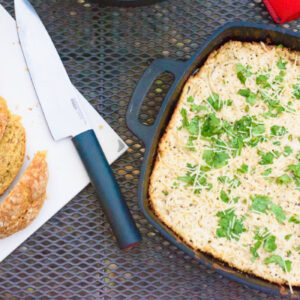 INGREDIENTS
3 strips bacon
2 medium sweet onions
2 packages cream cheese
¾ cup parmesan cheese (reserve ¼ cup for top)
½ cup mayonnaise
½ cup whole milk yogurt
3 teaspoons minced garlic
Salt and pepper to taste
Optional: jalapenos, green onions, corn, etc
INSTRUCTIONS
Cook bacon and chop into small pieces. Drain grease from pan.
Combine all remaining ingredients including bacon and add dip to pan.
Top with remaining parmesan cheese and cover with tin foil.
Cook over coals in a campfire or for 30 minutes in a 350 degree oven.
Serve hot with chips or bread.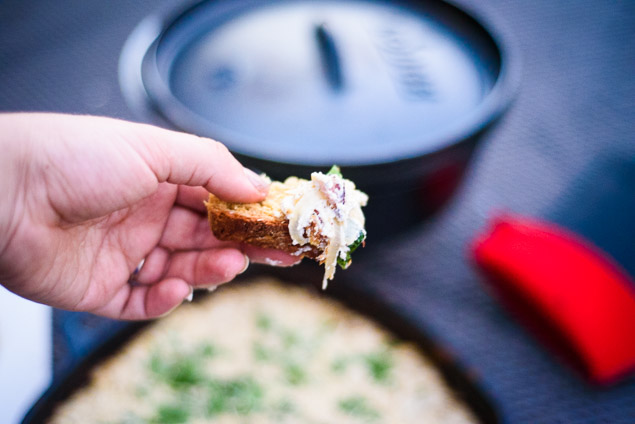 Homemade Oatmeal Bread Recipe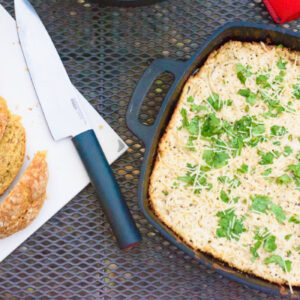 INGREDIENTS
1 ¾ cup all purpose flour
½ cup whole wheat flour
1 cup quick oats
2 teaspoons baking soda
1 teaspoon salt
1 ½ cups milk
2 tablespoons honey
Cornmeal
INSTRUCTIONS
Combine all dry ingredients. Add milk and honey and stir until a soft dough forms.
Add an additional ¼ - ½ cup flour to bowl and gently form into a ball while kneading flour into dough until it is no longer sticky to the touch.
Split in two pieces, brush with olive oil and top with a sprinkle of oats.
Sprinkle the bottom of cast iron dutch oven with cornmeal lightly. Add bread and place lid on.
Fire: You want a fire that is burned down. Scrape out a center hole for the dutch oven and keep just a few coals in the center. Place in dutch oven over these and add 4 coals on top of lid of dutch oven. You are creating an all around heat here so make sure your coals on the outside of the oven are right around the dutch oven.
Bake until cooked through, about 25-40 minutes depending on fire heat. Around 30 minutes in a 400 degree oven.
Allow to cool slightly (5-10 minutes) before serving.
*Inspired by Woman's Day Irish Brown Bread