Vegetarian Cauliflower Tacos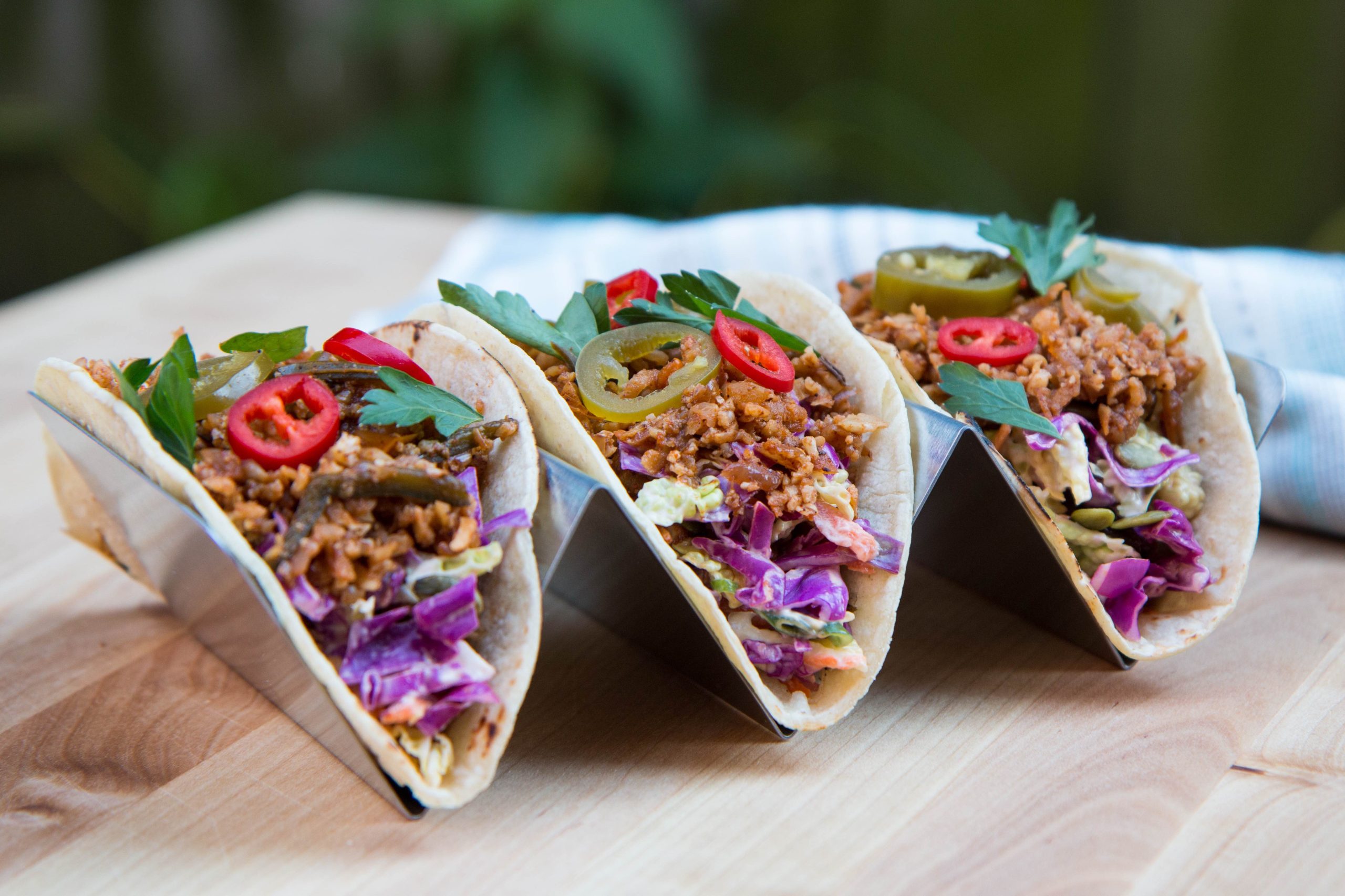 Taco Tuesday is a big deal around my house, and you guys are going to go loco when you try my cauliflower tacos. It's a healthy take on authentic street tacos, but to be honest, they have so much flavor and texture, you may not even notice that it's 100% vegetarian.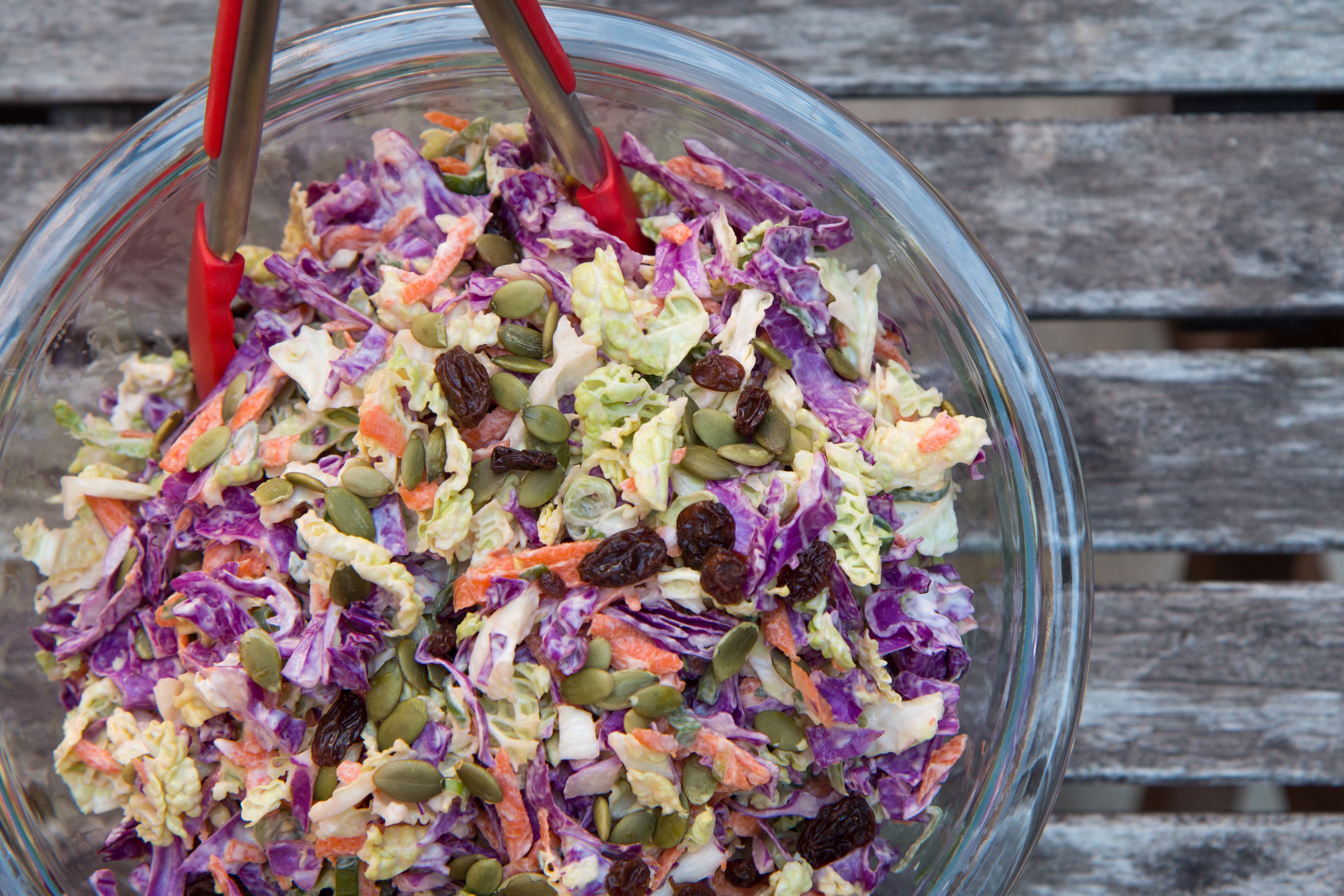 I'm a certified crunch-a-holic, so start by making the crunchy red cabbage slaw. It has napa cabbage, grated carrots, and nutty pepitas. The dressing has a good amount of lime zest and juice to make it zippy, but my secret weapon is a shot of soy sauce and toasted sesame oil, they add a nice depth of flavor, or umami. The key is to not mix the slaw with the dressing until you are ready to serve, otherwise it will get soggy.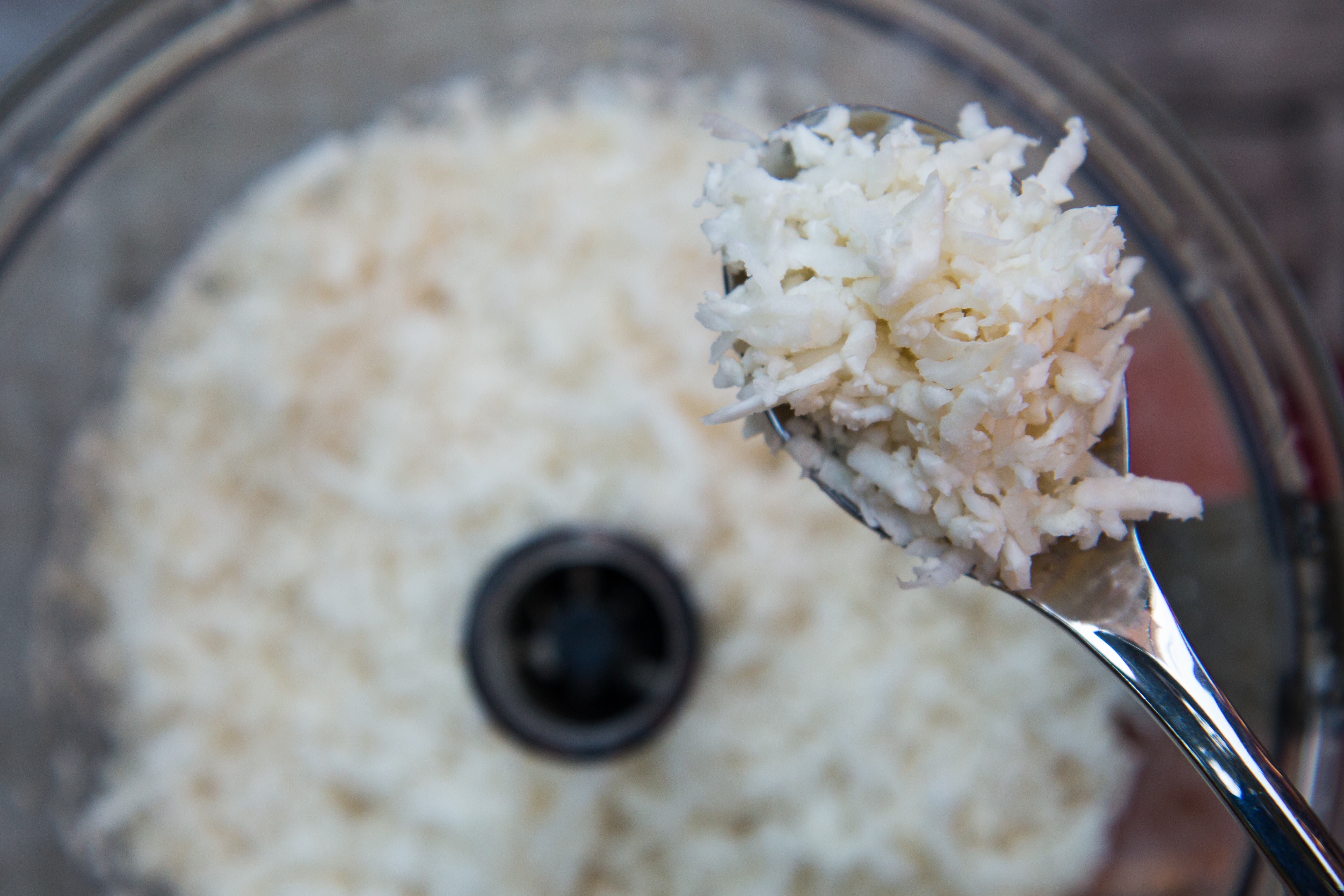 To make the cauliflower look and feel like ground beef, cut the florets off the stalk and add them to your food processor. Pulse the florets until it looks like chunky ground beef, being careful not to over-process, otherwise they will turn to mush when you cook it later. You can also use the grater attachment to your food processor or a box grater.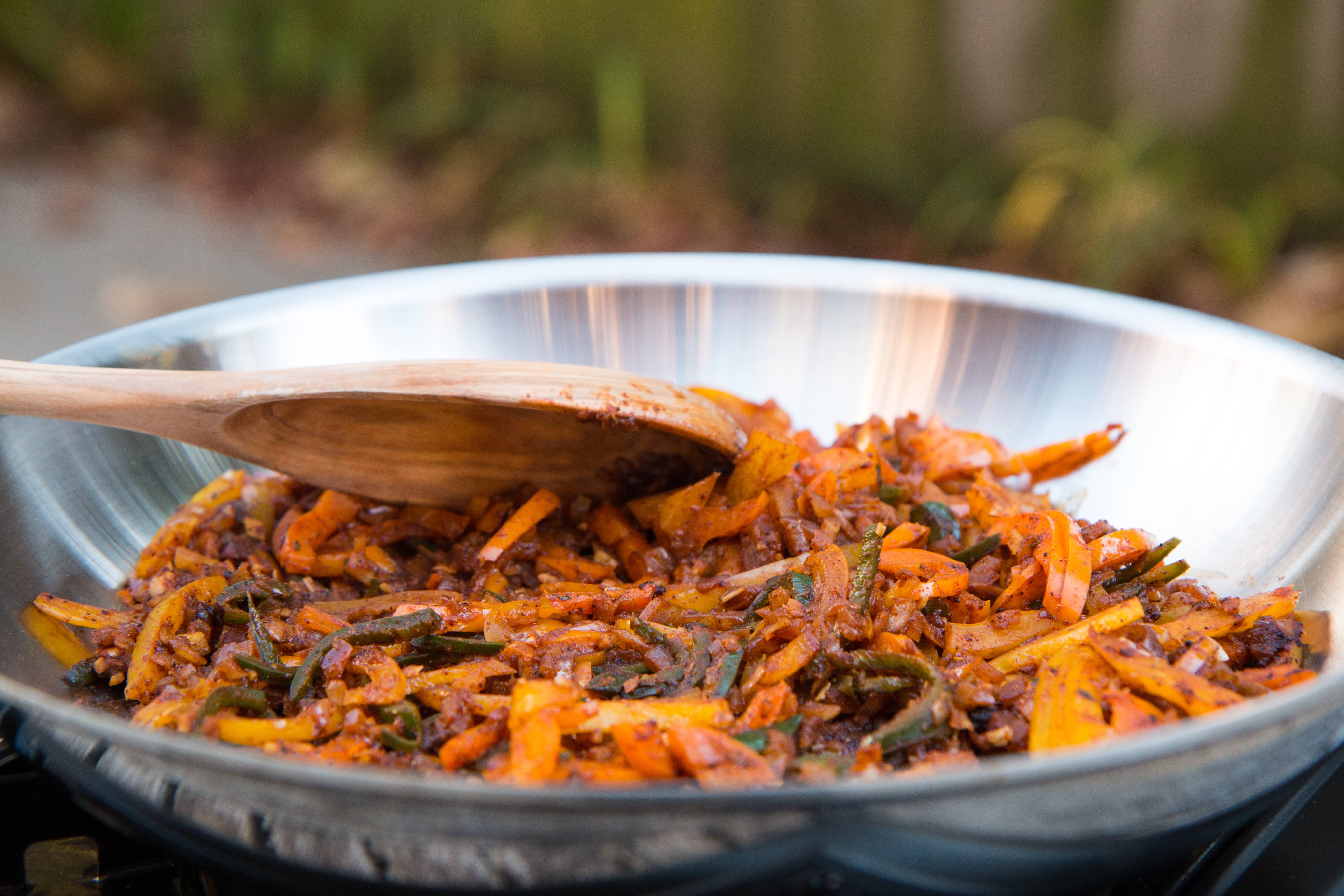 Add the onions and peppers to a pan and cook until they have softened up. Make the homemade taco seasoning mix by combining the ancho chile powder, smoked paprika, cumin, and remaining spices. This mix is the key to getting huge flavors and transforming the ground cauliflower. Add the seasoning mix to the veggies and cook for 5 minutes so the essential oils in the spices can bloom. Add some veggie stock along with the ground cauliflower and cook for 5-7 minutes.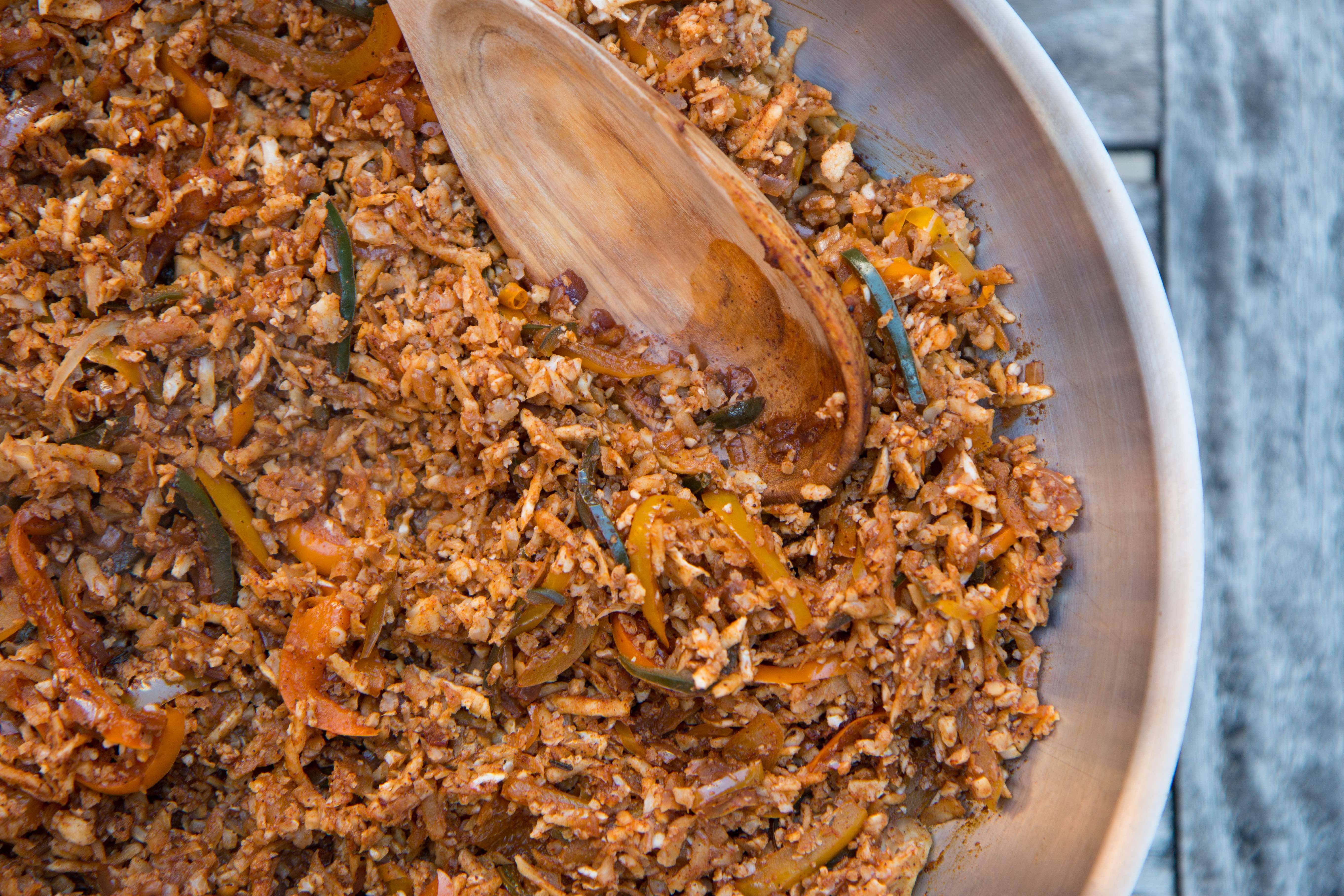 Add the dressing to the slaw, mix well, and assemble your taco bar. Don't forget to char your tortillas over the burner for a few seconds each side to make them pliable and bring out the flavor. Go loco with the toppings and enjoy a meatless #TacoTuesday.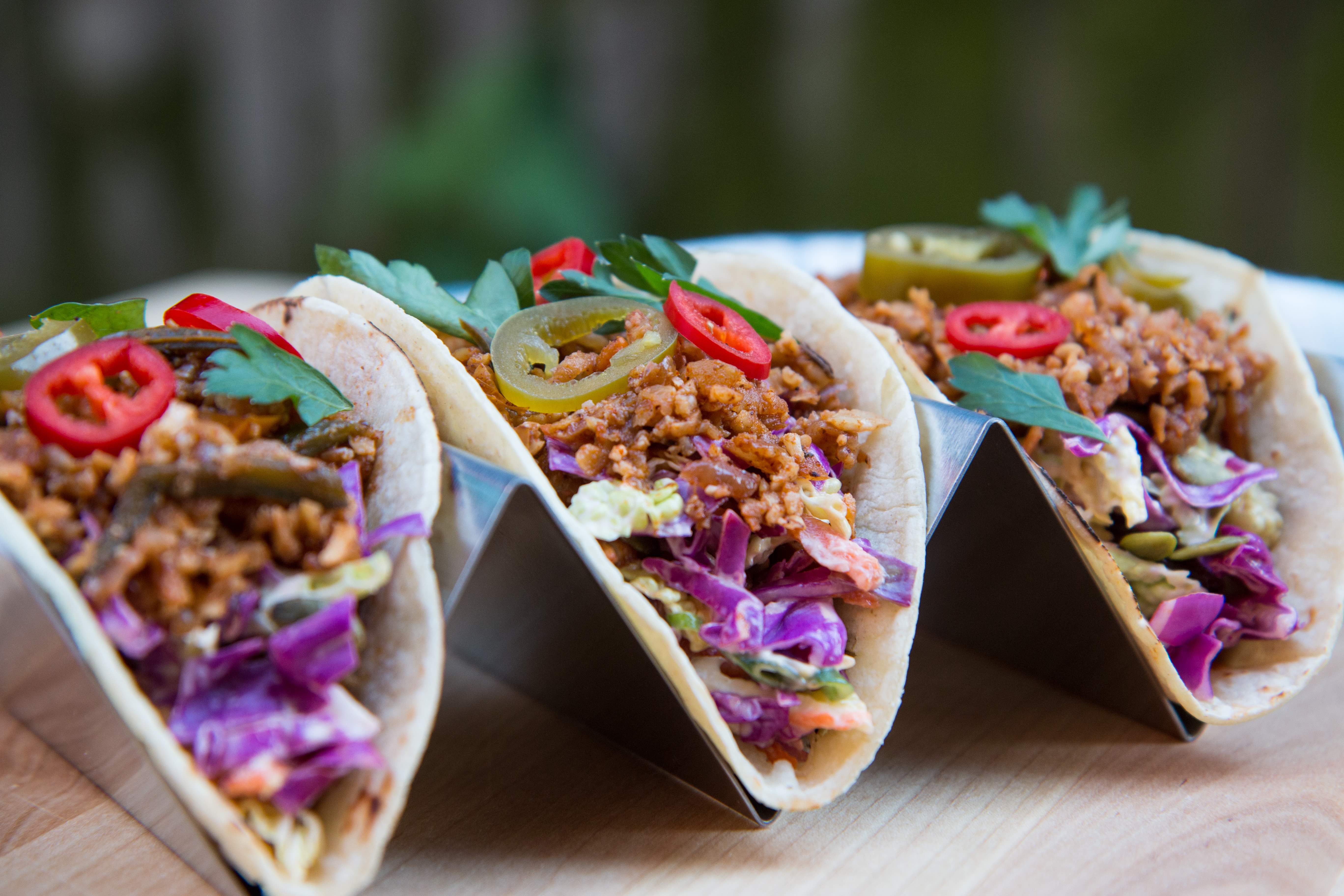 Vegetarian Cauliflower Tacos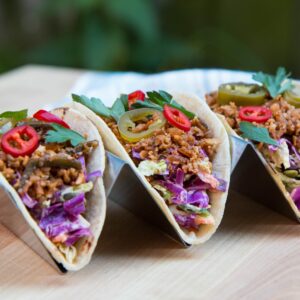 INGREDIENTS
For the tacos:
1 medium size head of cauliflower
½ a yellow onion, diced
½ red bell pepper, cut julienne(long sticks)
½ red bell pepper, cut julienne
1 poblano pepper, diced
3 cloves garlic minced
½ cup low sodium veggie or beef stock
Diced tomatoes for garnish
Pickled jalapenos for garnish
Corn tortillas
Olive oil
For the taco seasoning mix:
1 tablespoon smoked paprika
1 tablespoon ancho chile powder
1 tablespoon chili powder
1 tablespoon cumin
1 teaspoon coriander
1 teaspoon thyme
½ teaspoon cayenne pepper
For the slaw:
½ head red cabbage, finely sliced
½ head napa cabbage, finely sliced
2-3 carrots, peeled and grated
½ bunch green onions, finely sliced
¼ cup pepitas, toasted if desired
½ cup mayonnaise
Zest of half a lime
Juice of half a lime
1 tablespoon low sodium soy sauce
½ teaspoon toasted sesame oil
Kosher salt
Freshly cracked pepper
INSTRUCTIONS
For the Slaw:
Add the mayo and next 4 ingredients to a bowl along with a small pinch of salt and a couple cracks of pepper. Whisk well, adding 1-2 tablespoons of water to make the dressing pourable.
Check for seasoning, you want the flavor to be a little acidic, so you may need more lime juice. In a separate large bowl, add the red cabbage and next 4 and keep in the fridge along with the dressing until ready to serve.
Don't dress the slaw until you are ready to serve.
For the Taco Seasoning Mix:
Combine all the ingredients in a bowl and mix well. Any extra seasoning can be stored in your pantry.
For the Tacos:

Cut the cauliflower off the stalk and into florets. Place the cauliflower in a food processor, and pulse until the texture looks like chunky ground beef. Keep it slightly chunky otherwise it will turn to mush when cooked. You can also use a box grater on the grater attachment to your food processor.
Preheat a large cast iron pan over medium-high heat with 2 tablespoon of olive oil. Add the onion and next 4 ingredients along with 1 teaspoon of salt and a couple cracks of pepper. Cook for 7 minutes then add 3 tablespoons of taco seasoning mix. Cook for another 5 minutes, adding a little more oil if the pan looks dry.
Add the veggie/beef stock to the pan and cook until it has reduced by half. Add the processed cauliflower to the pan along with 1/2 teaspoon of salt and cook for 5 minutes, adding more veggie stock if the mixture looks dry. Check for seasoning, you may need a little more salt.
Toast some tortillas directly over the burner flame for 10 seconds each side or until they get a little charred. Season the slaw mixture with ¼ teaspoon salt and a couple cracks of pepper. Mix the slaw with just enough dressing to coat everything thoroughly.
To assemble tacos, put a layer of slaw in the bottom of the tortilla (will prevent a soggy tortilla), add some cauliflower mixture, and top that off with the tomatoes and jalapenos, or any toppings of your choice.
Enjoy!
Also try: Our recipe for Tempeh Tacos.