Build-Your-Own Ramen Party to Celebrate Chinese New Year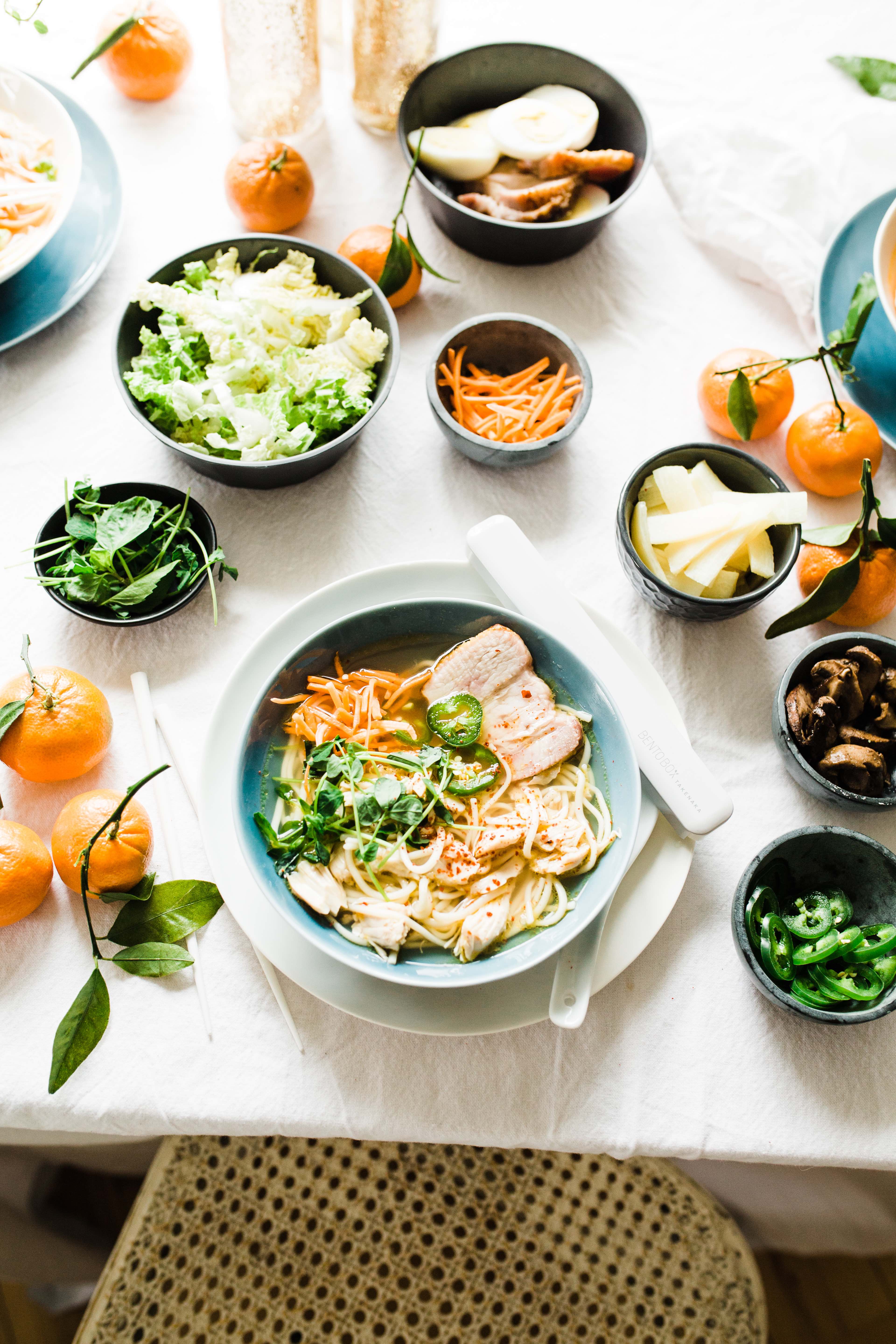 Just when you thought it was too late for your New Year's resolutions to last, the Chinese New Year swoops in and offers a second chance to start. Ring in an auspicious New Year with a few pals, a breezy ramen bar, and some sweet superstitions. Here's everything you need to know to kick off The Year of the Dog.
In 2018, Chinese New Year falls on Friday, February 16. It's a work day, so chances are you'll be thin on party prep time. No biggie. We've whipped this shindig up with you in mind. Starting with a homemade ramen… that you can make with a pressure cooker.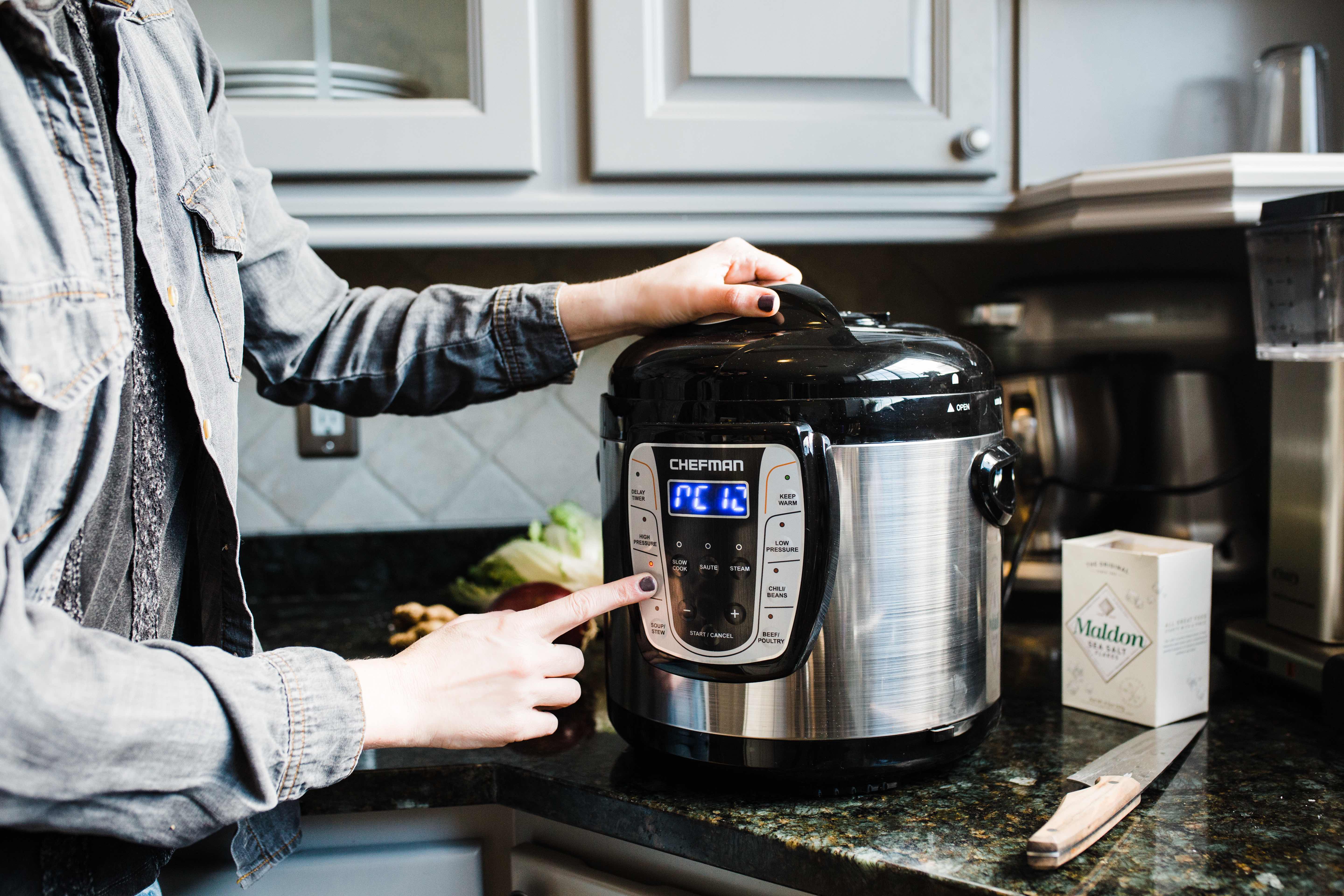 Make Your Own Ramen Bar
Kick those heels off, grab a glass of wine and crank up the smooth jazz. This party doesn't need much attention. Thirty-minutes or so before guests arrive, you can toss chicken, broth and a few basics into an electric pressure cooker like the Chefman Electric Pressure Cooker. Let it cook for just 15 minutes, and out with come the most tender chicken you've ever cooked.
As broth cooks, boil noodles, chop toppings, sip sake. By the time friends arrive, you'll be ready to welcome them into a warm and cozy kitchen. An array of savories laid out, ramen in the pressure cooker. Hand over big, beautiful bowls (like these from Kinto), pass out chopsticks and invite everyone to build their own and simmer into a mellow evening.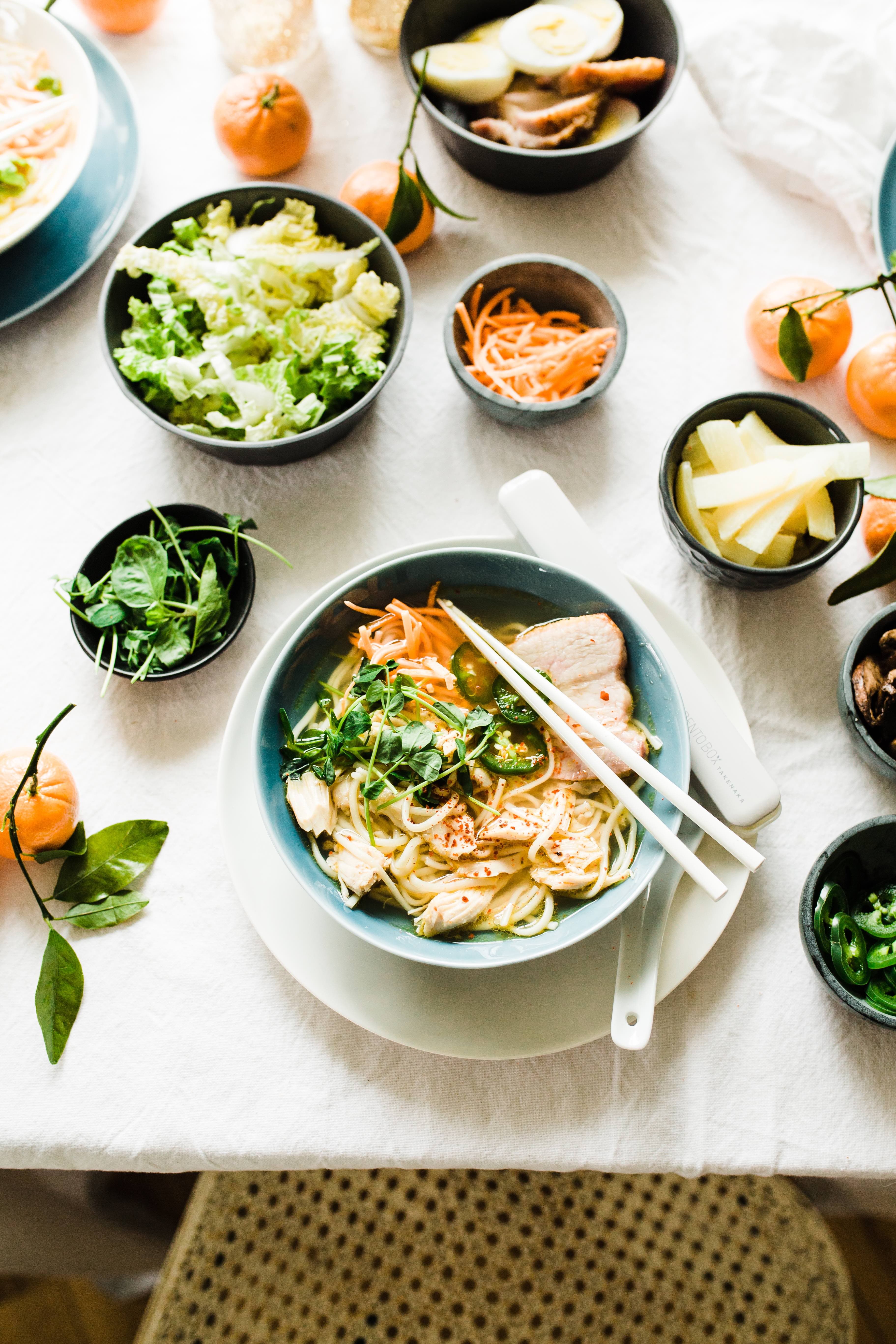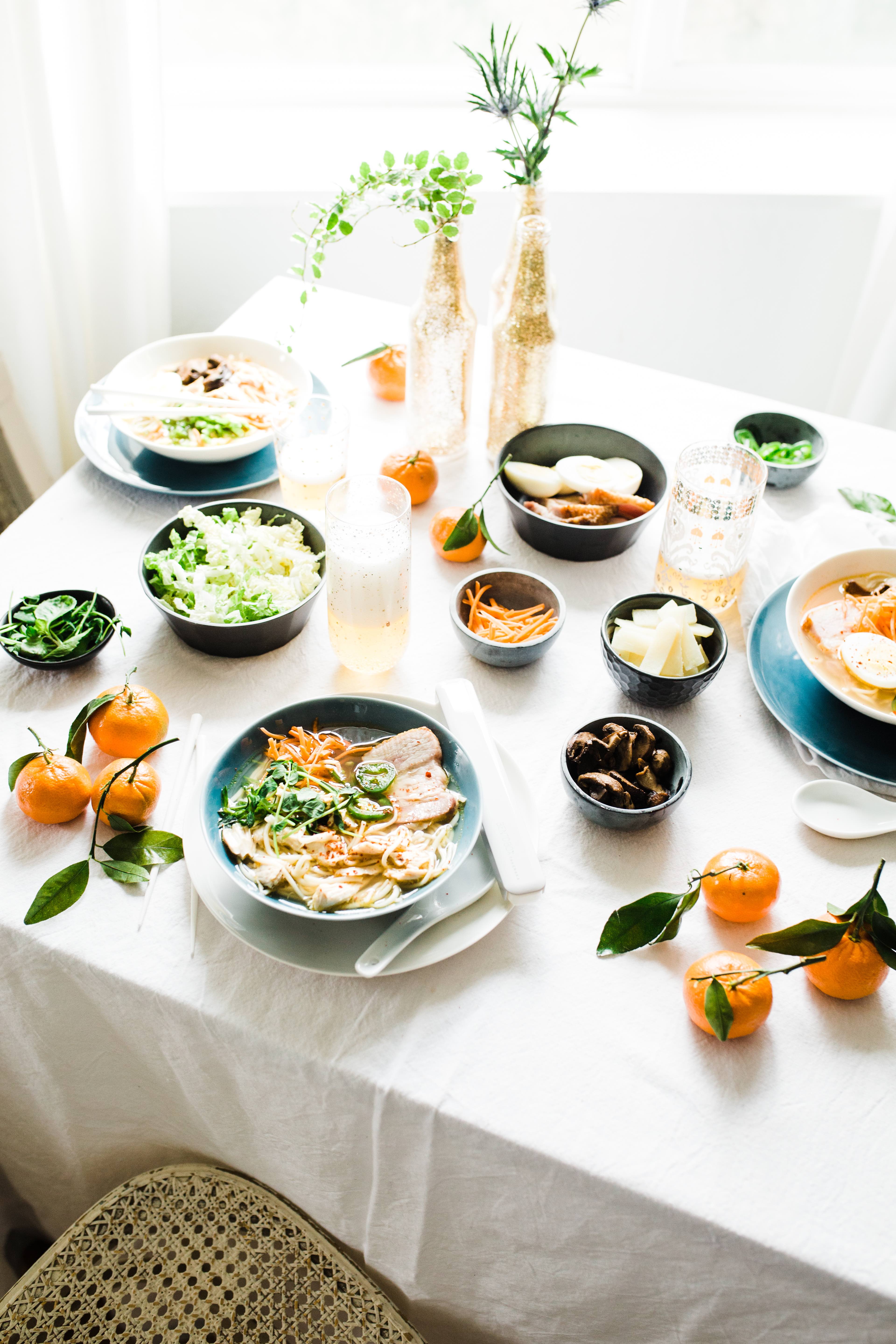 The perfect setup for a party – enjoy this breezy ramen bar, and some sweet superstitions!
Ingredients
For the Ramen:

1

yellow onion, halved

8

cloves garlic, peeled and halved

2

shallots, peeled and halved

1

1″ fresh ginger

2

(32 oz) containers chicken broth

2

split chicken breasts (uncooked)

9

oz

ramen, soba or udon noodles

salt and pepper

For the Toppings Bar:

5

boiled or soft-boiled eggs

.5

head napa cabbage, shredded

2

jalapeno peppers, sliced thin

1

can bamboo shoots and/or water chestnuts

1

cups

shredded carrots

1

cups

shitake mushrooms, sauteed

1

cups

pea shoots or bean sprouts

1

bunch green onions, sliced thin

1

bunch thai basil, stems removed

1

bunch cilantro, chopped
Instructions
In an electric pressure cooker, combine onion, garlic, shallots, ginger, chicken broth and chicken breasts. Salt generously. Secure lid, place vent to "airtight" and cook on High Pressure for 15 minutes.

Meanwhile, boil noodles according to package directions.

Once cooking cycle on chicken is complete, allow to depressurize naturally. Stir in noodles.

Serve with toppings and invite guests to make their own ramen bowls.
Nutrition
Serving:
1
g
Calories:
388
kcal
Carbohydrates:
39.4
g
Protein:
25.9
g
Fat:
13.6
g
Saturated Fat:
5.2
g
Cholesterol:
158
mg
Sodium:
2256
mg
Fiber:
4.2
g
Sugar:
5.7
g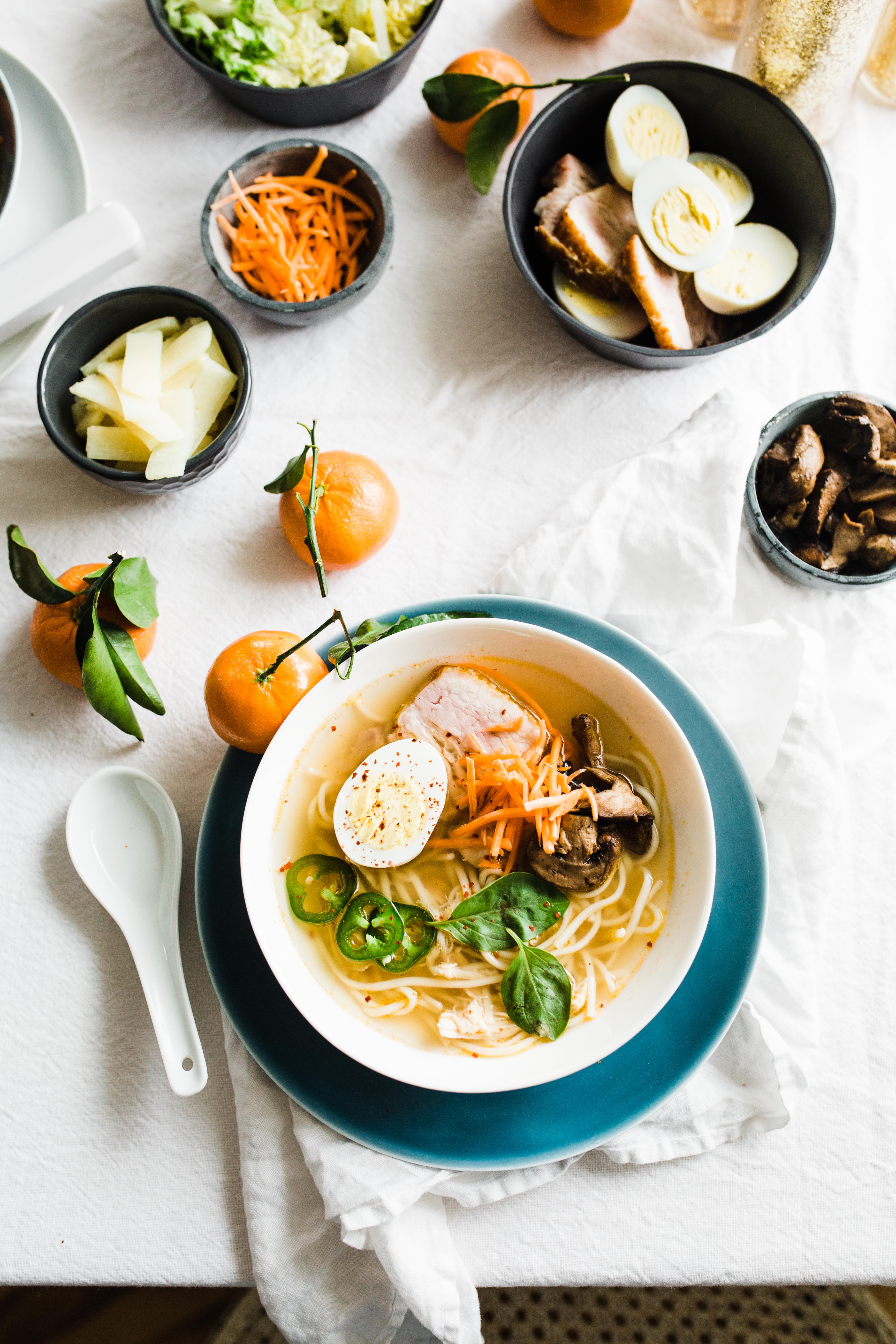 Party Favor Idea: Gift a case of Tanenaka chopsticks to each guest. The pure white plastic chopsticks come in a variety of colorful cases, so once everyone slurps their noodles, guests can tote them home as a reminder of the night!
On Point Party Decor
To welcome in an auspicious New Year, surround your party with the colors and symbols of joy, luck and prosperity. Red is a symbol of luck, joy and happiness. Gold represents prosperity. On the way home from work, grab a handful of red blossoms. And tuck them inside golden vases, surrounded by golden candles.
If you love crafting, here's a quick trick: spray the inside of glass bottles with spray adhesive and sprinkle with golden glitter. Swirl around to coat the inside of the glass, and you'll have gorgeous golden vases that look great on any party table.
Pile mandarins in the center of your table – a sign of good luck – and don't forget to remind everyone that those long noodles in their ramen are a symbol of a long and healthy life.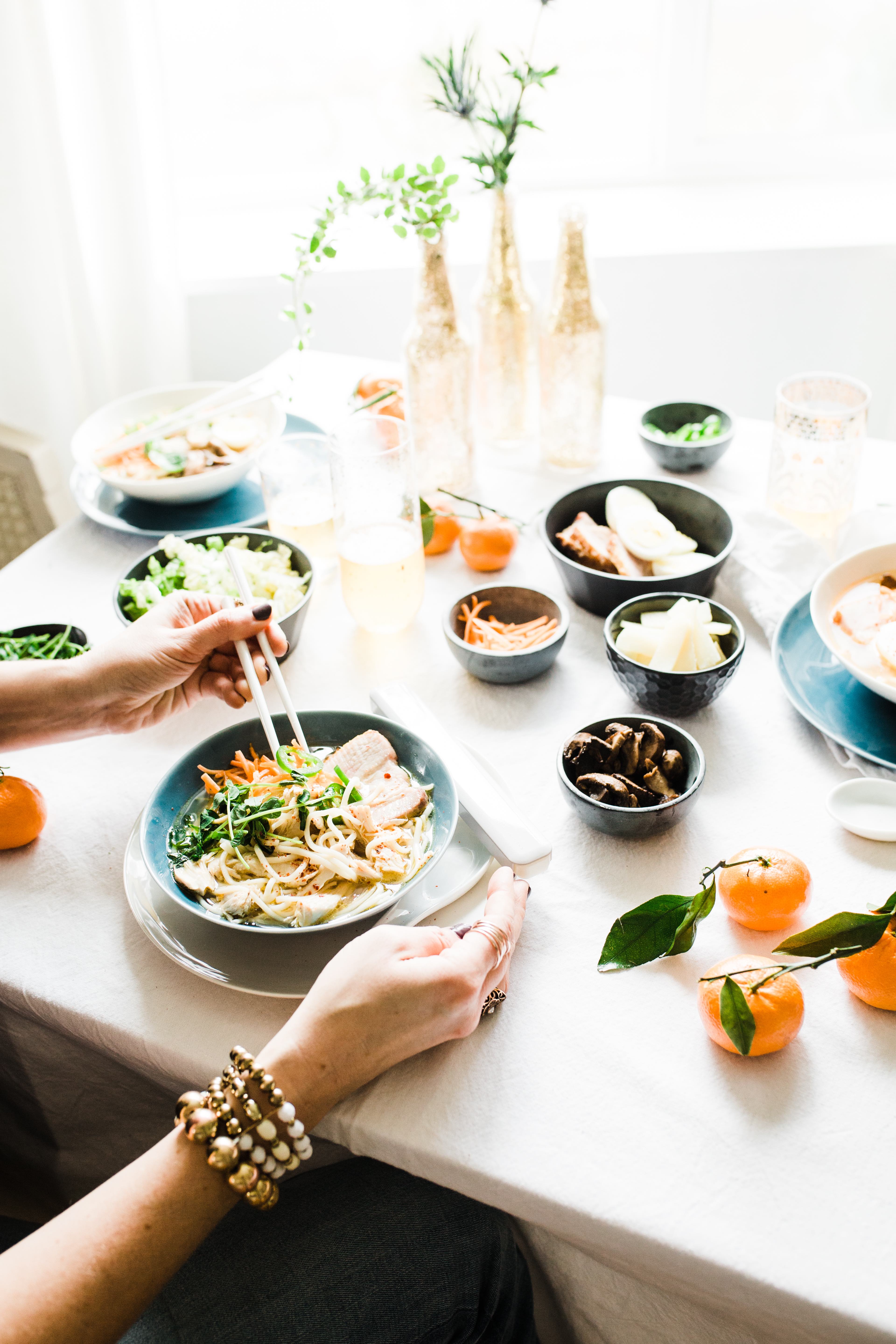 Wishing you and yours happiness and prosperity this New Year! Gong Xi Fa Cai!