Brûléed Citrus Is the Ultimate Winter Cocktail Garnish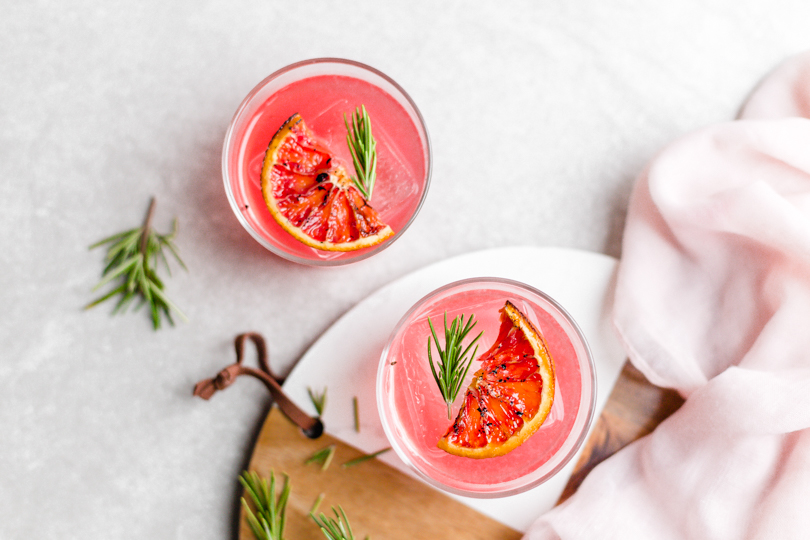 Citrus is in high season right now, and there's no better time to capture the nuances of each varietal. A minute under the culinary torch turns any citrus wheel into a visual (and flavorful) treat – the perfect winter garnish.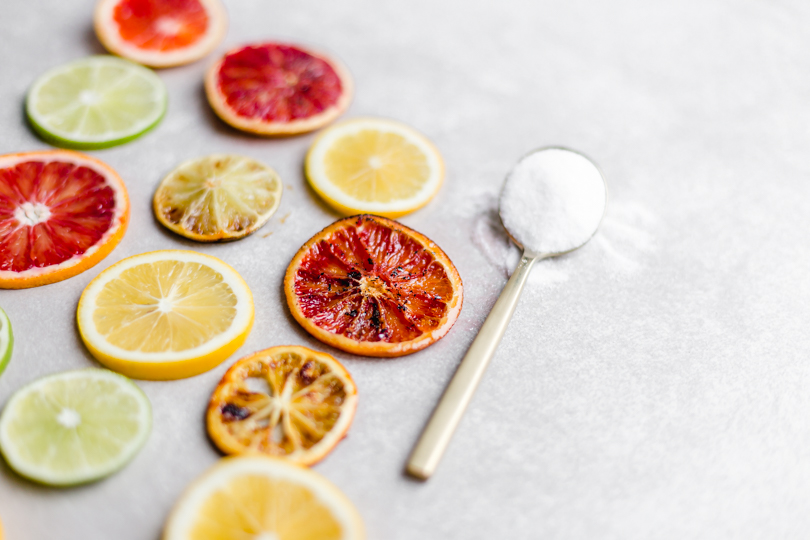 Has anyone else noticed over the past five or so years that seasonal citrus — I'm talking blood oranges, Meyer lemons, and the like — seem to have finally really entered the mainstream? It used to be that you'd have to go to a specialty market to find anything unique, but now I'm seeing blood oranges in particular absolutely everywhere (including a gas station convenience store last week). This is so very exciting, because it means more people have access to one of my absolute favorite winter ingredients.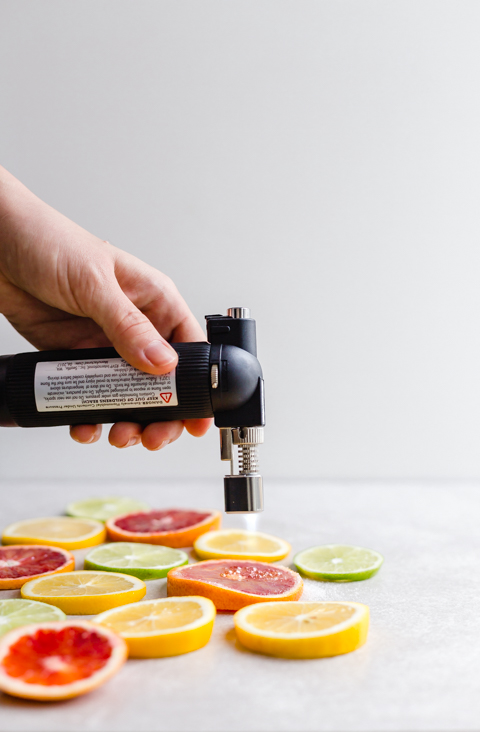 So here's why I'm pumped to mix with blood oranges (aside from their obviously gorgeous plummy hue): blood oranges are slightly more bitter — but less acidic — than a standard naval orange, which gives them the backbone to pair better with spirits. They also tend to have jammy berry notes, which gives them a wonderfully rounded and robust flavor.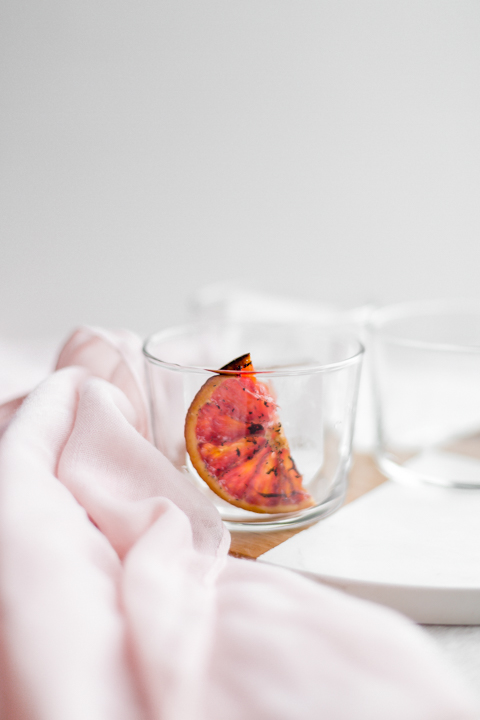 For this recipe, we're starting with a citrus cordial — essentially a citrus syrup — for a base. I make mine with a sous vide method, which you can read an excellent description of here, but anyone can achieve similar results by letting the mixture of peels, juice, and sugar sit overnight before straining. Adding the peels unlocks all of this citrus' most complex floral and bitter notes, which you just don't get by using the juice alone.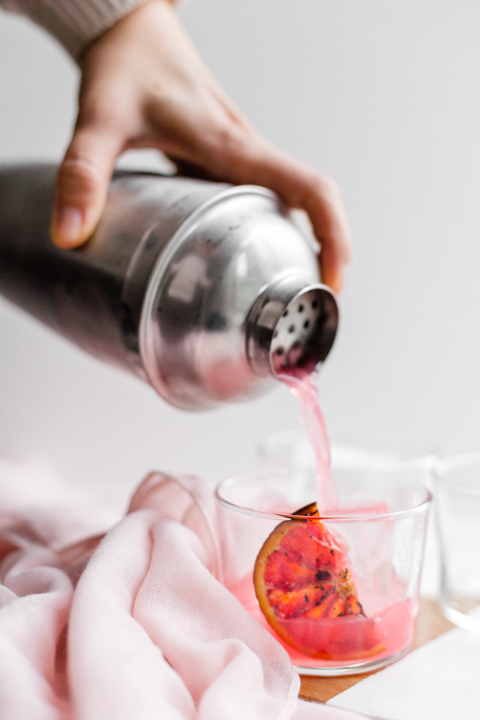 You can make any citrus into a citrus cordial using this same recipe — aside from blood orange, grapefruit is a particularly wonderful variety. Each one will have a slightly different acid level, and a completely different bouquet of aromas and bright citrus flavors. They're all so good you'll want to drizzle them over your morning yogurt, or your evening ice cream (both of which I highly recommend).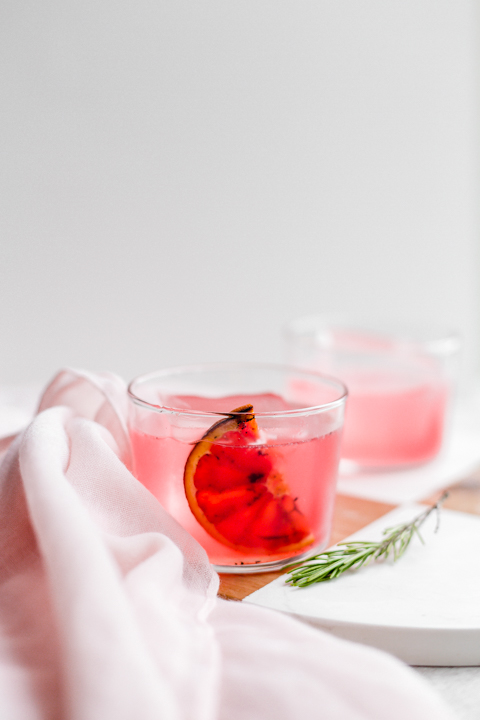 Now, onto the main event: the brûléed garnish. I really don't think brûléed citrus wheels have their equal for beauty and taste, and I use them so often in the winter months that I go through multiple canisters of isobutane, the gas that fuels my RSVP culinary torch. If you don't have a torch, get one! They're inexpensive, take up very little space, and are indispensable for brûlée jobs. You can absolutely throw your citrus (or your creme brûlée – let's not limit ourselves to citrus here) under a broiler to get almost the same effect, but a broiler tends to cook something all the way through, which isn't always ideal. A torch gives you the control to give just the top layer a charred, sugary crunch, while leaving the rest of your fruit or dessert intact.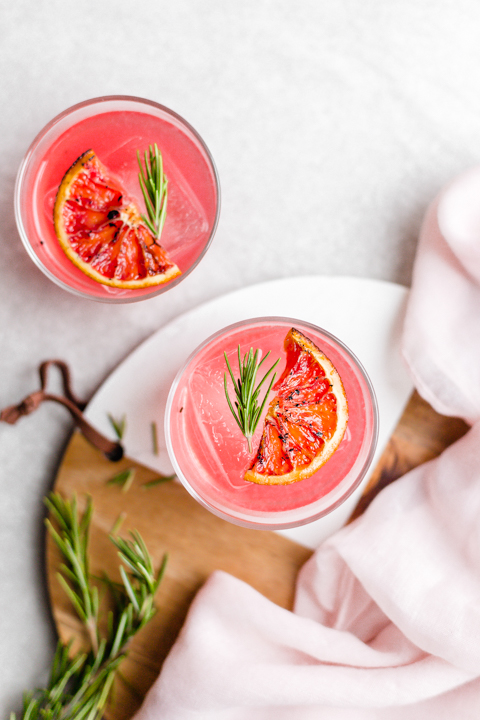 Brûléed Blood Orange Citrus Cocktails
Citrus is in high season right now, and there's no better time to capture the nuances of each varietal. A minute under the culinary torch turns any citrus wheel into a visual (and flavorful) treat!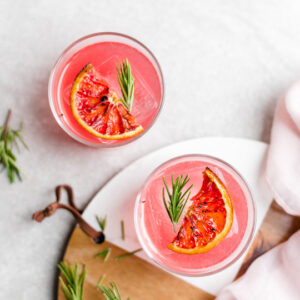 Ingredients
For the Cocktail:

2

oz

vodka

1

oz

citrus cordial

.5

oz

fresh squeezed/strained lemon juice

Tiny pinch of salt

For the Cordial:

Blood oranges (however many you'd like, at least 3)

Sugar

For the Brûléed Citrus Wheels:

Sliced Blood Orange

sugar
Instructions
For the Cocktail: Combine all in a cocktail shaker filled with ice. Shake and strain over one large ice cube or into a chilled coupe.

For the Cordial: Using a peeler, remove the zest from the oranges in wide strips, trying to avoid the bitter white pith as much as possible. Use a paring knife to slice or scrape off any excess pith from each strip.

Juice the oranges, then weigh the juice on a kitchen scale. Add the juice and an equal amount (by weight) of sugar to a blender, and blend on high speed until the sugar dissolves.

If using the sous vide method, carefully transfer the peels and juice/sugar mixture to a plastic bag, and seal according to sous vide instructions. Submerge in a 135 degree Fahrenheit water bath for 2 hours, then plunge bag into an ice bath to cool. Strain before use and store in the fridge.

For the Brûléed Citrus Wheels: Place the citrus wheels on a heat proof surface (like a baking sheet) and add a small amount of sugar to the top, just enough to cover in a thin layer.

Using a circular motion, pass the flame of a culinary torch repeatedly over the sugar until it boils and turns lightly charred and amber.

*Alternately, use a broiler set on high to caramelize the sugar, or char the sugared citrus wheels on a hot grill.
Nutrition
Serving:
1
g
Calories:
65
kcal
Sodium:
2765
mg