Tips for Celebrating the Holiday Season with Friends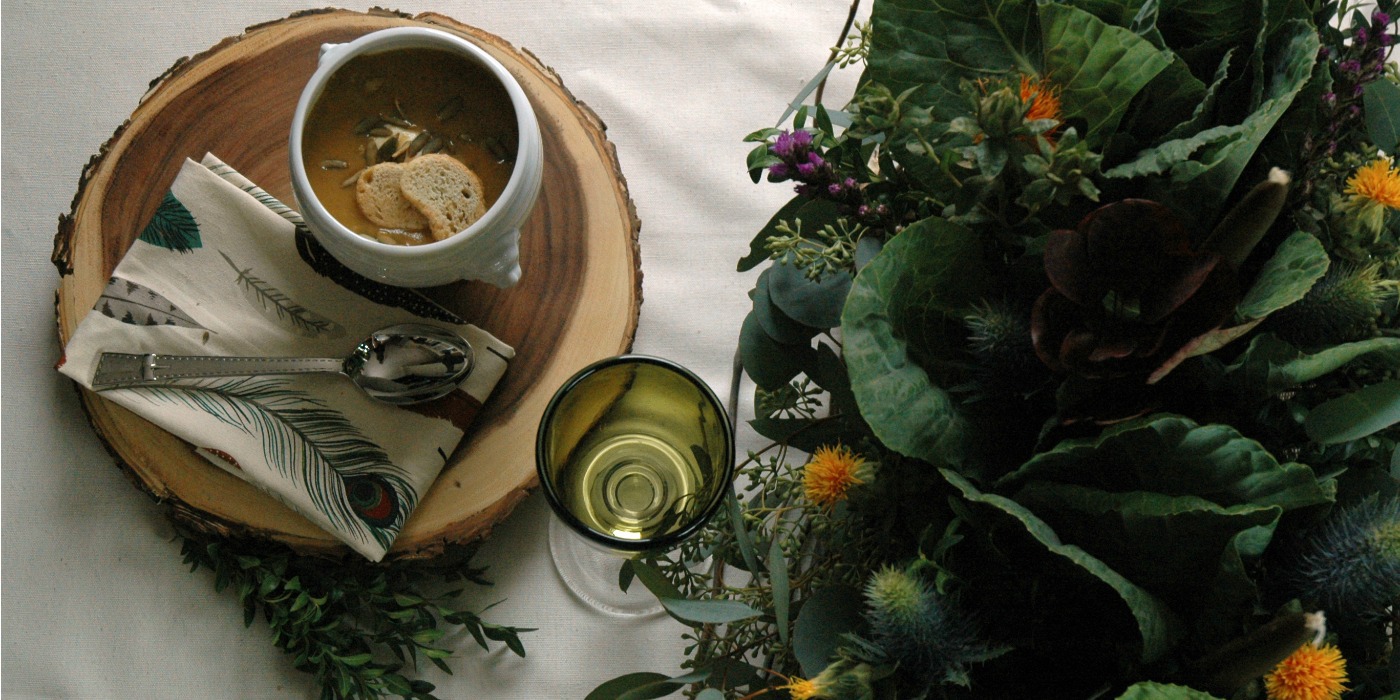 It seems that as soon as fall arrives we are bombarded with holiday get togethers and parties we must attend straight through until Valentine's Day. But what about all those people we spend the rest of the year with, friends and family that we really love spending time with? How do you make time to continue to see those people in the midst of the holiday frenzy? My suggestion … invite them over for an easy weekday dinner of Cauliflower + Butternut Squash Soup to warm up your body, soul and spirit.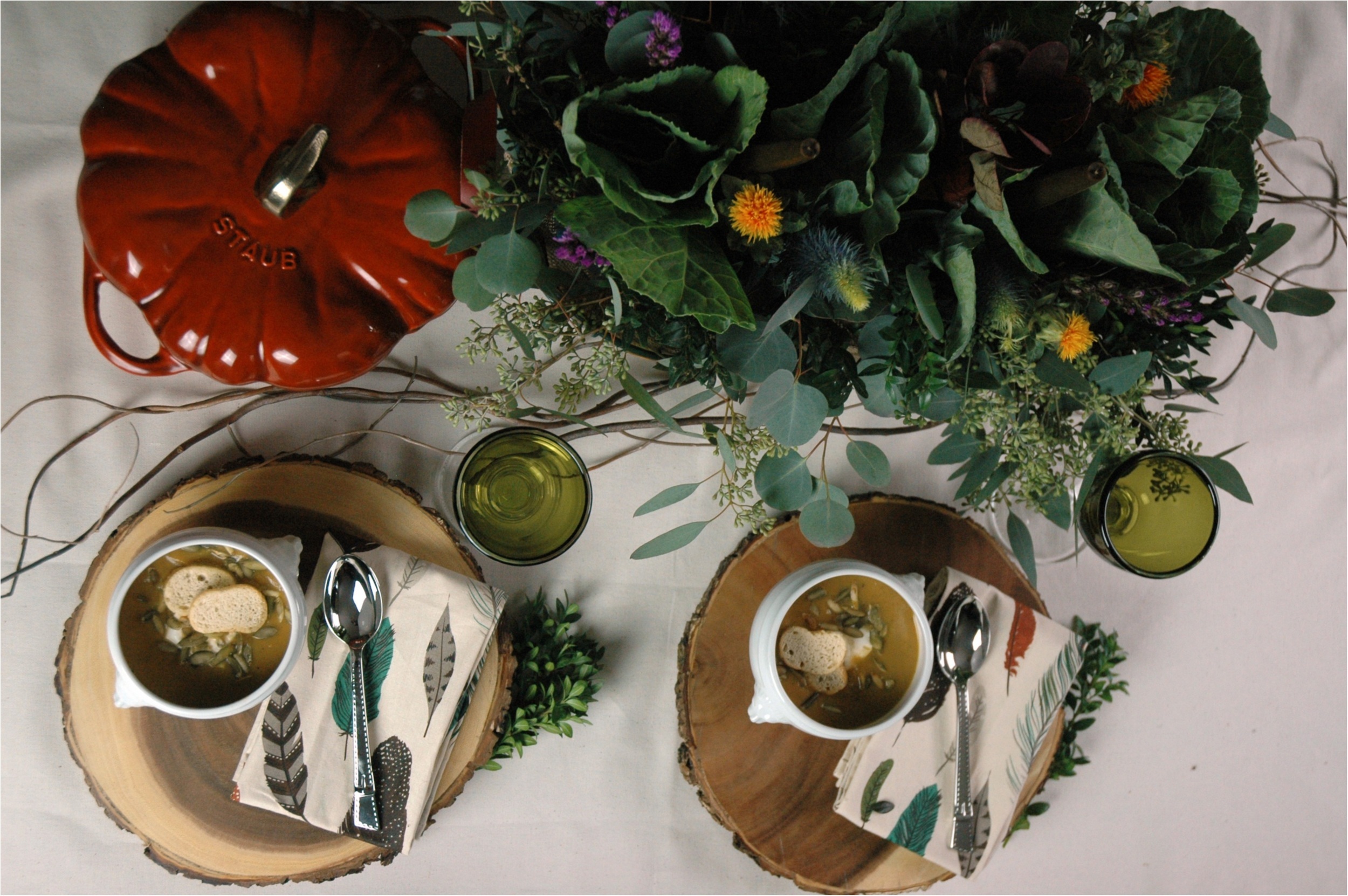 Call it a belated Friendsgiving, Holiday with the Neighbors or a Potluck Gathering, whatever you please, just keep the menu simple so no one is stressed out over cooking numerous courses. Set a lovely table with a clean linen tablecloth, wood slab chargers and fresh boxwood clippings and in the center, a floral centerpiece filled with a mixed bouquet from the market and clippings from your backyard — perfect for lingering around deep in conversation until the last drop of wine is gone.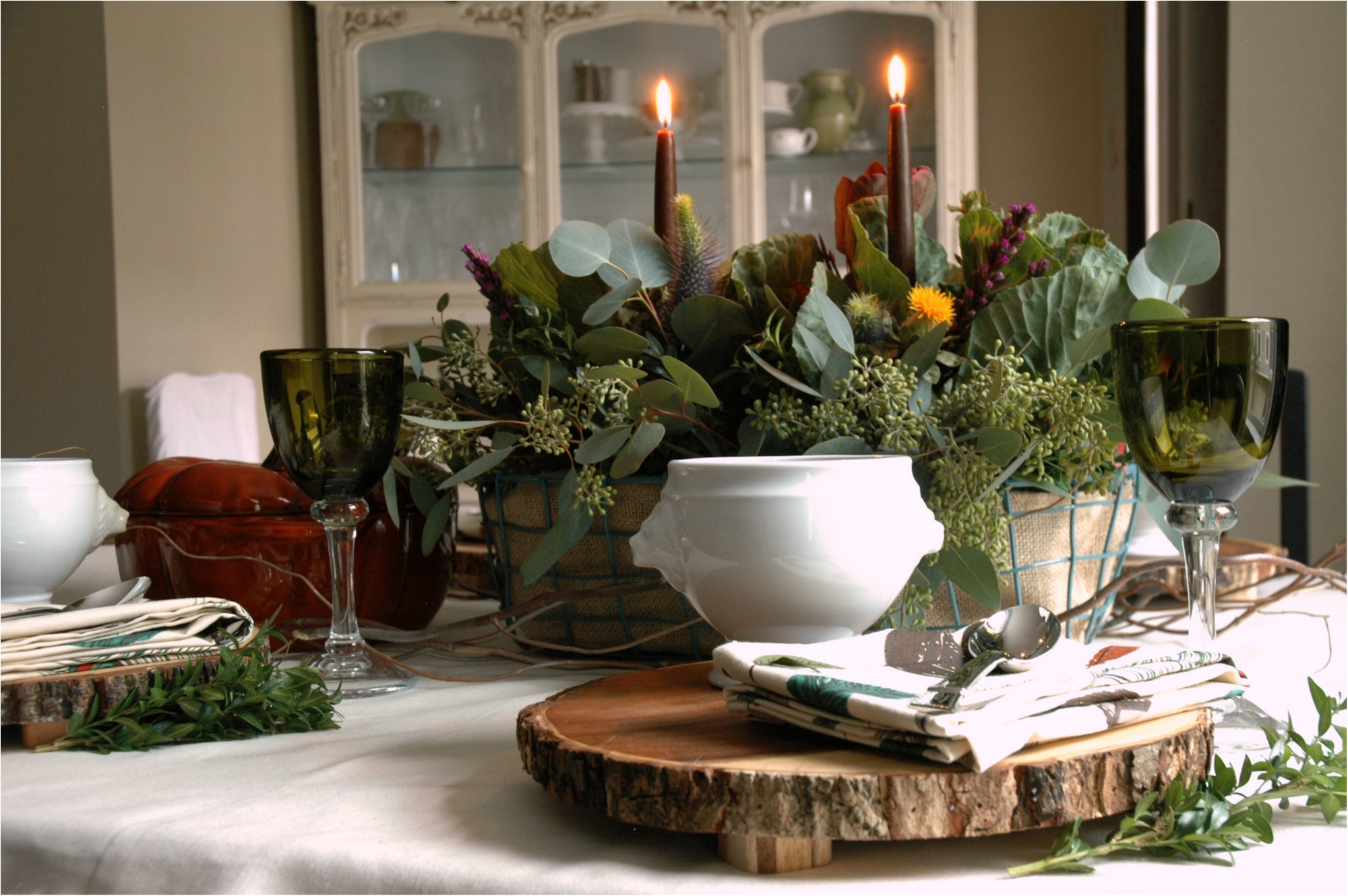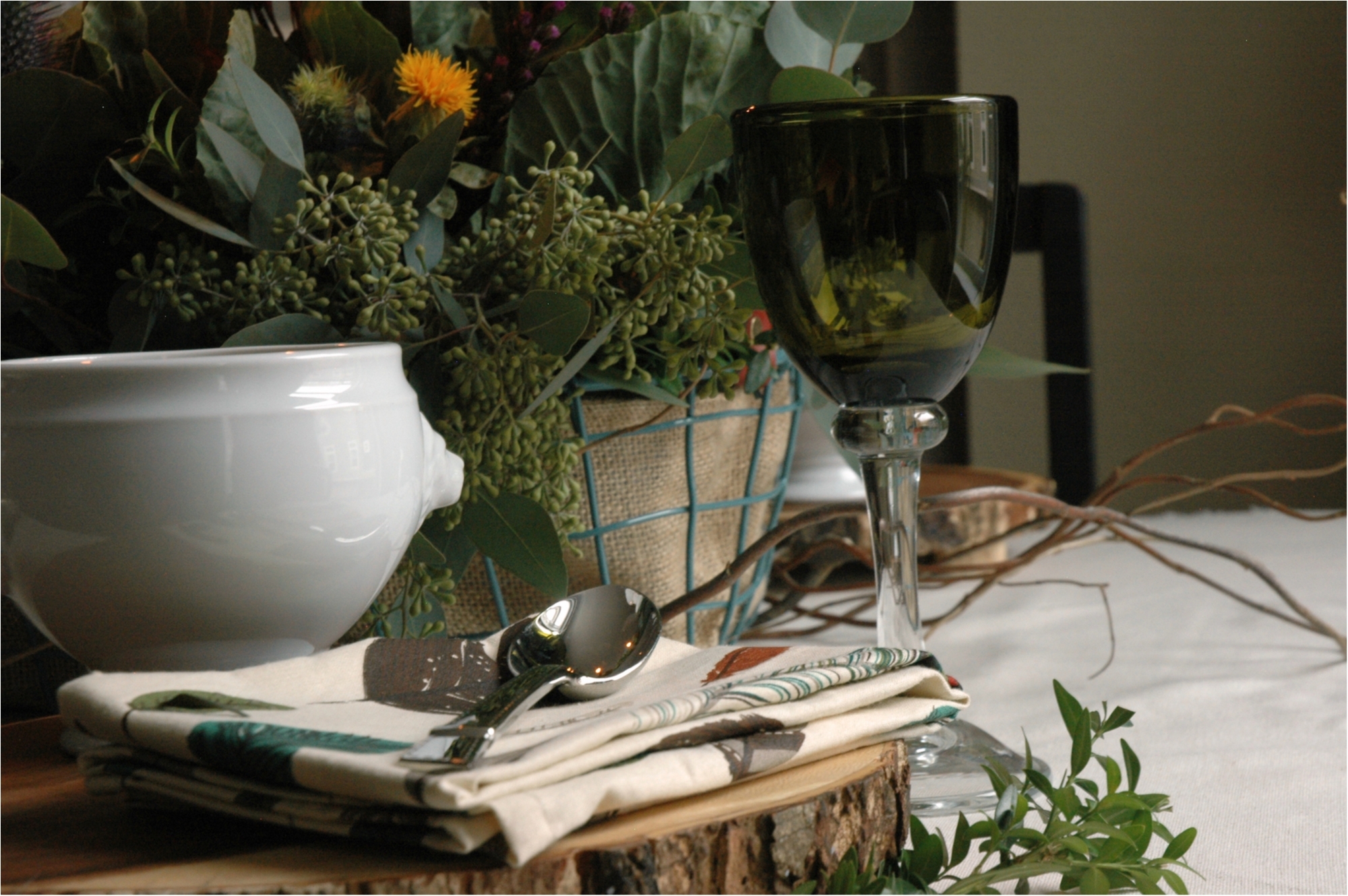 A pop of color from the flowers is all you really need. Let the rest of the table remain neutral in its overall feel and let the toasted butternut squash bring the color to each placesetting.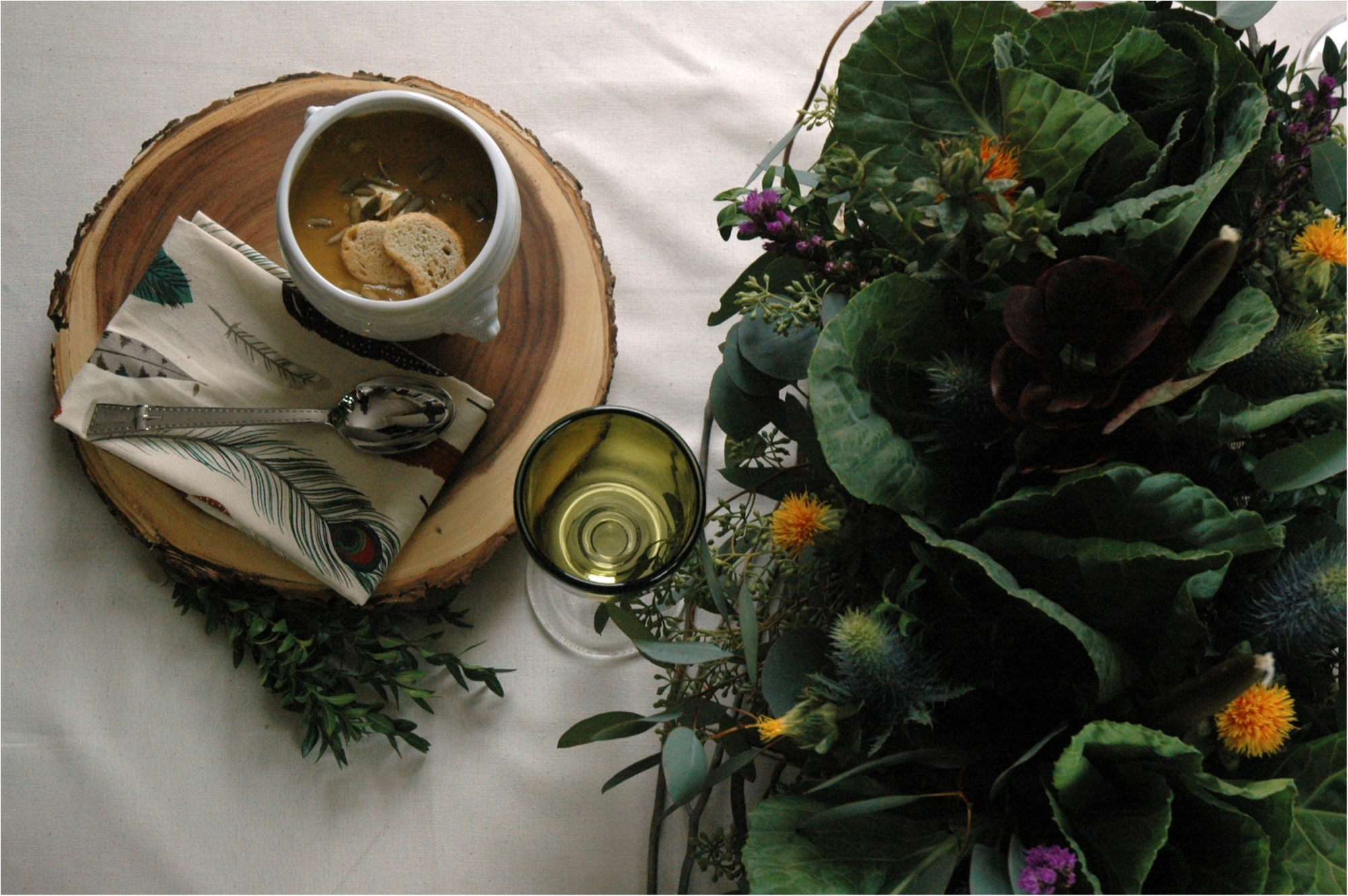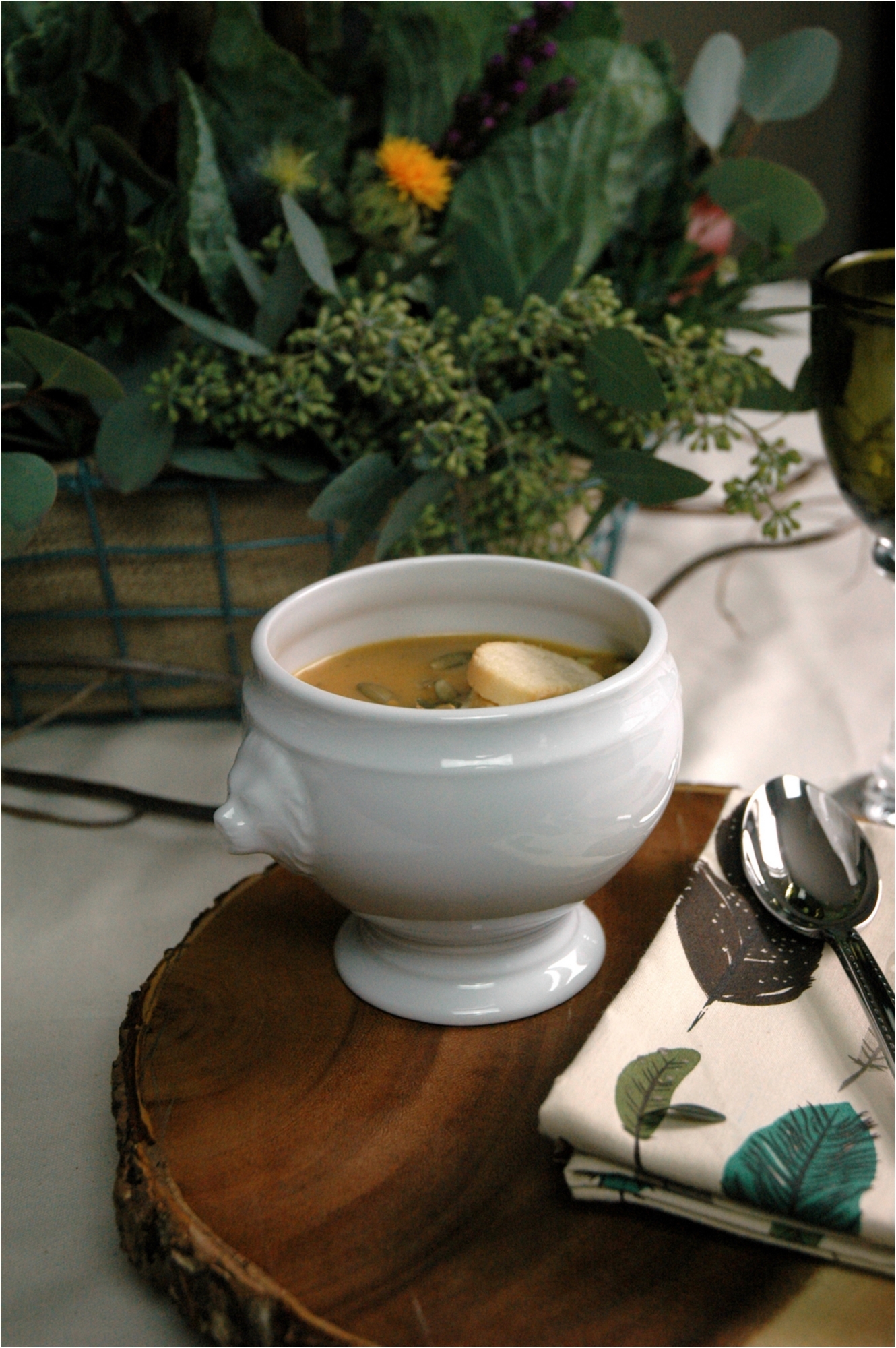 If you have been reading my articles here, or had the chance to take a peek at my book An Appealing Plan — A Year of Everyday Celebrations, you know I love to add a touch of nature to all my tables and this table is no different. The clean white Lenox Lions Head Soup Bowls look regal but approachable on top of the wood slab chargers and the Design Imports feather detailed napkins continue the nature theme through the setting.
Enjoy these private moments with close friends as they are a reminder of what we are truly thankful for.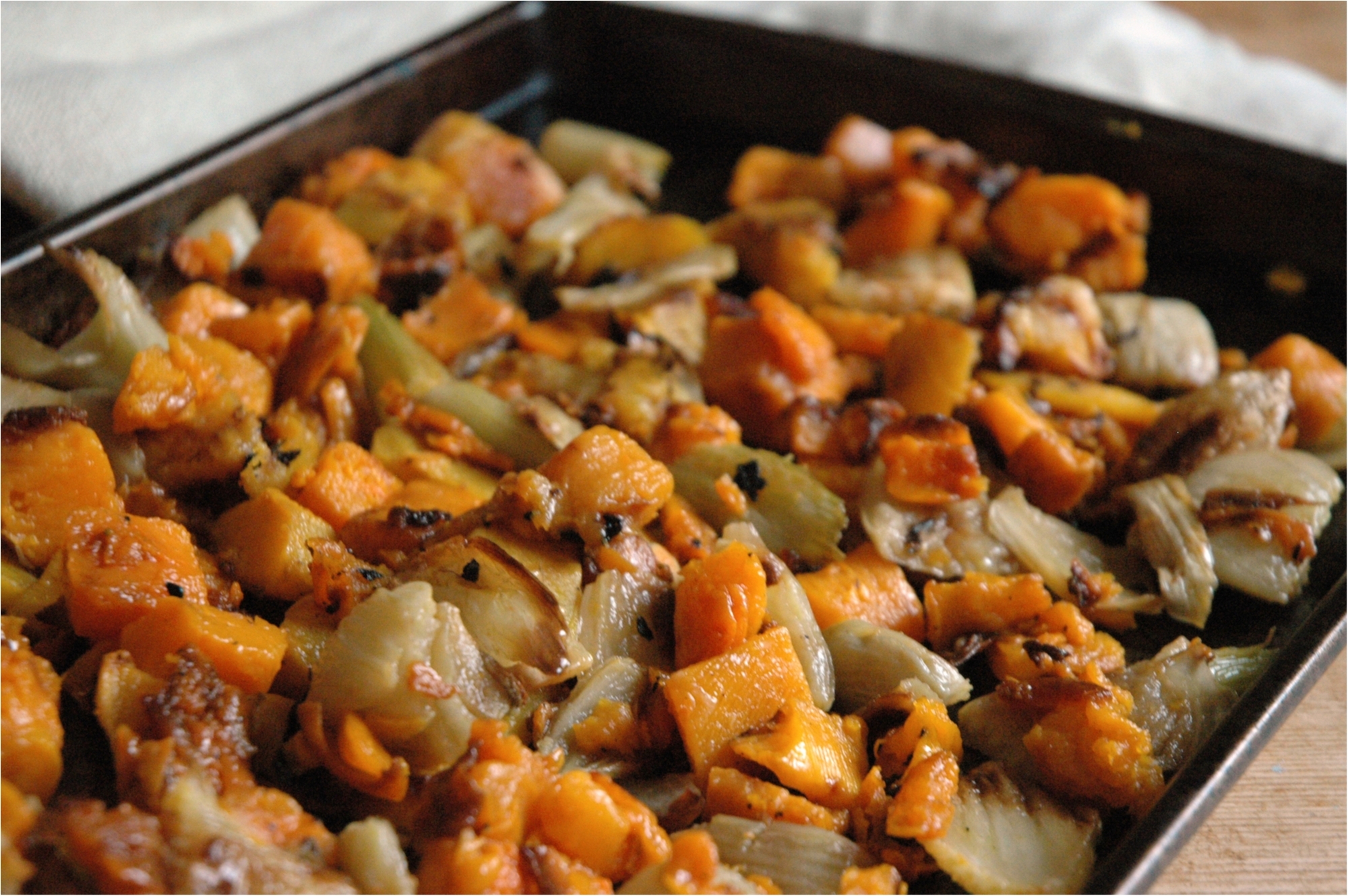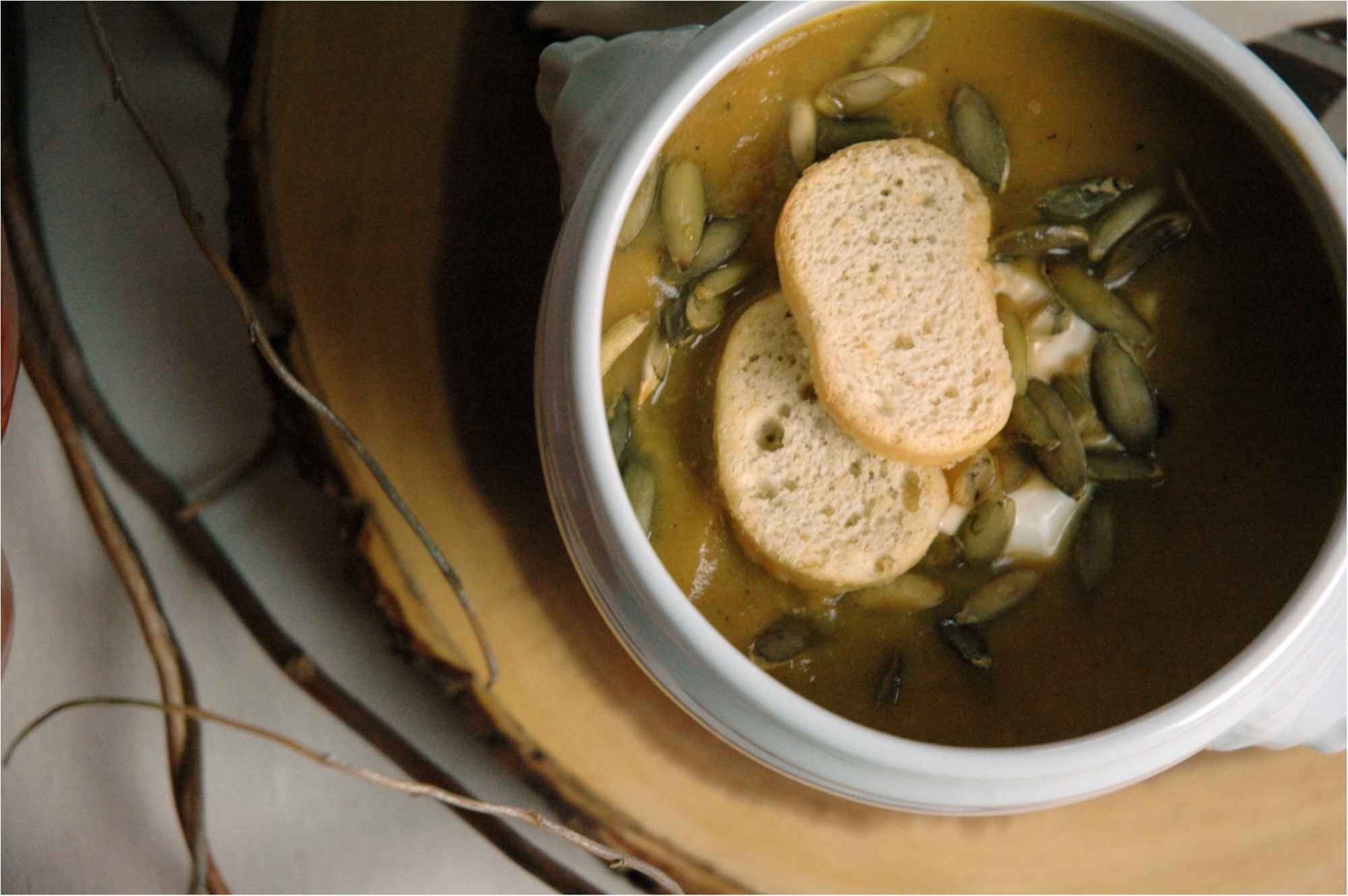 Roasted Cauliflower + Butternut Squash Soup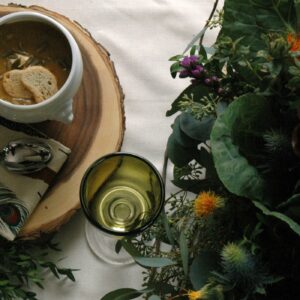 INGREDIENTS
3 tablespoons extra virgin olive oil
Kosher salt
1 medium butternut squash, peeled, seeds removed, cubed into 1 inch pieces
1 fennel bulb, white bulb only, cut into 2 inch pieces
1 cauliflower head, cut into 2 inch pieces
2 tablespoons unsalted butter
1 onion, chopped
4 cups stock, chicken or vegetable
1 tablespoon fresh thyme, finely chopped
2 bay leaves
½ teaspoon allspice
Bite size crostini, toasted
Toasted pepitas
INSTRUCTIONS
Preheat the oven to 425 degrees. Coat squash, fennel and cauliflower with olive oil, season with a little salt, spread on a baking sheet and roast for 15-20 minutes. Flip over and roast for an additional 10 minutes, until slightly browned on both sides.
In a large soup pot, melt butter, onion and thyme. Sauté until the onion is translucent.
Add roasted vegetables, bay leaves and stock to soup pot. Bring to a boil, reduce heat and simmer for 15 minutes.
Add all spice to soup mixture and remove bay leaves.
Carefully transfer hot liquid into a blender and blend until smooth, approximately 2 minutes.
Return to the pot and serve topped with crème fraiche, crostini's and toasted pepita seeds.
NOTE: This recipe makes a large batch for entertaining; however, excess can be refrigerated up to 2 days or placed in the freezer to be served at a later date.