Asian Dumpling Recipe with Bok Choy and Chicken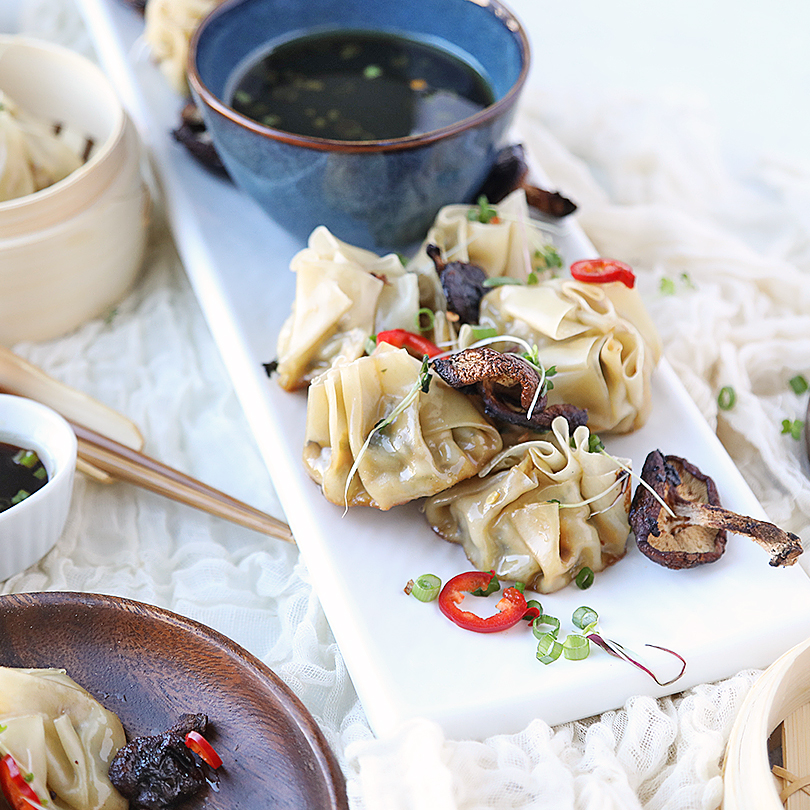 Every single time I eat Chinese food, there are two certainties. I will ALWAYS order crab Rangoon and Asian dumplings (pot stickers). I'm not even sure where this desire came from but now that I've started it's literally impossible for me to quit. I've made Asian dumplings quite a few times and the second I eat it, I always wonder why I don't make them more often because they are quite easy to prepare.
Traditionally, Asian dumplings are made with ground pork so to change things up I used ground chicken. Honestly, after you load the filling up with soy sauce, sesame oil and a few other goodies, you won't even be able to tell what kind of protein is in it.
In addition to changing up the meat in these Asian dumplings, I also added in a few extra things like roasted shiitake mushrooms and snow peas. I wanted to add a touch more umami flavor with the mushrooms to help compensate for using chicken instead of pork. It definitely adds a nice meaty flavor and texture to the dumplings and honestly, I'm thinking I'll be doing it for here on out. It was that good.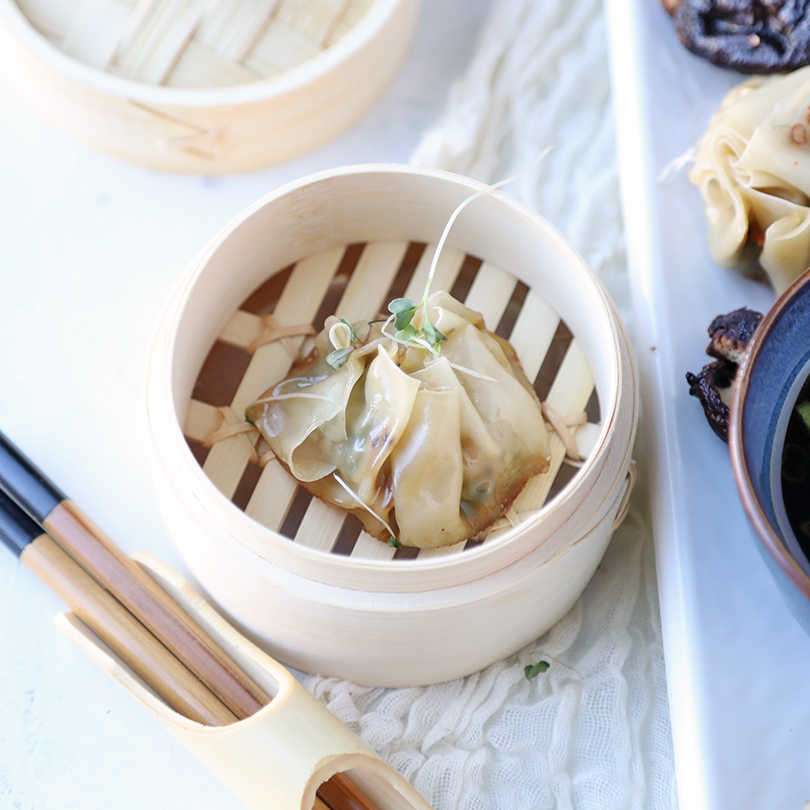 When I was preparing these Asian dumplings the first time around, I bought some smaller wontons and used a circle cutter to form them. Well, let me save you some time, buy the bigger wonton sheets that are labeled egg roll wrappers. They are the exact same width but they are much larger and can hold more filling. The first time I made them they were so incredibly small that honestly, they would be annoying to make. Use the bigger wonton sheets and the large circle cutter and you'll be good.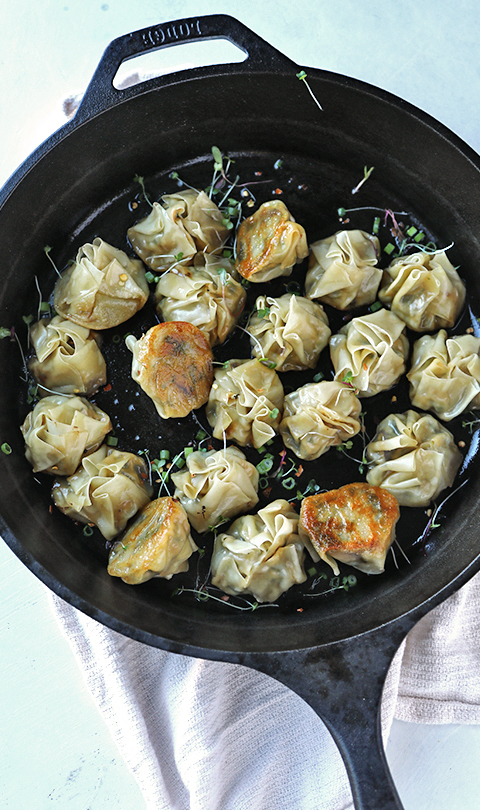 There are a few ways to cook Asian dumplings: boiling, steaming and searing. I did a little combo of steaming and searing to get the effects of incorporating moisture into the dumplings and then caramelizing the bottom of them to help bring out even more flavor. This is hands down my favorite way to prepare them.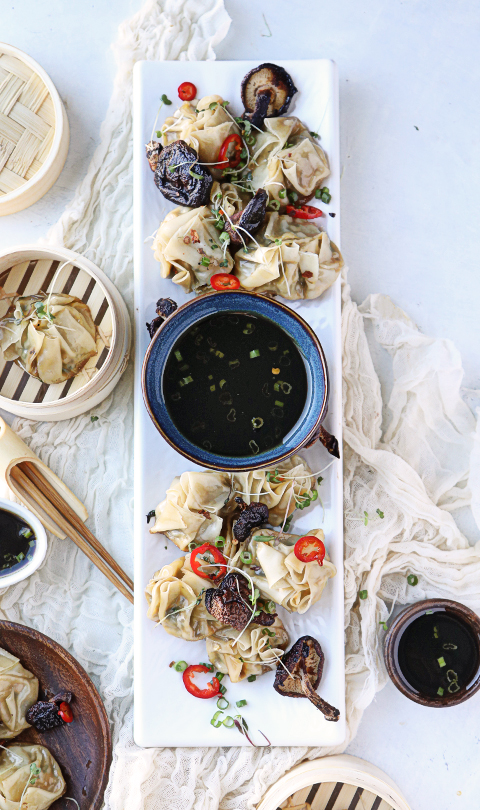 If you notice in the video, I used parchment paper in the steamer, however you can absolutely use some Napa cabbage or some other thick green leafy vegetable. In case you didn't know, you use the parchment or cabbage to keep the Asian dumpling from sticking to the steamer.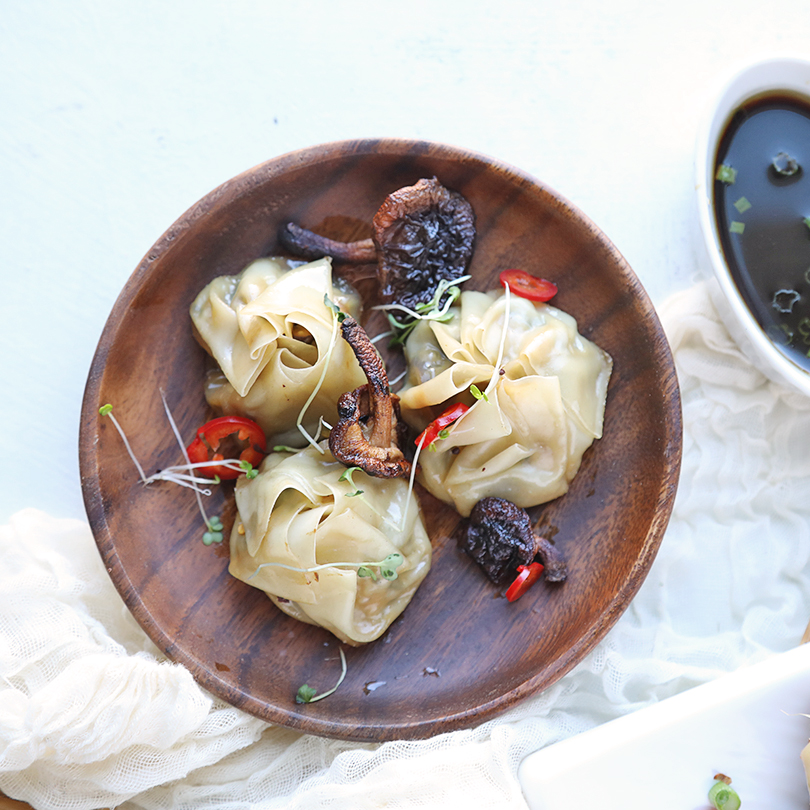 If you love being creative and are looking to create a Chinese restaurant favorite at home then for sure check out this Asian Dumplings Recipe with Bok Choy and Chicken.
Asian Dumplings Recipe with Bok Choy and Chicken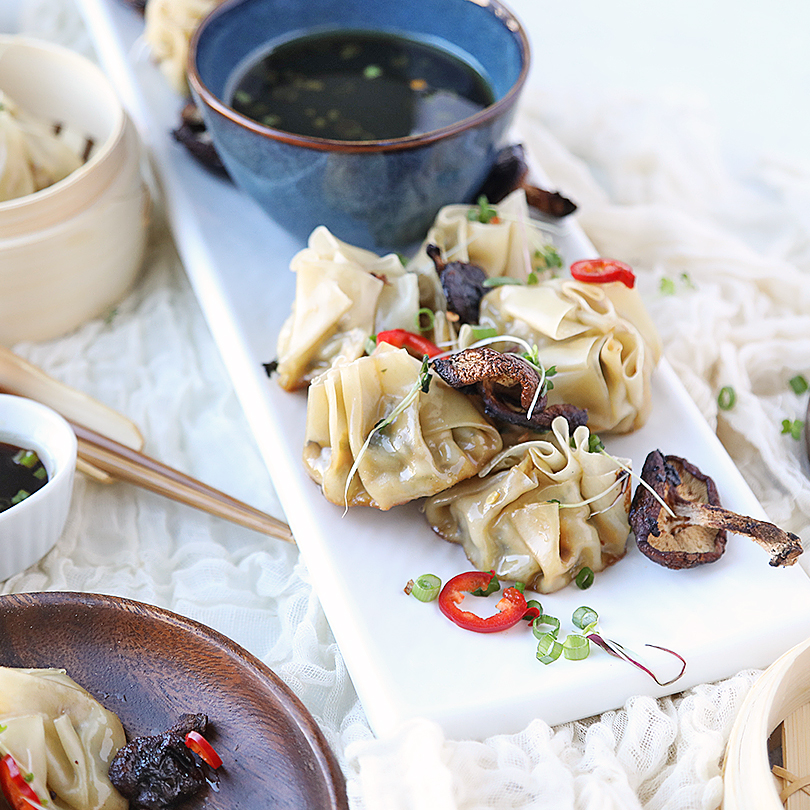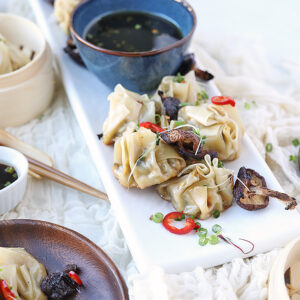 INGREDIENTS
1 teaspoon of sesame oil + 3 tablespoons
1 cup of sliced shiitake mushrooms
½ cup of thinly sliced snow peas
½ head of thinly sliced bok choy
1 pound of ground chicken
½ cup of sliced green onions
¼ cup of chopped fresh cilantro
4 finely grated cloves of garlic
1 tablespoon of finely grated fresh ginger
¼ cup of soy sauce
2 whisked eggs
Kosher salt and fresh cracked pepper to taste
36 large wonton sheets cut into circle rounds
Optional Garnishes: sliced green onions, red pepper flakes, sliced fresno peppers, roasted shiitake mushrooms and micro-greens
Optional Sauce: ¼ cup of soy sauce whisked with ¼ cup of rice wine vinegar, 1 teaspoon of sugar and 2 tablespoons of sesame oil
INSTRUCTIONS
In a medium size sauté pan over medium heat, add in 1 teaspoon of sesame oil and sauté the mushrooms and snow peas, about 3 to 4 minutes.
Transfer the mixture to a bowl and chill in the refrigerator until cool.
Next, add the 2 tablespoons of sesame oil, bok choy, ground chicken, green onions, cilantro, garlic, ginger, soy sauce, whisked eggs and salt and pepper. Mix until combined.
Next evenly distribute the filling between 36 wonton sheets and place it right in the center.
Using your finger dab some water around the outside edge of the wonton and fold all of the sides up to the center and twist. Repeat until they are all finished.
Add the bamboo steamer to a wok 1/3 of the way filled with boiling water and place on a fitted sheet of parchment paper. Add as many dumplings to the steamer as possible with leave a ¼" inch around the outside so they do not stick to one another.
Steam for 15 to 20 minutes.
Add 1 tablespoon of sesame oil to a large frying pan over medium heat and sear the bottom of the dumplings once they are finished steaming until they are golden brown.
Remove from the sauté pan and serve with optional garnishes and sauce.