Apple Crisp Stuffed Baked Apples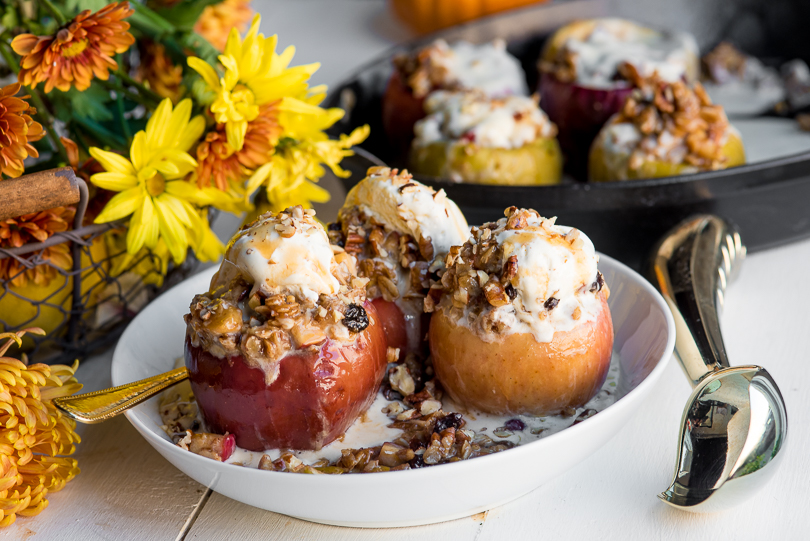 Nothing screams fall like warm spiced baked apples. Stuff those baked apples with a delicious double crisp filling and top with ice cream and caramel sauce for the perfect fall treat!
The leaves are starting to fall and I've been rocking the Ugg boots and plaid for weeks now (so classy I know!). Fall is in full swing here and I'm obsessing about all things apple and pumpkin and acorn squash.
Baked apples are pure fall comfort food and this recipe? I hate to brag but I'm pretty sure they are the best baked apples I've ever eaten.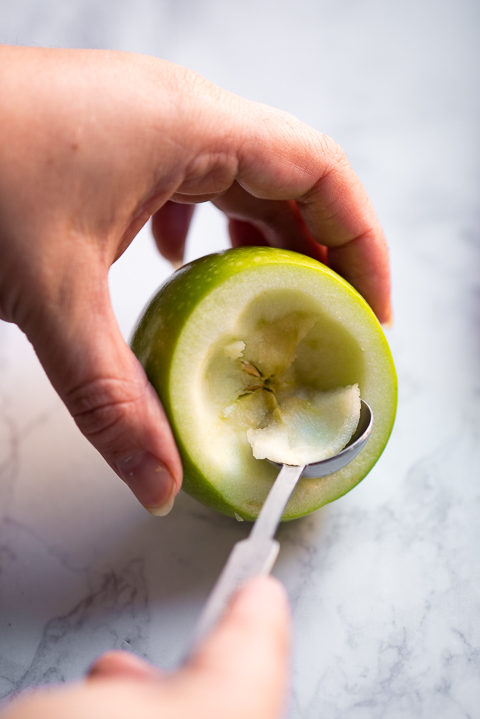 Scooping out the apple cups is a few minutes of focused effort but really isn't hard at all. Using a sharp spoon, or a measuring spoon with sharp edges also works fabulously. Then brush the apples with butter and pop them in the oven!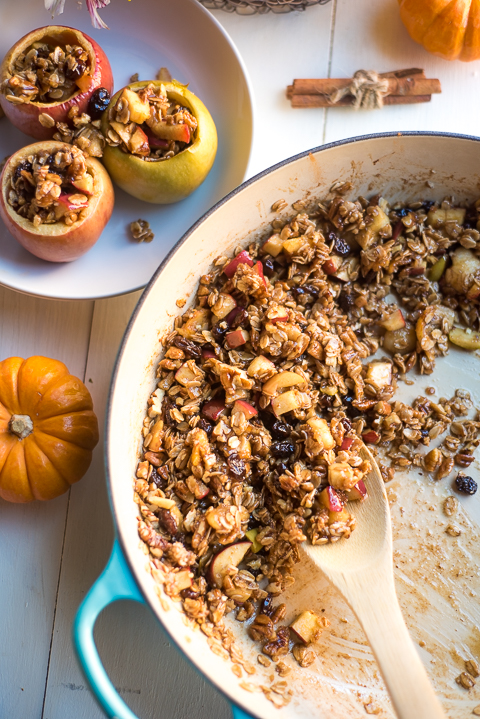 Next up is the apple crisp filling. We made apple pie filling basically, added copious amounts of oatmeal and pecans and… here is the secret we discovered… melt scoops of ice cream into the filling before you even bake them. The filling without it is also delicious and what you see photographed here, but melting down ice cream into them and baking again? Even better!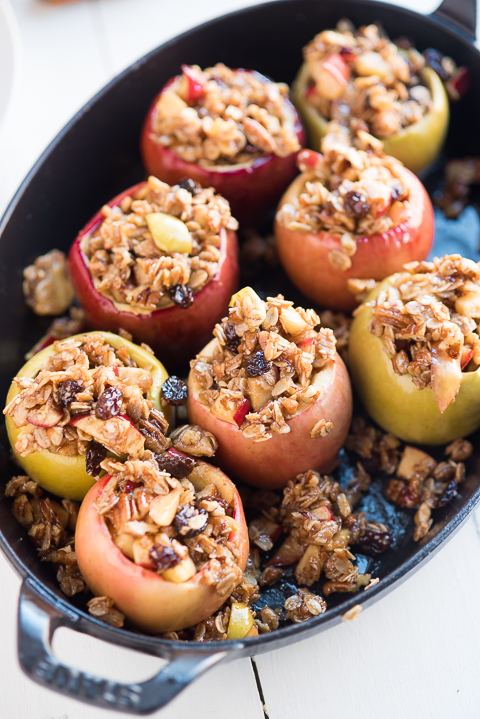 Why didn't anyone ever tell me this was a thing to do? Allow me to be the person to tell you… this is a really good idea!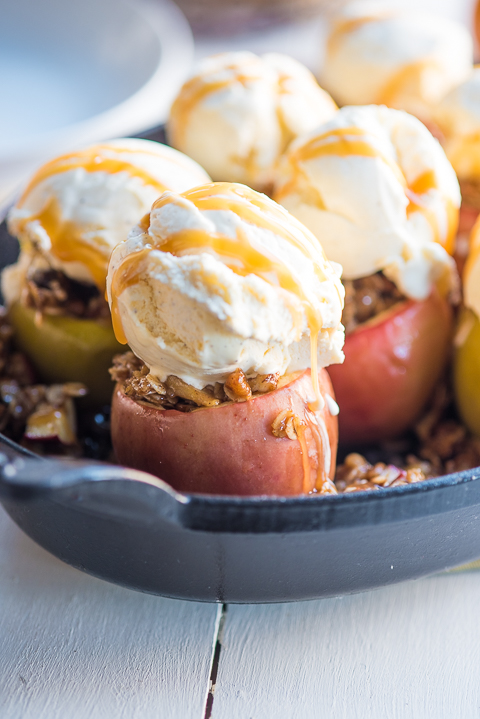 Stuff the apple crisp filling into the apples and pop them back into the oven to finish cooking. Pull them out piping hot and serve them right away. Top each apple with more ice cream, chopped pecans and caramel sauce. Even if you know not everyone will eat one, put ice cream on all of them. It's even better the next day, I promise!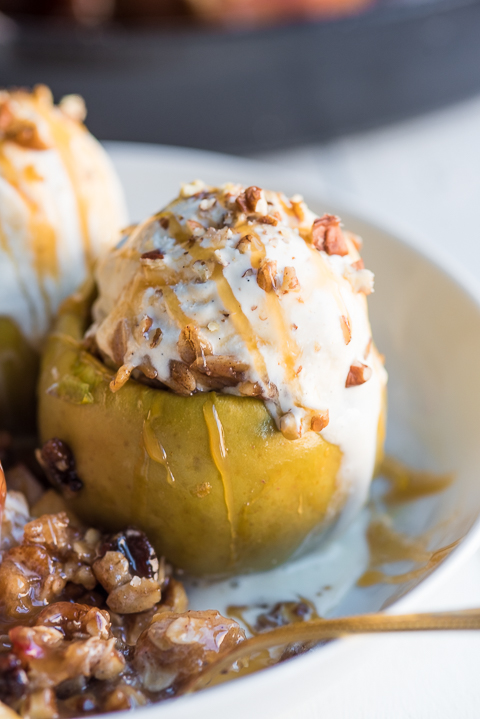 Apple Crisp Stuffed Baked Apples Recipe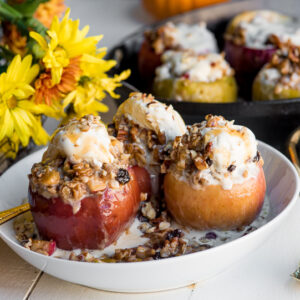 INGREDIENTS
10 apples (8 to stuff and 2 chopped)
1 stick of butter 1 cup oatmeal
½ cup brown sugar
½ cup of raisins
1 cup of pecans, chopped
1 teaspoon cinnamon
Pinch of nutmeg
Pinch of allspice
Pinch of salt
1 teaspoon lemon juice
2 scoops of ice cream
Serve with: chopped pecans, ice cream, caramel sauce
INSTRUCTIONS
Preheat the oven to 350.
Cut the top and bottom of the apples so they sit flat. Scoop out the core of the apples with a sharp spoon or tablespoon to make cups. Reserve the apple pieces and discard seeds/core. Brush apple cups with butter and bake in the oven 20 minutes.
For the filling: Chop the 2 extra apples into small pieces. In a large saucepan, melt the butter, add chopped apples, oatmeal, brown sugar, raisins, pecans, spices and lemon juice. If a creamy filling is desired, add two large scoops of vanilla ice cream to the pan and cook down with the filling for around 5 minutes, stirring frequently.
Add filling to each apple cup and return to oven to cook for an additional 5-10 minutes (or until apples are soft and cooked through). Top with ice cream, pecans and caramel sauce.