Melissa Maker's Favorite Products for a Happy Healthy Kitchen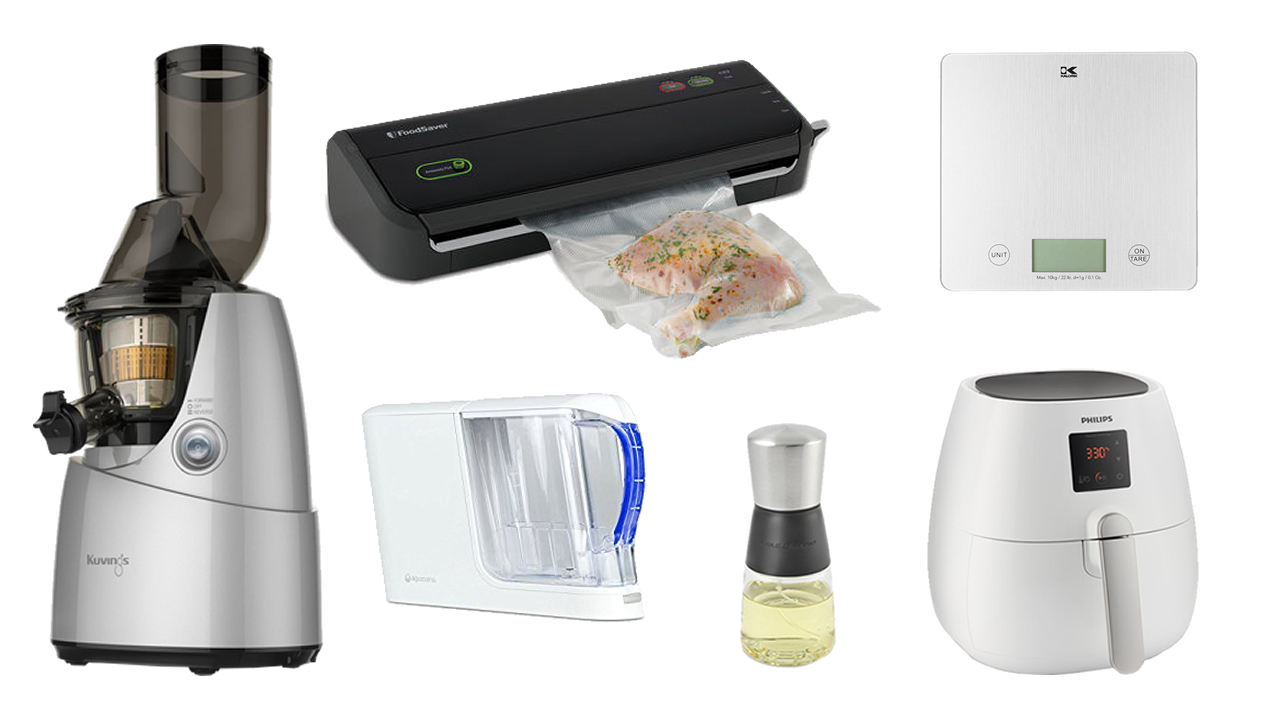 Eating well – especially when we're always go go go – requires good quality ingredients, portion control, and healthy cooking methods.
It can be a lot to keep up with and I've found having helpful kitchen tools makes this whole eating well thing much simpler. It takes away my ability to make excuses to order in or dine out, or eat peanut butter, cheese and crackers for dinner.
I know the basics of eating well and I'm a competent cook, but once I upgraded my kitchen with a few handy tools, I've noticed a shift in what we're eating. It is healthier; we're getting more of the good stuff in and feel better, too.
Here's what I've added:
I've always wanted to get a proper filtration system for the house. When I looked into it, I found that many needed to be installed and that didn't suit my needs – I don't have time for any sort of installation or reno work right now, thanks! Instead, I opted for this Aquasana Clean Water Machine, which filters water at the touch of a button and is 10x stronger and lasts 8x longer than other pitchers. It can keep water at room temperature (which I prefer) and it also comes with a separate pitcher, which can quickly be filtered and then placed in the fridge for cold water (which Chad, my husband, prefers…<shudders>).
For speed and crispiness, nothing beats frying foods. However, the waistline doesn't agree with this cooking method. I had been hearing about these from friends of mine and decided to try one myself, in search of that coveted crisp without food being drenched in oil. The beauty of the air fryer is that it requires significantly less oil yet cooks food quickly and provides a nice crispy finish. I made a batch of sweet potato fries yesterday and it took 12 minutes and required one teaspoon of oil. It was glorious. Needless to say, it's been a staple small appliance in this house. I always tell Chad that when we have kids, this is going to be the saving grace of dinnertime.
I'm in love with all things fruit and vegetable and get my 5-10 in each day no problem. Chad on the other hand, doesn't have as strong a sentiment toward them. Recently he turned 40 and became increasingly cognizant of his nutrient intake and noticed he wasn't getting what he needed. He attested this to the lack of fruits and veggies in his diet. So to make sure he gets what he needs (since I know he won't be crunching on crudités) I got a Kuvings Whole Slow Juicer and we've made all sorts of delicious concoctions adding in ginger, beets, cucumber, celery, apples, carrots, and parsley to name a few. The juice is just heavenly, and the slow masticating juicer means you squeeze the most juice and nutrients out of the fruit or veggie. He gets what he needs each day in a perfectly delicious juice. I also like how it came with cleaning tools! That's a plus since juicers have a reputation for being tough to clean.
This is perfect for those times when I don't trust myself to 'eyeball' something. Case in point, we just found out that one of our cats, Malee, is almost 20 pounds (she should be 12). The vet instructed us to place her on a strict diet and feed her 3.5 ounces of wet food twice daily. Sure thing, doc, but since I have no clue 3.5 ounces of wet cat food looks like, I needed a digital scale. Not only does it make sense for kitty weight loss programs, but I find that when I cook a recipe and it calls for specific weight measurements, nothing helps more than a digital food scale . It's easy to use, easy to store, easy to clean and accurate. I love this one by Kalorik, it also matches my kitchen décor. My cat on the other hand, well, she probably has words for it.
I have never been a fan of cooking sprays. I can't put my finger on the reason, but I've always preferred just brushing oil on if needed. My issue with that method is that sometimes, too much oil goes on the food when all I really needed was a light spray. Less oil means less calories and better dispersion of the oil for improved cooking. I've picked up the Cole & Mason Stainless Steel Oil and Vinegar Mister and I now use it daily. I've filled it with grapeseed oil, which is preferable to olive oil for high heat cooking. It is easy to use and the mister actually works — I like that it can be pumped up to build pressure first, which helps mist go the distance.
This is something Chad and I have wanted in the kitchen for years. Not only is the Food Saver Vacuum Sealing System great for prepping great meals ahead of time – portioning out and seasoning meat with marinade, making it really easy to pull out and cook when we need it – to storing batch cooked food in frozen portions or keeping refrigerated food fresh, this machine helps us eat in more when we don't have time. It's certainly easier to resist the urge to dine out and eat something convenient and less healthy.