3 Skillet Dessert Recipes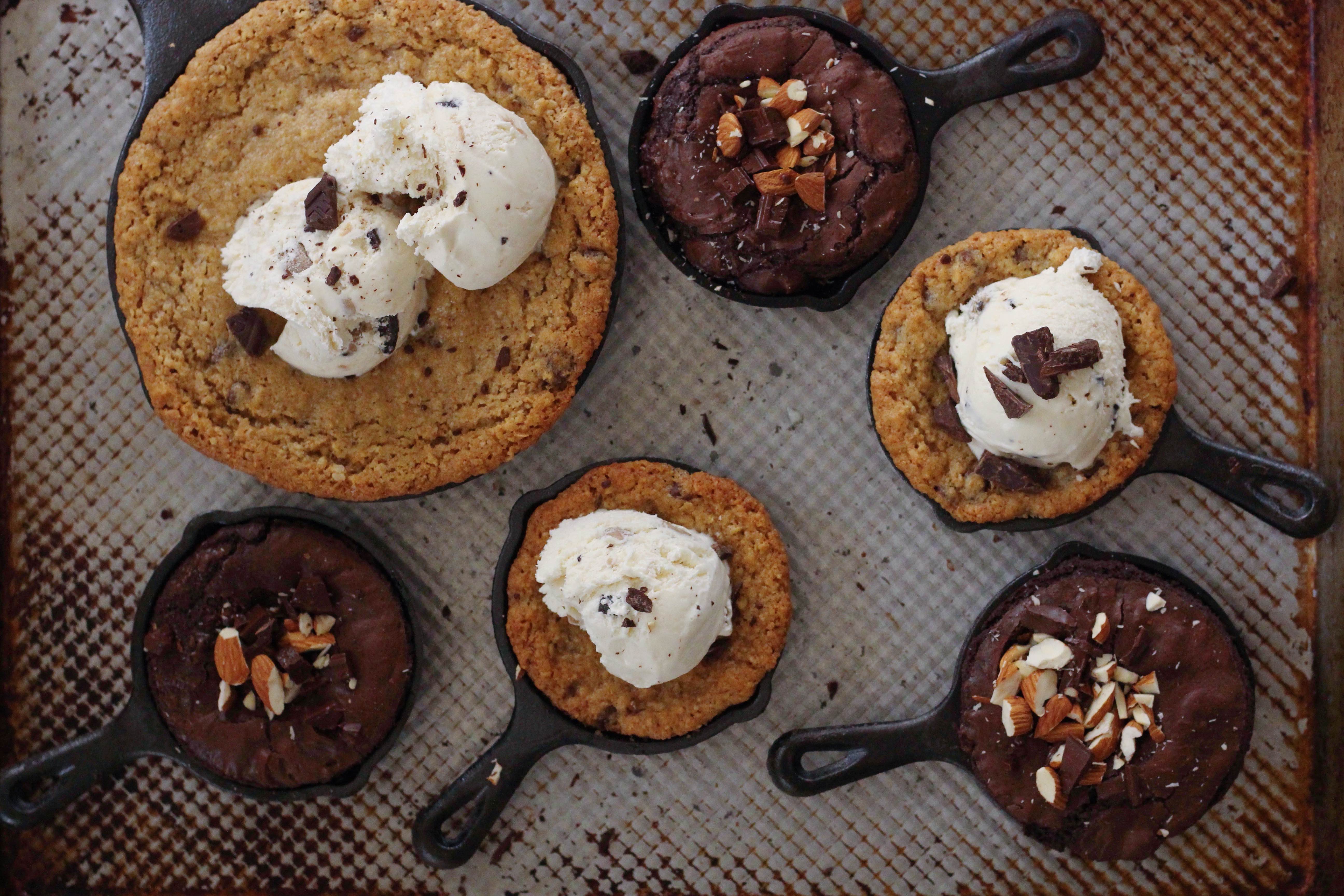 Holiday entertaining has officially arrived & if you are like me, you've got parties, gift exchanges, craft-nights, and potlucks popping up on your calendar like no tomorrow. Hosting anything, let alone a holiday get together, can be a bit stressful – but, don't worry, we are here to help make your holiday table pack a sassy little punch!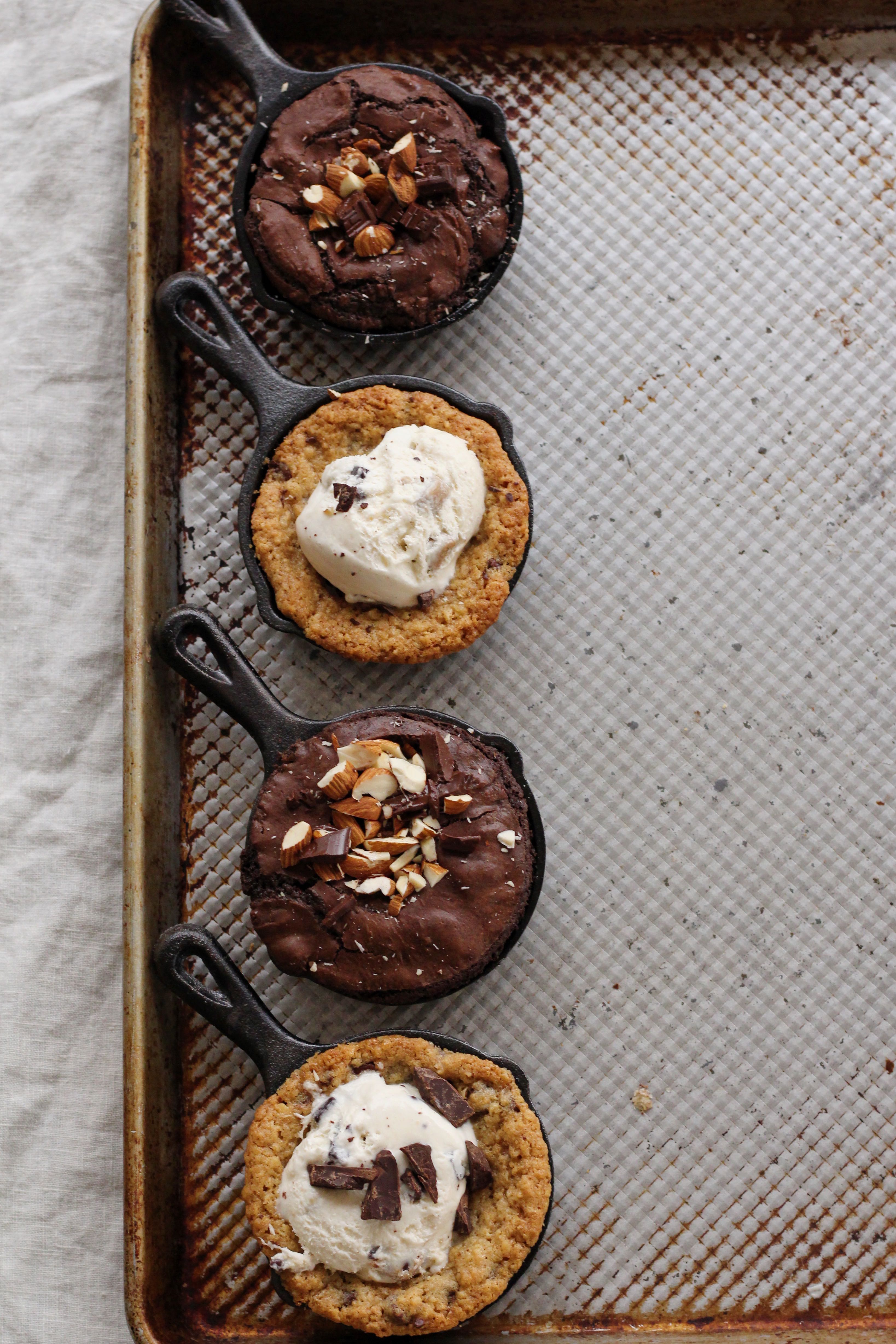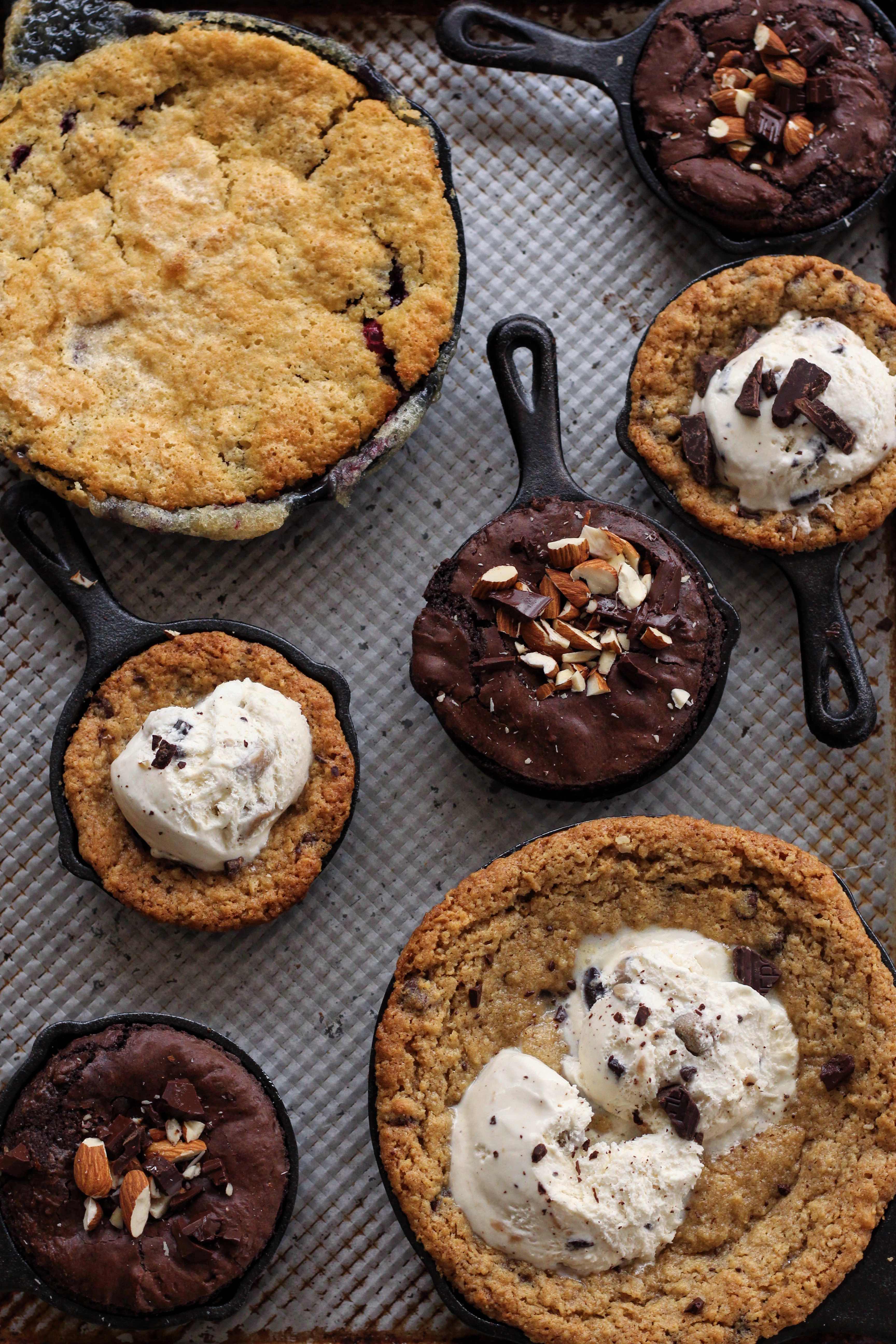 Truthfully, whenever I entertain, I somehow always forget dessert. I've planned the appetizers, got a few great dishes to pick from, but without fail, dessert totally escapes me! Luckily, these adorable mini skillets have totally changed that. I mean, tell me you don't just want to plan a whole dinner party around these adorable things.
This year, I am making a big impact with these little guys & serving individual desserts at my table. Below are three fabulous skillet dessert recipes that will not only add a special touch to your table, but they are beyond easy, & will make your guests feel special! Don't have mini skillets? Don't worry; they work in big cast irons as well.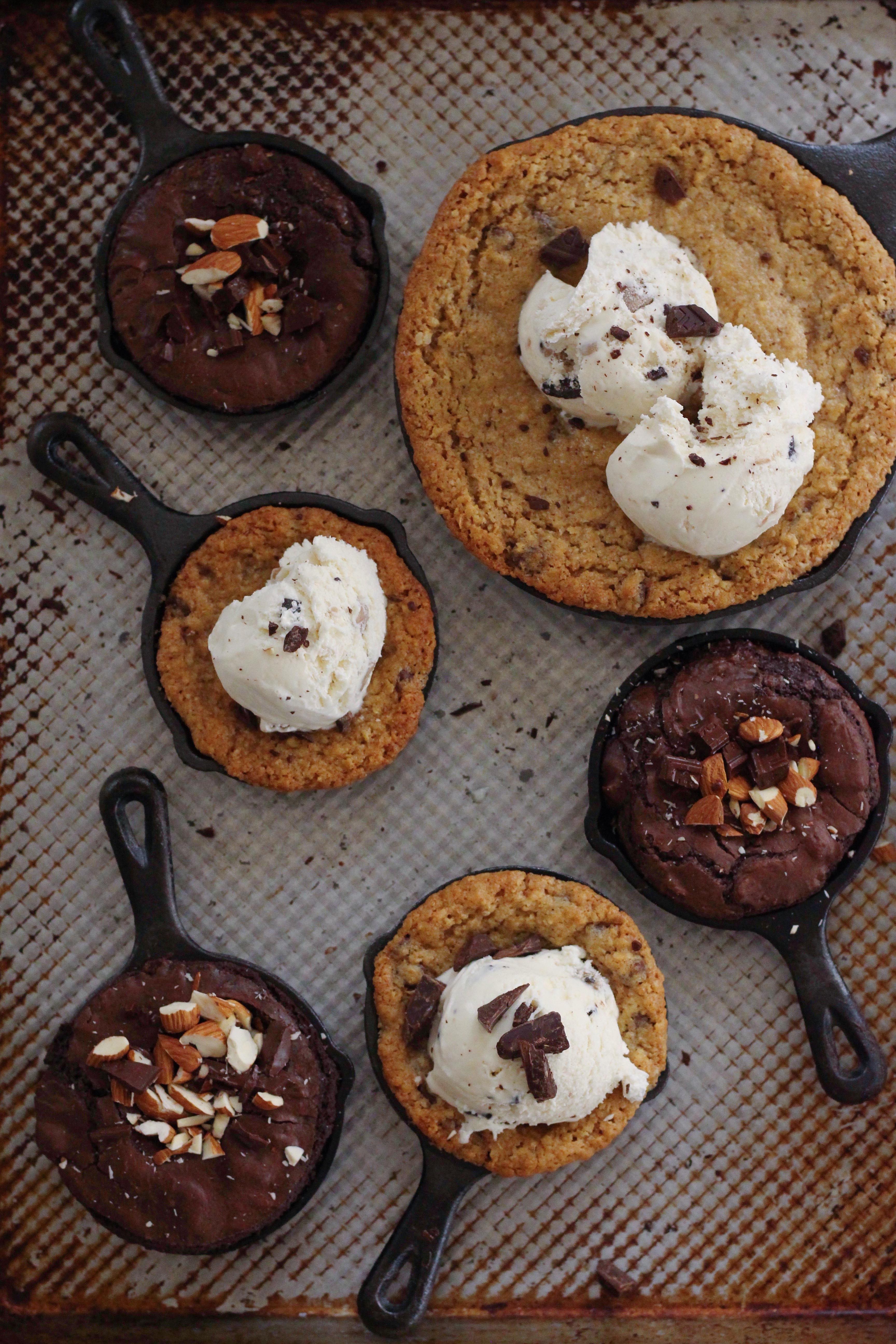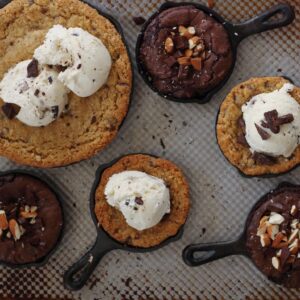 INGREDIENTS
½ cup butter
1 cup of dark brown sugar
2 tsp of vanilla
1 egg
1 cup all purpose flour
½ tsp baking powder
¼ tsp salt
1/8 tsp baking soda
½ cup of chocolate chips
Favorite ice cream
INSTRUCTIONS
Preheat oven to 350 degrees & add butter (melted) and brown sugar into a medium mixing bowl. Whisking to combine
Whisk in the egg and vanilla until thoroughly mixed. Add in the flour, baking powder, salt, & baking soda and mix until fully combined.
Add in chocolate chips or anything else you want to add (I added a cup of oatmeal to give it some texture)
Spray your skillets with baking spray and transfer the batter into the skillet, filling them 2/3rds full.
Bake for 20/25 minutes (depending on your oven), remove from the rack, and let cool a bit before adding ice cream on top.
Serve & get ready to chow down!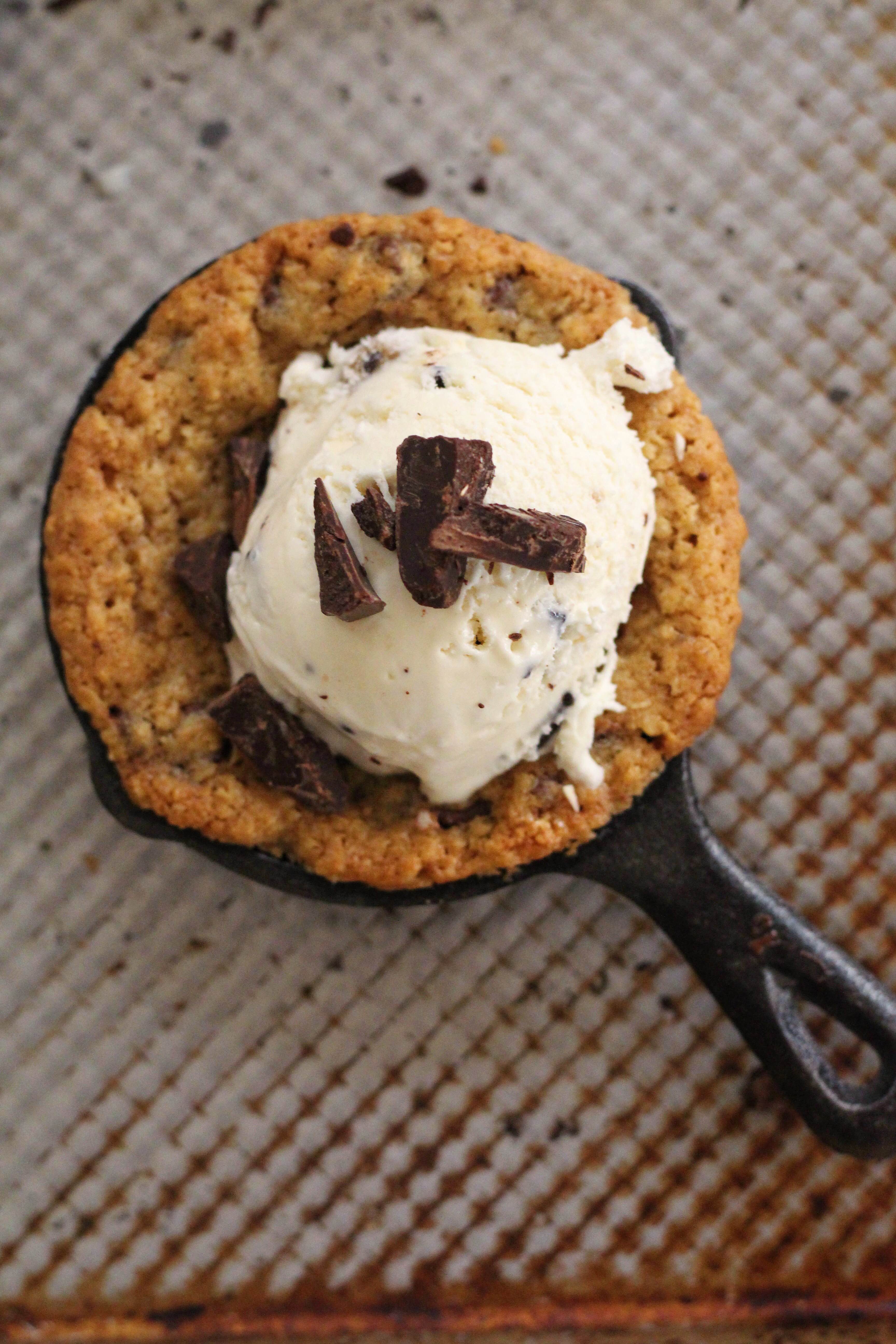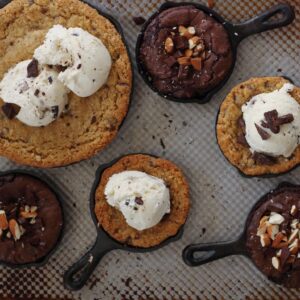 INGREDIENTS
1 stick of unsalted butter
4 ounces + ½ cup semi-sweet chocolate chips
1.5 ounces of unsweetened chocolate
2 eggs
2 tsp instant coffee
1.5 cup + 1 tsp of sugar
1.5 tsp vanilla extract
¼ cup + 1 tbsp all purpose flour
1 tsp baking powder
¼ tsp kosher salt
Optional: 1 pint vanilla ice cream
INSTRUCTIONS
Preheat your oven to 350 degrees. While that is warming up, melt your butter, 4 ounces of chocolate chips, and the unsweetened chocolate together in a microwave bowl. Set aside for 15 minutes to cool
In a large bowl, stir (DO NOT BEAT) together the eggs, coffee, vanilla, and sugar. Stir in the melted chocolate mixture and allow to cool to room temp.
Grab another bowl and sift together ¼ cup of flour, baking powder, salt, and chocolate mixture. Toss in the remaining ½ cup of chocolate chips and one tablespoon of flour. Add all of this to the chocolate mixture.
Spoon your mixture into your skillets and place them on a sheet pan & bake for 25 minutes.
Serve warm with some ice cream, chopped nuts on top, or however you best like your brownie.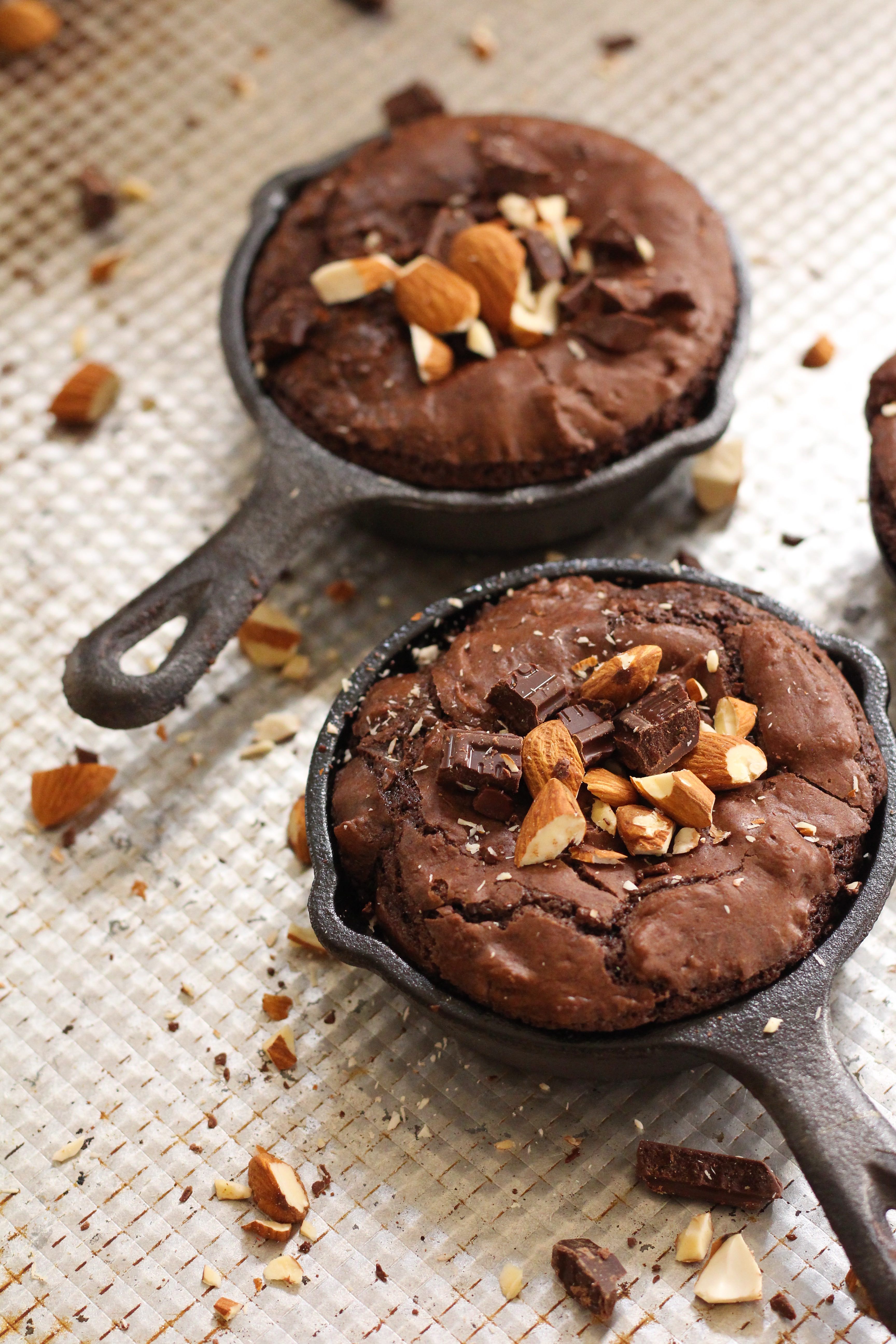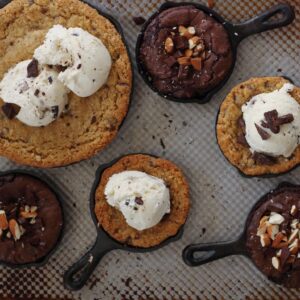 INGREDIENTS
½ cup unsalted butter, melted and cooled
1 ¼ cup + 2 tablespoons granulated sugar
1 cup all-purpose flour
1 ½ teaspoon baking powder
½ teaspoon salt
1 cup whole milk
3 cups blackberries
INSTRUCTIONS
Preheat oven to 350 degrees and stir together 1 cup of the sugar, the flour, baking powder, and salt in a large mixing bowl. Add the milk and combine. Add the melted butter and whisk until smooth.
Pour the batter into the skillet and scatter the top with all of the blackberries. Sprinkle 1/4 cup of sugar over the top.
Bake until edges are golden and crispy, 50-60 minutes. When 10 minutes remain (topping is just turning golden), sprinkle with remaining 2 tablespoons sugar.