This Adaptogenic Mushroom Soup Is the Ultimate Comfort Food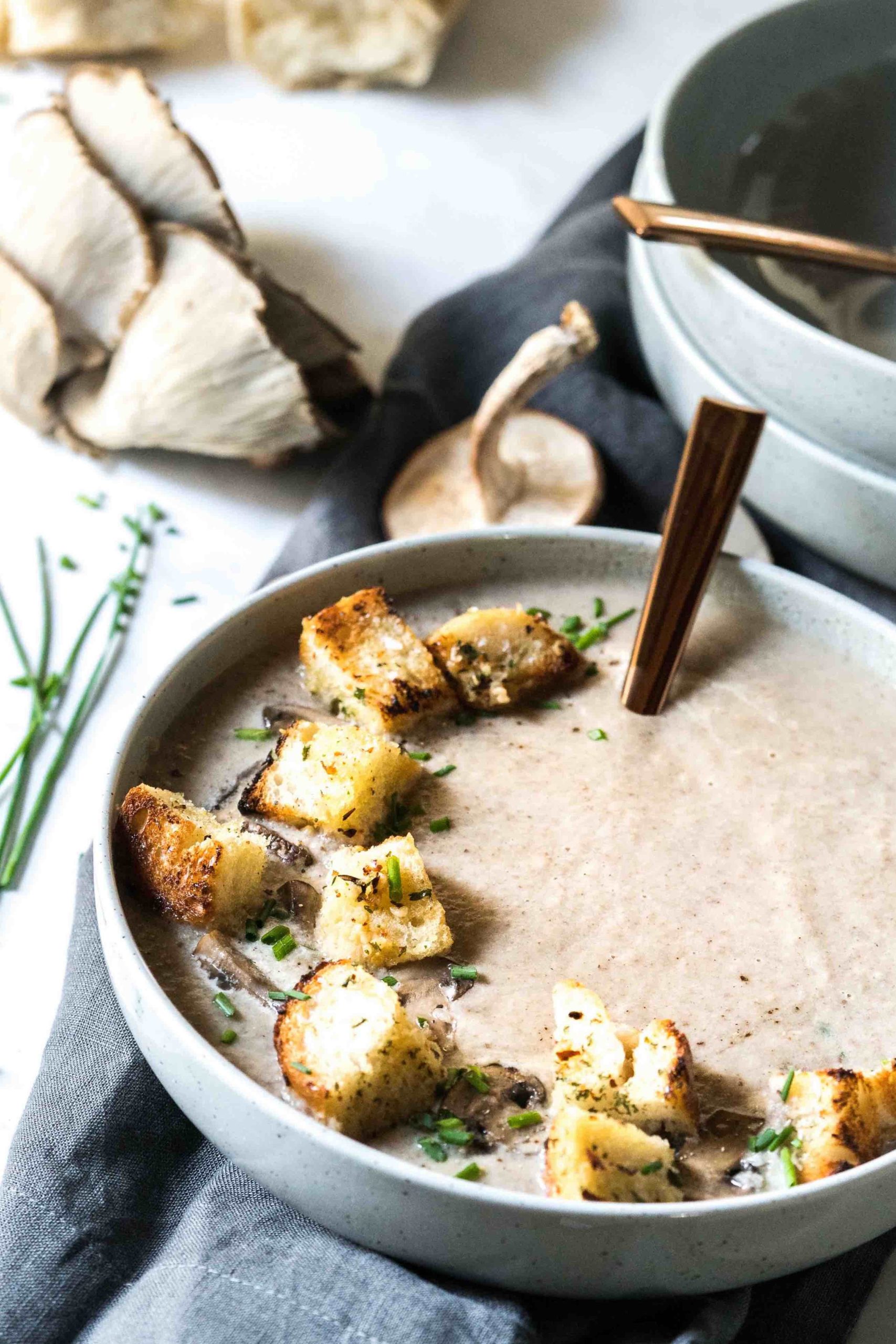 We rotate through soup recipes pretty often during the coldest months of the year here on the East Coast. Sometime between the -2 degree night and the tropical by contrast 20 degree peak temperature, I decided I wanted my soup to do extra work for me too. Something beyond temporarily squashing my desire to take the next plane to the islands. Would I eat anything that crept towards a temperature of not-quite-scalding scalding? You bet. But I also thought adding some adaptogens could help me combat what can only be described as my undying disdain for winter this year.
Adaptogens have become increasingly mainstream over the past two years but they've been around for centuries. You've probably seen them added to a latte at your local coffee shop or tried them in pill form out of curiosity in the wellness world. Adaptogens are natural substances (found in some mushrooms and other plants) that fight the stress on your mind and body, working to return your systems back to 'normal'. They're stress response modifiers on both ends of the spectrum depending on what you take, to dial down your anxious feelings or boost your energy. They've also been found to help boost your immune system and even improve focus. If you want to learn more about the science behind adaptogens, I've got an in-depth adaptogens 101 post you can dive into.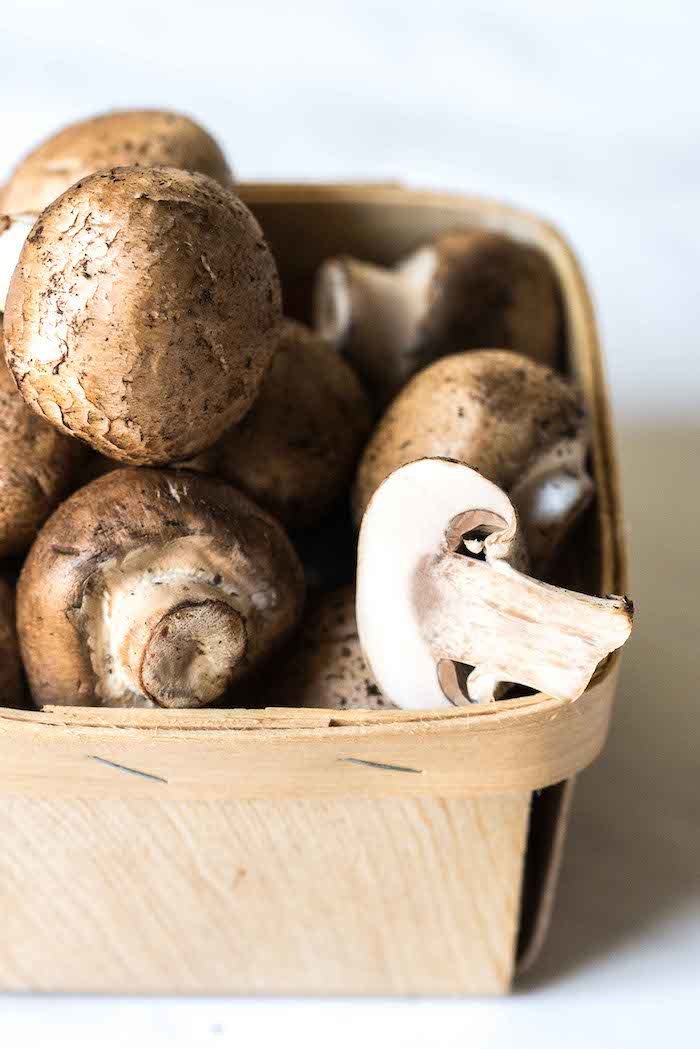 Today we're adding in some mushroom based adaptogens to mushroom soup. The flavor of the soup works perfectly to mask some of the occasionally intense aromas from adaptogens while also being deliciously umami, comforting dish (You can read more about why umami is important in cooking too!). While there are lots of adaptogen blends and brands on the market, make sure you always check the quality and validity of ingredients. Four Sigmatic is one company that is the ultimate go to if you're digging into the world of mushrooms and that's what I'm using in this recipe. You can start with their 10 mushroom blend or dig more into each individual mushroom adaptogen elixir to find what you personally need.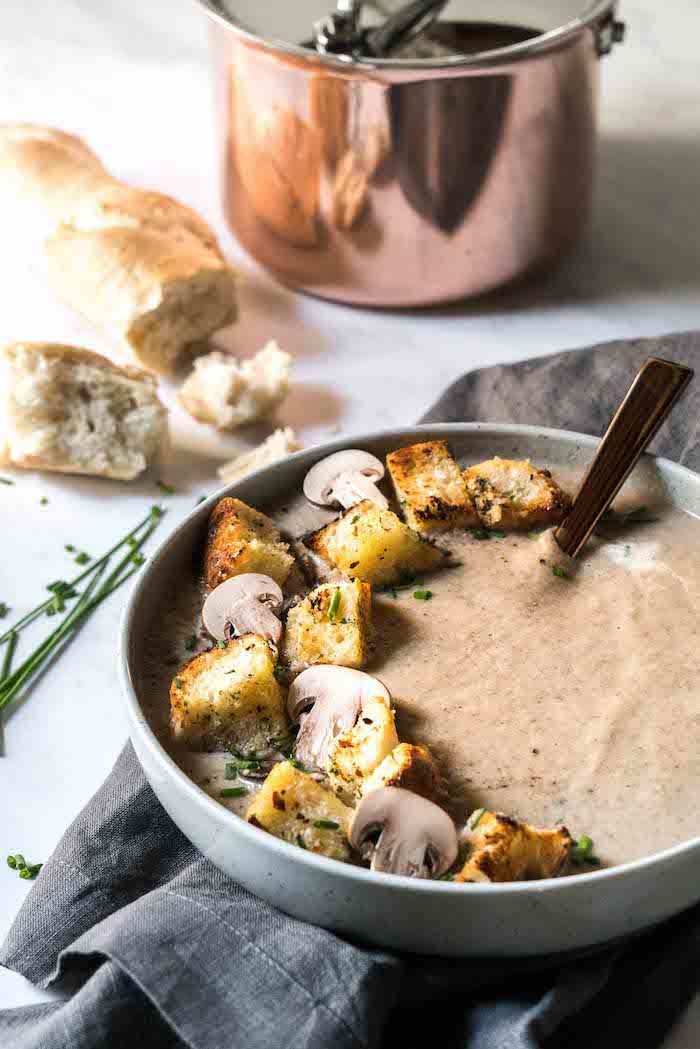 Something to consider for you soup making season, or to upgrade your cooking in general, is a copper saucepan or sauté pan. A good set of pans is crucial (we have had our All-Clad set for over a year and they're amazing- I can't recommend them enough) but if you're looking to add a new one off, you can't go wrong with an All-Clad copper pot. Since copper is a really good heat conductor, it responds very quickly to your stove top. It also heats evenly, to avoid hot spots where one half of the pan is cooked and browned, and the other is just getting started. It's perfect for a recipe like this where you're browning and cooking down mushrooms or onions for a long period of time so nothing gets burnt. It lets you be more hands off since you don't have to fuss over constantly rotating batches on each side of the pan. To compliment the copper pan, I am loving these copper colored flatware sets. They're sturdy and a nice alternative to the popular brass or rose gold flatware we're seeing everywhere…the best part is they're dishwasher safe.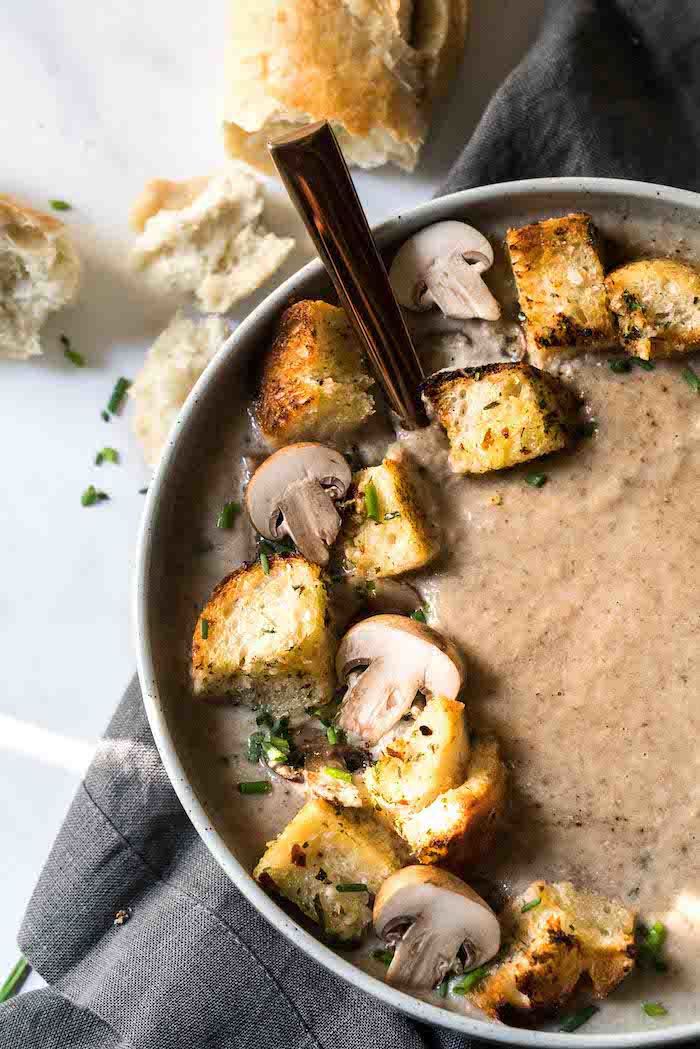 Adaptogenic Mushroom Soup
We added some mushroom-based adaptogens to mushroom soup! This deliciously comforting umami dish also uses adaptogens to fight the stress on your mind and body to return your systems back to normal.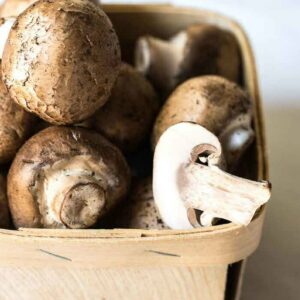 Ingredients
2.5

cups

quartered crimini mushrooms

2

large shiitake mushrooms, sliced

.5

large white onion, sliced thinly (about ½ cup)

1

tsp

butter

pinch of kosher salt

.25

cups

dry white wine

1

large russet potato, peeled and chopped (about 1½ cups)

2

cups

chicken stock

1

bay leaf

2

tsp

granulated salt

Pinch of white pepper

.5

cups

heavy cream

1

serving of mushroom adaptogen blend of choice per bowl
Instructions
Clean mushrooms and cut. Chop onion.

In a large shallow pan over medium high heat, add butter and mushrooms. Sprinkle with salt, stir and arrange mushrooms in a single layer.

Leave for about 3 minutes without stirring, then stir occasionally over the next 5-7 minutes as mushrooms brown and release liquid to evaporate.

Add onion onion and stir. Cook for about 5 minutes until onion becomes fragrant and translucent.

Pour in white wine with the mushroom and onions and deglaze pan. Make sure you use your spoon to add any browned bits of mushroom to the sauce. Remove from heat.

In a large pan over medium high heat, Add peeled and cut potatoes with chicken broth and a bay leaf. Cover with lid and bring to a boil. Reduce heat and cook until potatoes can be simmered with a fork. Remove bay leaf and discard.

Add the mushroom mix, white pepper and salt and cook for about 5 minutes, stirring occasionally.

Puree with a stick/immersion blender or use standing blender (with proper protocol for blending something hot) to blend until very creamy.

Stir in heavy cream and mix again. Taste and adjust seasoning.

If only having one or two servings, portion and stir in adaptogen powder per package serving size. This will keep the correct serving size per person instead of 'dosing' the entire soup for an unknown number of servings (small snack, meal soup etc).

To make croutons, cube bread and toss in olive oil with minced garlic and red pepper flakes. Broil until golden and crisp. Serve with fresh chives on soup.
Nutrition
Serving:
1
g
Calories:
471
kcal
Carbohydrates:
70.1
g
Protein:
8.9
g
Fat:
16.9
g
Saturated Fat:
10.1
g
Cholesterol:
23
mg
Sodium:
2800
mg
Fiber:
3.7
g
Sugar:
13
g