Smoky Pineapple Mezcal Margaritas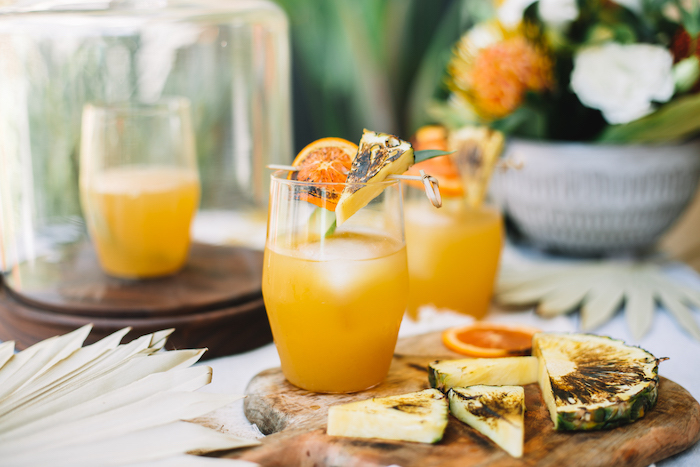 When Cinco De Mayo rolls around each year my mind instantly switches into summer mode. All I can think about is ice-cold margaritas and fresh tacos on as many patios as possible. I am a smooth, white or gold tequila girl by nature but this year I decided to really spice things up! I'm giving mezcal a residency on my bar cart this summer and so far there have only been good things to come out of it!
The first time I ever tried mezcal was with an old boss of mine. We all went out for a round of margaritas for Cinco De Mayo and I of course was going to go with a classic. I saw my boss order a mezcal margarita (not knowing any idea what it was at the time!) and decided to order the same in an attempt to be adventurous. Needless to say, it paid off because I have been obsessed with mezcal ever since! Ever since this day I've tried to be more adventurous with my cocktails.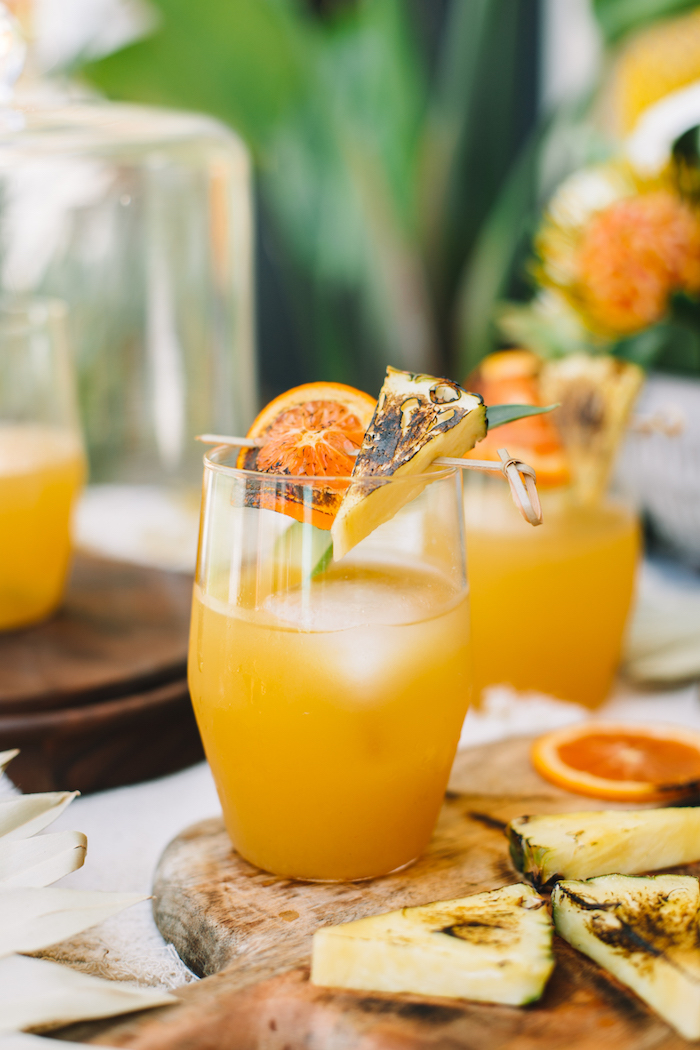 We're celebrating Cinco at night this year so I wanted a margarita that was very smoky, sexy and spicy. These smoky pineapple mezcal margaritas will be flowing all night as we ring in one of my favorite holidays.
Along with mezcal, I'm stocking up on my bar cart essentials with a fun garnish pack from Crafthouse by Fortessa. If you're looking for a small essentials cocktail kit (or a great wedding present!) this small kit has it all: a sharp knife, citrus zipper, peeler and a wooden board that fits onto any bar cart. This bar kit makes a weekly appearance at our house!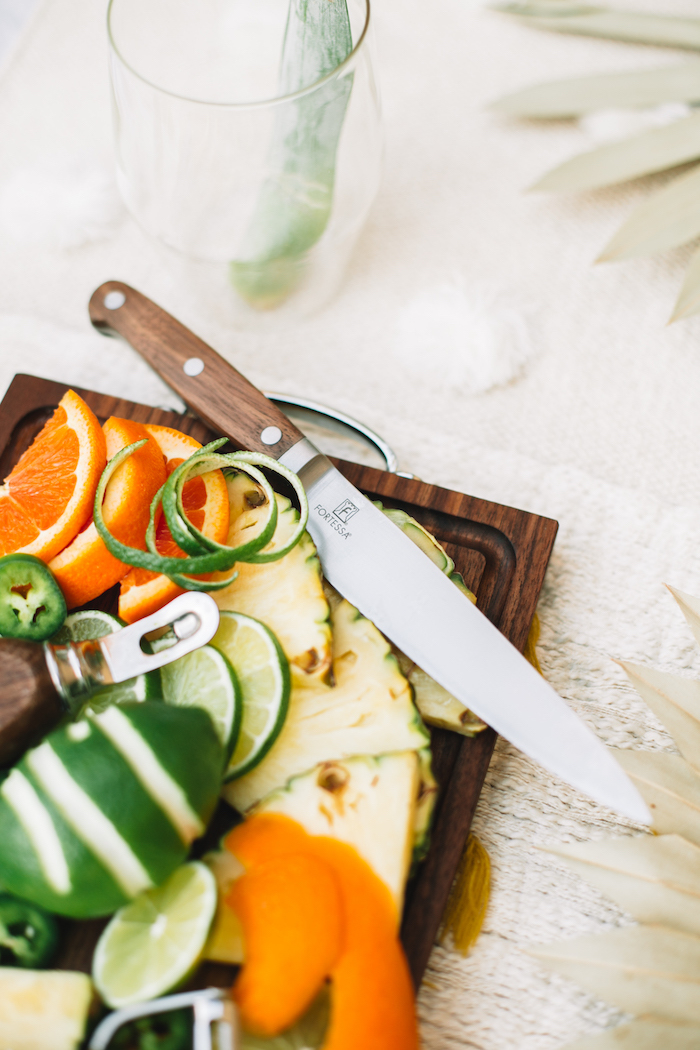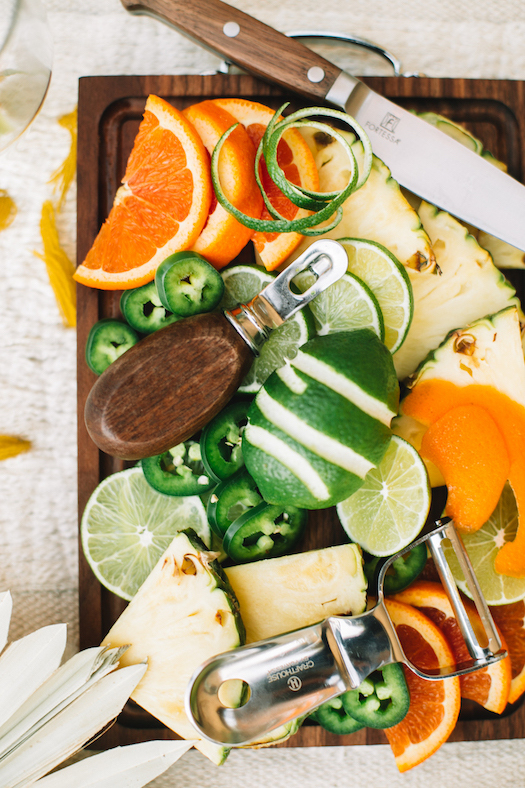 My other fun cocktail appliances that gave these drinks a fun, smoky flare is from my Crafthouse by Fortessa smoking cloche and a good old fashioned kitchen torch. If you're an entertainer like me, devices like these make a party an instant hit. Not only is the smoking cloche device amazing, it's an instant icebreaker! Anytime I break out the mezcal, the smoking cloche is coming out!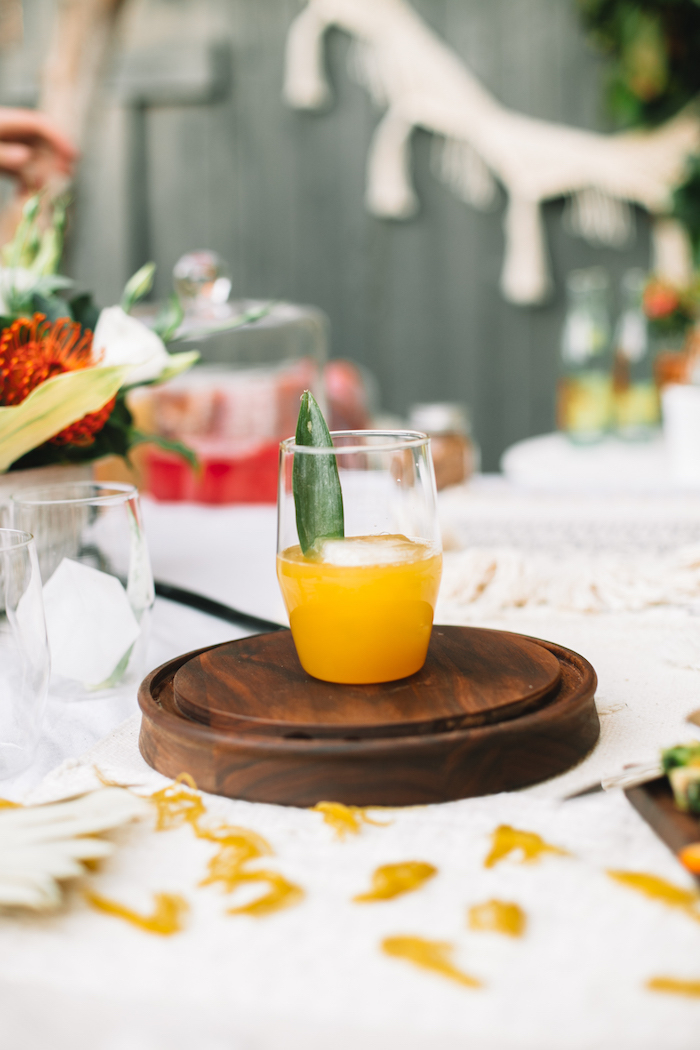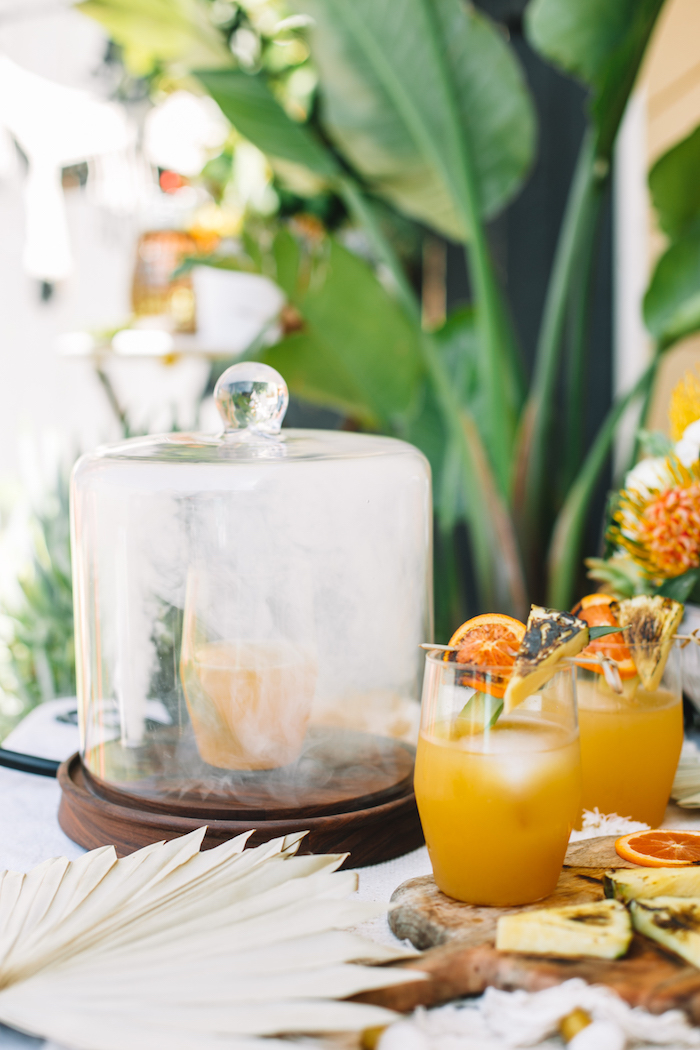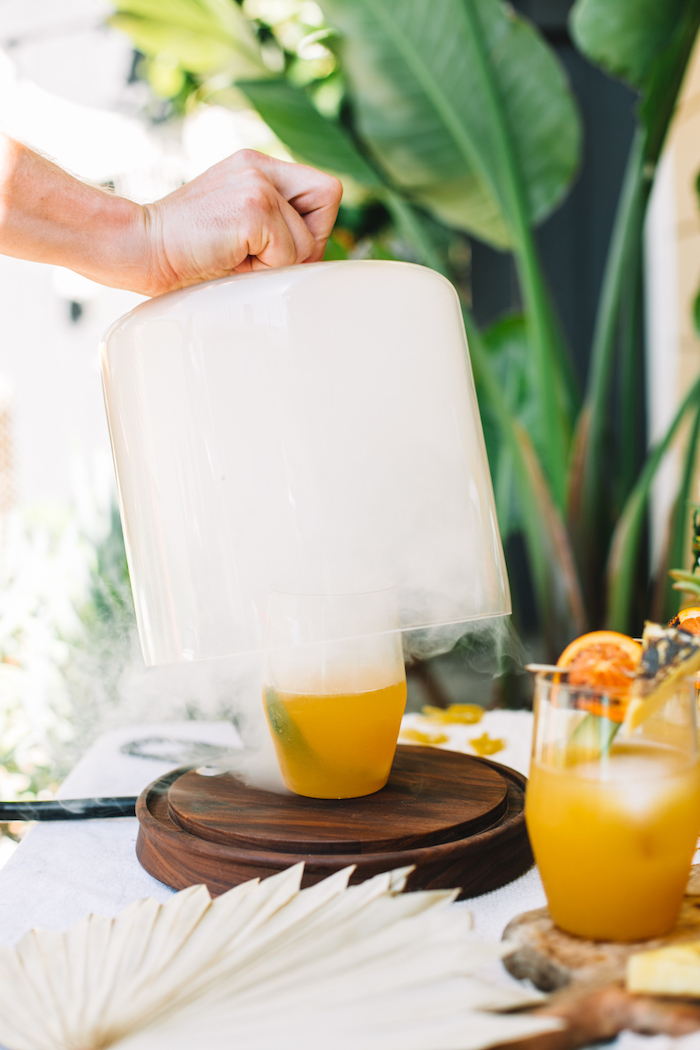 My second step to making these cocktails extra smoky is using my Bella Tavola copper torch. Perfect for charring your garnishes for extra flavor and texture.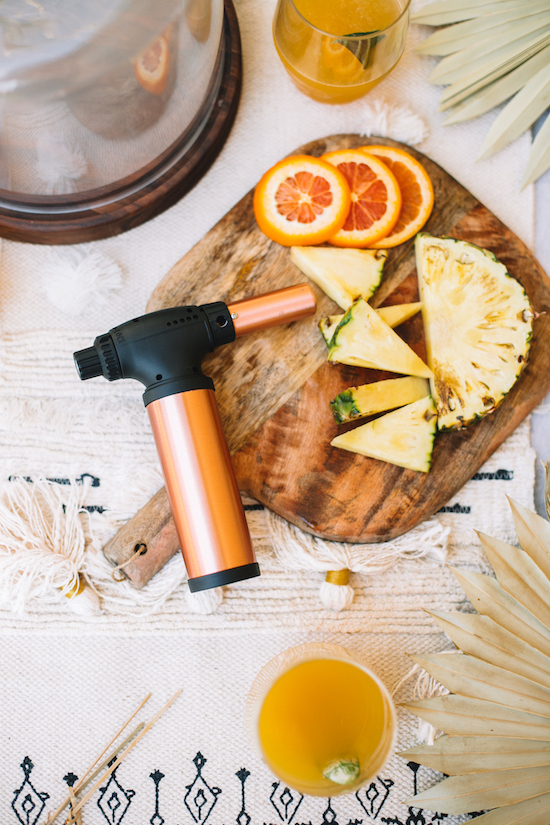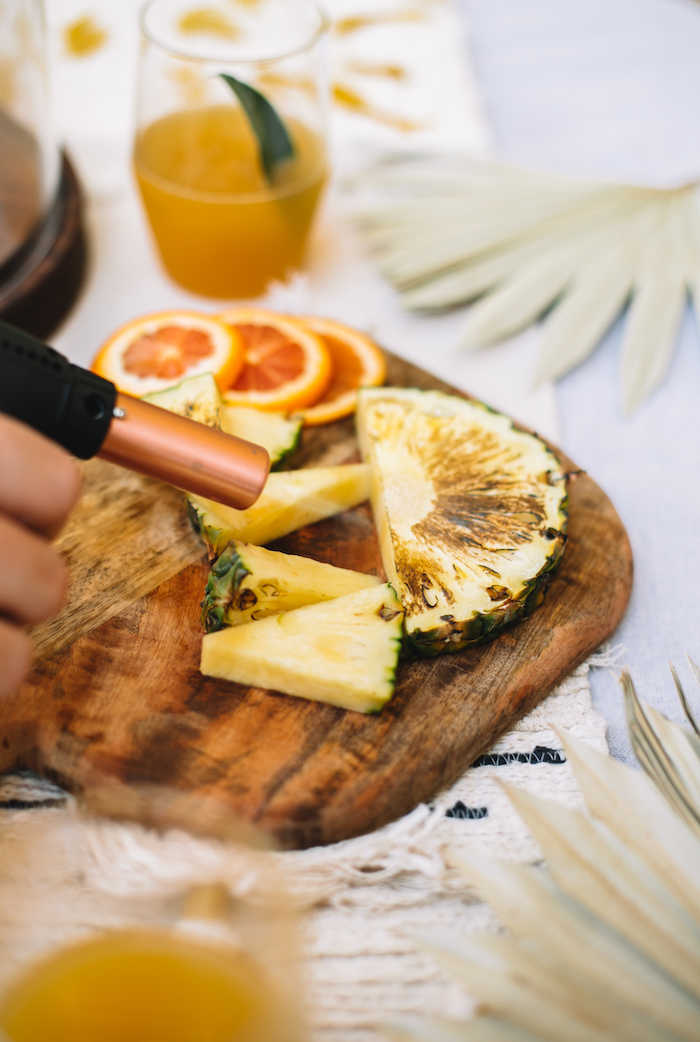 Now, let's talk flavors! My favorite juice or fruit with mezcal is pineapple. You know how delicious pineapple is grilled?! This margarita flavor gives you the same feeling. It's equal parts sweet and smoky for such an unbelievable balance. Break these out for Cinco De Mayo or any hot summer night this season!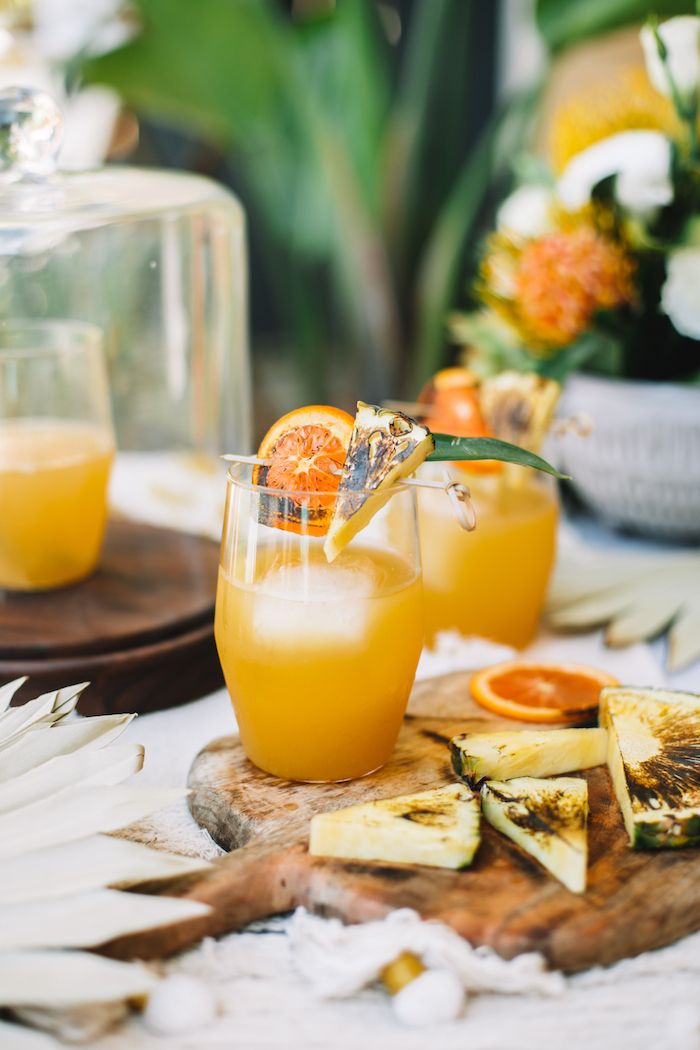 Smoky Pineapple Mezcal Margaritas
Get these Smoky Pineapple Mezcal Margaritas flowing for your Cinco de Mayo party, or any fun summer gathering. The smoky, sexy, spicy flavors are perfect for a party.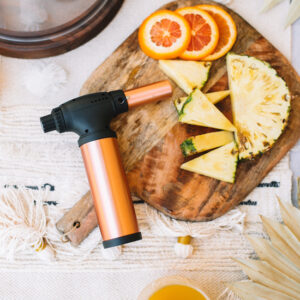 Ingredients
2

oz

mezcal

1

oz

Grand Marnier

1

oz

pineapple juice

1

oz

cara cara orange juice (or any orange juice)

1

oz

lime juice

3

jalapeño slices
Instructions
Fill a shaker with mezcal, grand marnier, pineapple juice, orange juice, lime juice and jalapenos.

Muddle the mixture together for 30 seconds. Add ice cubes to the shaker and shake the mixture for 20-30 seconds.

Pour mixture through a straighter and into a low-ball glass.

Optional: Add cocktail to smoking cloche and smoke for 20-30 seconds.

Remove cocktail from smoking cloche and add ice. Garnish with a charred pineapple and citrus slice.
Nutrition
Serving:
1
g
Calories:
74
kcal
Carbohydrates:
2.7
g
Protein:
0.2
g
Fat:
0.1
g
Sodium:
553
mg
Fiber:
0.3
g
Sugar:
7.3
g