Craft Studio Organization Goals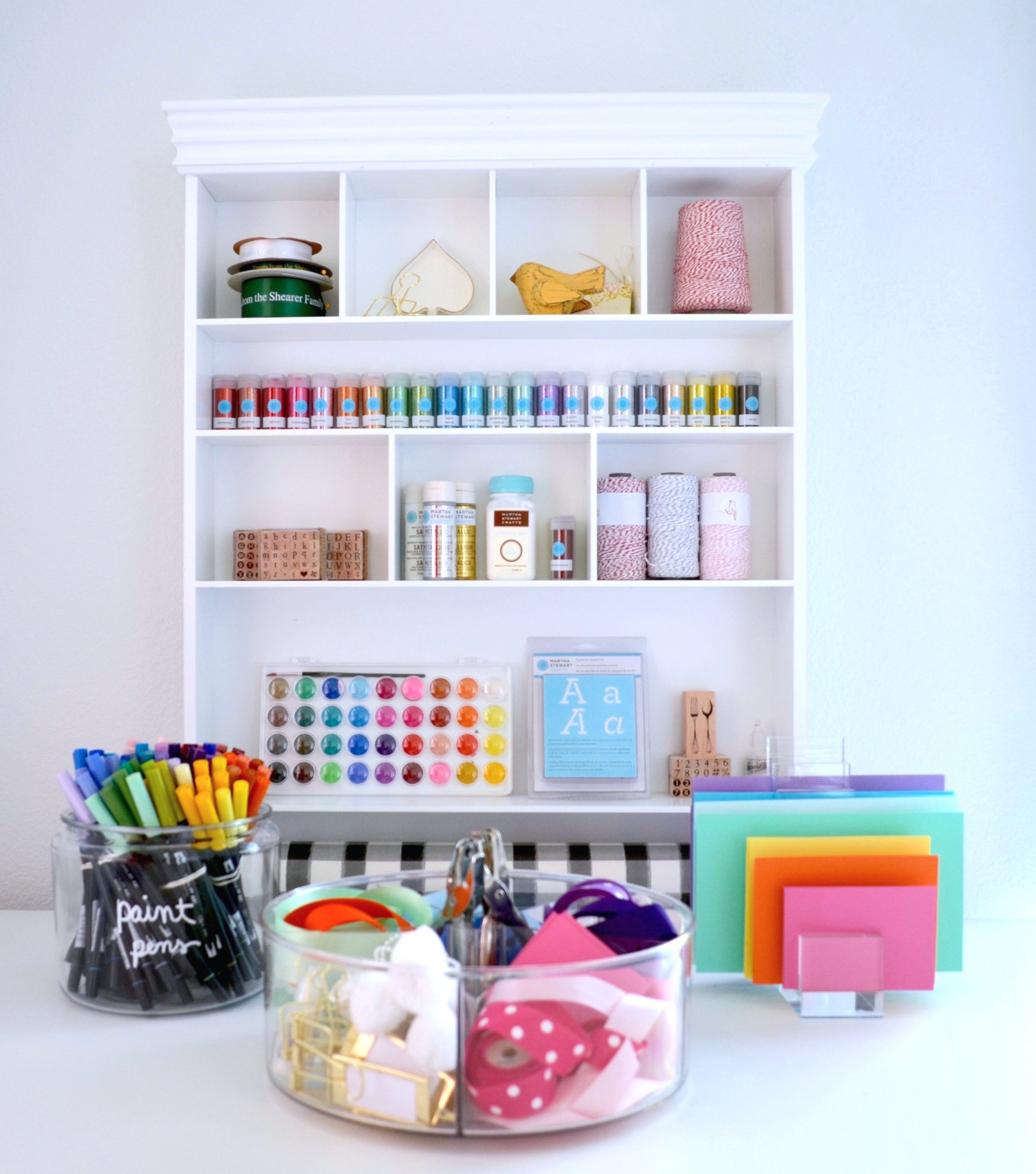 From the 2017 International Home + Housewares Show to Darcy Miller's magic and inspiration to the spectrum at Anthropologie right now, this year is all about color and ROYGBIV.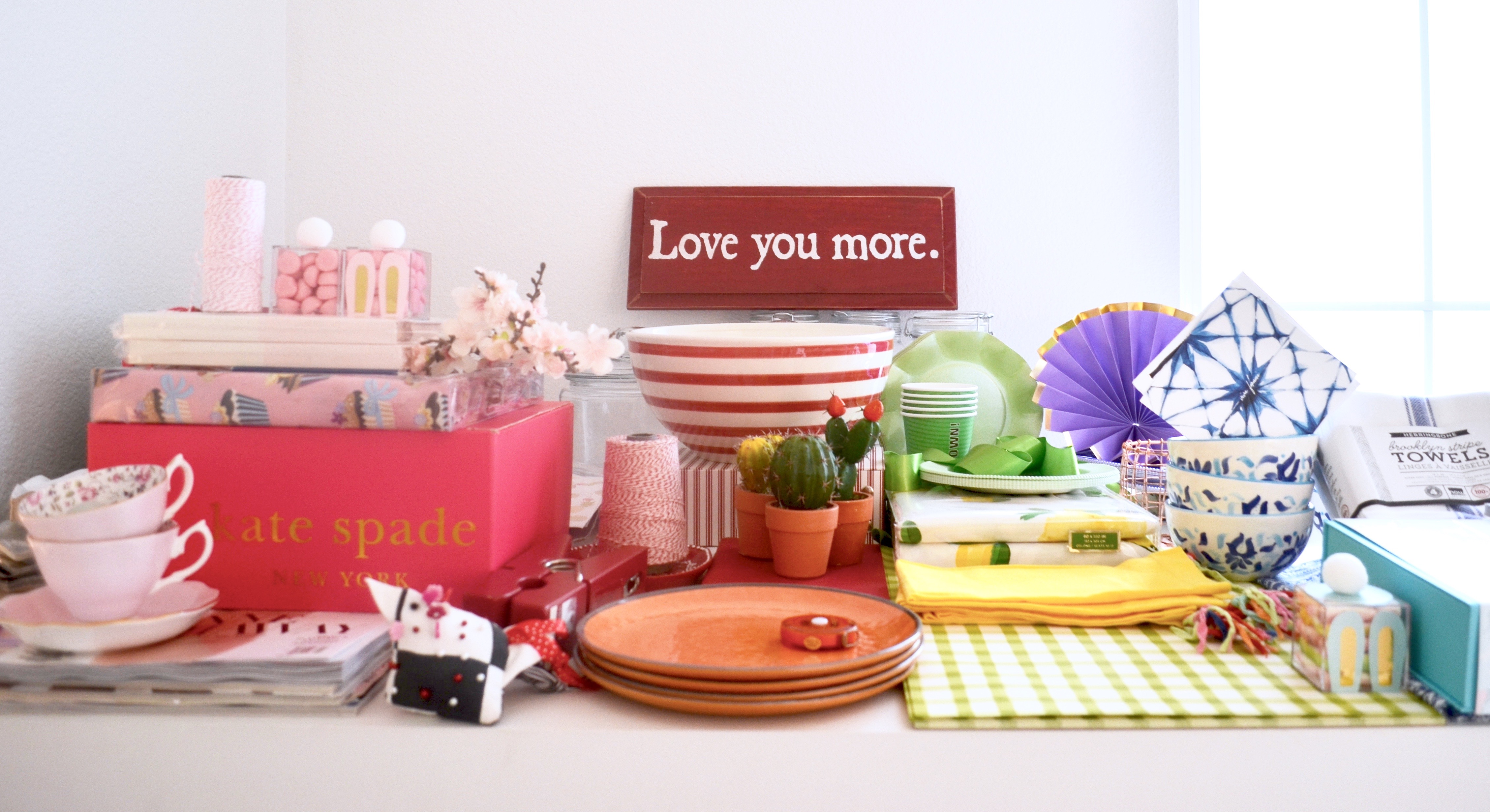 I love black and white, but with a creative brain and a long time passion for organizing, I also have a penchant for color. So, when it came to designing, decorating and a mini-makeover of my own home studio, I knew I had to figure out a way to have it all. Here's how you can, too.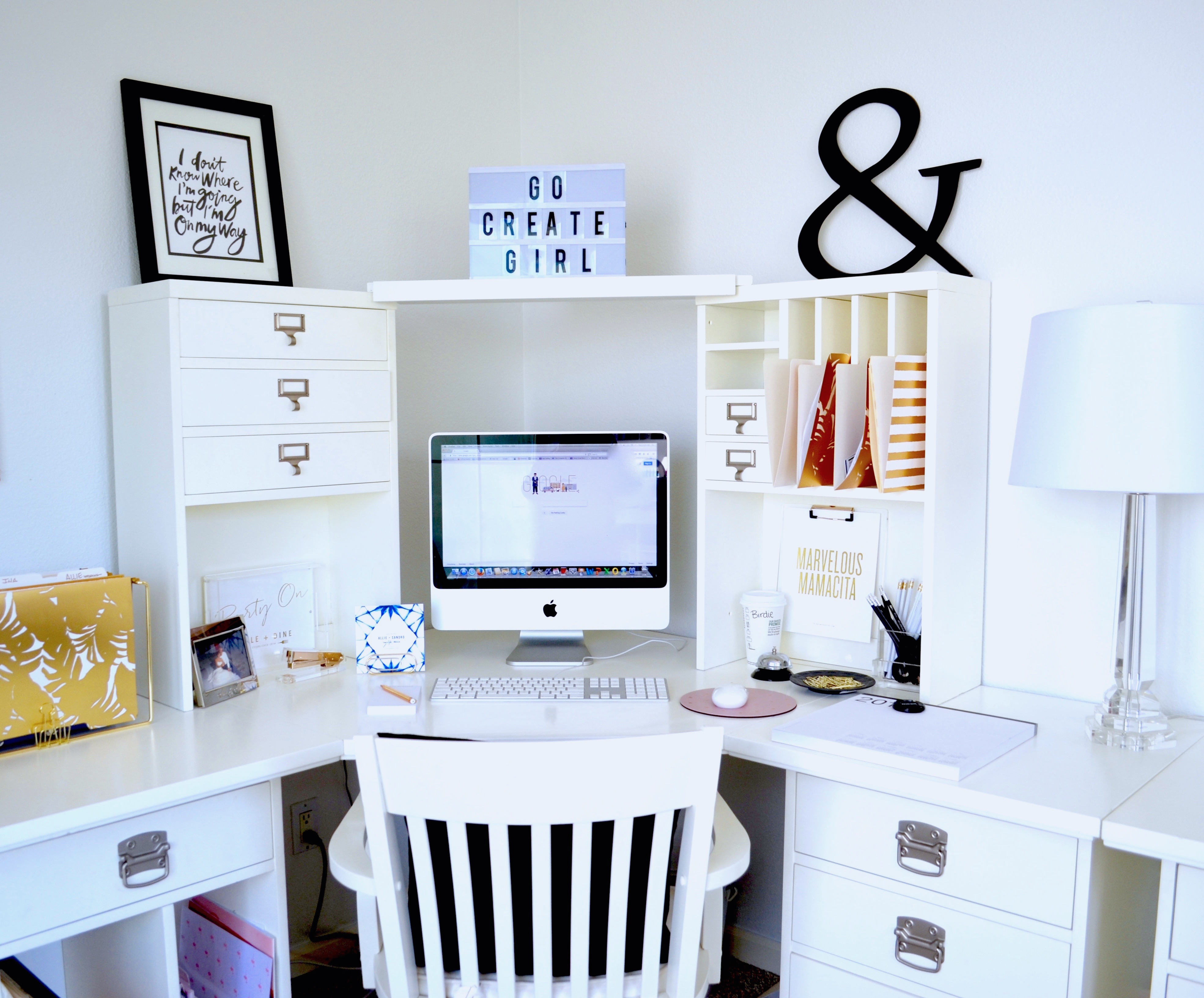 It's important to have a clean, neat and well-lit work space to be productive and keep your sanity, which is exactly why this area of my studio is on the minimalistic side (SIDE being the key word here because I'm far from minimalistic). The real trick is to give everything a home and pick a color palette (2-3 colors, tops!) and stick to it.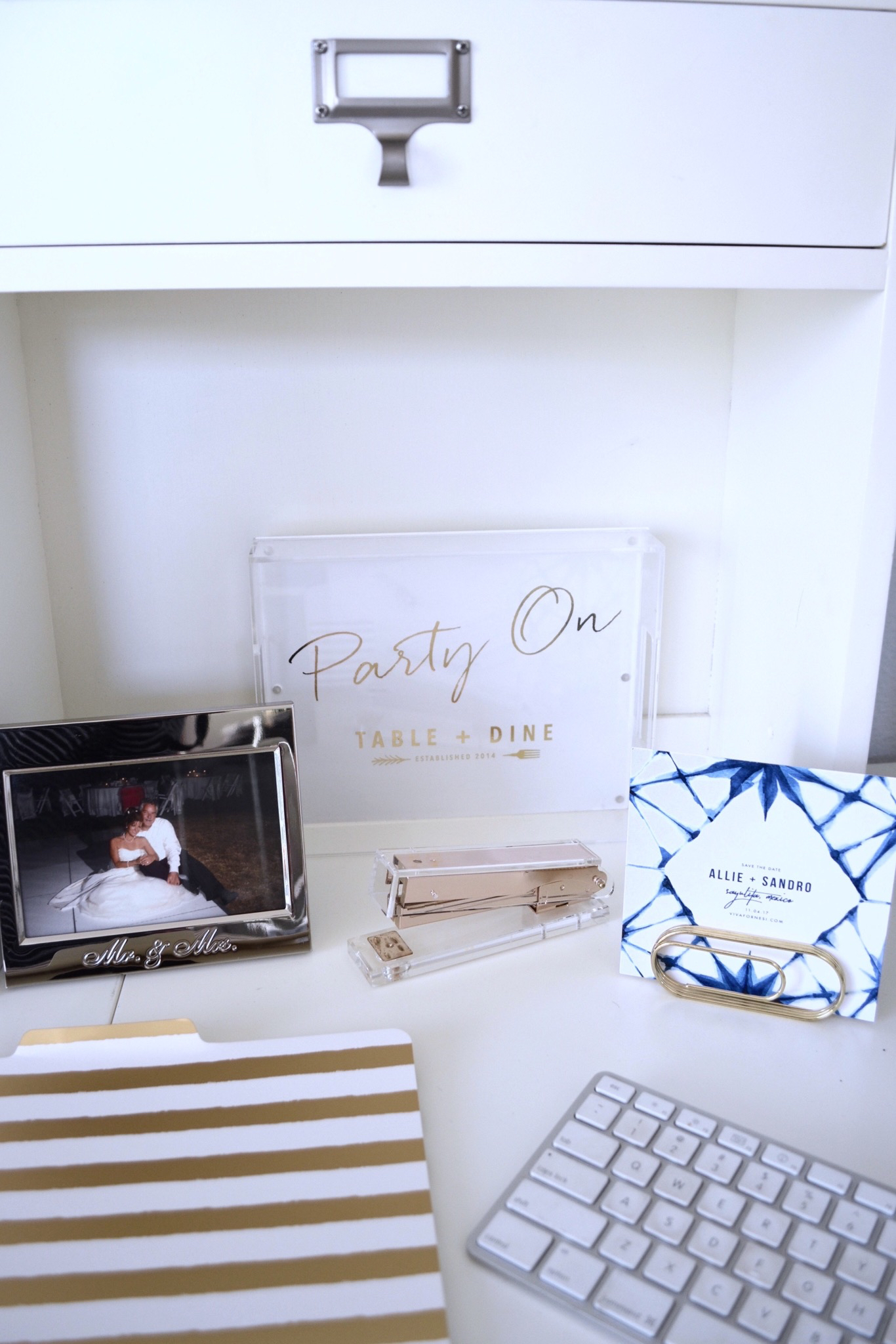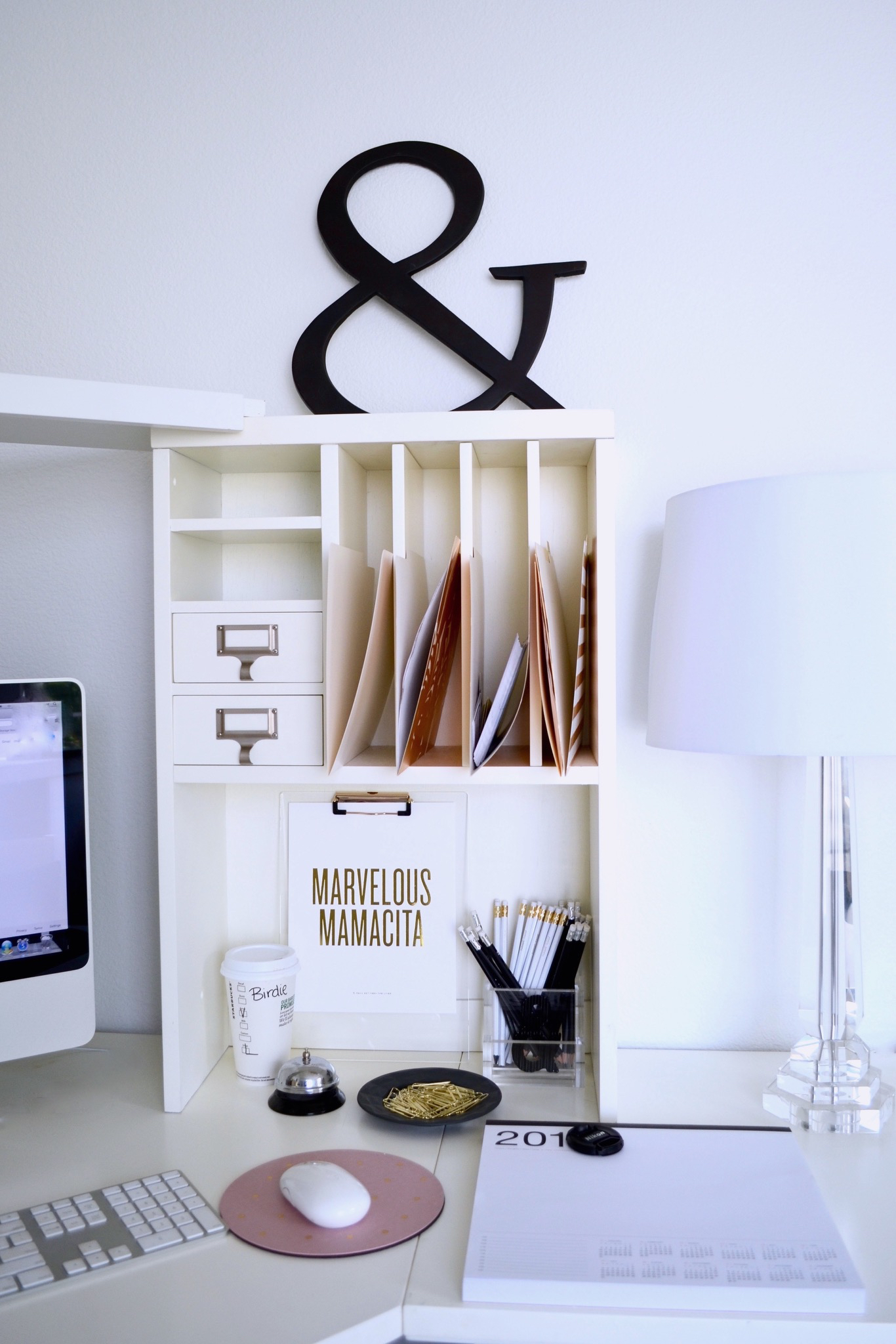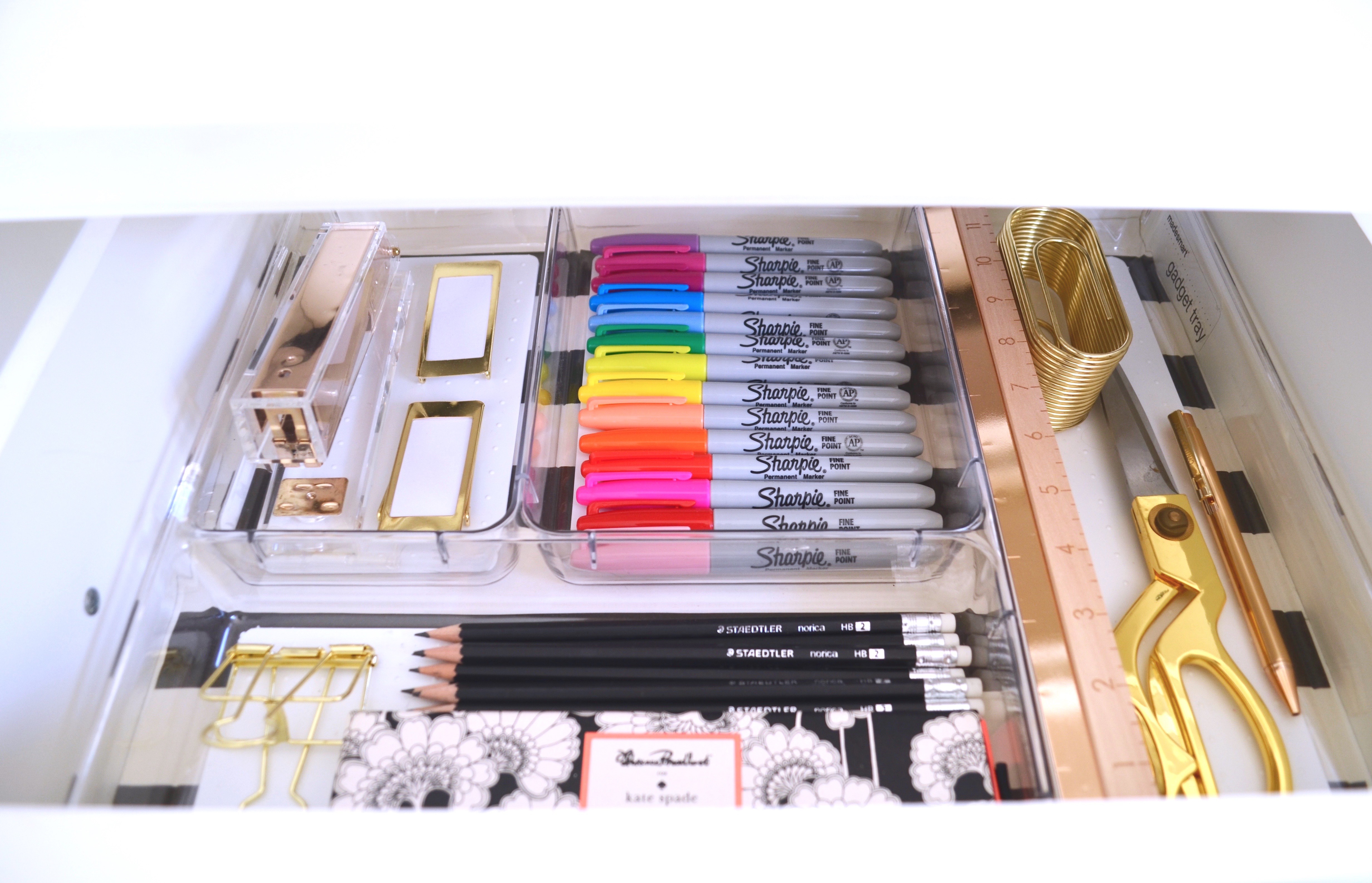 If you're going to organize your desk drawers, you might as well make them look pretty. Use a drawer or gadget organizer with compartments to keep like items together and in place.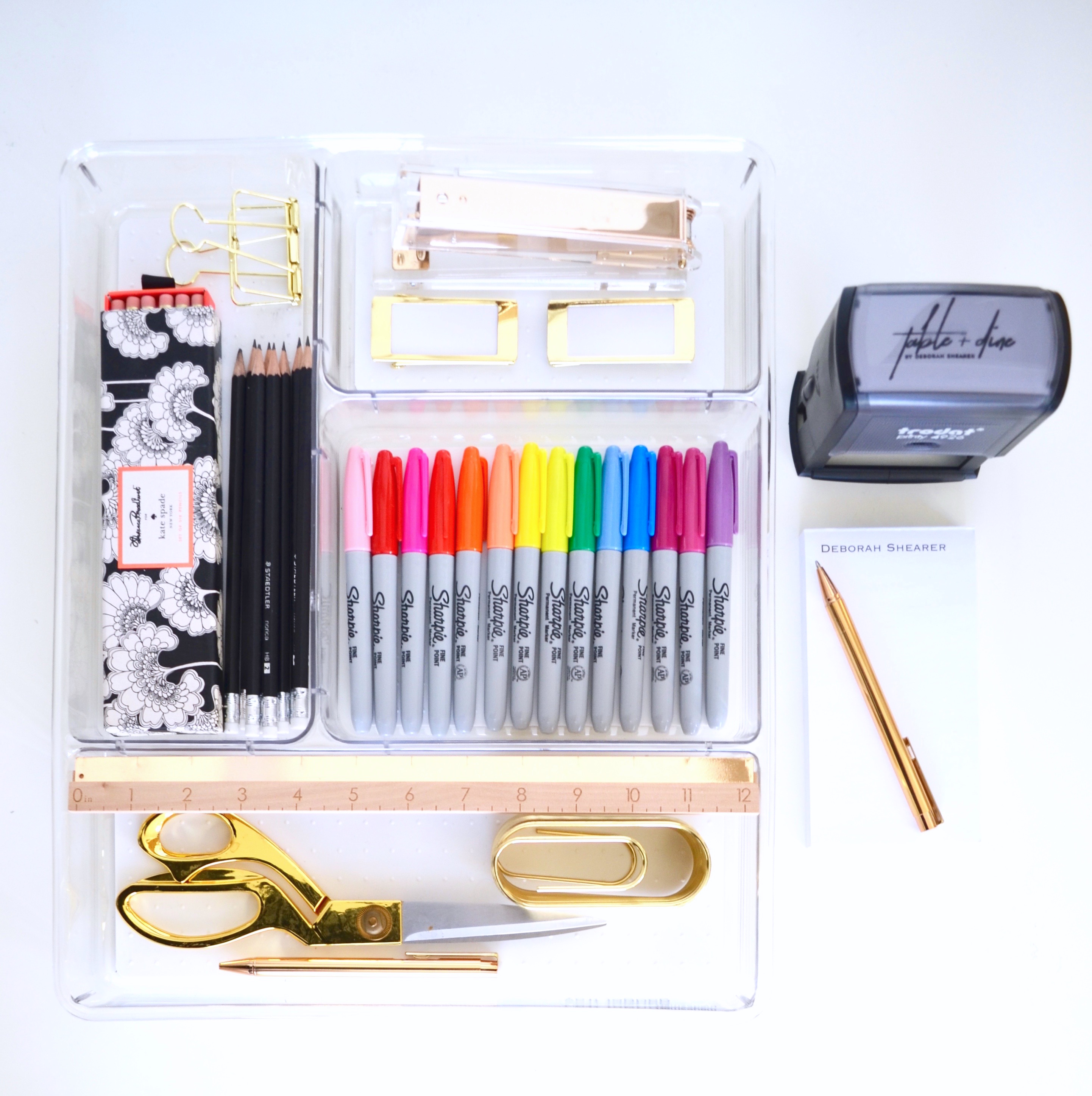 Pro tip: Measure before you shop! This drawer organizer fits my desk drawer almost like it was custom built. And, it has a non-slip bottom — so, sold!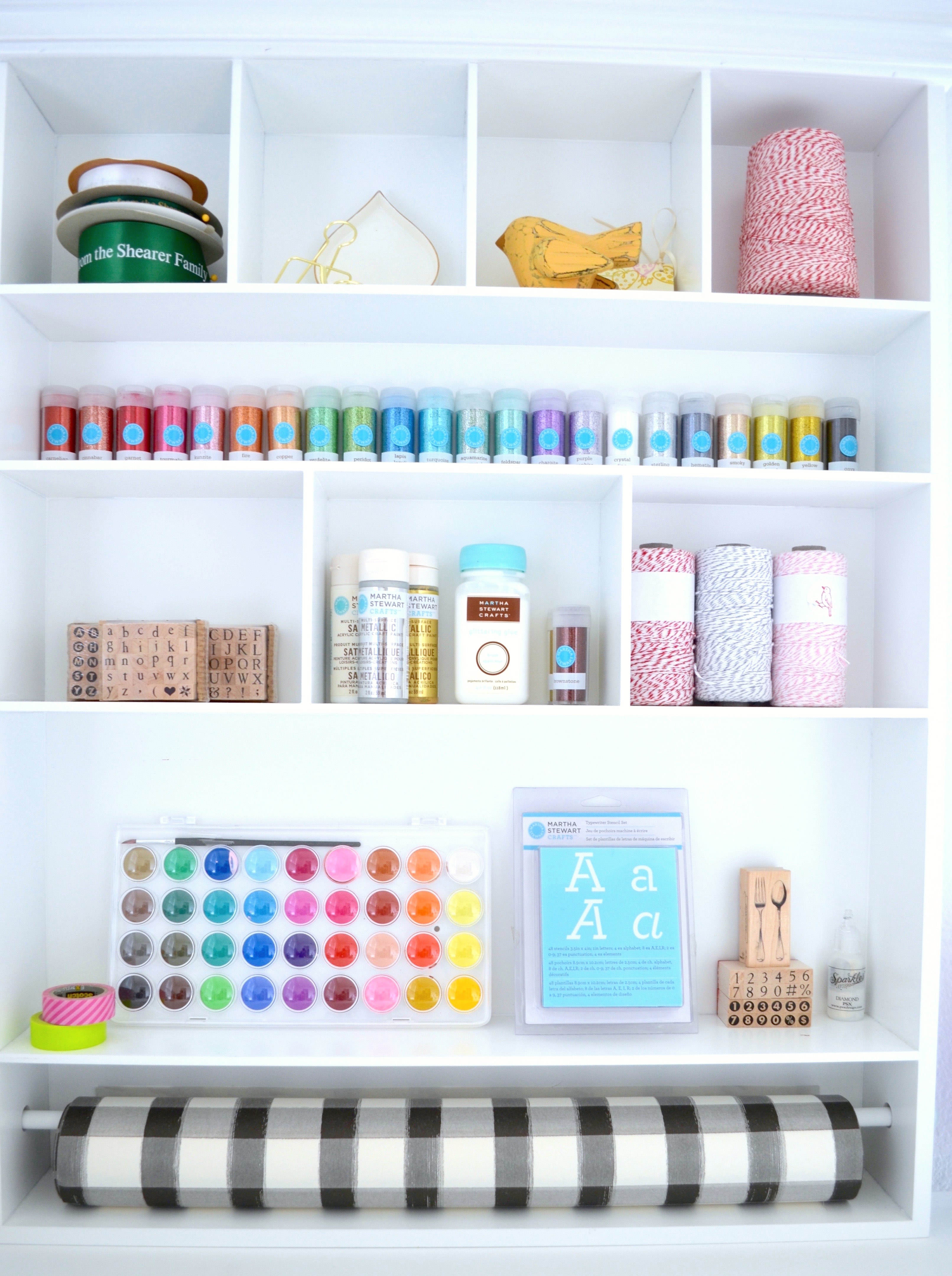 In my studio, the "craft corner" is where all the color came in. And once you are in a color direction of any kind, it's easier to stay focused and build on it. I created a focal point with a craft wall organizer over my craft table. It's perfect for storing glitter, stamps, ink, glues and the things I want close to my work area. I'm big on pretty packages, so I was sold on the built-in ribbon and wrap holder.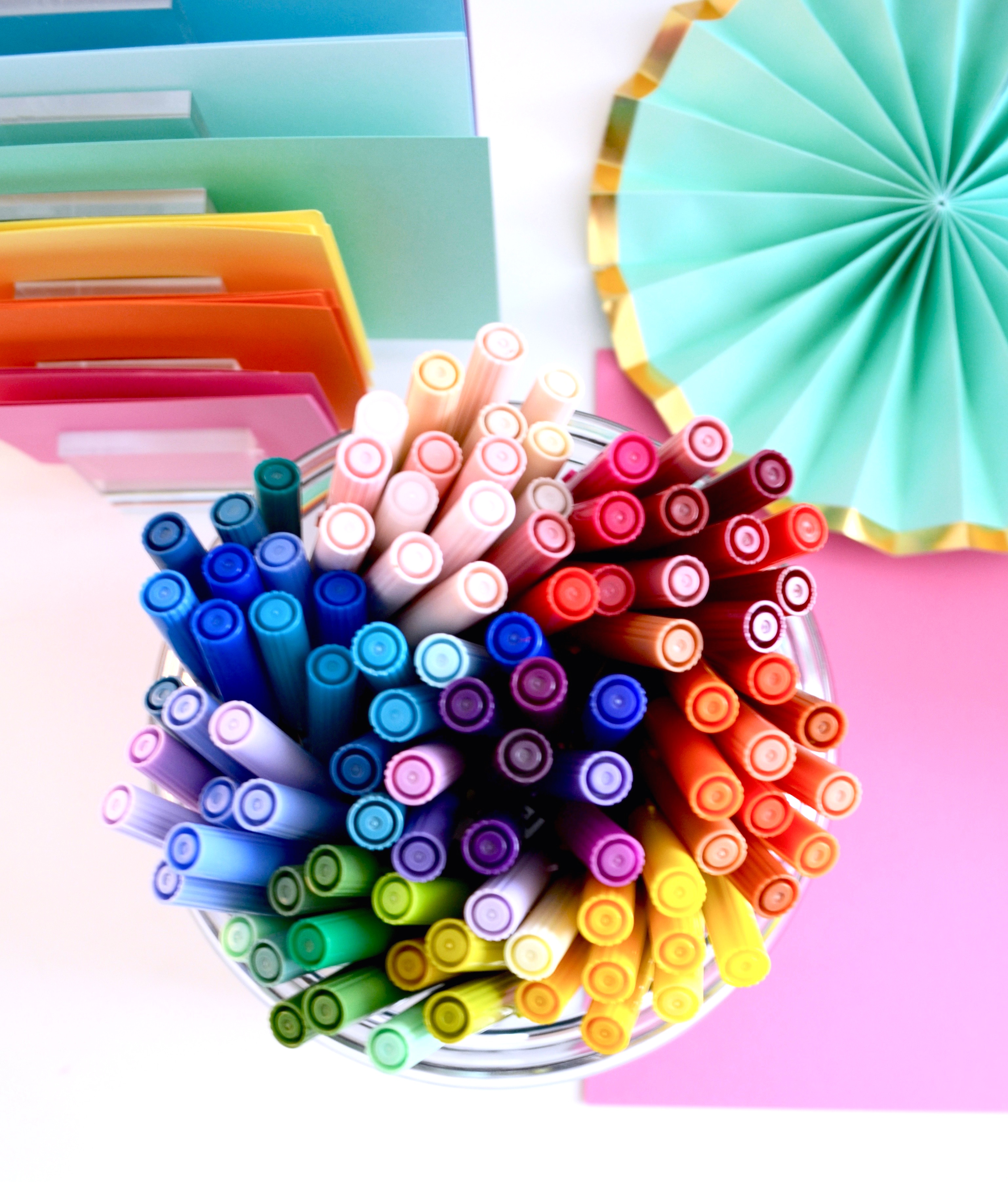 Store paint pens in one big jar. So simple and #SOGOOD. It's the little things that make a workspace or studio your "happy place."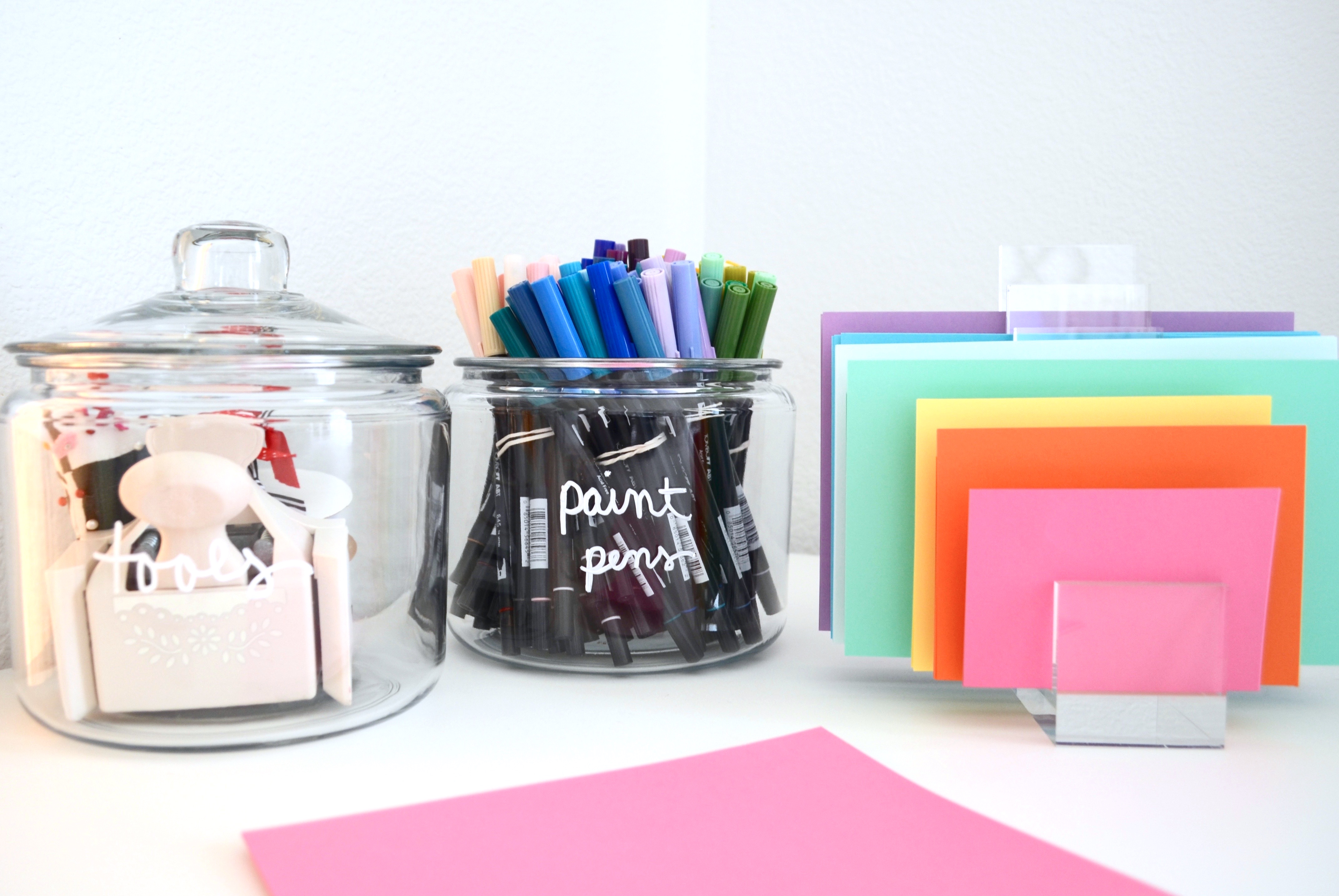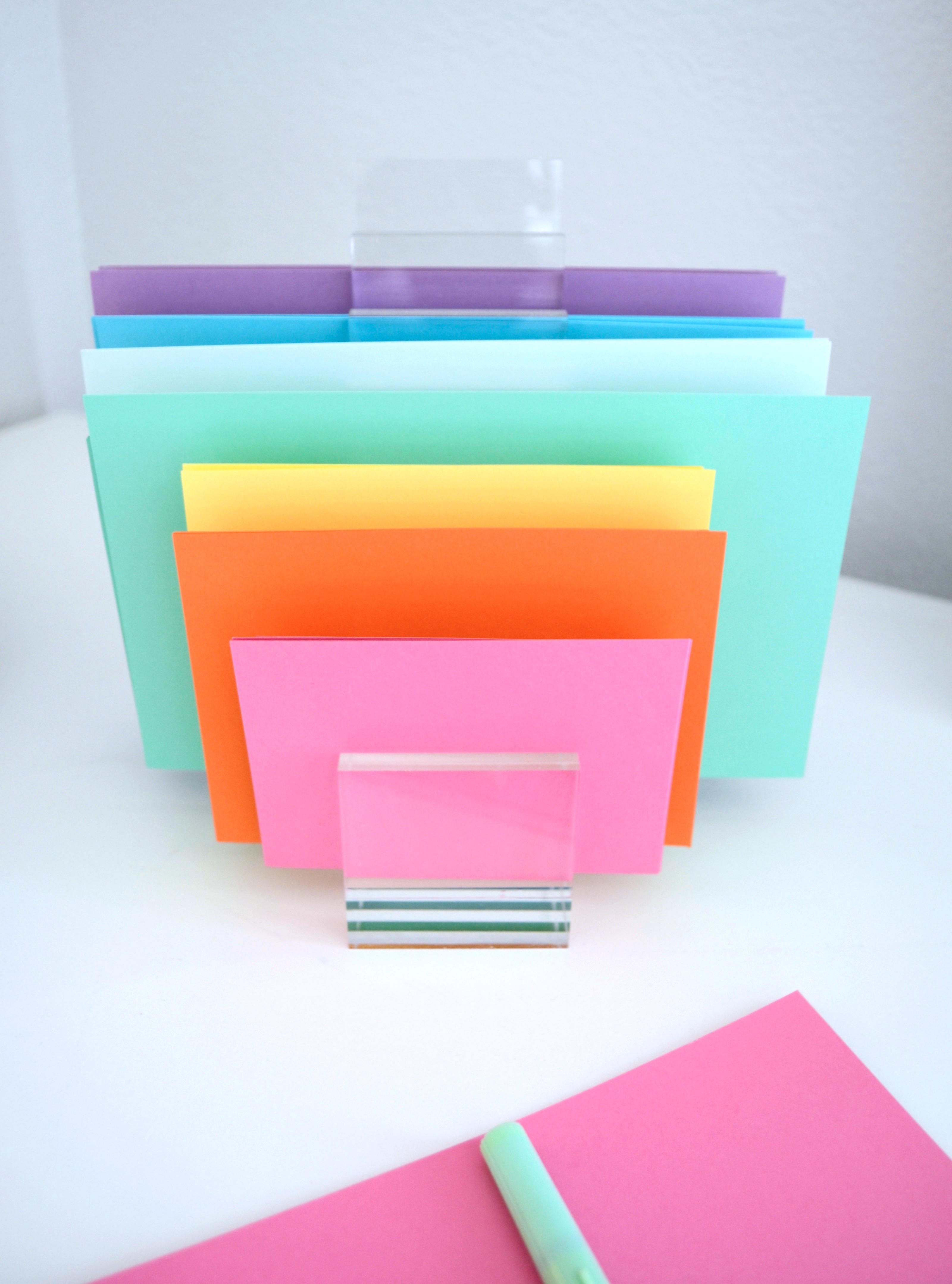 Use a file or mail organizer to store paper scraps by color and keep it handy.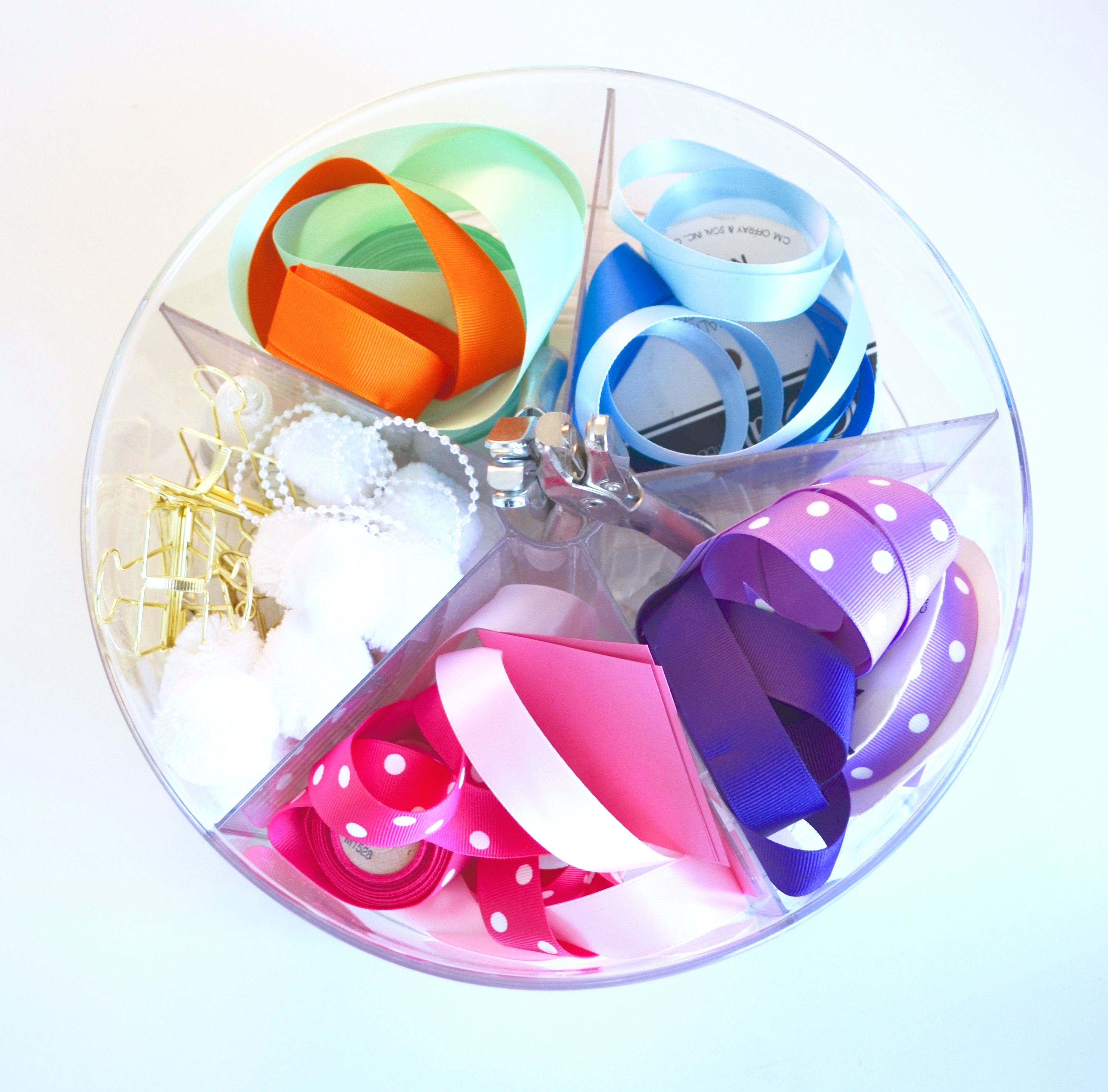 There's one thing I have to say about a Divided Lazy Susan . GENIUS! I keep one on my craft table for markers, tape, glue, scissors and tools I need at my fingertips. A Lazy Susan caddy, a handled storage caddy and a laundry basket to carry items from my studio to the dining room (I set tables, remember!?) are 3 things I use – Every. Single. Day.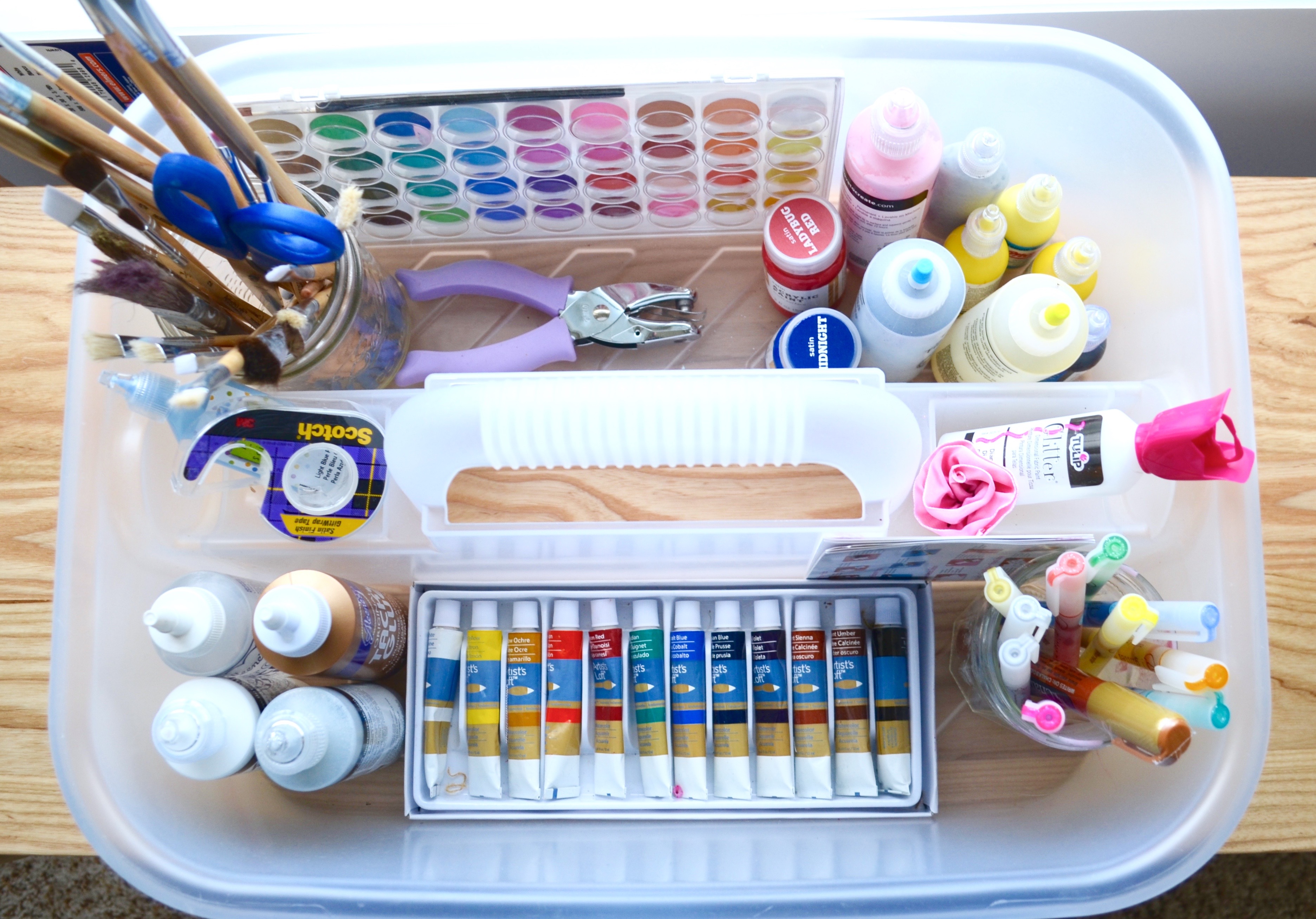 Use a handled storage caddy for items that need to move when you do or setting up for a project.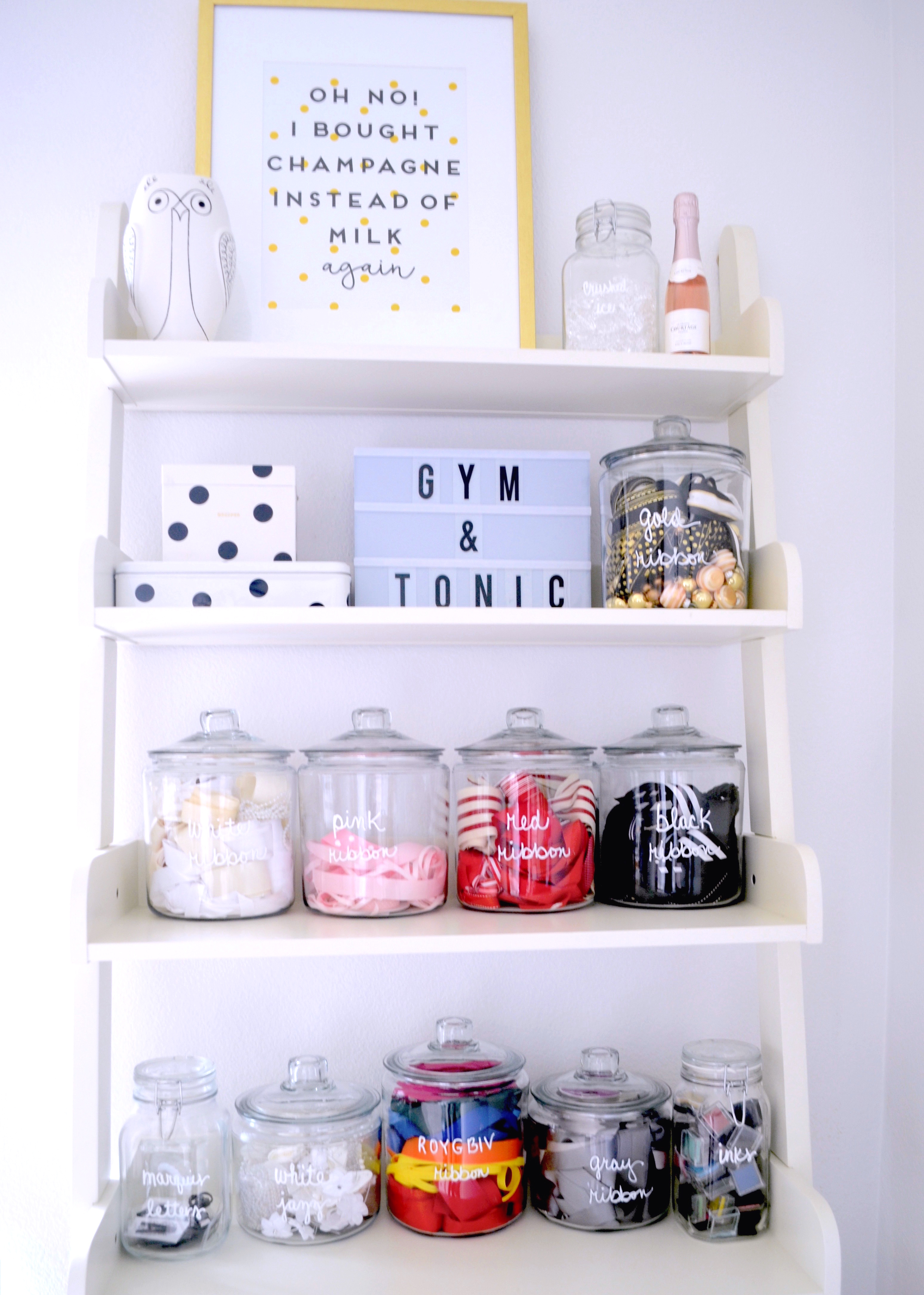 I never met a crafter who didn't struggle with keeping ribbon organized. To hold all the different colors of ribbon I have (trust me, it's way more than ROGBIV), I used one-gallon and 3-quart size Glass Canister Jars for this neat and clean look.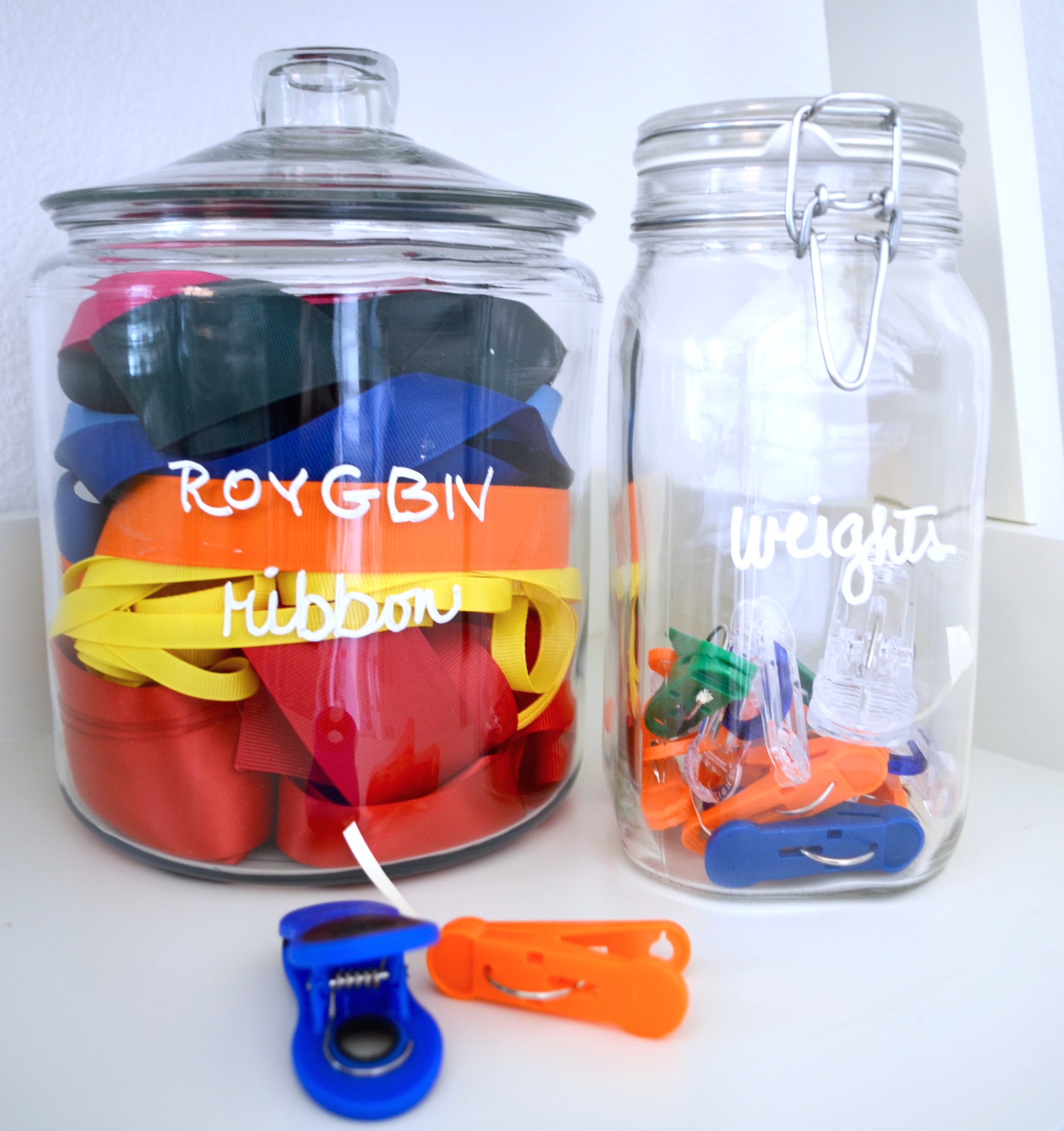 For storing smaller quantities or smaller items by color (straws, balloons, balloon weights, pencils, mini-ink pads), canning jars make perfect containers. They're available in multiple sizes to hold just about anything.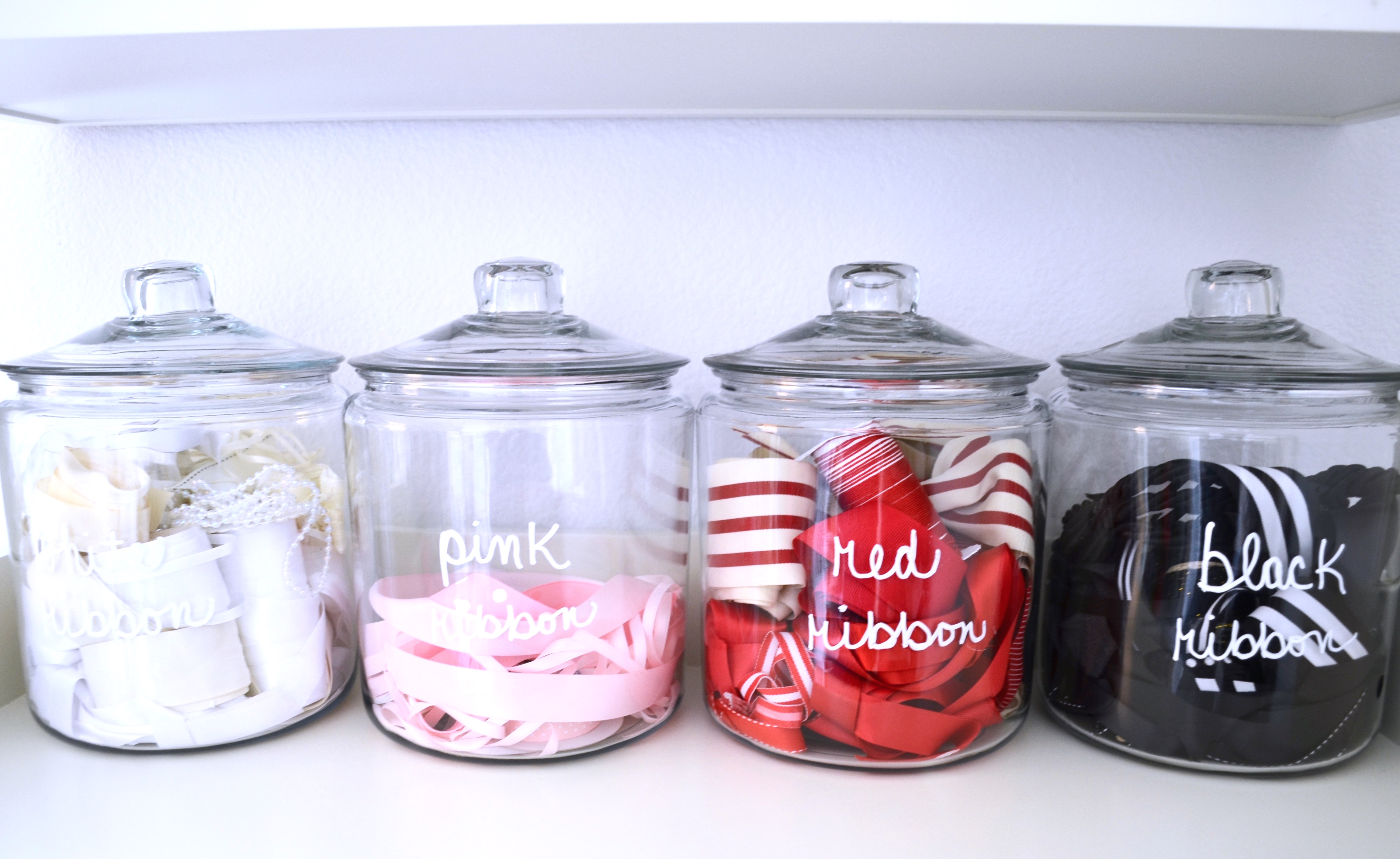 Label everything using a chalk pen , sharpie, chalk labels or a label of your dreams. PSA: There is HUGE OCD satisfaction in labeling containers.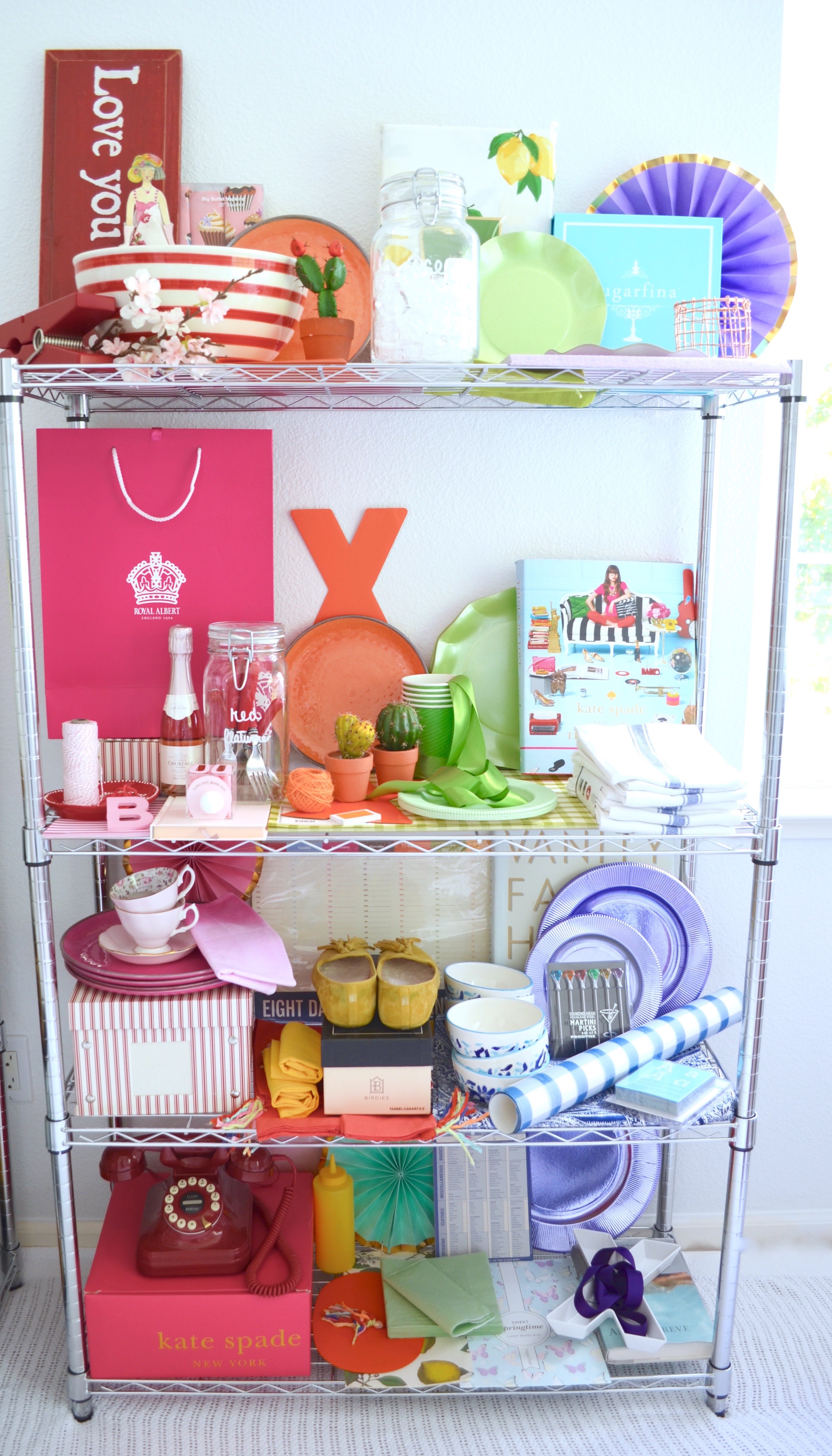 I could look at these shelves all day! We always say to work by the golden organizing rule and "contain it", but as you know, there's always an exception to the rule. EXCEPTION: Some things just need to be seen or they'll be forgotten. I organize props by color on two shelving units . One unit is ROYGBIV'd (is that a word?) and the other is black, white and metals.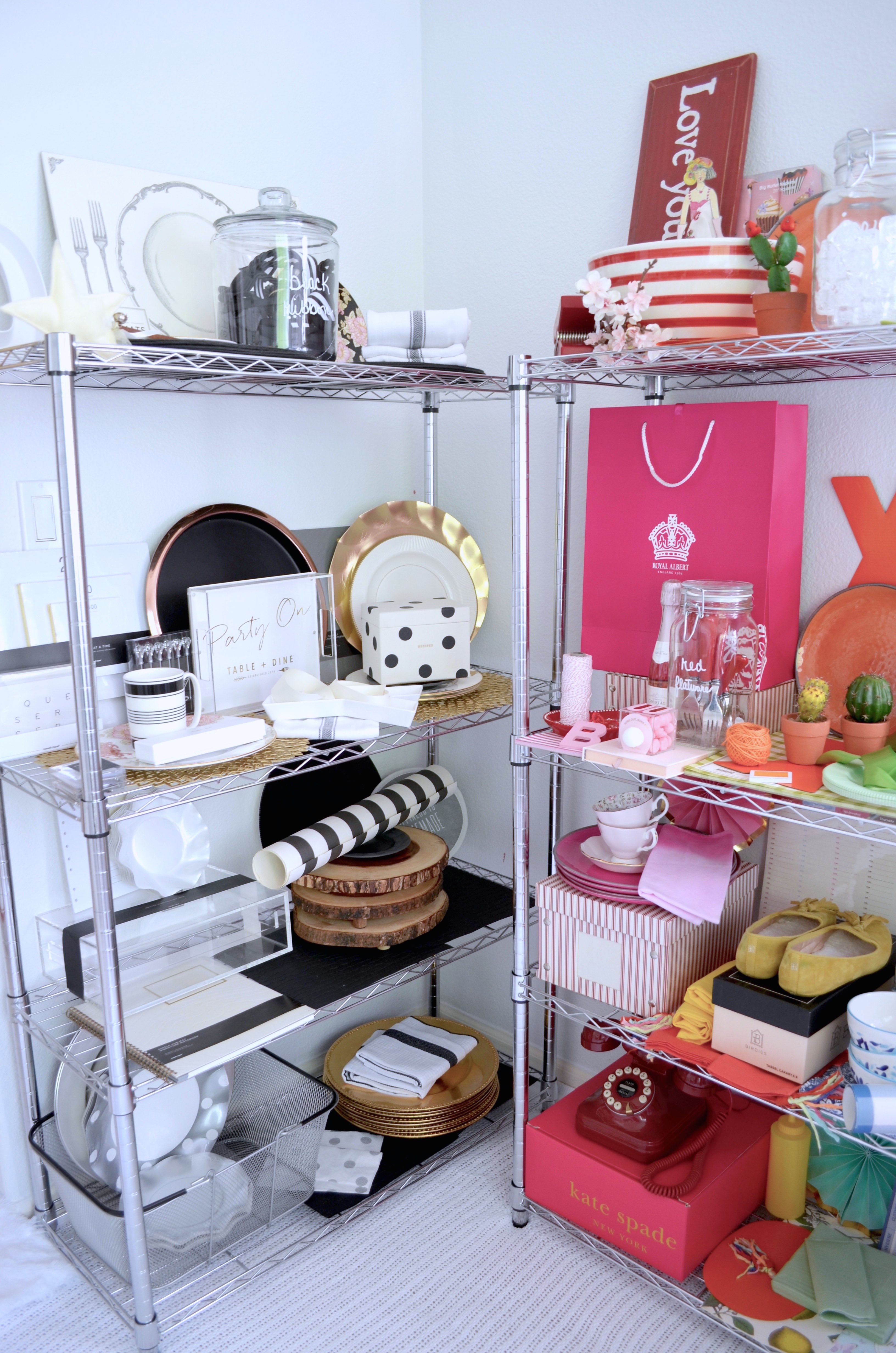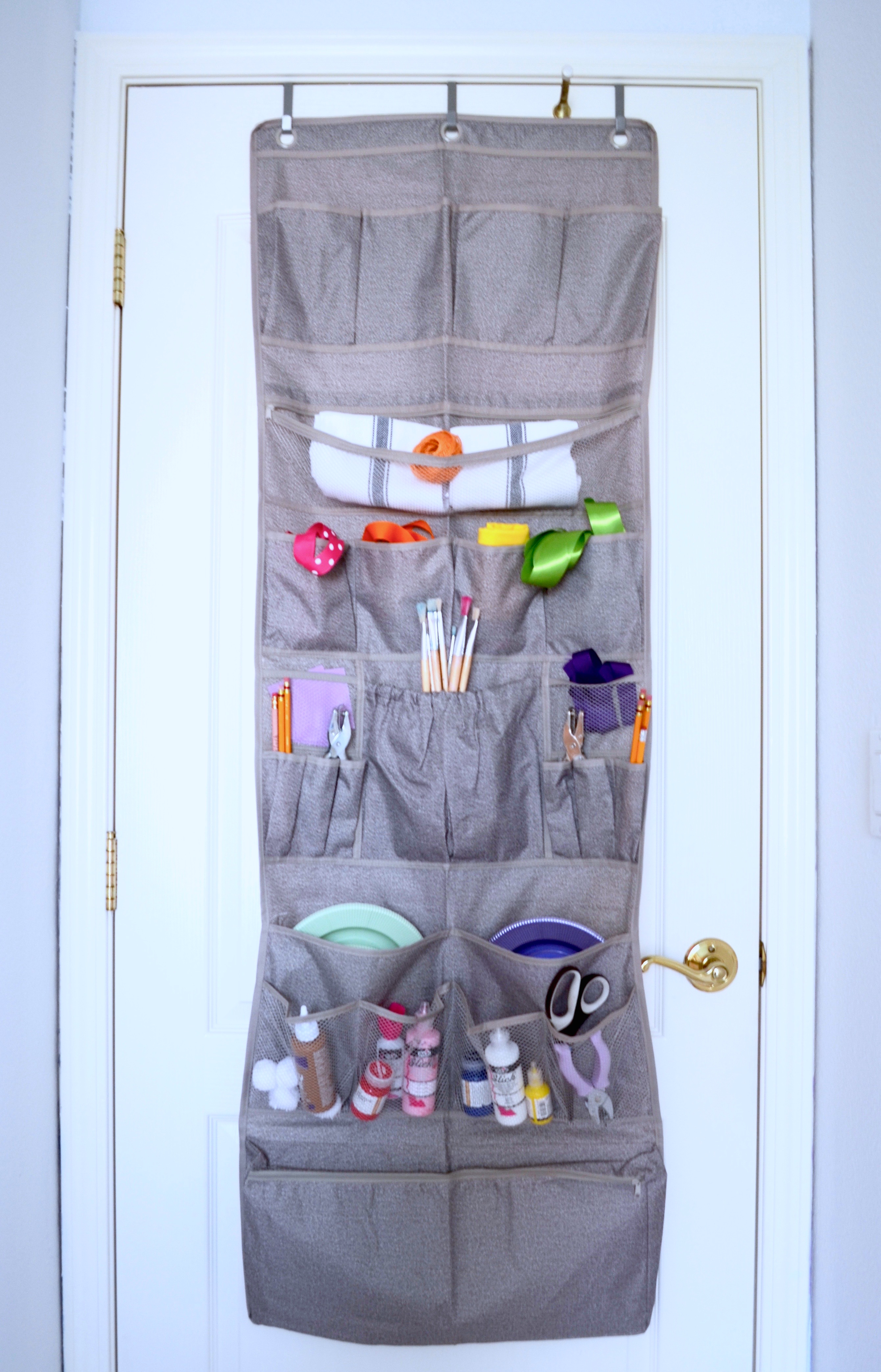 Short on storage space? Create it with an Over the Door Organizer . This one is built with 25 pockets to store brushes, paints, ribbon, glues, tools and the extra finds your scored at Costco, Michael's and Target that you usually wouldn't have room for.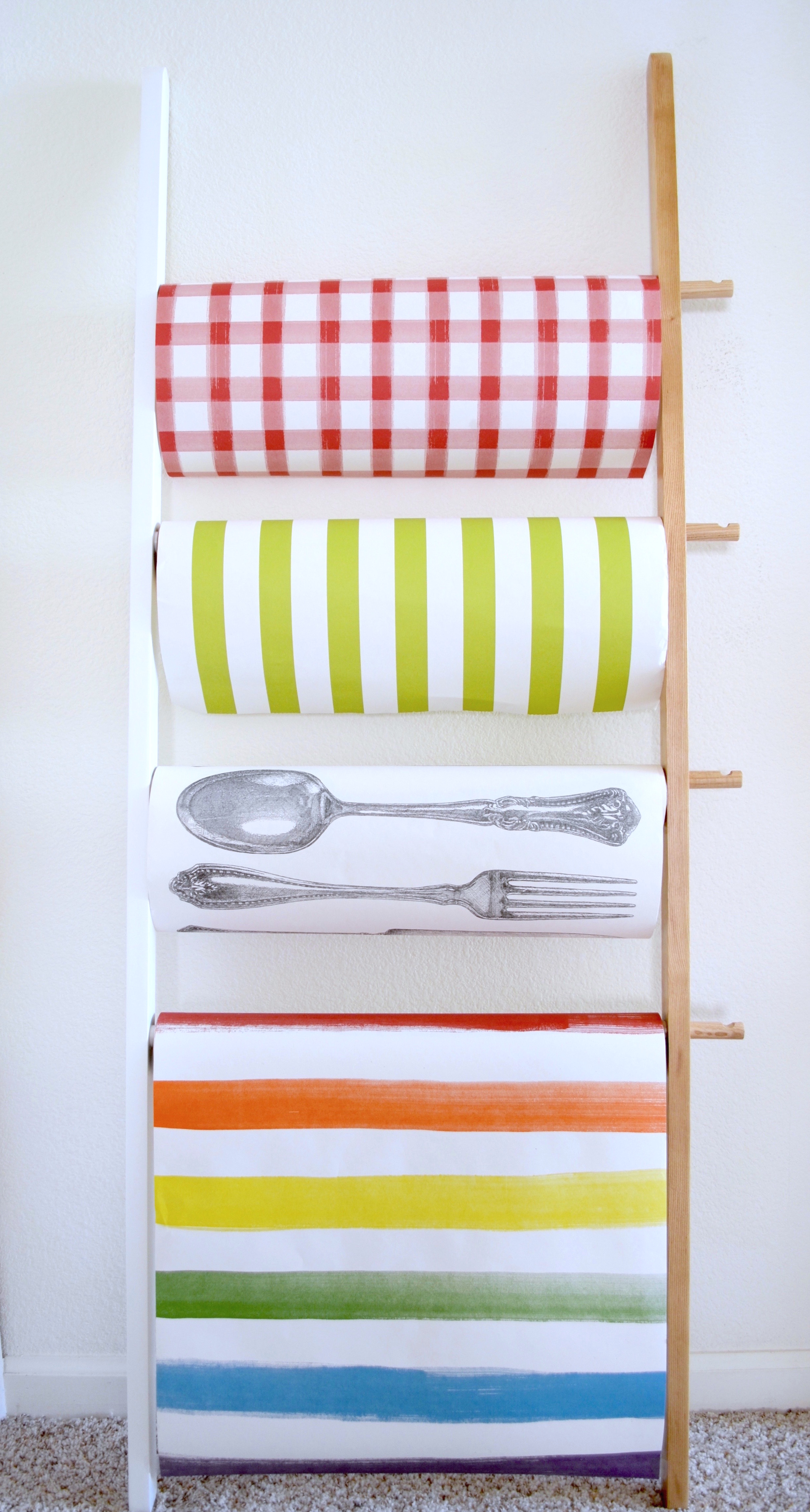 It's a wrap! Using a ladder for bath towels and denim is so LY. They're also perfect (really!) for storing wrapping paper, runners and tablecloths. For me, keeping my table runners and tablecloths wrinkle and fold-free is a tricky business and I don't have time for ironing. This ladder is EXPANDABLE (I know!) and definitely my new favorite thing.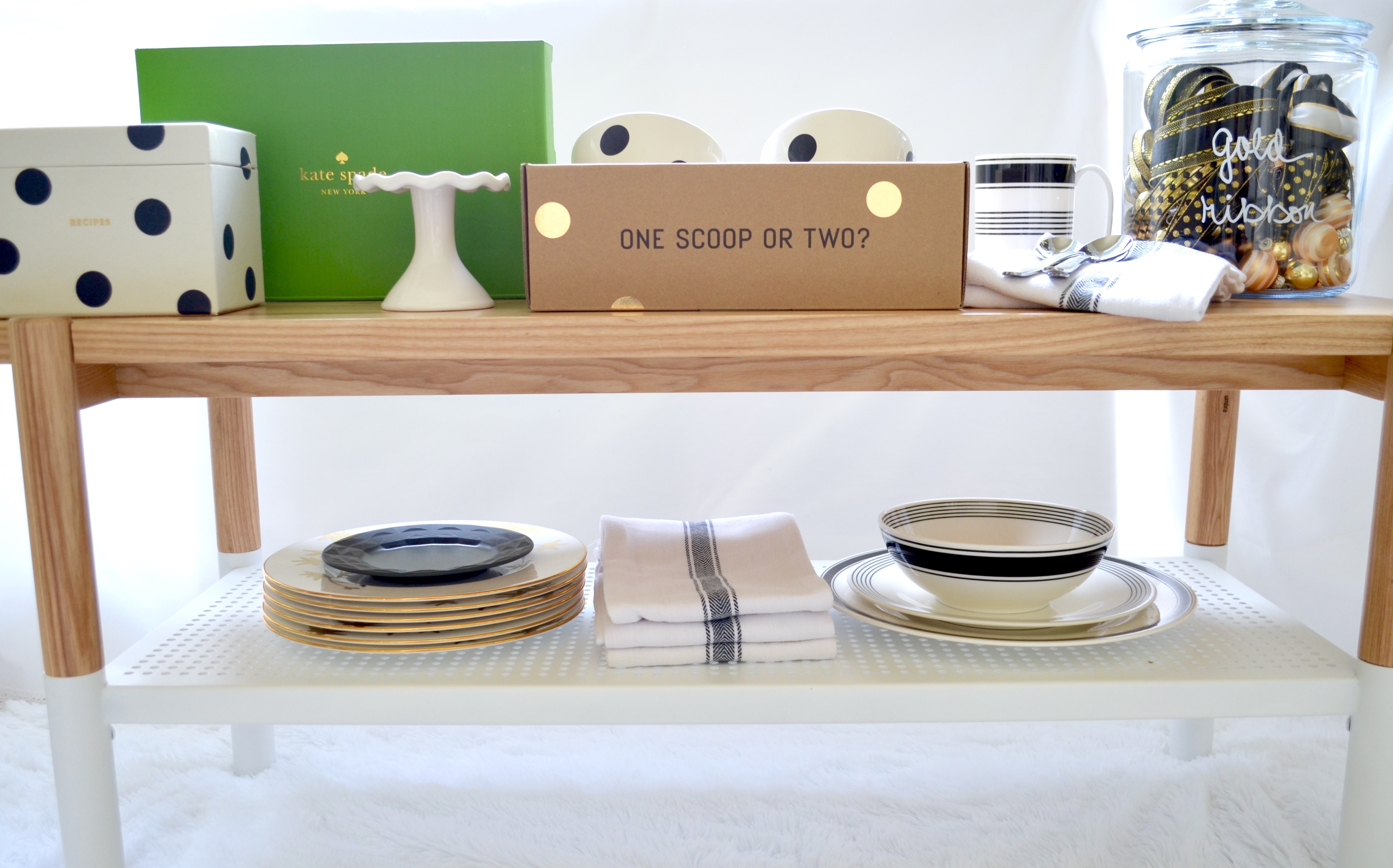 I do a lot of work on the floor unpacking, sorting, organizing, labeling and sometimes just figuring things out. The problem is, if I'm working on a project, I don't want to put everything away only to take it back out, but I also don't want a mess on the floor. Sound familiar? It hit me one day that an entryway bench is the answer. This one is two-tiered and wide enough for me to try out a placesetting and decide between a napkin color or two.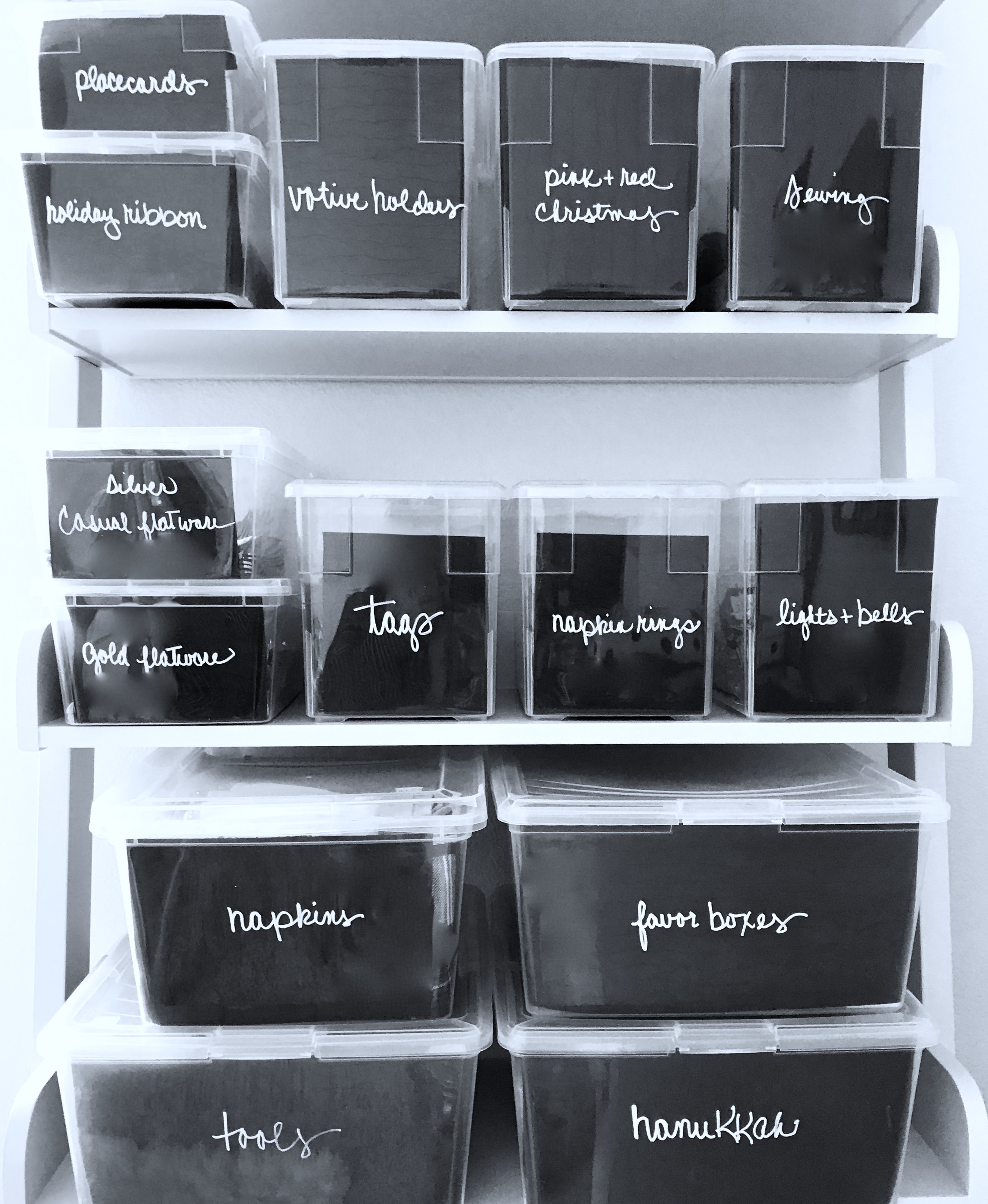 For my type of business, I store items such as flatware, tags & labels and napkins in shoe boxes and tall boot boxes. For larger items such as glassware, tablecloths, dinnerware, large totes do the trick. Clear containers are stackable, available in a number of sizes, reasonably priced and look great.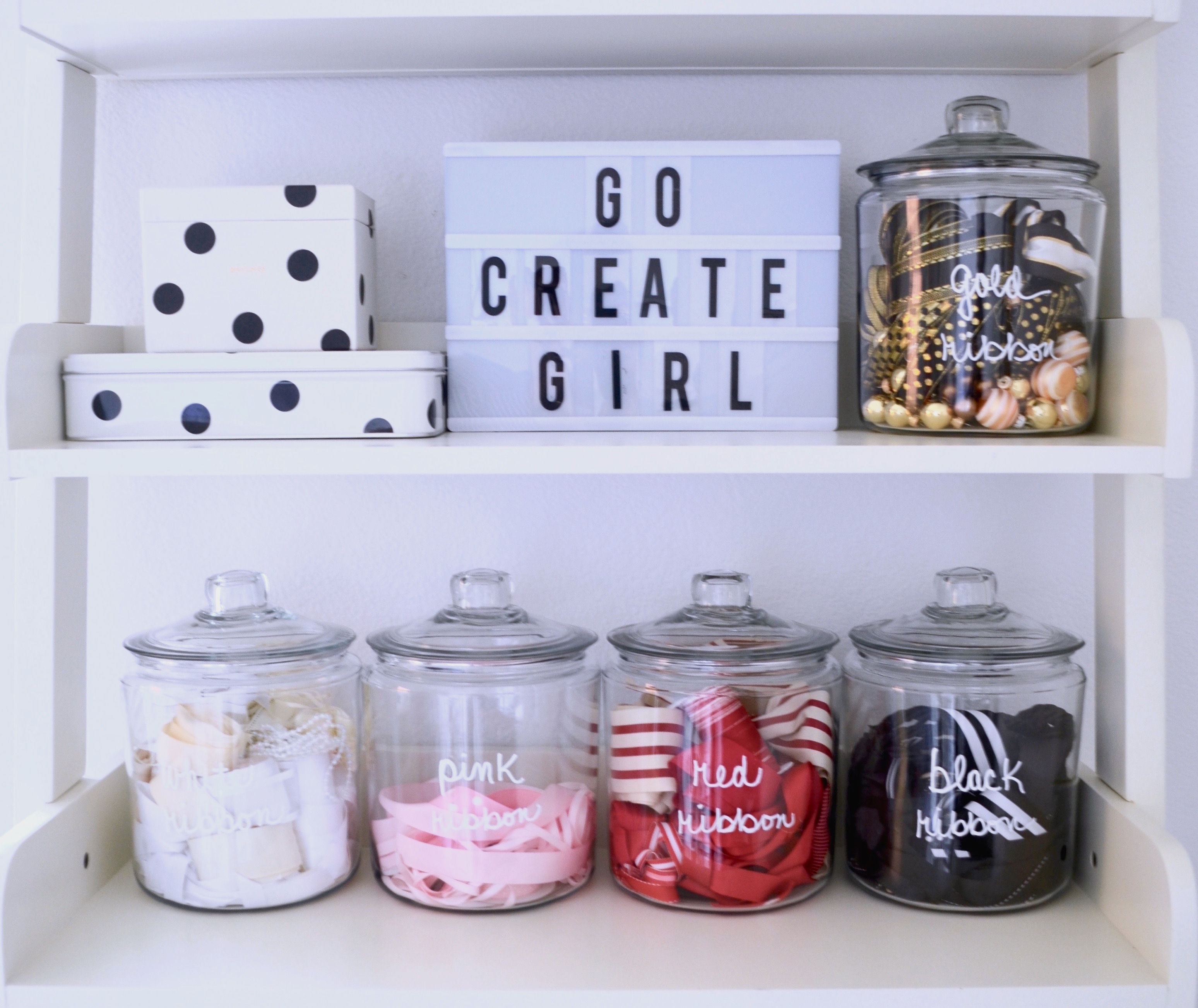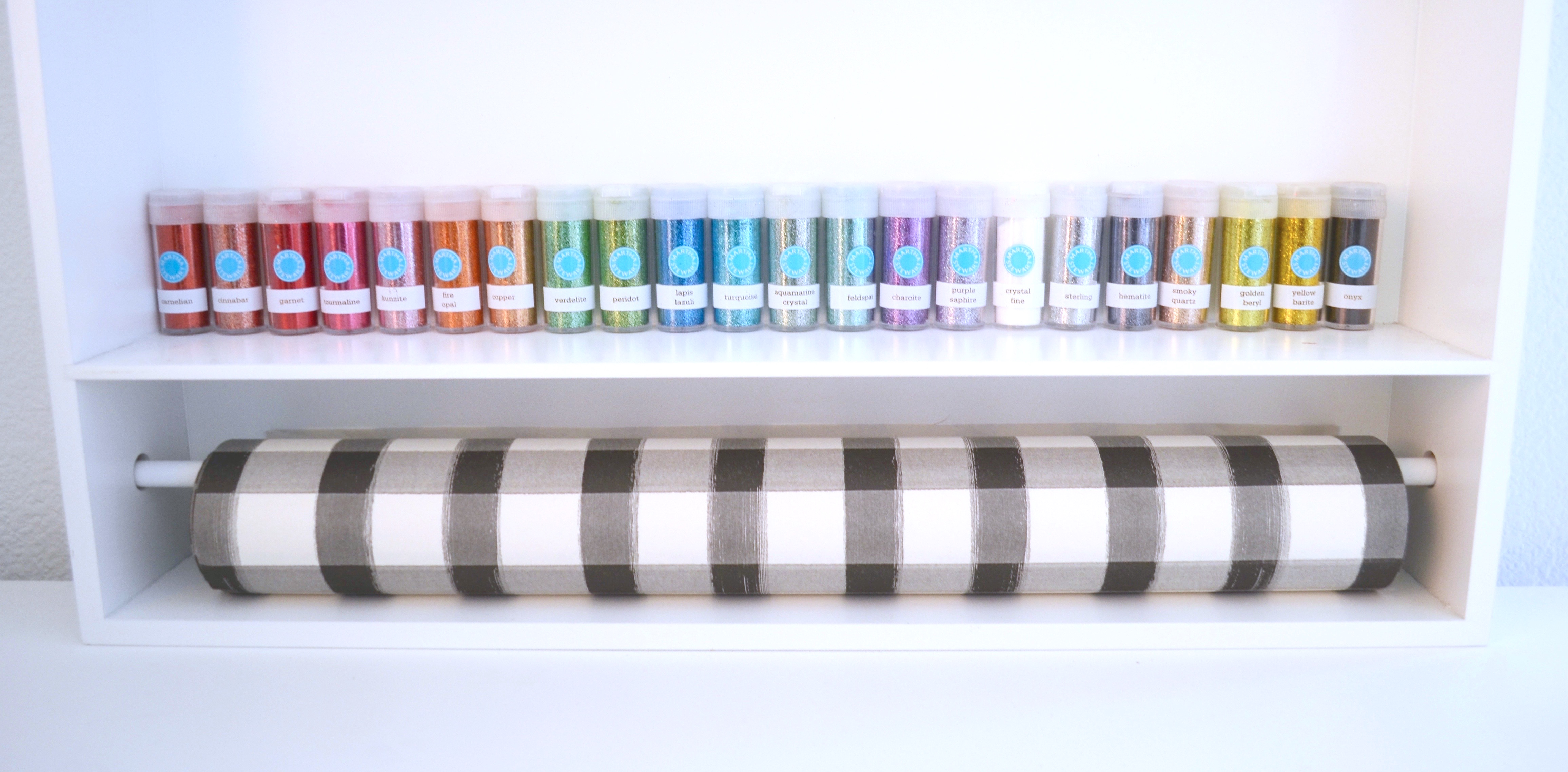 Ready to ROYGBIV? Start thinking garnet red, sunkist orange, meyer lemon, matcha green, cobalt blue, passion plum and go create your own happy space.
xx, Deborah