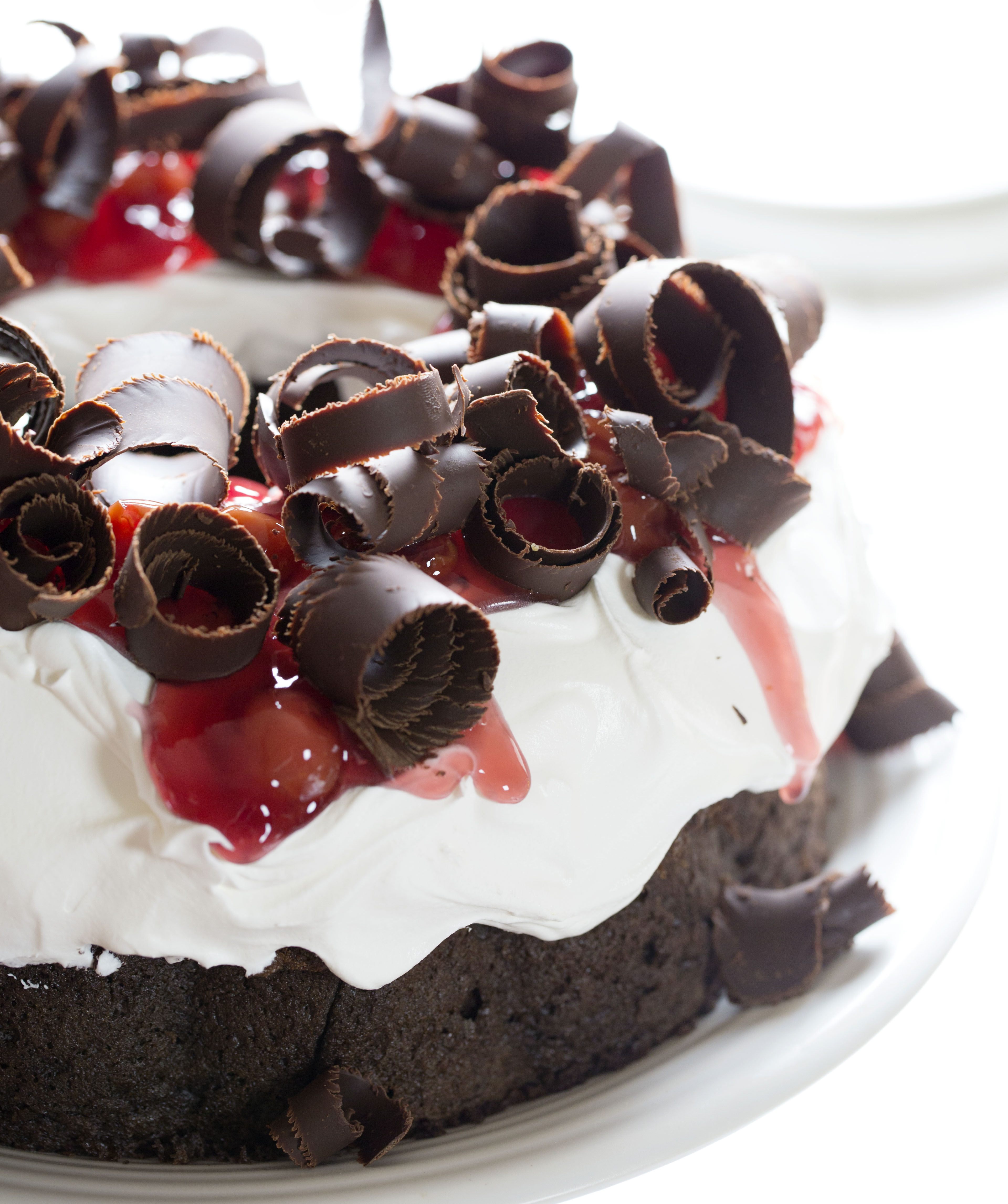 Is there any better flavor combination than rich dark chocolate and cherries? The traditional Black Forest Cake is one of the best cakes ever created. It happens to hold fond memories for me as my mom would make it every year for my birthday. I would look forward to that cake more than the gifts!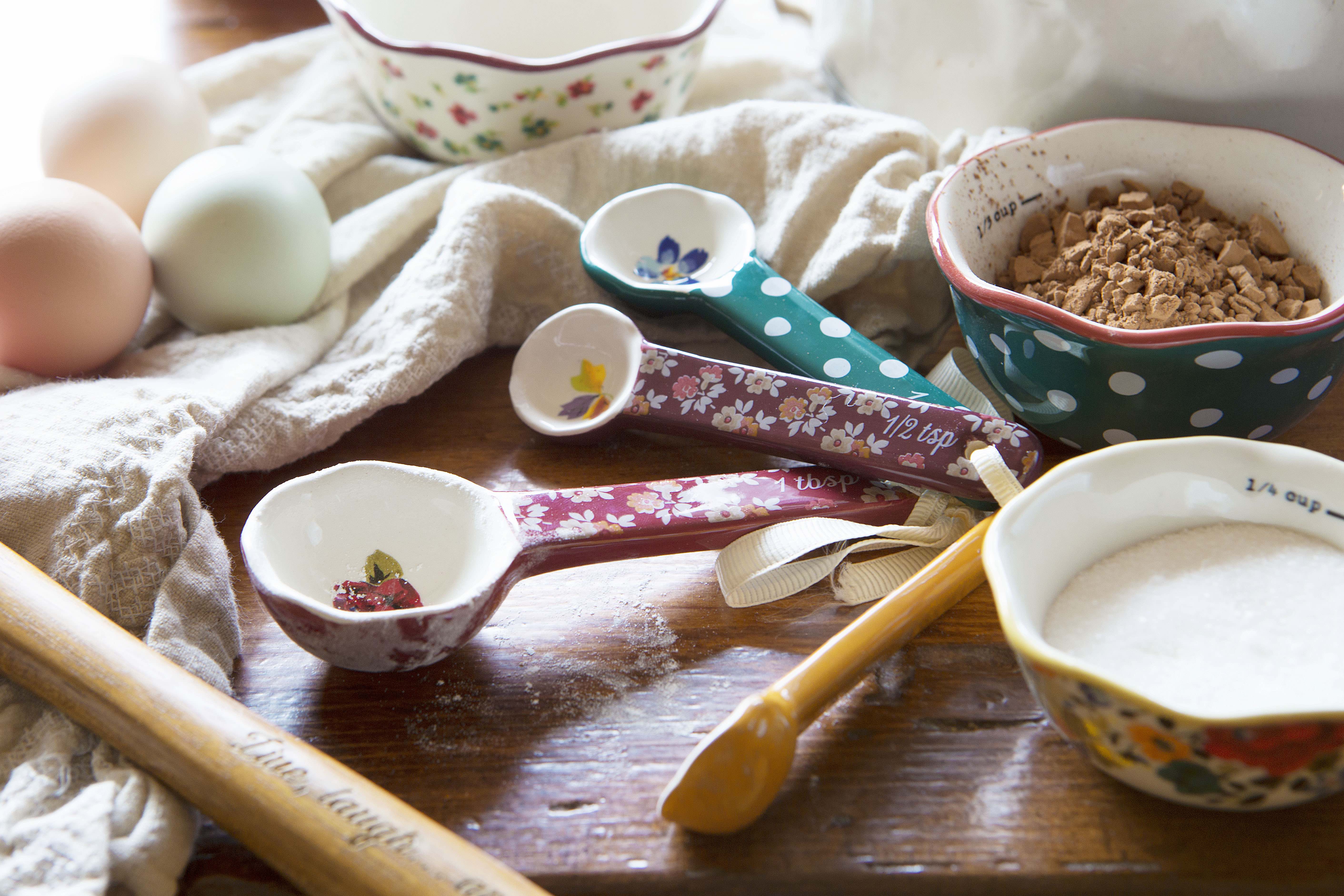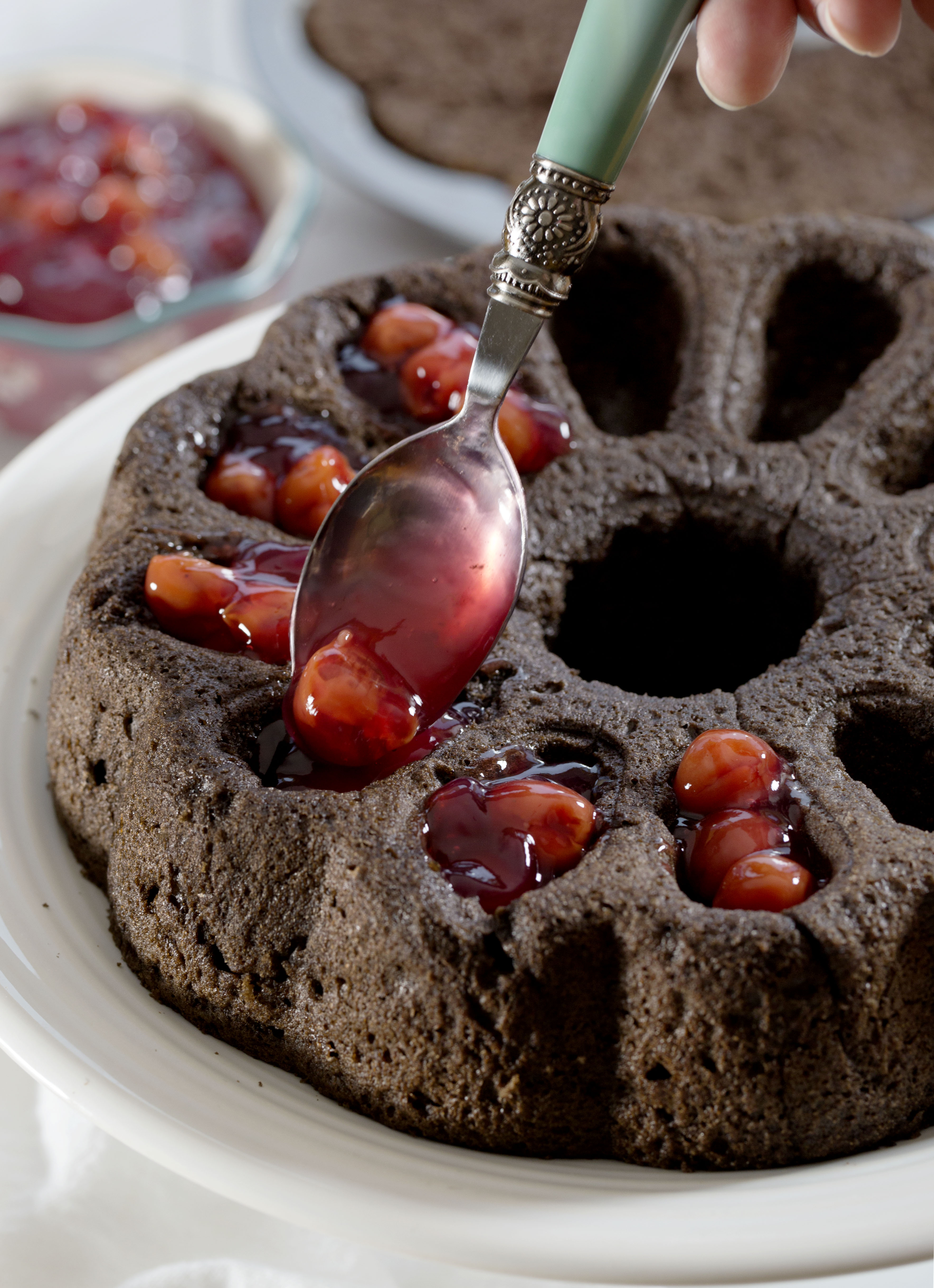 One of the really unique aspects of this Black Forest cake recipe is that I used a fantastic pan set called Fillables. Using Fillables guarantees that you will have the perfect ratios of cherry to chocolate!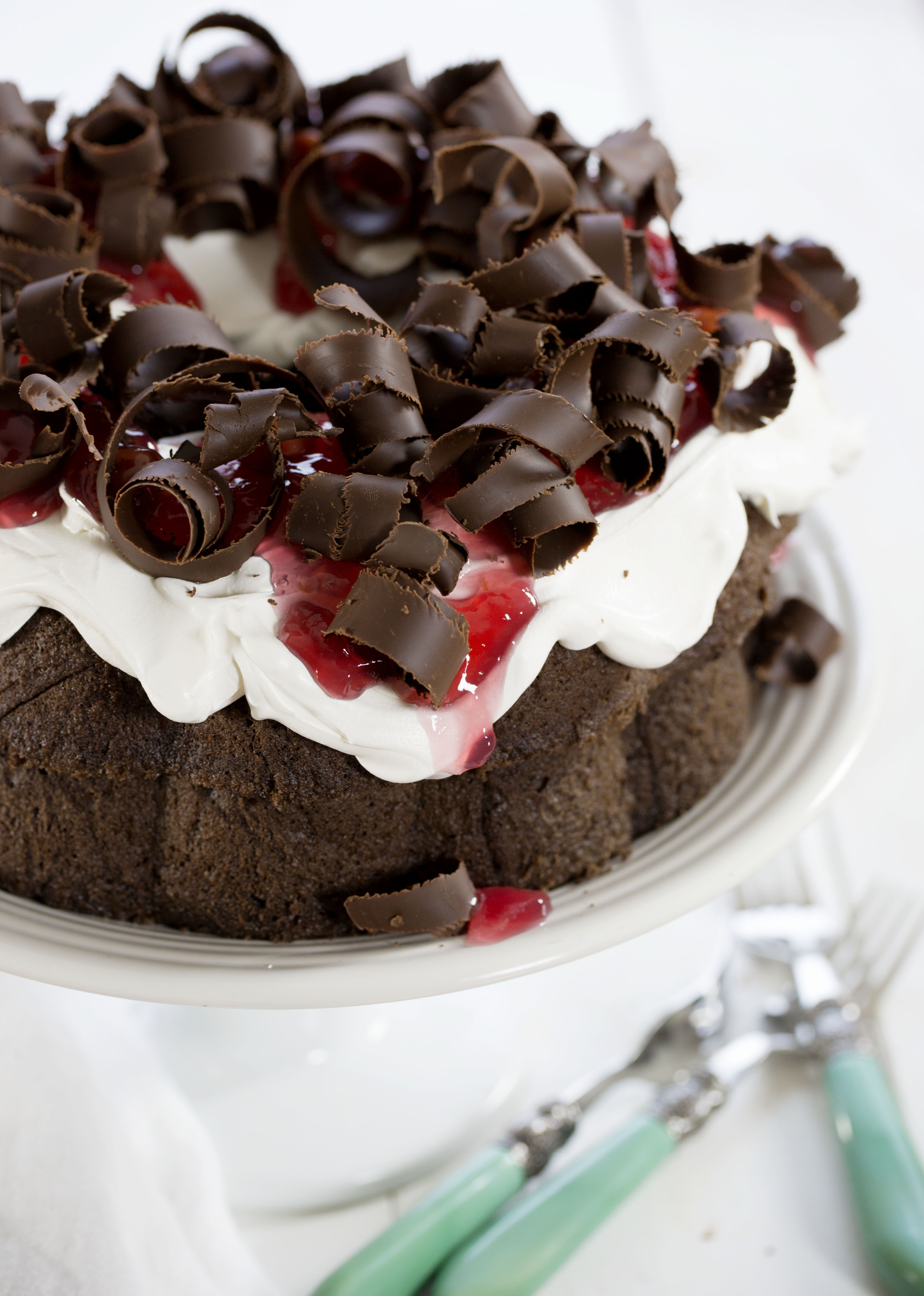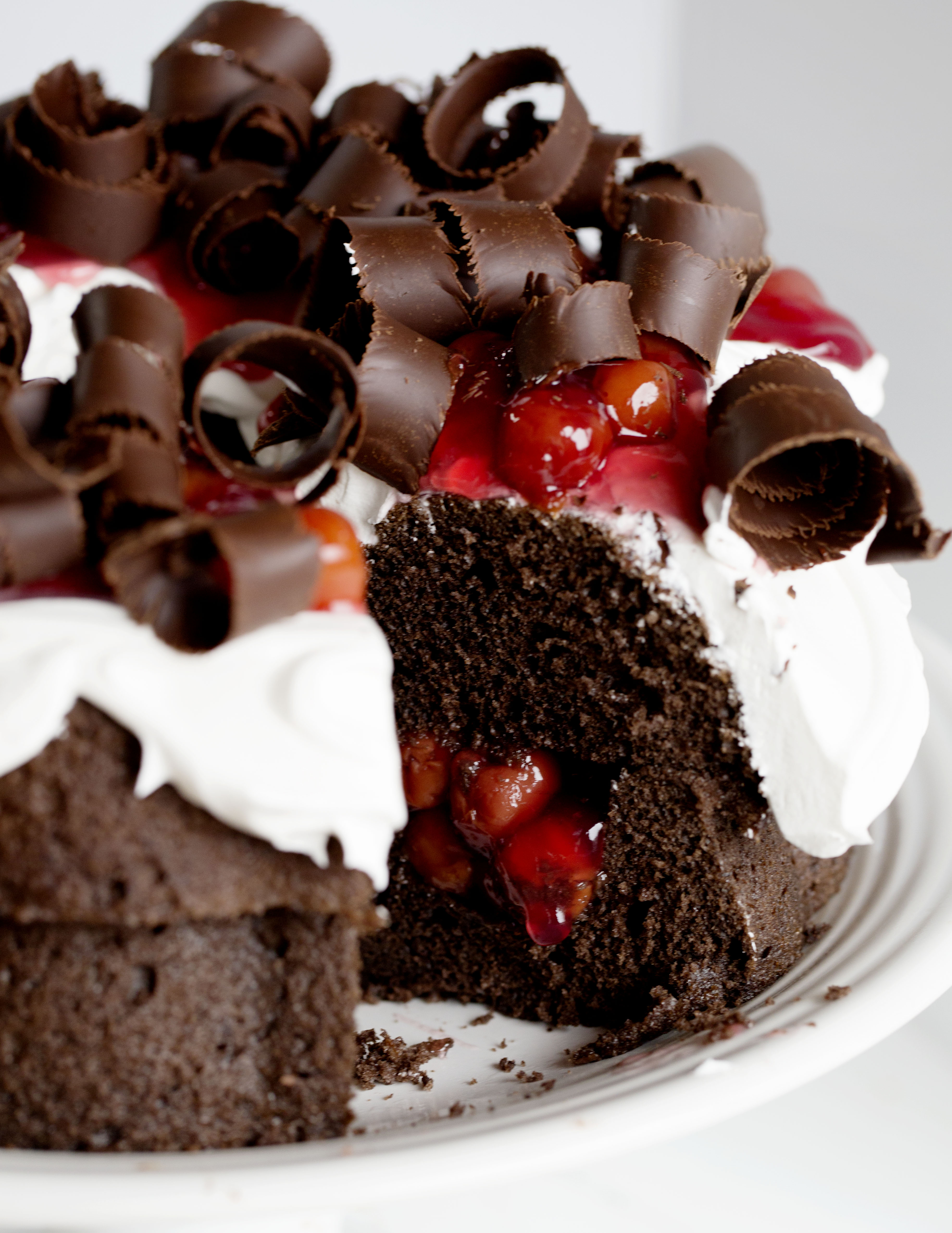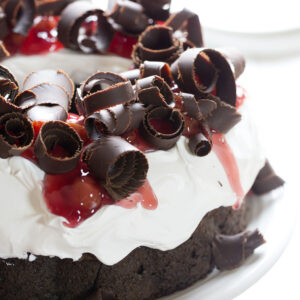 INGREDIENTS
For the Chocolate Cake:
2 sticks (226g) unsalted butter, room temperature
¾ cup granulated sugar
2 cups all-purpose flour
¾ cup unsweetened cocoa
1 cup firmly packed brown sugar
4 eggs, room temperature
1 teaspoon vanilla extract
½ cup whole milk, room temperature
1 cup water, warm
1 teaspoon instant coffee powder
1 teaspoon baking soda
½ teaspoon salt
For the Filling & Toppings:
1 can Cherry Pie Filling
8-ounce package of whipped cream
For the Chocolate Curls:
12-ounce package of semi-sweet chocolate morsels
2 tablespoons shortening
INSTRUCTIONS
For the Chocolate Cake:
Heat oven to 350 degrees F.
In the bowl of a stand mixer, cream together butter and both sugars until light and fluffy, 3-5 minutes. While butter and sugars are mixing, sift together all of the dry ingredients. With mixer on low, add in eggs one at a time. Be sure to scrape the bowl if necessary.
Add in vanilla, milk, water, and the dry ingredients. Mix on low for 10 seconds, then increase the speed to medium. Scrape bowl as needed.
Fill bottom pan ¾ of the way full, fill top pan with remaining batter. Place in oven and bake for 20-30 minutes or until a toothpick comes out clean. Test each layer as they may not be done at the same time.
For the Chocolate Curls:

Place the chocolate into a microwave-safe bowl with the vegetable shortening. Place it in the microwave until the shortening is melted and hot, about 1 minutes. Stir with a fork to combine thoroughly. Place back in the microwave in 15-second increments until chocolate is fully melted.
Next, pour half of the melted chocolate over the underside of a clean cookie sheet. With an offset spatula or a bench scraper, spread the chocolate in a thin layer. Place cookie sheet in the freezer for 3-5 minutes.
After a few minutes, check that the chocolate is ready by pressing it with your finger tip into it. Your finger should leave the slightest mark, but not an actual depression.
Using a small off-set spatula (rounded edge) or a mini flat edge spatula, begin to scrape the chocolate from the bottom of the pan. When the chocolate is just the right temperature, it'll curl instead of break. If it gets too soft, stick it back in the freezer for a minute.
After you have made a few curls, carefully transfer them to a plate and pop into the refrigerator until ready to use.
When You Are Ready to Assemble the Cake:
Place the bottom layer of chocolate cake on cake stand.
Fill pockets with cherry pie filling.
Cover with top layer of cake.
Spoon whipped cream over top of cake.
Drizzle remaining cherry pie filling over cake.
Finally, place chocolate curls over entire cake.
Chill until ready to serve.