Perfecting Family Pizza Night: Crispy Potato, Bacon & Chive Pizza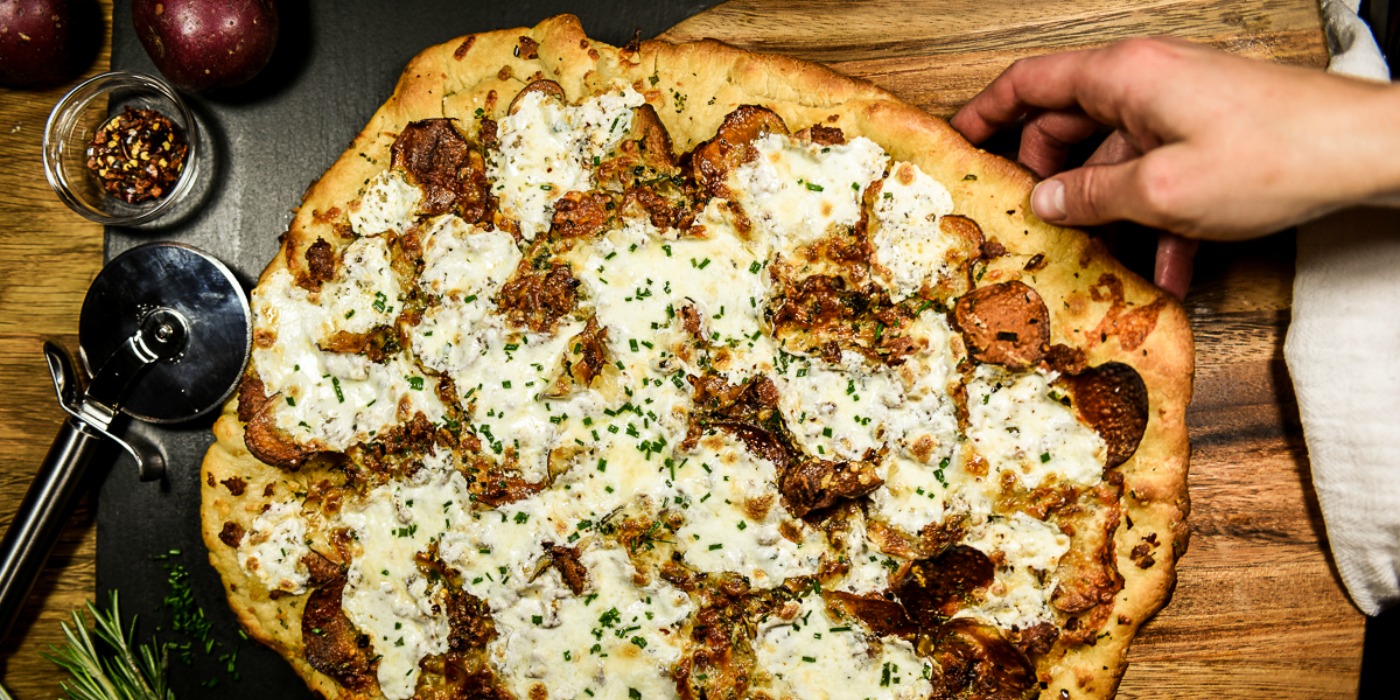 Family pizza night is a weekend ritual at our house. As soon
as we pull out the dough hook and pizza peel, the kids go running to find their
pajamas and beanbag chairs. They know it's the one night they're allowed to eat
dinner in the living room and stay up late watching family movies with mom and
dad.
Know Your Dough
My husband is our dough man. He's perfected the art of the
perfect pizza crust. His recipe features a heavy dose of olive oil, which adds
flavor, tenderness and the perfect crunch. He usually makes the dough in the
morning and sticks it in the fridge for a slow rise time, which helps develop
flavor. His recipe makes two generously large pizzas when rolled thin. We've
found that rolling the dough to 1/8" thickness results in the perfect balance
of crunchy, chewy crust.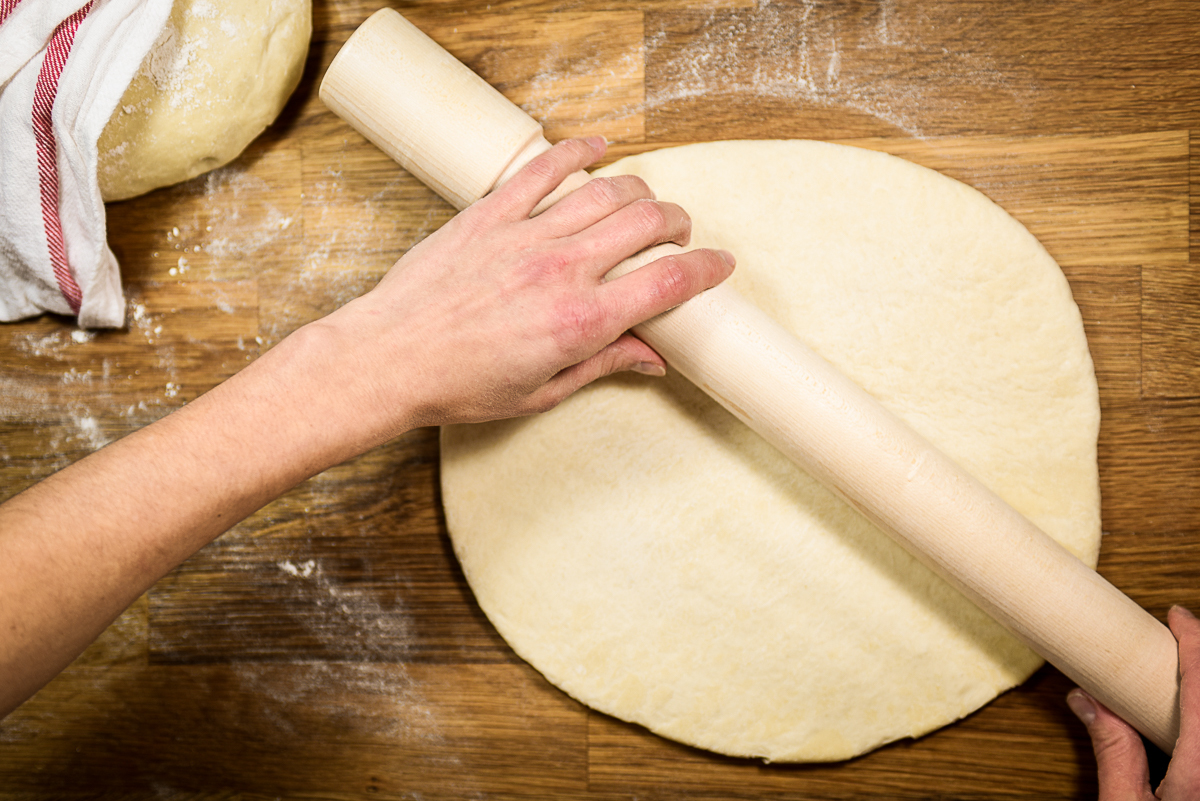 We love J.K.
Adams' Lovely Rolling Pin, which features slight indentations on the edge
of the pin to ensure the dough rolls to a perfect, even 1/8" thickness every
time. Incidentally, the owners of Chicago's Lovely Bake Shop developed these
rolling pins. Their bakery is situated right down the street from our first
apartment, so using this pin brings back some great memories for us.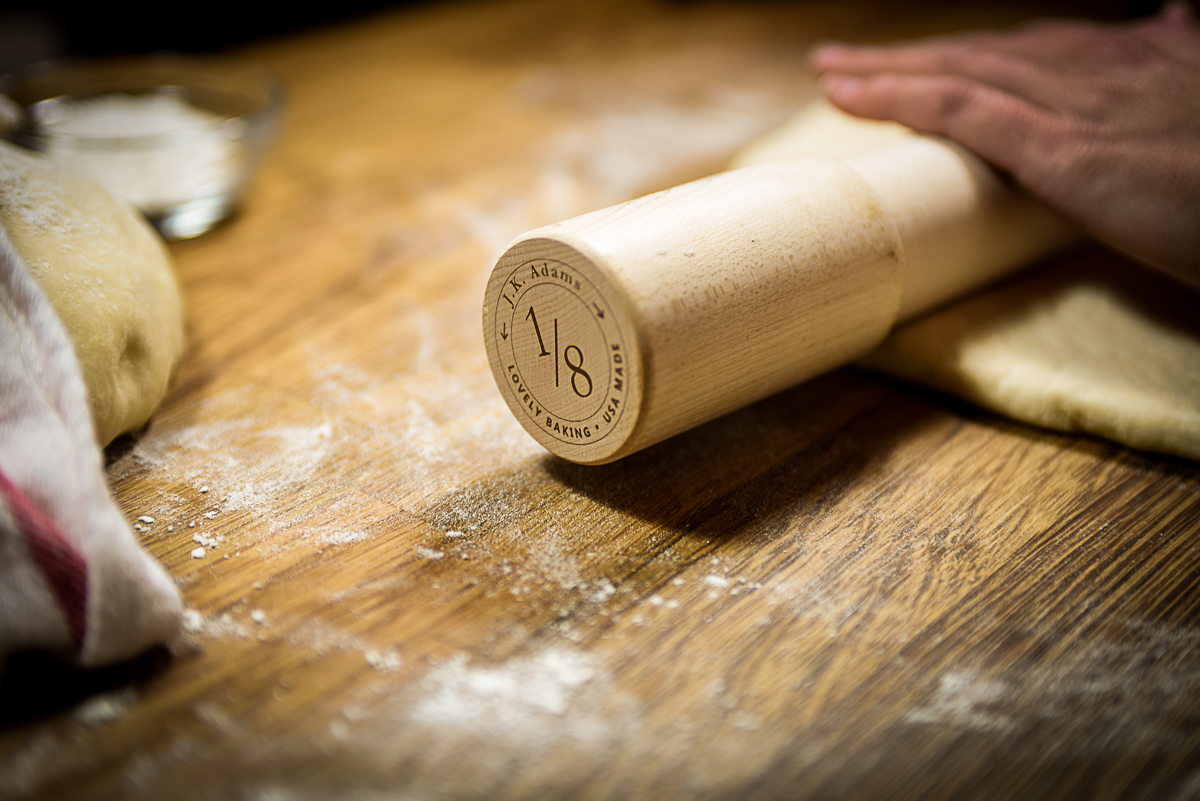 Once the dough is rolled and ready, I'm charged with toppings. The kids go fairly traditional — typically they request some combination of red sauce, pepperoni, black olives, fresh spinach, and basil.
The choices for the "grown up" pizza vary based on seasonal ingredients and our imagination. For wintertime, we love a hearty white pizza topped with thinly sliced red potatoes, crispy bacon or crumbled sausage, garlic and fresh herbs. We've found the key to potato pizza is to prebake the potato slices until they're soft and slightly dried. This prevents the pizza from getting soggy and allows the potatoes to get crispy and golden just as the cheese melts on the final pie.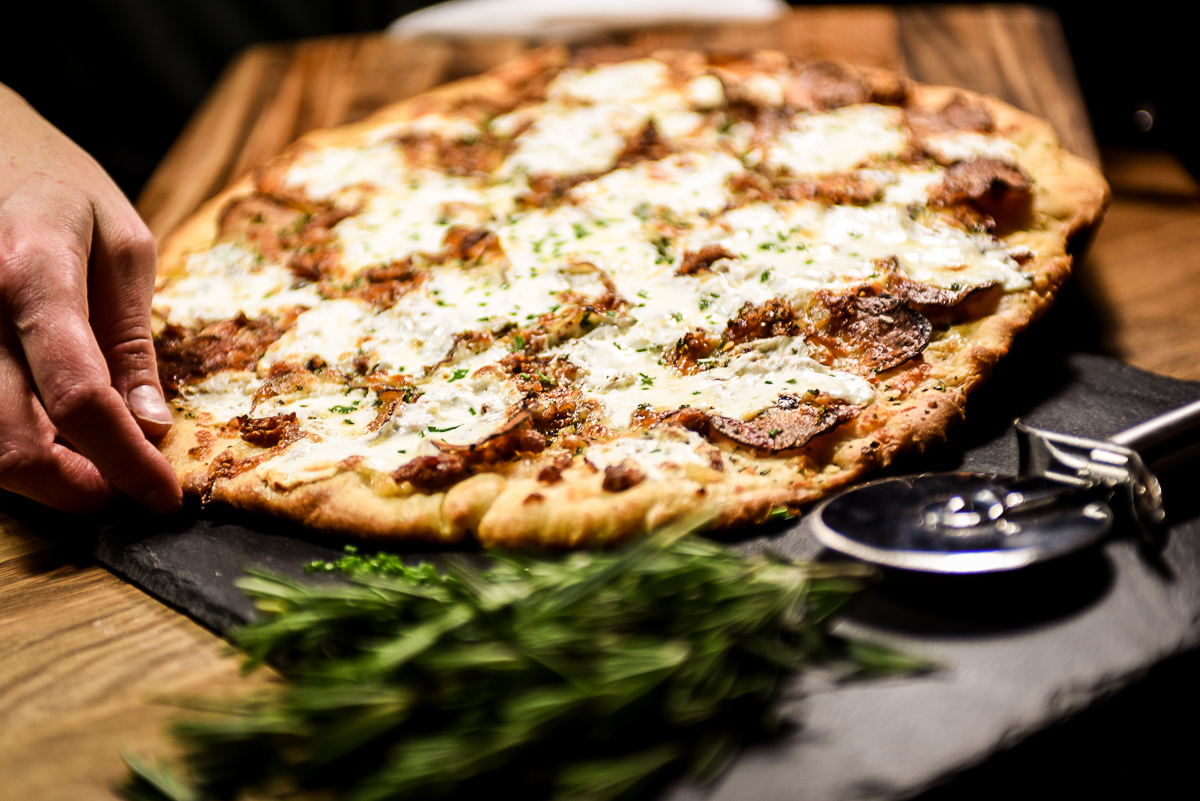 Tools of the Trade
After many years of trial-and-error, our pizza-making arsenal includes a few essential tools:
A great pizza stone. We opted for a large, rectangular version, which is more forgiving than the round ones if you roll your dough slightly askew. Ours is nearly 10 years old and keeps getting better with age.
A large pizza peel is ideal for transferring your pizza to and from the oven. This gorgeous Acacia Wood version from Ironwood Gourmet is generously sized at 14 x 14". Incidentally, we always place our pizzas on a layer of parchment paper dusted with cornmeal, which makes the transition to and from the oven much easier.
Finally, you've got to have a great pizza
cutter! We tried (and broke) a ton of cheaply-made cutters before receiving this great one from
Rosle. It is constructed entirely from stainless steel so it's really sturdy. The cutting wheel is firmly
anchored and sharp enough to tackle the crunchiest crust with ease.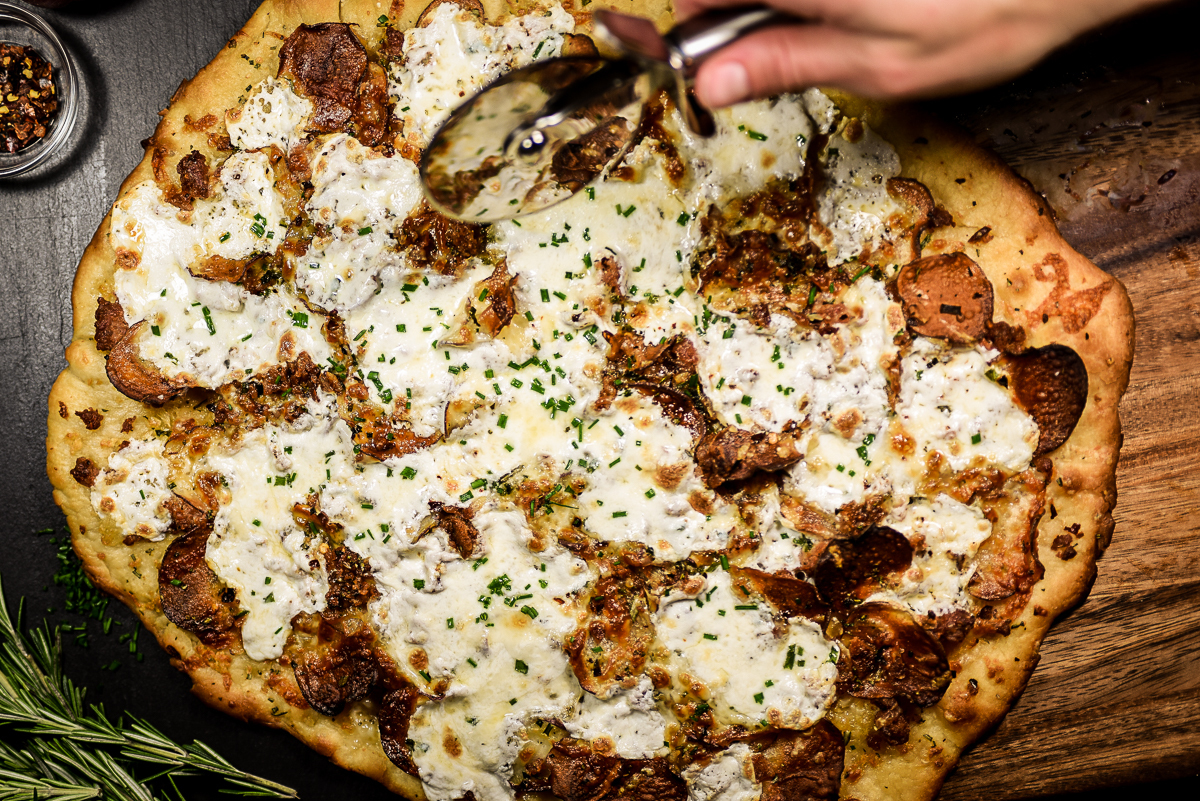 Winter is just beginning here in Chicago. Most weekends, you'll find us cozied up with our kids making the most of it with a family pizza party.
Crispy Potato, Bacon + Chive Pizza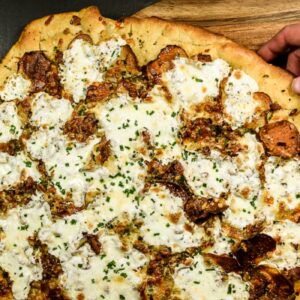 INGREDIENTS
1 ball of pizza dough, rolled thin (see recipe below)
2 large red bliss potatoes, washed and sliced paper thin
2 Tablespoons extra virgin olive oil
2 cloves garlic, peeled and crushed
2 slices of bacon, cooked until crisp and diced
3 Tablespoons Italian sausage, cooked and crumbled (optional)
2 teaspoons fresh rosemary, minced
1 teaspoon crushed red pepper
4 ounces fresh mozzarella cheese, torn into walnut-sized pieces
1 Tablespoon shredded Parmesan cheese
Salt & Pepper to taste
2 teaspoons fresh chives, minced
INSTRUCTIONS
Preheat oven to 350 degrees F. Line a rimmed baking sheet with parchment paper and spray with cooking spread. Spread potato slices in an even layer and bake for 10 minutes, until potatoes are soft and slightly dried. Remove from oven and set aside to cool.
Combine olive oil and garlic in a small bowl and brush evenly over pizza dough.
Spread cooled potato slices in an even layer over pizza dough. Sprinkle on bacon and/or Italian sausage, rosemary and red pepper over dough. Dot pizza with small pieces of fresh mozzarella and shredded Parmesan cheese. Bake pizza in preheated oven until cheese is melted and potatoes are golden and crisp.
Remove pizza from oven and garnish with minced, fresh chives before serving.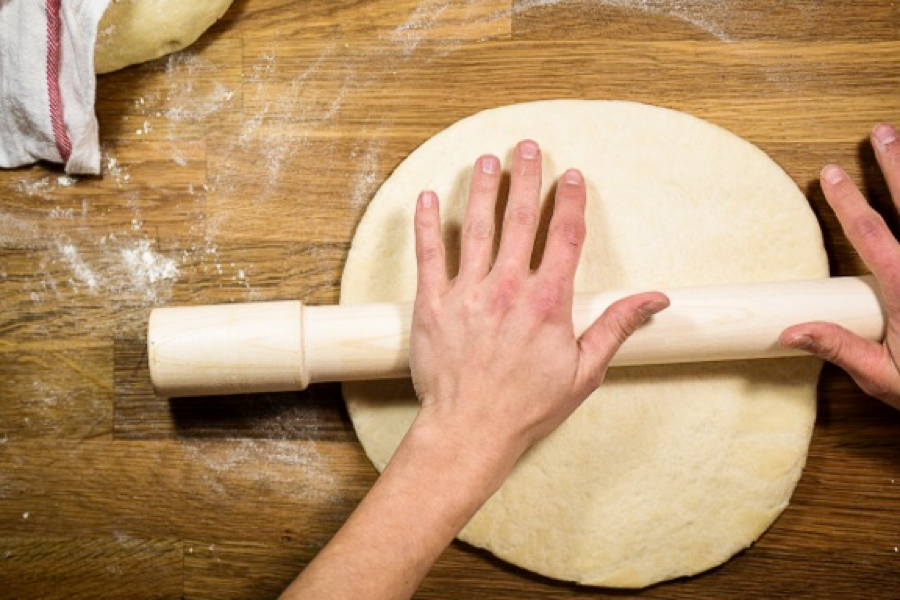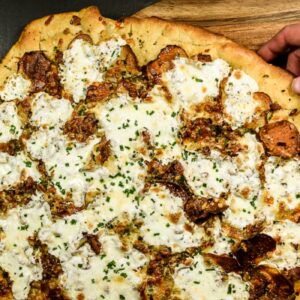 INGREDIENTS
1 ½ cups warm water
4 ½ teaspoons (2 packets) active dry yeast
¼ cup extra virgin olive oil
2 Tablespoon sugar
2 teaspoons Kosher salt
4 cups all-purpose flour, plus more for dusting
INSTRUCTIONS
Combine water and yeast in a large mixing bowl and allow mixture to stand for 5 minutes, until foamy.
Whisk olive oil, sugar and salt into the yeast mixture. Attached a dough hook to mixer. Add flour mix in with dough hook, kneading until dough is smooth and elastic, about five minutes.
Transfer dough to a large, oiled bowl. Cover with plastic wrap and allow to rise at room temperature for one hour. Place dough in refrigerator and allow to continue rising until ready to use.
When ready to bake, preheat oven to 500 degrees F and place pizza stone in oven. Remove dough from refrigerator and let stand for 15 minutes.
Punch dough down in bowl and divide into two portions. Place dough on a lightly floured surface and shape into smooth balls. Allow balls to rest for 10 minutes before rolling.
For thin crust, roll each dough ball to 1/8" thickness on a lightly floured surface.
Transfer dough to a piece of parchment paper dusted with cornmeal and add toppings as desired. Use a pizza peel to slide pizza (with parchment paper) onto pizza stone in preheated oven. Bake for approximately 5 minutes until cheese is melted and bubbly and crust is golden. Remove pizza from oven and cool for 2 minutes before slicing. Serve immediately.