Lifting the Lid on Jar Salads for Every Occasion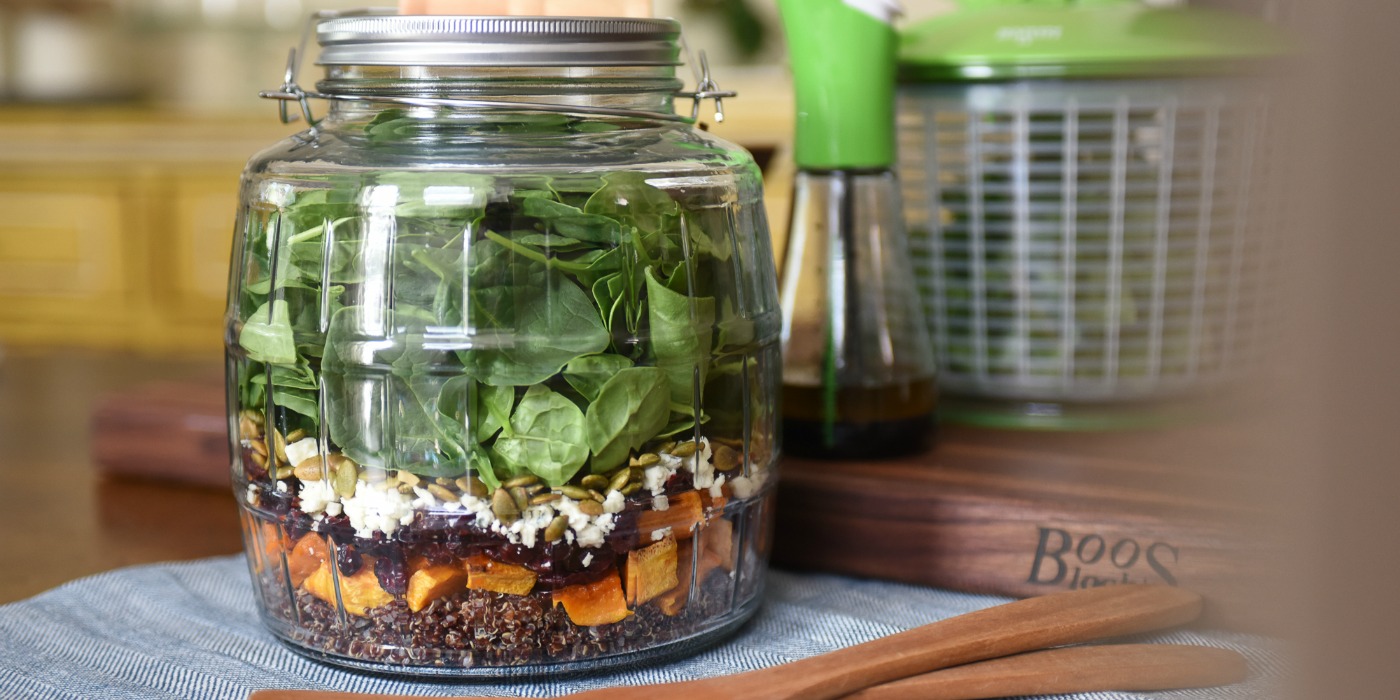 Search the term "jar salad" on Pinterest and you'll soon be overwhelmed by the whimsical, mouthwatering possibilities.
What started as a simple way to transport a healthy, portable office lunch has become a full-on phenomenon. Gorgeous, fresh ingredients layered into a rainbow of flavor, in plain view through the clear glass vessel. Jar salads are designed to be the envy of the office lunchroom (or anywhere else they're consumed).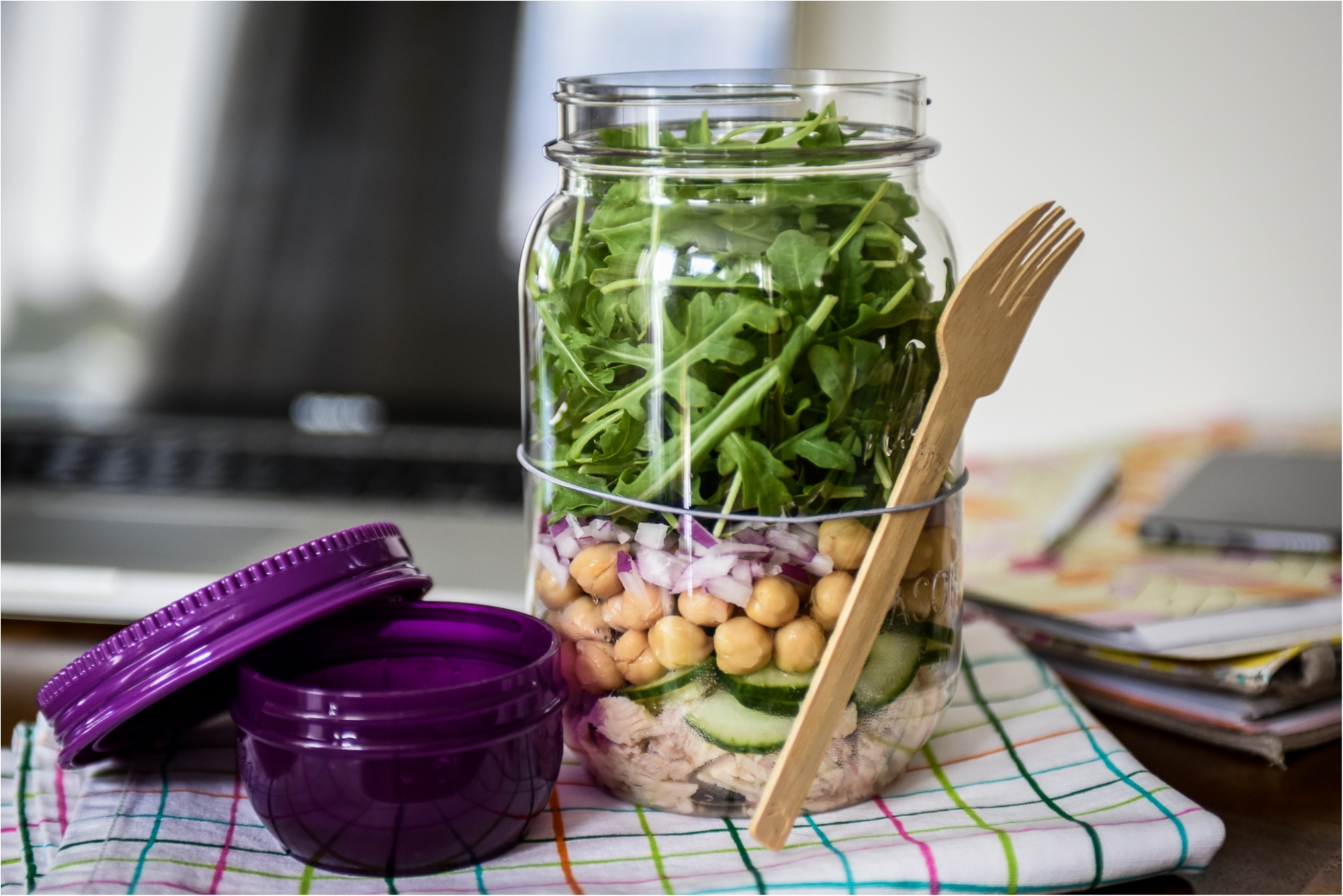 At the root, jar salads were developed as a simple solution to an age-old problem: how to pack a healthy, hearty salad for the office or school lunchroom and not end up with a wilted mess by lunchtime. The answer: layer the ingredients in a tall, glass jar starting with the dressing and heaviest ingredients on the bottom and the delicate salad greens at the top. At lunchtime, simply shake the sealed jar to distribute the ingredients before digging in.
Soon, improvements on the concept followed. I love the Aladdin Classic Mason Salad Jar. It looks like a standard Mason Jar but its made of lightweight, dishwasher safe plastic and features a build-in dressing container tucked under the lid. This would be a perfect solution for salad-loving kids since its non-breakable. I love filling mine with my all-time favorite weekday lunch combination: albacore tuna, cucumbers, garbanzo beans, red onions and arugula with a lemon juice vinaigrette.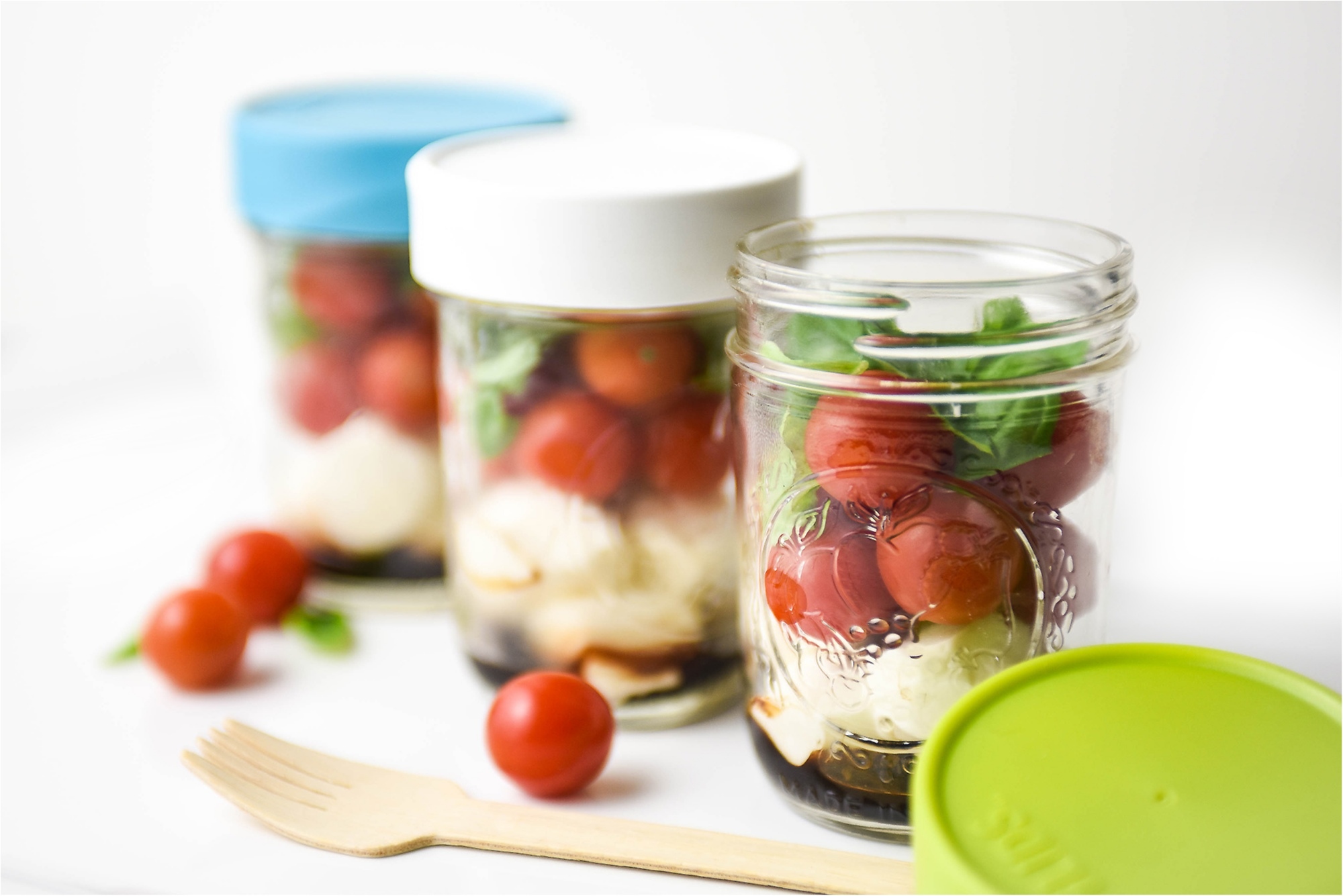 As a mom, I often find myself standing in the middle of the park by my daughter's school at lunchtime, handing out peanut butter sandwiches and carrot sticks, only to realize I completely forgot to pack something for myself. I started assembling a few bite-sized caprese salads in small mason jars and sealing them with air-tight, reusable iLids. We always have fresh mozzarella cheese balls in the fridge and our garden is overflowing with cherry tomatoes and basil, so this is a natural choice for lunch on the run. Plus, the jars are easy to toss in my diaper bag on the way out the door without fear of leaks or spills.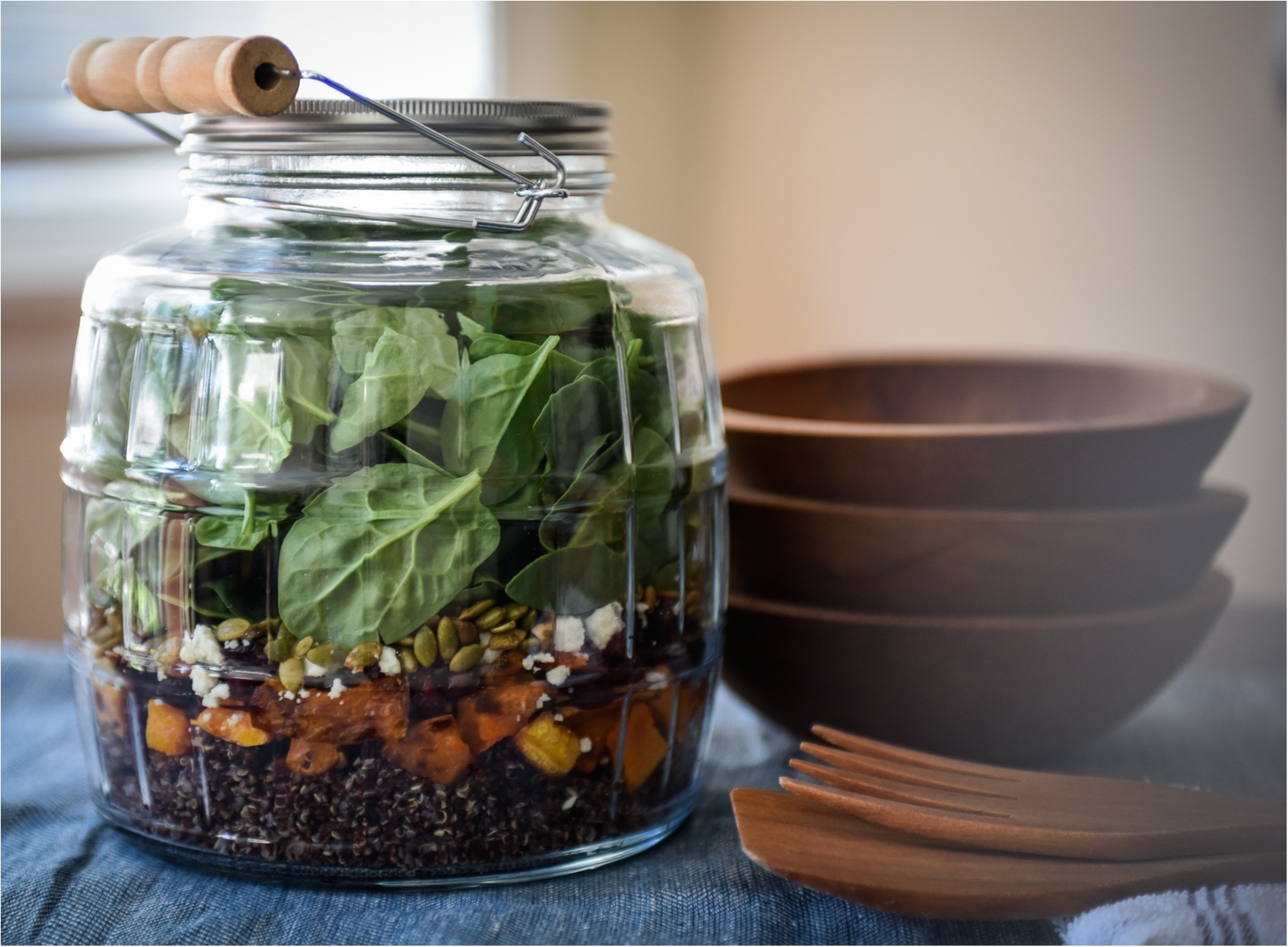 At this point, its easy to say the jar salad has been perfected and there's nothing new to try. To that I say: think bigger. Why not make a jar salad for a crowd? The concept of creating a gorgeous, portable salad that won't wilt is perfectly suited for potlucks—just use a bigger jar. I chose an Anchor Hocking 128 oz. Barrel Jar, which has a stainless steel lid and a carry handle. I wanted to create something that would be hearty, colorful and autumnal, so I filled the jar with layers of red quinoa, roasted butternut squash, dried cranberries, gorgonzola, pumpkin seeds and baby spinach. The end result is a gorgeous, colorful, crunchy, hearty taste of fall in every bite. I can't wait to share this salad with my neighbors at our block's fall harvest dinner next weekend. Scroll down for the recipe below.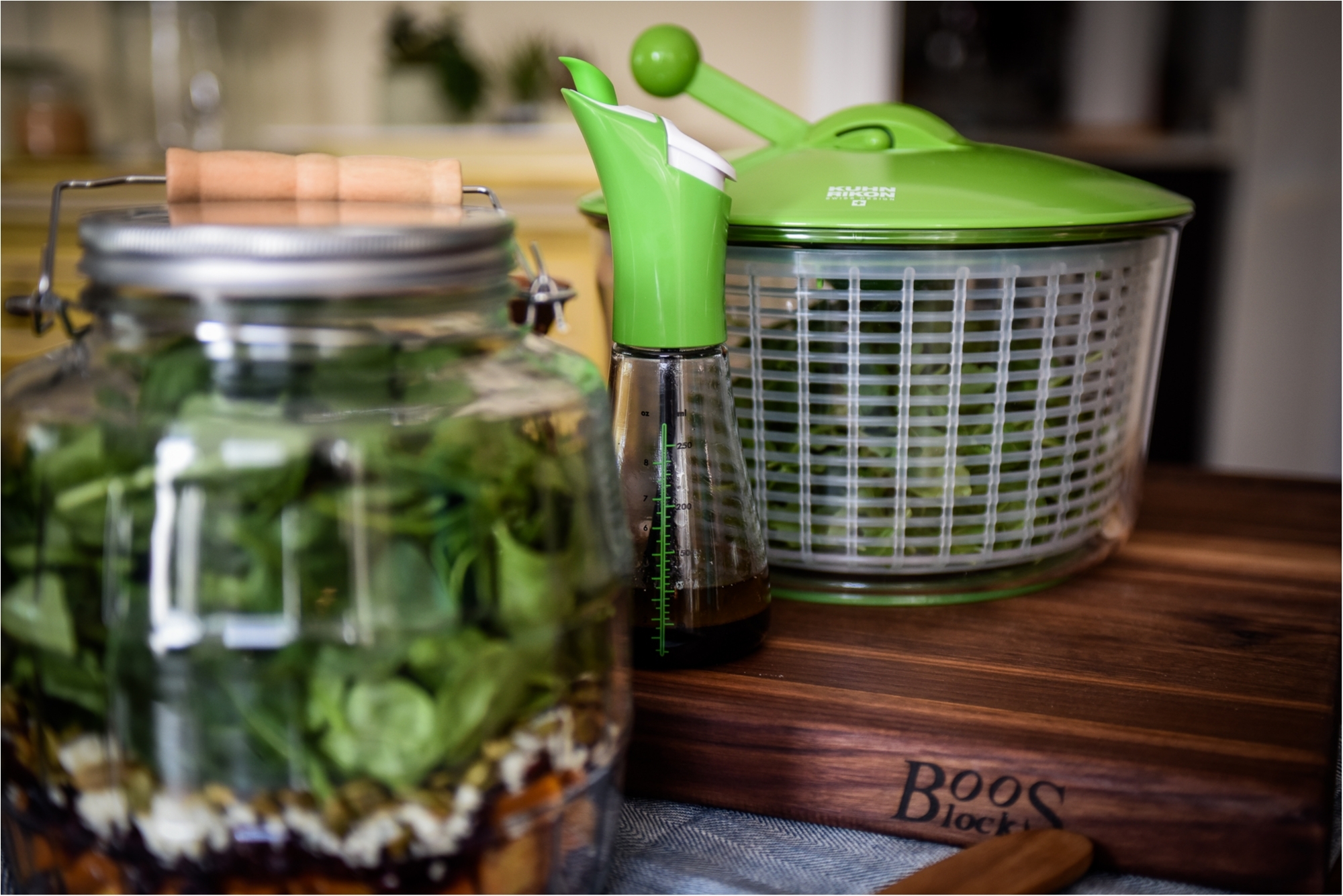 Regardless of how you serve your salads, there are a couple of tools that make the process of preparing them much easier. A large, sturdy cutting board is an amazing tool. We love our enormous Boos Block, which offers plenty of surface area when chopping a variety of ingredients, plus it's gorgeous to boot. A dressing shaker is also a wonderful tool for creating all sorts of homemade dressings. I've got a Shake n' Pour from Zyliss, which features a nifty pendulum to help emulsify dressing evenly. I've never been a fan of bottled dressings and this container makes it easy to measure, transport, emulsify and pour without mess or fuss.
Whether you're looking for a healthy lunch, a simple snack, or a crowd-pleasing side dish, the world is full of delicious possibilities when you put them in a jar.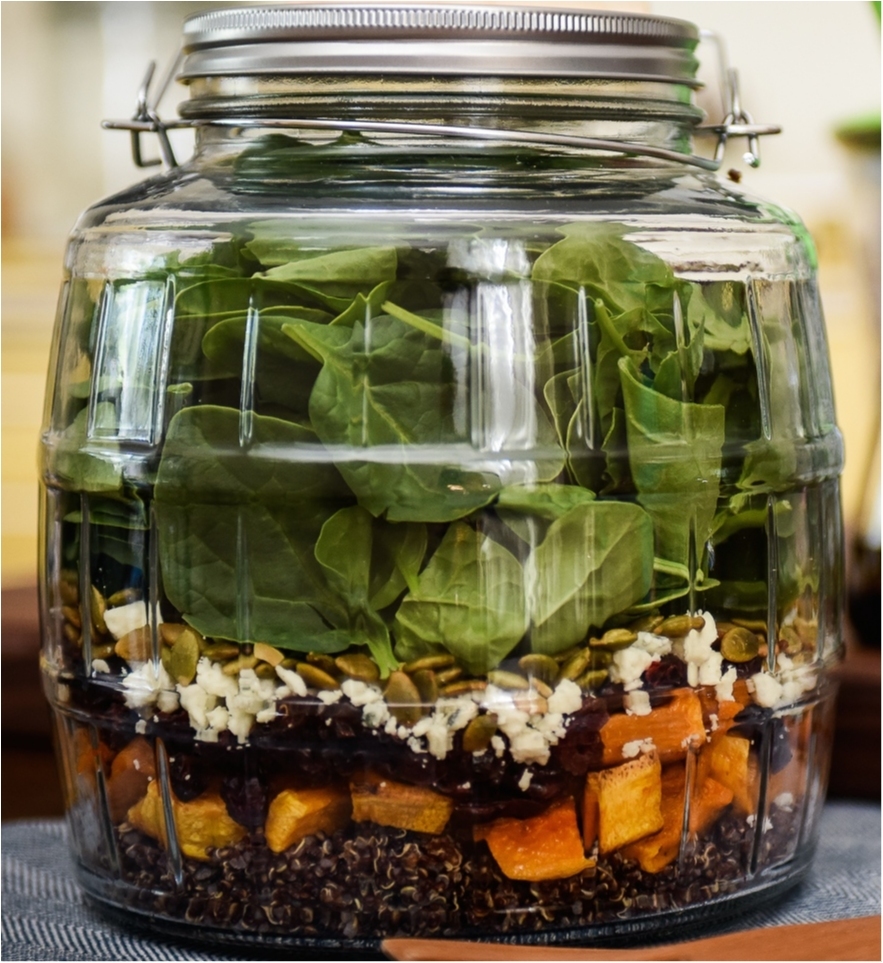 Red Quinoa + Butternut Squash Barrel Salad
Healthy lunch, simple snack, or a crowd-pleasing side dish, jar salads do it all! The world is full of flavorful fall salad possibilities, especially when butternut squash is involved.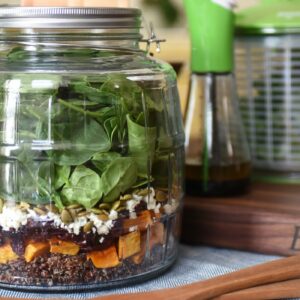 Ingredients
2

cups

cooked and cooled red quinoa (or regular quinoa)

2

cups

roasted butternut squash (toss peeled, diced squash with olive oil and roast for 30 min at 425. cool completely)

1

cups

dried cranberries

.5

cups

crumbled gorgonzola cheese

.25

cups

shelled pumpkin seeds (pepitas), toasted and salted

5

oz

baby spinach, rinsed and dried
Instructions
Layer salad ingredients in jar, starting with the quinoa, then butternut squash and so on. Make sure each ingredient completely covers the previous ingredient and pay close attention to the edges to ensure each ingredient is visible through the jar.

Lightly pack the spinach on top of the other ingredients and seal the jar with lid.

Combine dressing ingredients in Shake n' Pour Dressing Mixer and shake until evenly combined.

When ready to serve, drizzle dressing over salad, seal jar with lid and shake until the salad ingredients are evenly distributed. Remove lid and serve.