Grandma Rose's Italian Pizzelles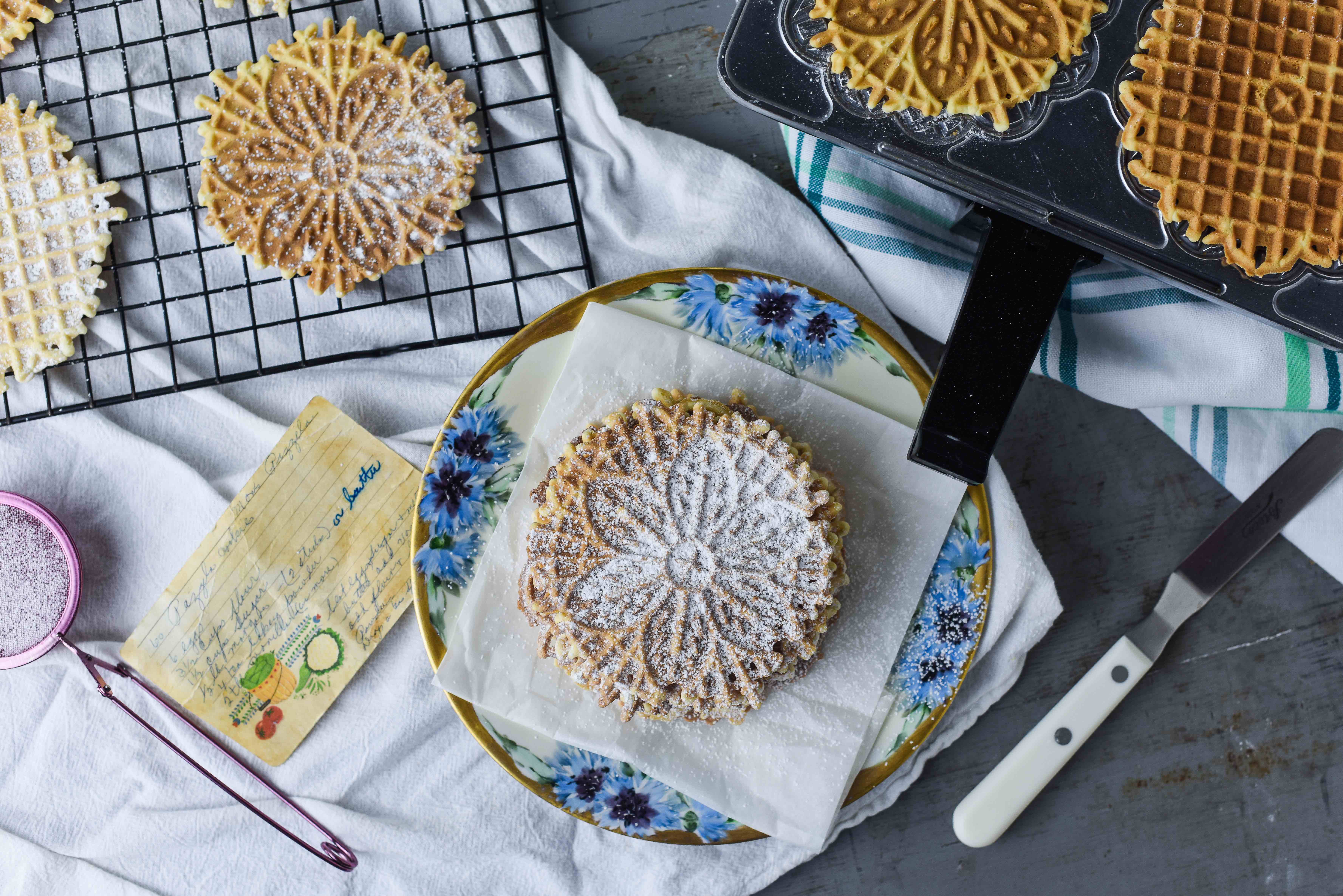 One of my earliest holiday memories is biting into a pizzelle cookie, breaking the crisp, buttery wafer into pieces while a layer of powdered sugar sprinkled delicately onto my crushed velvet Christmas dress. In our family, my grandma's signature cookie is as much a part of the holidays as snow and jingle bells.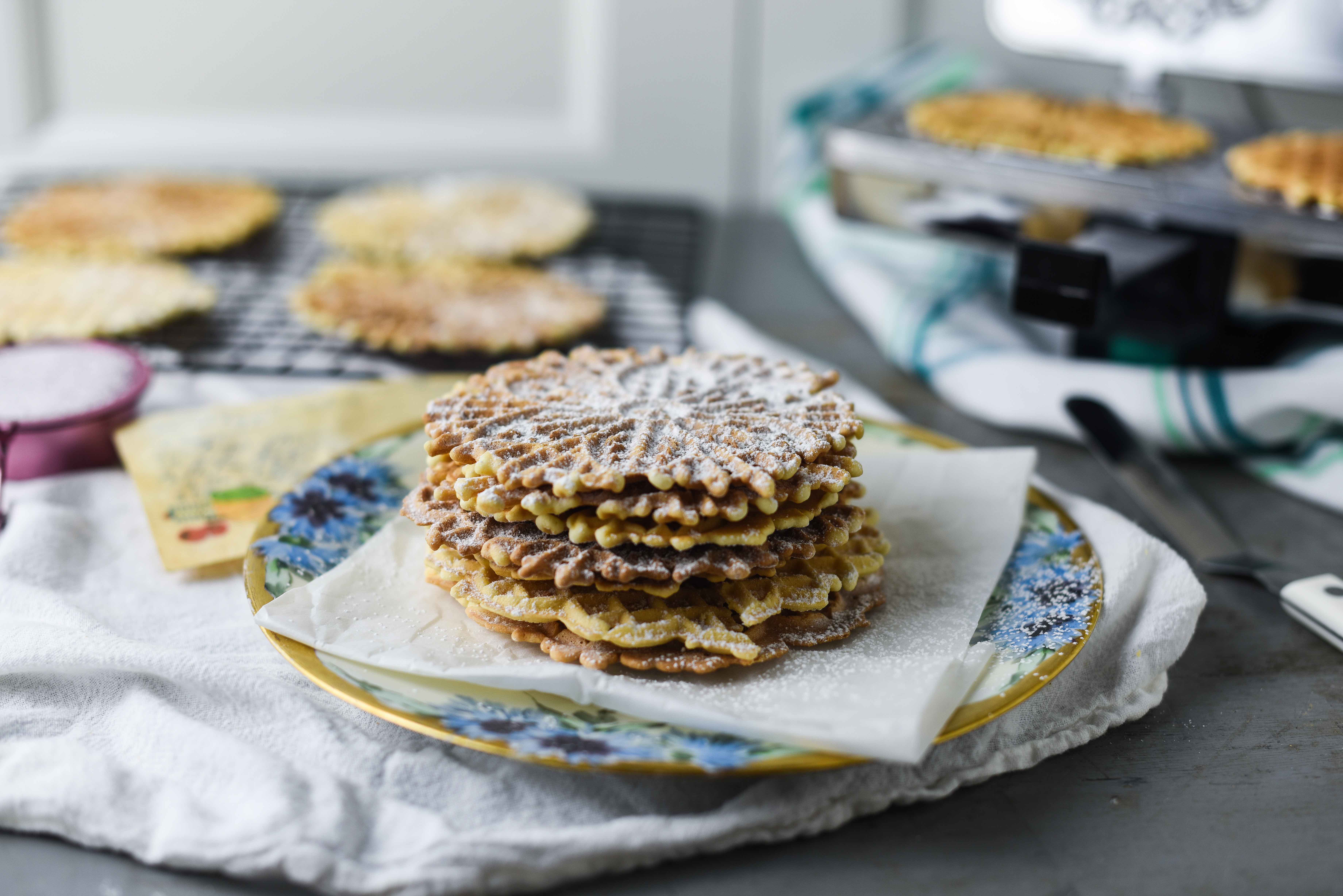 Pizzelles are a traditional Italian cookie, often flavored with anise, although my grandma has always made them with vanilla instead. The rich, buttery, egg-laden dough bakes two cookie at a time on a special Pizzelle iron (similar to a waffle iron). The iron stamps the cookies with an intricate snowflake pattern. Topped with a dusting of powdered sugar, they are sure to be the most distinctively simple and unique offering at any holiday cookie exchange.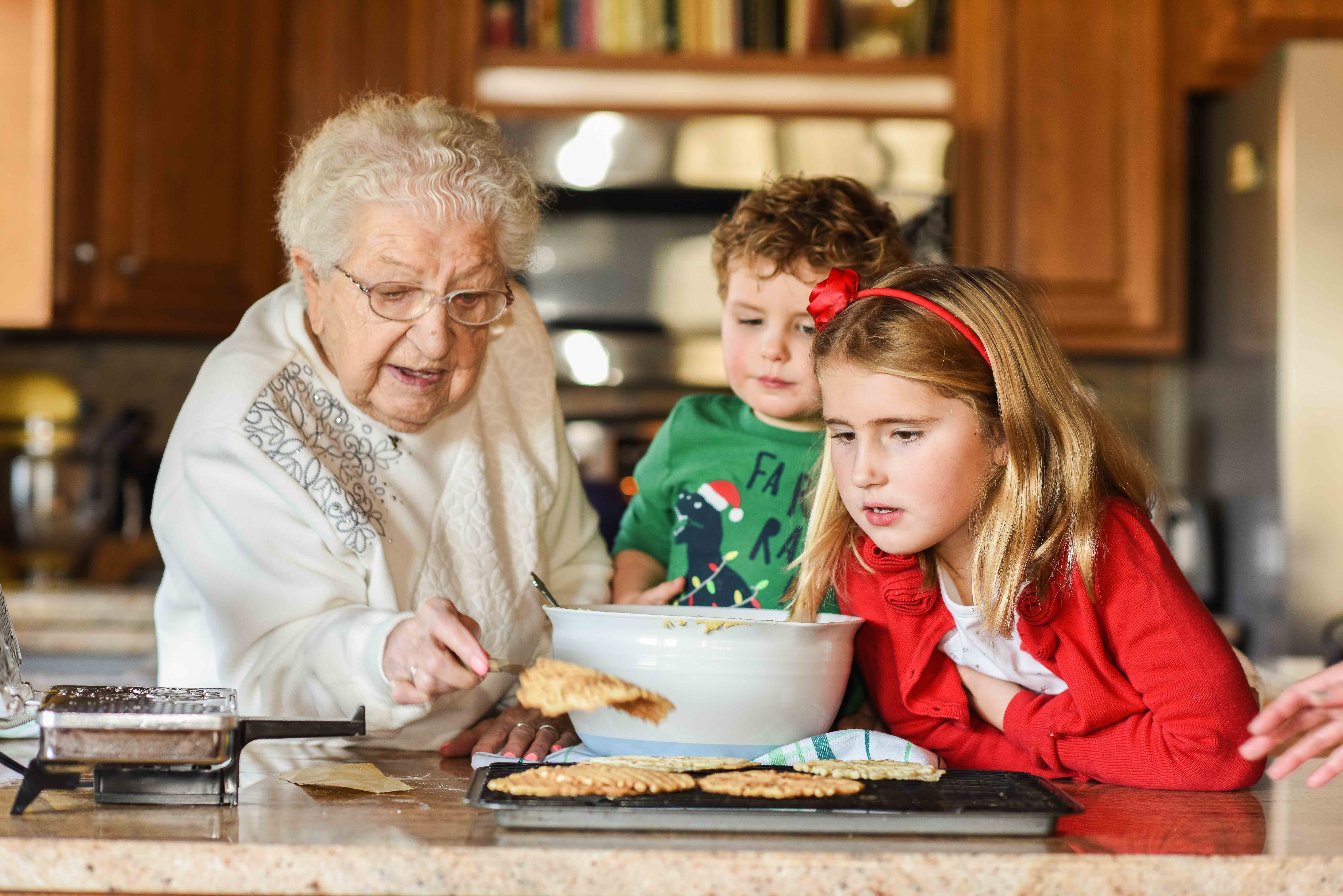 At 98 years old, Grandma Rose has been making pizzelles for close to seventy years now. After all that time, she's got the recipe down to a science. Her method is a bit unconventional, but the results speak for themselves. This year, I asked her to share her cookie making wisdom with her great grandchildren.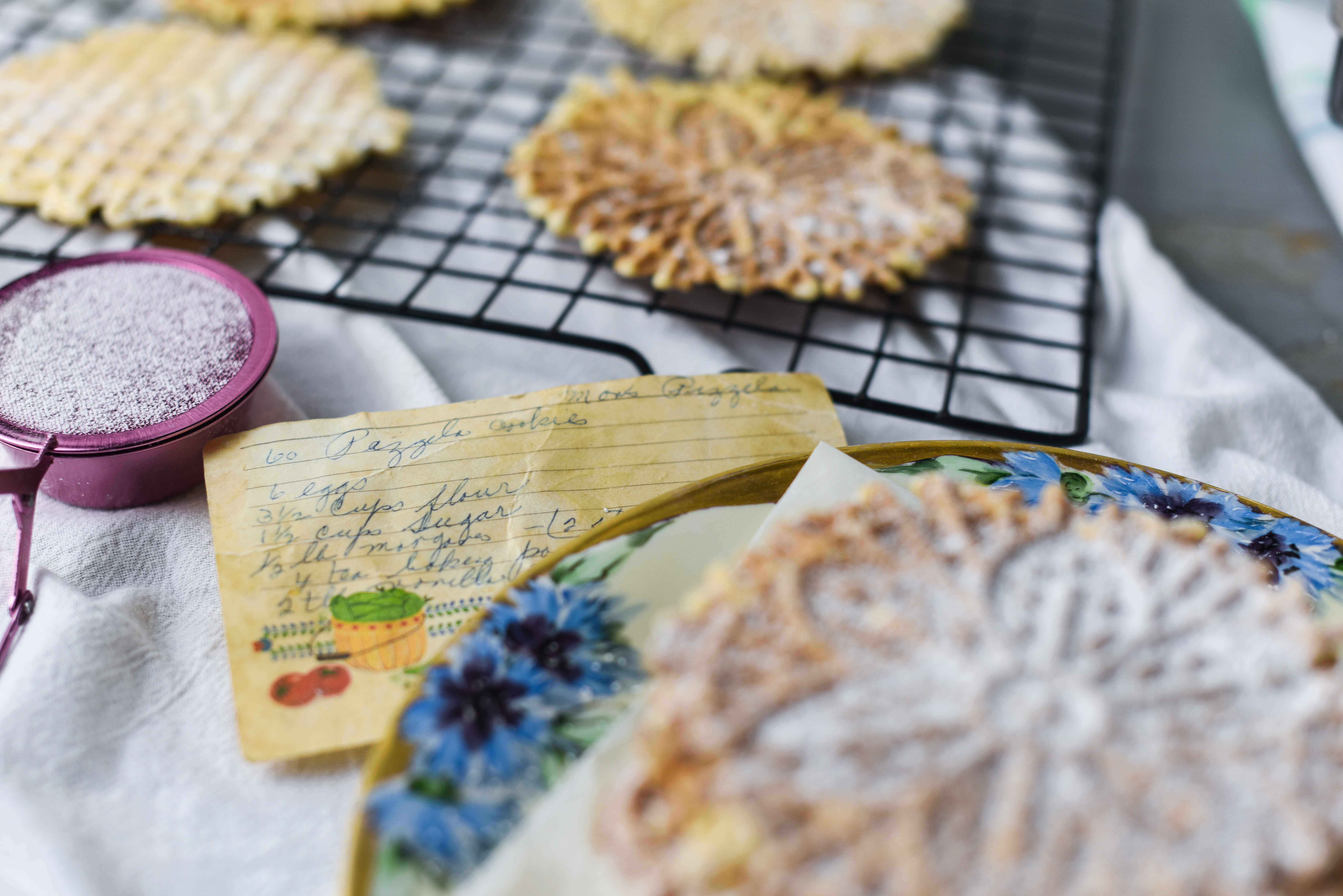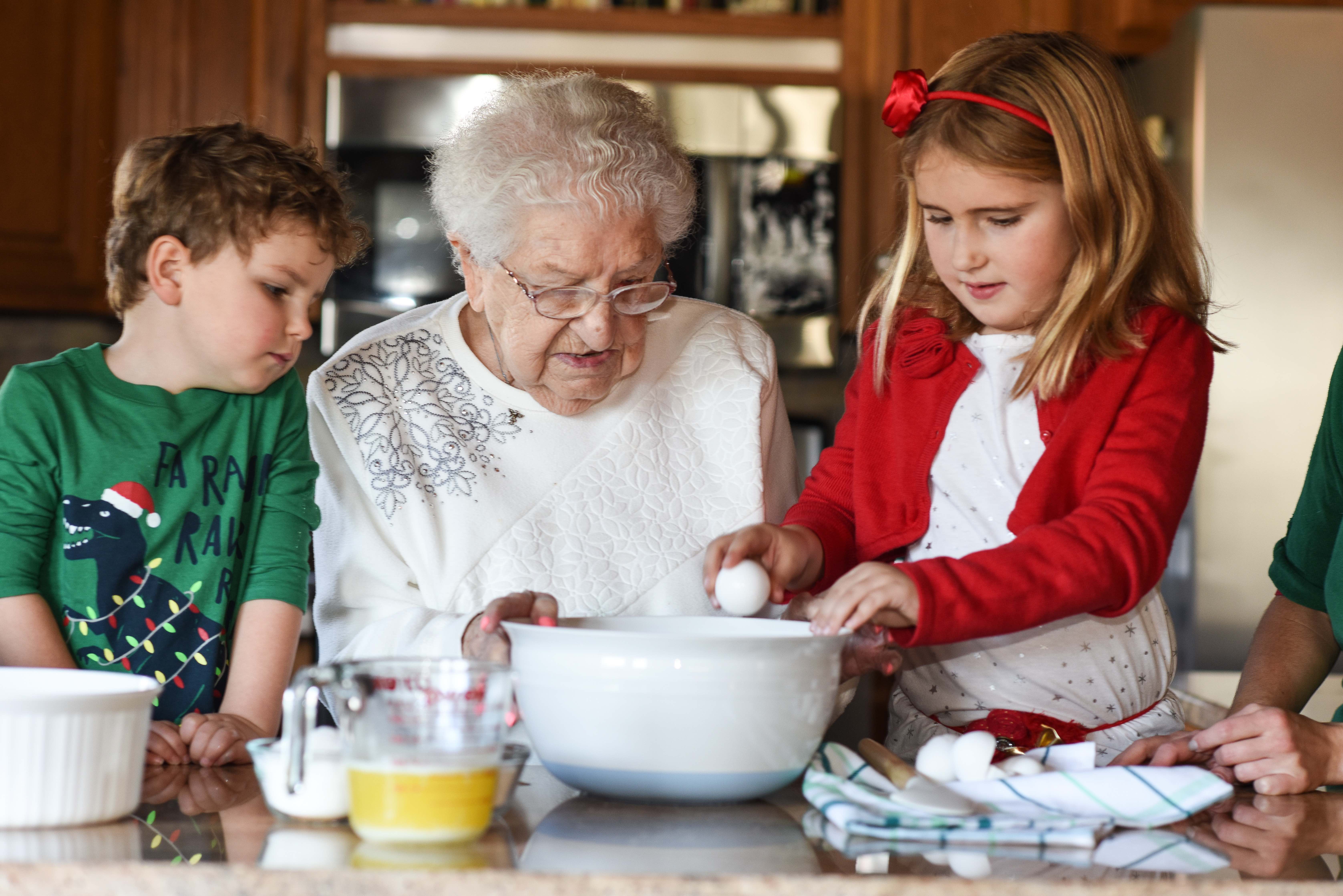 The pizzelle making process starts by sifting together 3½ cups of flour with 4 teaspoons of baking soda in a medium bowl. In a separate bowl, whisk 6 eggs and add in 1½ cups of granulated sugar and 2 teaspoons of vanilla extract. Next, slowly add in a½ pound of melted butter and blend until smooth. Grandma uses an electric hand mixture to get the job done.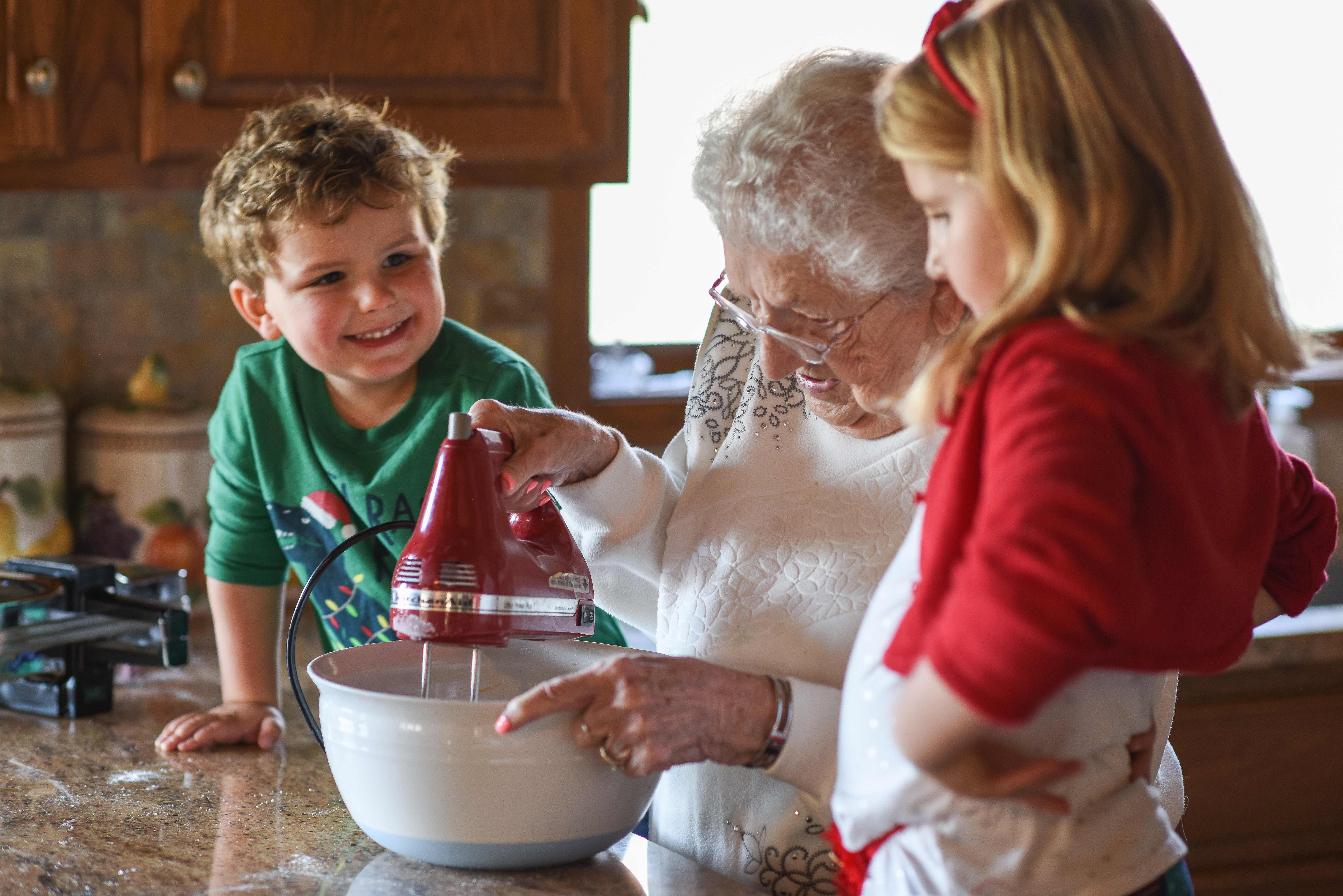 Next, she begins to slowly incorporate the flour, a scoopful at a time. She mixes with the hand mixer until the flour is fully incorporated but she is careful not to overwork the dough.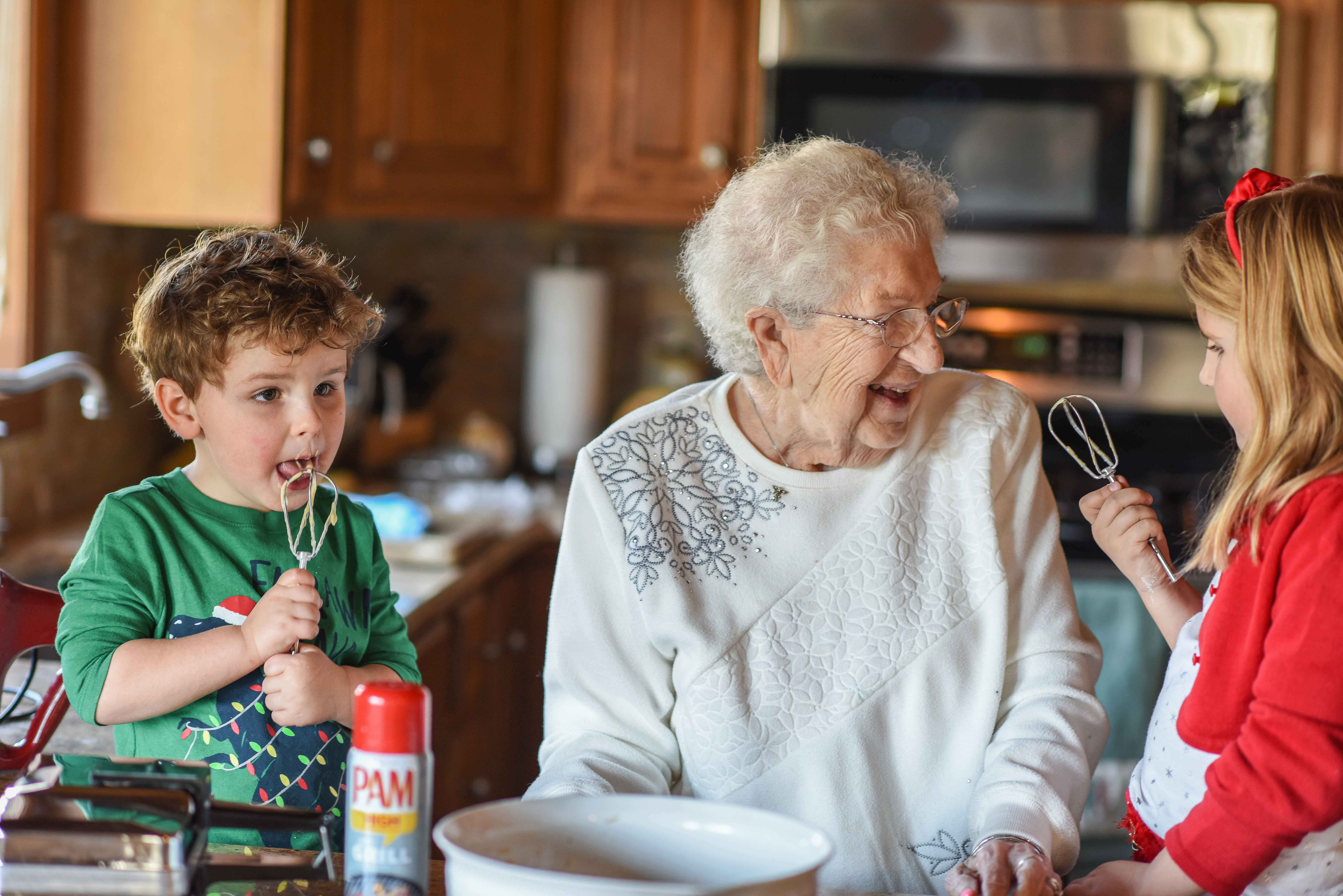 Now it's time to plug in the pizzelle iron and get it hot (while your assistants lick the beaters, of course). Grandma sprays both sides of the press generously with high temperature cooking spray to ensure the cookies will release easily.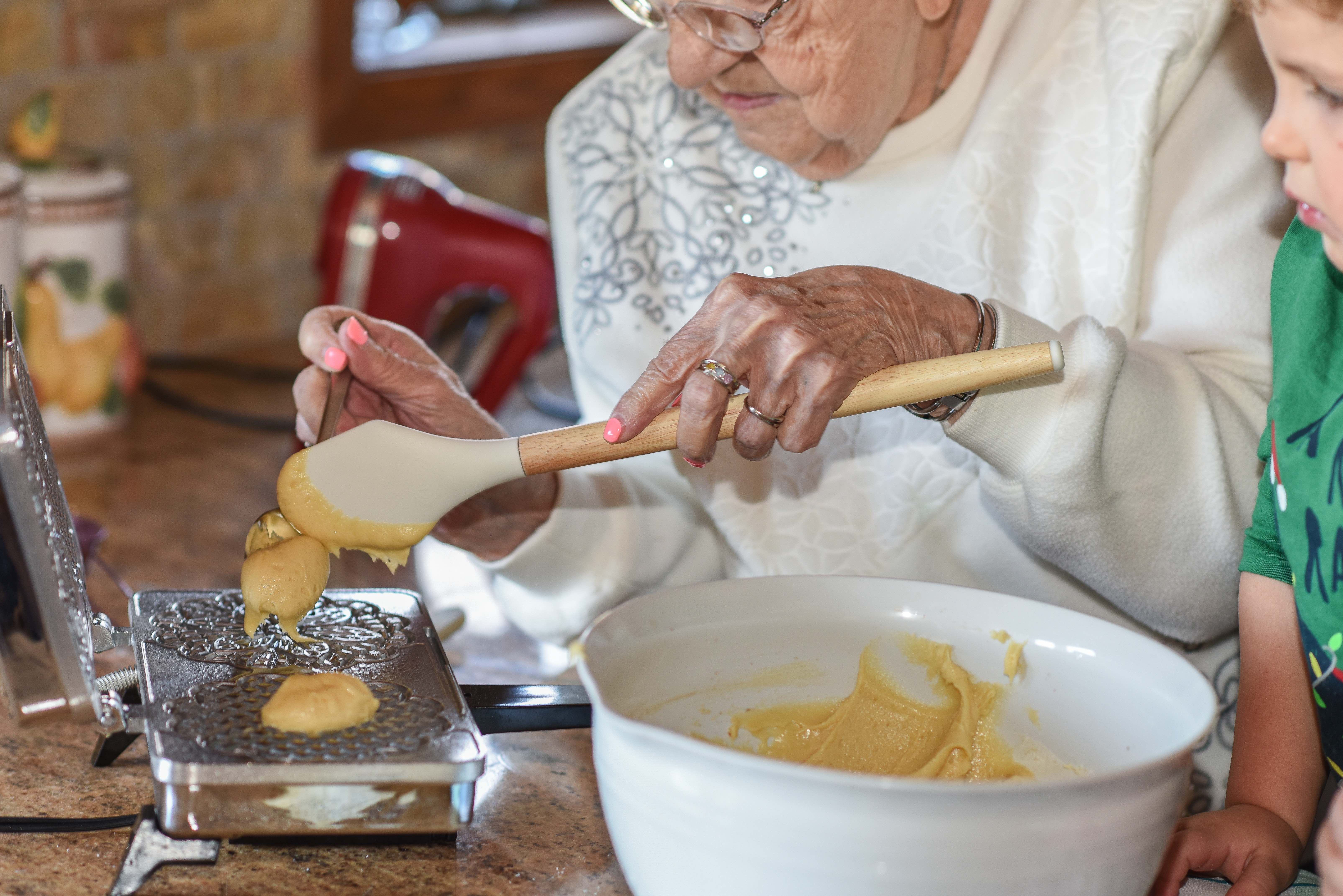 Once the iron is hot, she starts making cookies by dropping a spoonful of batter into the center of each cookie well. It can be tricky to know exactly how much dough to drop into each well to make perfectly sized cookies. Grandma knows the amount instinctively but for the rest of us, aim for about one tablespoon per cookie.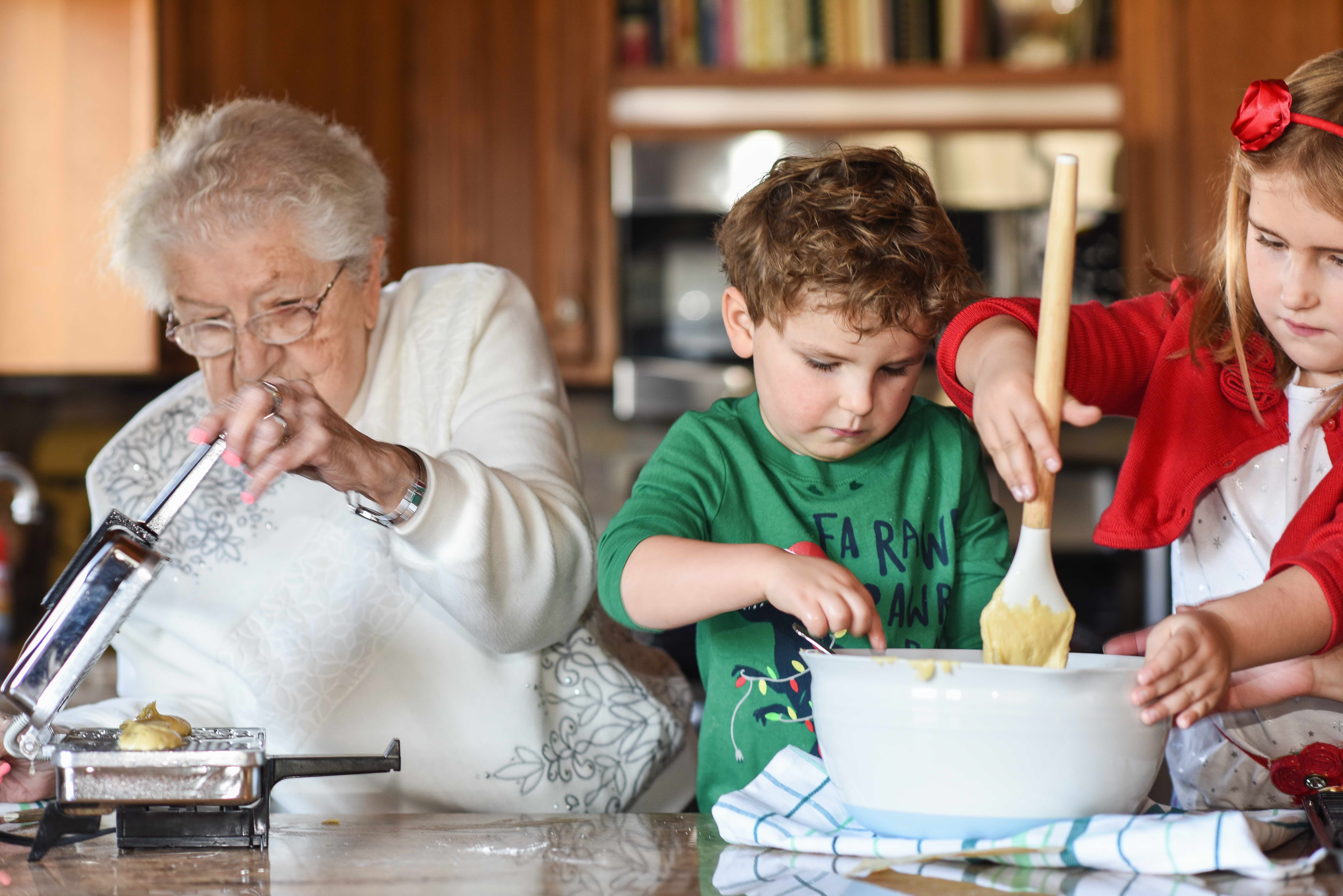 Now we close the lid and wait. When the indicator light on the iron turns off, the cookies are ready. Carefully move the cookies to a rack to cool (they're hot!). Now repeat 30 times.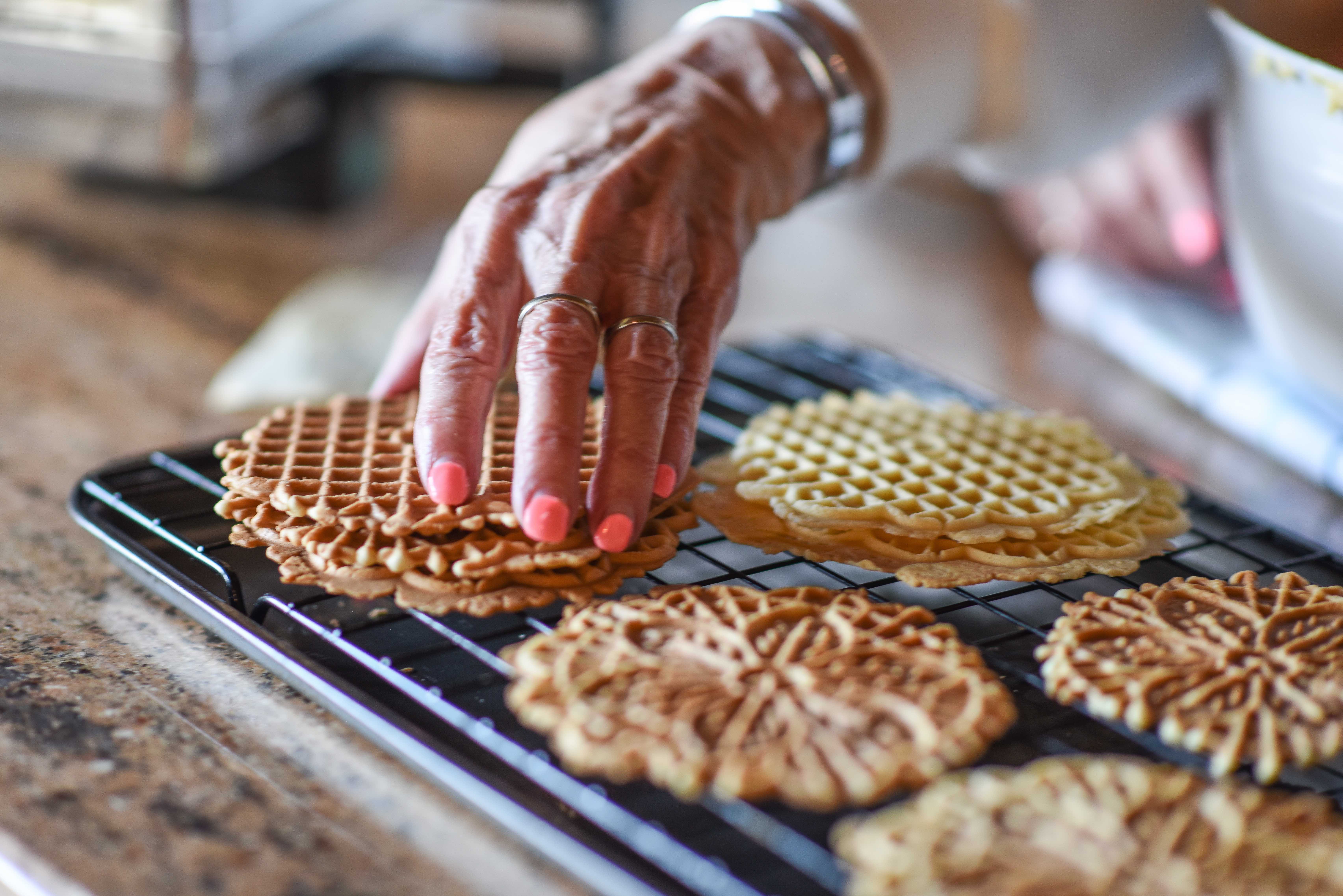 Because the pizzelle iron bakes the cookies two at a time, the process can take some time. Grandma usually schedules her cookie baking sessions to coincide with her favorite television programs and sets herself up at the kitchen table while she works. Her grandchildren have been known to seat themselves beside her to "help" as the hot cookies come out of the press. It's a delicious process.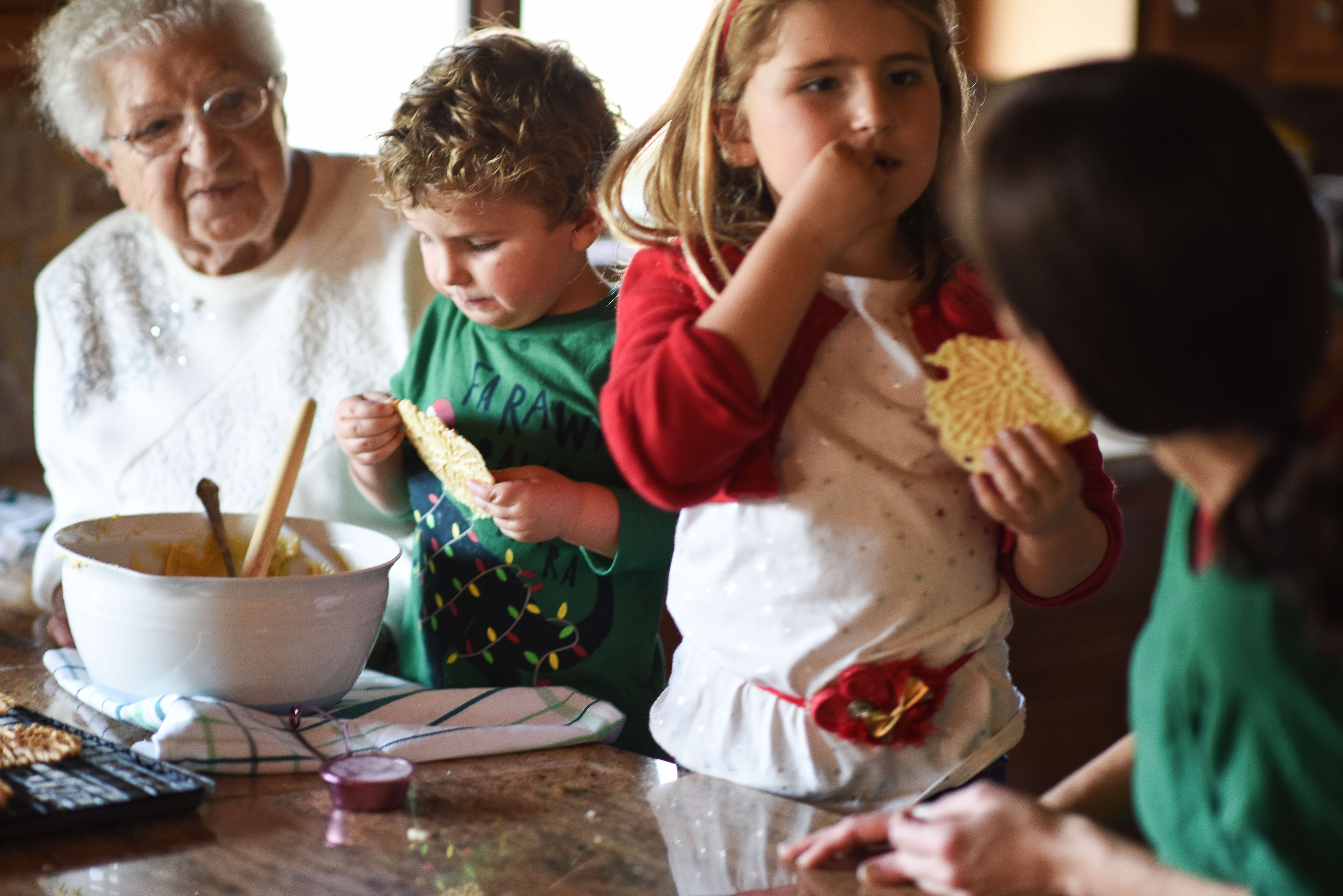 Then, once the cookies are baked and cooled, the final step is simply to add a dusting of powdered sugar to finish the snowflakes.
This pizzelle recipe makes about 60 cookies and they keep well in an airtight container for several weeks. They're perfect for sharing at holiday cookie exchanges as well as gifting —Grandma is famous for producing a batch seemingly out of thin air anytime visitors arrive.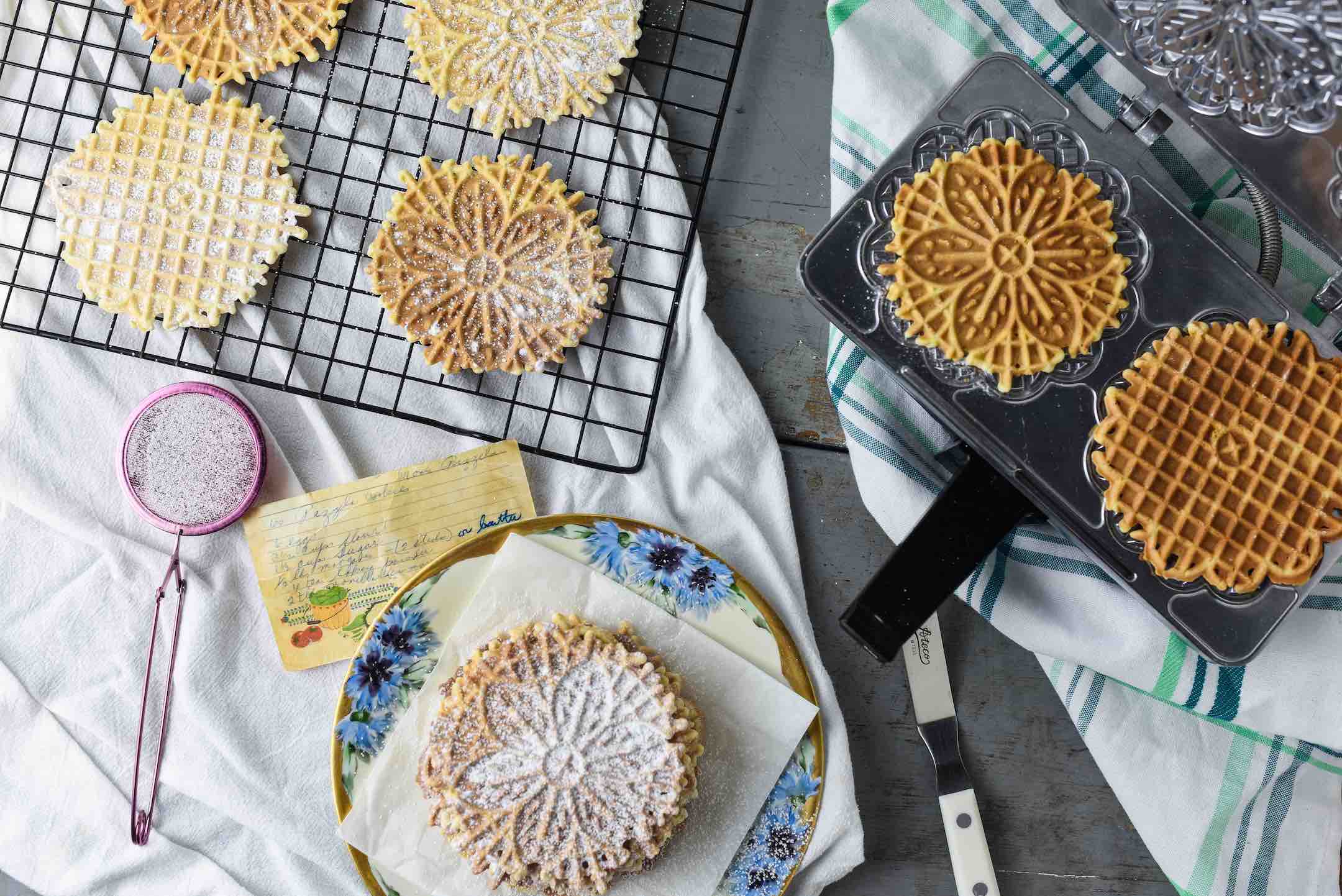 These deliciously unique cookies are one of our family's most beloved holiday traditions. Give them a try this year and they're sure to become one of yours too.
Grandma Rose's Signature Vanilla Pizzelles
Topped with a dusting of powdered sugar, they are sure to be the most distinctively simple and unique offering at any holiday cookie exchange.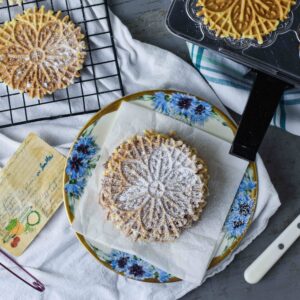 Ingredients
3.5

cups

flour

4

tsp

baking powder

6

eggs

1.5

cups

granulated sugar

2

tsp

vanilla extract

.5

lb

(2 sticks) butter, melted

High temperature cooking spray to grease the iron and confectioner's sugar for dusting on the cookies
Instructions
Sift together flour and baking powder in a medium bowl and set aside.

In a large bowl, whisk eggs until blended then add in granulated sugar and beat with an electric mixture until smooth. Add vanilla extract and butter, beating continuously until incorporated.

With mixer on low speed, add flour mixture gradually until fully incorporated and batter is smooth. Do not over mix.

Heat pizzelle iron according to manufacturer instructions. Spray press with high temperature cooking spray.

When iron is hot, drop batter by tablespoons into the center of each cookie well. Close press and cook until indicator light shows the cookies are ready.

Transfer hot cookies to a baking rack to cool. Repeat until all dough has been used.

Dust pizzelles with confectioner's sugar. Cookies will stay fresh in an airtight container for up to two weeks.
Nutrition
Serving:
2
g
Calories:
158
kcal
Carbohydrates:
21.6
g
Protein:
2.7
g
Fat:
7.1
g
Saturated Fat:
4.2
g
Cholesterol:
49
mg
Sodium:
57
mg
Fiber:
0.4
g
Sugar:
10.2
g