Chinese New Year Chicken Noodle Soup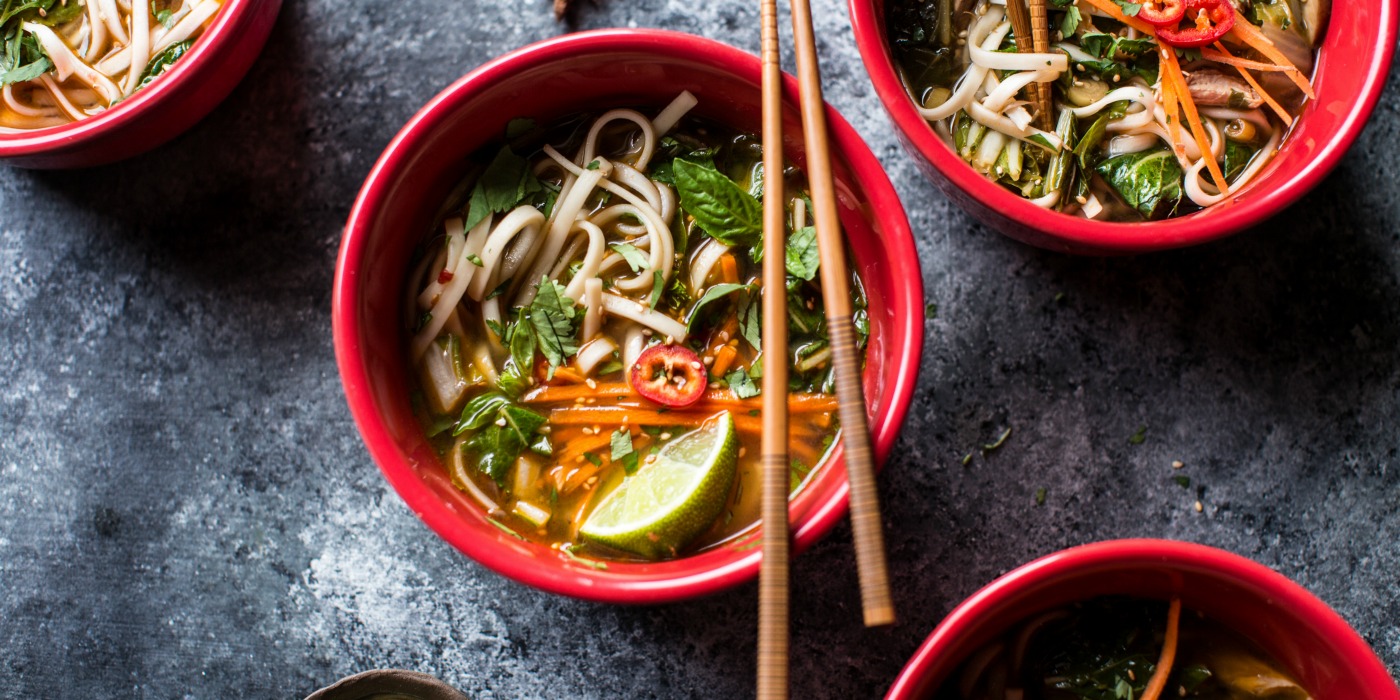 If you're like me (probably not), than you've been freezing your butt off since October. OKAY, well maybe not completely freezing since then, but cold. I live in the mountains, and to be honest it's almost always freezing here. I prefer 85 degrees and humid to -10 and super dry, but hey, this is where I ended up!
You know what the only good thing about the cold is?!
SOUP!! Oh yes… soup, soup, soup!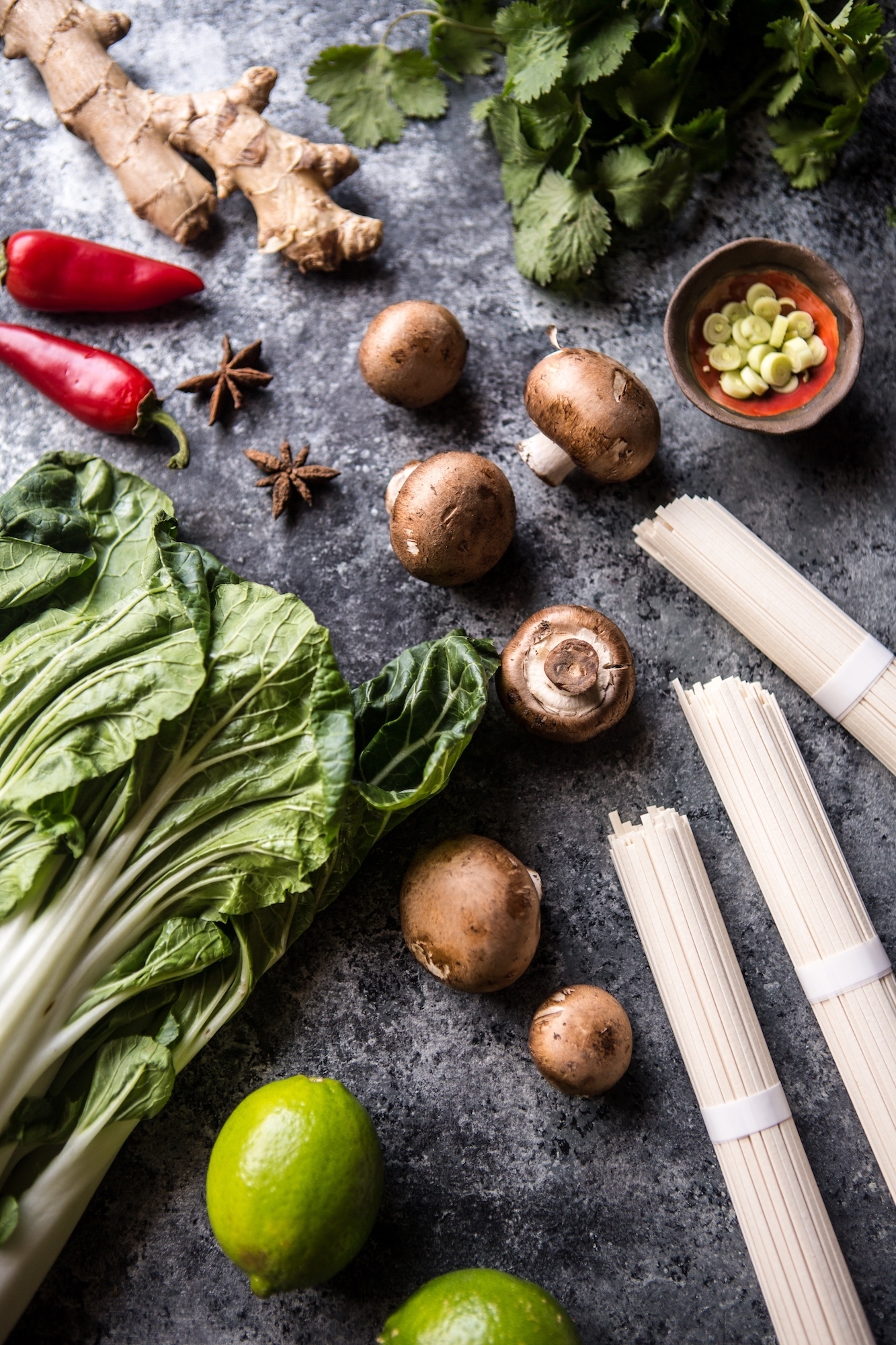 Today I am sharing a Chinese inspired chicken noodle soup to help celebrate the Chinese New Year, which if you did not know, is February 8th. I love a good Chinese soup. There's something about the flavors that are so warm and cozy to me. I decided to twist my classic chicken noodle soup recipe into a Chinese version with the additions of lemongrass, a little soy sauce, some ginger, a dash of Chinese 5-spice powder, and of course some yummy udon noodles. Because all soups need a carb (or two) to go with them. My favorites… noodles and good bread!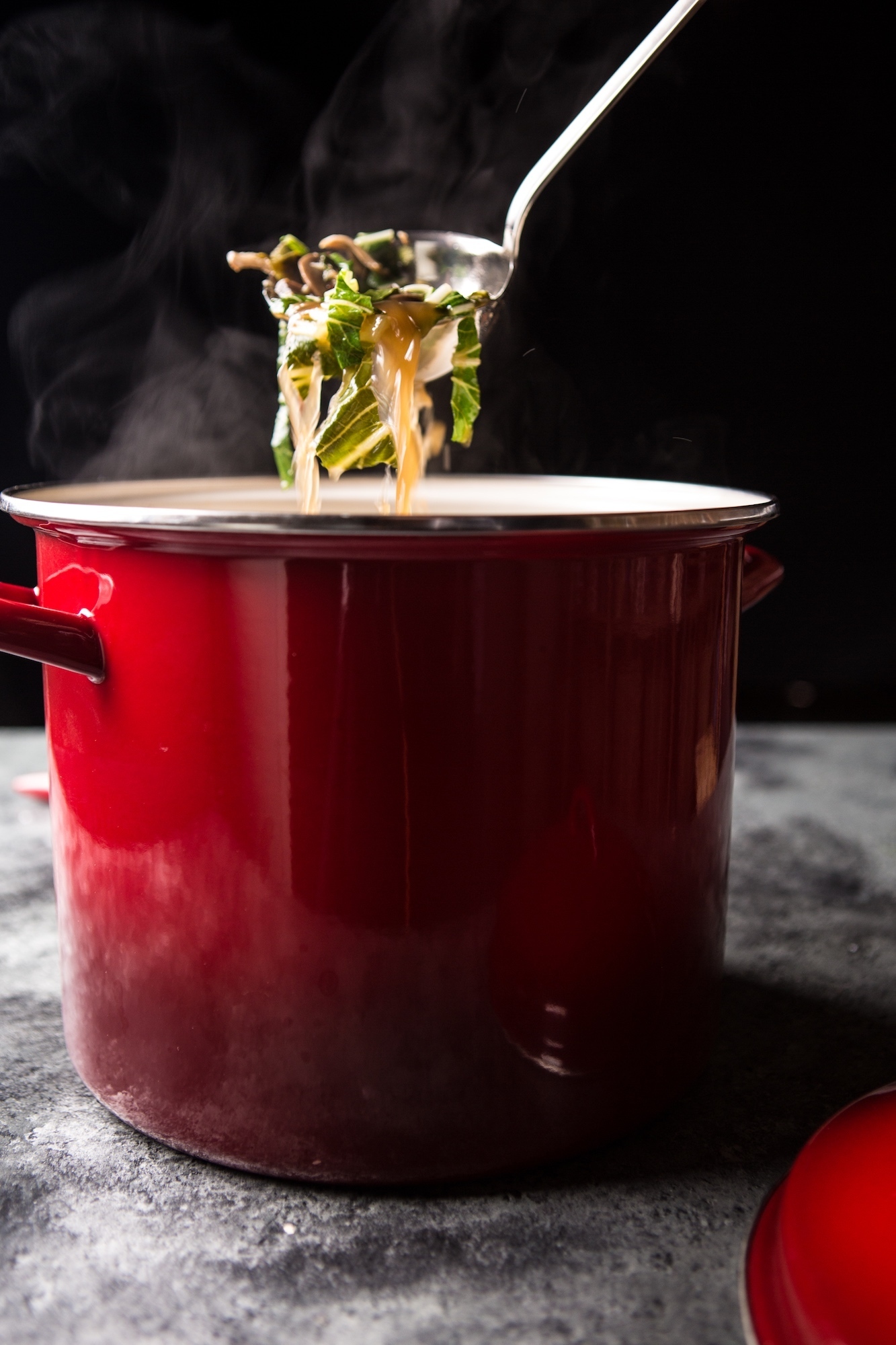 Aside from the delicious taste of this soup, I also LOVE the ease of it as well. Everything comes together in one big soup pot. I love using my red Rachel Ray pot for this soup. Basically you just add everything in and let the soup simmer. You could simmer the soup all day long or if you're in a hurry, have it ready to eat in an hour. Either works great! I prefer to boil my noodles in a separate pot of boiling water. This way the noodles will not soak up all the broth and become mushy. And trust me, you will totally want this soup as leftovers for lunch the next day. This soup is addicting, one serving and you'll be back for more!!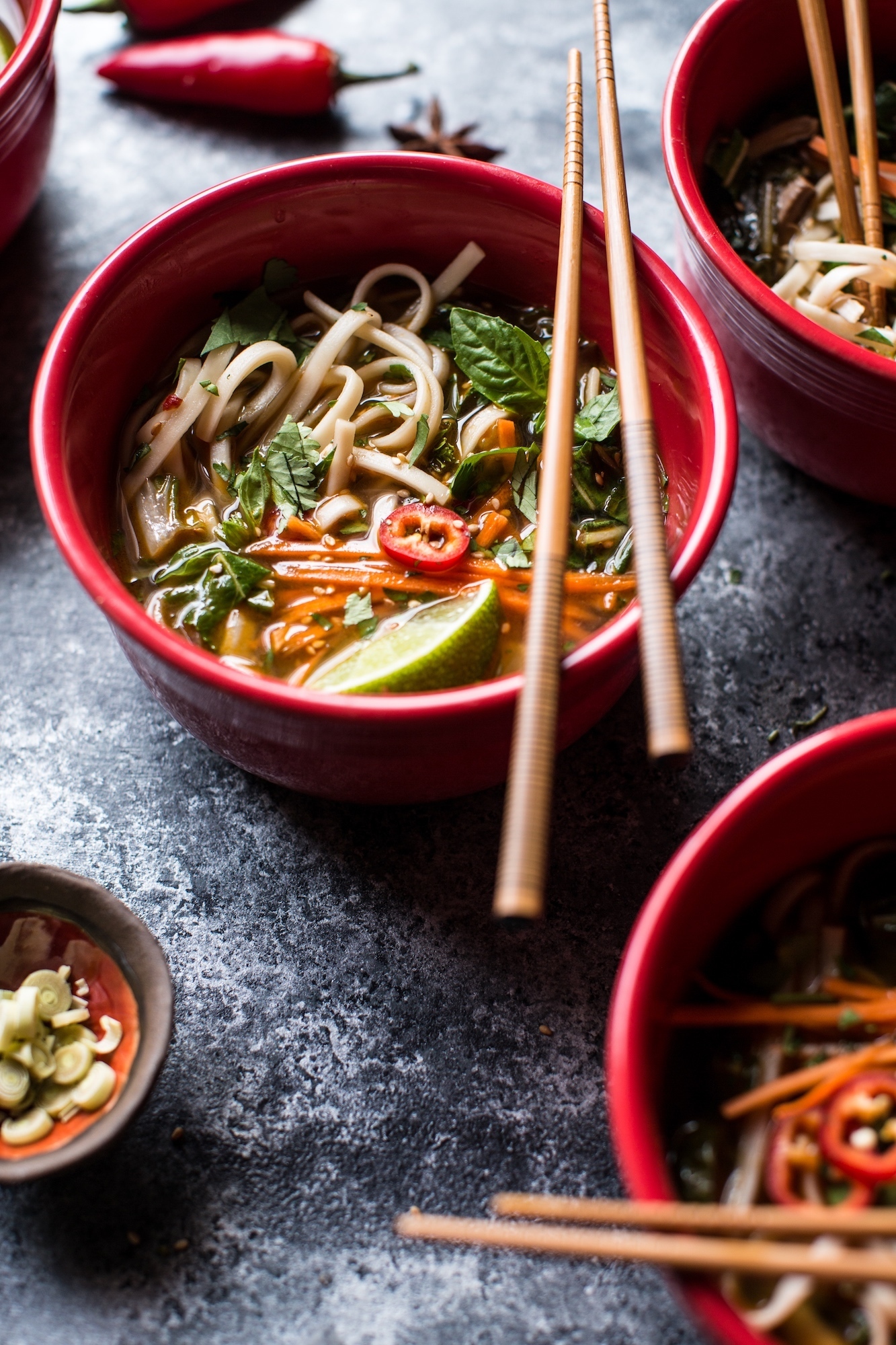 Oh, and I highly recommend cleansing your palette with a fortune cookie. Hey, it's the Chinese New Year… celebrate! 🙂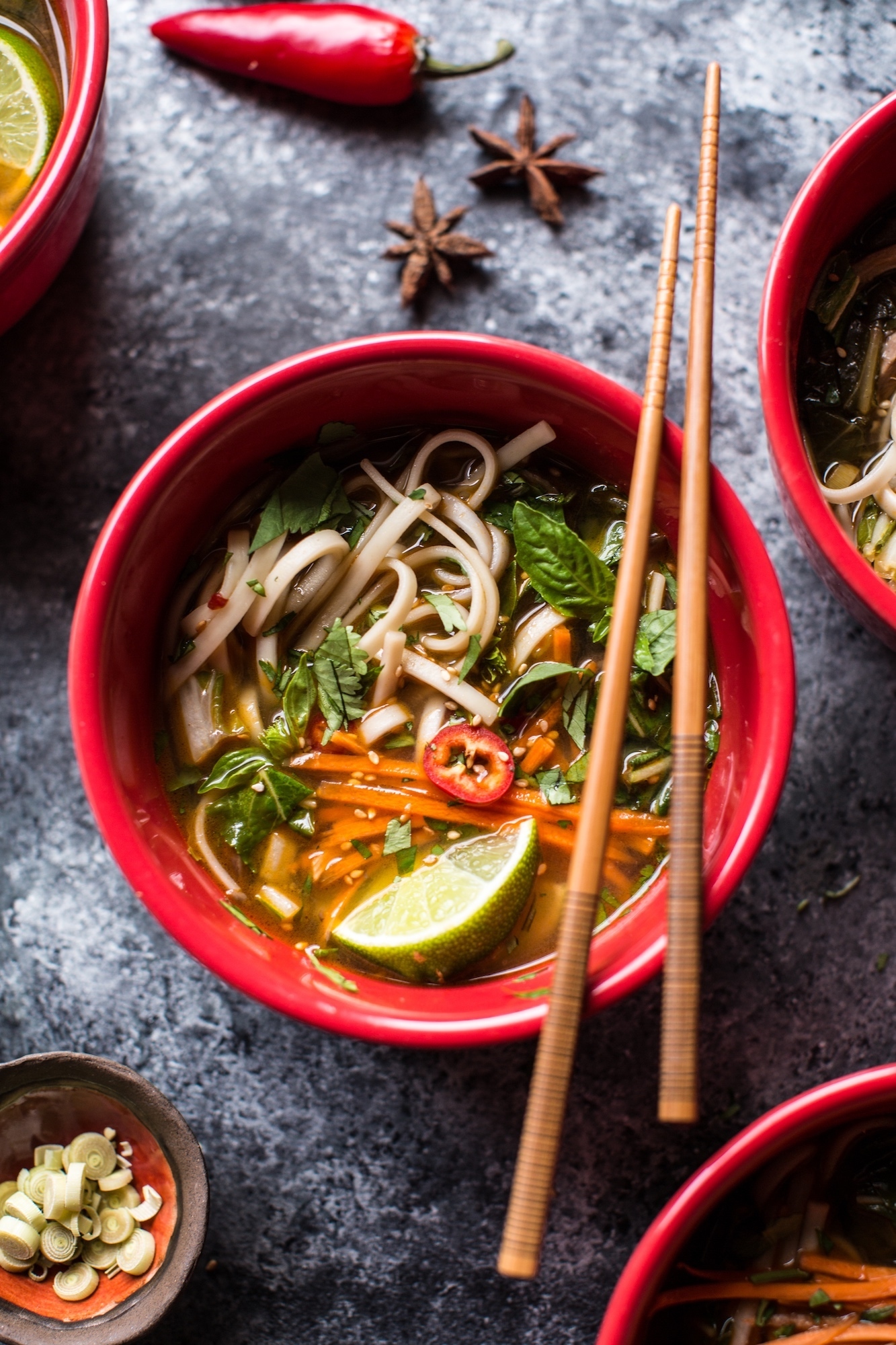 Chinese New Year Chicken Noodle Soup Recipe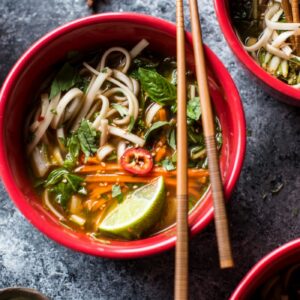 INGREDIENTS
2 tablespoons peanut oil
2 stalks lemongrass, chopped
1 tablespoon fresh ginger, grated
8 cups low sodium chicken broth
1/4 cup rice vinegar
1/4 cup low sodium soy sauce
2 teaspoons brown sugar
1 tablespoon Sambal Oelek (ground chili paste)
1 tablespoon Chinese 5-spice powder
1 teaspoon black pepper
3-4 skinless, bone-in chicken thighs
8 ounces button mushrooms, sliced
1 bok choy, chopped
juice of 1 lime
8 ounces udon noodles
Shredded carrots, Fresno chiles, cilantro, green onions + toasted sesame seeds, for topping
INSTRUCTIONS
Heat the peanut oil in a large soup pot set over medium heat.
Once hot, add the lemongrass and ginger, cook for 30 seconds or until fragrant.
Slowly pour in the chicken broth, rice vinegar, soy sauce, brown sugar, Sambal Oelek, Chinese 5-spice and pepper.
Cover and bring to a boil. Once boiling, add the chicken thighs and mushrooms. Reduce the heat to a simmer, cover and cook for 25-30 minute or until the chicken is cooked through, tender and falling off the bone.
Remove the chicken from the soup and shred with two forks or your hands. Return the chicken to the soup and stir in the bok choy and limejuice. Continue cooking for another 10 minutes.
Meanwhile, bring a large pot of water to a boil and boil the udon noodles according to package directions. Drain.
Divide the noodles among your bowls and ladle the soup over the noodles. Top each bowl with fresh cilantro, shredded carrots, chiles, green onions and sesame seeds.
Enjoy!
*If you prefer, you can make this soup in the morning and allow it to simmer over low heat all day. Do not add the bok choy and limejuice until ready to serve. If you cook the bok choy all day, it will loose its texture.