3 Easy Vegetarian No Cook Recipes to Beat the Heat
We can deal with being in the relentless summer heat outside if we have some good food to distract us while we're catching up with friends. It also helps if we haven't been burning up in a sweltering kitchen for hours before stepping outside and braving 90+ temps! These three delicious no cook recipes are vegetarian and oh so delicious!
Recently, we put together an entire summer meal without heating up a frying pan, cranking up the oven, or grilling anything at all. The crazy thing is that a no cook, vegetarian meal this delicious wasn't as much of a challenge as we thought it would be. It ended up being a great change that we're going to repeat throughout the remainder of the summer season. Here's how it went!
The key to our no-cook meal was the latest version of the Cuisinart Elite Collection 14-Cup Food Processor. We utilized it in preparing every dish, from Gazpacho to a Tostaguac to Marzipan Peanut Candy Bars.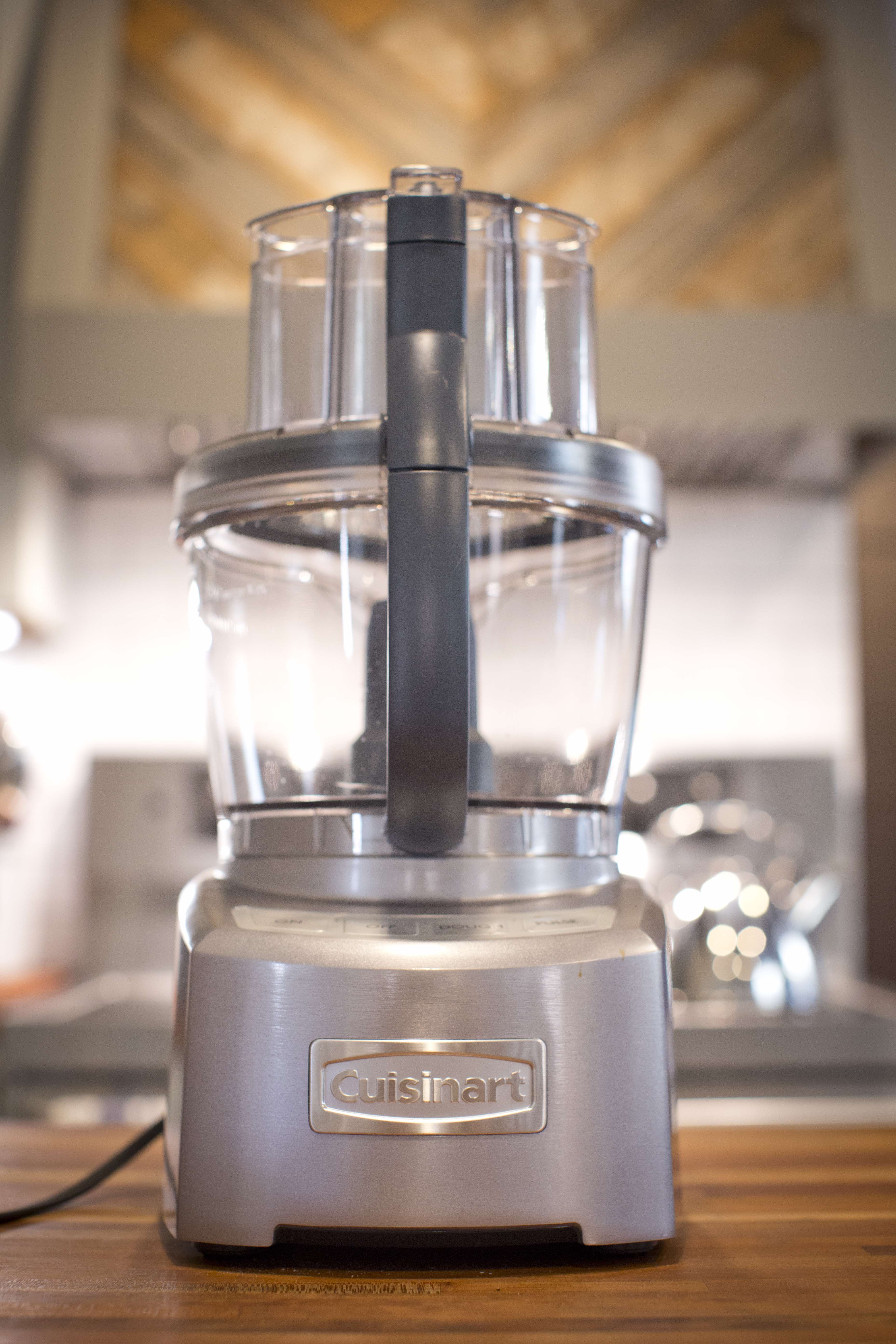 This food processor is the real deal— it quickly helped us put together a watermelon-tomato juice, guacamole, and the marzipan's pulverized date and peanut base. The best thing was that this new model has a smaller 4½ cup work bowl that sits on top of the 14-cup one, so now it's easy to have a couple of courses in the works at one time.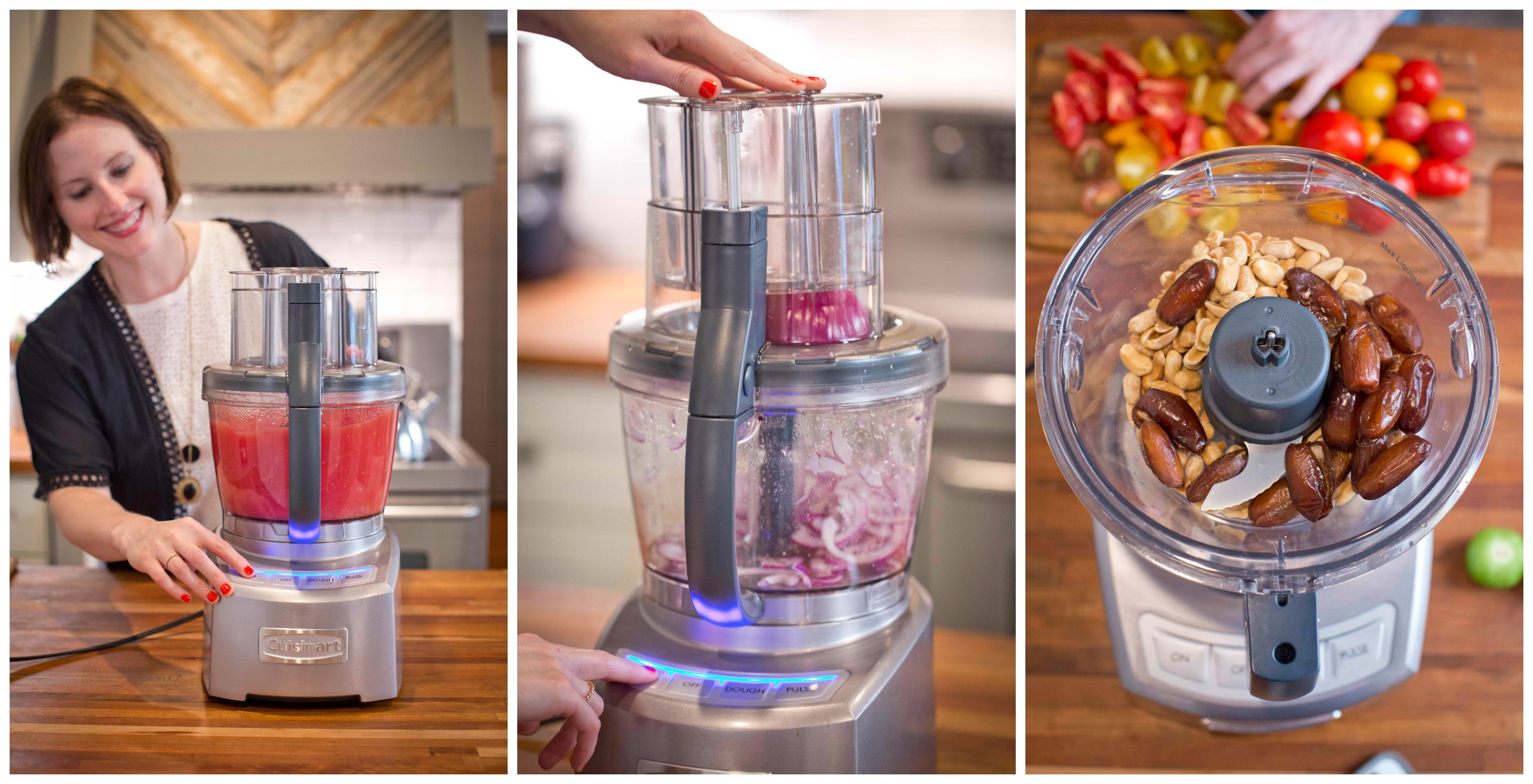 To help us keep manual kitchen labor to a minimum, we used a Microplane Professional Series Coarse Grater to quickly zest an orange for the guacamole before squeezing the orange juice into it. (We like the subtle flavor of oranges better than the sharpness of limes in our guac.)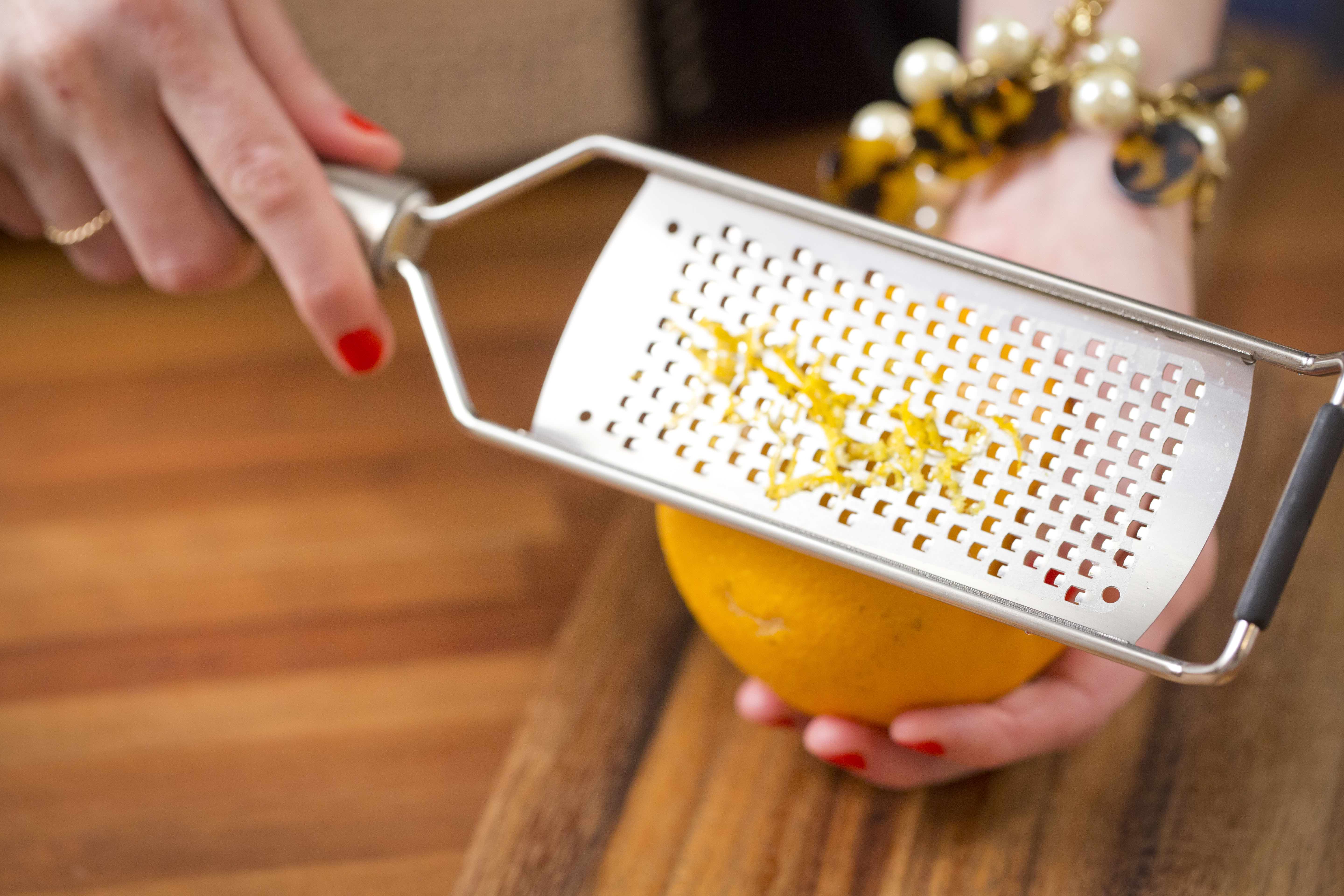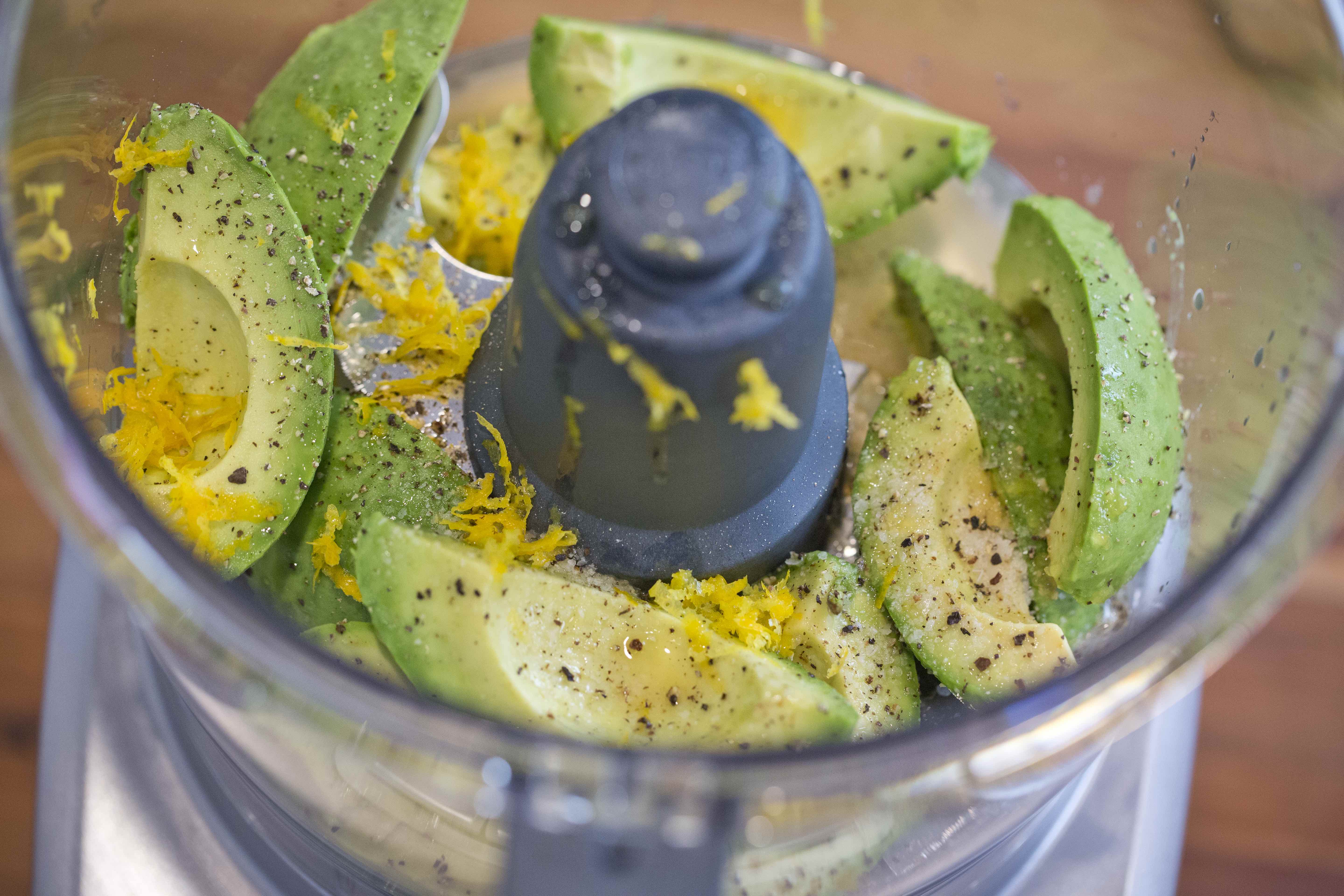 We also admired the sharp, precise, pretty much effortless cuts the Zyliss Egg Slicer made when it was time to prepare the hardboiled eggs for gazpacho. We've had plenty of knife skills practice since we both love to prep and to cook from scratch, but there's no way we could slice an egg on our own without this tool and be as pleased with the results.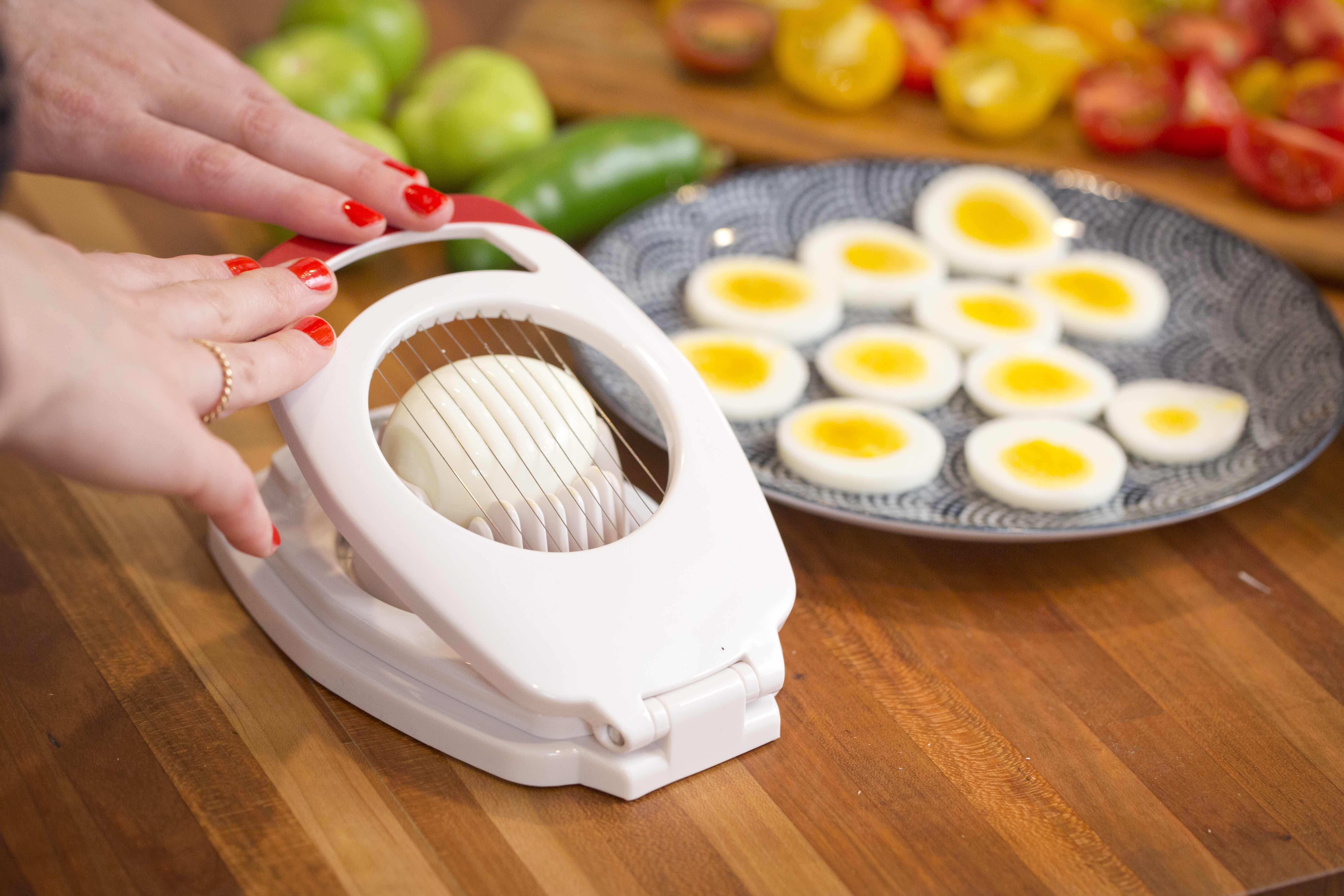 Our Fuller Brush Co. Colander made washing lots of tomatoes, cilantro, and green onions go smoothly. The colander itself is sturdy and roomy, and the best thing is that its retractable handles fit firmly over the sides of the sink so your produce is easy to wash. And so an old annoying chore suddenly becomes an absolute breeze!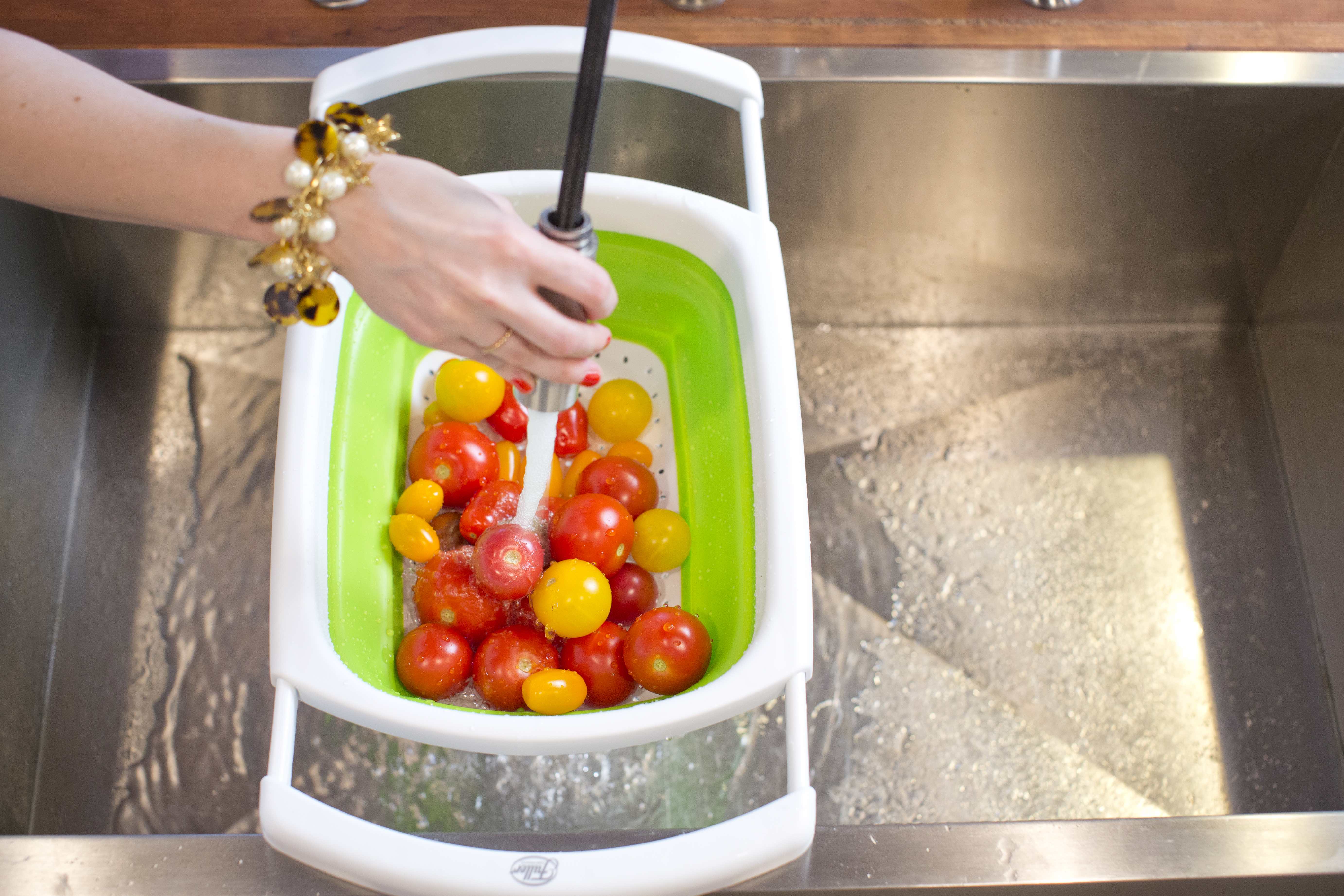 We stuck with white and shades of blue when we presented the finished dishes in order to highlight the informal and cooling vibe we wanted to get across, and the colors really made the food stand out nicely. Fiesta Gusto Bowls in lapis made the brightness of our composed gazpacho pop.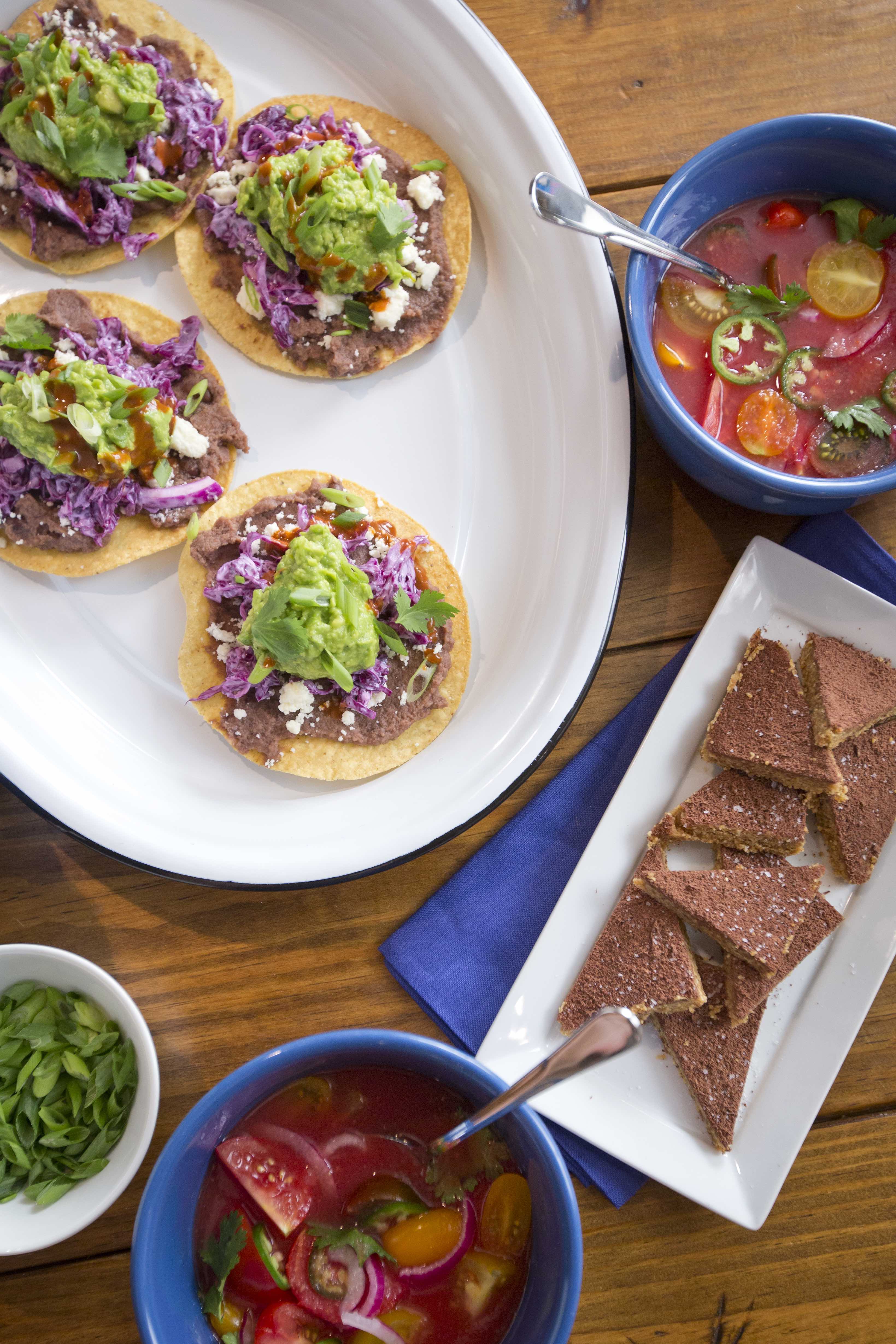 It was fun and interactive to pour watermelon and tomato juice from a pitcher over the little works of art we'd built inside the bowls with thinly sliced hard-boiled eggs, a striking variety of small tomatoes, pickled red onion, jalapeños, and cilantro.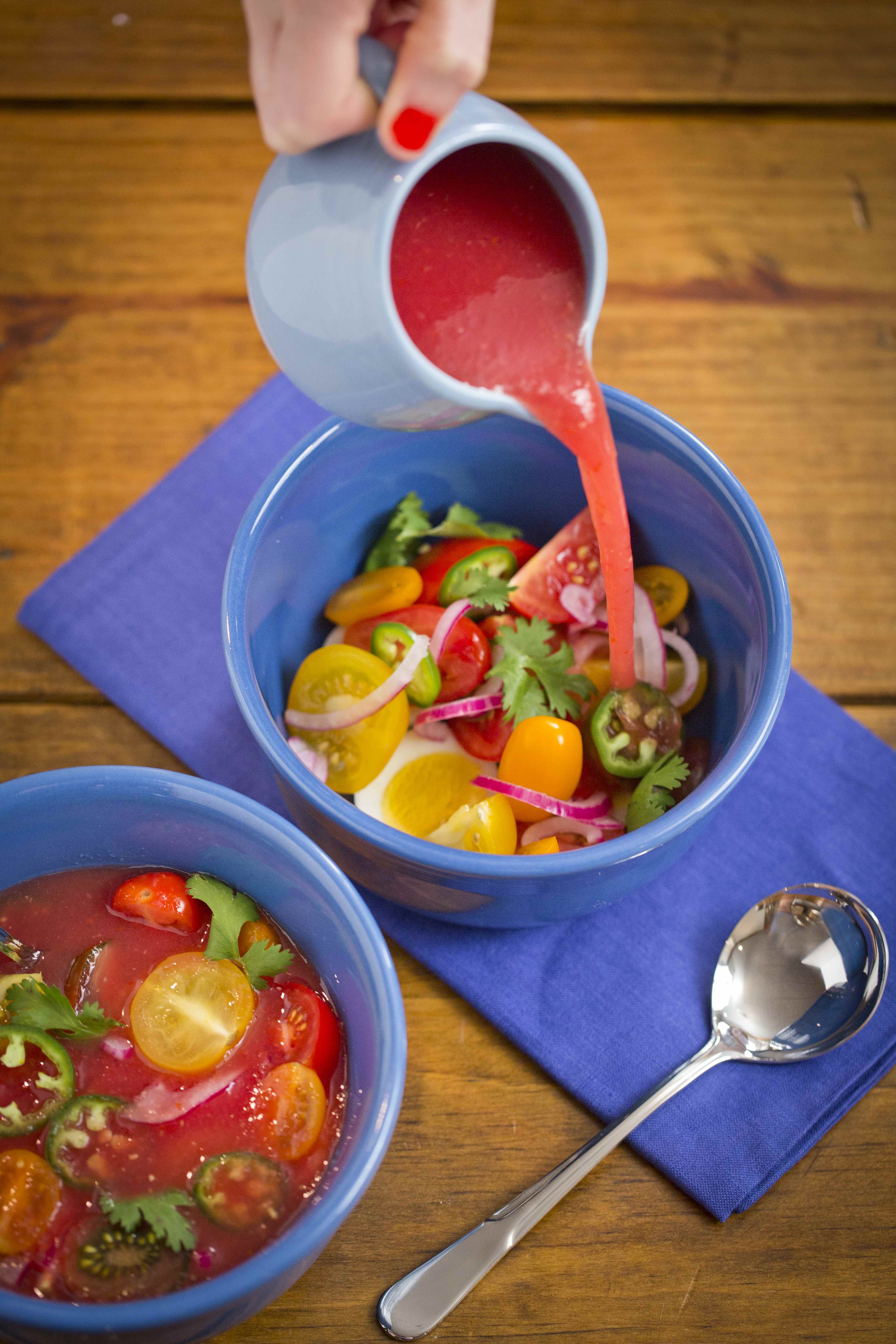 Having plenty of RSVP International soup spoons handy meant that we weren't scrambling to locate the right spoon for the job or settling for a too-small or too-oversized utensil; these stainless steel beauties are perfect for gazpacho since there are so many components to include in each bite.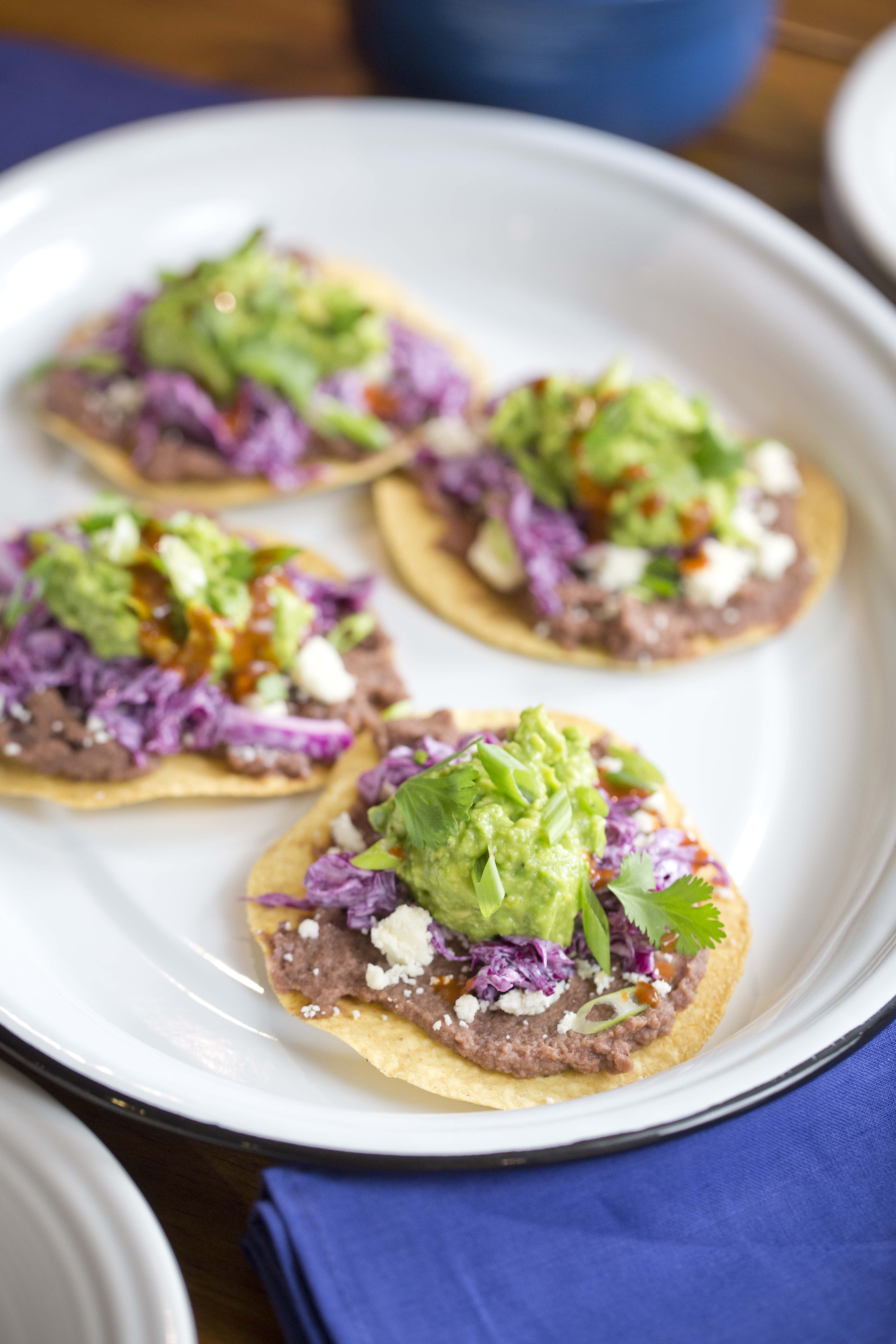 We presented the Tostaguac stacked high with refried beans, purple cabbage slaw, cotija cheese, and guacamole on Crow Canyon's Oval Serving Platter, a durable, lightweight enamelware piece with a lip that prevents sliding and spilling of finished dishes, something we have had a good deal of experience with in the past! Once we set out crisp Chilewich linen napkins in a bright shade of blue just shy of navy, we were all set!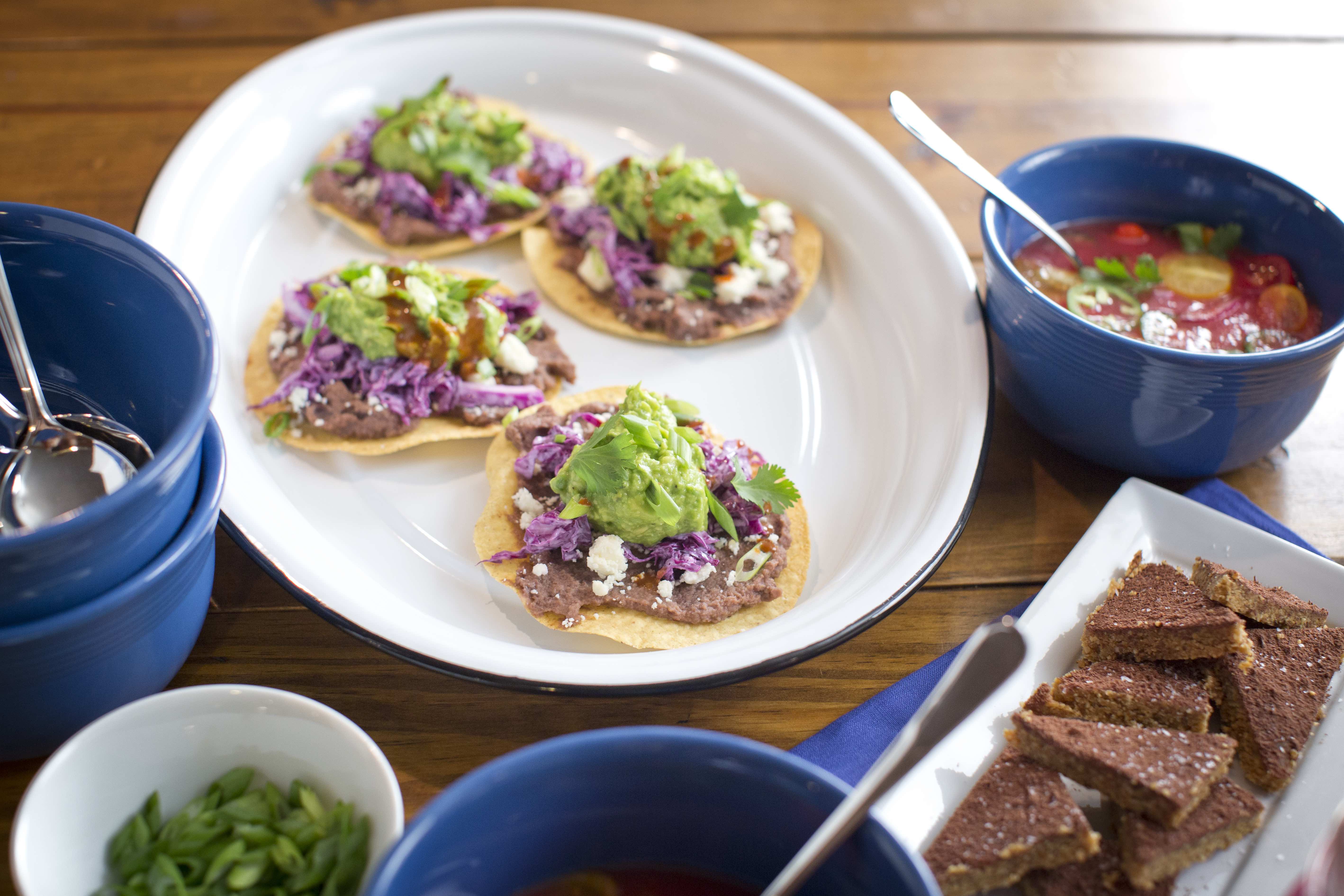 No time spent dealing with the usual cooking-with-heat aspects of making a meal made for lighter summer fare and invigorated us instead of wearing us out. We're converts now and can't wait to not cook again soon!
RECIPES: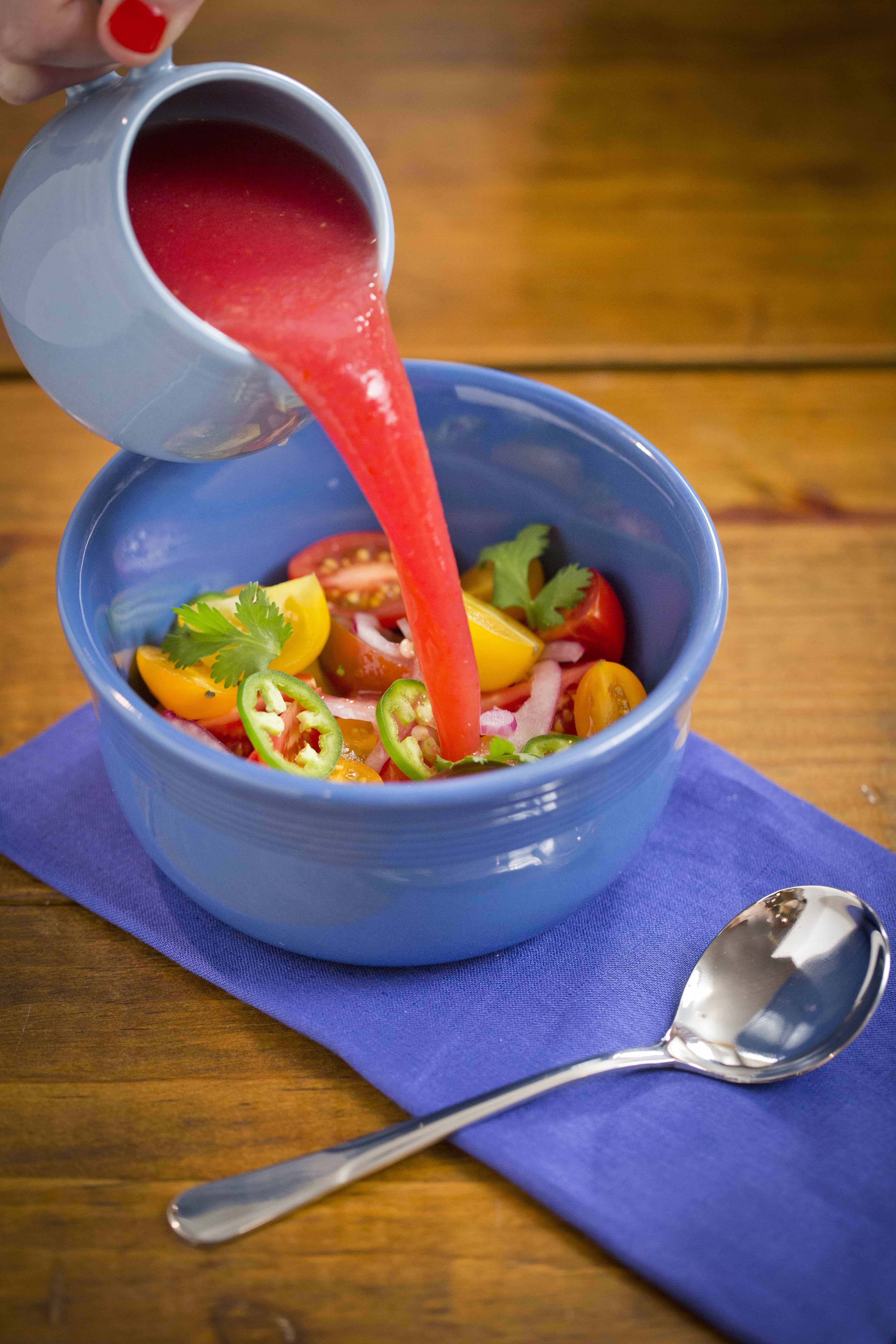 Composed Watermelon Gazpacho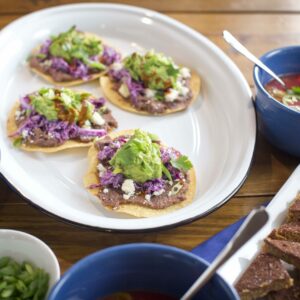 INGREDIENTS
For the Gazpacho:
Pickled Red Onion (recipe follows)
Flesh of 1 personal seedless watermelon
4 medium Campari tomatoes
Juice of 1 lime
½ teaspoon Kosher salt
1 quart mixed cherry and grape tomatoes (halved)
2 hard-boiled eggs (sliced)
1 medium jalapeño (thinly sliced)
Cilantro leaves (to garnish)
For the Pickled Red Onion:
1 purple onion (peeled, root end discarded)
½ cup white vinegar
½ cup water
1 teaspoon Kosher salt
INSTRUCTIONS
For the Gazpacho:
Make the Pickled Red Onion according to the recipe.
With the slicing blade attached to your Cuisinart food processor, blend the watermelon flesh, the Campari tomatoes, lime juice, and salt until liquified. Pour the liquid through a mesh strainer and discard solids.
Reserve watermelon and tomato juice for serving. (Makes about 1 quart of watermelon and tomato juice.)
Into four serving bowls, compose a few strands of the Pickled Red Onion, cherry and grape tomatoes, eggs, jalapeño, and cilantro leaves to create an artful presentation. Pour one cup of watermelon and tomato juice into each bowl in front of each guest for a stunning presentation of summer's finest offerings.
For the Pickled Red Onion:
With the slicing blade attached to your Cuisinart food processor, shred the onion.
In a pint jar, mix the onion, vinegar, water, and salt together.
Secure the lid and shake until salt has dissolved. (Makes about 2 cups.)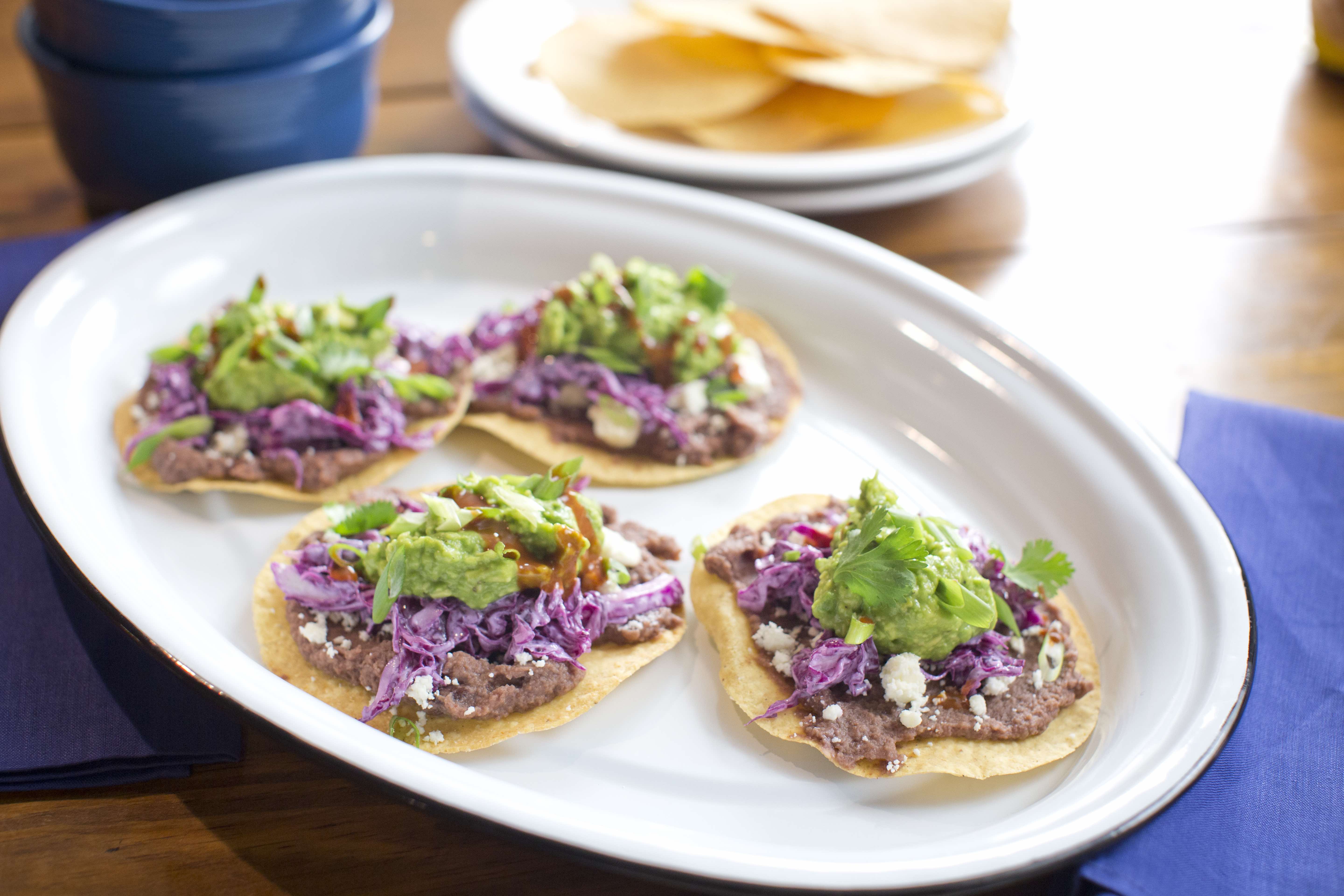 Tostaguac with Purple Cabbage Slaw
The key to staying cool this summer? No cook recipes! These three vegetarian dishes are the perfect summer meal!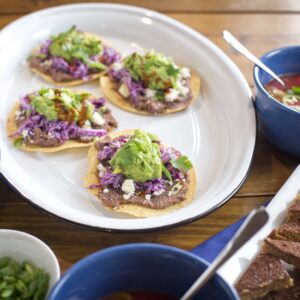 Ingredients
15

oz

Can of refried black beans

6

Prepared toastadas

2

oz

Crumbled cotija (or queso fresco) cheese

.25

cups

Cilantro leaves and sliced green onion (to garnish)

.5

Medium head purple cabbage (cored)

1

Lime (for juicing)

1

tsp

Sugar

.25

cups

Sour cream

1

pinch of kosher salt and cracked black pepper (to taste)

3

Medium avocados (peeled, seeded)

.25

tsp

Sugar

.25

tsp

Cracked black pepper

.5

tsp

Teaspoon Kosher salt

.5

an orange (for juice and zest)

1

tsp

Olive oil
Instructions
For the Tostaguac: 1. Divide the refried black beans between the tostadas. Divide the cheese between the six tostadas and top each with ¼ cup of Purple Cabbage Slaw and a ¼ cup of Guacamole. 2. Garnish with cilantro leaves and green onion. For the Purple Cabbage Slaw: 1. With the slicing blade attached to your Cuisinart food processor, shred the cabbage. 2. In a large bowl, mix the cabbage, lime juice, sugar, sour cream, salt, and pepper together until well-incorporated. (Makes about 1½ cups.) For the Guacamole: 1. With the large stainless steel blade attached to your Cuisinart food processor, pulse the avocado, sugar, pepper, salt, orange zest and juice, and olive oil until well-incorporated. You aren't looking for it to be smooth, but you do want a spreadable texture. (Makes about 1½ cups).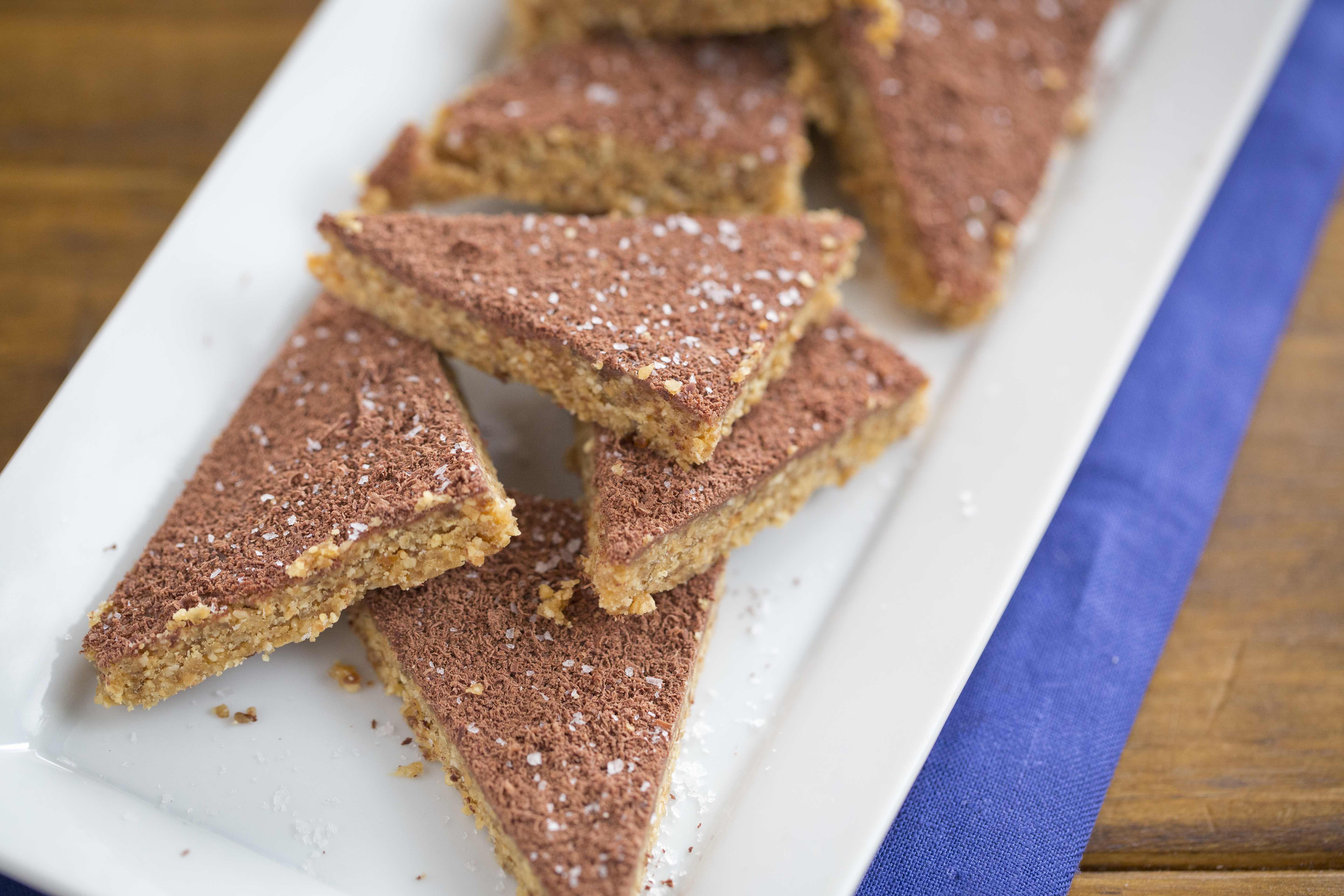 Marzipan Peanut Candy Bar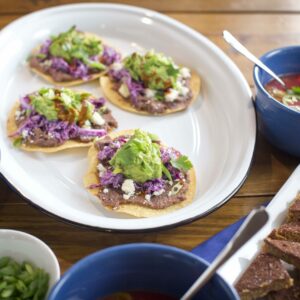 INGREDIENTS
1 cup roasted and salted peanuts
1 cup pitted dates
1 tablespoon powdered sugar
1 teaspoon vanilla
1 ounce dark chocolate (microplaned)
INSTRUCTIONS
In the 4½-cup work bowl with the small stainless steel blade attached to your Cuisinart food processor, blend the peanuts, dates, powdered sugar, and vanilla together until a chunky paste forms.
Press firmly into a foil-lined 6x6 dish.
Using a fine Microplane, grate the dark chocolate on top and place into the fridge for 30 minutes.
Remove and cut into triangles to serve.