3 Delicious & Healthy Vegetarian Thanksgiving Side Dishes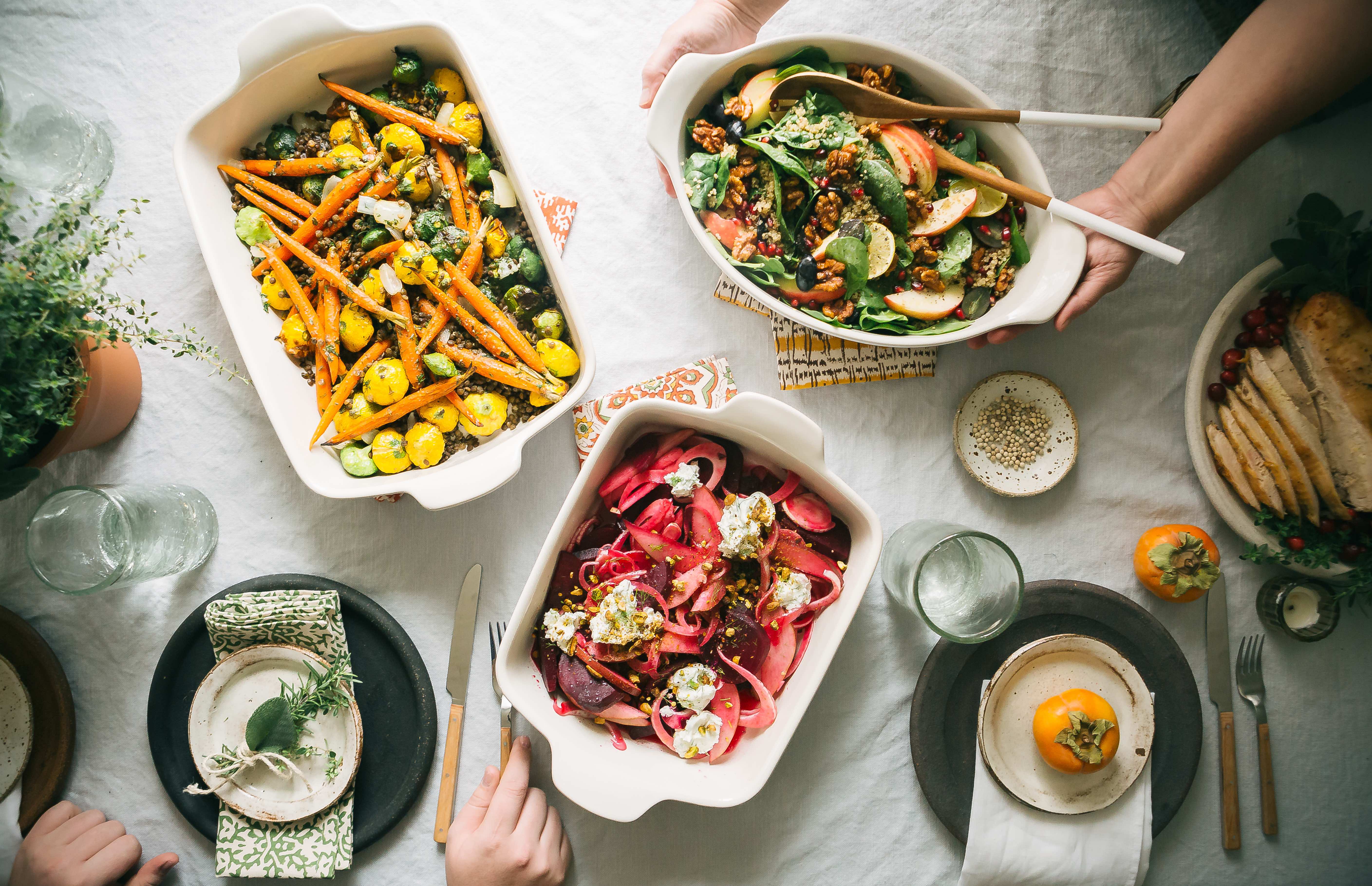 You're in charge of planning the Thanksgiving meal. So you've got the turkey. Now what? Sweet potatoes and mashed potatoes. Green bean casserole. Or maybe not.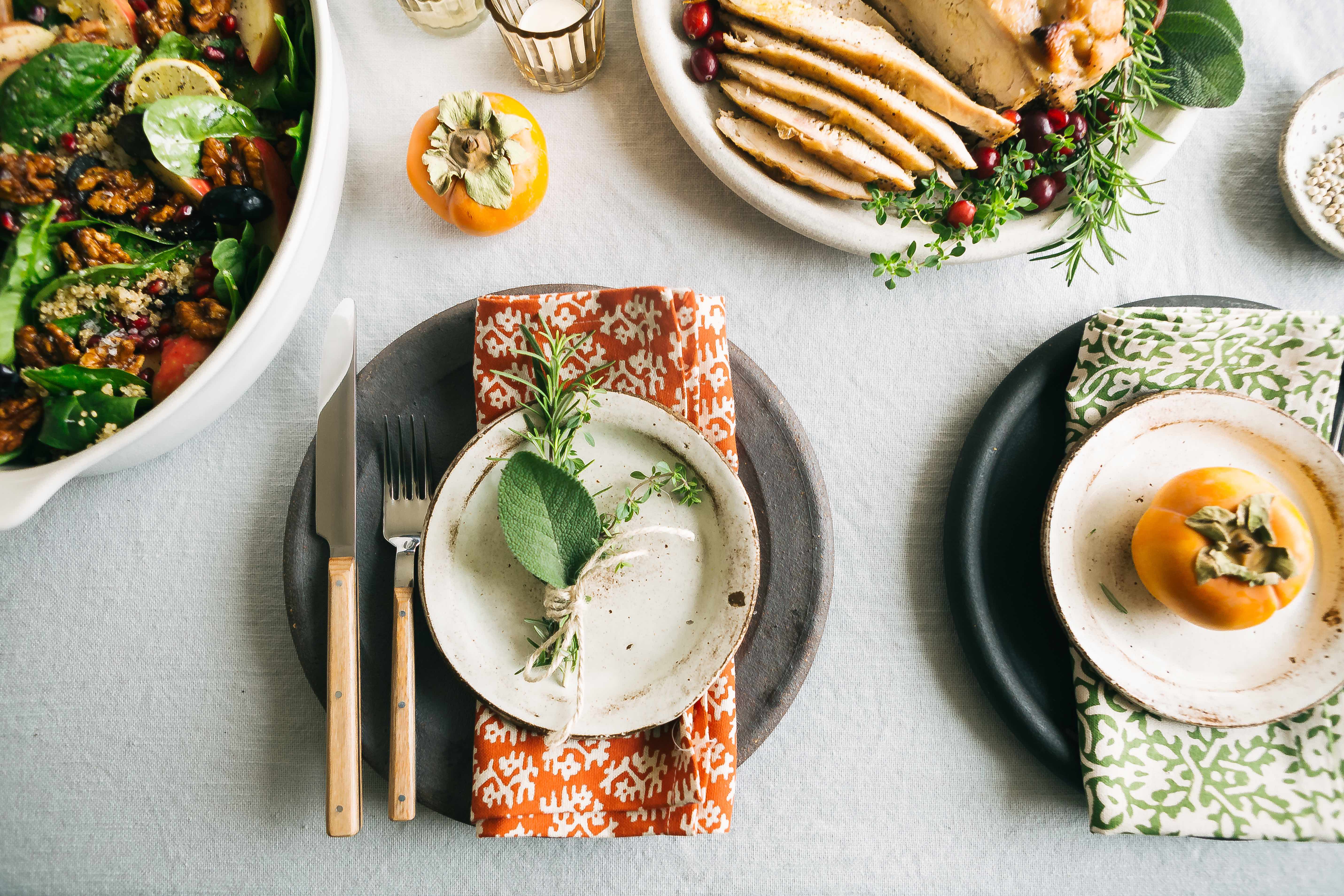 If trying new flavors is your favorite approach to Thanksgiving cooking (raising my hand over here. As much as I like the holiday classics, I'm a foodie through and through, and love putting new twists on my holiday table) here are three simple, healthy Thanksgiving side dishes that are straight up winners.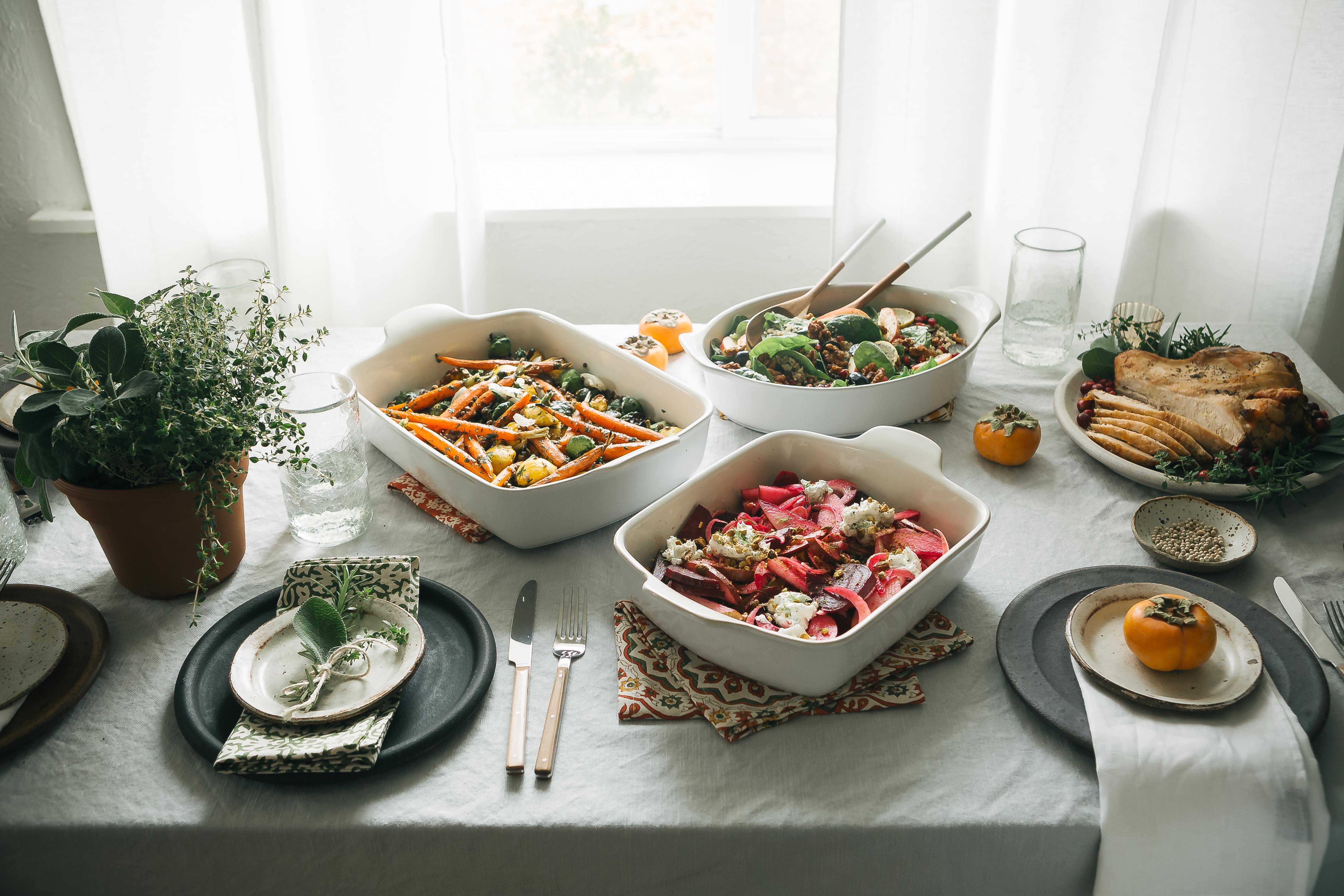 Veggie forward, bright and beautiful. These three sides are new takes on flavors you already love. Here's the lineup.
Succotash Meets Sheetpan
Diced corn, squash and lots of butter melted together in a skillet is the usual succotash fare. Salty and savory, it's the kind of side dish that will have you begging more. And our take on this side is equally addictive.
Baby squash, carrots and sweet onion are roasted with creamy lentils. Once out of the oven, we toss it together with fresh herbs and a garlicky vinaigrette. This recipe is so simple, but beyond flavorful.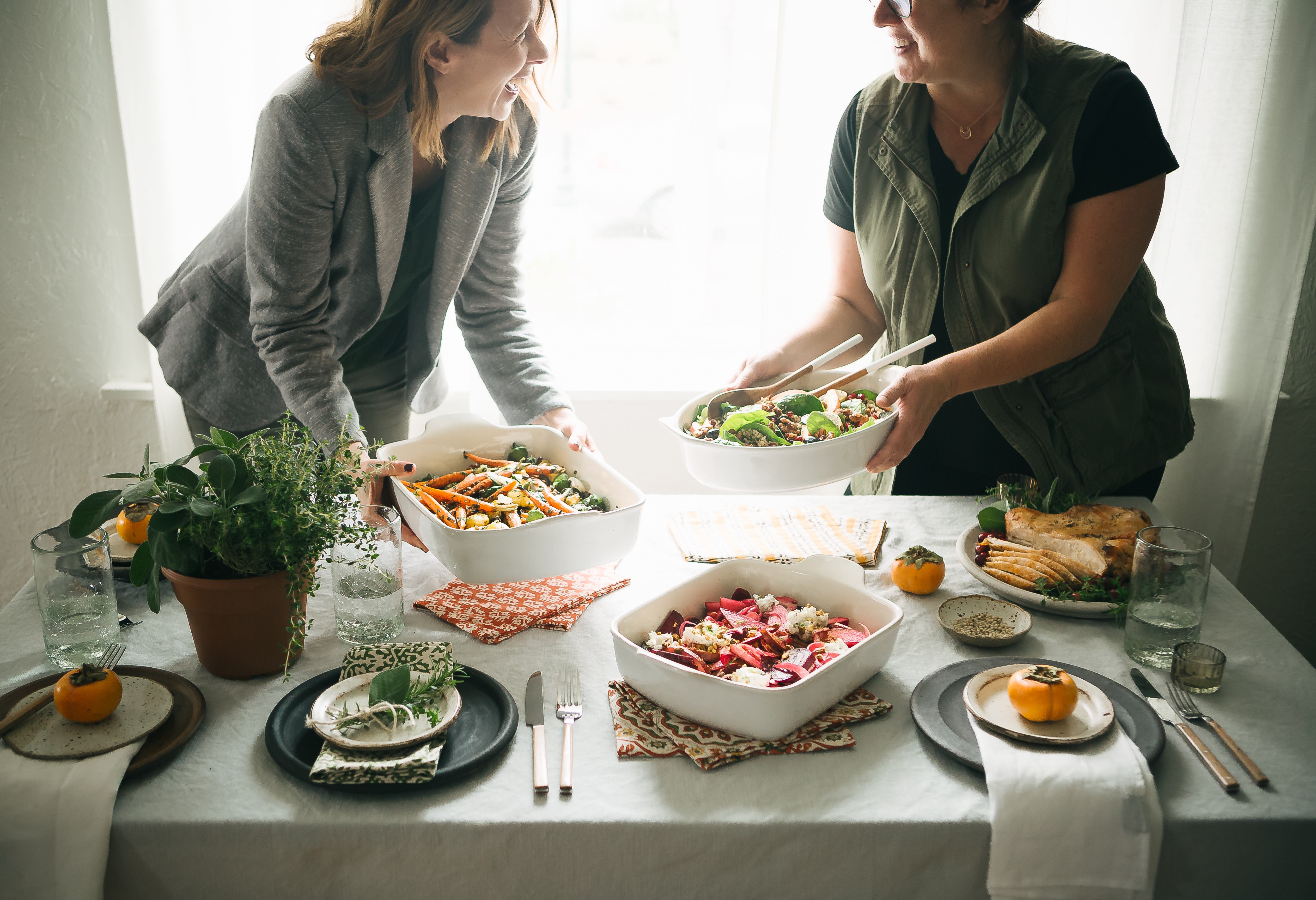 If you're always serving a crowd, this recipe is easy to double or triple. For presentation and ease of serving, this side works nicely in a deep-sided baker like the Emile Henry Rectangular Sugar Baker Set. With clean lines and the white "sugar" ceramic, this pan is a favorite in my kitchen. I think it looks particularly pretty with the pale-wood silverware in the Hampton Forge Skandia'Ñ¢ Bondi Place Set. A little French farmhouse vibe, but still clean and inviting.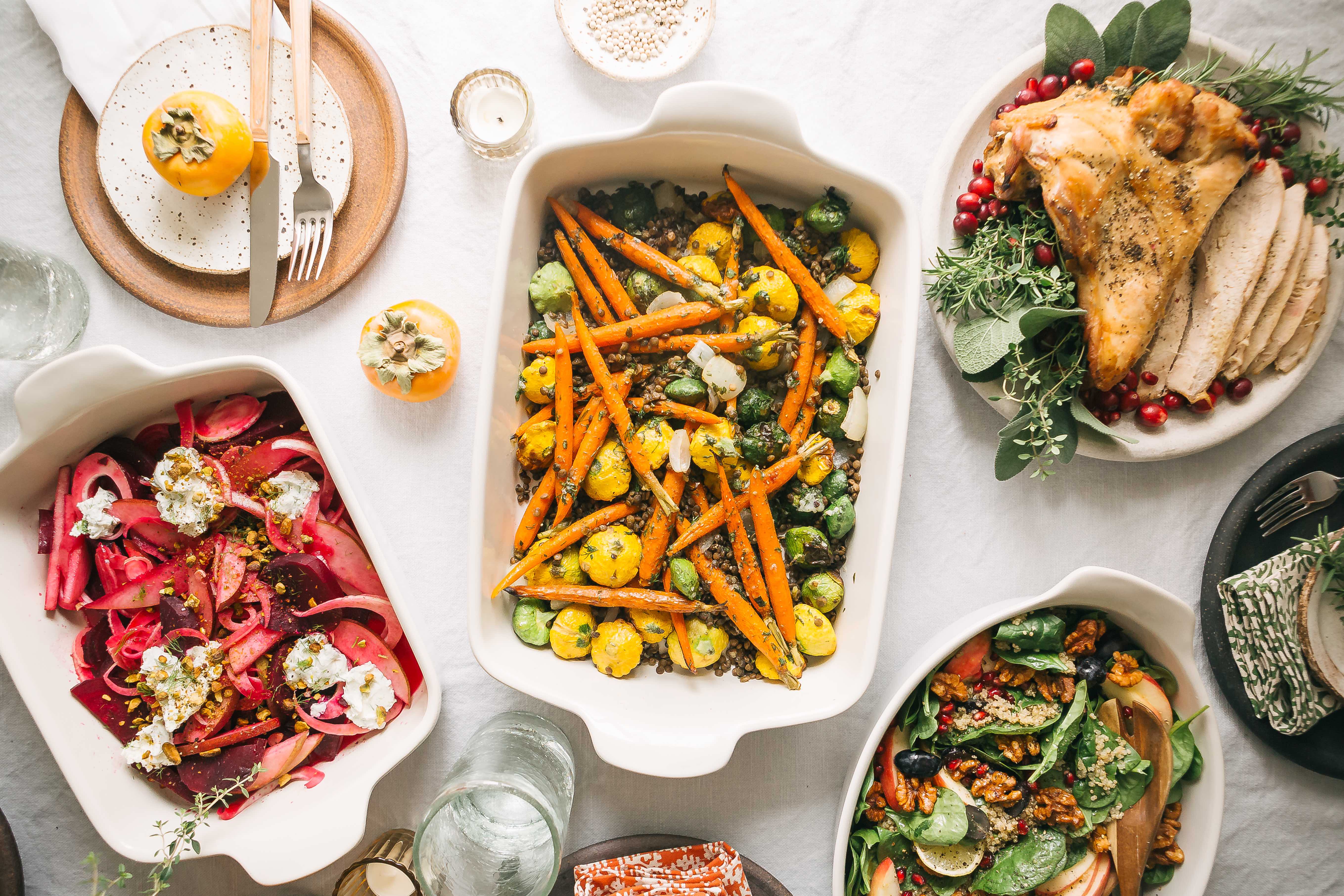 Similar to traditional succotash, but prepared on a sheet pan. This beautiful roasted vegetable side dish pairs the best of autumn veggies with creamy lentils. Vegetarians at your table will thank you for this one.
Herbed Carrots, Squash & Lentils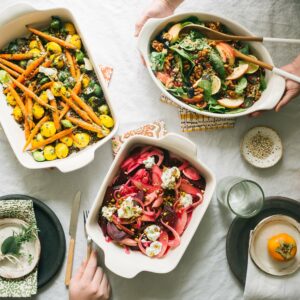 INGREDIENTS
1 pound mini carrots, tops removed
1 pound baby squash
1 sweet onion, peeled and diced
2-3 cups cooked green lentils
4 Tbsp olive oil (plus extra for drizzling)
2 Tbsp honey
4 Tbsp apple cider vinegar
1½ Tbsp garlic puree
2 Tbsp fresh chopped tarragon
2 Tbsp fresh chopped dill
4 Tbsp fresh chopped parsley
Salt and pepper, to taste
INSTRUCTIONS
Heat oven to 425°F.
Place carrots, squash, onions and lentils on a parchment-lined baking sheet. Drizzle with olive oil and honey. Roast until carrots are tender, about 25 minutes.
Whisk together 4 Tbsp olive oil, honey, vinegar, garlic and fresh chopped herbs. Drizzle over lentil mixture. Serve and enjoy.
Stunning Holiday Salad
When I'm planning my holiday menu, I love selecting one side dish that has people jaw-dropped and gushing. This year, this is the salad. A bright red mix of red pears and sliced fennel, stained ruby with beets and served with goat cheese and salty green pistachios.
My mother-in-law used to serve pomegranate salad for Thanksgiving. She swore the table needed something red to coordinate with the color of the cranberry sauce. But pomegranates tossed with yogurt (her take on pom "salad") was never quite my style. Though I loved the idea of a red salad. It really does tie the whole table together. And the flavors in this Red Pear & Beet Salad are so divine, added bonus.
This Thanksgiving side dish looks beautiful individually plated over a schmear of dilled goat cheese. Or offer it family-style in a rectangular baking dish.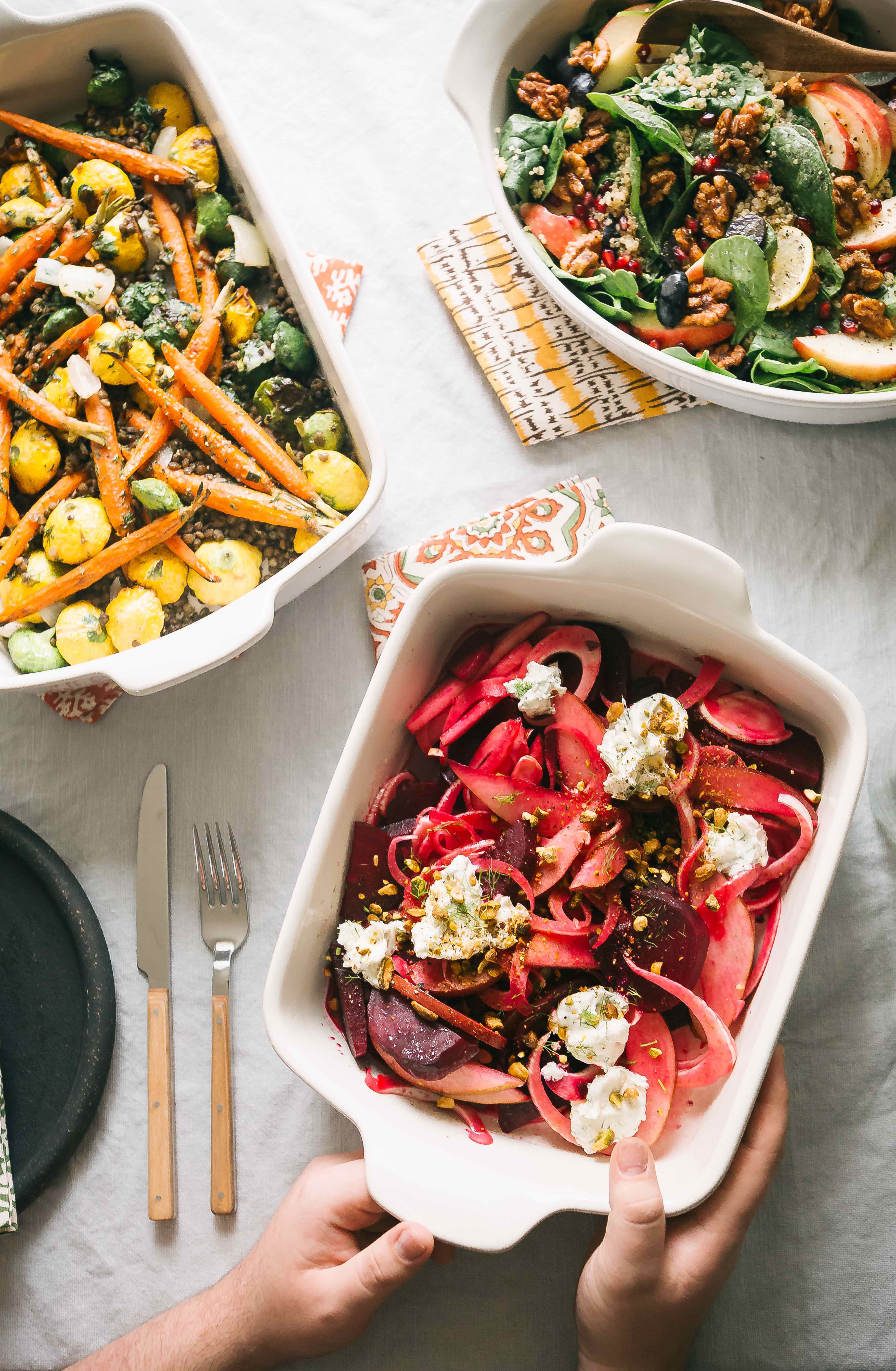 And if table coordination is your game as much as it is mine, tie the whole harvest look together with a colorful set of TAG Sundari Block Dishtowels. Set beneath your serving dishes, they protect your table while adding a pop of seasonal style. Plus, a touch of pattern instantly offers a welcoming vibe to your Thanksgiving table.
Bright beets color red pears and slices of spicy fennel in this beautiful side dish. Topped with goat cheese and pistachios, the flavors of this dish scream fall. But they're fresh and exciting, too.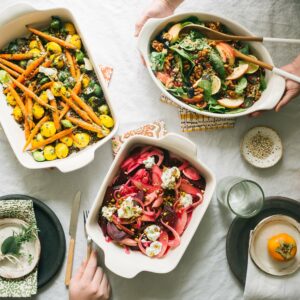 INGREDIENTS
6 large beets
2 Red pears
2 fennel roots and fronds
3 Tbsp orange muscat or champagne vinegar
3 Tbsp olive oil
3 Tbsp honey
5 oz goat cheese, softened
¼ cup chopped pistachios
Salt and pepper, to taste
INSTRUCTIONS
Heat oven to 425°F.
Clean beets, wrap in foil. Roast until tender, about 30 minutes. Allow to cool, then remove foil and peel beets with a vegetable peeler (to keep your hands from staining, use plastic gloves!) Slice and half peeled beets. Place in a large bowl.
Slice pears and fennel roots. Toss with vinegar, olive oil and honey. Salt lightly.
Mince a few of the fennel fronds (or chop fresh dill). Mix into goat cheese.
Serve salad with dollops of goat cheese on top. Garnish with pistachios.
A Healthy Harvest
Those classic autumn flavors – apples, grapes, walnuts – are already a great combo. So in this recipe, I've added one more favorite: quinoa. A mix between a salad and side, this hearty grains-and-greens dish offers favorite autumn flavors. But serves them in a whole new way. Save precious holiday prep time by buying pre-cooked quinoa – typically available in the freezer section of most grocery stores.
Serve a whole bushel of this salad in an Emile Henry Oval Baker with Now Designs White Dipped Salad Servers then grab a glass of wine and relax. You just won Thanksgiving with style, grace and healthy side dishes, too. Best. Host. Ever.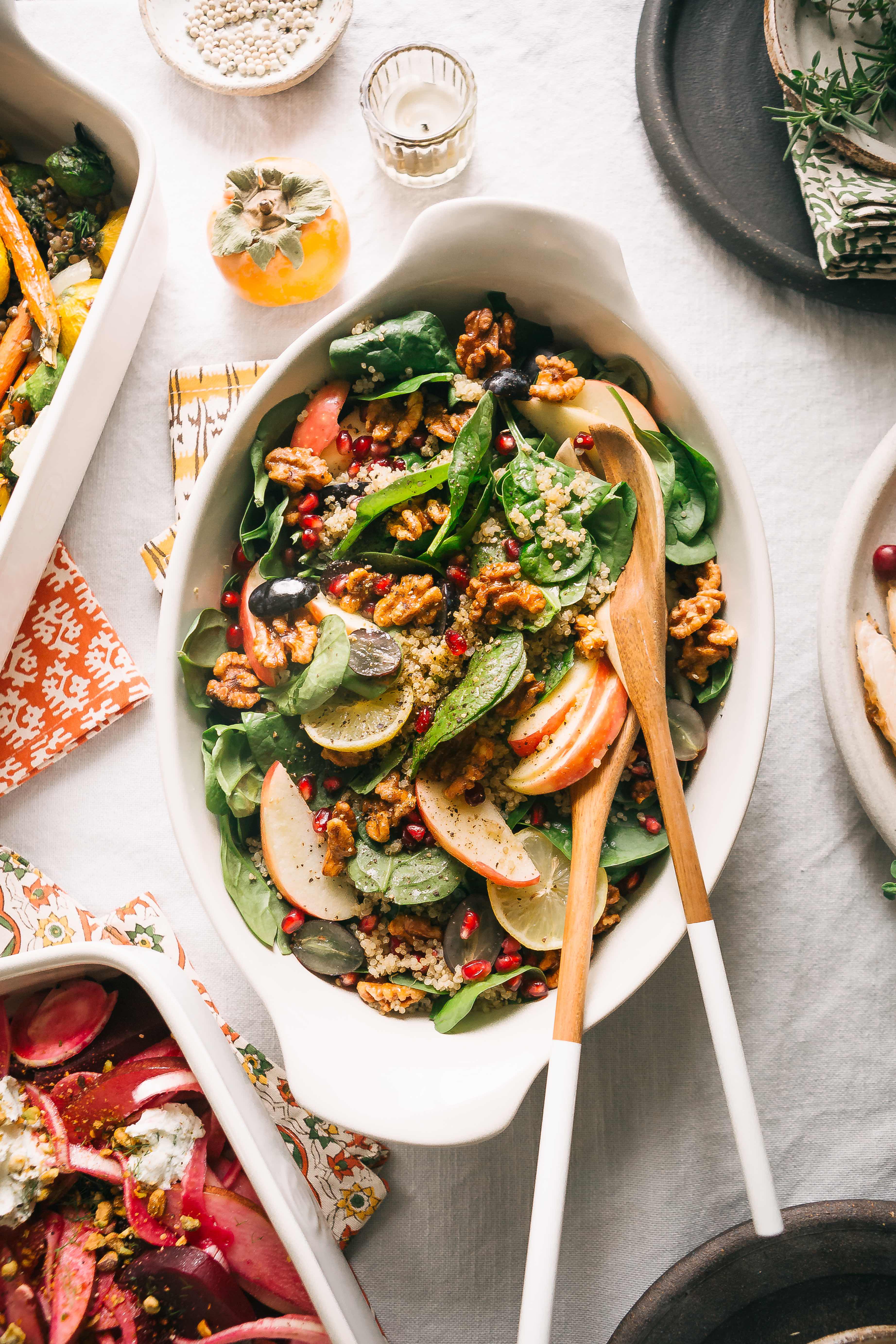 Spinach and quinoa are tossed together with crunchy apples, sweet grapes and plump pomegranate seeds, then drizzled with a white balsamic vinaigrette. Candied walnuts complete this fabulous fall flavor combo.
Spinach Apple Quinoa Toss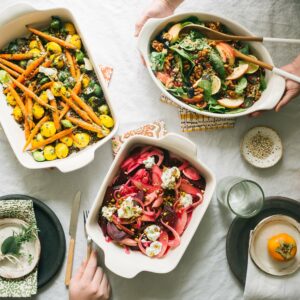 INGREDIENTS
5 oz baby spinach
2 cups cooked quinoa
2 apples, sliced and tossed with lemon juice
1 cup halved purple grapes
¼ cup pomegranate arils
½ cup candied walnuts
4 Tbsp olive oil
2 Tbsp honey
4 Tbsp white balsamic vinegar
Salt and pepper, to taste
INSTRUCTIONS
Toss spinach, quinoa, apples and grapes together. Top with pomegranate and walnuts.
In a small bowl, whisk together olive oil, honey, and vinegar.
Just before serving, drizzle vinaigrette over salad. Salt and pepper, to taste.
BONUS Thanksgiving Side Dish: Homemade Cranberry-Orange Relish